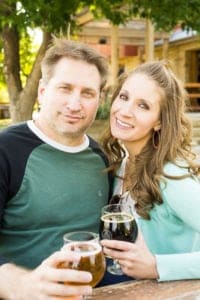 Welcome to Burrata and Bubbles! I'm Amanda, a cheese-obsessed, comfort food-loving home cook. For me, cooking isn't just about creating a tasty dish; it's also about connecting over a shared meal. Playing hostess and pleasing people through food make my soul happy, so here you will find recipes I love cooking for my favorite people.
I also love a good beverage, hence the Bubbles of Burrata, which is why you'll find a food or drink pairing with every single recipe. I love the way complementary and contrasting flavors and textures play together and believe a good pairing can elevate a meal. Plus, pairings are just fun.
Back in 2004, I spent the summer in Lubbock, Texas, and waited tables at the town's only brewery at the time. On my first day, the brewmaster took me on a tour and explained the brewing process and different beer styles. As a college kid who partially existed on Keystone Light, I was instantly hooked. Before then, I had never even considered the artistry behind brewing, and the experience spawned such a passion.
Since then, I've gone on to run a Denver chapter of Girls Pint Out, where I worked with local breweries to host various tasting and pairing classes. I've also taken additional classes and conducted independent research to learn how to properly pair wine and cocktails, and I'm sharing my knowledge with you here.
I launched Burrata and Bubbles in 2018 and have since been featured in Allrecipes, Buzzfeed, Shape Magazine, Country Living, The Pioneer Woman and Stylecaster -- just to name a few. It's been an amazing journey sharing these recipes with you and the world, and I can't wait to see what's ahead.
My favorite kitchen assistant
We adopted Baylor in 2011 when she was a rambunctious 8-month-old puppy, and she quickly established herself as quite the foodie. After about two weeks of forming our little family, I made a pork roast for dinner.
Matt and I were enjoying our meal and a beautiful summer evening when something caught the corner of our eye. We looked over to find Baylor counter surfing and inhaling as much pork as she could. I ran over to let her know we generally frown upon food thievary, and she gave me a look that said, "Eh, it was worth it." She's a sassy one.
I hope you stick around, try the recipes and share your experiences. Cheers!