Make the holidays special with this Christmas roast duck with cranberry-orange glaze! Featuring perfectly crisp skin and a spiced glaze full of festive flavors, this roast duck adds elegance to your holiday table.
Jump to:
Why You Need to Make This Recipe
The best day of the year calls for an exquisite dinner, so move over, turkey and ham. Sure, you're tasty, but it doesn't get better than a perfect roast duck with crispy skin. Bonus points for a drool-worthy glaze that shows off this season's best flavors.
While I especially love this duck for Christmas, it's also perfect for Thanksgiving or New Year's Eve, which makes for a versatile holiday main course. The holidays are a busy time of year. Who has time to search for several different meals to feed the family?
You need a go-to holiday dinner that's great no matter what you're celebrating, and this recipe is it. Besides, once you taste how delicious and decadent this Christmas roast duck is, you'll look for any excuse to make it over and over again.
Related: If you love this recipe, make sure you also try my duck gumbo and smoked whole duck.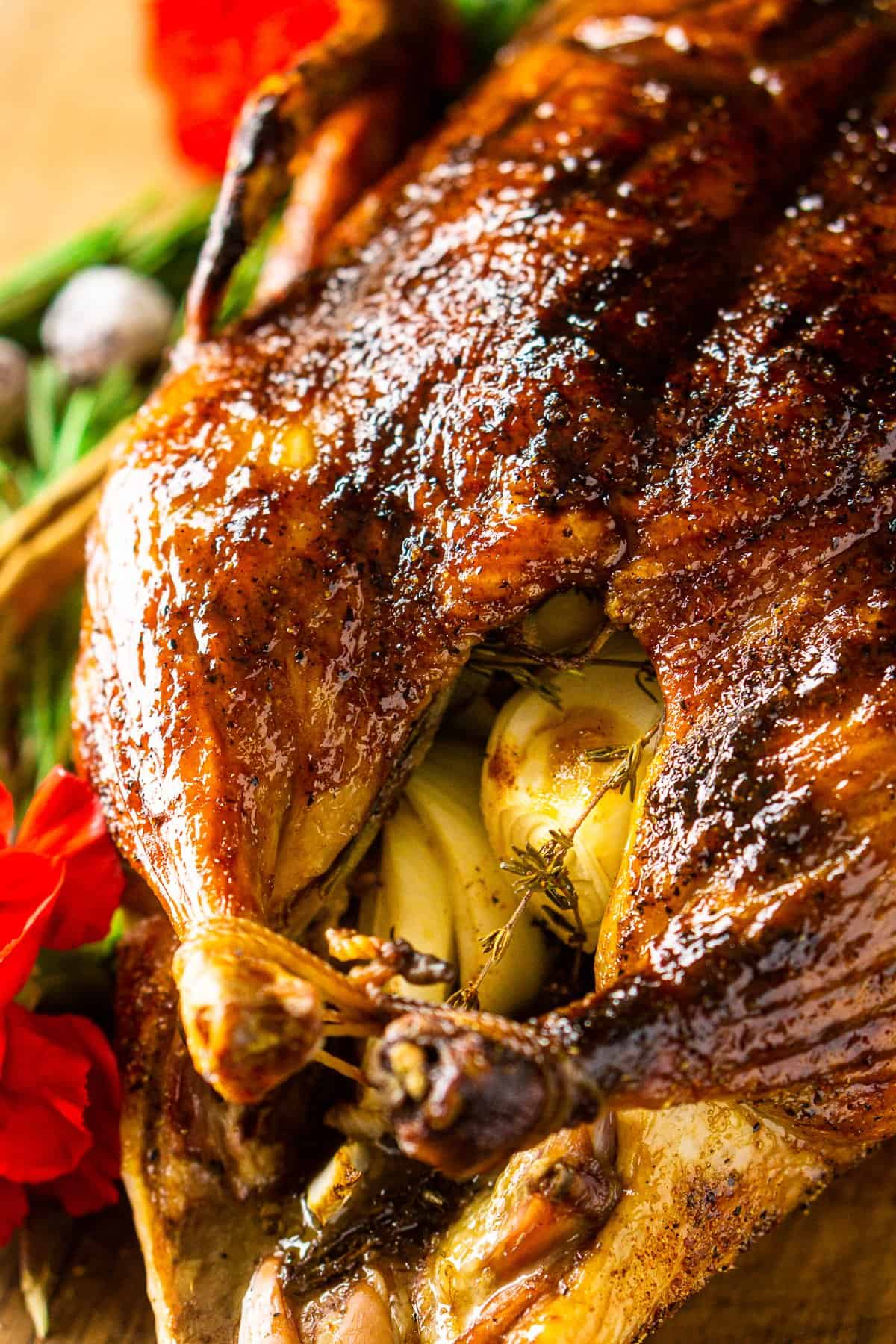 Ingredients
Here are the main ingredients we need to make this Christmas duck recipe.
Whole duck: We're roasting one duck today, but we can easily make two ducks at a time. One duck is enough for three to four adults.
Roasting aromatics: This is what we use to stuff and season our bird, which includes rosemary, sage, thyme, lemon, onion, salt, pepper, paprika and garlic powder.
Cranberry-orange glaze: We make this with cranberry juice, orange juice, molasses, ginger, cinnamon sticks, basalmic vinegar, garlic, cayenne pepper, salt and cornstarch.
Kitchen tools: Roasting a duck takes a few utensils. We need kitchen twine, shears, a sharp knife, tinfoil, a roasting pan with a rack and a thermometer. If you don't have a roasting pan, a large baking sheet with a wire rack will work. We want some kind of a rack so that the duck fat has somewhere to drain.
Step-by-Step Instructions
Wondering how to prepare duck for roasting? Let's walk through the process.
We first reach into the duck cavity and pull out all the innards. This typically includes the neck, liver and giblets.
Duck has a lot of extra skin with a layer of fat underneath, so we want to take two steps to address this. First, we cut off the extra skin on the opposite end of the cavity like so.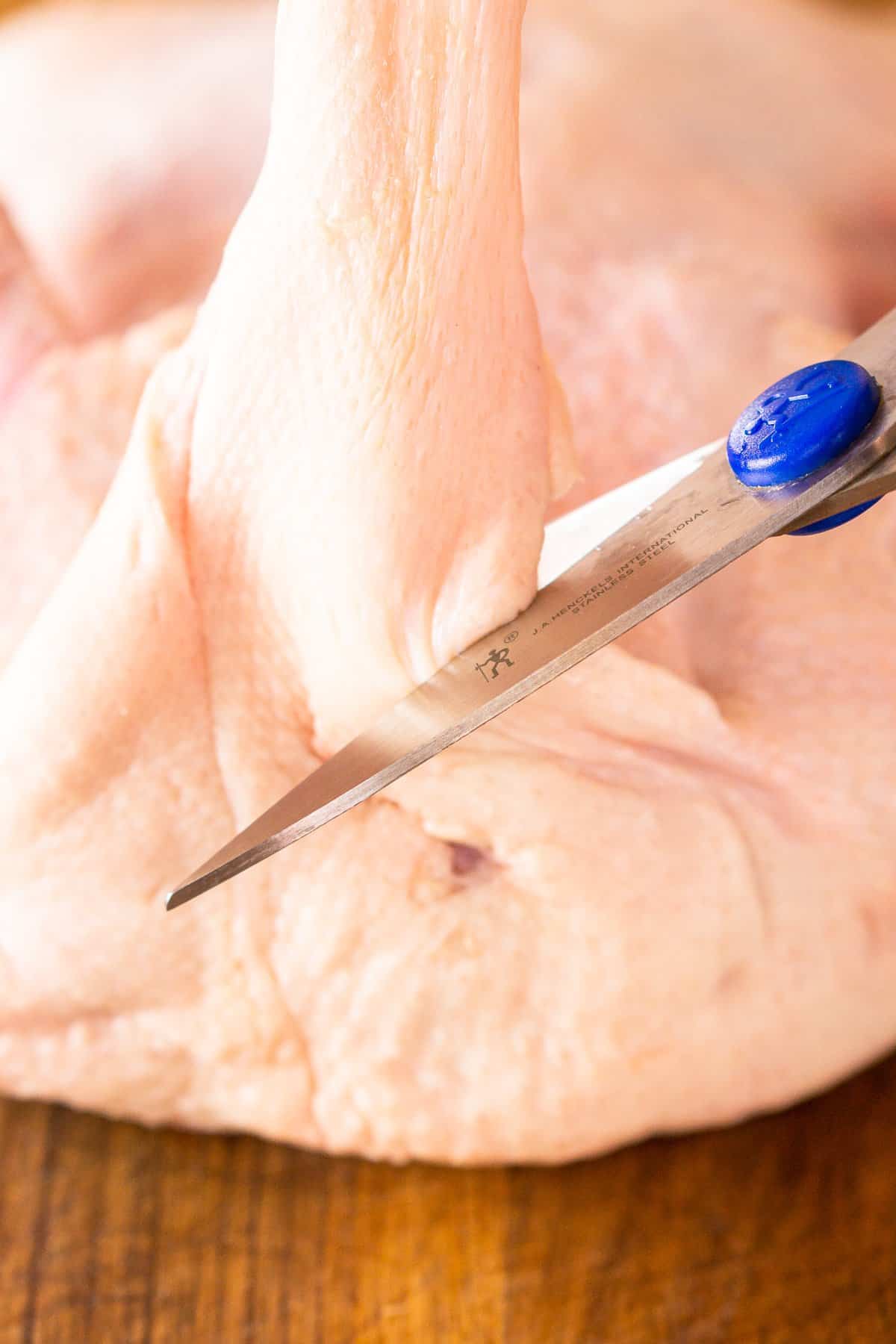 We then take a sharp knife to score the meat by cutting lines in a cross-cross pattern into the skin without piercing the meat. This allows the fat underneath the skin to escape while roasting, leaving us with perfectly crispy duck skin.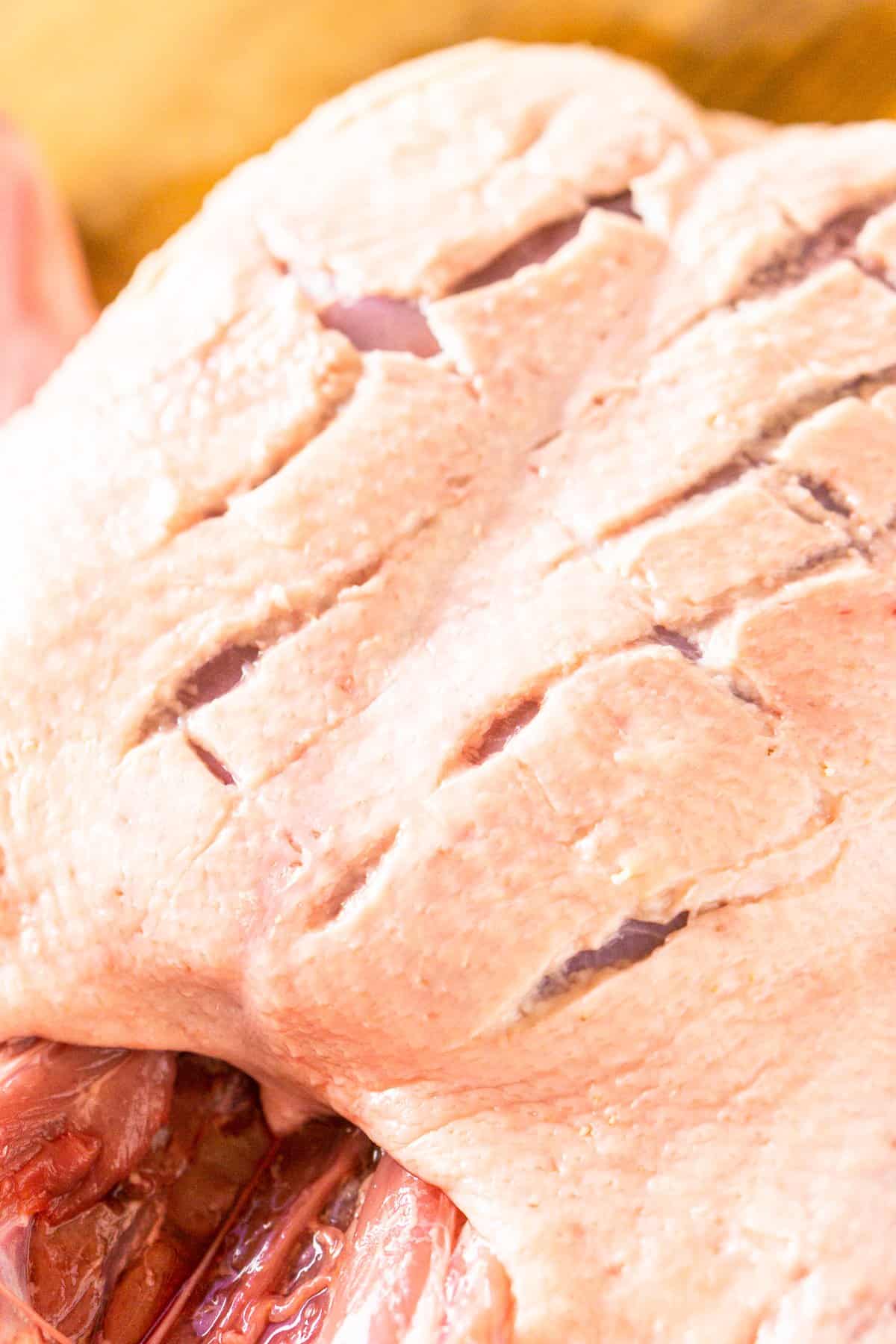 Now we stuff our duck with those aromatics for flavor and tie together the legs.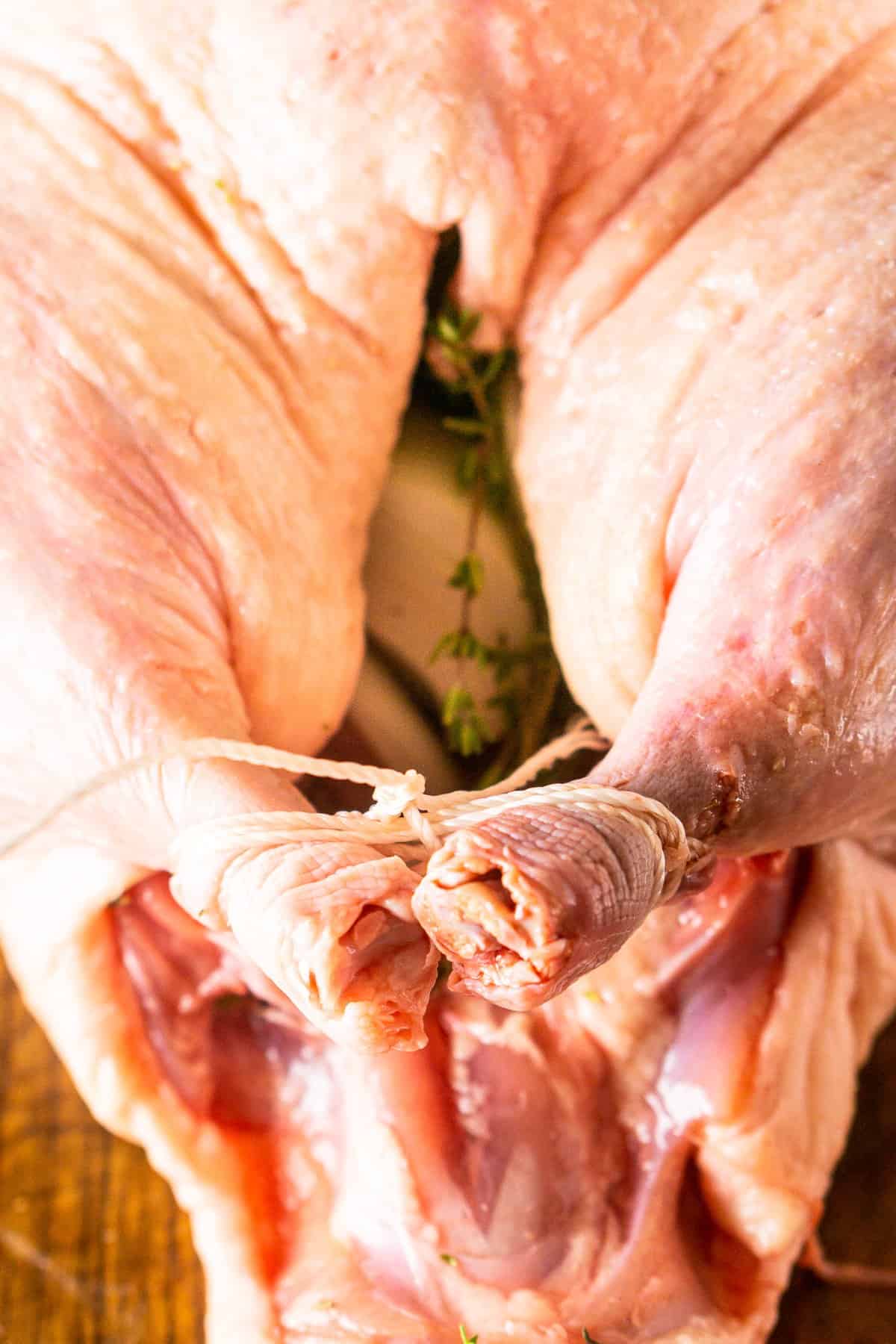 From here, we generously sprinkle the duck skin with salt and place it in the refrigerator uncovered for at least an hour, though eight to 24 hours is even better. This helps dry out the skin for extra crispy results.
After the trip to the refrigerator, we're ready to roast. We place the rack inside the roasting pan and the duck on top. We give the bird a final rub of pepper, paprika and garlic powder and place in a 425-degree oven. After 15 minutes, we turn down the heat to 350 degrees.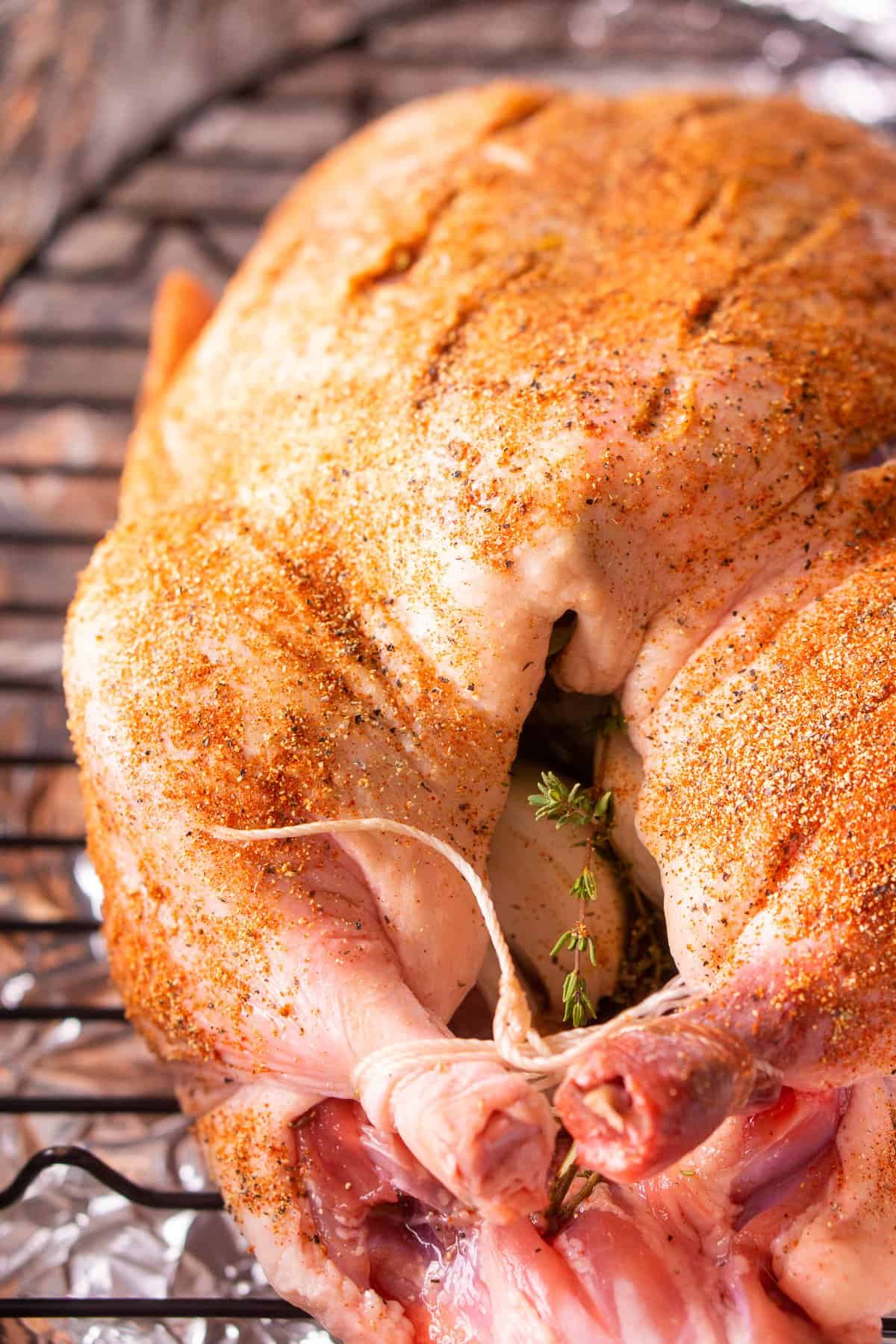 At this point, we let the duck work its magic and roast to perfection. Meanwhile, let's start on our spiced glaze.
We begin by whisking together cranberry juice, orange juice, molasses, balsamic vinegar and spices in a small saucepan and then cook over medium heat. The mixture will come to a boil, and we then bring it down to a simmer until it slightly reduces.
In a small bowl, we take a little cornstarch and mix it with cold water until it smooths. We pour that into our glaze and let it come to a boil again. This turns our liquid into the perfect consistency — not too thick and not too thin.
Now we turn off the heat, stir in the orange zest and set aside. In the final 15 minutes or so, we brush the duck with the glaze, and then we serve the rest with the finished bird for a decadent touch. Serve this Christmas roast duck with a side of brown butter mashed potatoes and you're in for one memorable, family-pleasing holiday meal.
Bonus: For more holiday dinner ideas, try my Christmas chicken and crispy smoked turkey wings.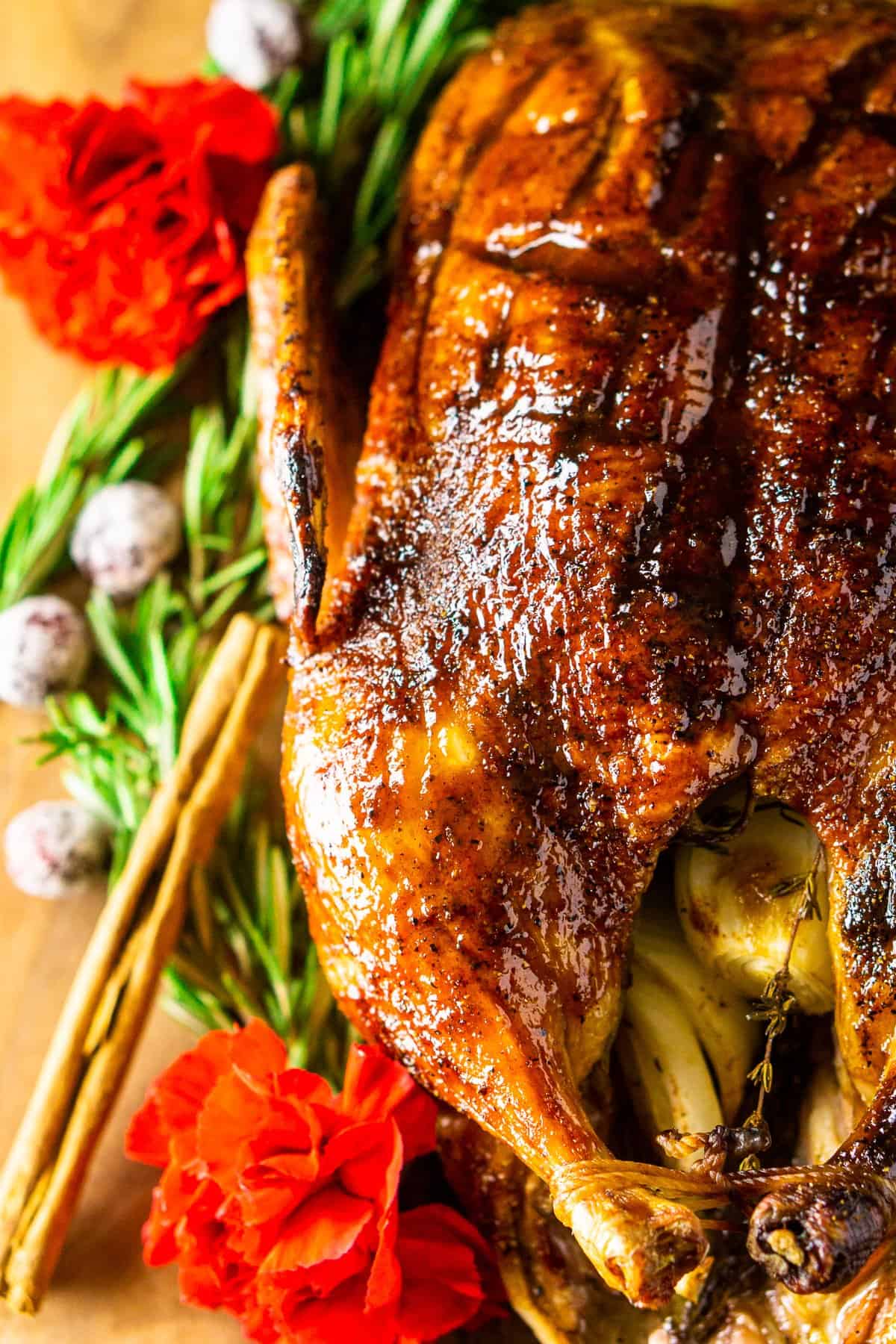 Expert Tips and FAQs
We need to make sure the duck is fully thawed before roasting. I like to give it two to three days to sit in the refrigerator. If you only have two days, I recommend submerging the still-wrapped duck in water to speed along the process.
After removing the innards, we can toss them or save them to make a great stock or even a duck pate. Your choice.
Please note that I specified not to pierce the meat while scoring. If we cut into the meat, it can dry out. This is why a sharp knife is important. A dull knife makes it a bit trickier.
I find it's easiest to tie duck or chicken legs by first securing a knot with kitchen twine around one leg. We continue to wrap the kitchen twine between both legs making a figure eight. After several figure eights, we tie the two twine ends together.
Before roasting, we want to wrap the pan in tinfoil before setting the rack inside the pan. With all the duck fat, we'll be left with a mess if we don't cover the pan.
You may have noticed we use two temperatures. This initial blast of heat helps create crispy duck skin, but we don't want to dry the meat out, which is why we turn it down.
Official USDA guidelines say to cook roast duck until it reaches 165 degrees. Many world-class chefs cook duck breasts between 135-145 degrees because it isn't a common carrier of salmonella like chicken and turkey. That said, the legs and thighs are better at 165 degrees, which allows those connective tissues to break down.
Perfect Pairing
Duck is a rich, bold meat, so we want a beer with some body and a malty backbone. With that in mind, a Belgian strong dark ale makes a wonderful beer pairing with roast duck. This beer shows off dried fruit and molasses notes with a caramel-like malt that perfectly matches the caramelization from roasting, and the spicy yeast works beautifully with our fruity ginger sauce. For an extra festive touch, I recommend the Delirium Noel from Brouwerij Huyghe.
Feeling wine? I love pairing this dish with a gewurztraminer. This wine is highly aromatic, which makes it great with a rich meat like duck. The floral notes match nicely with the glaze and heighten the ginger flavor. A pinot noir is also a classic wine pairing with duck.
And, of course, it wouldn't be the holidays without a signature cocktail or two. Try my spiced cranberry bourbon sour, sparkling cranberry-ginger margarita, Sugar Plum Fairy Martini, sparkling pomegranate martini or chai-cranberry bourbon smash.
For one unforgettable, special holiday dinner, I hope you try this Christmas roast duck with cranberry-orange glaze.
Cheers!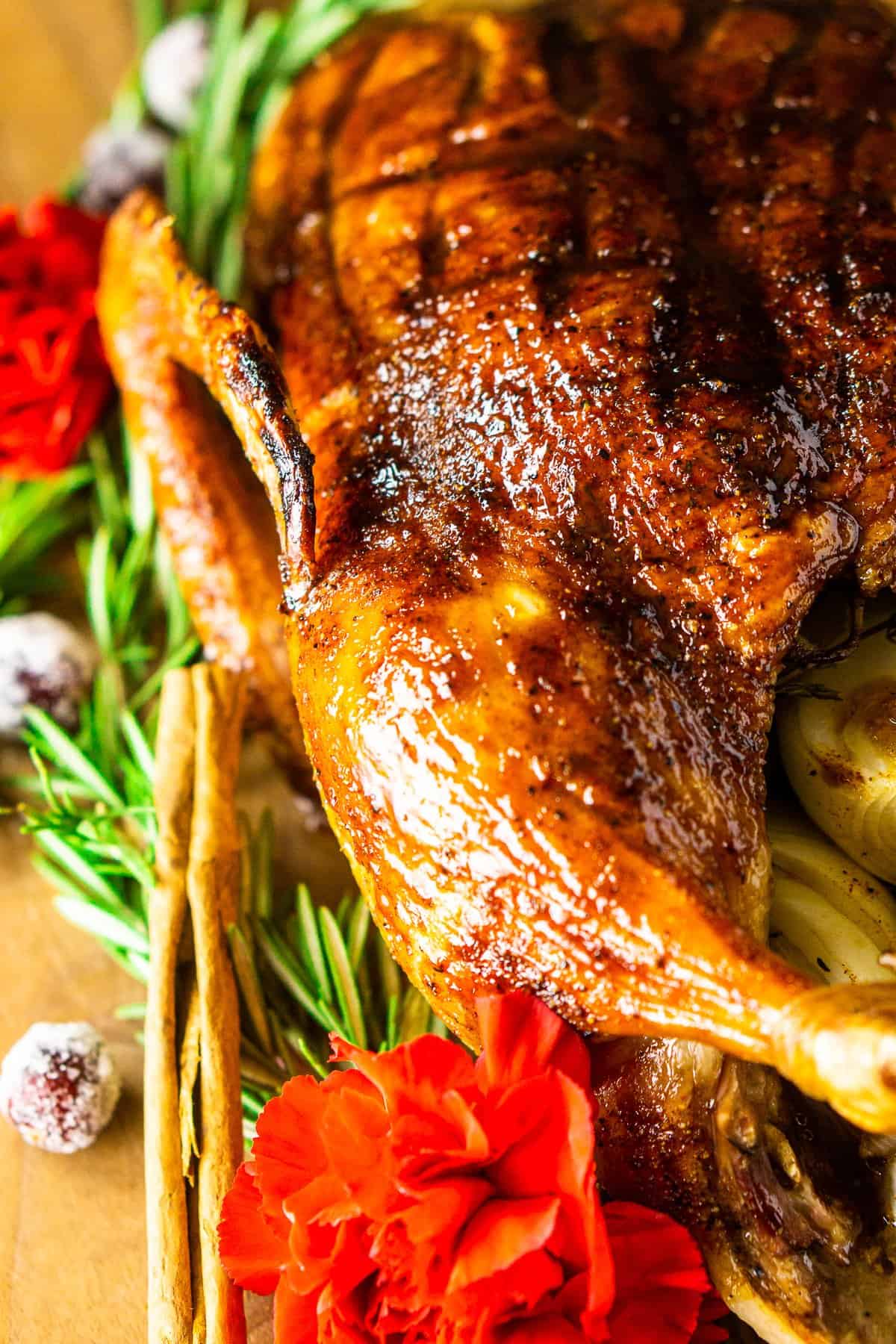 Looking for More Christmas Recipes?
If you love this recipe, please leave a comment with a five-star rating — or simply hit the five-star button in the recipe card. Don't forget to sign up for my newsletter, and you can follow me on Facebook, Instagram, Pinterest and TikTok.
📖 Recipe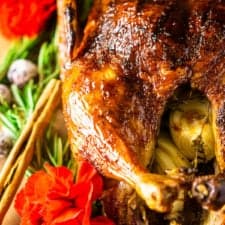 Christmas Roast Duck With Cranberry-Orange Glaze
Make the holidays special with this Christmas roast duck with cranberry-orange glaze! Featuring perfectly crisp skin and a spiced glaze full of festive flavors, this roast duck adds elegance to your holiday table.
Print
Pin
Rate
Equipment
Kitchen twine

Shears

Sharp knife

Tinfoil

Roasting pan with rack

Thermometer
Ingredients
Christmas Roast Duck
1

whole duck

innards and gizzards removed

1

onion

quartered

1

lemon

quartered

Several sprigs of rosemary, sage and thyme

Salt

1

teaspoon

sweet paprika

1

teaspoon

pepper

1

teaspoon

garlic powder
Cranberry-Orange Glaze
1

cup

cranberry juice

½

cup

orange juice

¼

cup

unsulphured molasses

not bootstrap

2

cinnamon sticks

1

garlic clove

grated or minced

2

teaspoons

freshly grated ginger

1

teaspoon

balsamic vinegar

¼

teaspoon

salt

Pinch of cayenne

2

teaspoons

cornstarch

Splash of cold water

½

teaspoon

fresh orange zest
Instructions
Christmas Roast Duck
Pat the duck dry with paper towels. Trim off excess fat on the side opposite of the cavity. Place the duck on a sturdy cutting board and score the breast skin using a sharp knife. Cut the skin in a criss-cross pattern but make sure you don't pierce the meat to avoid drying it out.

Stuff the duck cavity with onion quarters, lemon quarters and herbs and tie together the legs. Pat the duck dry one more time with paper towels to remove as much moisture as possible and generously sprinkle with salt all over. Place in the refrigerator uncovered at least eight hours and up to a day to allow for extra crispy skin.

Remove the duck 30 minutes before roasting to sit in room temperature and heat oven to 425 degrees. Stir together the paprika, pepper and garlic pepper and rub all over the duck. Cover a roasting pan with tinfoil and place the rack in the roasting pan. If you don't have a roasting pan, substitute a large baking sheet and a wire rack. Place the duck on the rack with a leave-in meat thermometer inserted into the thickest part of the thigh without touching the bone.

Roast for 15 minutes in a 425-degree oven, and then turn the temperature to 350 degrees. Continue to roast until the duck reaches an internal temperature of 165 degrees F. Plan for at least one hour and 15 minutes, though it can take longer, depending on the bird.

When the duck reaches your desired temperature. Remove from the oven, cover with foil and let it sit for 10-15 minutes. Carve the duck and serve. Enjoy!
Cranberry-Orange Glaze
In a small saucepan, stir together the cranberry juice, orange juice, molasses, cinnamon sticks, garlic, ginger, balsamic vinegar, salt and cayenne pepper. Bring to a boil over medium-high heat and then simmer until it slightly reduces.

In a small bowl, whisk together the cornstarch and a little bit of cold water until it becomes a smooth slurry. Whisk into the sauce to avoid any clumps forming and bring to a boil. Keep whisking and allow the mixture to boil for about a minute until it thickens.

Turn off heat and stir in orange zest. Spoon some of the sauce into a small bowl and brush onto the duck in the last 15 minutes of roasting. Serve the remaining sauce on the side.
Notes
If you've never roasted duck and hit the Jump to Recipe button, you might want to scroll up to see photos of scoring the skin.
Make sure the duck is completely thawed before cooking. Otherwise, it will take much longer to cook, and it will cook unevenly.
While this recipe calls for one duck, you can roast two at a time if your pan is big enough.
For full tips, please see blog post.
Nutritional information is only an estimate. The accuracy of the nutritional information for any recipe on this site is not guaranteed.
Nutrition
Serving:
1
¼ serving of duck
|
Calories:
350
kcal
|
Protein:
17
g
|
Fat:
25
g
|
Saturated Fat:
7
g
|
Sodium:
515
mg
|
Sugar:
20
g