Your holidays are about to get extra festive. Rich molasses and warm gingerbread spices give this homemade toffee a seasonal twist. Put this gingerbread toffee on your holiday dessert table and you have a guaranteed crowd pleaser.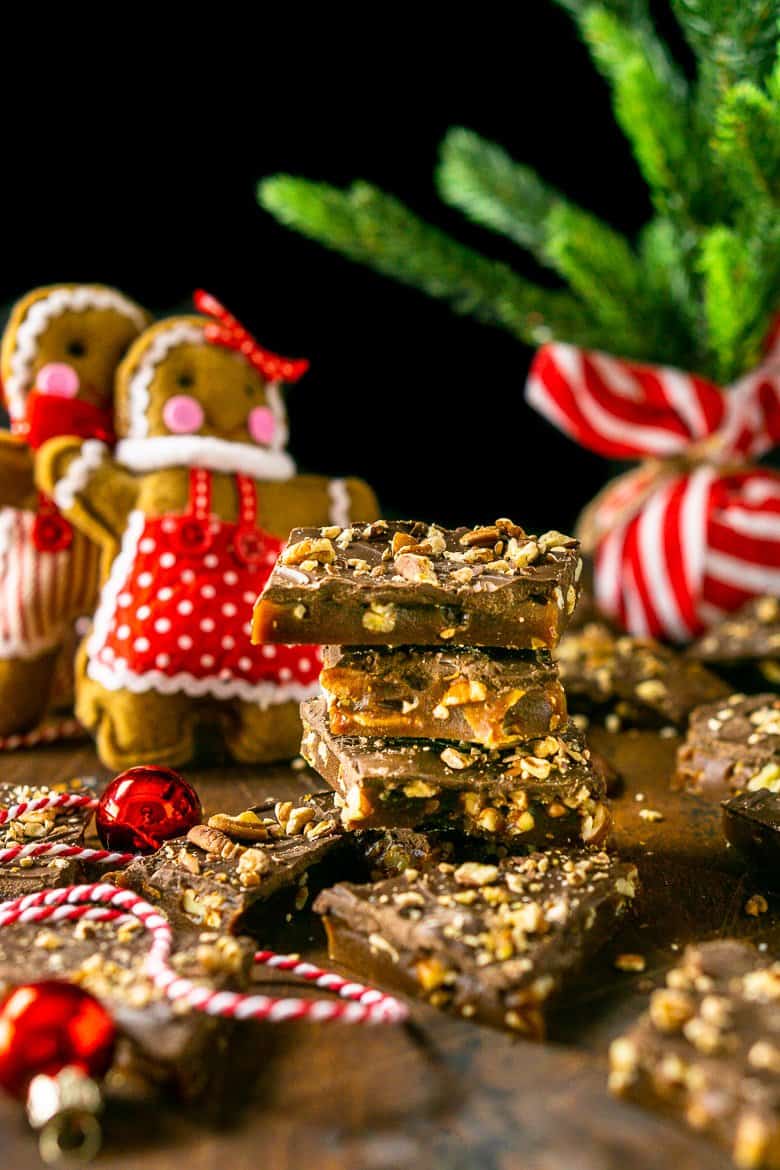 Jump to:
Confession: I'm obsessed with gingerbread anything. Of all the Christmas characters, gingerbread people are the most adorable, and I not so secretly want to live in a real gingerbread house. Dream big, right?
I also love making toffee for the holidays, so before I made my first batch of the season, I thought, "Hey, what if I made a gingerbread version of this toffee?" I've always loved the Land O'Lakes classic toffee, so I took that recipe and swapped out some of the white sugar for molasses and dark brown sugar and added gingerbread spices and vanilla extract.
Voila! Just like that I had gingerbread toffee. I took the batch to my family's house for Thanksgiving and was both pleased and sad that it disappeared quickly --- pleased that everyone gobbled it up but sad because when I went to get a piece for myself, I discovered it was already gone.
Now I'm excited to bring this gingerbread toffee to you! I'm sure you'll love this gingerbread toffee as much as I do, so let's jump into it.
Related: For more Christmas desserts, check out my peppermint bark ice cream and gingerbread tiramisu.
Ingredients
Before we start cooking, I always like to organize my ingredients to ensure everything is ready to go. Here's what we need to make this gingerbread toffee.
Butter
White sugar
Dark brown sugar
Molasses
Light corn syrup
Water
Cinnamon
Ginger
Cloves
Vanilla extract
Chocolate chips
Pecans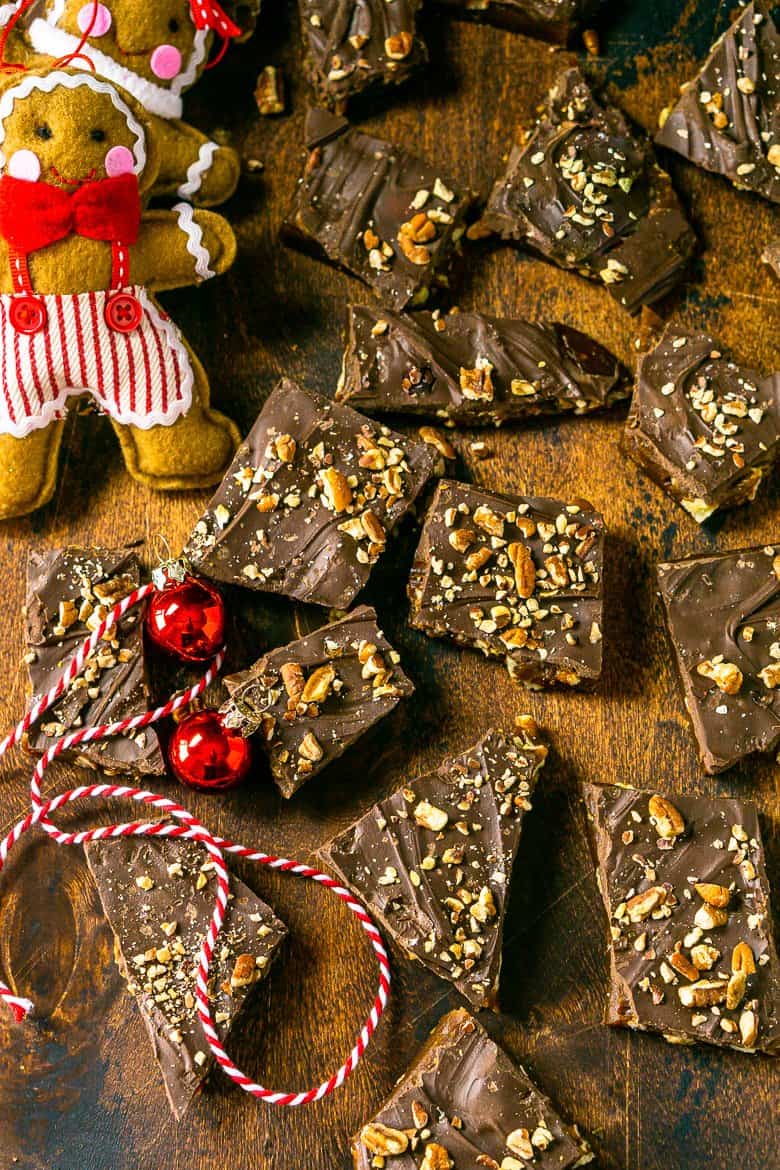 How to Make Gingerbread Toffee
Making your own candy may sound intimidating, but with a watchful eye and a basic candy thermometer, anyone can successfully make a batch of this gingerbread toffee. Let's get started, shall we?
To start, we toast our pecans on the stove. This only takes a few minutes, and it gives our pecans a serious flavor boost. We set those aside and move on to the candy making process.
For our toffee, we throw all of our ingredients into a heavy-bottomed pot except the spices, nuts, vanilla extract and chocolate.
Now we stir continuously until everything melts into a smooth mixture like this.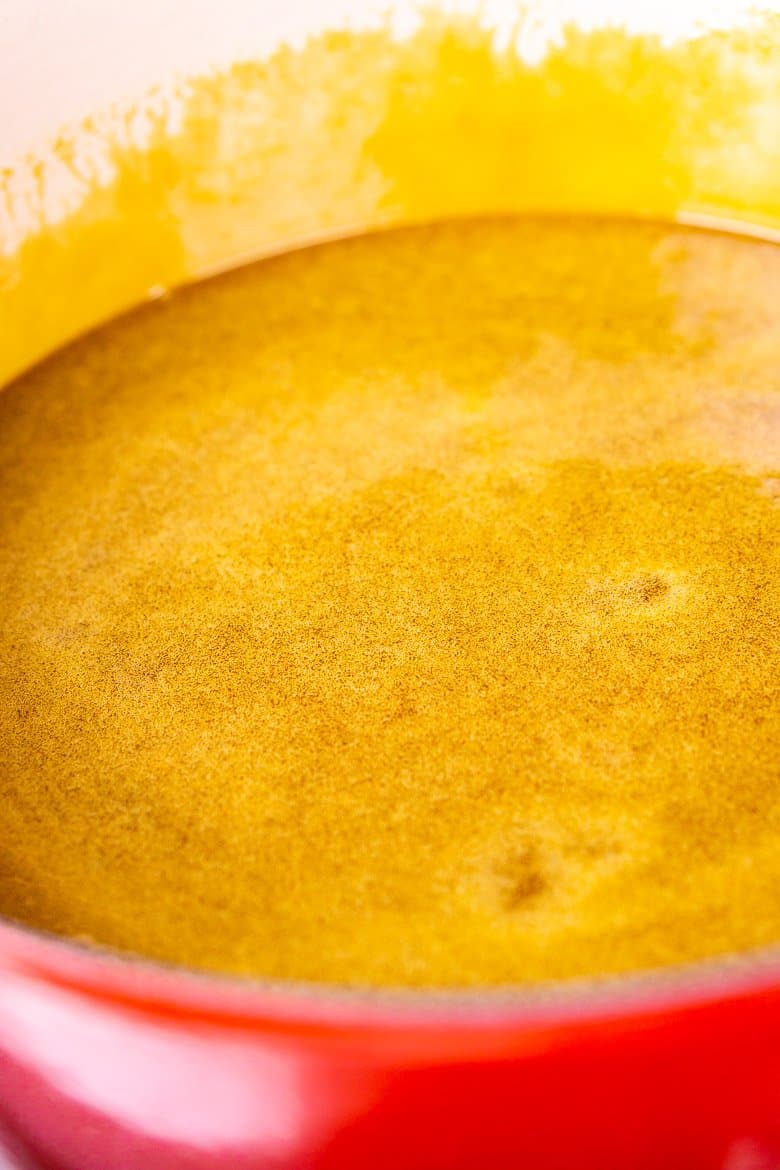 We keep cooking the mixture until it starts to bubble. Initially, only a portion of the mixture will bubble while the rest will remain smooth.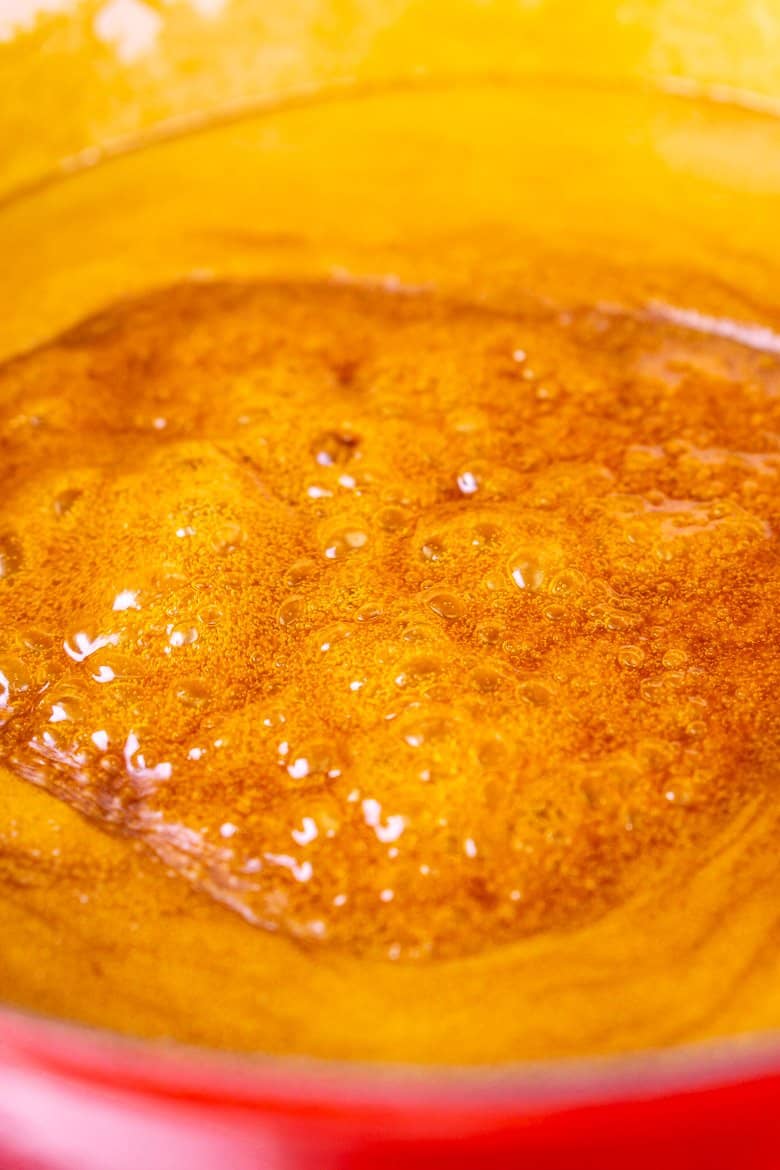 But keep cooking and the entire mixture will eventually thicken and turn into a roiling boil like so.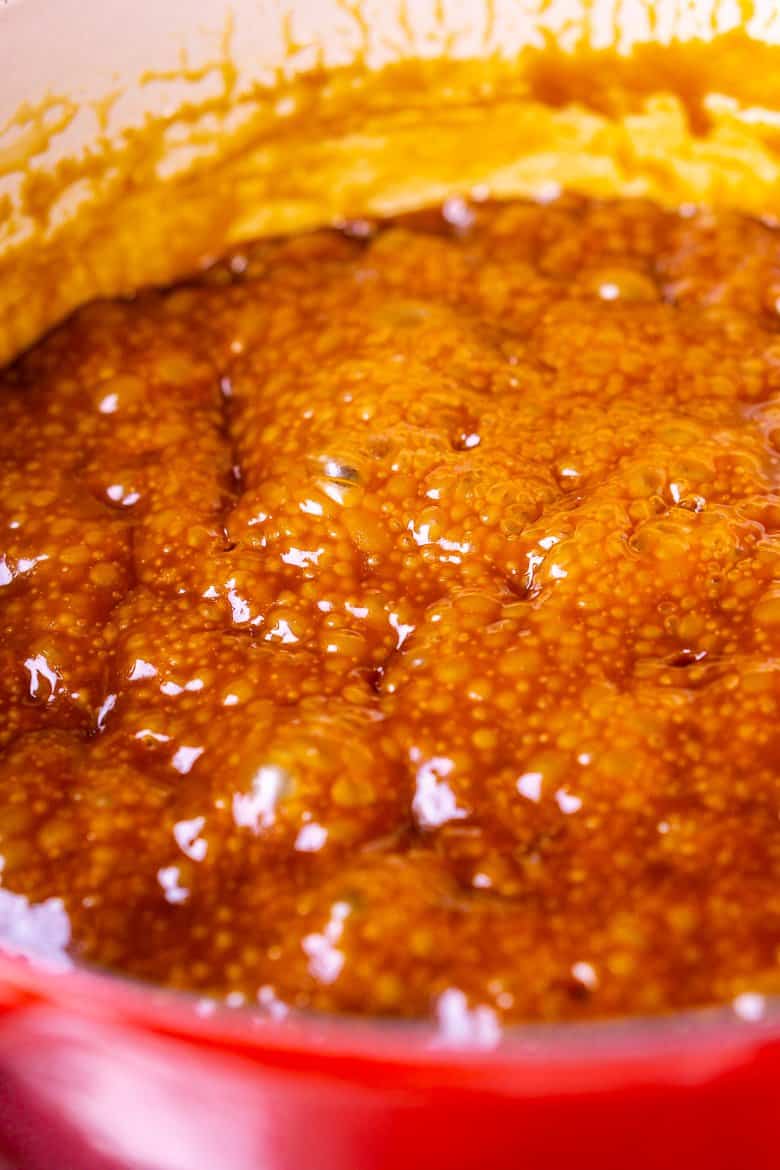 Once the mixture hits 300 degrees on a candy thermometer, we remove it from the heat and stir in a portion of the pecans, vanilla extract and spices. Now we pour the mixture onto a parchment paper-lined baking sheet. Be careful when you do this. We're working with a 300-degree mixture here, so we don't want any burned fingers.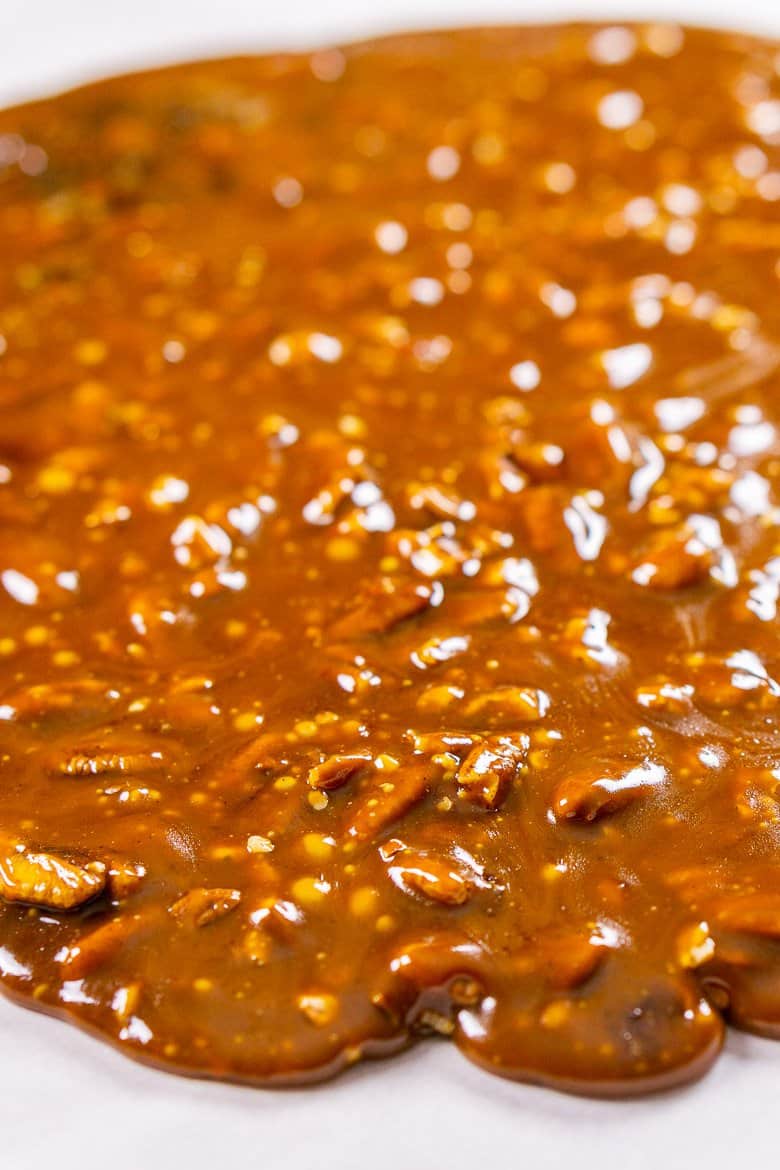 We then top the toffee with chocolate chips. The toffee will still be plenty hot, so the chocolate chips will begin to melt. To help with the process, we use a spoon to smooth the chocolate. Once the chocolate is perfectly smooth, we top with the remaining pecans.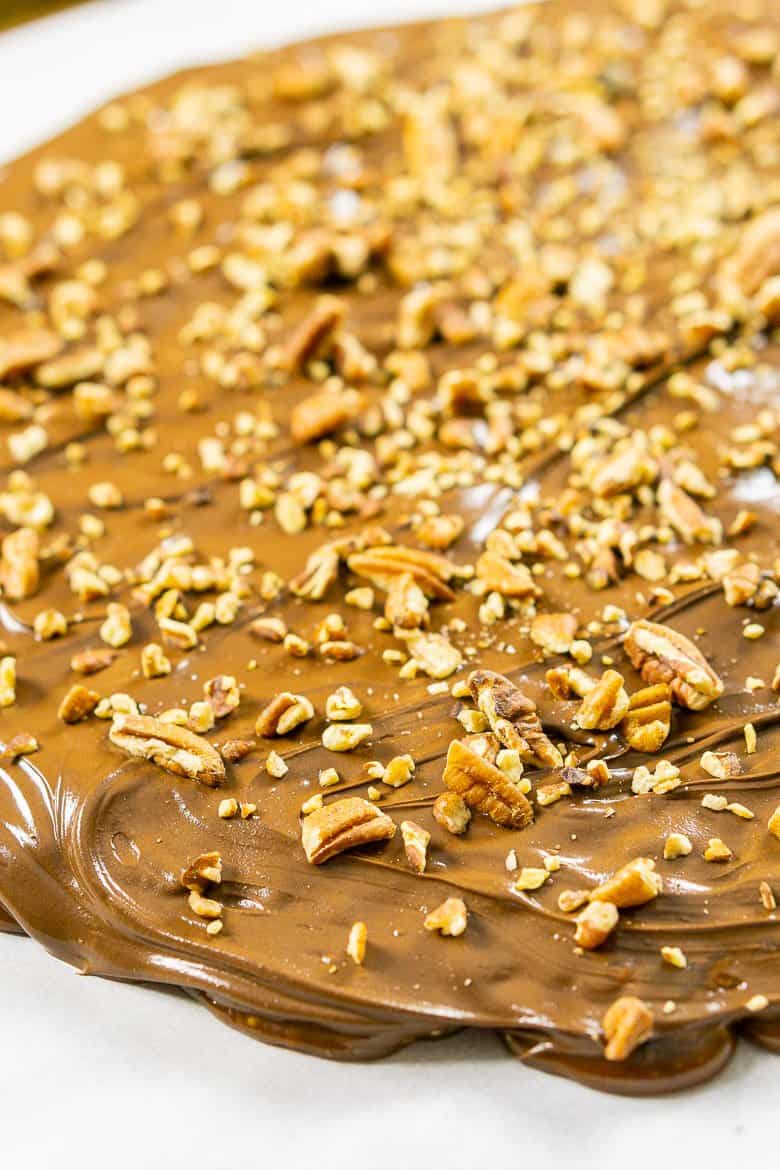 As delicious as it looks, we need to find patience within ourselves and let the toffee sit until it cools and the chocolate sets. Expect for this to take at least three hours, though you can speed the process by placing the toffee in the refrigerator.
I know. Being an impatient person, I'm well-aware that waiting is the worst. But it is necessary here. Sigh.
Once the toffee finally cools and the chocolate sets, we're ready to break our gingerbread toffee into pieces and enjoy our festive holiday candy. And if you'd like to make more holiday candy, you'll also love this easy Christmas bark. Isn't this time of year the best?
Do I Need a Candy Thermometer to Make Homemade Toffee?
I highly recommend a candy thermometer when making homemade toffee. When I make caramel sauce, judging the sauce by its color is simple, but candy making takes more precise temperature monitoring to get the candy to the proper stage.
Some people cook candy with a water test. With this method, you drop bit of the candy syrup into water to see what shape the syrup takes. I find this method to be a pain, and if you cook the candy syrup at too high a temperature, you'll be left with a ruined batch of toffee. A candy thermometer is a much safer bet.
Besides, most candy thermometers are cheap, and then you'll have it for proper deep frying, which means you can make my oh-so delicious pumpkin crullers with caramelized maple glaze. Lucky you. Plus, with Amazon, you can get a candy thermometer in no time if you feel too lazy to make it to the store.
Perfect Pairing
For a beer, look no further than a Belgian quad. With a Belgian quad, you get lots of dried fruit and caramel-like malt notes that work beautifully with the gingerbread spices and caramelized sugar of the toffee.
If the mood for wine strikes, I'm always a fan of a tawny port with gingerbread-flavored treats and toffee. Considering that we're bringing the two together in this dessert, it only make sense to keep the tawny port pairing going. A tawny port has a lot of the same flavor qualities as a Belgian quad, so it goes just as well with this gingerbread toffee.
For your next holiday party, I hope you try this gingerbread toffee. I'm sure this candy will disappear as quickly as it did with my family.
Cheers!
Feeling Festive?
If you love this recipe, please leave a comment with a five-star rating — or simply hit the five-star button in the recipe card. Don't forget to sign up for my newsletter, and you can follow me on Facebook, Instagram, Pinterest and TikTok.
📖 Recipe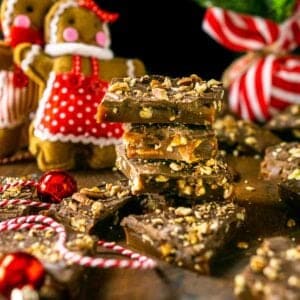 Gingerbread Toffee
Your holidays are about to get extra festive. Rich molasses and warm gingerbread spices give this homemade toffee a seasonal twist. Put this gingerbread toffee on your holiday dessert table and you have a guaranteed crowd pleaser.
Print
Pin
Rate
Equipment
Heavy-bottomed saucepan

Candy thermometer

Skillet

Parchment paper

Large baking sheet
Ingredients
1 ½

cup

chopped pecans

divided

2

cups

butter

1

cup

white sugar

1

cup

dark brown sugar

⅓

cup

unsulfered molasses

¼

cup

plus 2 tablespoons water

2

tablespoons

light corn syrup

1

teaspoon

ground cinnamon

1

teaspoon

ground ginger

¼

teaspoon

ground cloves

1

teaspoon

vanilla extract or paste

2

cups

semi-sweet chocolate chips
Instructions
In a large skillet over medium heat, cook the pecans until they smell toasted. This should only take a few minutes. Set aside.

Add the butter, white sugar, dark brown sugar, molasses, water and light corn syrup in a large heavy-bottomed saucepan. Over medium heat, constantly stir until the butter melts and turns into one smooth, cohesive mixture.

Clip a candy thermometer to the saucepan. Don't let the bottom of the thermometer touch the saucepan to ensure accuracy. Continue to cook the toffee mixture until it reaches 300 degrees. Stir occasionally. As it cooks, the mixture will turn to a roiling boil and eventually reduce in volume.

As the toffee mixture cooks, stir together the cinnamon, ginger and cloves. Set aside. Line a large baking sheet with parchment paper. Also set aside.

Once the toffee mixture reaches 300 degrees, turn off heat. Stir in the spice mixture, vanilla extract and 1 cup pecans. Carefully pour the toffee onto the parchment paper-lined baking sheet. Sprinkle chocolate chips on top. Allow to sit for three to five minutes. Use a spoon to spread and melt the chocolate on top of the toffee. Continue until the chocolate is fully melted and smooth. Sprinkle with remaining pecans.

All the toffee to sit for at least three hours. Once the chocolate is set, break into pieces. Enjoy!
Notes
Store in an airtight container for up to two weeks.
Nutritional information is only an estimate. The accuracy of the nutritional information for any recipe on this site is not guaranteed.
Nutrition
Serving:
1
piece
|
Calories:
290
kcal
|
Carbohydrates:
28
g
|
Protein:
2
g
|
Fat:
20
g
|
Cholesterol:
32
mg
|
Sodium:
6
mg
|
Sugar:
26
g