I have a holiday confession: I'm obsessed with everything and anything gingerbread. Whether it's an adorable gingerbread house, a plate full of gingerbread men cookies or festive decor featuring these favorite holiday icons, I love it all. They're just so darn cute, and I can't get over it. Given my love for gingerbread, it's only natural that I share my soft gingerbread men cookies recipe.
While I don't mind a crisp gingerbread man cookie, when given the choice, I always prefer a soft cookie with a nice chew. Ultimately, I find getting that perfect texture comes down to baking time and dough thickness. So let's walk through the process, shall we?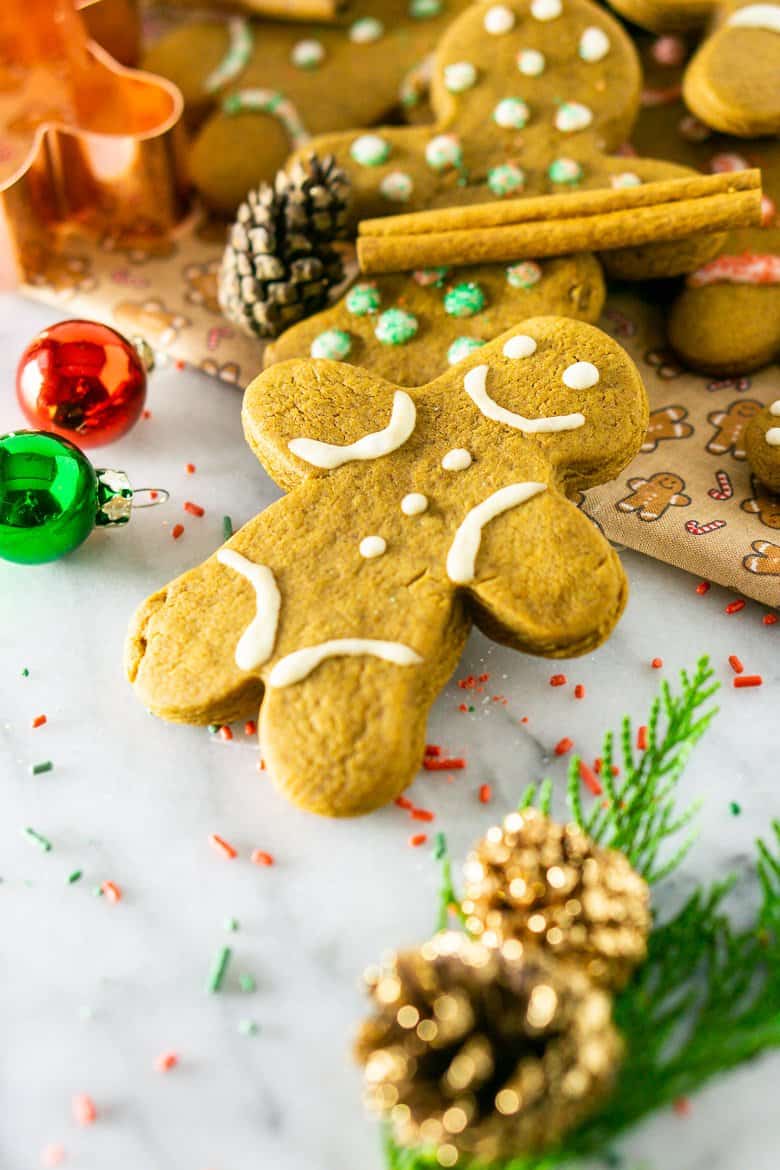 How to Make Soft Gingerbread Men Cookies
We start by mixing the dry ingredients, which includes the spices. Ginger, cinnamon, nutmeg and cloves are common in gingerbread men cookies, but I also like to include a touch of cardamom. That unique cardamom flavor gets me every time, and it adds a subtle twist from your typical gingerbread man cookie.
Now we cream our butter and sugar like we would with any cookie recipe and add an egg, molasses and vanilla extract. From here, we gradually add the dry ingredients and chill the dough for several hours. I realize that's a little annoying, but it makes the dough easier to roll.
When we're ready to roll the dough, I recommend rolling it to a ¼ inch rather than ⅛ inch. That may sound like a minor difference, but we'll get much softer gingerbread men cookies if we use thicker dough. Now we cut out our gingerbread men and pop them into the oven for eight minutes.
For decorating, I like to use a royal icing flavored with vanilla and orange extracts. To make the icing, we whip a couple egg whites with the extracts and then beat in a heap of powdered sugar until it's smooth and pourable. If you'd like, you can add food coloring or leave the icing white —- your choice.
Perfect Pairing for Soft Gingerbread Men Cookies
If you've ever had Hardywood Park Craft Brewery Gingerbread Stout, you already know how well an imperial milk stout pairs with gingerbread. And no worries if you haven't. I'm here to tell you the combination is delicious, and an imperial milk stout is perfect with these gingerbread men cookies.
Milk stouts include lactose, which gives the beer a creamy body that works well with cookies. I like to think of the combination as a grown-up version of cookies and milk.
That said, I also love dunking these gingerbread men cookies in ice-cold milk. I know —- that's not really what you think of when it comes to pairings, but it's worth mentioning because it's ridiculously good. I don't care how old I get. Dunking cookies in milk will always be delicious.
For wine, I love an Oloroso sherry with these gingerbread men cookies. Oloroso sherry is a sweet dessert wine with caramel and vanilla notes that work well with the molasses, and I love how the spices contrast with the sweetness of the sherry.
During this holiday season, I hope you try these gingerbread men cookies. Not only are they delicious, but you'll have a blast decorating them. Please let me know how you enjoyed this gingerbread men cookies recipe in the comment section and don't forget to sign up for my newsletter. You can also catch me on Instagram, Pinterest, Facebook and Twitter.
Cheers!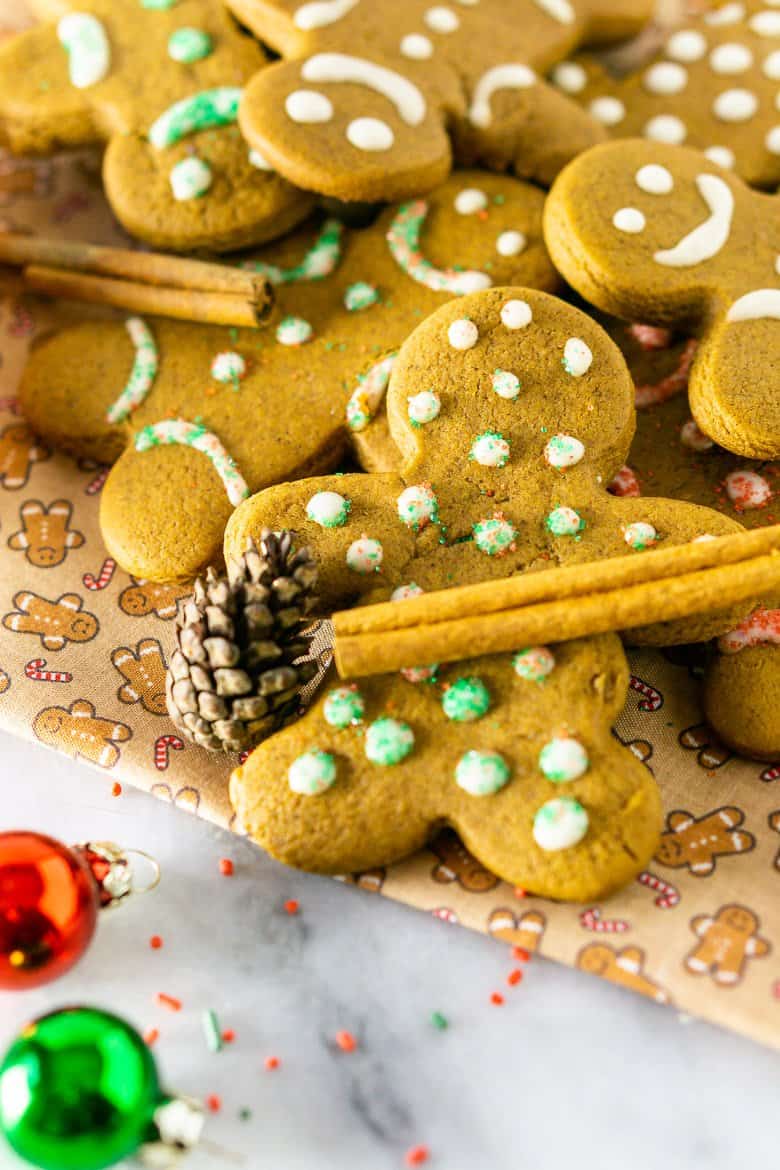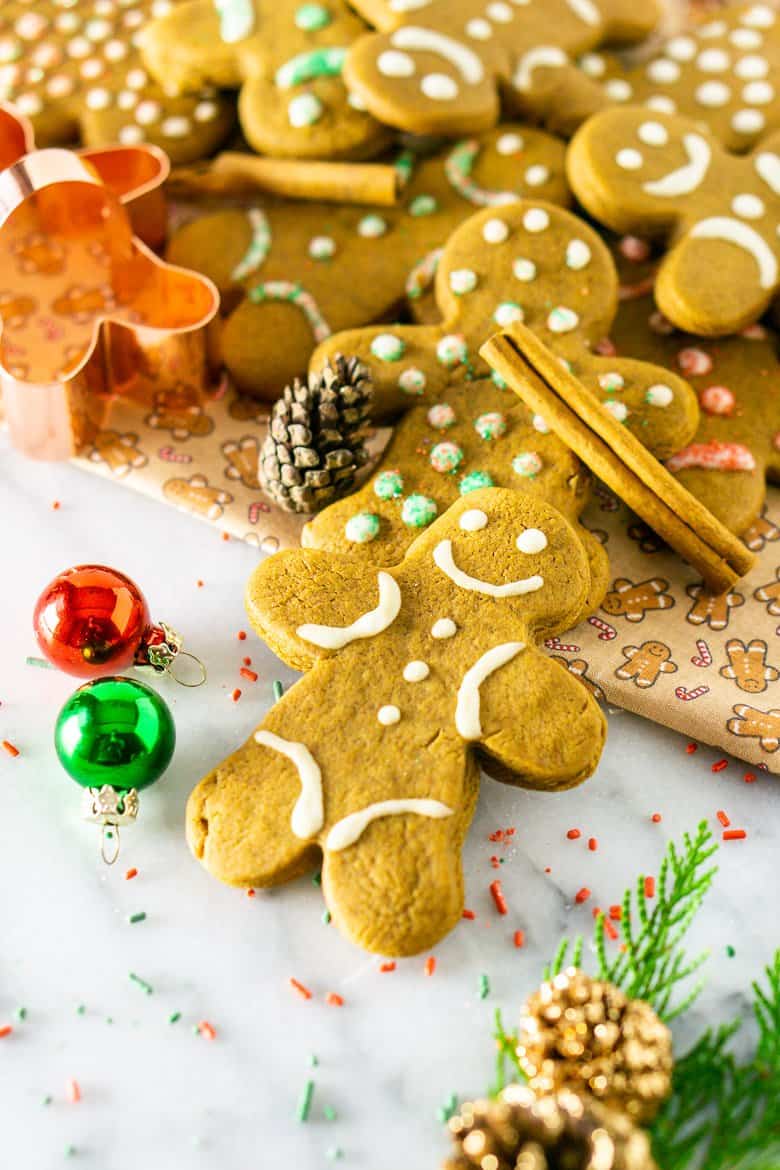 Need a Little Holiday Cheer? Try These Burrata and Bubbles Recipes.
Shop This Post
Burrata and Bubbles is a participant in the Amazon Services LLC Associates Program, an affiliate advertising program designed to provide a means for sites to earn advertising fees by advertising and linking to Amazon.com.