For a crowd-pleasing appetizer for your summer parties, everyone will love this easy smoked queso dip recipe! Featuring an ultra creamy, velvety cheese base with the perfect smoky flavor, this loaded dip is filled with spicy chorizo, Rotel tomatoes, onions and fresh jalapeños to make one irresistible party snack. Make sure you have plenty of crisp tortilla chips on hand because everyone will devour this smoky queso.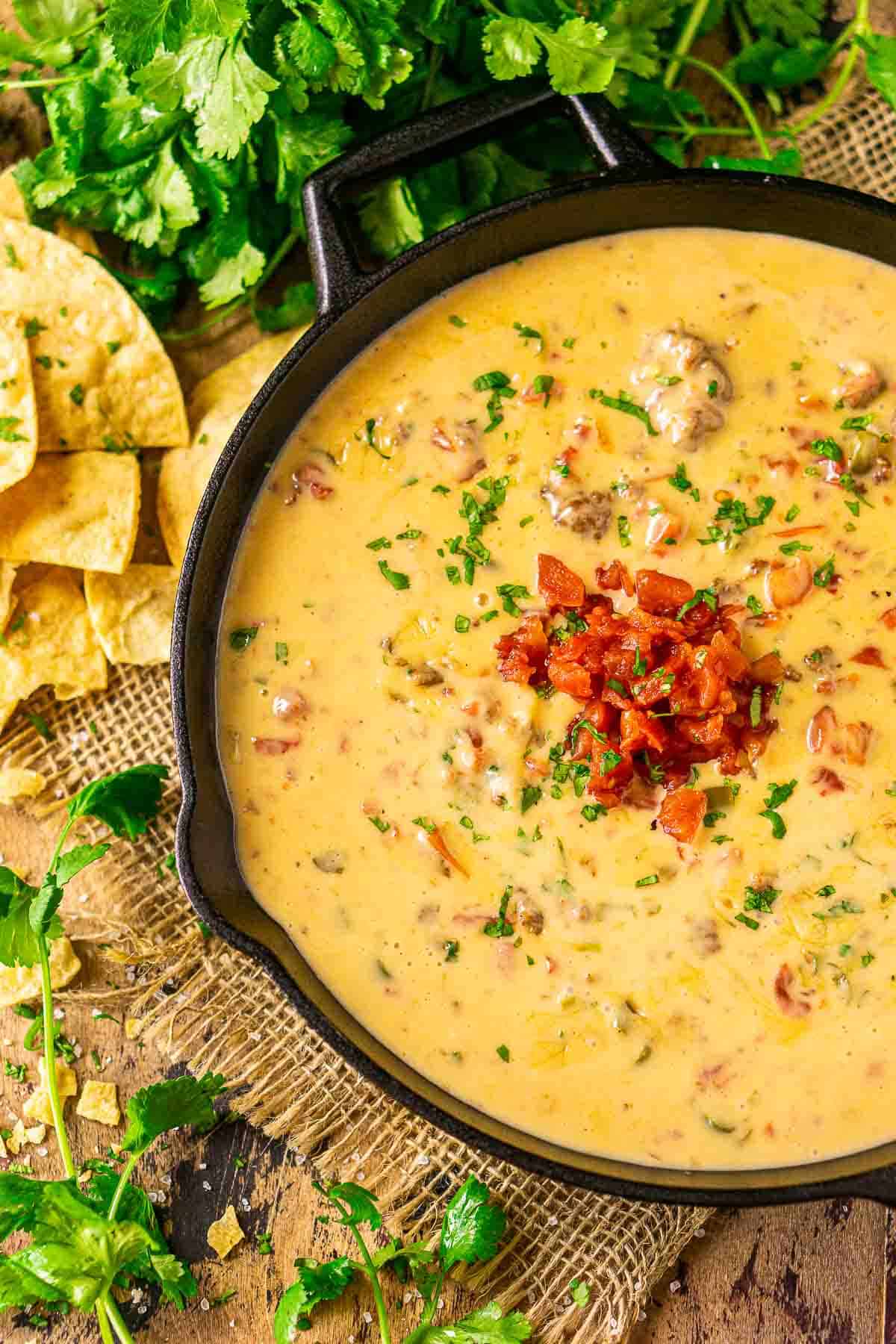 Jump to:
Why You'll Love This Recipe
Perfect medley of flavors: Chorizo adds such a wonderful burst of spice, including chili powder, cumin, smoked paprika and coriander along with other flavors. Then, we get two types of peppers with the jalapeños and green chiles from the Rotel. Talk about a flavor explosion, especially with the smoking process.
Smokes right along with your other meats: Whether you're smoking a Texas brisket, whole chicken or St. Louis-style pork ribs, you can put a pan of this queso on the grill at the same time for easy entertaining. We smoke the queso at the same temperature of these meats for your convenience.
Easily feeds a large party: This makes a lot of queso. No one will go hungry when this smoked queso dip is on the menu. That makes it great for big backyard gatherings, Super Bowl parties or tailgates when you may have some stragglers on game days. Your next party deserves the absolute best smoked queso dip.
Customize to your liking: This recipe is perfect as is, but you can absolutely add your own mix-ins or use it in other ways besides a dip.
Simple and comes together quickly: This is not a fussy appetizer. We brown and sauté a few ingredients first, and then the smoker works its magic.
Related: For more dip recipes, try my smoked cream cheese dip, everything bagel hummus, green chile hummus or smoked trout spread.
Ingredients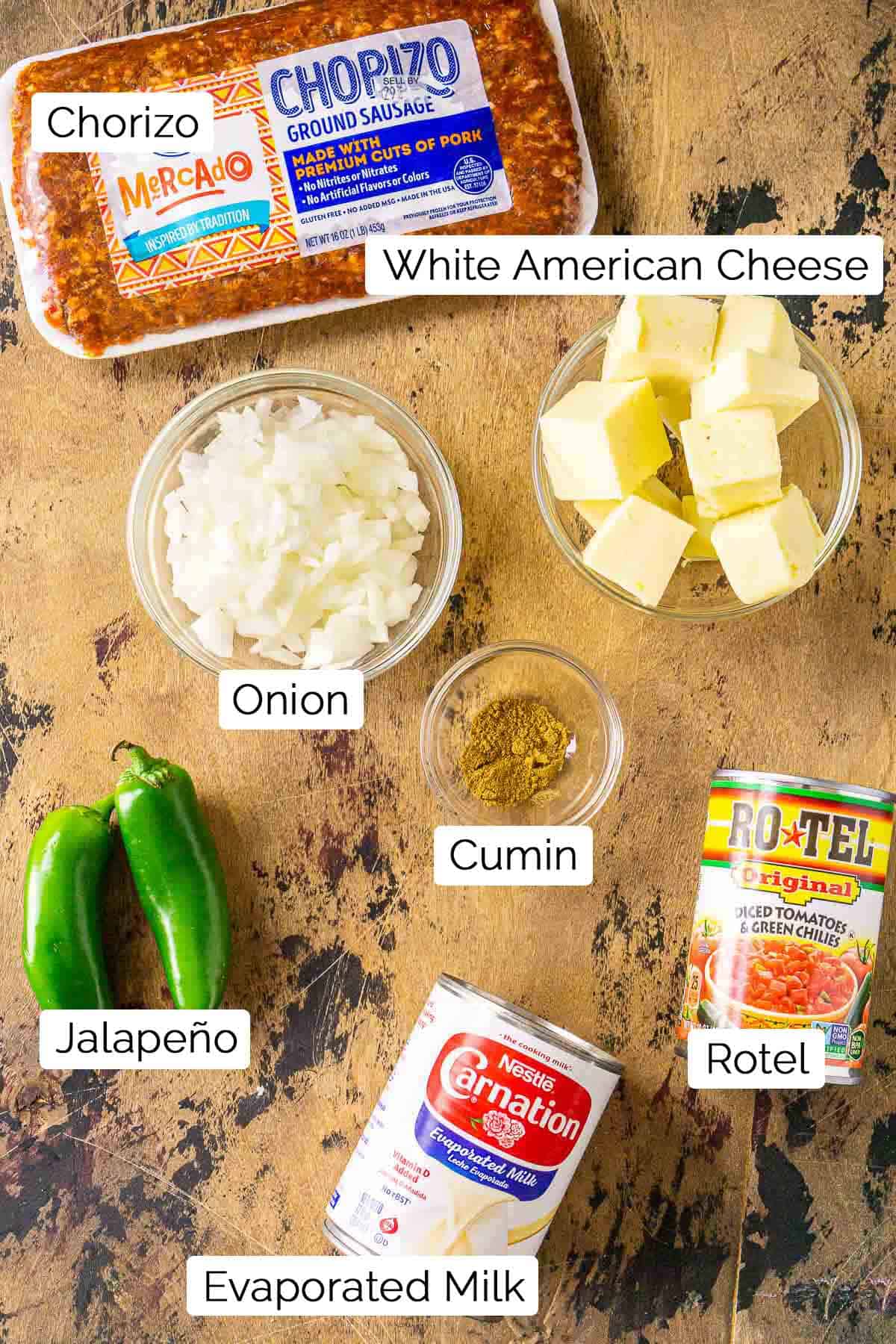 To ensure your success, let's chat about a few ingredient tips for this smoked queso recipe.
White American cheese: A lot of smoked queso recipes use Velveeta, but as someone who grew up in Texas eating loads of Tex-Mex, I prefer deli-style American cheese, which is what so many Tex-Mex restaurants use to make a queso blanco. The flavor, texture and appearance are much more appetizing than Velveeta cheese.
Now, if you're a cheese fanatic, I get that American cheese might make you side-eye this recipe. After all, this blog is named after burrata — I love a fancy, high-quality cheese. But processed American cheese melts so much better than real cheese. If you'd like, you can add your favorite variety, such as cheddar cheese, cream cheese, gouda cheese or Monterey jack cheese, but they're just not as smooth as American cheese.
Pro tip: Please notice the deli-style modifier. This does not use Kraft cheese singles. You will pick up this cheese at the deli counter at the grocery store. Make sure to ask that they cut it in blocks, not slices.
Chorizo: Make sure you get fresh chorizo rather than dried chorizo, which comes in a long tube with casing. Dried chorizo is great for a charcuterie board, but that's not what we want here.
Original Rotel: This is a mix of diced tomatoes and green chiles. I usually see it with the other canned tomatoes in the store, but sometimes it's in ethnic aisle of the grocery store near canned green chiles.
Jalapeños: Make sure you use fresh jalapeños. Pickled jalapeños are nowhere near as delicious, and the pickling brine would add too much acidity. We already have the tomatoes for a little zip.
Evaporated milk: I prefer evaporated milk to regular milk or heavy cream. Evaporated milk is the perfect medium. Regular milk is a bit too thin, and heavy cream is a bit too rich. Can you substitute evaporated milk for the two? Sure, but I think evaporated milk gives the best results.
Step-by-Step Instructions
Now let's up your queso game and walk through the cooking process to show you how to make the perfect dip that's full of delicious smoky flavor. It's the perfect appetizer before serving some smoked 3-2-1 ribs.
Step 1: To start, we add a little olive oil to a skillet and brown the chorizo over medium-high heat, breaking it into pieces with a wooden spoon (photo 1). We don't need to completely cook the chorizo. It will finish cooking in the smoker. We're simply looking to add a bit of a crust to the chorizo for some nice texture.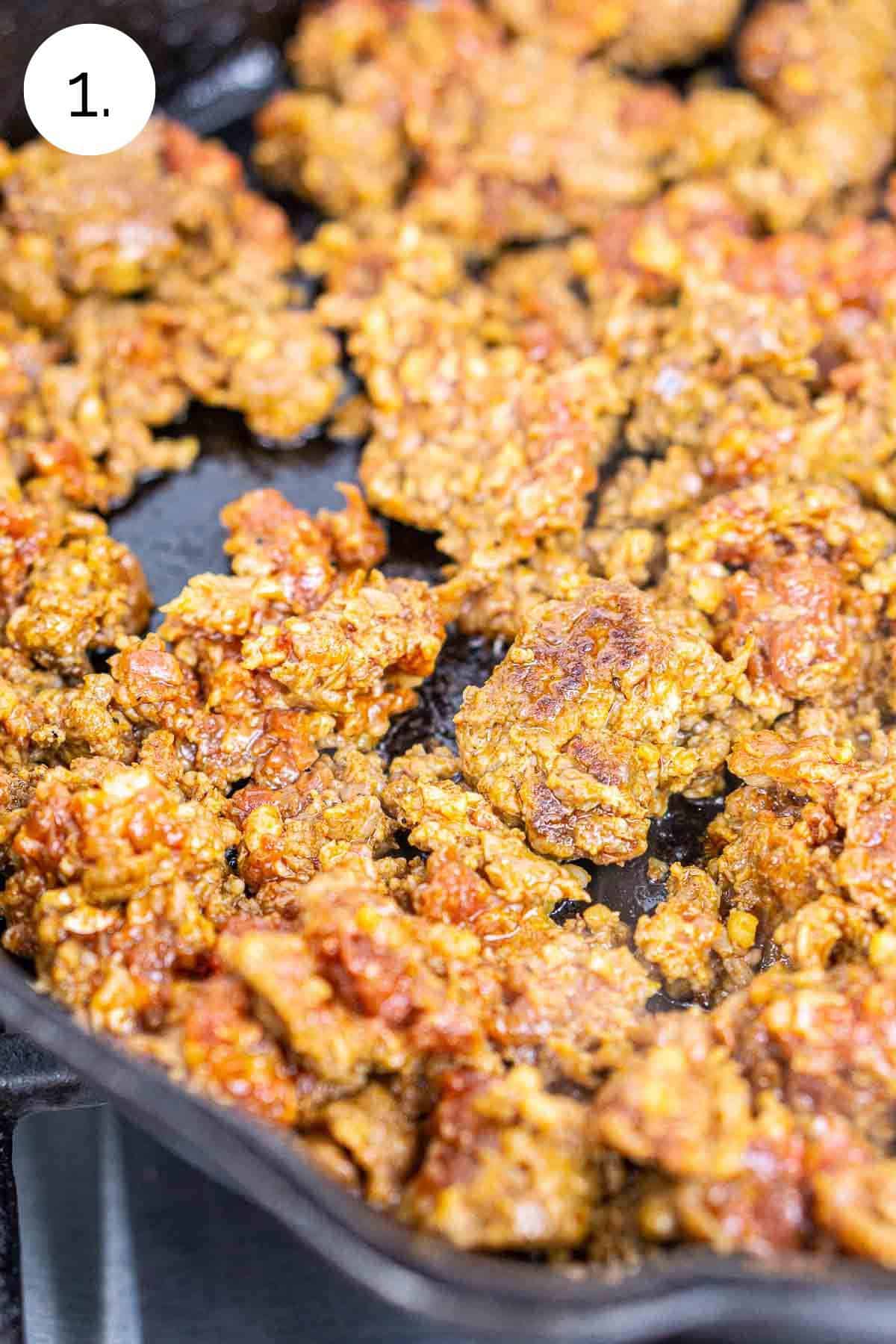 Step 2: Now we remove the chorizo with a slotted spoon to a paper towel-lined plate. We turn the stove down to medium heat and cook the onions and spicy jalapeños with ground cumin until softened, about three to four minutes (photo 2).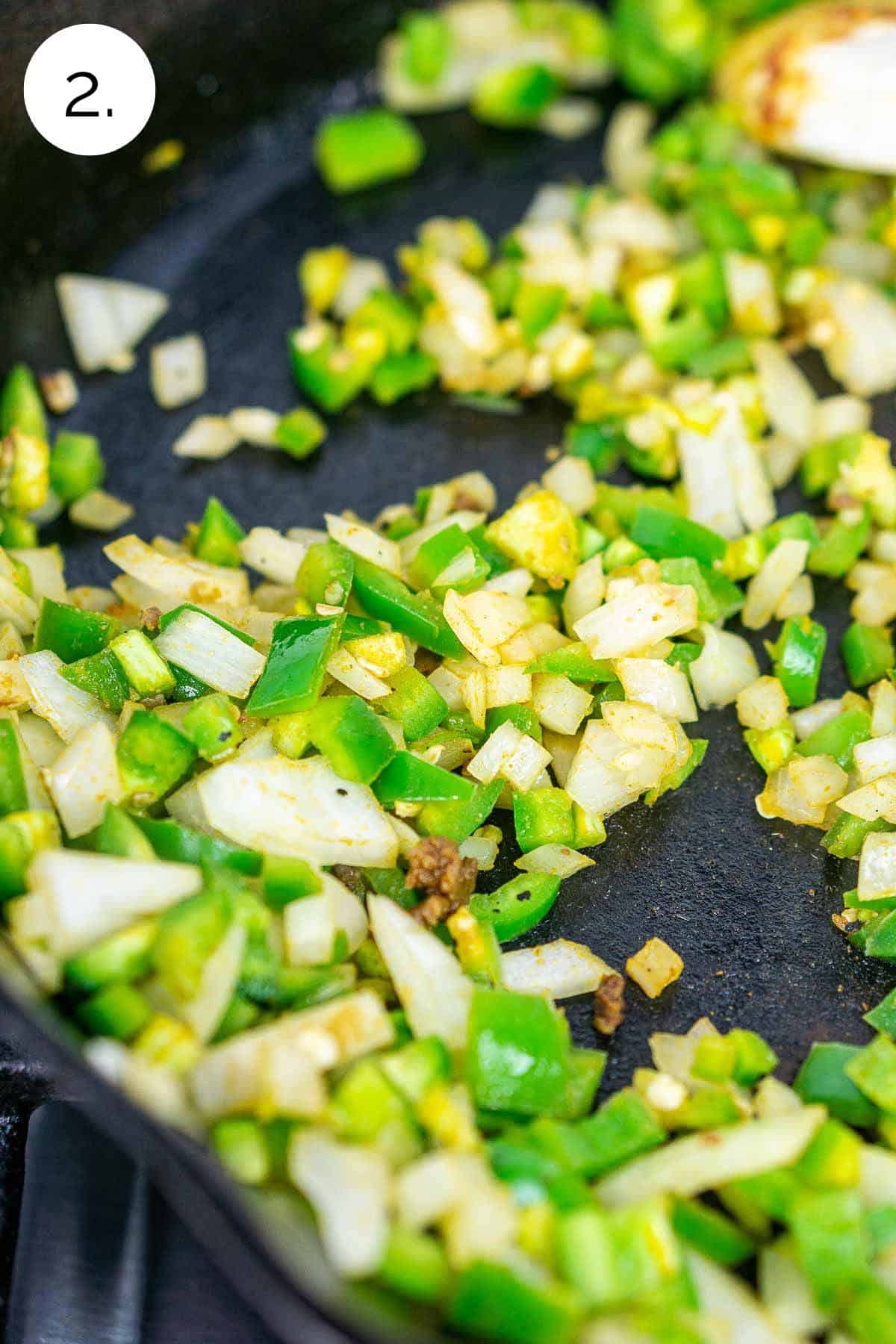 Step 3: From here, we add the cubed American cheese to a deep 9-inch-by-13-inch disposable aluminum pan and top with the chorizo, onion, jalapeños, garlic and Rotel (photo 3). A Dutch oven also works.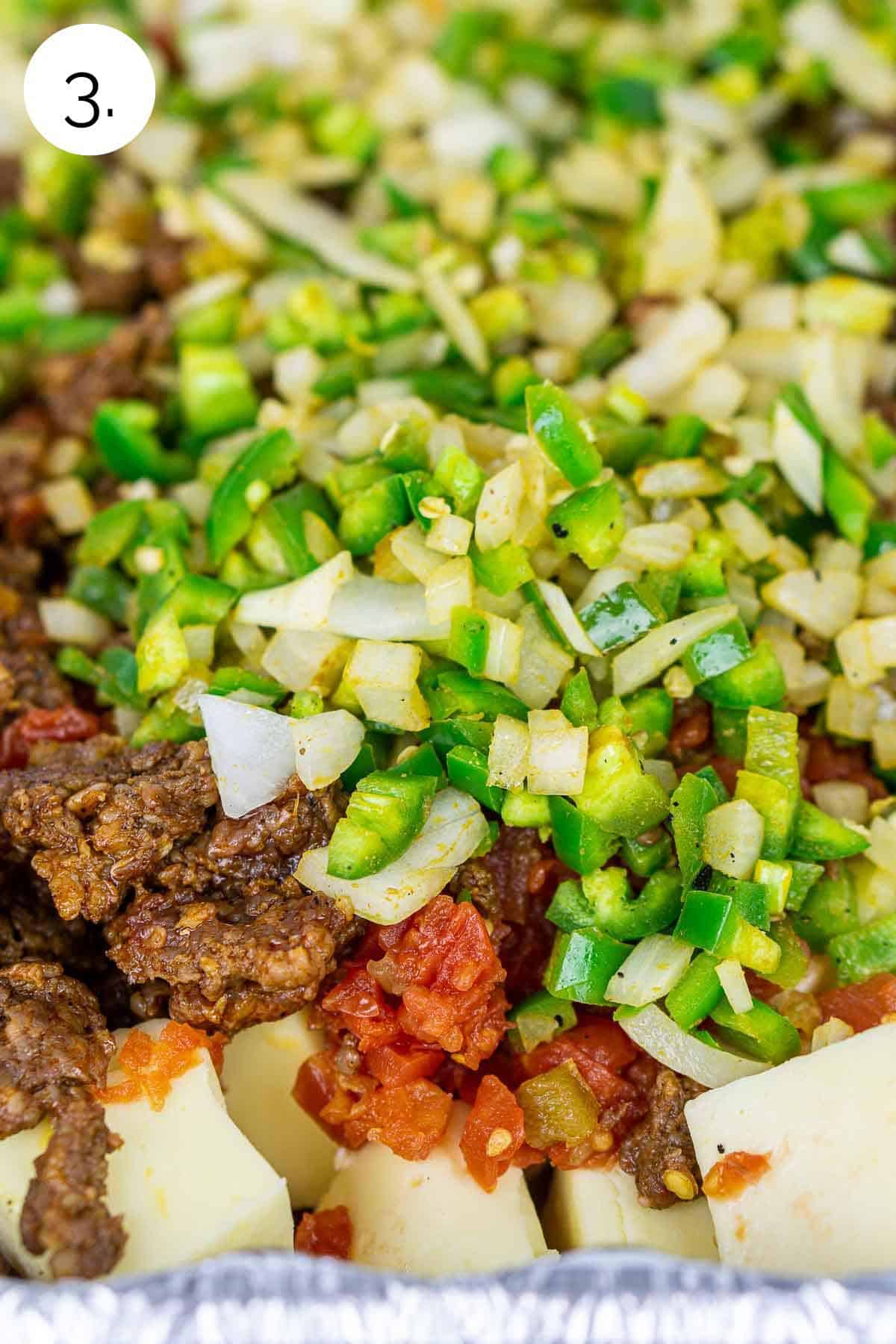 Step 4: We now place the cheese and mix-ins into the smoker. Every 30 minutes, we open the smoker and stir (photos 4-6). At first, the cubed cheese will hold some shape, but by the end of smoking, it will melt down.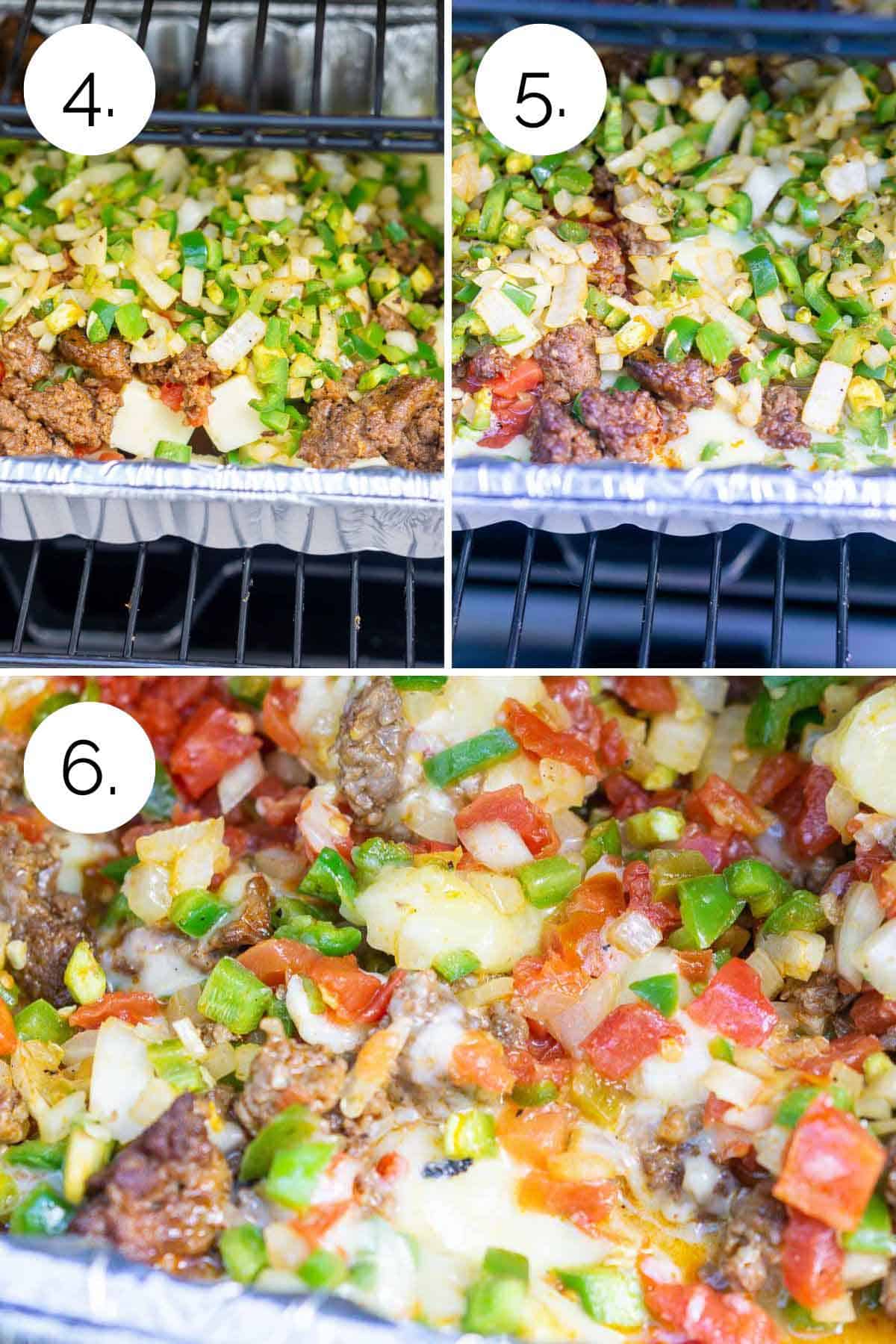 Step 5: Although the cheese does melt by the end of the smoking process, it will be a bit thick. To add a nice creaminess and ensure an even smoother consistency, we stir in some evaporated milk.
All that's left is to grab some chips and dig in — how good is that smoked queso dip? Divine!
Bonus: For more smoker recipes, try my Texas-style brisket, pellet grill chicken and smoked baked beans. This smoked tomahawk steak from Cook What You Love is also a great option.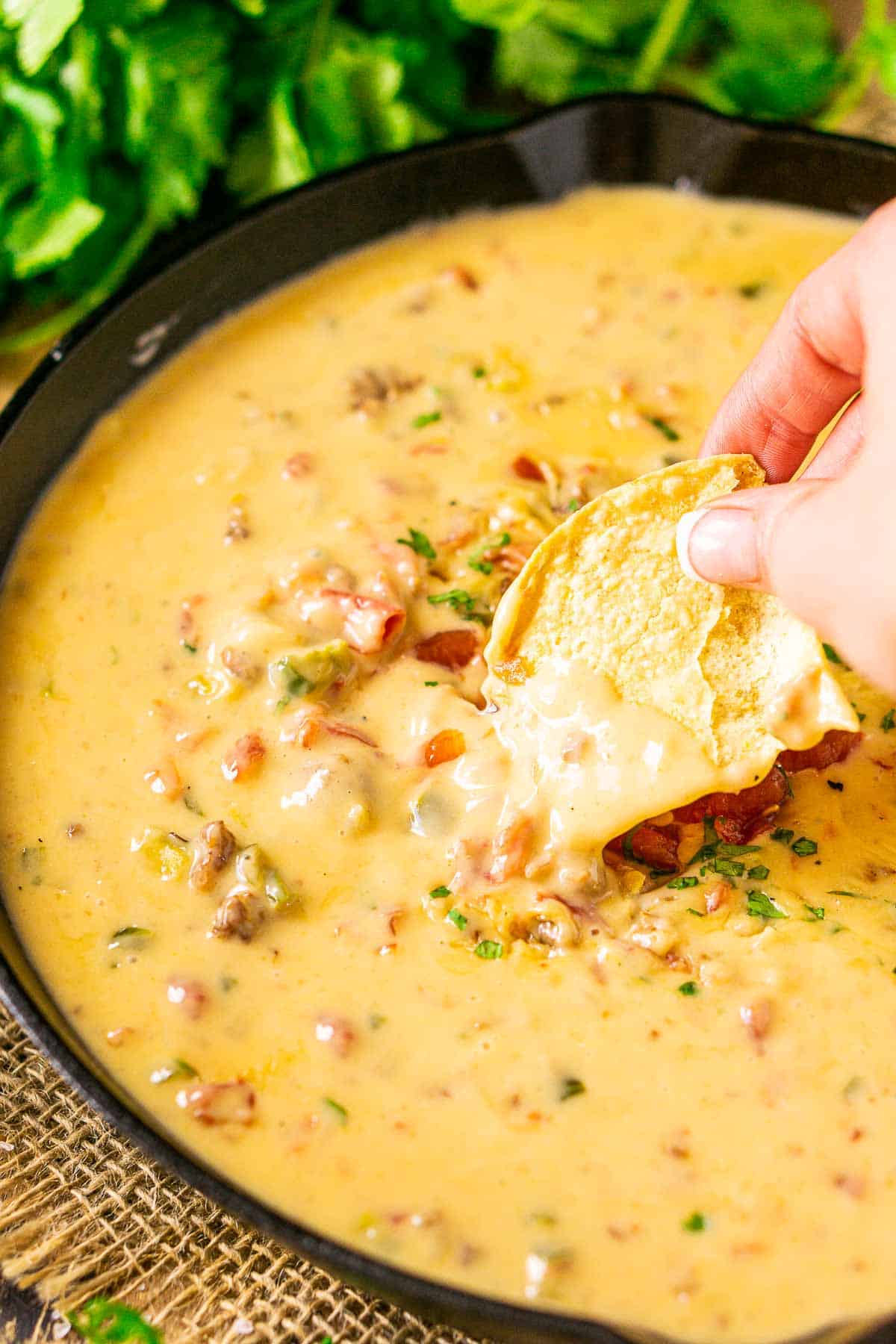 Recipe FAQs
What kind of wood should you use for smoking queso?
When it comes to smoking queso, hickory is my wood of choice. It adds enough smoke flavor without overwhelming the cheese, and it's not too light. That said, you certainly could use a lighter wood, such as applewood, cherrywood or pecan. Depending on your type of smoker, you'll use wood pellets or wood chips.

If you're smoking a brisket, you're likely using mequite, which is a strong wood. The queso isn't in the smoker for long, so the mesquite shouldn't be too heavy for the queso. That said, I'd taste as it goes along, and you could always finish it in a 225-degree oven if you don't want it to pick up any additional smoke flavor.
What kind of smoker can you use?
This is one versatile dish — you can use this recipe for any type of smoker. It works whether you use a pellet grill, vertical smoker, charcoal smoker or propane smoker. I use a vertical electric smoker from Pit Boss, but Traeger, Masterbuilt and Big Green Egg are all popular smoker manufacturers.
How long does it take to smoke and at what temperature?
Typically, you smoke queso at 225 degrees F for up to two hours. Sometimes, it's ready at an hour and a half, and you can go up to 250 degrees F. We have some flexibility here.
Can you make a day in advance of serving?
As long as you keep it in the refrigerator in an airtight container, you can serve it the next day, but I recommend serving immediately for best results. This delicious dip stays incredibly smooth even after refrigerating, but keep in mind, it tends to collagulate quicker. I would definitely recommend keeping it in a slow cooker or chafing dish if you go this route.
Variations
Make it vegetarian: Need a vegetarian queso? Simply leave out the chorizo. You'll still have a delicious cheesy dip without the chorizo.
Swap the chorizo for your favorite meat: Chopped brisket, chicken, pulled pork, breakfast sausage, ground beef and bacon would all make tasty substitutions.
Play around with different chiles: Jalapeños are widely available, but you can certainly experiment with other varieties. Roasted hatch green chiles, habanero peppers, serrano peppers, fresno peppers or serrano peppers can all work. Just keep the varying heat levels in mind. For instance, this recipe uses four jalapeño peppers, but one or two habanero peppers may be plenty.
Made for more than just dipping: Spoon it on tortillas chips to make nachos, smother it on burritos, use as a topping on smoked burgers, add macaroni for an ultra creamy mac and cheese or spread into a casserole. You have lots of options here.
Expert Tips
Use a deep pan: With all the cheese, chorizo, onions and jalapeños, we have one big pile of ingredients. To ensure you don't overflow, you want to use a deep pan. You can find a deep disposable foil pan in the baking aisle.
Serve in a cast-iron skillet for a nicer presentation: Even a 12-inch cast-iron skillet is too small to hold everything without risking overflow. I like to safely cook it in a deep pan and then pour it into a skillet for serving. It looks nicer, and it's a bit easier to serve without the high edges.
Wear kitchen gloves when handling the jalapeños: Those pepper oils get into your skin, and if you rub your eyes, it will not feel good. Wearing gloves is the safest way to protect your skin and eyes. If you don't wear gloves, make sure you immediately wash your hands well.
Add your favorite toppings for serving: Feel free to get creative here, but chopped cilantro, reserved Rotel tomatoes, sour cream, guacamole and sliced jalapeños all make nice garnishes.
Keep warm in a slow cooker or hot chafing dish: If you plan to serve this queso for several hours throughout a party, this is the way to go. Make sure you stir it every so often, and if it thickens up too much, you can always add a little more evaporated milk.
Perfect Pairing
A New England-style IPA is perfect with this smoked chorizo queso. The hops bring out the spice for an extra kick, and this variety has more of a malty backbone to accentuate the chorizo. If you'd like to play down the spice for sensitive palates, a crisp pilsner is another option.
For wine, a dry or off-dry riesling is delightful. This type of riesling is not the overly sweet kind. Rather, it comes with just a touch of sweetness to balance the spice, and its high acidity cuts through the creamy cheese.
Or maybe you'd like a cocktail. You can't go wrong with a little tequila when queso is involved. My tequila lemonade is great for a crowd, or you could go with classic margarita or Cadillac margarita, both of which work well as pitcher recipes. And everyone loves a fruity margarita, like my jalapeño-mango margarita, roasted strawberry margarita and blood orange margarita.
When you need the perfect party appetizer, look no further than this smoked queso dip with chorizo. It's truly the ultimate party dip that will keep everyone coming back for more.
Cheers!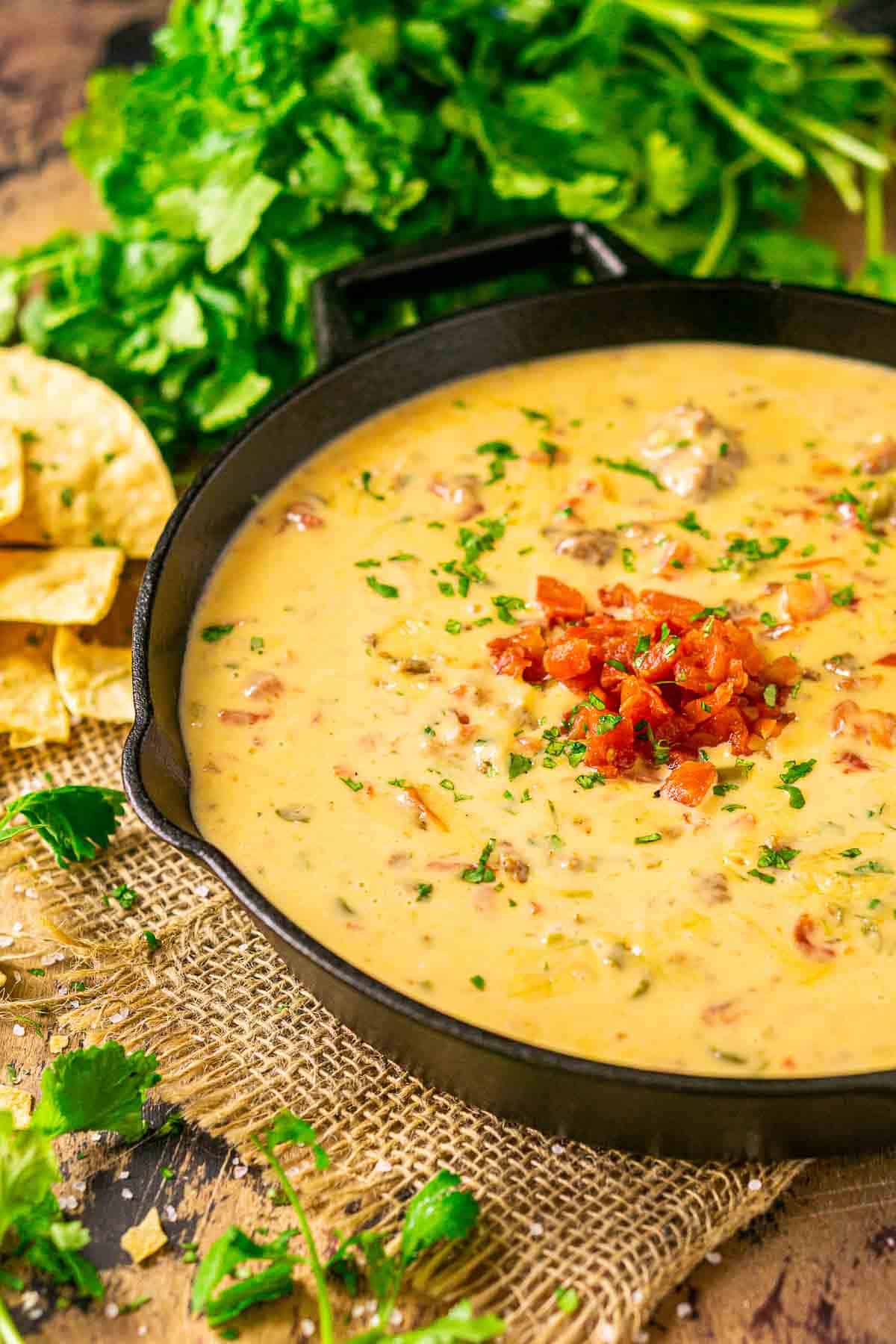 Get More Party Appetizers
If you love this recipe, please leave a comment with a five-star rating — or simply hit the five-star button in the recipe card. Don't forget to sign up for my newsletter, and you can follow me on Facebook, Instagram, Pinterest and TikTok.
📖 Recipe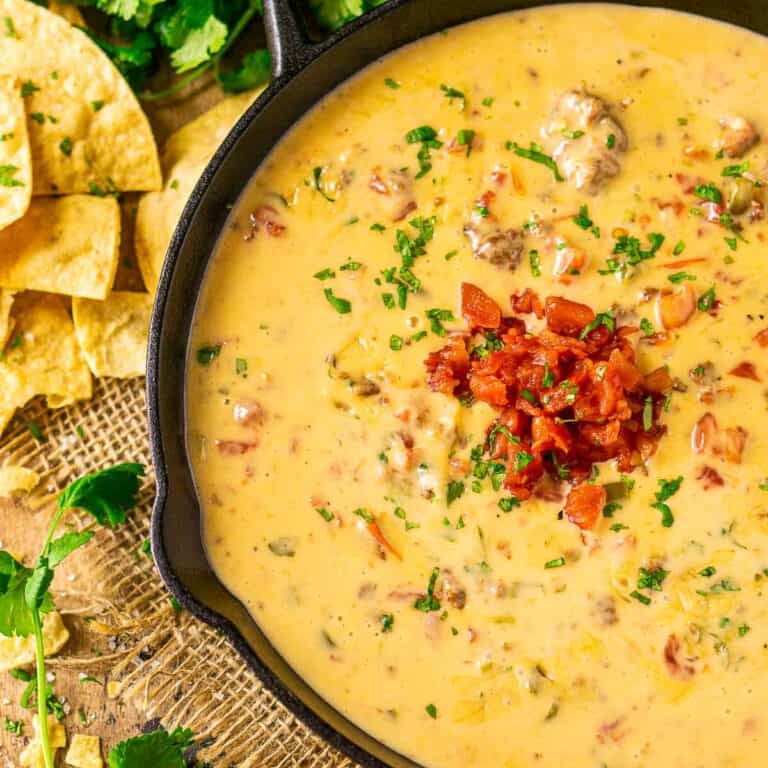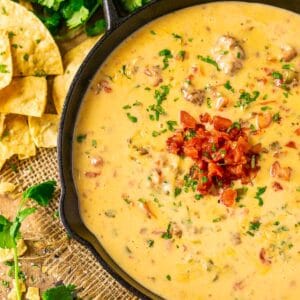 Smoked Queso Dip
For a crowd-pleasing appetizer for your summer parties, everyone will love this easy smoked queso dip recipe! Featuring an ultra creamy, velvety cheese base with the perfect smoky flavor, this loaded dip is filled with spicy chorizo, Rotel tomatoes, onions and fresh jalapeños to make one irresistible party snack. Make sure you have plenty of crisp tortilla chips on hand because everyone will devour this smoky queso.
Print
Pin
Rate
Equipment
Deep-side 9-inch-by-13-inch aluminum pan or Dutch oven
Ingredients
1

tablespoon

olive oil

1

pound

fresh ground chorizo

½

yellow onion

diced

4

jalapeños

diced, with seeds

½

teaspoon

ground cumin

3

pounds

deli-style white American cheese

cut into cubes

2

(10-ounce)

cans of Rotel tomatoes

1

cup

evaporated milk

Tortilla chips

for serving

Favorite toppings

such as chopped cilantro, diced tomatoes, sour cream, guacamole, etc.
Instructions
Prepare the smoker and set the temperature to reach 225 degrees F. Heat oil over medium-high heat in a large skillet. Add chorizo to the skillet and cook until browned on the outside. Set aside on a paper towel-lined plate.

Turn the heat down to medium. Add the diced onion, jalapeños with seeds and ground cumin. Cook until softened, about three to four minutes. Remove from heat.

In the large pan, add the cubed cheese. Top with the chorizo, onion, jalapeños and Rotel tomatoes.

Place in the 225-degree smoker and smoke for an hour and a half to two hours, stirring the cheese mixture every 30 minutes.

Remove from the smoker once the cheese has fully melted. Stir in the evaporated milk. Serve with tortillas chips and your favorite toppings. Enjoy!
Notes
You will find the right type of American cheese at your grocery store's deli counter. Ask them to give you the cheese in blocks, not slices. I definitely prefer American cheese over Velveeta, but it does work as a substitute if need be.
Wear kitchen gloves when handling the jalapeños to protect your skin and eyes. If you don't have any, wash your hands well immediately after touch the jalapeños.
You can smoke this up to 250 degrees F.
If you plan to serve this queso over the course of several hours. you may want to keep it in a slow cooker or chafing dish to stay warm. Stir it occasionally. If it gets too thick as it sits, you can always. thin it out with more evaporated milk.
Nutritional information is only an estimate. The accuracy of the nutritional information for any recipe on this site is not guaranteed.
Nutrition
Serving:
1
scoop
|
Calories:
423
kcal
|
Carbohydrates:
6
g
|
Protein:
21
g
|
Fat:
35
g
|
Saturated Fat:
18
g
|
Polyunsaturated Fat:
1
g
|
Monounsaturated Fat:
8
g
|
Trans Fat:
1
g
|
Cholesterol:
103
mg
|
Sodium:
1642
mg
|
Potassium:
172
mg
|
Fiber:
0.1
g
|
Sugar:
4
g
|
Vitamin A:
1020
IU
|
Vitamin C:
0.5
mg
|
Calcium:
937
mg
|
Iron:
1
mg