Brace yourselves, bacon lovers — this very best bourbon bacon jam was made just for you. From brunch to cocktail hour and even dinnertime, you'll want to slather this savory and sweet bourbon bacon jam on everything in sight. No matter how you serve it, everyone is sure to gobble up this irresistible bacon spread.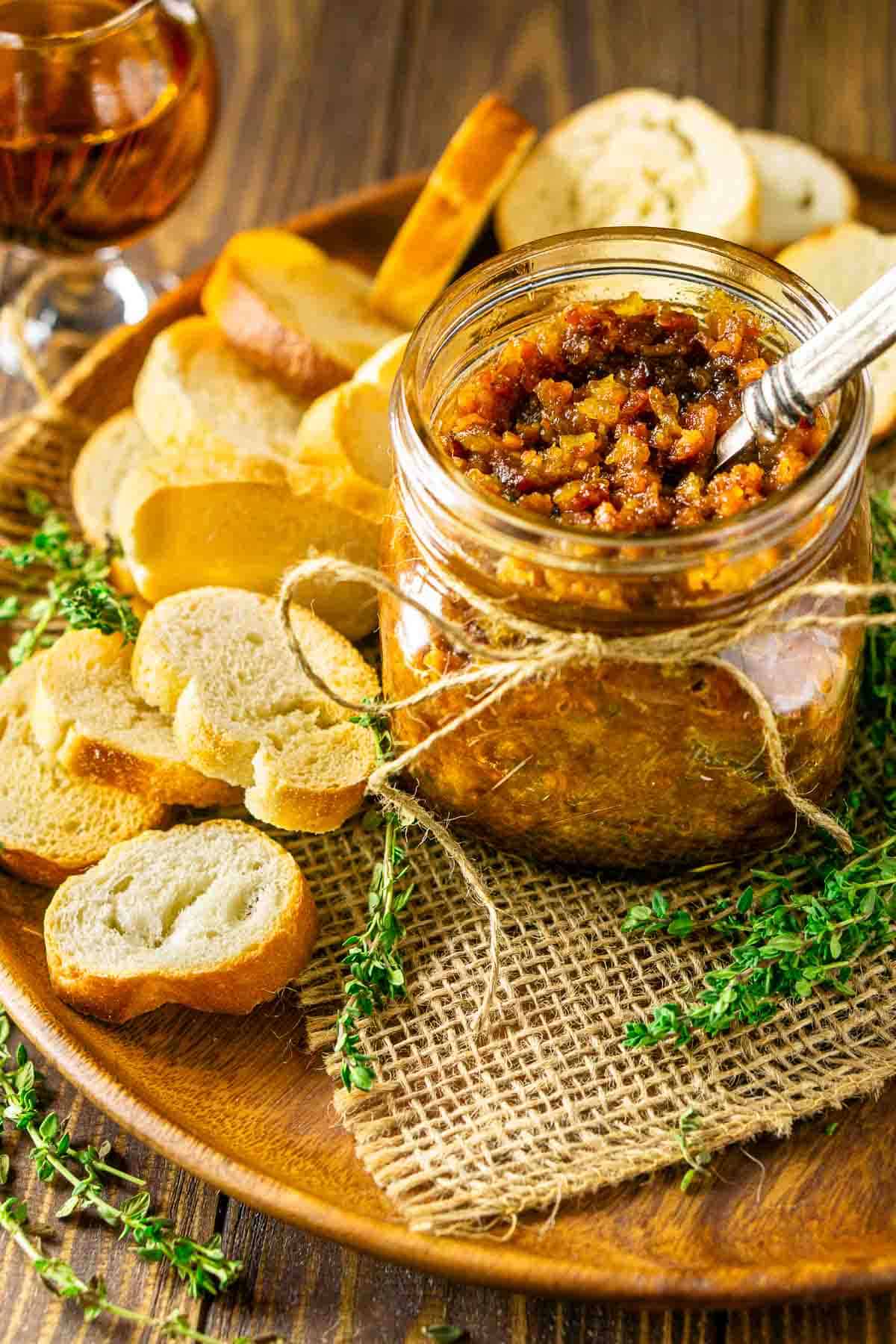 Jump to:
What Is Bacon Jam?
Bacon jam is a relish made from slow-cooked bacon, caramelized onions, garlic, brown sugar, maple syrup, vinegar and spices. Not all bacon jam recipes include bourbon, but my version does for two simple reasons: cooking with liquor is just plain fun, and it's delicious. If you've never tried bacon jam, you're in for a treat.
Of course, if you're not a bourbon fan, you can always leave it out. This bacon jam is perfectly delicious bourbon-free, but as a bourbon lover, I adore the flavor it adds.
After cooking our bourbon bacon jam, the final result is a complex spread with savory, smoky notes; a touch of sweetness; and a slightly spicy kick. While making bacon jam does take some time, the process is simple. So we'll walk through that process to show you how easy it is to make your own bourbon bacon jam.
Why You'll Love This Recipe
Loaded with bacon goodness: After all, this is bacon jam, so you can be assured every bite tastes like everyone's favorite cut of pork. That means this is a guaranteed crowd favorite.
Super versatile: You can absolutely spoon this bacon spread on toasted bread and call it a day, but you have so many other ways to use this jam. Make sure you keep this bourbon bacon jam recipe handy because you'll reach for it time and time again.
Make ahead for easy entertaining: Who doesn't love a make-ahead recipe when hosting? This bacon jam makes party time as simple as can be.
Doubles as a gift: Instead of your standard holiday gifts, share a jar of this homemade bacon jam with your favorite people. A homemade gift is always so thoughtful.
Related: If you love this spread, make sure you also try my smoked bacon-wrapped jalapeño poppers.
Ingredients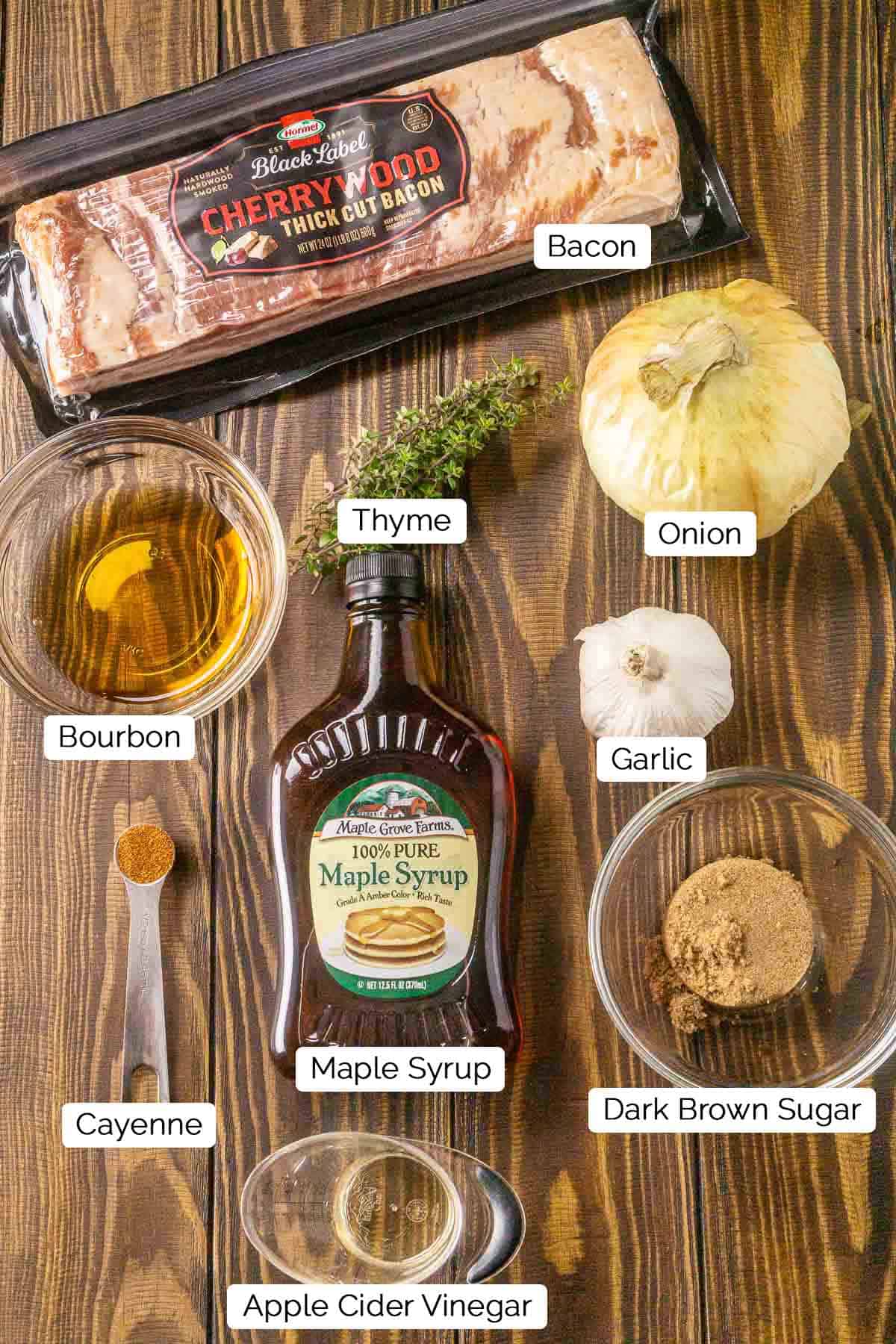 Bacon: For both a robust texture and flavor, use thick-cut bacon. If you're feeling ambitious, you could even prepare your own homemade bacon.
Bourbon: While we just use a splash of bourbon, we still want something we'd happily drink, but don't feel like you need to get anything too expensive. A good mid-range bourbon is perfect, such as Maker's Mark, Buffalo Trace, Elijah Craig and Woodford Reserve.
Dark brown sugar: I prefer dark brown sugar to light brown sugar because of the stronger molasses flavor. That said, you can substitute light brown sugar if that's what you have on hand. Either way, I'd definitely go with a brown sugar variety over a white pure cane sugar.
Maple syrup: Make sure you use real maple syrup, not that fake pancake syrup. There's no negotiation here.
Apple cider vinegar: With that smoky bacon, rich bourbon, and sweet maple syrup and brown sugar, this gives us a kick of acidity to brighten the flavors. Balsamic vinegar makes a nice substitute if you don't have the apple cider variety.
Step-by-Step Instructions
Step 1: To start, we chop up plenty of bacon and cook it over medium heat in a large pot. Every so often, we give the bacon a stir, and we keep cooking until the bacon crisps up and the fat turns foamy like so (photo 1).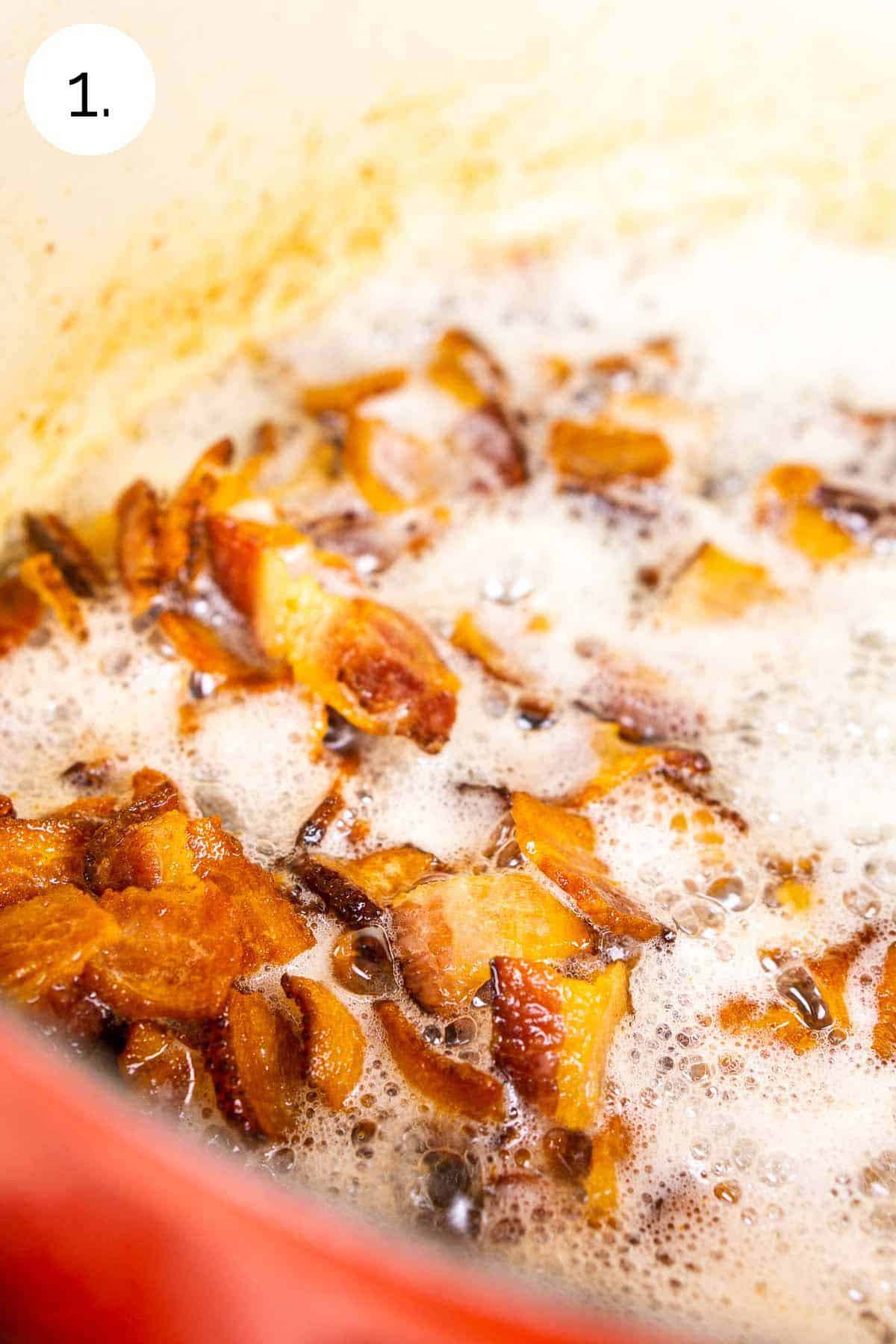 Step 2: Now we remove our bacon to a paper towel-lined plate along with most of the grease and add sliced onions. We stir the onions occasionally, but for the most part, it's best to leave the onions untouched to allow the caramelization process to work its magic (photo 2).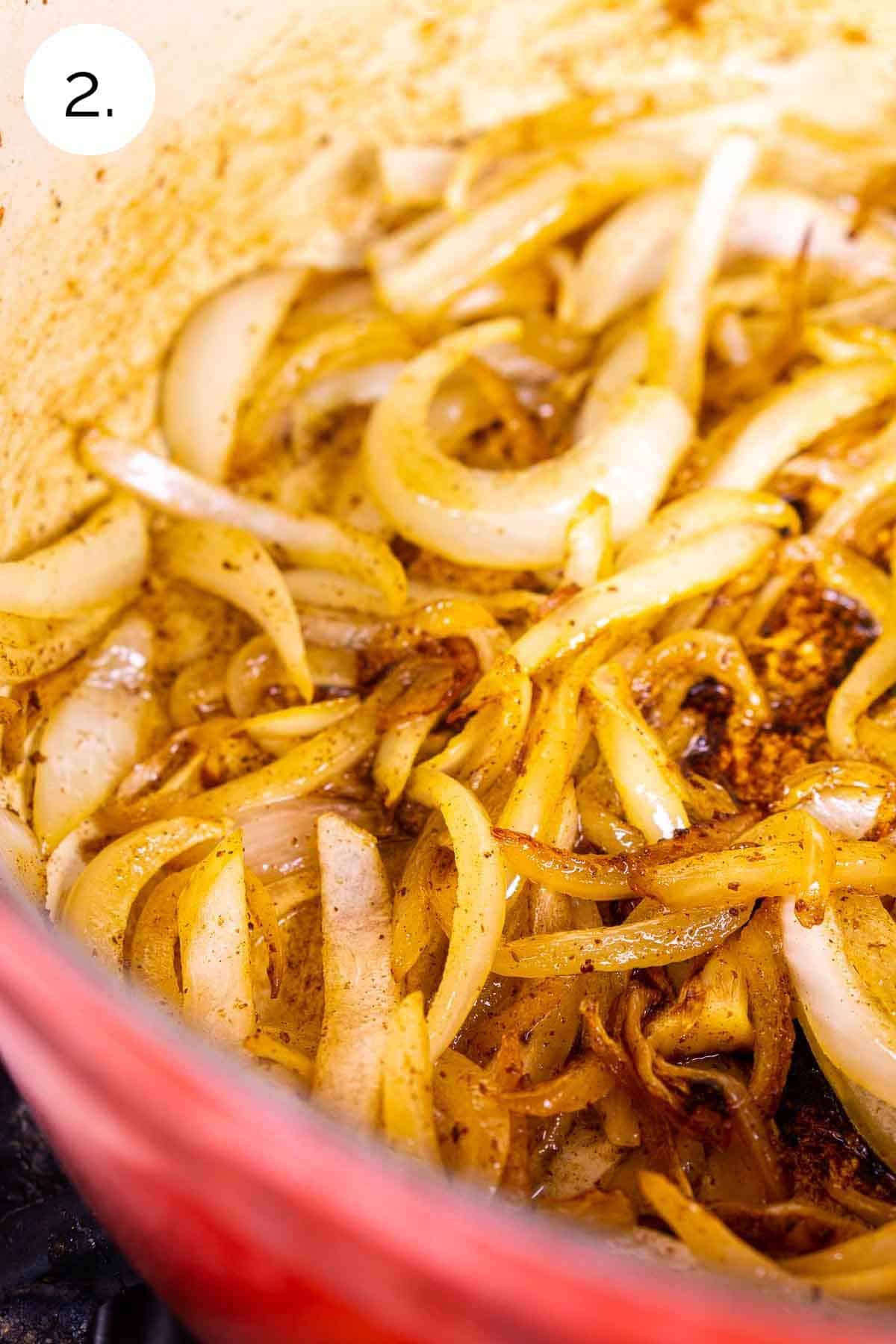 Step 3: Once the onions perfectly caramelize, we briefly cook a touch of garlic and then add our cooked bacon, dark brown sugar, maple syrup, apple cider vinegar and cayenne pepper (photo 3).
Tip: I like adding a bit more cayenne pepper than some other bacon jam recipes. The end result isn't necessarily spicy in my opinion, but it does have a kick, which I love to counter the sweet. That said, if you're sensitive to heat, just add a little bit at a time.
Step 4: We let the mixture cook for about five minutes, turn off the heat and stir in a splash of good bourbon, fresh thyme and salt with the bacon pieces (photo 4).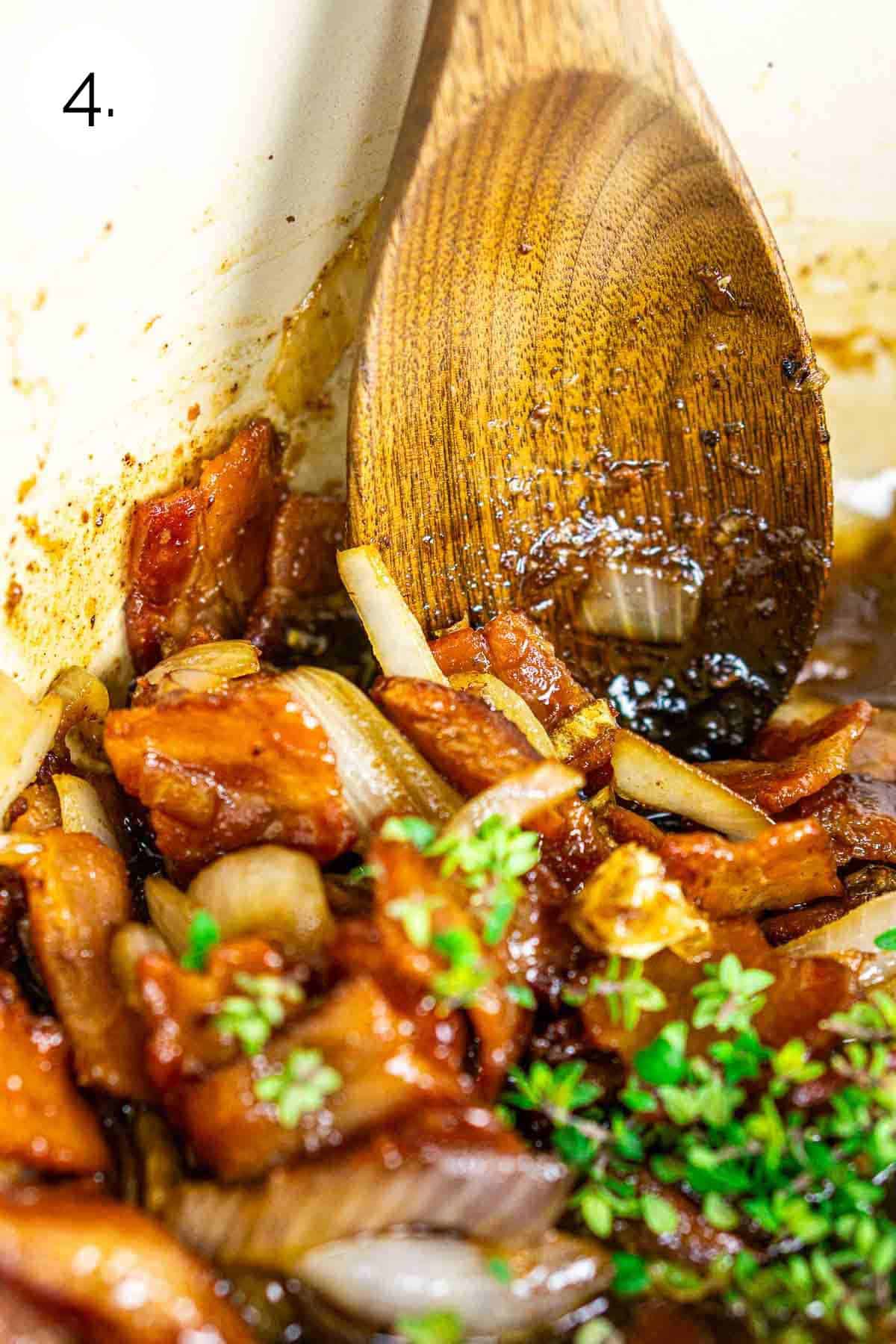 Step 5: From here, we throw everything into a food processor and pulse until it's somewhat smooths out while remaining chunky with little bacon bits like so (photo 5).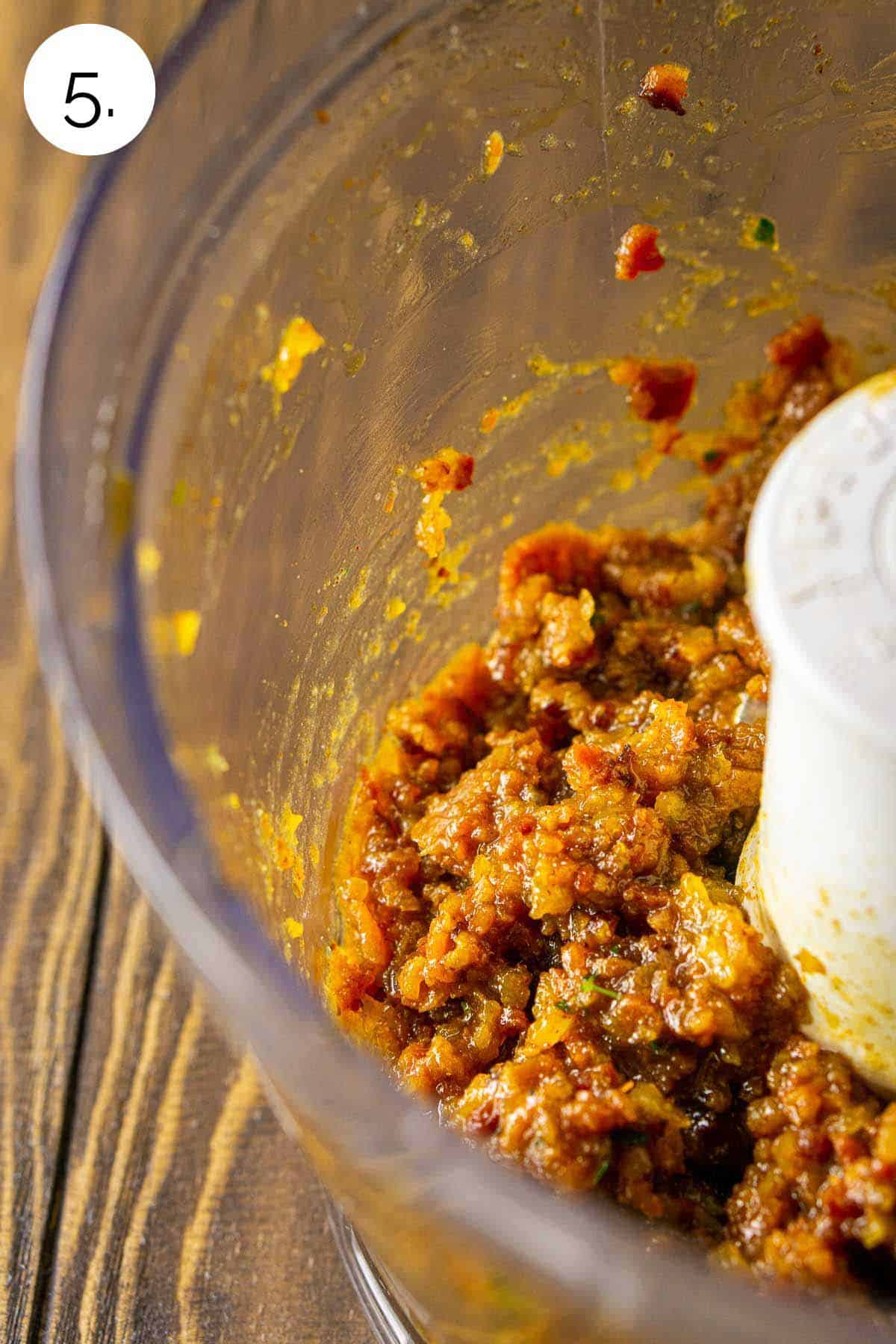 And that's it! Seriously, how easy was that? Cooking the bacon and caramelizing the onions takes time, but it certainly isn't difficult. Just take the time to enjoy the process.
Delicious Serving Ideas
So many ways! Bacon jam is a favorite crostini topping, especially with a little whipped ricotta, but that's just one way to enjoy it. Here are a few other ideas.
Make a better burger and add this to your toppings.
Mix into a bacon jam cheese ball.
Spoon over a biscuit, avocado toast, bagel or waffles.
Use as a pizza topping.
Add to your grilled cheese sandwich or BLT.
Use in favorite pasta dish, like an Alfredo or mac and cheese.
Stir into scrambled eggs.
Spread it over baked Brie.
Serve as part of a charcuterie board or cheese board.
I also wouldn't judge if you simply ate this savory jam by the spoonful — been there, done that, no regrets.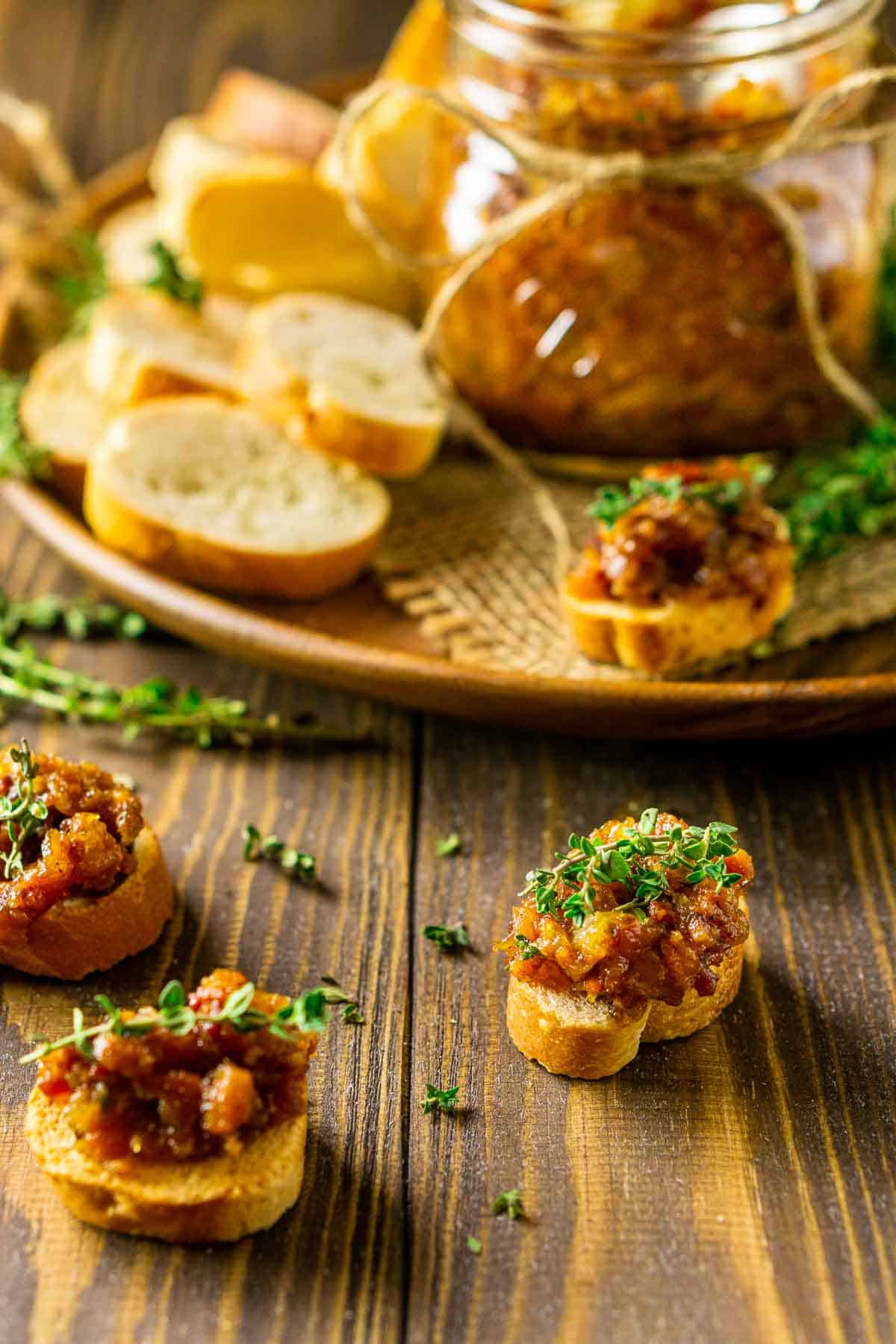 How to Properly Store
Store the bacon jam in a sterile, airtight container in the refrigerator. With proper storage, it should last four to five days.
This, of course, means you can make this bacon jam before serving, which makes it perfect for entertaining. In fact, I think it's even better when you make it ahead of serving because it give the flavors a chance to meld with those real pieces of bacon.
If you'd like, you can even freeze bacon jam. Simply store it in a freezer-safe container and it should last for up to six months.
Recipe FAQs
Is bacon jam safe for canning?
No, this recipe has not been tested for canning. Safe canning requires a specific pH level. As mentioned, it should last several days, and you can always freeze it for longer storage.
Do you have to use the bourbon?
No, you don't have to use bourbon, but it does add a depth of flavor. If you're not a bourbon fan, you can substitute a dark rum, tawny port or brandy or simply leave it out altogether.
What does bacon jam taste like?
Bacon jam shows off a lovely balance of sweet and savory flavors with smoky notes from the bacon and bourbon. Naturally, bacon is the dominant flavor, but we get a nice touch of sweetness from the brown sugar and maple syrup. But don't worry — the kick of cayenne keeps the jam from being too sweet.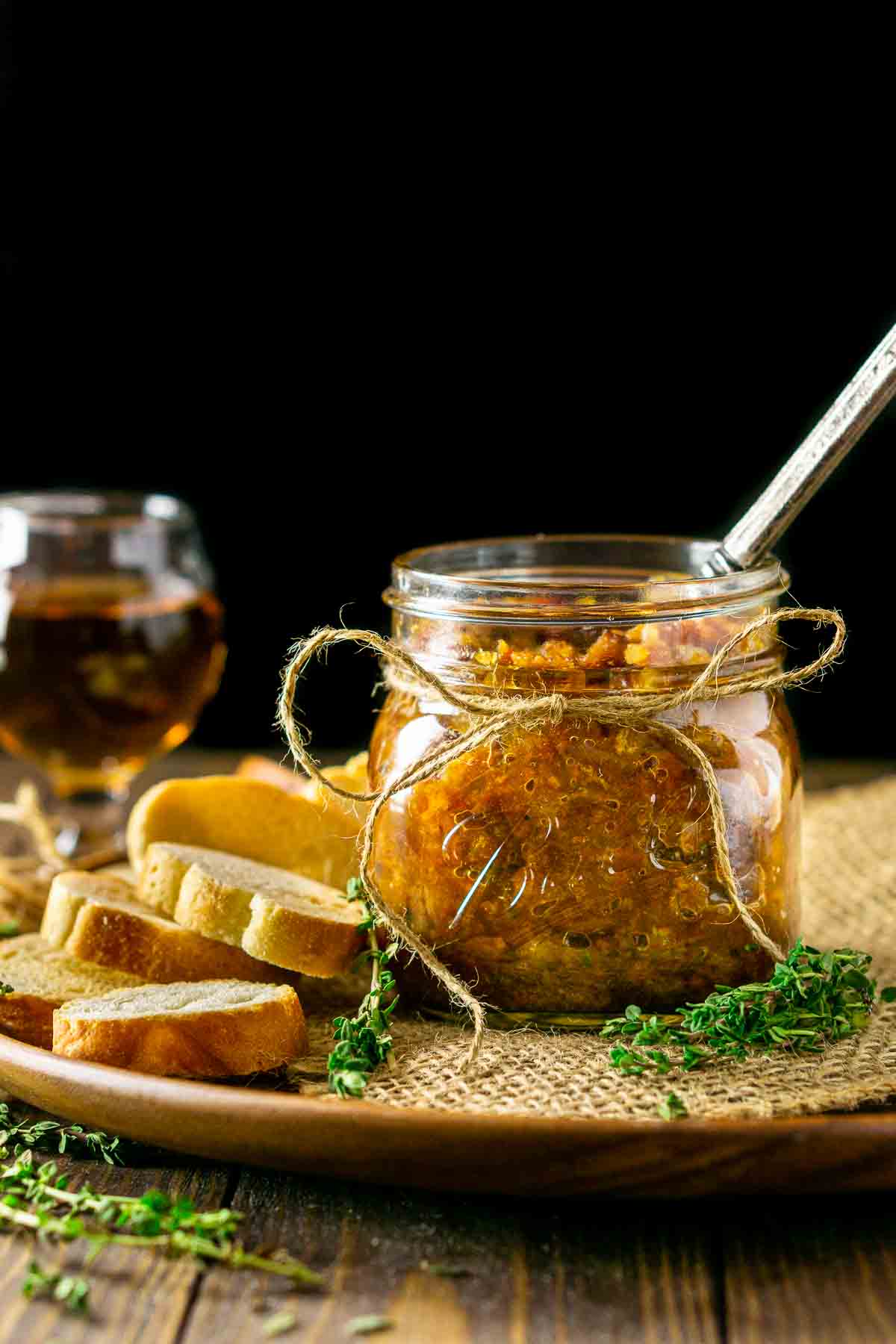 Expert Tips
Add the bacon to a cold pot before heating: Rather than heating the pot first, the bacon goes into a cold pot, and then we turn it to medium. This slow, low heat better renders the fat before the bacon cooks for a crisp texture.
Pick the best bacon: We want bacon with more pork than fat.
Move the bacon as it cooks: Don't wait for all the bacon to finish cooking at once before moving it to a separate plate. Some pieces will finish early, and you don't want those pieces to burn.
Try the meat counter: This recipe calls for 1 ½ pounds of bacon. While I was fortunate to find that size for this batch, it isn't always available. If you go to the meat counter, they can give you the exact amount, so you don't have to overbuy.
Process to the right consistency: Bacon jam should spread easily, but it should still have a chunky texture. We aren't looking for a velvety smooth purée here.
Save that bacon grease: It's great for cooking, especially in this andouille sausage-chicken gumbo.
Perfect Pairing
A bourbon cocktail — obviously! Fortunately, I have plenty of options for you. Try one of these favorites.
A nice coffee stout is also perfect with this bourbon bacon jam. I always love coffee stouts with bacon — not only are those roasted notes perfect with the smoky bacon but it also reminds me of drinking an iced coffee with my bacon.
For a wine, grab a bottle of pinot noir. I just love how the earthy pinot noir flavors work with the smoke and fresh thyme, and the fruity backbone work well with dark brown sugar and maple syrup.
Whether you need a versatile appetizer or an instant way to upgrade your brunch game, I hope you try this bourbon bacon jam. You'll fall in love just after one bite.
Cheers!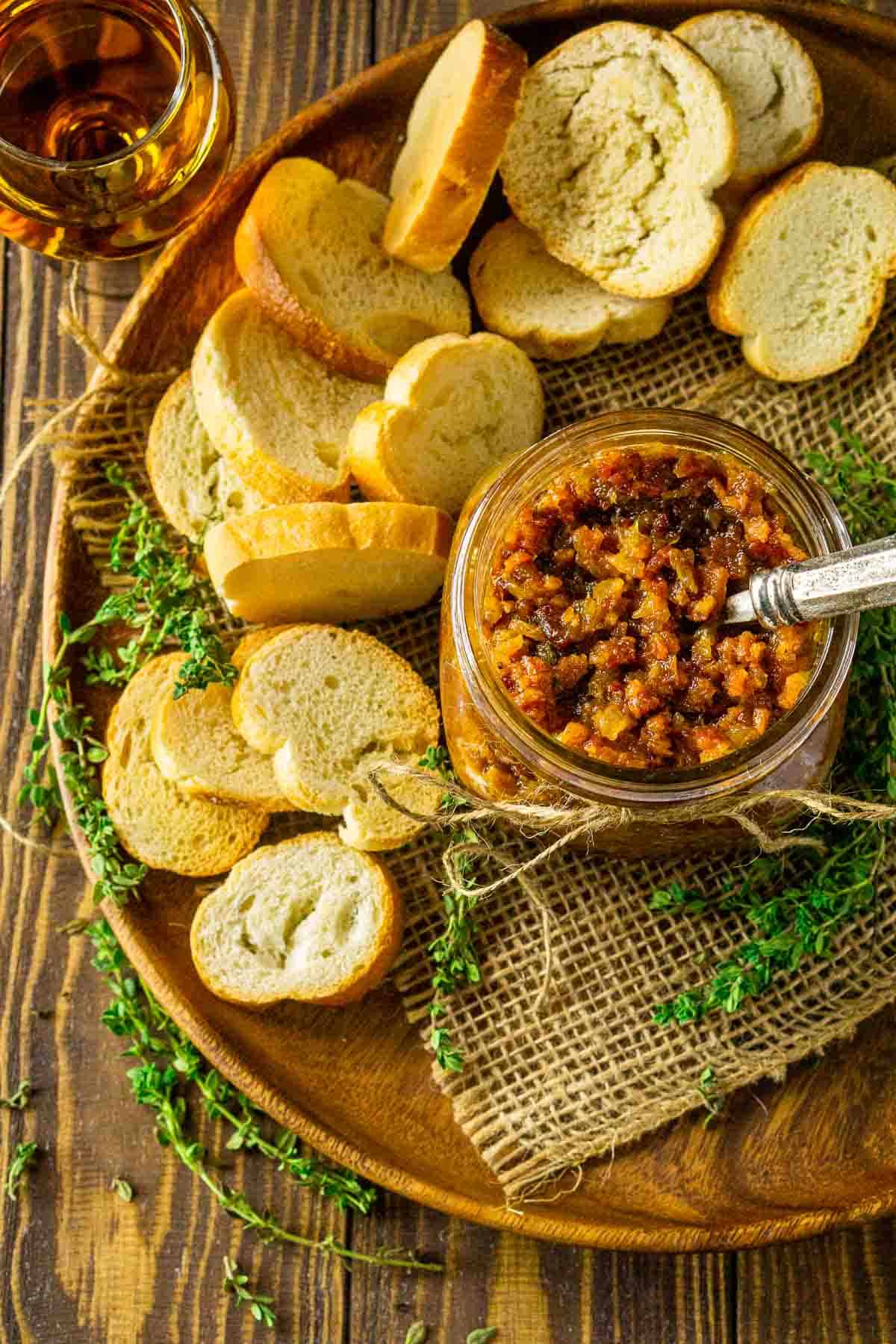 Get More Fun Party Appetizers
If you love this recipe, please leave a comment with a five-star rating — or simply hit the five-star button in the recipe card. Don't forget to sign up for my newsletter, and you can follow me on Facebook, Instagram, Pinterest and TikTok.
📖 Recipe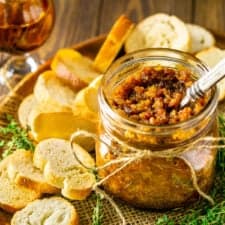 The Best Bourbon Bacon Jam
Brace yourselves, bacon lovers — this very best bourbon bacon jam was made just for you. From brunch to cocktail hour and even dinnertime, you'll want to slather this savory and sweet bourbon bacon jam on everything in sight. No matter how you serve it, everyone is sure to gobble up this irresistible bacon spread.
Print
Pin
Rate
Ingredients
1 ½

pounds

thick-cut bacon

cut into 1-inch pieces

1

large sweet yellow onion

halved and sliced

2

garlic cloves

minced or grated

⅓

cup

pure maple syrup

¼

cup

packed dark brown sugar

2

teaspoons

apple cider vinegar

½

teaspoon

cayenne pepper

(see note)

Leaves from 3-4 thyme sprigs

¼

cup

bourbon

Pinch of salt
Instructions
Add the chopped bacon to a large cold pot. Turn heat to medium. It might look like too much bacon at first, but it will cook down. Stir well every few minutes to help the bacon cook evenly. Cook until the bacon turns crispy and the fat renders and turns foamy. Once the bacon finishes cooking, move to a paper towel-lined plate with a slotted spoon. If some pieces finish cooking sooner than others, go ahead and move those over.

Remove most of the bacon grease, leaving about 2 tablespoons in the pot. Reduce heat to medium-low. Add onions and give them a stir. Cook the onions until they caramelize. Only stir occasionally to allow the onions to caramelize.

Bring heat back to medium. Add garlic and cook for 30 seconds and then add the bacon back to the pot along with the maple syrup, dark brown sugar, apple cider vinegar and cayenne pepper. Scrape the bottom of the pan to release those cooked bits. Allow the mixture to bubble and cook for a few additional minutes to thicken. About five minutes should do.

Turn off heat. Stir in fresh thyme leaves, bourbon and a pinch of salt.

Add the bacon mixture to a food processor. Pulse until it looks like finely ground meat. It should be spreadable but still a little chunky. Store in an airtight container in the refrigerator until ready to serve. Enjoy!
Notes
Store in an airtight container in the refrigerator for four to five days or in a freezer-safe container in the freezer for up to six months.
Nutritional information is only an estimate. The accuracy of the nutritional information for any recipe on this site is not guaranteed.
Nutrition
Serving:
1
tablespoon
|
Calories:
31
kcal
|
Carbohydrates:
5
g
|
Protein:
1
g
|
Fat:
1
g
|
Cholesterol:
1
mg
|
Sodium:
109
mg
|
Sugar:
5
g