Whiskey lovers will fall in love with this perfect Boston sour after just one delicious sip! With its wonderfully frothy topping, the classic Boston sour elevates a basic whiskey sour to add a velvety, silky texture for a touch of elegance. When you need a well-balanced, sophisticated whiskey cocktail for the evening, you'll turn to this recipe over and over again. Let's show you how to shake up this delightful sipper.
Jump to:
What Is a Boston Sour?
If you've had a plain Jane whiskey sour, it's simply whiskey, lemon juice and simple syrup. While it's a fine drink, it has nothing on the Boston sour. With a Boston sour, we also include an egg white to make for an oh-so smooth drinking experience — one taste of a Boston sour and you'll never go back to a regular whiskey sour again.
William Schmidt published the first Boston sour recipe in his 1892 book, "The Flowing Bowl." He specifically added the egg white to create that aforementioned ultra smooth flavor and texture.
Since Schmidt brilliantly created his whiskey sour with an egg white, this ingredient has become common in other cocktails, such as the New York sour and pisco sour. Many bartenders today make their standard whiskey sours with an egg white, and you don't even have to mention the Boston moniker.
Why You'll Love This Recipe
That luscious foam topping: Need I say more? It's truly what makes this drink absolute perfection, and it makes for such an impressive presentation. You'll look like a master mixologist when you serve this sophisticated bourbon cocktail.
Stands the test of time: This has been a favorite cocktail for more than 130 years, and it's still going strong. No trendy, flash-in-the-pan cocktails here.
Tastes like it came from a fine craft cocktail bar: You don't need to go to a swanky, overpriced bar to get a great drink. With this recipe, you can make a beautifully crafted cocktail right in your own kitchen, and you have plenty of variation options to experiment from this base recipe.
Includes a batching option: Because of the frothy topping, you can't make the entire drink in a pitcher, but you can batch the base cocktail, and then shake it with a fresh egg white. That considerably cuts down on your bartending duties while hosting.
Bonus: If you love classic cocktails, make sure you also try the Ramos gin fizz, a New Orleans favorite, and a real margarita without those sticky-sweet mixes.
Ingredients
Whiskey: Typically, a Boston sour features bourbon, which is a type of whiskey, as the base spirit. Bourbon ages in new charred-oak barrels and is made from at least 51 percent corn. The corn makeup gives bourbon a sweeter flavor than your typical whiskey, and you'll love the caramel and vanilla notes from the barrel aging.
Egg white: This is the ingredient that gives us that signature foamy topping. If you've never had a drink with an egg white, it may sound strange. But I promise the addition of egg white is common in the craft cocktail world. And don't worry — the flavor is neutral and does not taste eggy.
Lemon juice: No bottled juice here, please. Freshly squeezed lemon juice makes a huge difference in the flavor and brightness.
Simple syrup: This helps round out the tart lemon and bold whiskey.
Step-by-Step Instructions
Step 1: The first step is to add the bourbon whiskey, lemon juice, simple syrup, egg white and bitters to a cocktail shaker (photo 1). Notice we do not have ice at this stage.
Step 2: Now we put the cocktail shaker top on the glass and shake for 30 seconds. This is called a dry shake, and it allows the egg white to better combine with the other ingredients and create a frothier topping (photo 2).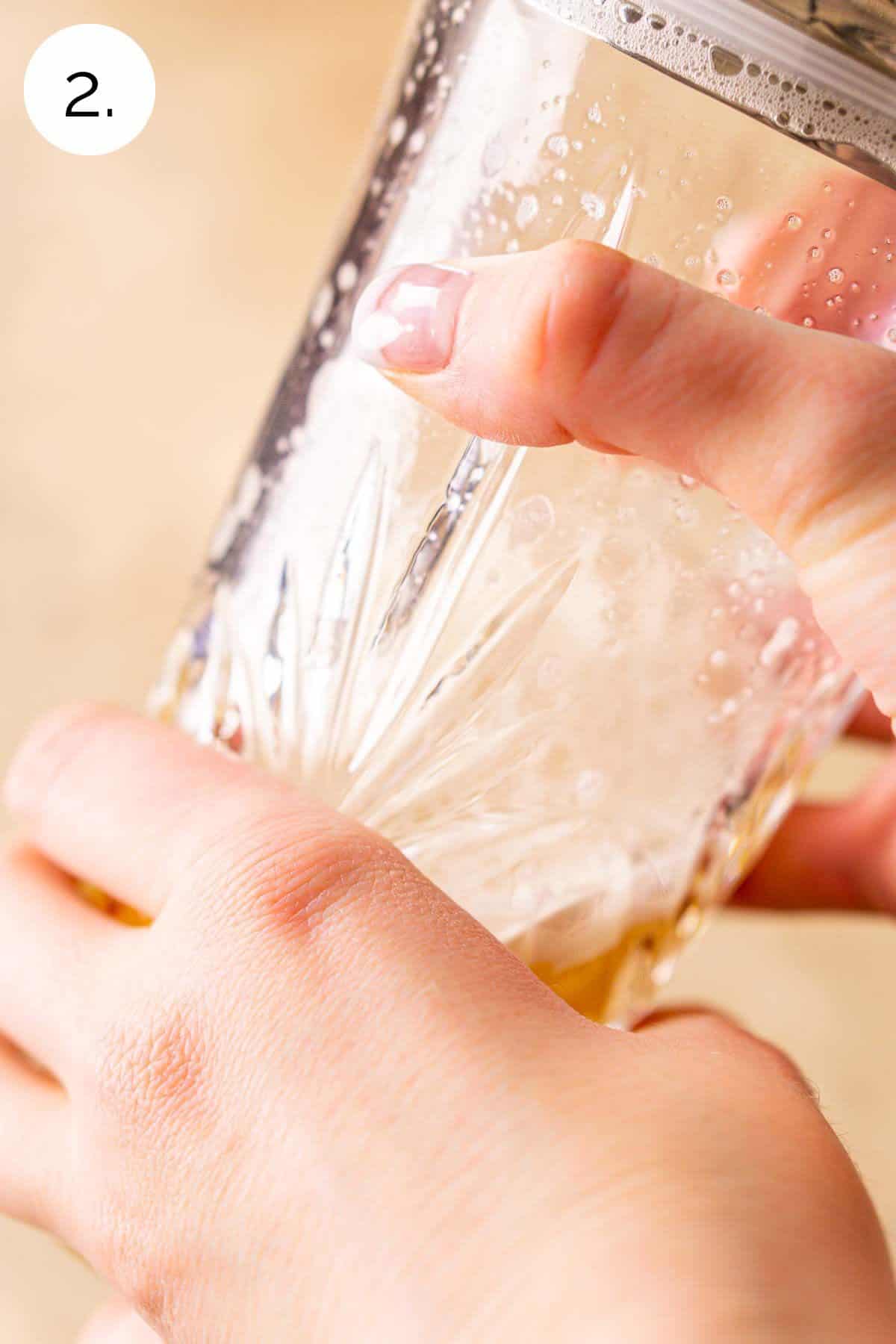 Step 3: After the dry shake, we remove the cocktail shaker top, add ice cubes to the rest of the ingredients (photo 3) and shake again for one minute (photo 4). As you may have guessed, this is the wet shake.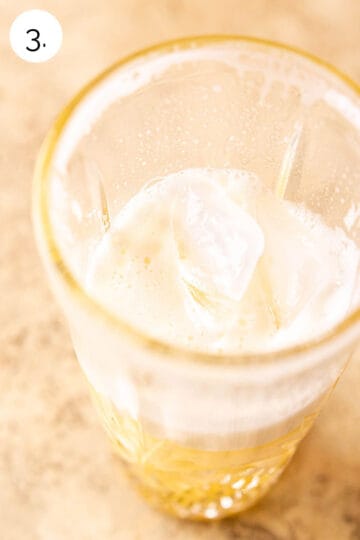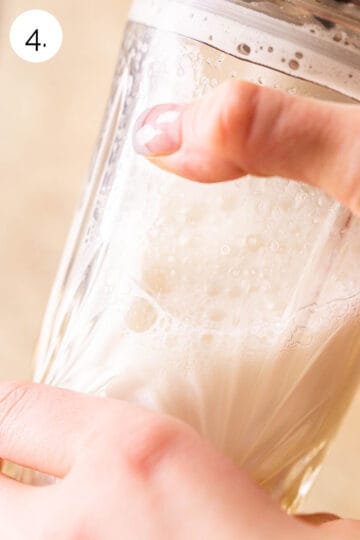 Step 4: By now, we've built a beautiful cocktail topping, and we're ready to strain that delightful Boston sour into a chilled glass (photo 5). Some people like to double strain egg white cocktails to keep any leftover solids out, but since we shake for a good minute and a half, I find it's unnecessary and have only had a nice froth as the end result. If you shake properly, you're good to go.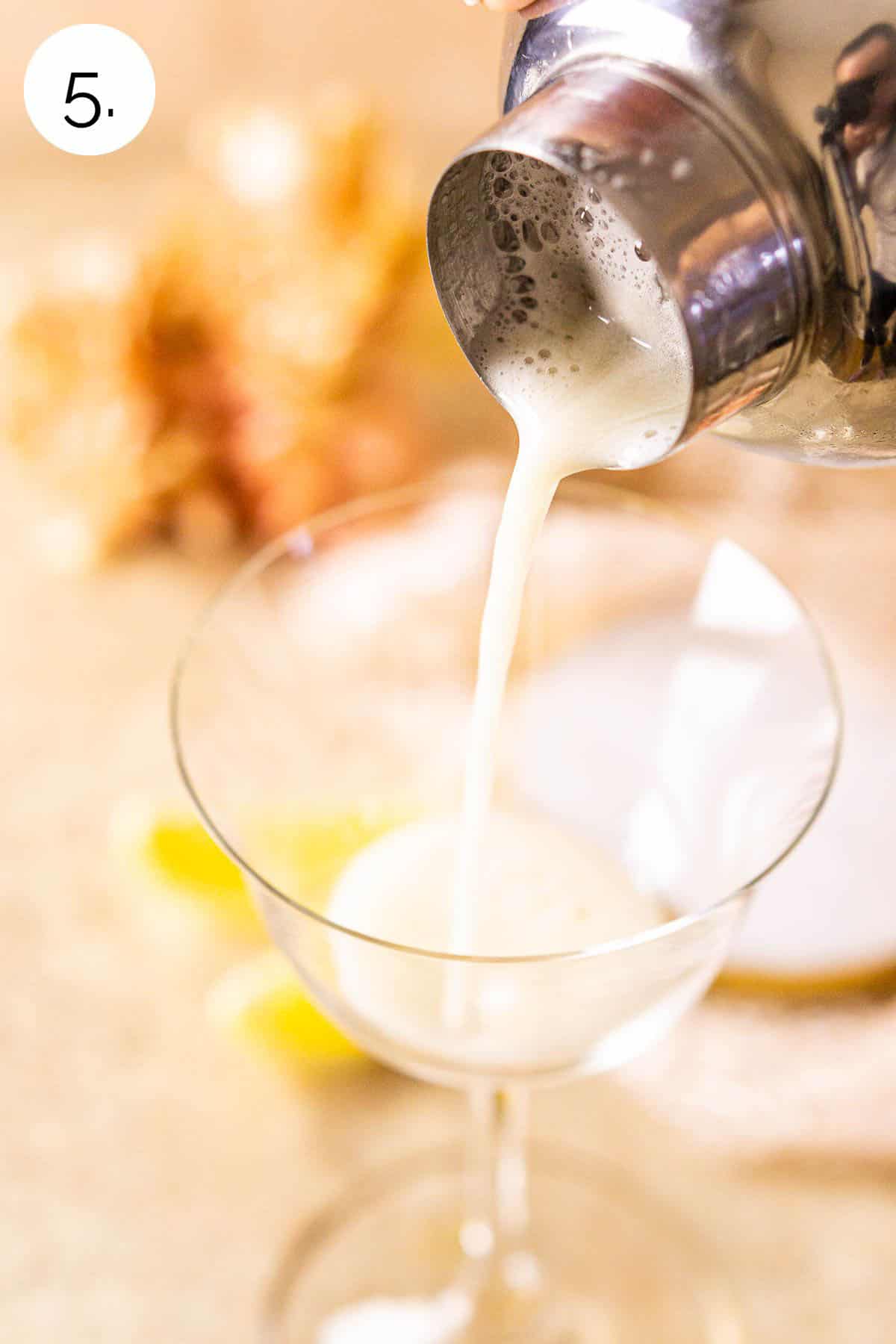 Step 5: For the perfect finishing touch, we add a lemon twist to the rim of the serving glass (photo 6). Not only does this make for a stunning presentation but it also adds a citrusy scent to every sip. A maraschino cherry is also a popular garnish option.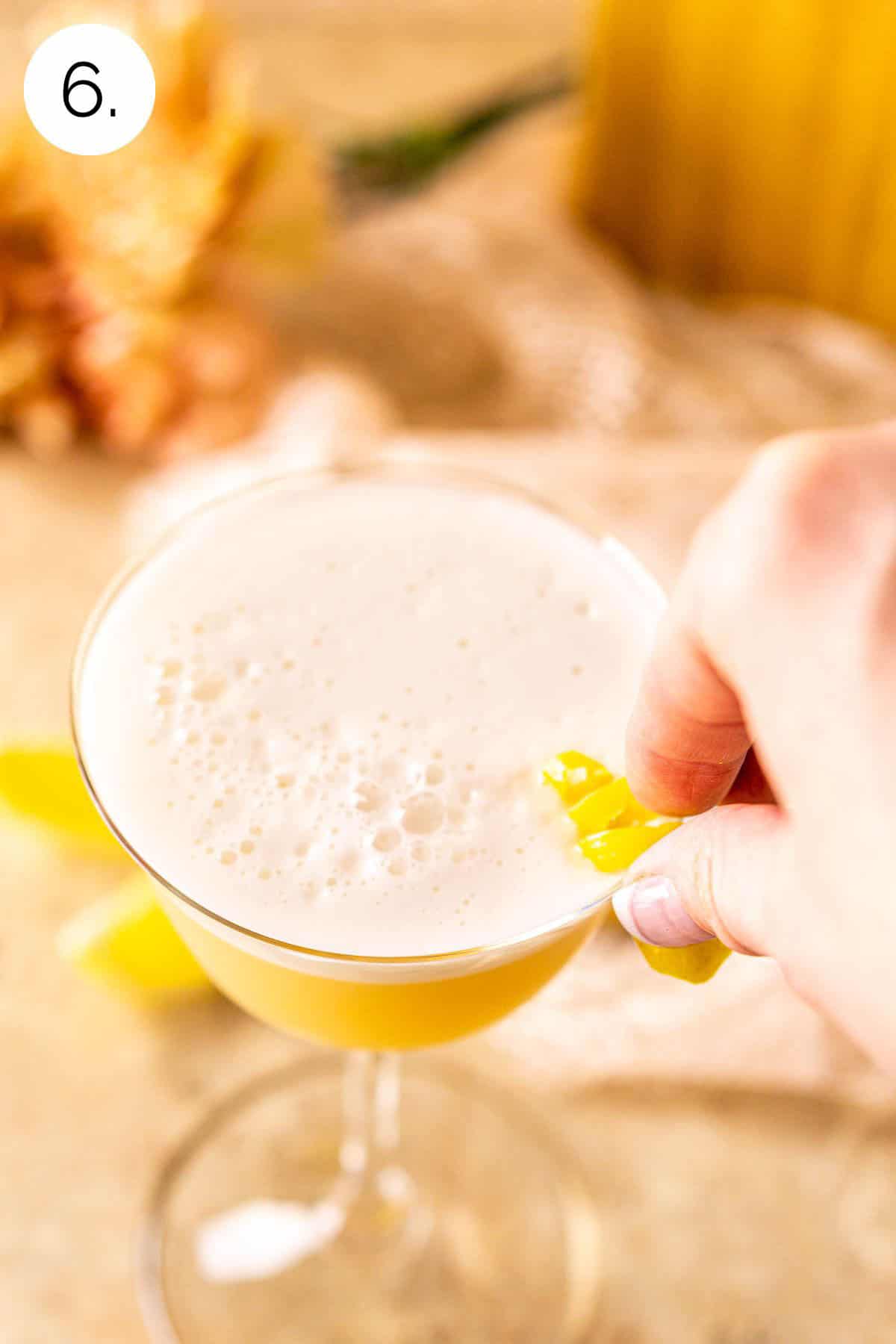 We now have the perfect Boston sour cocktail. Raise a glass and enjoy!
Related: For more bourbon cocktails, you'll also love my cherry bourbon smash, peach-brown sugar mint julep and blueberry bourbon smash.
How to Make a Pitcher
For easy entertaining, let's chat about this convenient batching option.
Stir together the whiskey, lemon juice, simple syrup and bitters in a pitcher.
Cover and refrigerate for up to 24 hours. After a day, the lemon won't be as tart and bright.
Stir again, pour 4 ounces of the whiskey mixture into a cocktail shaker per drink and add an egg white.
Follow the dry shake and wet shake technique as directed.
See? We eliminated a lot of measuring, which makes your bartending duties much more efficient.
If you're tight on refrigerator space, another option is to juice your lemons the morning of party day and store the juice in a squeeze bottle. You'll make the drink as originally directed, but now you don't have to worry about juicing lemons on demand.
It may not seem like it's that much more efficient, but when making multiple drinks, pouring from a squeeze bottle really is a time saver. In fact, I just did this for our New Year's Eve party because I had a few drinks I wanted to share, and it allowed me to whip up drinks so much faster.
Recipe FAQs
Is there a vegan substitute for the egg white?

You bet — you can instead use aquafaba, which is the liquid from a can of chickpeas. Fee Brothers also makes a foaming product that would work.
Are raw eggs safe in cocktails?
These days, the risk is minimal. Just make sure you use fresh eggs with no cracks and store the eggs in the coldest part of your refrigerator. If you still feel uneasy using a raw egg, pasteurized eggs are a great option. Pasteurized eggs are heated in their shells to eliminate potential bacteria.
What glassware should I use for a Boston sour?
It doesn't get more perfect than a sour glass. This glass features a curved edge that's designed to expertly slide the lovely foam to the tip of your tongue and bring the aroma to your nose. If you don't have sour glasses, some other popular options include a couple glass, martini glass or rocks glass.
What's the best cocktail shaker to use?
While you can use any type of cocktail shaker with a Boston shaker being an especially popular option, I highly recommend a cocktail shaker with a rubber seal for drinks that require a dry shake. Cold ice is what helps seal most metal cocktail shakers, so the dry shake can get a little messy, and you don't want to lose that delicious whiskey. Once I switched to a cocktail shaker with a rubber seal, it made the dry shake so much cleaner and easier.
How do you make simple syrup?
While you can buy simple syrup, I much prefer to make my own — it's cheaper, tastes better and doesn't have any weird chemicals. To make your own simple syrup, bring together 1 cup water and 1 cup white sugar to a boil in a small saucepan, stirring occasionally to dissolve the sugar. Once it boils and the sugar dissolves, you have your simple syrup.

Let the simple syrup cool and then store it in a sterile, airtight container in the refrigerator. It should last several weeks. You'll know it's time for a new batch when it turns cloudy.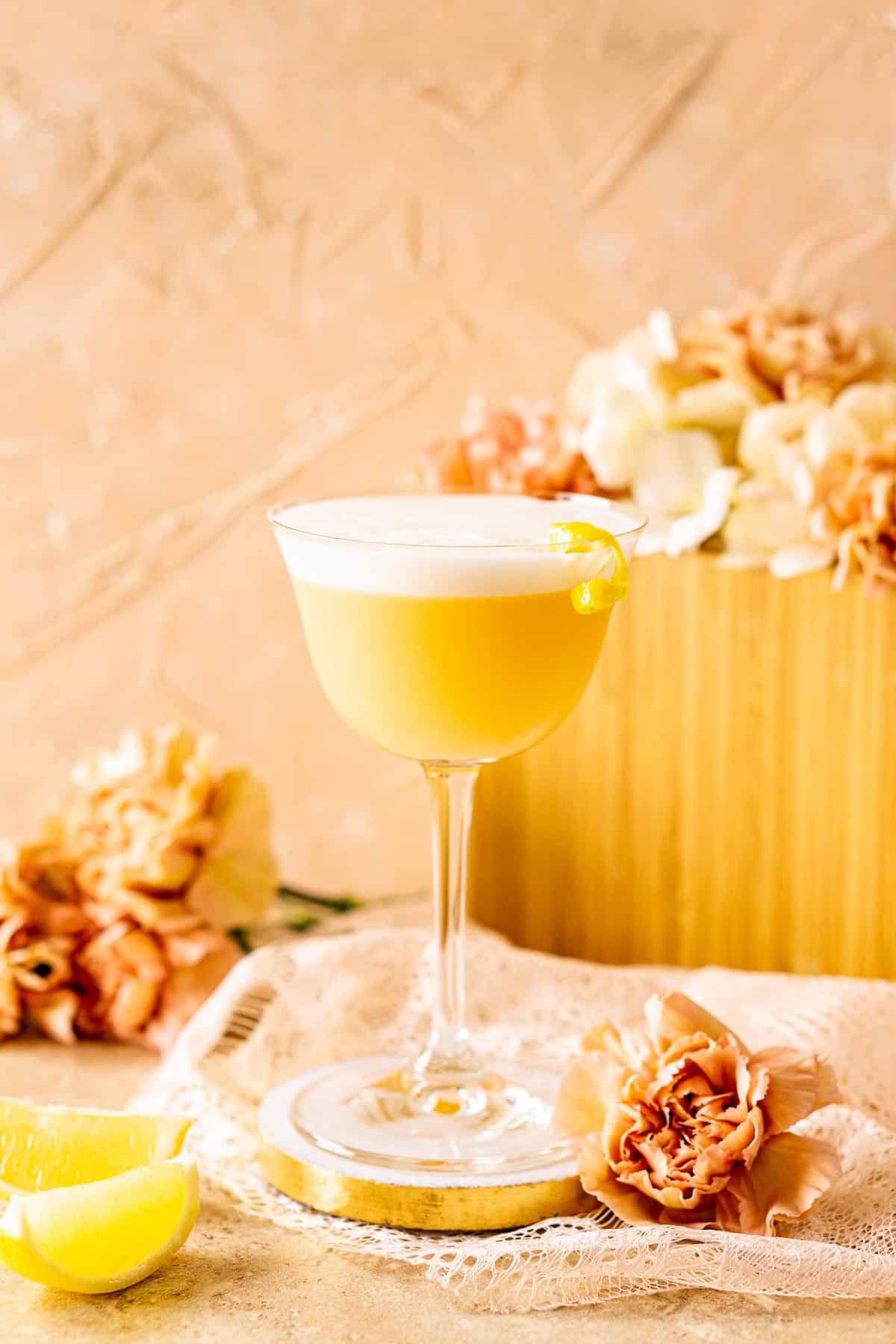 Variations
The classic Boston sour is tasty as is, but it's also the perfect starting point to make your own customized recipe. Here are a few ideas.
Use a flavored sweetener, like in my maple whiskey sour. Besides maple syrup, orgeat, honey syrup, ginger syrup, cherry syrup and cranberry syrup are nice options.
Muddle fresh fruit with your simple syrup, and then make the drink as directed. I do this in my cherry vodka sour, and it adds so much fresh flavor.
Swap bourbon for another type of whiskey, such as rye or Irish whiskey.
Use an infused whiskey, like my cherry-infused bourbon or orange-infused bourbon.
Substitute the lemon juice for another souring ingredient, such as orange juice or lime juice.
Try another spirit. This is a great base recipe for any sour cocktail.
Play around with different bitter flavors. A classic Boston sour calls for angostura bitters, but feel free to try orange, ginger, cherry or any variety that strikes your fancy.
Expert Tips
Chill your serving glass: Since this drink is served straight up with no ice, I recommend using a chilled glass to keep every sip refreshing as can be. Simply place your serving glass in the freezer 15-30 minutes before mixing and you're good to go. If you forget, you can fill the glass with ice water while you mix the drink. Right before straining, stir the ice water for 15-30 seconds and then dump the contents.
Get juicy lemons: When picking my lemons, I like to give them a light squeeze to ensure they have a little give and are full of juicy goodness.
Use a mason jar: If you don't have a cocktail shaker with a plastic ring for easy sealing, you may find the dry shake is easier and cleaner using a mason jar with a solid lid. After the dry shake, you can transfer the mixture to your cocktail shaker since you'll use ice in the next shake.
Don't shorten the shake times: Getting a lasting, proper foamy topping takes lots of shaking power. This recipe calls for a 30-second dry shake and one-minute wet shake. Follow those times for best results.
Shake properly: To get enough force behind the shake, make sure you use two hands and shake at an angle.
Perfect Pairing
Bourbon is one of my favorite spirits for pairing with food. You have endless options — it's wonderful with salty cured meats, bold roasts, smoked and grilled dishes, and even sweets. With that in mind, here are some options from each category for you to pair.
If you're ready to upgrade your cocktail game, whip up this Boston sour and savor every sip. Thanks to that frothy foam and smooth flavor, it's sure to be your new favorite bourbon cocktail.
Cheers!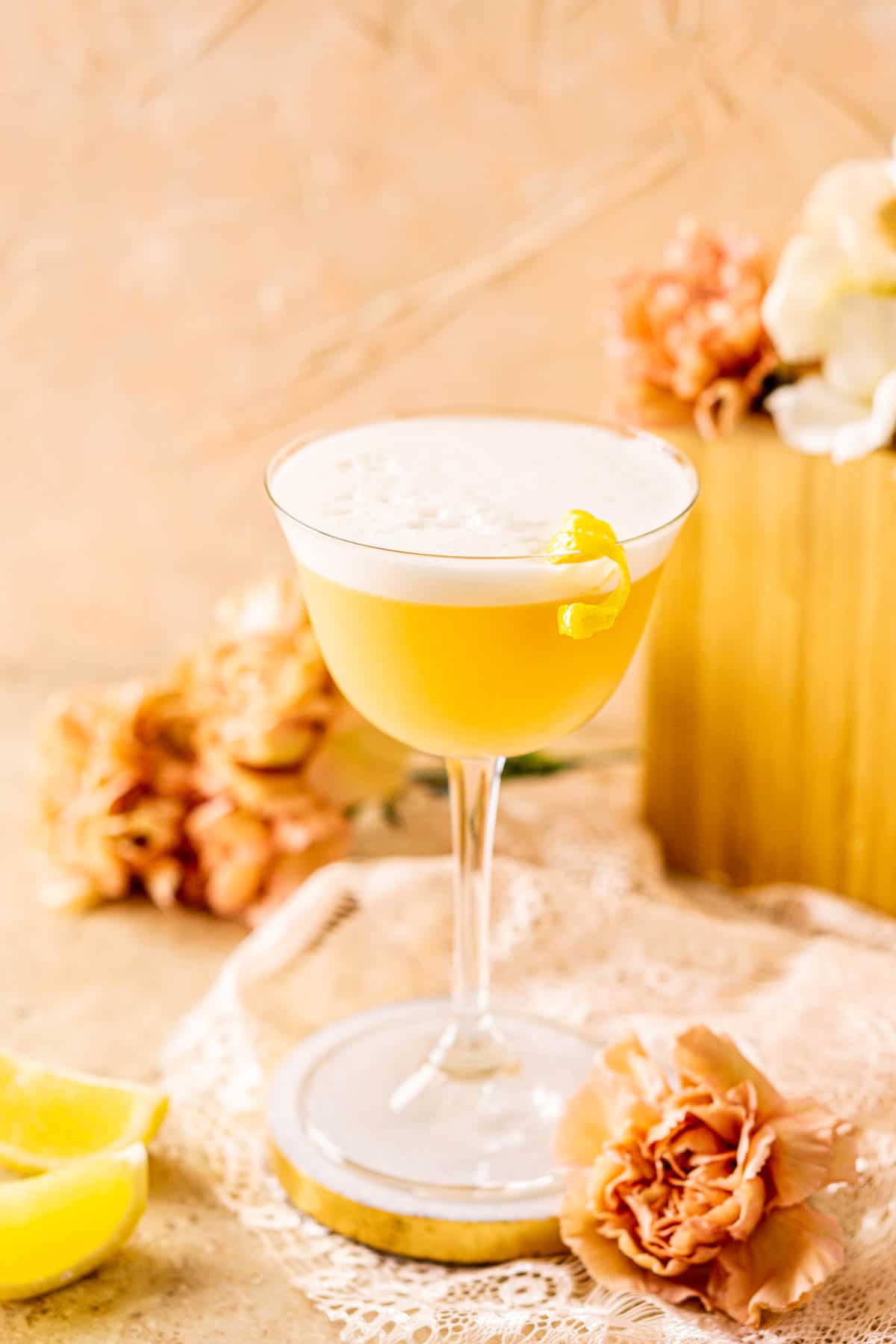 Get More Sour Cocktail Recipes
If you love this recipe, please leave a comment with a five-star rating — or simply hit the five-star button in the recipe card. Don't forget to sign up for my newsletter, and you can follow me on Facebook, Instagram, Pinterest and TikTok.
📖 Recipe
Perfect Boston Sour
Whiskey lovers will fall in love with this perfect Boston sour after just one delicious sip! With its wonderfully frothy topping, the classic Boston sour elevates a basic whiskey sour to add a velvety, silky texture for a touch of elegance. When you need a well-balanced, sophisticated whiskey cocktail for the evening, you'll turn to this recipe over and over again.
Print
Pin
Rate
Ingredients
2

ounces

whiskey

preferably bourbon

1

ounce

freshly squeezed lemon juice

1

ounce

simple syrup

1

egg white

Few dashes of angostura bitters

Ice

Lemon twist

for garnish, optional
Instructions
Add whiskey, lemon juice, simple syrup, egg white and bitters to a cocktail shaker with no ice.

Put on the top and shake for 30 seconds. This is our dry shake.

Remove the top and add a handful of ice. Put the top back on and shake again for at least one minute to develop the frothy topping. This is our wet shake.

Strain into a chilled glass.

If desired, garnish with a lemon twist. Enjoy!
Notes
For an eight-drink batch: Stir together 2 cups whiskey, 1 cup lemon juice, 1 cup simple syrup and about 8-10 dashes bitters in a pitcher. Cover and refrigerate for up to 24 hours. When ready to serve, stir again, pour 4 ounces whiskey mixture with one egg white per drink into a cocktail shaker. Proceed with the dry and wet shake as directed above. Shake up to two drinks at a time.
If you have dietary restrictions or don't want to use raw eggs, swap a fresh egg white for 2 tablespoons aquafaba. This is the liquid in a can of chickpeas. Alternatively, Fee Brothers offers a frothing product that replaces an egg white.
Stainless steel cocktail shakers rely on ice to create a seal, so you have to be a careful while shaking to keep the drink from leaking. A mason jar with a solid lid eliminates that problem, and you can then use a cocktail shaker for the wet shake. I find cocktail shakers with a rubber lining don't have the same problem and stainless shakers.
To chill the serving glass, place it in the freezer 15-30 minutes before serving. If you forget, you can fill it with water and ice cubes while you mix the drink. Before straining, stir the water and ice for about 30 seconds, pour out the contents, and you have a chilled glass.
Nutritional information is only an estimate. The accuracy of the nutritional information for any recipe on this site is not guaranteed.
Nutrition
Serving:
1
drink
|
Calories:
240
kcal
|
Carbohydrates:
23
g
|
Protein:
3
g
|
Fat:
0.1
g
|
Saturated Fat:
0.01
g
|
Polyunsaturated Fat:
0.01
g
|
Sodium:
67
mg
|
Potassium:
97
mg
|
Fiber:
0.1
g
|
Sugar:
22
g
|
Vitamin A:
2
IU
|
Vitamin C:
11
mg
|
Calcium:
7
mg
|
Iron:
1
mg