With peach season in full force, let's celebrate this delicious time of year with the ultimate summer pizza. Juicy, ripe peaches come together with salty prosciutto and earthy pesto for the perfect sweet and savory combination while melted fontina adds a creamy touch of decadence. This grilled peach pizza with pesto and prosciutto will be your new go-to summer staple.
Jump to:
Georgia gets all the glory when it comes to peaches, but have you ever tried a ripe Palisade peach from beautiful Colorado? If you haven't, put Palisade peaches on your food bucket list.
These peachy gems grow in a microclimate with hot days and cool nights that bring out the fruit's natural sugar. This results in unparalleled juice bombs with loads of peachy flavor and sweetness.
Sorry, Georgia peaches. You're good, but you're no Palisade peach.
The only down side to Palisade peaches is the short harvest season, so we have to take advantage while we can. Let's do ourselves a favor and put this grilled peach pizza with prosciutto on our summer menu ASAP.
Fun side note: Palisade is also home to Colorado's wine country and full of small-town charm. If you're looking for a relaxing mountain escape with plenty of wine tasting on the agenda, you'll feel right at home in Palisade.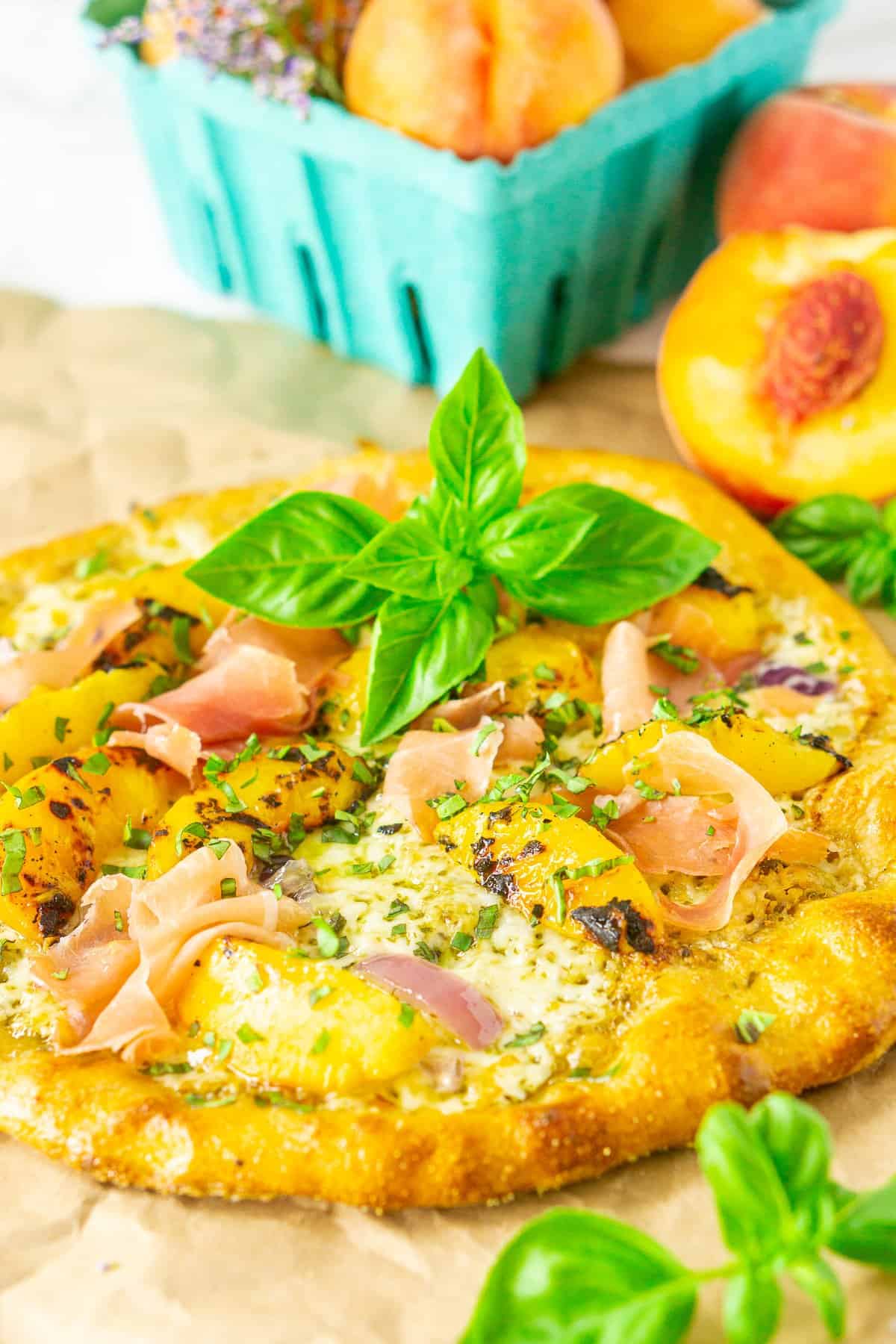 Ingredients
Let's gather our ingredients and get ready to make this crave-worthy summer pizza. For this grilled peach pizza, you'll need the following.
Pizza dough
Pesto
Fontina
Prosciutto
Ripe peaches
Red onions
Egg yolk
Water
Cornmeal
Obviously, I highly recommend my beer pizza dough. Not only is it delicious and easy to put together but you can even make it up to three days ahead of time if you'd like. This makes it perfect for entertaining.
If you're not up for making your own dough, you can get fresh dough from the grocery store, and it is good. I generally find it in the refrigerator case by the prepared food counter at the grocery store. If you don't see it, just ask someone behind the counter.
For the pesto, I used my feta-avocado pesto sauce. You're welcome to use your favorite pesto recipe or store-bought brand, but I loved my feta-avocado sauce on this pizza.
And, of course, you can't go wrong with Palisade peaches on this pizza, but if they're not stocked in your area, use a variety that's available to you.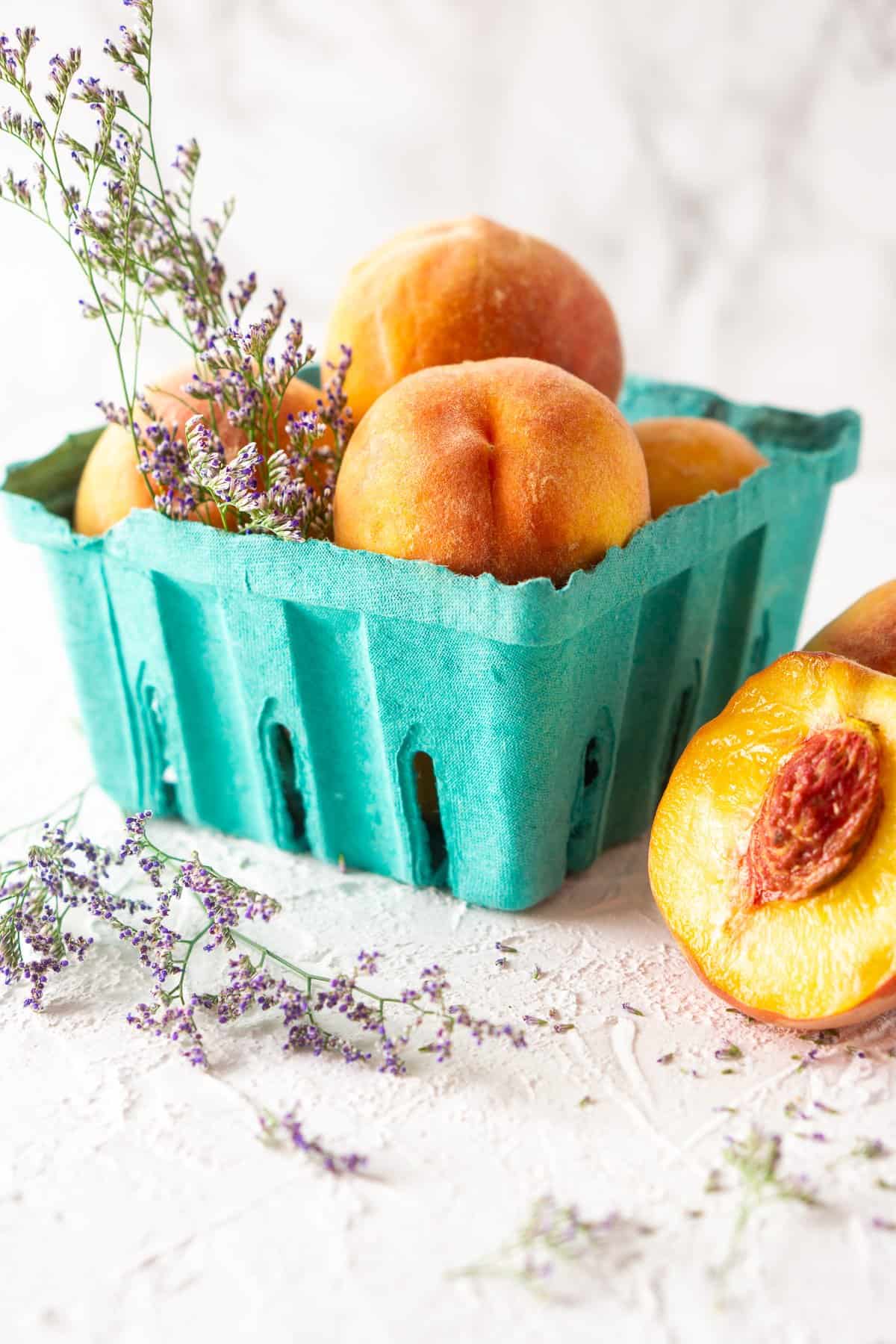 How to Grill Peaches
To grill our peaches for this pizza, we turn our grill on high and then generously grease the grates. We can even brush our peach slices with a little canola oil to help prevent sticking. Now we close the lid and give the peaches a few minutes to char.
Generally, I like to go ahead and slice the peaches before grilling. Maybe I'm a little clumsy on the grill, but this means I'll likely drop a few slices between the grates, so I always cook a little more than I need.
You can avoid losing peach slices by grilling them in halves, but that means less surface area hits the grill. Ultimately, it's your call. Besides, I can't find the self-control to not snag a slice or two or a few, so it's best to make sure you have reserves, at least in my case.
How to Hand Stretch Pizza Dough
With our peaches grilled, we're ready to prepare our pizza dough for hand stretching. If you made your pizza dough ahead of time and put it in refrigerator for storing, it needs to sit in room temperature for a couple hours. As you can imagine, cold dough doesn't like to stretch properly. To ensure it doesn't dry out, we place it on a lightly floured surface under plastic wrap.
However, if you made your dough right away and it's already reached room temperature after rising, you can skip this step.
Now we hand stretch the dough so that it's about 10 inches in diameter. When hand stretching, we want to make sure we focus on stretching toward edge of the dough, just before the crust, rather than the center. Messing with the center too much will give us a limp crust. We want to use the length of our fingers instead of our fingertips to push out the dough. You can even pick up the dough by the edge to stretch.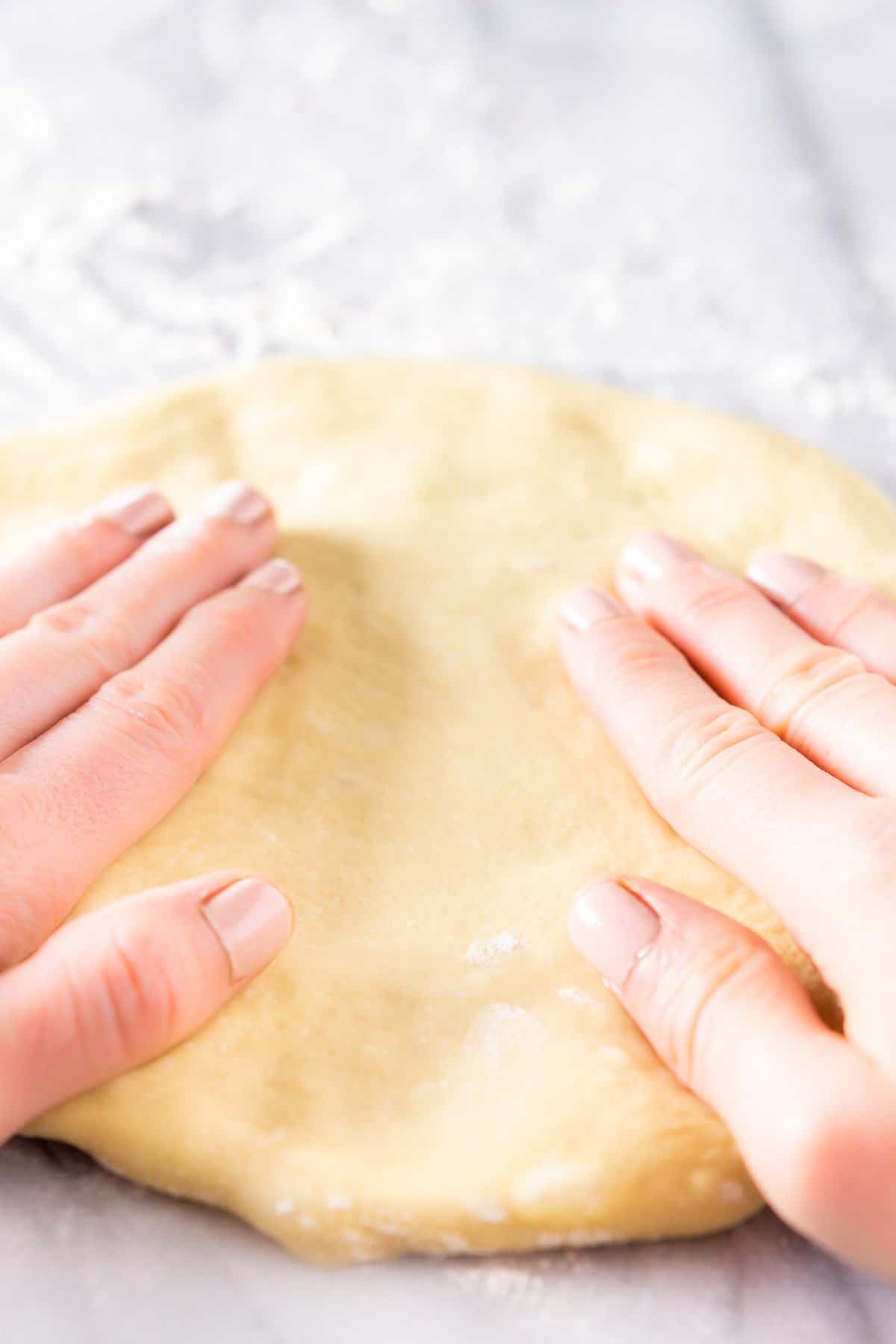 You can visit my beer pizza dough post if you'd like to see a video of this in action. Admittedly, I don't use nearly as much flour as he does during the stretching. I've never found it necessary to use that much, but it still gives you a good idea of how it's done.
Whatever you do, please don't use a rolling pin to stretch your dough, which can kill our delicate air bubbles. Save your rolling pin for pie crusts, not pizza crusts.
How to Make
And now to load and bake our grilled peach pizza. To easily handle our pizza, we place the stretched dough onto cornmeal-dusted parchment paper. If you're fancy and have a pizza peel, you can use that instead.
We then smother the dough with a layer of pesto, top it with loads of cheesy goodness and finish with our red onions. For a perfectly brown crust, we brush it with a mixture of egg yolk and water, and just like that, our pizza is now ready to go into the oven.
After our pizza bakes, we top it with prosciutto, grilled peaches and some fresh basil. Grab a peach martini and dig in to your new favorite summer pizza. So good, huh?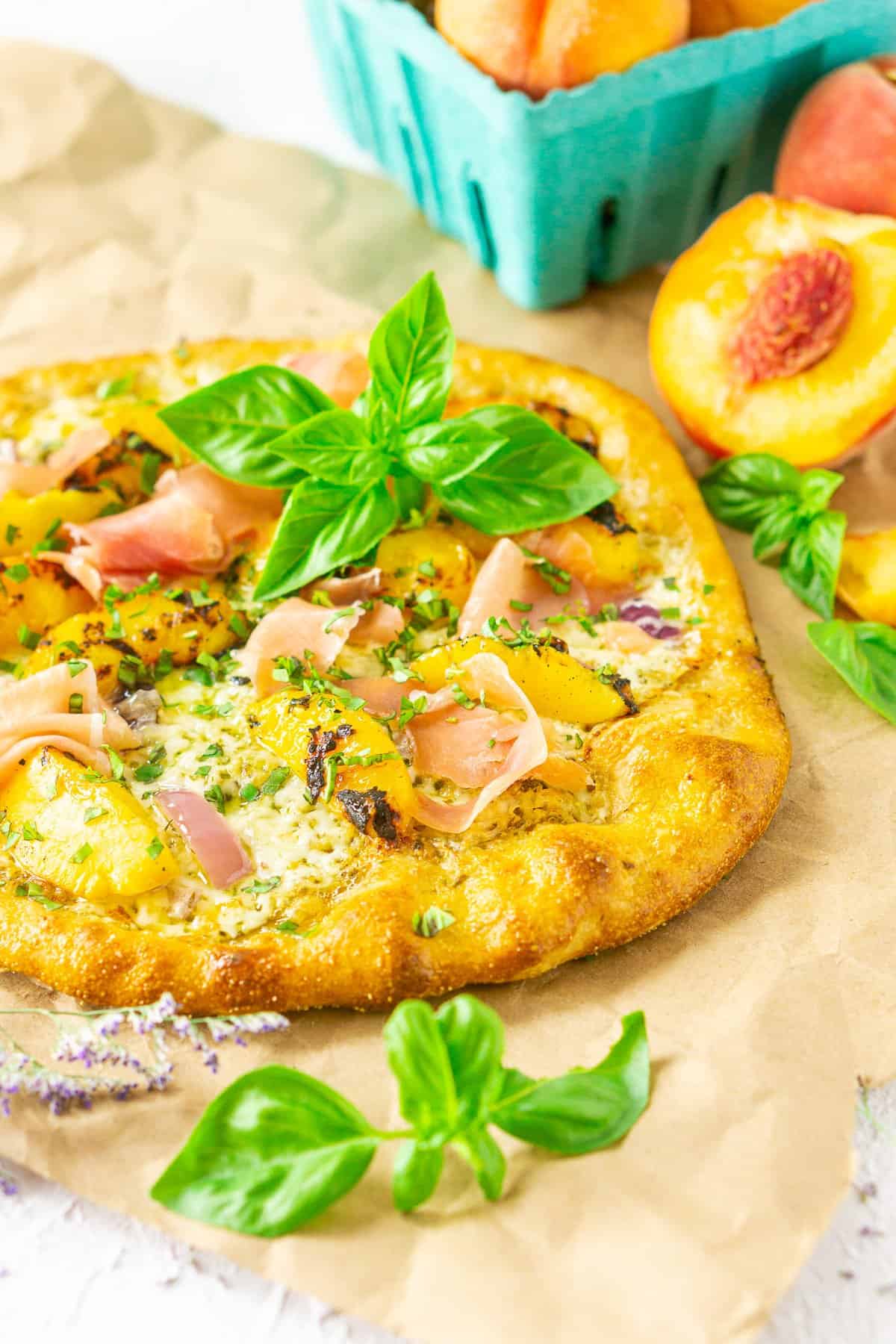 Expert Tips and FAQs
Love making pizza at home? A pizza stone makes a big difference in the end results. It's worth the purchase.
Get that perfect crisp crust by heating the pizza stone at least 45 minutes before baking.
This recipe calls for ½ pound of pizza dough, which makes a 10-inch pizza. Beginners may find this size is a bit easier to stretch, but feel free to use more dough for a bigger pizza and adjust the topping measurements accordingly.
A 10-inch pizza makes a good-size meal for two or an appetizer for four. If you need multiple pizzas, simply remove one pizza from the oven and serve. As everyone is enjoying the first grilled peach pizza, you can bake your next pizza, and it will be ready to go by the time everyone finishes round one.
Perfect Pairing
If pizza and beer are your kind of pairing, I recommend a saison. A crisp, bubbly saison happens to be one of my favorite beers for pairing with food, and this match is no exception. With saison's spicy yeast profile, it's a delicious match with the pesto. At the same time, saisons often come with citrus and stone fruit notes, and that effervescent mouthfeel makes it a great palate cleanser to slice through that cheesy summer pizza.
When you're in the mood for wine, a lightly oaked chardonnay is a good call with this grilled peach pizza. We don't need a huge oak bomb, but a touch of oak nicely complements the charred peach slices. This kind of chardonnay also gives us some acidity that's a welcome match to the peach as well as some subtle fruity flavors.
Of course, a peach cocktail is also a good call. Try my peach Moscow mule, peach sangria, peach mint julep or peach bourbon smash.
With fresh peaches ripe and aplenty, I hope you try this grilled peach pizza with pesto and prosciutto. I have no doubt it'll become one of your favorite summer meals.
Cheers!
Love Pizza Night?
If you love this recipe, please leave a comment with a five-star rating — or simply hit the five-star button in the recipe card. Don't forget to sign up for my newsletter, and you can follow me on Facebook, Instagram, Pinterest and TikTok.
📖 Recipe
Prosciutto-Grilled Peach Pizza With Pesto
With peach season in full force, let's celebrate this delicious time of year with the ultimate summer pizza. Juicy, ripe peaches come together with salty prosciutto and earthy pesto for the perfect sweet and savory combination while melted fontina adds a creamy touch of decadence. This prosciutto-grilled peach pizza will be your new go-to summer staple.
Print
Pin
Rate
Servings:
1
10-inch pizza
Ingredients
½

pound

pizza dough

homemade or store-bought (see notes)

1-2

ripe peaches

Canola oil

for greasing

Cornmeal

for dusting

¼

cup

pesto

homemade or store-bought

2

cups

fontina

freshly grated (see notes)

¼

cup

chopped red onion slices

1

egg yolk

(see notes)

½

tablespoon

water

1

ounce

prosciutto

torn

Fresh chopped basil

for garnish, optional
Instructions
If using dough stored in the refrigerator, place on a lightly floured surface, gently press into a 5-inch flat circle and cover with plastic wrap about two to three hours before you plan to bake the pizza. However, if you made your dough right away and it's already risen and come to room temperature, you're ready to skip straight to step 2.

About 45 minutes to an hour before baking, place a pizza stone in the cold oven and turn the heat to 500 degrees. If you don't have a pizza stone, you can use a large baking sheet and preheat for 30 minutes, though a pizza stone is recommended for best results.

Heat a grill over high heat and grease the grates with canola oil. Cut the peaches into slices, wedges or halves for grilling. Slices give you more grilling surface area, but they're more susceptible to falling between grates. Brush peaches with additional canola oil. Place on hot grill and cook until char marks appear to your liking. Remove from heat. If you grilled the peaches in wedges or halves, now cut into slices. If you want to remove the peach skin, it should be easy to pull off at this point. Cover and reserve peaches for pizza.

Hand stretch the dough using the bed of your fingers rather than your finger tips to pat the dough outward toward the edge. Don't pat in the center of the dough, or you'll get limp pizza. Really focus on staying outside of the center and work toward the edge. After you work the dough, grab the edge of the pizza and lift it in the air. Allow it to quickly hang down and keep rotating the pizza crust through your fingers to allow the rest of the pizza to have a chance to hang. Do not use a rolling pin to shape and flatten. The dough is stretched when it's 10 inches in diameter. If any holes form, pinch the dough back together.

Coat a pizza peel or the back of a parchment paper-covered baking sheet with cornmeal and place the hand-stretched dough on top. Adjust the shape if necessary.

Spread pesto on the dough, leaving an edge for the crust. Top with fontina and then add the red onion. Whisk together the egg yolk and water and brush on the crust. Transfer to the hot pizza stone.

If using parchment paper on a baking sheet to transfer the pizza, grab the edge of the parchment paper and slide the pizza from the baking sheet to the pizza stone. Bake for two minutes, remove the parchment paper and then continue to bake for six to eight minutes. If using a pizza peel with no parchment paper to transfer the pizza directly to the stone, bake for eight to 10 minutes.

Remove from oven. Because pesto is oil-based, oil will rise to the top. Take a paper towel and gently place on top to soak up oil. Top with prosciutto and peaches. Let the pizza set for about five minutes. Cut into slices and top with fresh basil if desired. Enjoy!
Notes
A 10-inch pizza is a good-size meal for two people, or it works well as an appetizer for four people.
While I highly recommend my make-ahead beer pizza dough, most grocery stores sell fresh pizza dough in the section where you can find freshly prepared soups, salads and meals. If you can't find it, ask someone at the deli counter.
You probably won't need two full peaches to top a 10-inch pizza, but this gives you a little extra in case you slice it and any drop between the grates, which can easily happen. Plus, it gives you snacks.
For full tips, see blog post.
Nutritional information is only an estimate. The accuracy of the nutritional information for any recipe on this site is not guaranteed.
Nutrition
Serving:
0.5
pizza
|
Calories:
645
kcal
|
Carbohydrates:
43
g
|
Protein:
25
g
|
Fat:
30
g
|
Cholesterol:
177
mg
|
Sodium:
1.046
mg
|
Sugar:
29
g