This pulled pork BBQ pizza isn't your average pie. With its tender pulled pork, spicy BBQ sauce, smoked cheese and sweet caramelized onions, this pizza delivers an explosion of flavors that makes for one crowd-pleasing meal. Don't be surprised if this pulled pork BBQ pizza becomes your new party favorite!
Jump to:
Chicken gets all the glory when it comes to BBQ pizza, and I get it. Chicken and BBQ sauce make one fine match.
But have you ever substituted pulled pork for chicken? Game changer. While chicken is delicious, pulled pork has that rich, melt-in-your-mouth quality our poultry friend can't quite match.
Besides, isn't it fun to change it up for guests when entertaining? Odds are your guests have enjoyed a chicken BBQ pizza, but a pulled pork BBQ pizza offers them a new spin.
To make this pizza, I recommend using my beer pizza dough and a homemade BBQ sauce. My coffee-bourbon BBQ sauce and sriracha-honey BBQ sauce are both delicious options. Or for a Caribbean flair, try my Jamaican jerk BBQ sauce.
You'll find my pizza dough is especially convenient for entertaining because you can either make it the same day as baking or three days ahead of serving. The dough also freezes well, so I like to make a batch to always have pizza dough on hand for those impromptu occasions.
That said, I get that sometimes you don't always have the time. In that case, I've found the fresh pizza dough available at grocery stores is a good option. You can find it in the refrigerated prepared food section. This dough typically comes packaged in 1-pound increments, which is enough for two 10-inch pizzas.
Bonus: If you enjoy this fun pizza recipe, make sure you also try my baked potato pizza!
Step-by-Step Instructions
How to Make Pulled Pork
Considering that we're using a small amount of pulled pork, this pizza recipe is great for using leftovers. However, if you don't have any leftover pulled pork on hand, you can certainly make a batch for the pizza and save the rest for other uses.
I recommend using pork butt, which is a cut from the shoulder. This cut is ultra tender and so naturally flavorful that it doesn't take much to make one delicious batch of pulled pork.
Both the slow cooker and oven work well for making pulled pork. I love the texture of the skin you get from the oven, but the slow cooker is ridiculously convenient. Depending on your cooking method preference, here are two easy ways to do it.
Slow cooker: Heat a skillet with a tablespoon or two of canola oil over medium-high heat and liberally season the pork with salt and pepper. When the oil shimmers, place the pork in the skillet. Cook until browned and repeat on the other side. Place the pork in the slow cooker with a cup of chicken stock. If desired, sprinkle with liquid smoke. You could even cut little slits into the pork and push some of the liquid smoke into the crevices. Cook on low for eight to 10 hours. Technically, browning the pork is optional, but I think it produces best results.
Oven: Like the slow cooker version, liberally season the pork with salt and pepper. Place on a greased rack in a roasting pan covered in foil for easy cleanup. You can do the same with the liquid smoke as mentioned above if you'd like. Roast in a 250-degree oven until the pork easily shreds with a fork, about eight hours, though it could take longer if you get a big cut.
Bonus option: Cook the pork according to your desired above method but coat it in a dry brine first. The dry brine is equal parts salt and white sugar. Rub the brine all over the pork and then place in the refrigerator uncovered for at least 12 hours and up to 24 hours. The exact amount of brine depends on the size of your cut. I'd start with about ¼ a cup each of salt and sugar and go from there. A big roast very well may need more, but that's a good starting point.
Even with the dry brine option, I kept the seasoning simple for these two methods. As I mentioned, pork shoulder is already so flavorful. Plus, with the BBQ sauce, cheese and caramelized onions, this pork doesn't need much else. That said, if you have your favorite dry rub you'd like to use, feel free to do so.
How to Hand Stretch Pizza Dough
And now for pizza making! If you already prepared your pizza dough and kept it in the refrigerator, let it sit in room temperature for a couple hours. Cold dough won't stretch properly.
To prevent our dough from drying out, we place it on a lightly floured surface under plastic wrap like so. That said, if you made your dough right away and it's already risen and reached room temperature, you can skip this step.
To begin stretching our dough, we use the long beds of our fingers to pat the outer edges of the dough. And make sure you use your finger beds, not the finger tips. See the photo below for clarification.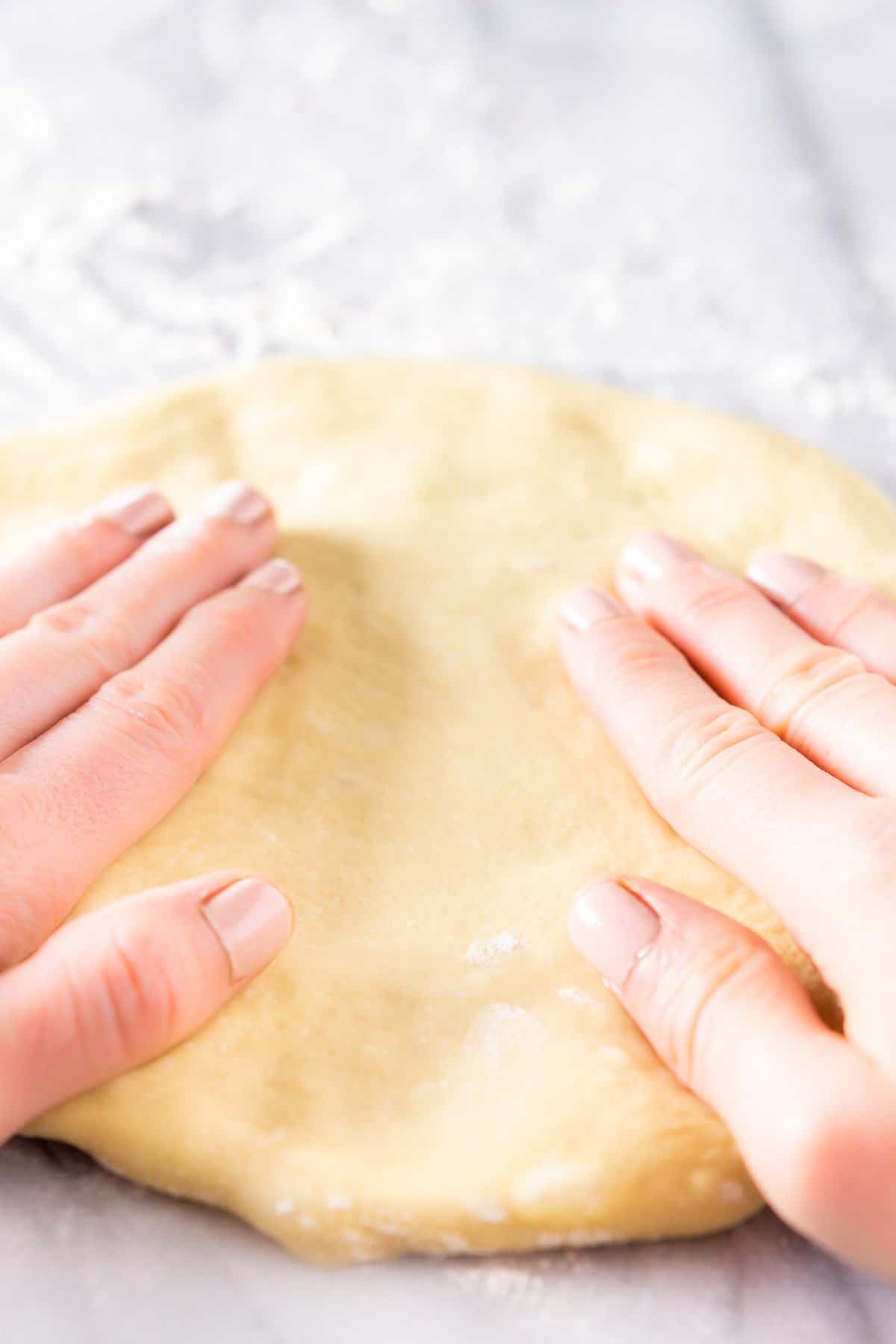 Now we pick up our dough by the edge and quickly turn it like a steering wheel a few times. By letting it hang in the air, gravity gently stretches the dough.
Note that I focus on the outer edge of the dough rather than the center. If we overwork the center, we'll be left with limp pizza crust, and no one wants that. This method gives us a thin and crisp crust.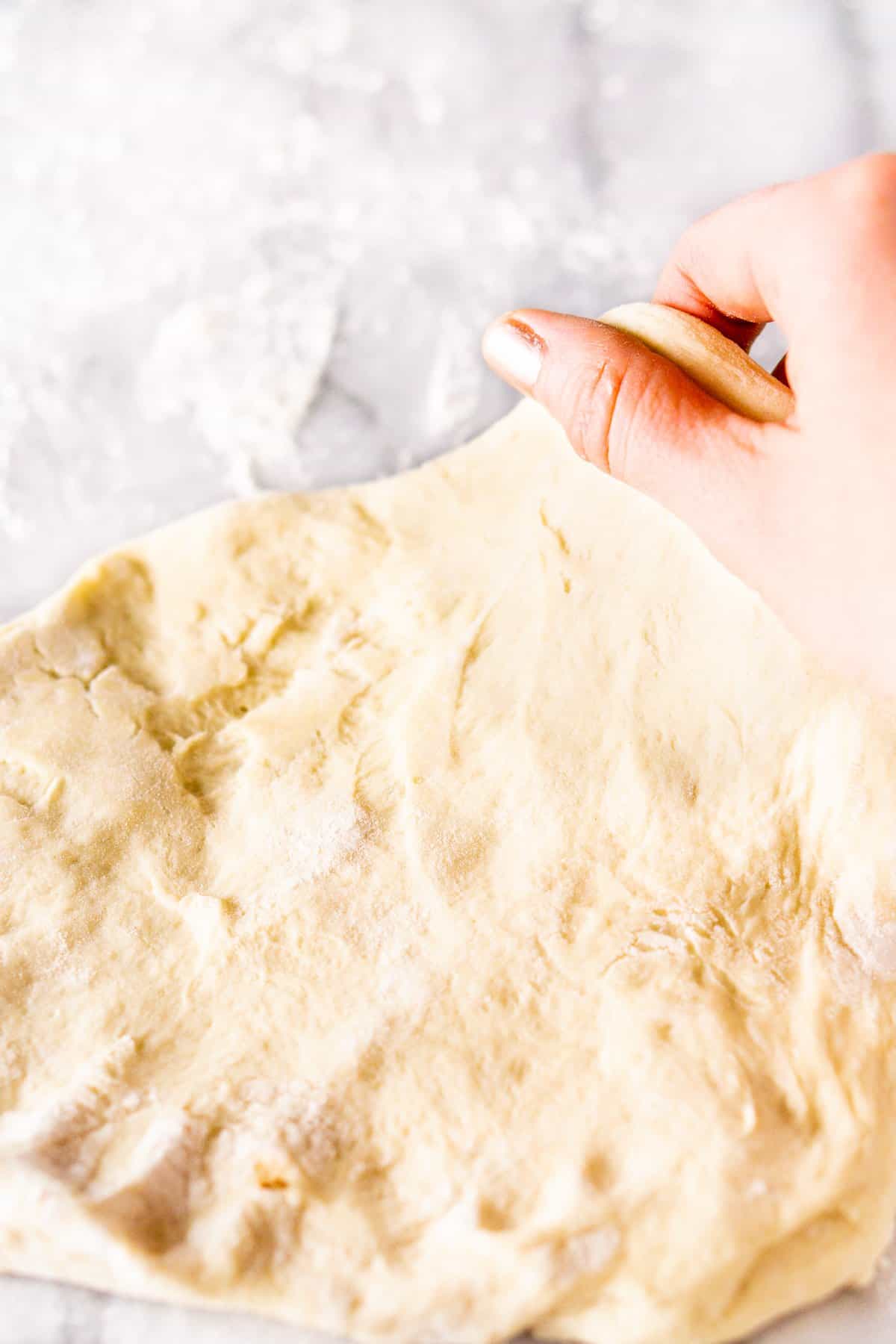 But whatever you do, skip the rolling pin, which can squeeze out those beloved air bubbles. Light stretching with our hands and some help from gravity is enough to properly prepare our dough.
Prepare Pizza Toppings
Along with our pulled pork, we need to prepare our caramelized onions, potato slices and BBQ sauce if making ourselves. Caramelized onions take about 45 minutes to an hour, so I like to take care of this step as the dough rests. You can also make the caramelized onions three to four days before using and store in the refrigerator if that makes life easier.
For the BBQ sauce, plan to spend about 20-30 minutes prepping and cooking. Like the caramelized onions, you can take care of this step while the dough rests or ahead of time. In fact, homemade BBQ sauce will last several weeks in the refrigerator.
We can also prepare the potato slices ahead of time but only if we keep them in water. Otherwise, the potatoes will brown. We only need a few potato slices, so I take care of this step right before topping since it takes so little time.
With our toppings prepped, we're ready to brush our pizza with BBQ sauce, layer on the cheese and then add the pork, potatoes and caramelized onions. I also like to brush the crust with an egg yolk mixed with water. This step gives us that beautiful brown crust.
How Long to Bake Homemade Pizza
And now to bake. If you have a pizza peel, you can slide it directly onto the pizza stone and bake for 10 minutes. However, most people don't have a pizza peel. If that's you, I find it's easier to use parchment paper to transfer the pizza and then bake in two phases.
To do this, I place a parchment paper-lined baking sheet with the unbaked pizza next to the baking stone, grab an edge of the parchment paper and slide that over to the baking stone. Now we bake for two minutes, remove the parchment paper to prevent it from burning and bake for eight more minutes. In my experience, the parchment paper doesn't move easily underneath the pizza dough when it's still raw, but the paper slides right out after it has a bit more structure.
After it bakes, we give the pizza a few minutes to set, cut and enjoy!
Expert Tips and FAQs
A pizza stone will give you better results. While you can use a large baking sheet, a baking stone is well-worth the purchase if you enjoy at-home pizza nights.
For the perfect crispy crust, we place a pizza stone in the oven and then heat it to 500 degrees at least 45 minutes before baking.
This recipe calls for ½ pound of pizza dough to make a 10-inch pizza. For beginners, this size is easier to stretch, but you're welcome to use more dough for a bigger pizza if you feel comfortable and adjust the topping measurements accordingly.
A 10-inch pizza makes a good-size meal for two or an appetizer for four. For multiple pizzas, simply remove one pizza from the oven and serve. As everyone is enjoying the first pizza, you can bake your next pizza, and it will be ready to go by the time everyone finishes round one.
Perfect Pairing
The BBQ sauce gives this pizza a ton of flavor, so I like to pair based on that. With that in mind, I love a bourbon barrel-aged imperial stout with this pizza. The smoky bourbon and roasted malt pair nicely with the BBQ sauce's spicy kick, but the imperial stout also offers some sweetness that soothes the heat. Plus, I'm a big fan of how the caramel notes from the bourbon play with the pork's caramelization.
If you prefer wine with your pulled pork BBQ pizza, grab a zinfandel and call it a night. Zinfandel's peppery kick and fruity notes are perfect with a good BBQ sauce, and it's bold enough to stand up to our rich pork.
For a fun twist on pizza night, I hope you try this pulled pork BBQ pizza with potatoes and caramelized onions.
Cheers!
Love Pizza Night?
If you love this recipe, please leave a comment with a five-star rating — or simply hit the five-star button in the recipe card. Don't forget to sign up for my newsletter, and you can follow me on Facebook, Instagram, Pinterest and TikTok.
📖 Recipe
Pulled Pork BBQ Pizza With Potatoes and Caramelized Onions
This isn't your average pizza. With its tender pulled pork, spicy BBQ sauce, smoked cheese and sweet caramelized onions, this pizza delivers an explosion of flavors that makes for one crowd-pleasing meal. Don't be surprised if this pulled pork BBQ pizza becomes your new party favorite!
Print
Pin
Rate
Servings:
1
10-inch pizza
Equipment
Pizza stone

Pizza peel or large baking sheet with parchment paper

Pizza Cutter
Ingredients
½

pound

pizza dough

homemade or store-bought (see note)

Flour for dusting

2

tablespoons

butter

1

sweet onion

sliced

Pinch of salt, pepper and sugar

Cornmeal for dusting

¼

cup

BBQ sauce

homemade or store-bought

1 ¾

cups

smoked cheese

freshly grated, such as cheddar, mozzarella, Gouda or Gruyere (see note)

¼

cup

pulled pork

Several ⅛-inch potato slices

1

egg yolk

½

tablespoon

water

Fresh parsley or cilantro

chopped, for garnish, optional
Instructions
If using dough stored in the refrigerator, place on a lightly floured surface, gently press into a 5-inch flat circle and cover with plastic wrap about two to three hours before you plan to bake the pizza. However, if you made your dough right away and it's already risen and come to room temperature, you're ready to skip straight to step 2.

About 45 minutes to an hour before baking, place a pizza stone in the cold oven and turn the heat to 500 degrees. If you don't have a pizza stone, you can use a large baking sheet and preheat for 30 minutes, though a pizza stone is recommended for best results.

While the pizza stone heats, melt butter in a large skillet. Add onion slices with a pinch of salt, pepper and sugar and stir to coat the onion slices in butter. Cook until the onion slices caramelize and turn brown. Stir only occasionally during the process. Set aside once browned.

Hand stretch the dough using the bed of your fingers rather than your finger tips to pat the dough outward toward the edge. Don't pat in the center of the dough, or you'll get limp pizza. Really focus on staying outside of the center and work toward the edge. After you work the dough, grab the edge of the pizza and lift it in the air. Allow it to quickly hang down and keep rotating the pizza crust through your fingers to allow the rest of the pizza to have a chance to hang like you're turning the steering wheel of a car. Do not use a rolling pin to shape and flatten. The dough is stretched when it's 10 inches in diameter. If any holes form, pinch the dough back together.

Coat a pizza peel or the back of a parchment paper-covered baking sheet with cornmeal and place the hand-stretched dough on top. Adjust the shape if necessary.

Spread ¼ cup of BBQ sauce on the dough, leaving an edge for the crust. Top with cheese, ¼ cup of caramelized onions, pulled pork and potato slices. Whisk together the egg yolk and water and brush on the crust.

Transfer to the hot pizza stone. If using parchment paper on a baking sheet to transfer the pizza, bring the baking sheet to the edge of the pizza stone, grab the edge of the parchment paper and slide the pizza from the baking sheet to the pizza stone. Bake for two minutes, remove the parchment paper and then continue to bake for six to eight minutes. If using a pizza peel with no parchment paper to transfer the pizza directly to the stone, bake for eight to 10 minutes.

Remove from oven. Let the pizza set for about five minutes, cut into slices and top with fresh parsley or cilantro if desired. Enjoy!
[adthrive-in-post-video-player video-id="3HkTbE2E" upload-date="2021-02-11T00:00:00.000Z" name="Beer Pizza Dough" description="Make your at-home pizza nights extra special and delicious with this beer pizza dough! The end result is one flavorful, thin, crispy pizza crust that everyone is sure to love." player-type="default" override-embed="default"]
Notes
A 10-inch pizza is a good-size meal for two people, or it works well as an appetizer for four people. If you want to make a larger pizza, you can use more dough and toppings, but make sure it isn't larger than your pizza stone or baking sheet.
While I highly recommend my make-ahead beer pizza dough, most grocery stores sell fresh pizza dough in the section where you can find freshly prepared soups, salads and meals. If you can't find it, ask someone at the deli counter.
The amount of cheese you use depends on how cheesy you like your pizza. I'm a cheesy pizza kind of lady, so I use 1 ¼ cups. For the mozzarella, I definitely recommend grating it yourself rather than the bagged shredded cheese, which doesn't melt as well, and using the kind of mozzarella that isn't stored in water, which can soak the crust.
Nutritional information is only an estimate. The accuracy of the nutritional information for any recipe on this site is not guaranteed.
Nutrition
Serving:
0.5
pizza
|
Calories:
632
kcal
|
Carbohydrates:
65
g
|
Protein:
30
g
|
Fat:
27
g
|
Saturated Fat:
12
g
|
Cholesterol:
83
mg
|
Sodium:
771
mg
|
Sugar:
11
g