Bored of the standard pepperoni pizza? Loaded with herby pesto, creamy avocado and delicate smoked salmon on a perfectly crisp crust, this unique pizza will get you out of your rut. With just one bite, this smoked salmon, avocado and pesto pizza will be your new go-to favorite when you need a fresh take on classic comfort food.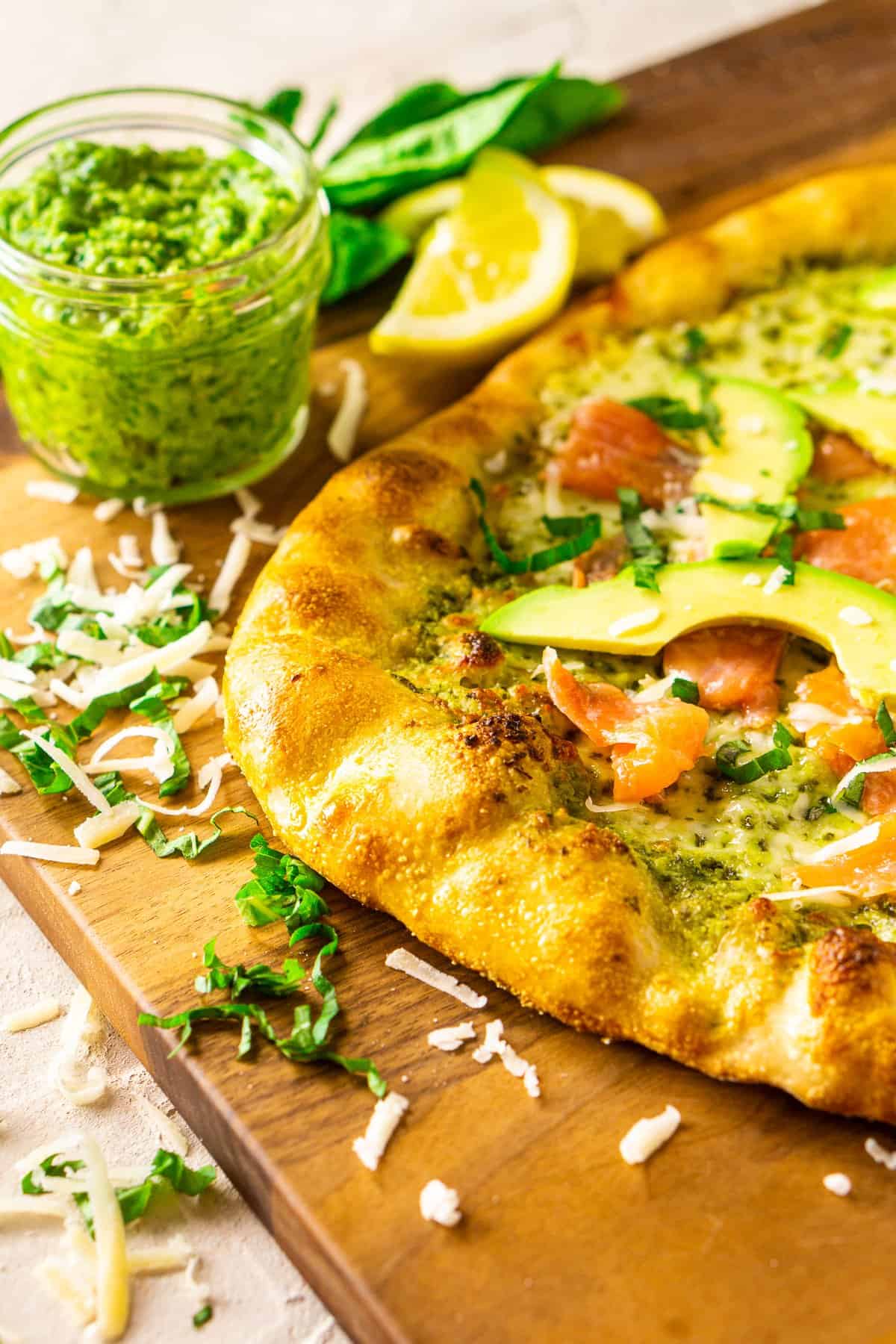 When warm days hit, I love nothing more than to grab a cold beer or glass of wine and head to the patio with a pizza fresh out of the oven. But any pizza won't do. No, we need a pizza full of seasonal flavors, which is exactly what we get with this perfect patio pizza.
I also love that we can serve this versatile smoked salmon and avocado pizza for so many occasions. With the smoked salmon, it gives off a brunch vibe, but at the same time, we're talking salmon. We can just as easily serve it at the dinner table.
This unique pizza even works as a wonderful appetizer. Think of it like a flatbread substitute. See? So many options.
For this recipe, I like to use my beloved beer pizza dough. Besides being ridiculously delicious, this pizza dough recipe is simple to prepare, and I love that we can make it up to three days in advance for easy entertaining. One batch gives us enough for five 10-inch pizzas, and the dough freezes beautifully.
That said, you can use store-bought pizza dough if you don't have time to make your own. You can generally find fresh, unbaked pizza dough near the prepared food section by the deli. If you don't see it on the floor, just ask the lovely people at the counter, and they can help.
How to Hand Stretch Pizza Dough
And now for pizza making! Let's start by hand stretching our dough.
If you prepped your pizza dough ahead of time and kept it in the refrigerator, let it sit in room temperature for a couple hours. Cold dough just doesn't stretch the right way. To prevent it from drying out, we place it on a lightly floured surface under plastic wrap like so. That said, if you made your dough right away and it's already risen and reached room temperature, you can skip this step.
Now we're ready for stretching, which is surprisingly easy. We start by using the long beds of our fingers to pat the outer edges of the dough. Keep in mind, I specified the finger beds, not the finger tips. Check out the photo below to see what I mean.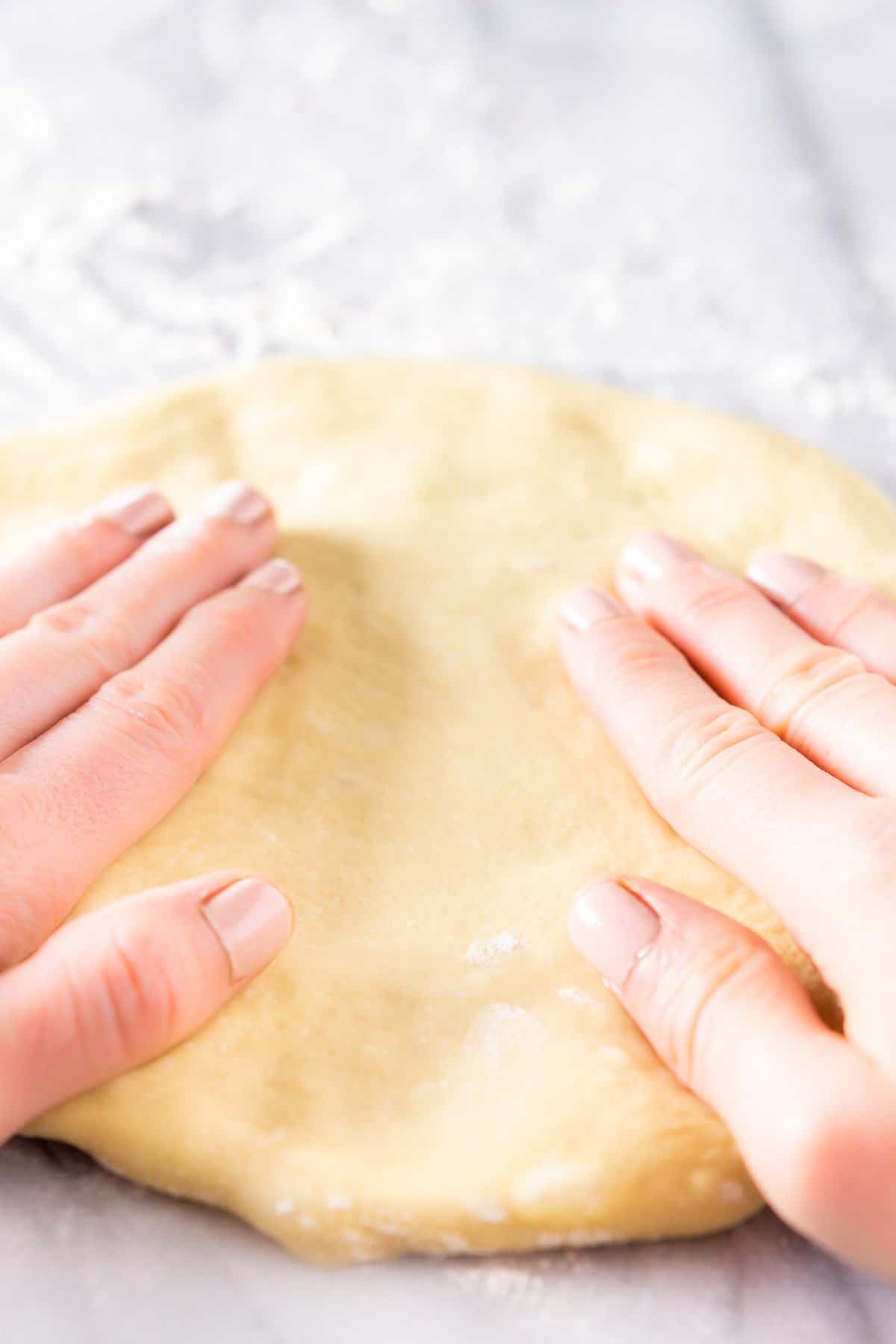 We can also pick up our dough by the edge and quickly turn it like a steering wheel a few times. This allows gravity to gently stretch the dough.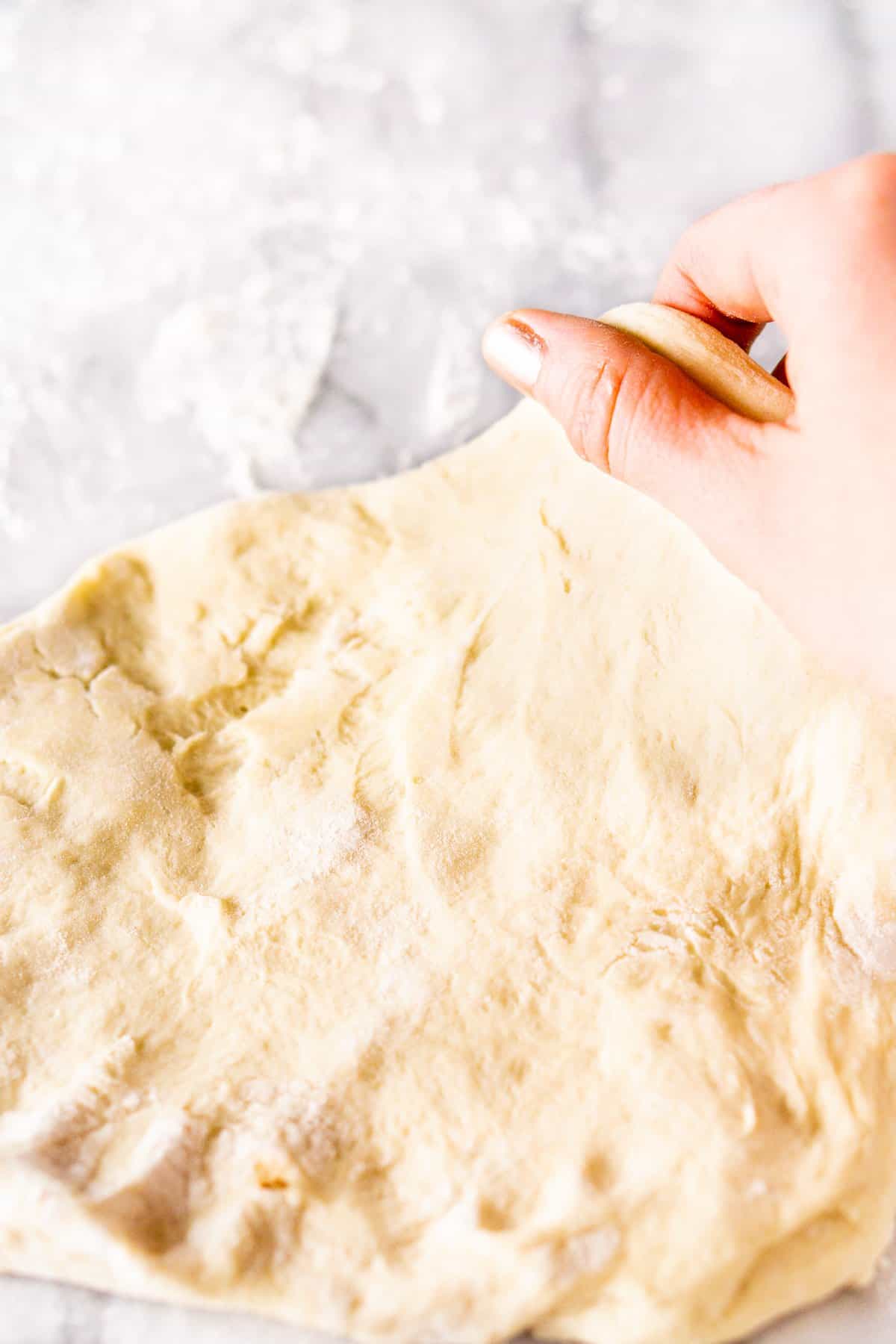 Also, notice that I focus on the outer edge of the dough, not the center. I find if we overwork the center, we'll be left with limp pizza crust.
And please do me a favor and skip the rolling pin. A rolling pin can squeeze out our delightful air bubbles. A light touch with our hands and a little gravity is all we need.
How to Prepare Pizza Toppings
With our pizza dough stretched, we're ready to prepare the rest of our pizza. Before adding our toppings, we place the dough on a cornmeal-dusted pizza peel or parchment paper. Taking care of this step first is important -- moving a loaded pizza will most likely end in a big mess.
Now we spread pesto on our dough and add plenty of cheese; however, we don't add the smoked salmon and avocado quite yet. For a perfectly golden crust, we bake our pizza in a 500-degree oven. The smoked salmon and avocado are too delicate for such a high temperature, so we'll add those toppings after baking.
To finish our pizza, we brush the crust with a mixture of egg yolk and water, which helps give it that drool-worthy golden color. And that's it! We're ready to bake.
How Long to Bake Homemade Pizza
With a pizza peel, we bake for 10 minutes straight, but if you don't have a pizza peel, I recommend baking in two phases. A pizza peel makes it easy to directly slide our pie onto the baking stone, but we might need a little help if we're moving the pizza from the back of a parchment paper-lined baking sheet.
In that case, I suggest placing the baking sheet next to the baking stone, grabbing an edge of the parchment paper and sliding that over to the baking stone. We then bake for two minutes, remove the parchment paper to prevent it from burning and bake for another eight minutes. I find the parchment paper doesn't move easily from underneath the pizza dough when it's still raw, but two minutes of baking time makes it much easier to remove the parchment paper.
After baking, we top with our smoked salmon, avocado and a squeeze of lemon juice and then give the pizza a few minutes to set and slice.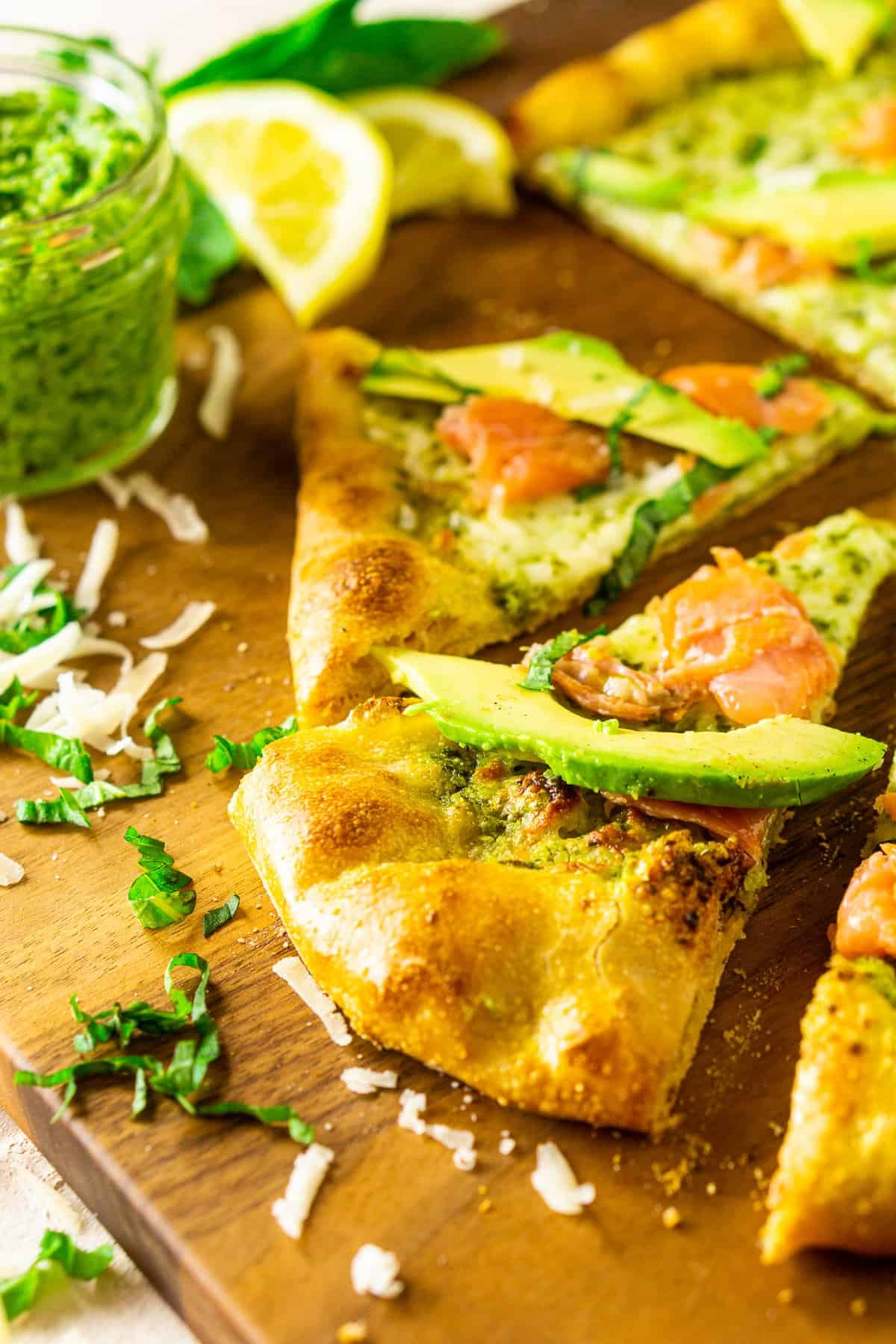 Expert Tips and FAQs
I highly recommend a pizza stone for best results. A large baking sheet can work in a pinch, but if you love an at-home pizza night, a baking stone is well-worth the purchase.
A perfectly crisp crust requires a hot pizza stone, so we place it in a cold oven and then heat it to 500 degrees at least 45 minutes before baking.
This recipe calls for ½ pound of pizza dough to make a 10-inch pizza. While this size is easier to stretch for beginners, feel free to use more dough for a bigger pizza and adjust the topping measurements accordingly.
You'll find a 10-inch pizza is a good-size meal for two or an appetizer for four. Need multiple pizzas? Simply remove one pizza from the oven and serve. While everyone is enjoying the first pizza, you can bake your next pizza, and it will be ready to go by the time everyone finishes round one.
Perfect Pairing
Love beer and pizza? Same. You'll especially love this pizza with a nice weissbier, which delivers plenty of bubbles to give our palate a break from the rich cheese, salmon and pesto. We also get a citrusy kick to elevate our salmon and bring out the basil from the pesto.
With the salmon, herby pesto and fresh lemon, I recommend a sauvignon blanc. This wine gives us a mineral quality that matches nicely to the pesto, and it comes with enough acidity to balance the lemon and brighten our salmon.
For a cocktail, you'll love my Aperol sour or garden gin and tonic. The citrus from the Aperol is perfect with the smoked, and they both offer a bright, herbal quality to complement the basil pesto.
When you need to break out of the old pizza rut, I hope you try this smoked salmon, avocado and pesto pizza.
Cheers!
Love Homemade Pizza Nights?
If you love this recipe, please leave a comment with a five-star rating — or simply hit the five-star button in the recipe card. Don't forget to sign up for my newsletter, and you can follow me on Facebook, Instagram, Pinterest and TikTok.
📖 Recipe
Smoked Salmon, Avocado and Pesto Pizza
Bored of the standard pepperoni pizza? Loaded with herby pesto, creamy avocado and delicate smoked salmon on a perfectly crisp crust, this unique pizza will get you out of your rut. With just one bite, this smoked salmon, avocado and pesto pizza will be your new go-to favorite when you need a fresh take on classic comfort food.
Print
Pin
Rate
Servings:
1
10-inch pizza
Equipment
Pizza stone

Pizza peel or large baking sheet with parchment paper

Pizza Cutter
Ingredients
½

pound

pizza dough

homemade or store-bought (see note)

Cornmeal for dusting

¼

cup

pesto

homemade or store-bought

1 ½

cups

mozzarella

freshly grated (see note)

1

egg yolk

½

tablespoon

water

⅓

cup

smoked salmon

cut into bite-size pieces

½

avocado

sliced

1

lemon slice

Fresh parsley

chopped, for garnish, optional
Instructions
If using dough stored in the refrigerator, place on a lightly floured surface, gently press into a 5-inch flat circle and cover with plastic wrap about two to three hours before you plan to bake the pizza. However, if you made your dough right away and it's already risen and come to room temperature, you're ready to skip straight to step 2.

About 45 minutes to an hour before baking, place a pizza stone in the cold oven and turn the heat to 500 degrees. If you don't have a pizza stone, you can use a large baking sheet and preheat for 30 minutes, though a pizza stone is recommended for best results.

Hand stretch the dough using the bed of your fingers rather than your finger tips to pat the dough outward toward the edge. Don't pat in the center of the dough, or you'll get limp pizza. Really focus on staying outside of the center and work toward the edge. After you work the dough, grab the edge of the pizza and lift it in the air. Allow it to quickly hang down and keep rotating the pizza crust through your fingers to allow the rest of the pizza to have a chance to hang like you're turning the steering wheel of a car. Do not use a rolling pin to shape and flatten. The dough is stretched when it's 10 inches in diameter. If any holes form, pinch the dough back together.

Coat a pizza peel or the back of a parchment paper-covered baking sheet with cornmeal and place the hand-stretched dough on top. Adjust the shape if necessary.

Spread ¼ cup of pesto on the dough, leaving an edge for the crust. Top with mozzarella. Whisk together the egg yolk and water and brush on the crust. Transfer to the hot pizza stone.

If using parchment paper on a baking sheet to transfer the pizza, bring the baking sheet to the edge of the pizza stone, grab the edge of the parchment paper and slide the pizza from the baking sheet to the pizza stone. Bake for two minutes, remove the parchment paper and then continue to bake for six to eight minutes. If using a pizza peel with no parchment paper to transfer the pizza directly to the stone, bake for eight to 10 minutes.

Remove from oven. Because pesto is oil-based, oil will rise to the top. Take a paper towel and gently place on top to soak up oil. Top with smoked salmon and avocado slices. Let the pizza set for about five minutes. Sprinkle with lemon juice, cut into slices and top with fresh parley if desired. Enjoy!
[adthrive-in-post-video-player video-id="3HkTbE2E" upload-date="2021-02-11T00:00:00.000Z" name="Beer Pizza Dough" description="Make your at-home pizza nights extra special and delicious with this beer pizza dough! The end result is one flavorful, thin, crispy pizza crust that everyone is sure to love." player-type="default" override-embed="default"]
Notes
A 10-inch pizza is a good-size meal for two people, or it works well as an appetizer for four people. If you want to make a larger pizza, you can use more dough and toppings, but make sure it isn't larger than your pizza stone or baking sheet.
While I highly recommend my make-ahead beer pizza dough, most grocery stores sell fresh pizza dough in the section where you can find freshly prepared soups, salads and meals. If you can't find it, ask someone at the deli counter.
The amount of cheese you use depends on how cheesy you like your pizza. I'm a cheesy pizza kind of lady, so I use 1 ¼ cups. For the mozzarella, I definitely recommend grating it yourself rather than the bagged shredded cheese, which doesn't melt as well, and using the kind of mozzarella that isn't stored in water, which can soak the crust.
Nutritional information is only an estimate. The accuracy of the nutritional information for any recipe on this site is not guaranteed.
Nutrition
Serving:
0.5
pizza
|
Calories:
790
kcal
|
Carbohydrates:
56
g
|
Protein:
45
g
|
Fat:
44
g
|
Saturated Fat:
9
g
|
Cholesterol:
47
mg
|
Sodium:
913
mg
|
Fiber:
3
g
|
Sugar:
1
g