Topped with tender shredded beef, fresh corn, green chiles and a homemade red enchilada sauce, this Tex-Mex spin is a fun and delicious way to change up your typical pizza night.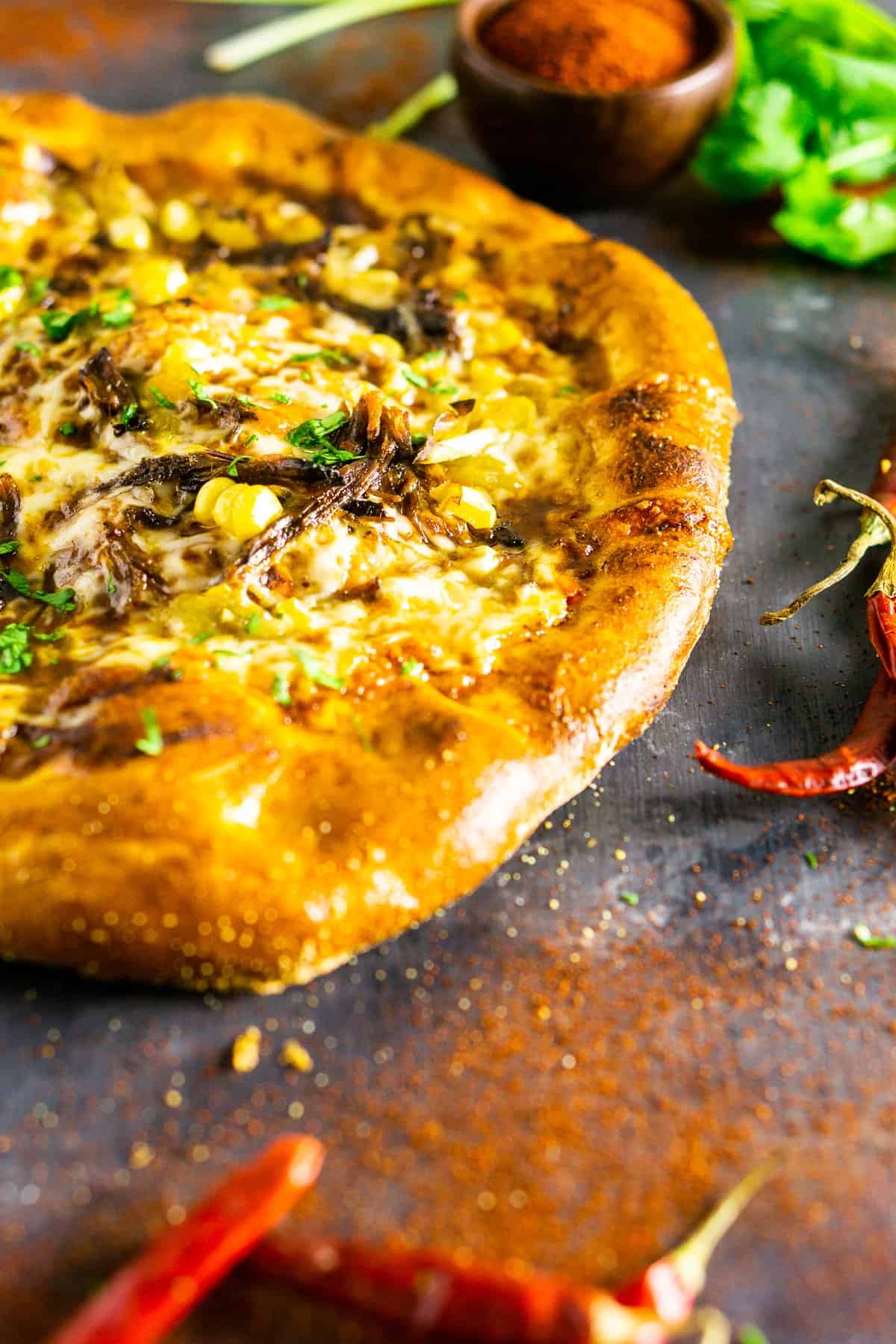 Like most normal humans, I have a thing for pizza. Bread, cheese, sauce —- what's not to love about that winning trio? But I also have a serious love for Tex-Mex and would never turn down a plate of beef enchiladas in a spicy red sauce.
Given my mutual love for the two, I had to bring them together to create this fusion-inspired pizza. After all, why should we have to choose between the two when we can combine them to make one ultimate dish? I just love how the spicy chile and sweet corn offer the perfect contrast to each other, and then we finish the pizza with a touch of fresh cilantro for brightness. Ahhh, so much goodness in one pizza.
If your pizza game is in a rut, trust me. This Mexican beef pizza is just what you need. And even if you're perfectly happy with classic pepperoni, I'm sure you'll still love this Mexican beef pizza as something new. With its explosion of flavors, loads of gooey cheese and crispy crust, this pizza never fails to please.
Ingredients
Before we get into the cooking process, let's chat ingredients. This Mexican beef pizza uses three different recipes on Burrata and Bubbles.
And you know what's great about these recipes? Each recipe makes a big batch that can be made in advance and freezes well, so you'll have enough for more than just a one pizza, or you can use the leftovers for other recipes.
With the pizza dough, you get five dough balls, and the 20-minute red enchilada sauce gives you enough for this pizza and a batch of enchiladas down the line. The Mexican shredded beef comes from a 3- to 4-pound chuck roast, so you're looking at a lot of beef. Use the beef for pizza tonight and tacos tomorrow.
Alternatively, you can make my Instant Pot shredded beef if you're looking for a quicker way to make the meat.
Or if you've been been reading and cooking all along, perhaps you already made each component and need a delicious recipe for the leftovers already in your freezer. In that case, this is your perfect recipe so lucky you!
Of course, store-bought shortcuts are available, but I promise you'll be extra happy with the flavor of the final pizza if you take the time to make each component.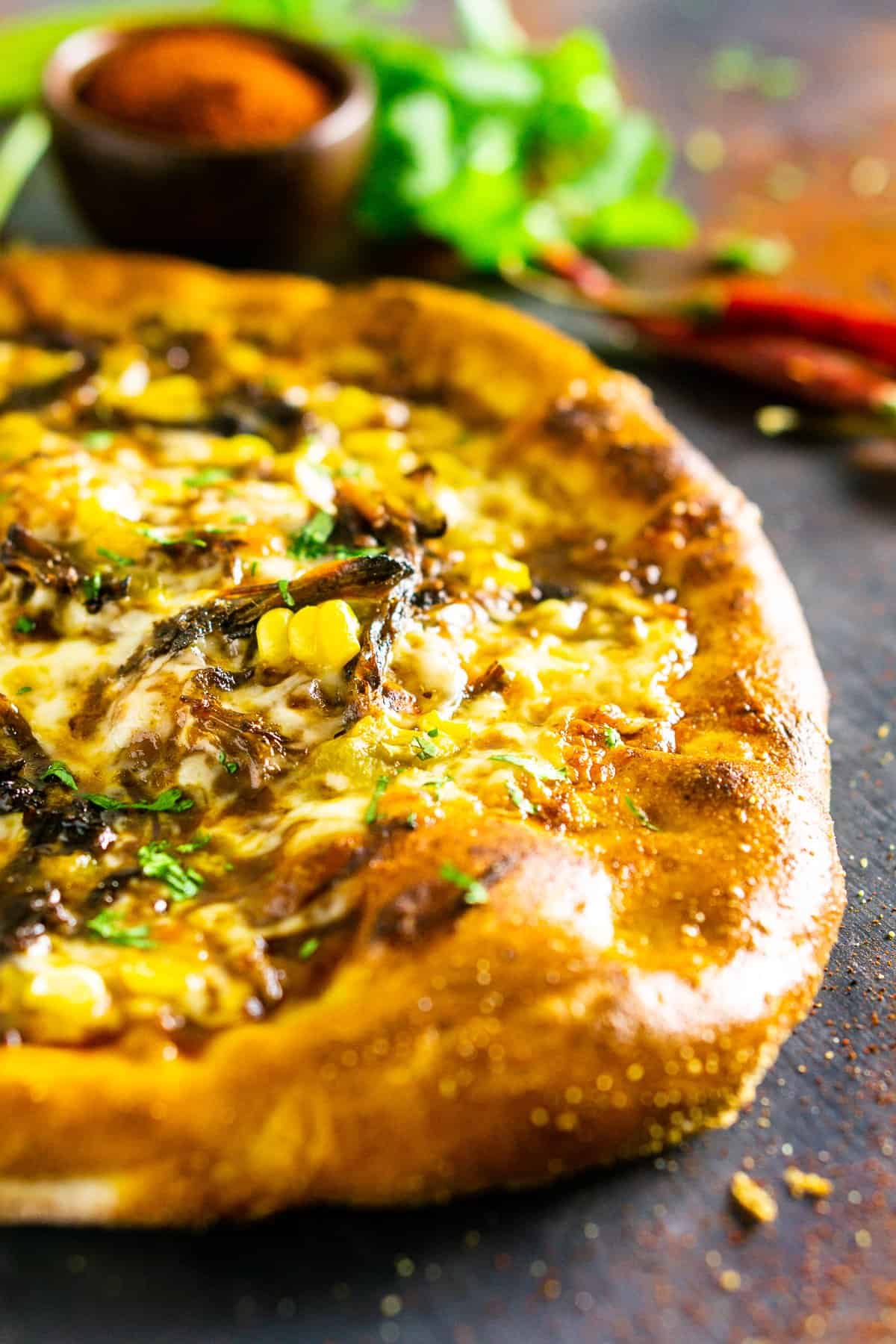 How to Make
All right, now that we have our main ingredients prepped, we're ready to put together our pizza.
If you made your pizza dough in advance and kept it fresh in the refrigerator, it needs to sit in room temperature for a couple hours. Stretching cold dough isn't the most efficient process. To keep it from drying out, we place it on a lightly floured surface under plastic wrap. If you made your dough right away and it's already room temperature after rising, you can skip this step.
Now we hand stretch our dough by using the beds of our fingers rather than our fingertips to press into the dough and continue to work our way toward the edge. Avoid pressing your fingers too much in the center. We keep our focus on working away from the center to the edge for a better structure.
Once we stretch it a bit, we can pick up the crust by the edge and work our hands around the circumference of the dough, letting it hang down. This gives gravity a chance to work its magic in gently stretching the dough.
Whatever you do, please don't use a rolling pin. This make-ahead beer pizza dough has these wonderful air bubbles that will deflate if you use a rolling pin.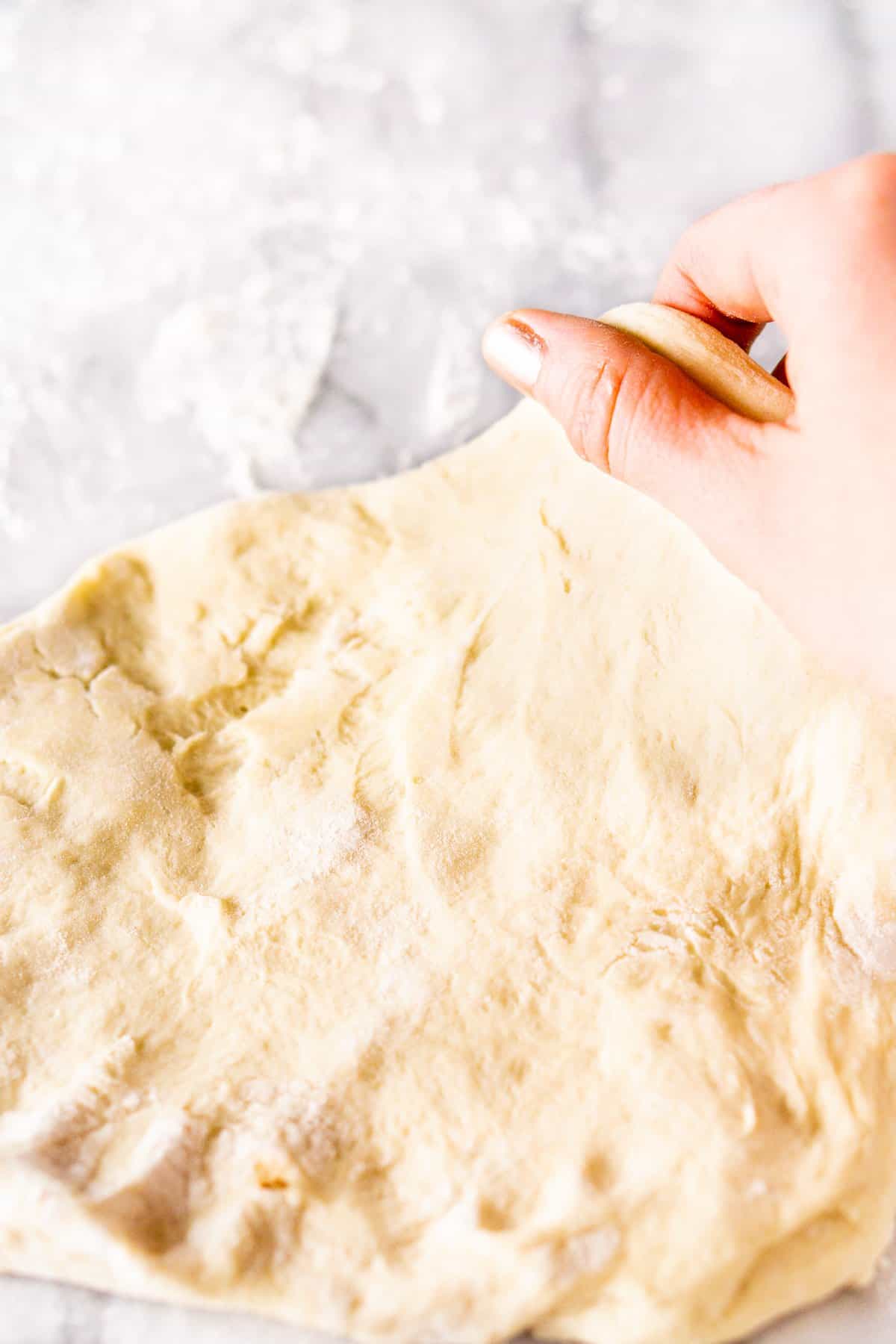 And now for the fun part: toppings! We first spread a layer of our homemade 20-minute enchilada sauce on the pizza crust. Then, we add plenty of Monterey Jack cheese because the only acceptable kind of pizza is one with loads of cheese. True story.
We finish our pizza with a layer of Mexican shredded beef, fresh corn and green chiles along with a quick egg wash for a crispy brown crust. From here, we transfer our pizza to the oven and let it bake for just eight to 10 minutes. When our pizza finishes baking, we give it just a few minutes to set, slice and let pizza night commence.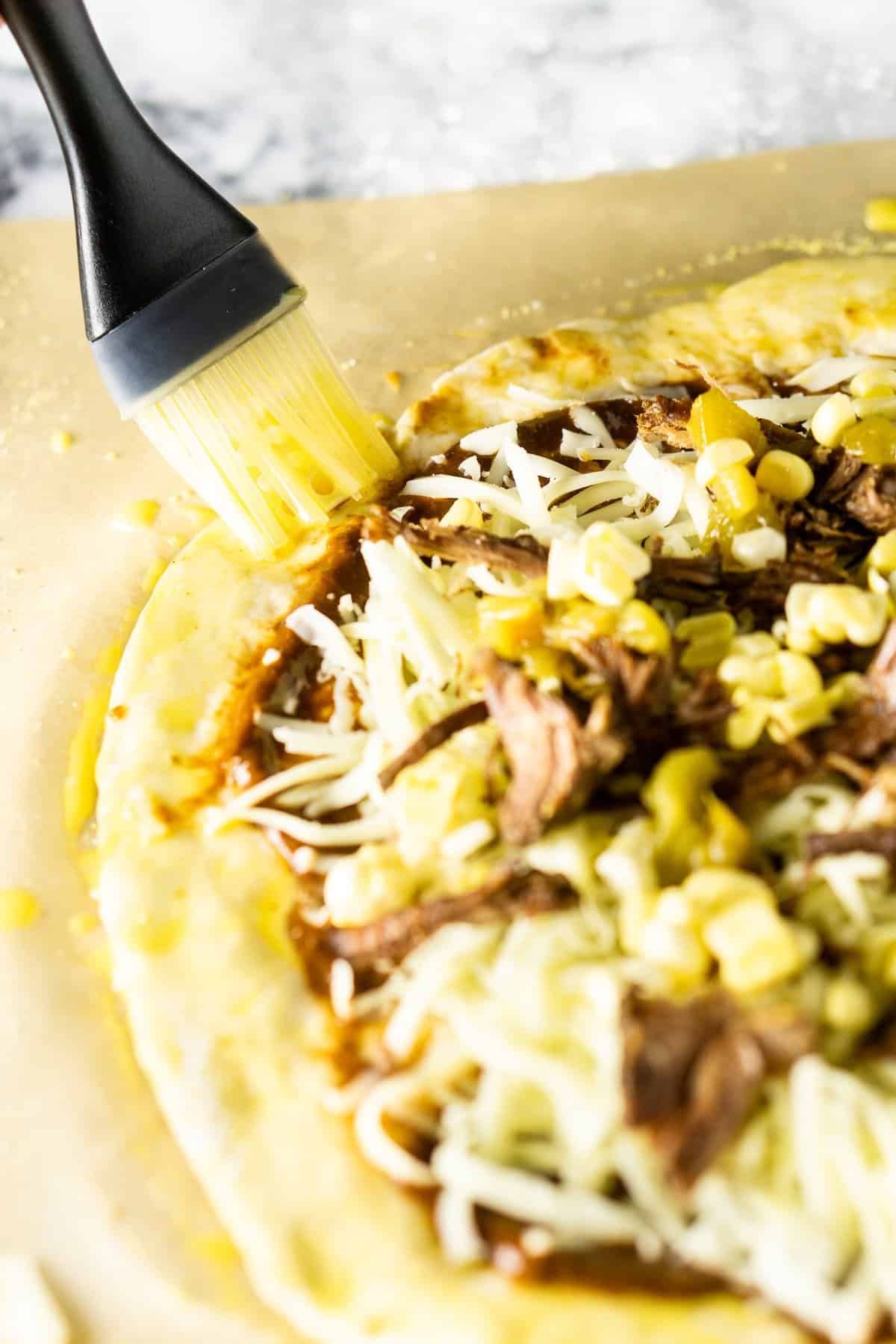 Perfect Pairing
We use a stout to make the beer-braised Mexican shredded beef, and it's also a wonderful pairing option. The roasted malt and spicy chiles were made for each other, and then we pronounce that pairing even more with the enchilada sauce. IPA is also a popular pairing with spicy food because the hops enhance the perception of heat, and I'm also a huge fan of American pale ales with a chile-based dish.
For a nice wine pairing, a full-bodied malbec or zinfandel are great. Both are lower in tannins than other big reds, so they don't clash with the spicy notes. I also like that these wines are big enough to hold up to all the elements of the pizza.
And, of course, if you're feeling the Tex-Mex vibe, a classic margarita is the perfect accompaniment. Obviously.
When you're looking for something a little different for your next pizza night, I hope you give this Mexican beef pizza with corn and green chiles a try.
Cheers!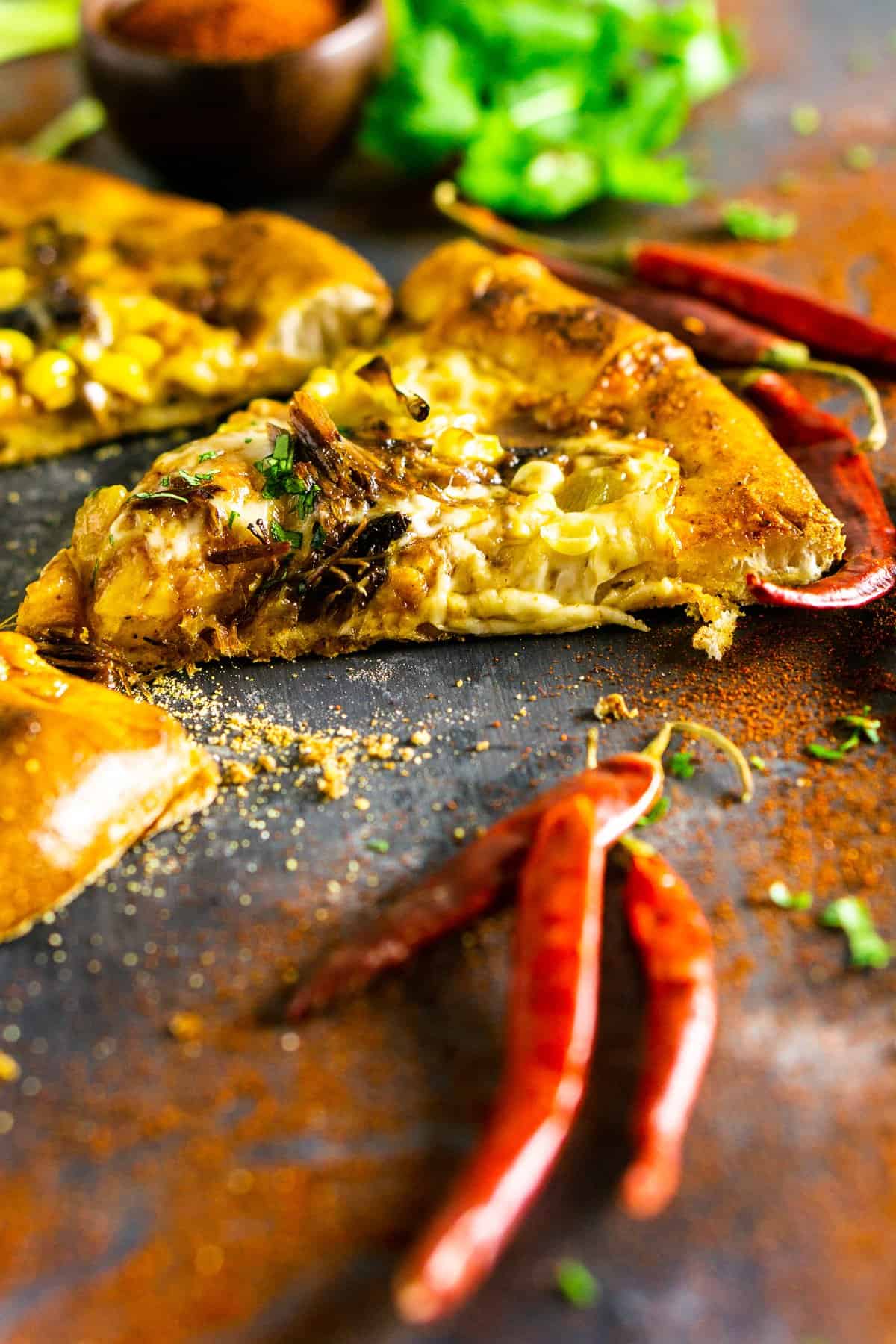 Looking for More Pizza Ideas?
If you love this recipe, please leave a comment with a five-star rating — or simply hit the five-star button in the recipe card. Don't forget to sign up for my newsletter, and you can follow me on Facebook, Instagram, Pinterest and TikTok.
📖 Recipe
Mexican Beef Pizza With Corn and Green Chiles
Topped with tender shredded beef, fresh corn, green chiles and a homemade red enchilada sauce, this Tex-Mex spin is a fun and delicious way to change up your typical pizza night.
Print
Pin
Rate
Servings:
1
(10-inch) pizza
Ingredients
½

pound

pizza dough

homemade or store-bought (see notes)

Cornmeal for dusting

¼

cup

red enchilada sauce

preferably homemade

2

cups

grated Monterey Jack cheese

⅓

cup

Mexican shredded beef

homemade

2

tablespoons

fresh corn kernels

cut off the cob

1

tablespoon

green chiles

freshly roasted, frozen, canned or jarred

1

egg yolk

(see notes)

½

tablespoon

water

Fresh chopped cilantro

for garnish, optional
Instructions
If using dough stored in the refrigerator, place on a lightly floured surface, gently press into a 5-inch flat circle and cover with plastic wrap about two to three hours before you plan to bake the pizza. However, if you made your dough right away and it's already risen and come to room temperature, you're ready to skip straight to step 2.

About 45 minutes to an hour before baking, place a pizza stone in the cold oven and turn the heat to 500 degrees. If you don't have a pizza stone, you can use a large baking sheet and preheat for 30 minutes, though a pizza stone is recommended for best results.

Hand stretch the dough using the bed of your fingers rather than your finger tips to pat the dough outward toward the edge. Don't pat in the center of the dough, or you'll get limp pizza. Really focus on staying outside of the center and work toward the edge. After you work the dough, grab the edge of the pizza and lift it in the air. Allow it to quickly hang down and keep rotating the pizza crust through your fingers to allow the rest of the pizza to have a chance to hang. Do not use a rolling pin to shape and flatten. The dough is stretched when it's 10 inches in diameter. If any holes form, pinch the dough back together.

Coat a pizza peel or the back of a parchment paper-covered baking sheet with cornmeal and place the hand-stretched dough on top. Adjust the shape if necessary.

Spread ¼ cup of enchilada sauce on the dough, leaving an edge for the crust. Top with Monterey Jack and then add the Mexican shredded beef, fresh corn and green chiles. Whisk together the egg yolk and water and brush on the crust. Transfer to the hot pizza stone.

If using parchment paper to transfer the pizza, bake for two minutes, remove the parchment paper and then continue to bake for six to eight minutes. If using a pizza peel with no parchment paper to transfer the pizza directly to the stone, bake for eight to 10 minutes.

Remove from oven and let the pizza set for about five minutes. Cut into slices and top with fresh cilantro if desired. Enjoy!
Notes
While I highly recommend my make-ahead beer pizza dough, most grocery stores sell fresh pizza dough in the section where you can find freshly prepared soups, salads and meals. If you can't find it, ask someone at the deli counter.
The amount of cheese you use depends on how cheesy you like your pizza. I'm a cheesy pizza kind of lady, so I use 1 ¼ cups.
If you don't want your crust quite as brown, use the entire egg instead of just the egg yolk.
Nutritional information is only an estimate. The accuracy of the nutritional information for any recipe on this site is not guaranteed.
Nutrition
Serving:
0.5
pizza
|
Calories:
555
kcal
|
Carbohydrates:
41
g
|
Protein:
27
g
|
Fat:
24
g
|
Saturated Fat:
11
g
|
Trans Fat:
1
g
|
Cholesterol:
69
mg
|
Sodium:
520
mg
|
Fiber:
4
g
|
Sugar:
4
g