Let's combine everyone's two favorite party foods into one beloved dish: Buffalo chicken pizza! Featuring spicy Buffalo sauce, tender shredded chicken and loads of cheesy goodness, this pizza is a guaranteed crowd pleaser. Perfect for game day or a casual gathering with friends.
Why You Need to Make This Recipe
Wings or pizza? Pizza or wings? With this Buffalo chicken pizza recipe, you don't have to pick. We deliver that classic Buffalo wing flavor on a thin and crispy pizza crust to make the ultimate party food.
Plus, you won't find an easier homemade pizza. This pizza starts with my fool-proof beer pizza dough, or you have the option to pick up fresh pizza dough from the store. The toppings are simple and quick to prepare and can even be made ahead of time, so all that's left is to bake and devour. With this Buffalo chicken pizza, entertaining is as easy as it gets.
Bonus: Big Buffalo chicken fan? You'll also love my Buffalo chicken sub recipe and smoked Buffalo dip!
Ingredients
Now let's gather our ingredients. Here's everything we need to make this spicy chicken pizza.
Pizza dough: As mentioned, I love my homemade beer pizza dough, but if you decide to get store-bought fresh pizza dough, you can find it in the prepared foods section of the grocery store.
Frank's Red Hot Original Sauce: This is the classic base of Buffalo sauce.
Butter: A little butter smooths out our sauce.
Chicken: I like to pick up a rotisserie chicken and shred the meat for extra easy prep. You can use the meat right away, or you can store it in the freezer to always have shredded chicken on hand.
Mozzarella: Because it's not pizza without plenty of cheese.
Blue cheese: As a nod to the classic Buffalo wing condiment.
Cornmeal: This helps to keep our dough from sticking when transferring to the oven.
Egg wash: A little egg yolk and water gives our crust the perfect brown color.
Kitchen tools: A pizza stone, a large baking sheet or pizza peel, parchment paper, a pastry brush and a large knife or pizza cutter.
How to Hand Stretch Pizza Dough
Before we make our pizza, we first need to hand stretch the dough. Since that takes a certain technique, let's tackle this step first.
If you made or bought your pizza dough ahead of time and stored it in the refrigerator, it needs to sit in room temperature for a couple hours. Cold dough won't stretch properly. To ensure it doesn't dry out, we place it on a lightly floured surface under plastic wrap like so. Of course, if you made your dough right away and it's already room temperature, you can skip this step.
Once the dough is room temperature, we're ready to stretch. We start by using the long beds of our fingers --not our fingertips -- to pat the outer edges of the dough.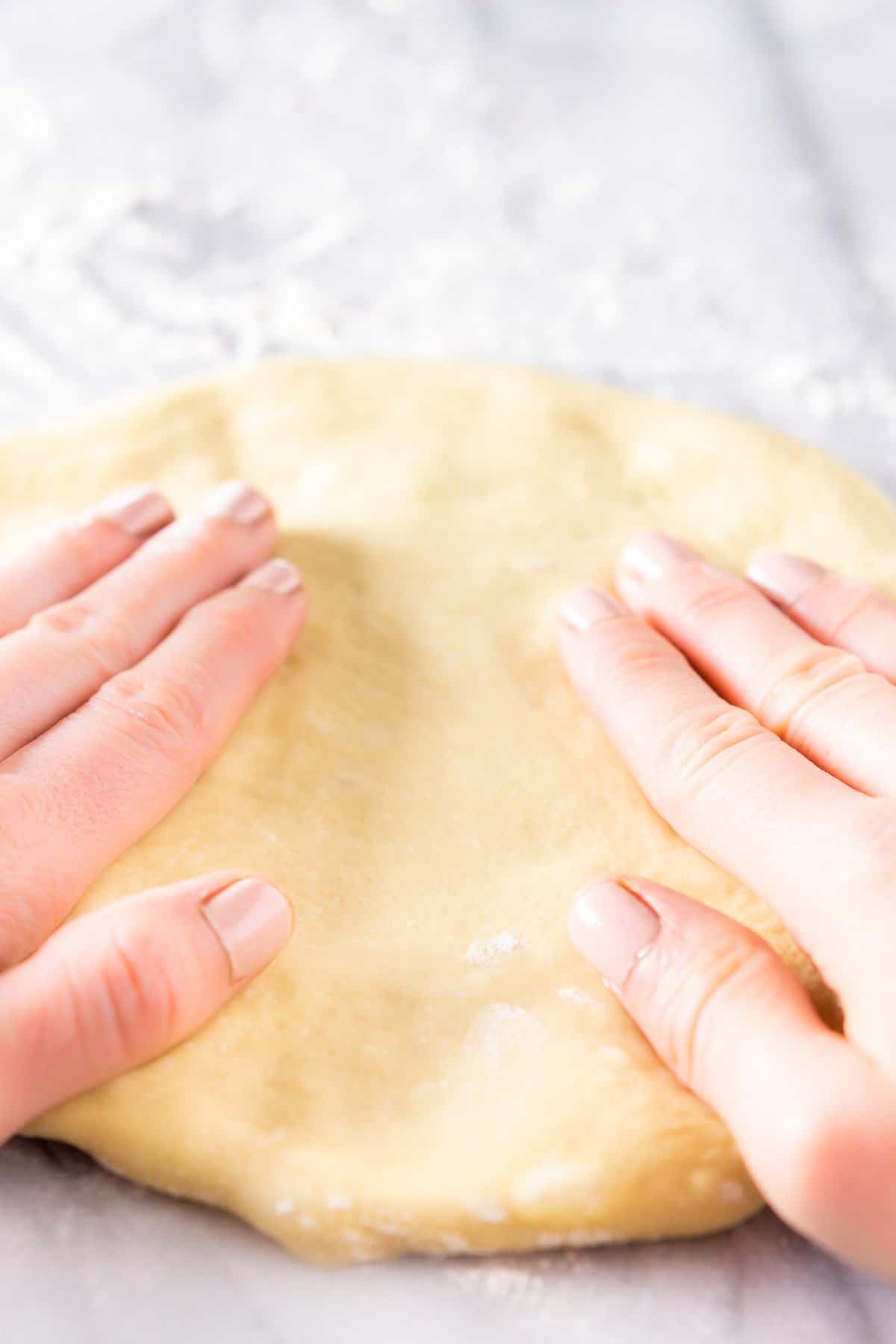 After patting out, we can pick up our dough by the edge and quickly turn it like a steering wheel several times. As it hangs in the air, gravity gently stretches the dough.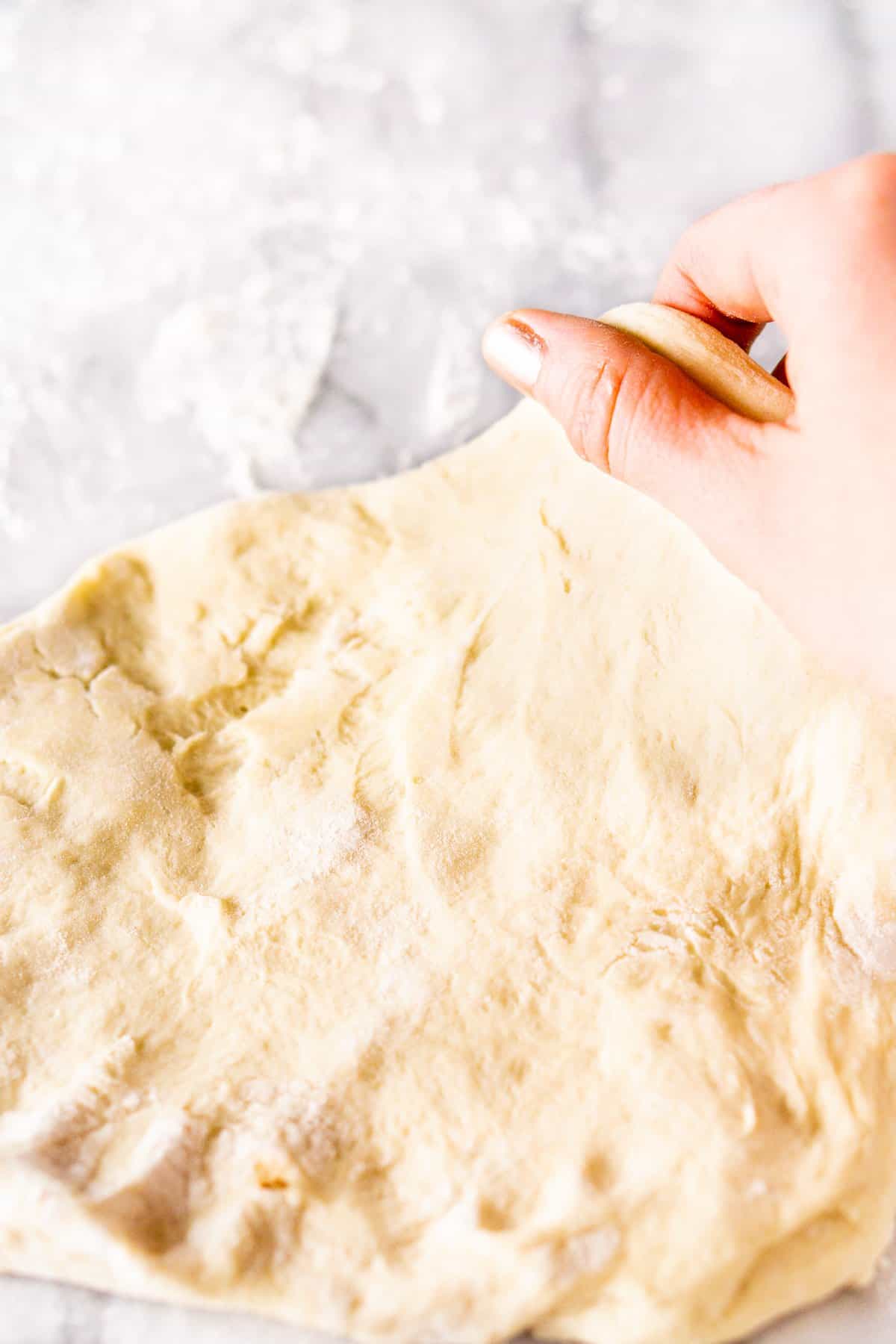 Notice that I focus on the outer edge of the dough rather than the center. Overworking the center can leave us with limp pizza crust. This method helps ensure a thin and crisp crust.
Please do me a favor and do not use a rolling pin, which can squeeze out those wonderful air bubbles. Light stretching with our hands and a little gravity is enough to properly stretch our dough.
Step-by-Step Instructions
Now that we stretched our pizza dough, we're ready to move it to a cornmeal-dusted sheet of parchment paper or a pizza peel and prepare the rest of our pizza. The first step is to make our Buffalo sauce. This is as easy as melting butter and stirring it into our Frank's Red Hot Original Sauce.
We then smooth the Buffalo sauce over the base of our dough, leaving an edge for the crust. The mozzarella goes on top, followed by the blue cheese.
With our cheesy topping ready, we toss our shredded chicken in a little Buffalo sauce for an added spice kick and then spread it on top.
For that perfectly brown pizza crust, we brush our dough with a mixture of egg yolk and water, and then pop the pizza into the oven. After just eight to 10 minutes, our Buffalo chicken pizza will be ready to devour and enjoy.
How to Transfer Dough to Pizza Stone
A pizza peel makes it easy to transfer the uncooked pizza dough to the baking stone, but most people don't have one. Instead, place cornmeal-dusted parchment paper on a large baking sheet, add the stretched dough and then top the pizza. Bring the baking sheet even with the stone, grab the edge of the parchment paper and slide the paper with the pizza to the stone.
When the dough is still raw, you may have trouble removing the parchment paper. That's no problem. Bake the pizza for two minutes and then grab the edge of the parchment paper and gently pull. At this point, it should easily slide out. If necessary, you can place a wooden spoon against the crust as you slide the paper out for a little leverage.
Considering it's a 500-degree oven, I don't recommend letting the parchment paper bake for the whole eight to 10 minutes because of safety reasons, which is why we want to remove it. Now we let it finish baking, slice and enjoy.
Bonus: And if you love unique pizza ideas, make sure you also try my loaded baked potato pizza!
Expert Tips and FAQs
A pizza stone makes a big difference in the end results. That's not to say you can't use a large baking sheet, but if you enjoying making pizza at home, a baking stone is well-worth the purchase.
Do not use a rolling pin to stretch the crust. It will push out those air bubbles everyone loves.
To ensure the pizza stone is sizzling hot for the perfect crispy crust, heat it in a 500-degree oven at least 45 minutes before baking.
This recipe calls for ½ pound of pizza dough, which makes a 10-inch pizza. This size is a bit easier to stretch for beginners, but feel free to use more dough for a bigger pizza and adjust the topping measurements accordingly.
A 10-inch pizza makes a good-size meal for two or an appetizer for four. If you need multiple pizzas, simply remove one pizza from the oven and serve. As everyone is enjoying the first pizza, you can bake your next pizza, and it will be ready to go by the time everyone finishes round one.
Blue cheese isn't for everyone, so you can leave this off if you're not a fan. Or you can top just half the pizza if you have a mixed crowd.
Perfect Pairing
An American IPA is a classic beer pairing with Buffalo wings, and it's perfect here. The hops bring out the spice, but the malt backbone keeps the heat from overwhelming the palate. And I just love the crisp finish against the Buffalo sauce and rich, cheesy topping.
Looking for a wine pairing with this Buffalo chicken pizza instead? A riesling is perfect. With a riesling, we get some residual sweetness to tame the heat. This wine also shows off the perfect touch of acidity to cut through the rich cheese.
For one delicious at-home pizza night, I hope you try this Buffalo chicken pizza.
Cheers!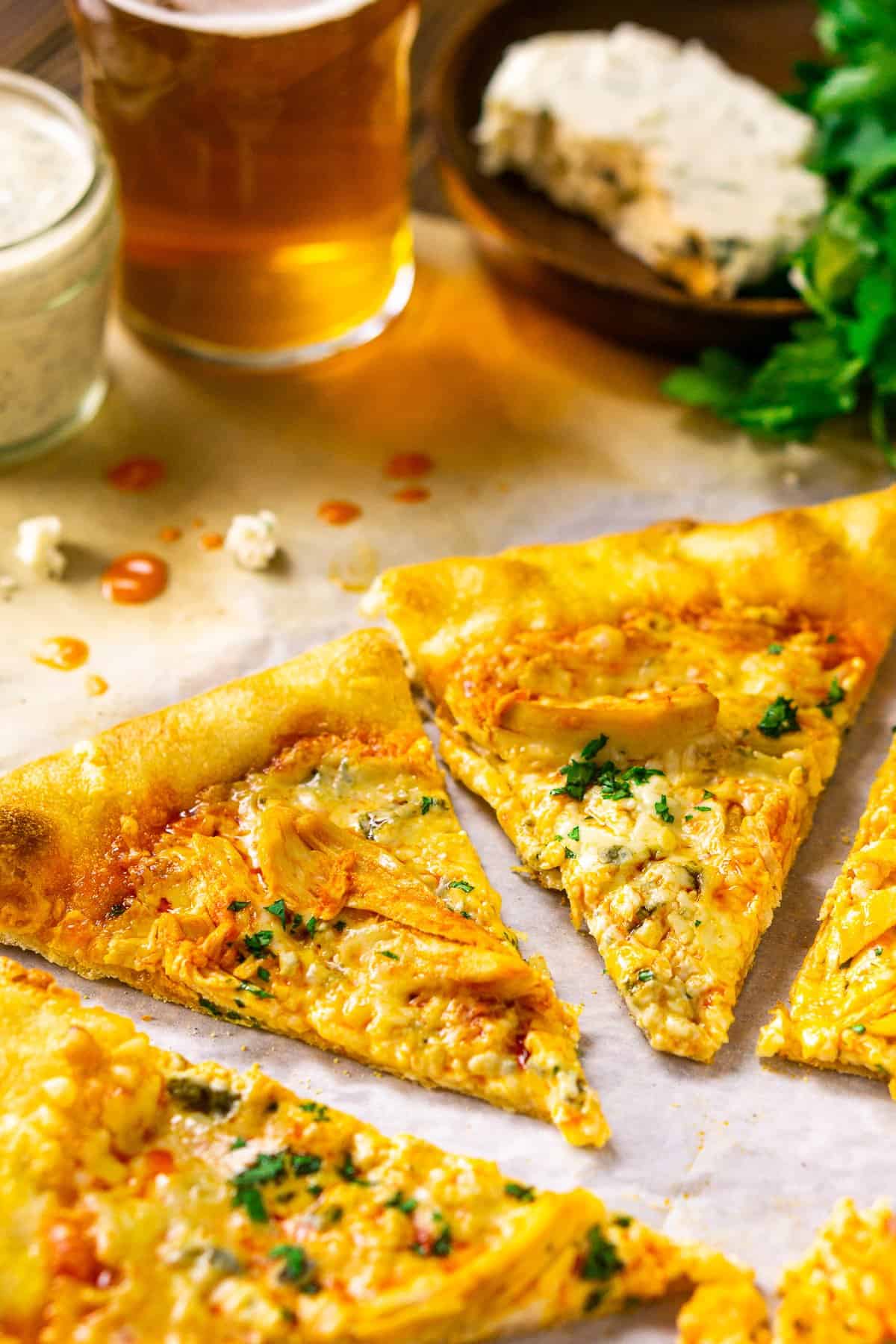 Need More Pizza Recipes?
If you love this recipe, please leave a comment with a five-star rating — or simply hit the five-star button in the recipe card. Don't forget to sign up for my newsletter, and you can follow me on Facebook, Instagram, Pinterest and TikTok.
📖 Recipe
Buffalo Chicken Pizza
Let's combine everyone's two favorite party foods into one beloved dish: Buffalo chicken pizza! Featuring spicy Buffalo sauce, tender shredded chicken and loads of cheesy goodness, this pizza is a guaranteed crowd pleaser. Perfect for game day or a casual gathering with friends.
Print
Pin
Rate
Servings:
1
10-inch pizza
Equipment
Pizza stone

Large baking sheet

Parchment paper

Pizza cutter or large knife
Ingredients
½

pound

pizza dough

homemade or store-bought

Flour

for dusting

Cornmeal

for dusting

½

cup

Frank's Red Hot Original Sauce

¼

cup

melted butter

½

cup

shredded chicken

2

cups

freshly grated low-moisture mozzarella cheese

½

cup

crumbled blue cheese

1

egg yolk

½

tablespoon

water

Fresh parsley

chopped, optional, for garnish

Ranch or blue cheese dressing

for serving on the side, optional
Instructions
If using dough stored in the refrigerator, place on a lightly floured surface, gently press into a 5-inch flat circle and cover with plastic wrap about two to three hours before you plan to bake the pizza. However, if you made your dough right away and it's already risen and come to room temperature, you're ready to skip straight to step 2.

About 45 minutes to an hour before baking, place a pizza stone in the cold oven and turn the heat to 500 degrees. If you don't have a pizza stone, you can use a large baking sheet and preheat for 30 minutes, though a pizza stone is recommended for best results.

Hand stretch the dough using the bed of your fingers rather than your finger tips to pat the dough outward toward the edge. Don't pat in the center of the dough, or you'll get limp pizza. Really focus on staying outside of the center and work toward the edge. After you work the dough, grab the edge of the pizza and lift it in the air. Allow it to quickly hang down and keep rotating the pizza crust through your fingers to allow the rest of the pizza to have a chance to hang like you're turning the steering wheel of a car. Do not use a rolling pin to shape and flatten. The dough is stretched when it's 10 inches in diameter. If any holes form, pinch the dough back together.

Coat a pizza peel or the back of a parchment paper-covered baking sheet with cornmeal and place the hand-stretched dough on top. Adjust the shape if necessary.

Stir together the Frank's Original Red Hot Sauce and melted butter. Spread ¼ cup of the sauce on the stretched pizza dough, leaving room for the crust. Toss the chicken with 2 tablespoons of sauce and reserve the rest to serve with the pizza.

Top with mozzarella and then the blue cheese.

Whisk together the egg yolk and water and brush on the crust.

Transfer to the hot pizza stone. If using parchment paper on a baking sheet to transfer the pizza, bring the baking sheet to the edge of the pizza stone, grab the edge of the parchment paper and slide the pizza from the baking sheet to the pizza stone. Bake for two minutes, remove the parchment paper and then continue to bake for six to eight minutes. If using a pizza peel with no parchment paper to transfer the pizza directly to the stone, bake for eight to 10 minutes.

Remove from oven. Let the pizza set for about five minutes, cut into slices and top with fresh parsley and serving with dressing if desired. Enjoy!
[adthrive-in-post-video-player video-id="3HkTbE2E" upload-date="2021-02-11T00:00:00.000Z" name="Beer Pizza Dough" description="Make your at-home pizza nights extra special and delicious with this beer pizza dough! The end result is one flavorful, thin, crispy pizza crust that everyone is sure to love." player-type="default" override-embed="default"]
Notes
A 10-inch pizza is a good-size meal for two people, or it works well as an appetizer for four people. If you want to make a larger pizza, you can use more dough and toppings, but make sure it isn't larger than your pizza stone or baking sheet.
While I highly recommend my make-ahead beer pizza dough, most grocery stores sell fresh pizza dough in the section where you can find freshly prepared soups, salads and meals. If you can't find it, ask someone at the deli counter.
For the mozzarella, I definitely recommend grating it yourself rather than the bagged shredded cheese, which doesn't melt as well, and using the kind of mozzarella that isn't stored in water, which can soak the crust.
For full tips, please see blog post.
Nutritional information is only an estimate. The accuracy of the nutritional information for any recipe on this site is not guaranteed.
Nutrition
Serving:
0.5
pizza
|
Calories:
771
kcal
|
Carbohydrates:
51
g
|
Protein:
43
g
|
Fat:
44
g
|
Saturated Fat:
25
g
|
Cholesterol:
159
mg
|
Sodium:
2915
mg