Slowly cooked in a rich four-chile sauce with an array of spices and herbs, this versatile beer-braised Mexican shredded beef is fork tender with smoky, roasted notes for an unbelievably flavorful cut of meat. Plus, you'll find it's easier to make than you might think. Trust me. Cooks of any skill level can make this delicious Mexican shredded beef.
Every year, we throw a Cinco de Mayo party, and I almost always serve this beer-braised Mexican shredded beef. As someone who loves experimenting with recipes, it's rare for me to repeat recipes for our annual parties, but I can't help myself with this dish. Not only is this Mexican shredded beef a crowd-pleaser but it also serves a large number of people, most of the cooking time is hands-off, and you can make it a few days before you need it.
In fact, I think this beef is even better if you make it in advance. A little time in the refrigerator gives the flavors time to meld. You can store the cooked beef in the refrigerator for up to five days and simply reheat it on the stove, and it also freezes well.
How's that for easy entertaining? Plus, you can use this Mexican shredded beef in so many different dishes that it never feels overplayed.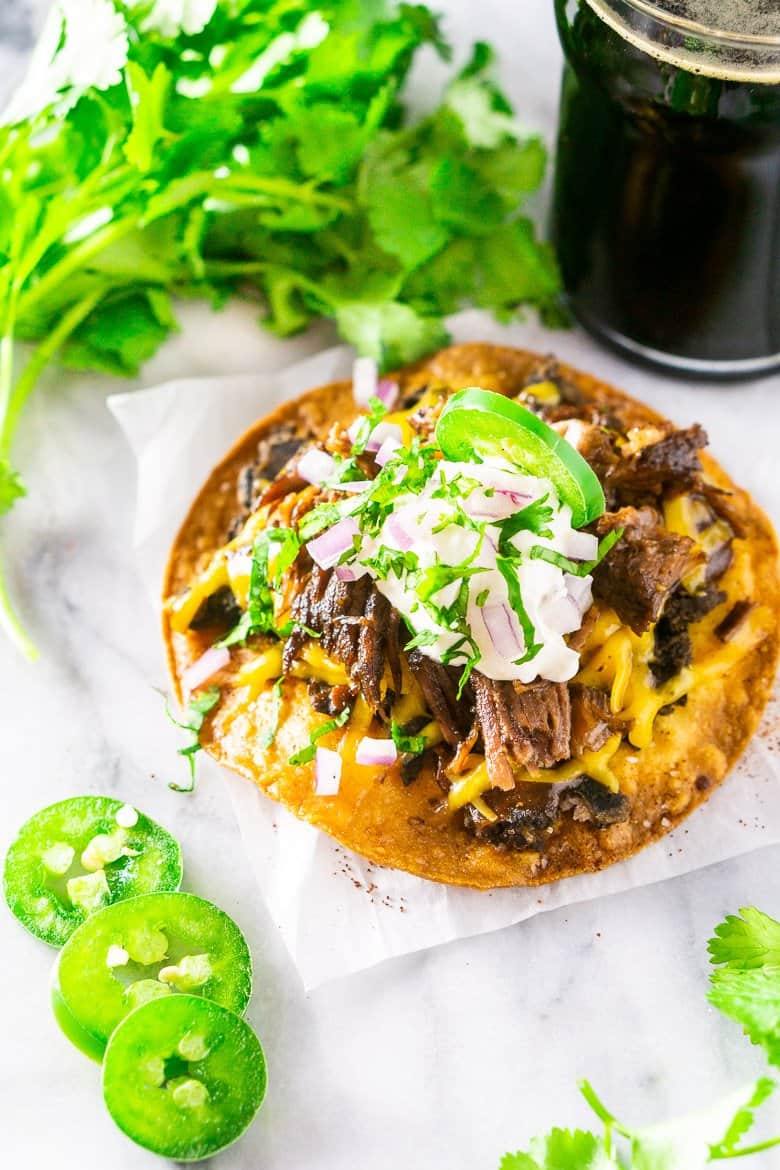 Step-by-Step Instructions
OK, let's start cooking. We begin by toasting a trio of dried chiles and then simmering them in stock to soften. I typically use beef stock for this, but I've also substituted chicken stock. Just know that either option works. Now we move the softened chiles to a blender and add a few chipotle peppers and blend until smooth.
With our sauce ready, we can start on our beef, which is a chuck roast. Make sure you get chuck and not a top round roast. The flavor and shreddable texture of chuck is much better than top round roast. This recipe will not be the same if you don't use chuck.
We generously season the chuck roast with salt and pepper and lightly dust it with flour.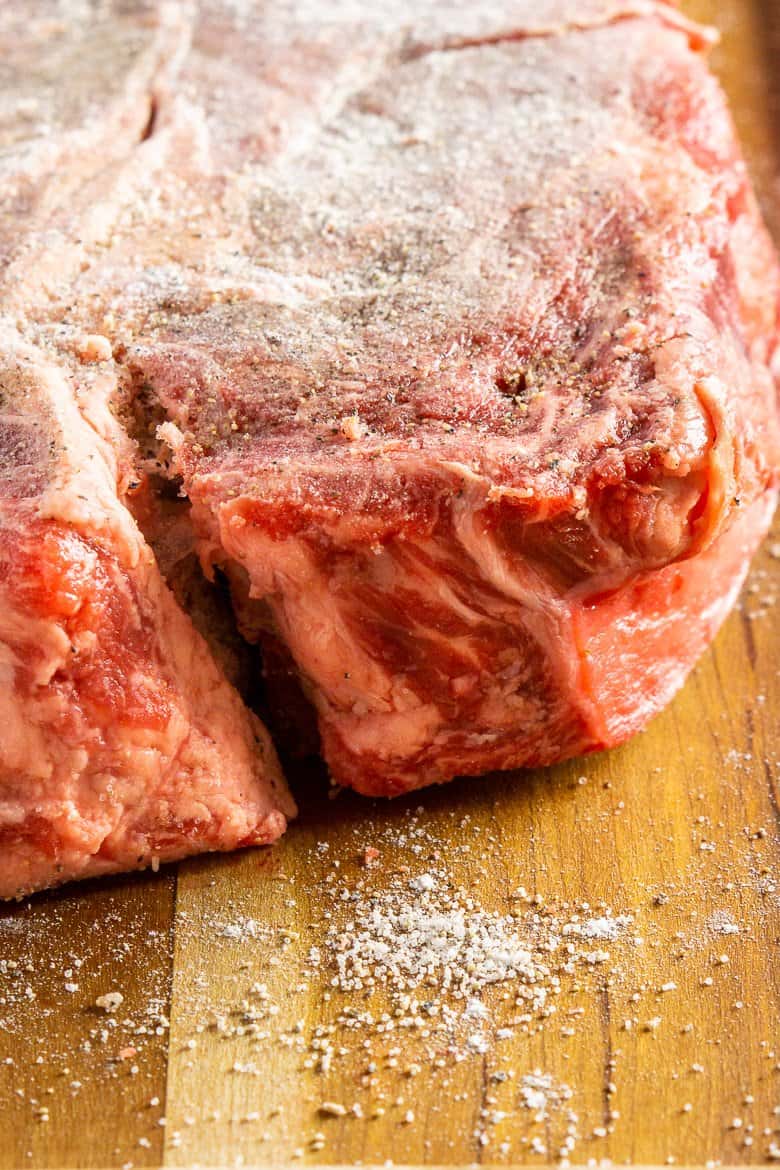 As we prepare our beef, we let a Dutch oven get nice and hot with some canola oil and then give our beef a good sear on all sides to lock in the juices and enhance the flavor.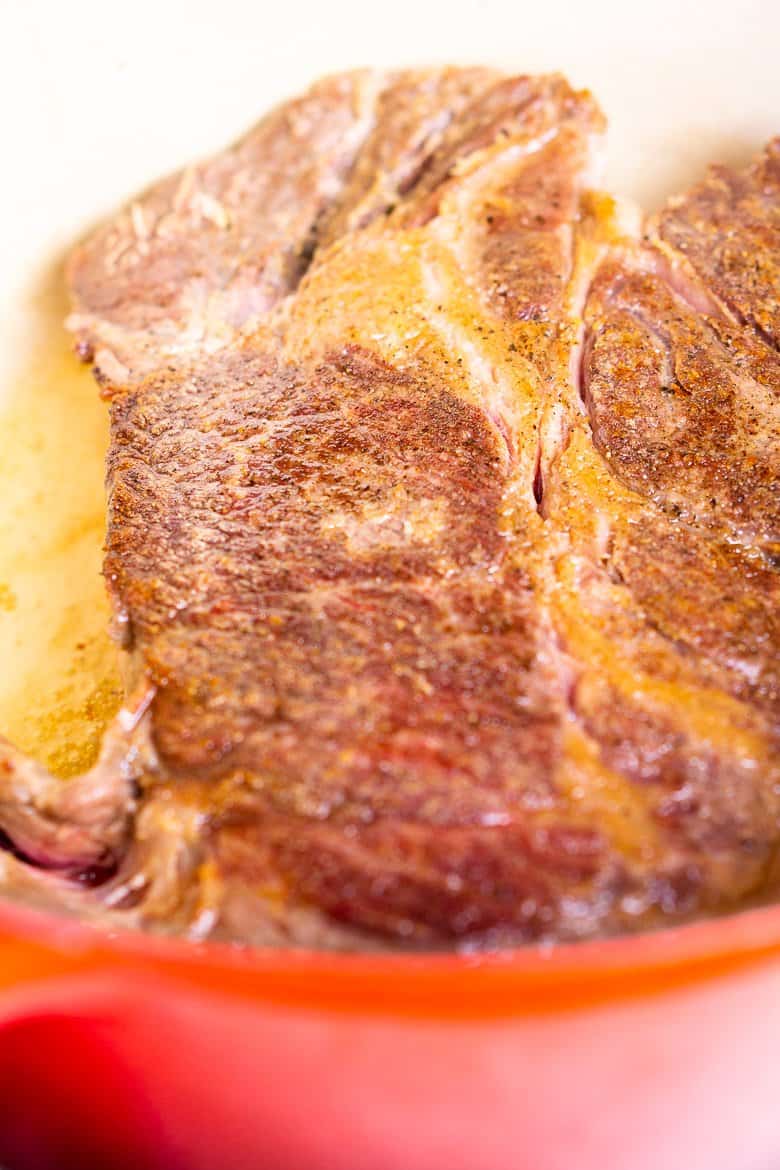 From here, we remove the beef, cook some chopped onion, and then add plenty of garlic along with a few spices, cocoa powder and tomato paste. We let those toast for a bit and then deglaze with a touch of apple cider vinegar and beer.
For the beer, we use a stout for its roasted notes. We could also use a porter in a pinch, but please don't substitute an IPA. The heavy hops will throw all the flavors off balance.
Now pour in the blended chile mixture and add the chuck roast along with a cinnamon stick and bay leaves. We bring the mixture up to a boil and then pop into a 275-degree oven.
Exactly how long we cook the beef depends on the size of our roast. About three hours should do it for a 3-pound roast, but expect a good four hours if you go with a 4-pound roast.
Keep in mind, the cooking time is just a guideline. Beef chunk is a tough cut that needs a lot of time to break down before it magically transforms into unbelievably tender, shreddable beef. The meat is done when you can easily shred it with a fork. If the beef won't shred easily, keep cooking, even if it already hit the listed cooking time. When our beef is ready, we move it to a cutting board and shred with two forks.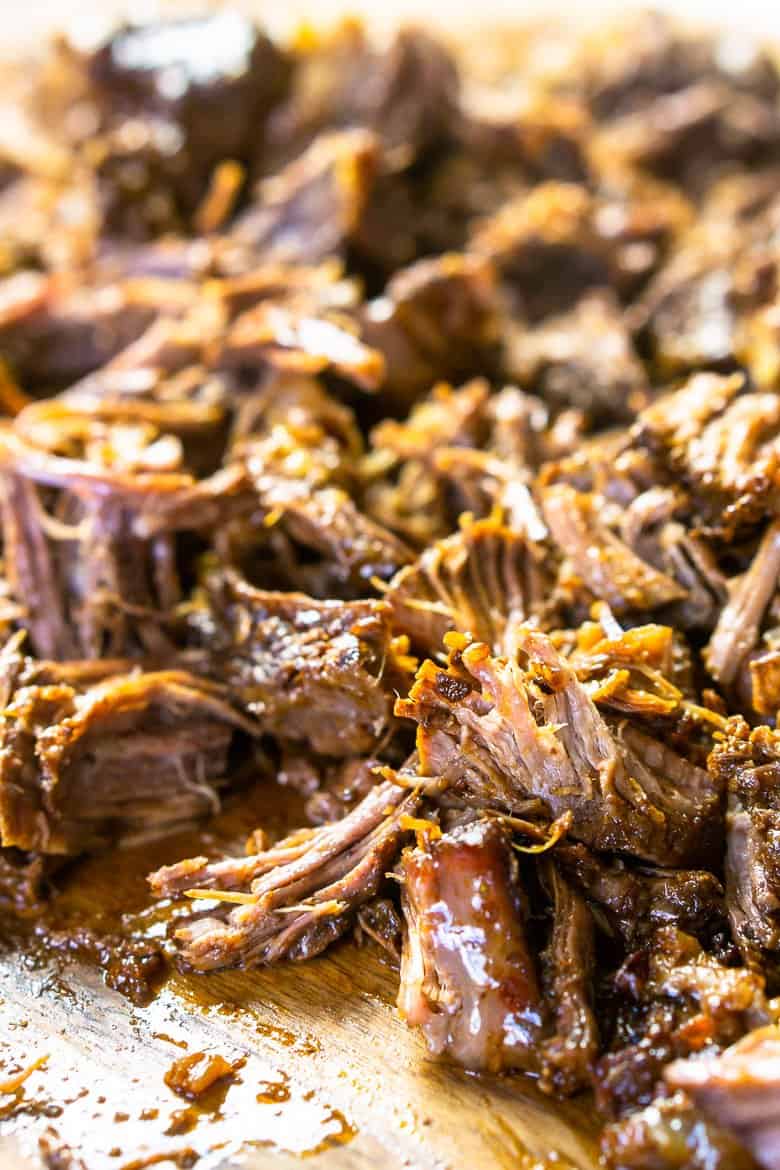 This next step is optional, but I definitely think it's worth it. You'll notice you'll be left with this delicious, flavorful sauce, so I like to thicken it to use a gravy to go with the beef.
To do this, we take a couple tablespoons of masa harina and add just enough water to make a stirrable, thick paste. Pour the masa paste into the sauce and bring to a simmer and cook until it thickens to your likening. If you want to thicken it even more, just make a little more paste.
Masa is made from dried hominy, which gives it a nice corn flavor, but I realize masa may not be a pantry staple for everyone. You could use cornstarch instead. And in case you're wondering, the thickened sauce also freezes well.
And that's it! We're now ready to dig into some seriously delicious beer-braised Mexican shredded beef. Lucky us.
Can I Make in a Slow Cooker?
Sure, a slow cooker will do the job just fine. While I prefer the results from a slow braise in the oven, using a slow cooker still leaves you with a delicious, flavorful shredded beef. Whether you have to go to work or run errands, sometimes you just don't have three or four hours to stay at home while the beef cooks. I get it, and I definitely use the slow cooker for this recipe from time to time, so do what works best for your life.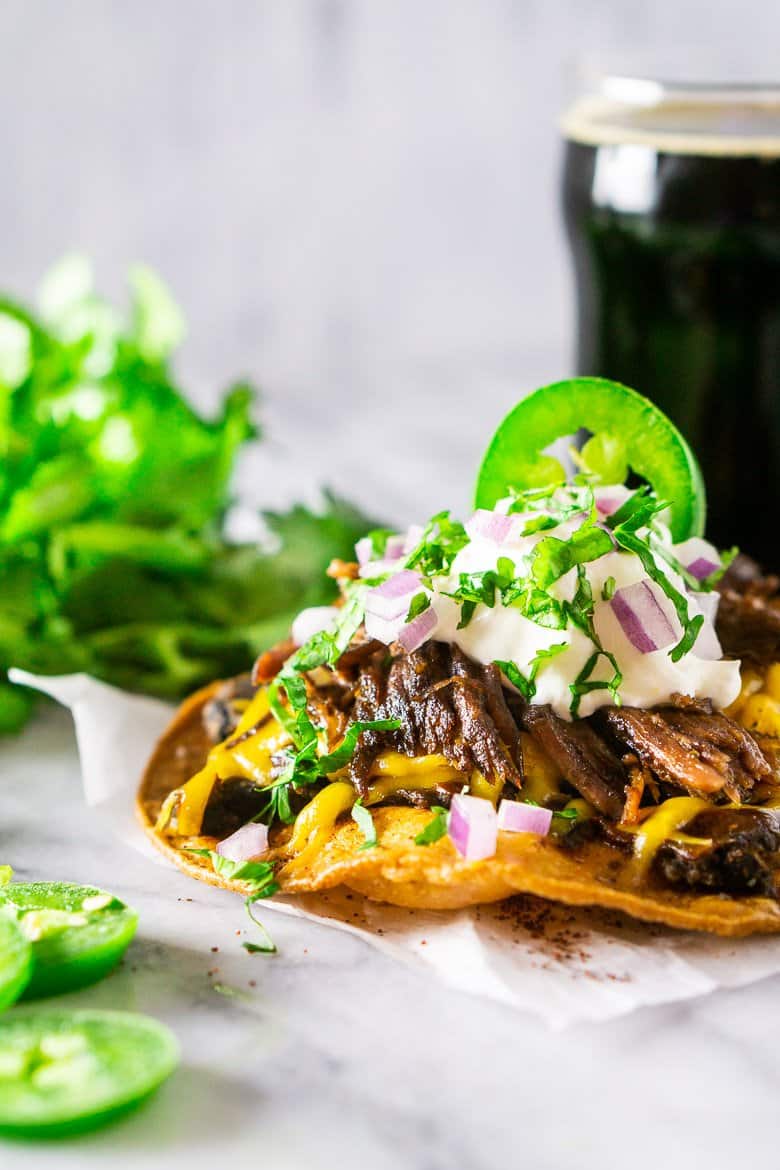 How to Serve
Oh, so many possibilities! As you can see, we served them on my freshly fried tostada shells here, but this shredded beef is perfect for tacos, nachos, quesadillas and chile rellenos.
Try it in a burrito or turn it into a Mexican rice bowl. The sauce and beef also makes killer enchiladas. I even have a pizza recipe that uses this beer-braised Mexican shredded beef.
See? So many possibilities! And those are just a few options. Feel free to get creative and use this beef in your own way.
Perfect Pairing
Of course, that stout we used is perfect with this beef. The roasted malt adds a depth to the chiles that I love. If you'd like another option, you won't be disappointed with a pale ale.
I also love a margarita with this beef, and if you've been following along, you know I have plenty of options. Here are a few of my favorite margarita recipes.
If wine is more your style, we want a fruity, full-bodied red without too many tannins. Spicy food and tannins tend to clash, so it's important to keep the tannin level in mind. With its fruity notes to balance the spice and only moderate tannin levels, a malbec is a nice choice.
The next time you get a craving for tacos, enchiladas or any other favorite Mexican recipe, I hope you cook a batch of this beer-braised Mexican shredded beef. Please let me know how you enjoyed this beer-braised Mexican shredded beef recipe in the comment section and don't forget to sign up for my newsletter. You can also catch me on Instagram, Pinterest, Facebook and Twitter.
Cheers!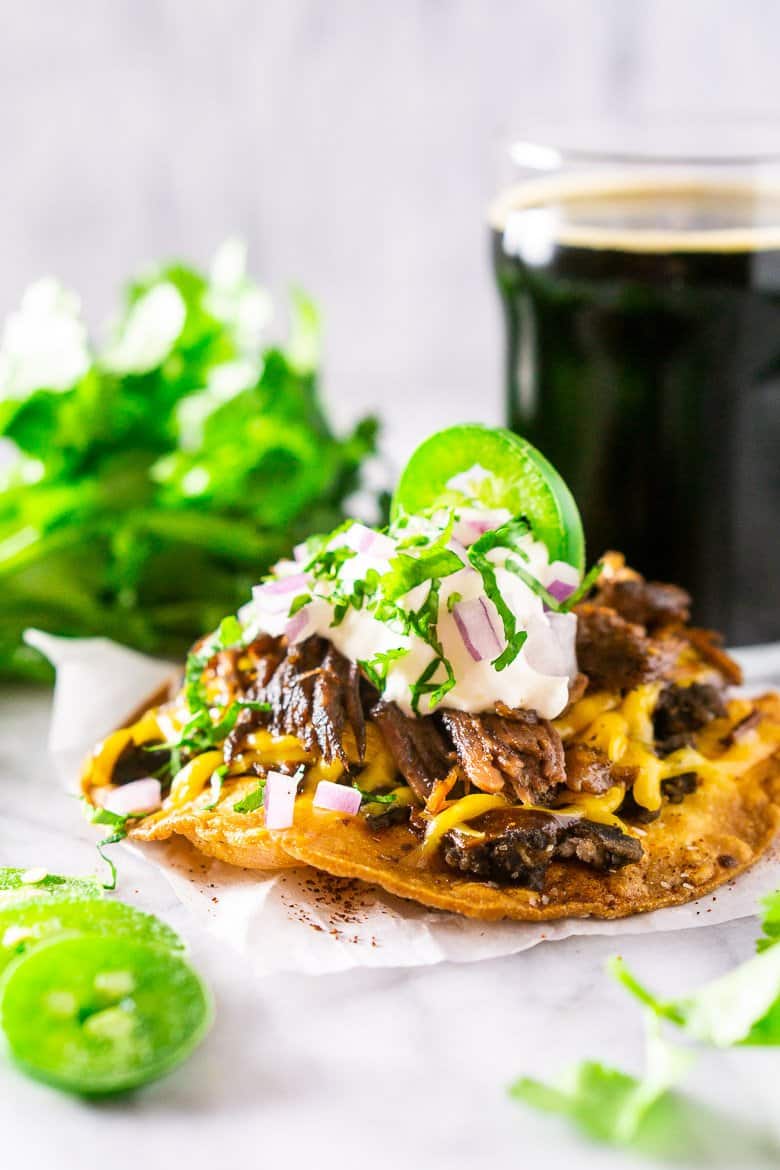 Looking for More Mexican-Inspired Recipes?
Print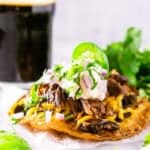 Beer-Braised Mexican Shredded Beef
---
Author:

Prep Time:

20 minutes

Cook Time:

4 hours

Total Time:

4 hours 20 minutes

Yield:

8

-

10

servings

1

x
Description
Slowly cooked in a rich four-chile sauce with an array of spices and herbs, this versatile beer-braised Mexican shredded beef is fork tender with smoky, roasted notes for an unbelievably flavorful cut of meat. Plus, it's easier to make than you might think.
---
1 dried New Mexican Chile, destemmed and seeded (see note)
1 dried guajillo chile, destemmed and seeded
1 dried arbol chile, destemmed and seeded
2 cups beef or chicken stock or water with 2 heaping teaspoons Better Than Bouillon Chicken or Beef Base
3 chipotle peppers in adobo sauce, seeds left in tact
2 tablespoons adobo sauce
3-4 pounds chuck roast (see note)
Salt
Pepper
Flour for dusting
2 tablespoons canola oil
1 yellow onion, diced
5 garlic cloves, grated or minced
1 tablespoon cocoa powder
1 tablespoon tomato paste
2 teaspoons ground cumin
2 teaspoons oregano
1 teaspoon smoked paprika
½ teaspoon cloves
½ teaspoon coriander
12-ounce can or bottle stout
2 tablespoons apple cider vinegar
2 bay leaves
1 cinnamon stick
2 tablespoons masa harina, optional (see note)
Water, optional
---
Instructions
Heat oven to 275 degrees. Over medium-high heat, toast the dried chiles until fragrant, about two to five minutes. Add stock and simmer for 10 minutes until the chiles soften.
Pour the chiles and stock into a blender and add chipotles and adobo sauce. Blend until smooth.
Heat canola oil in a large Dutch oven over medium-high heat. Generously season the chuck roast with salt and pepper and dust with flour. When the oil begins to shimmer, add the chuck and sear until browned, about five minutes. Carefully flip the beef to the other side and brown.
Remove the beef from the Dutch oven and lower heat to medium. Cook onions until softened, about four or five minutes. Add garlic, cocoa powder, tomato paste, cumin, oregano, smoked paprika, cloves and coriander. Continuously stir for 30 seconds.
Pour in the beer and apple cider vinegar. Use a wooden spoon to scrap up the brown bits from the beef. Simmer for about five minutes to allow the beer to slightly reduce.
Stir in the blended chile mixture to make one cohesive sauce. At this point, if you'd prefer to use a slow cooker, pour the chile sauce into the slow cooker with the bay leaves and cinnamon stick and add the browned beef. Cook on low for eight hours. But if you're braising in the oven, return the beef to the Dutch oven along with the bay leaves and cinnamon stick. Bring to a boil.
Once boiling, cover the Dutch oven and place in the 275-degree oven. Cook until the beef easily shreds with a fork. For a 3-pound roast, this should take about three hours while a 4-pound roast should take about four hours. That said, don't judge the beef's doneness on cooking time. Judge it on whether it's easily shreddable. Chuck roast takes a long time to break down, and not ever roast is identical.
When the beef is ready, move to a cutting board and shred with two forks once cool enough to handle.
This step is optional, but if you'd like to thicken the chile sauce to use with the beef, mix the masa harina with just enough water to make a thick but stirrable paste. Add the masa paste to the chile sauce and bring to a simmer on the stove, constantly whisking. Keep whisking until it thickens to your likening. Start with 2 tablespoons but know you can always add more if you'd still like it a little thicker.
Use the beer-braised Mexican beef for tacos, tostadas, burritos, nachos or any other dish you'd like. Enjoy!
Notes
The heat level on this beef is mild. You can always add more heat with salsa, fresh peppers or the optional chile gravy; however, if you want it fiery, you can experiment with leaving the seeds.
Let the chuck roast sit at room temperature for 30 minutes before cooking. Make sure you get a chuck roast. Top roast does not work for this recipe.
Masa harina has a nice corn flavor, but if you don't have any, you can substitute cornstarch.
You can make this beer-braised Mexican beef up to five days ahead of time. When ready to reheat, remove from refrigerator, scoop off any fat that hardens on the surface and let come to room temperature for about 30 minutes. Reheat on the stove.
Nutritional information is only an estimate. The accuracy of the nutritional information for any recipe on this site is not guaranteed.
Category:

Main Dishes

Method:

Braising or Slow Cooker

Cuisine:

Mexican
Nutrition
Serving Size:

About 6 ounces

Calories:

313

Sugar:

3

Sodium:

803

Fat:

8

Saturated Fat:

0

Unsaturated Fat:

0

Trans Fat:

0

Carbohydrates:

39

Fiber:

0

Protein:

16

Cholesterol:

37
Keywords: Mexican shredded beef