Enjoy some serious Tex-Mex comfort food with a big pan of these roasted poblano enchiladas with a luscious verde sour cream sauce! Crisp corn tortillas are filled with plenty of melted cheese and roasted poblano peppers for the perfect smoky flavor to make one hearty meal everyone will love. Serve with your favorite top-shelf margarita, and you're in for a delicious night.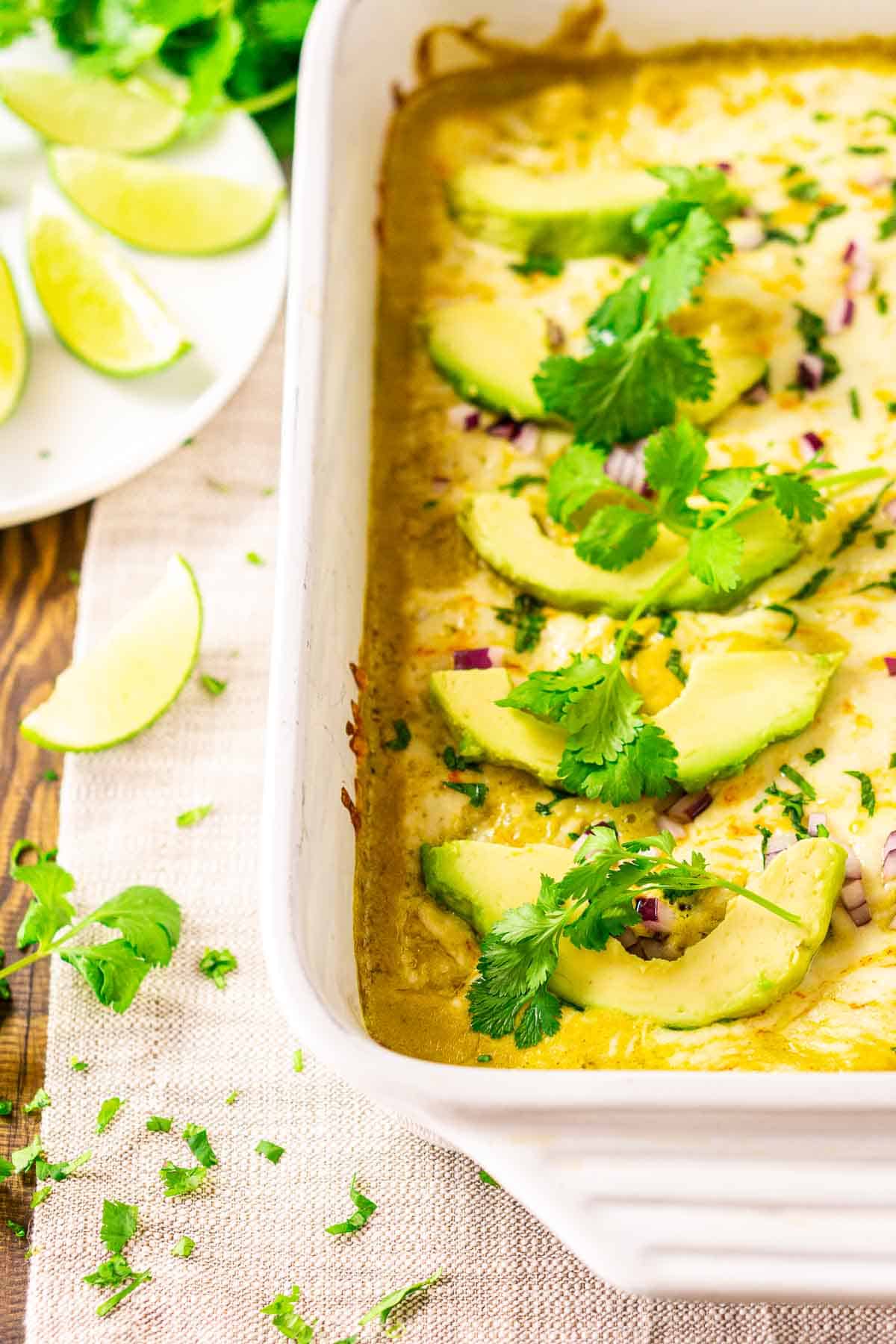 Jump to:
Why You'll Love This Recipe
Satisfying for vegetarians and meat eaters alike: You won't even miss the meat in these enchiladas. These loaded vegetarian enchiladas are plenty filling without any meat, and you'll just love how the roasted poblanos give this dish a deep, complex flavor.
Ultra versatile: While this recipe is tasty as is, enchiladas are great for creating customized dishes to suit your individual taste. I'll even leave you with a few suggestions if you'd like to put your own spin on these verde enchiladas.
Feeds a small or large dinner party: One pan of enchiladas feeds four people, but you could easily double, triple or even quadruple the recipe to feed a bigger crowd.
Make-ahead option: Although you can certainly cook the filling and homemade enchilada sauce and assemble the enchiladas while chatting with guests, I have a make-ahead option for you in case you'd rather finish cooking before company arrives.
Related: If you love this recipe, make sure you also try my jerk chicken enchiladas and beef enchiladas with red sauce.
Ingredients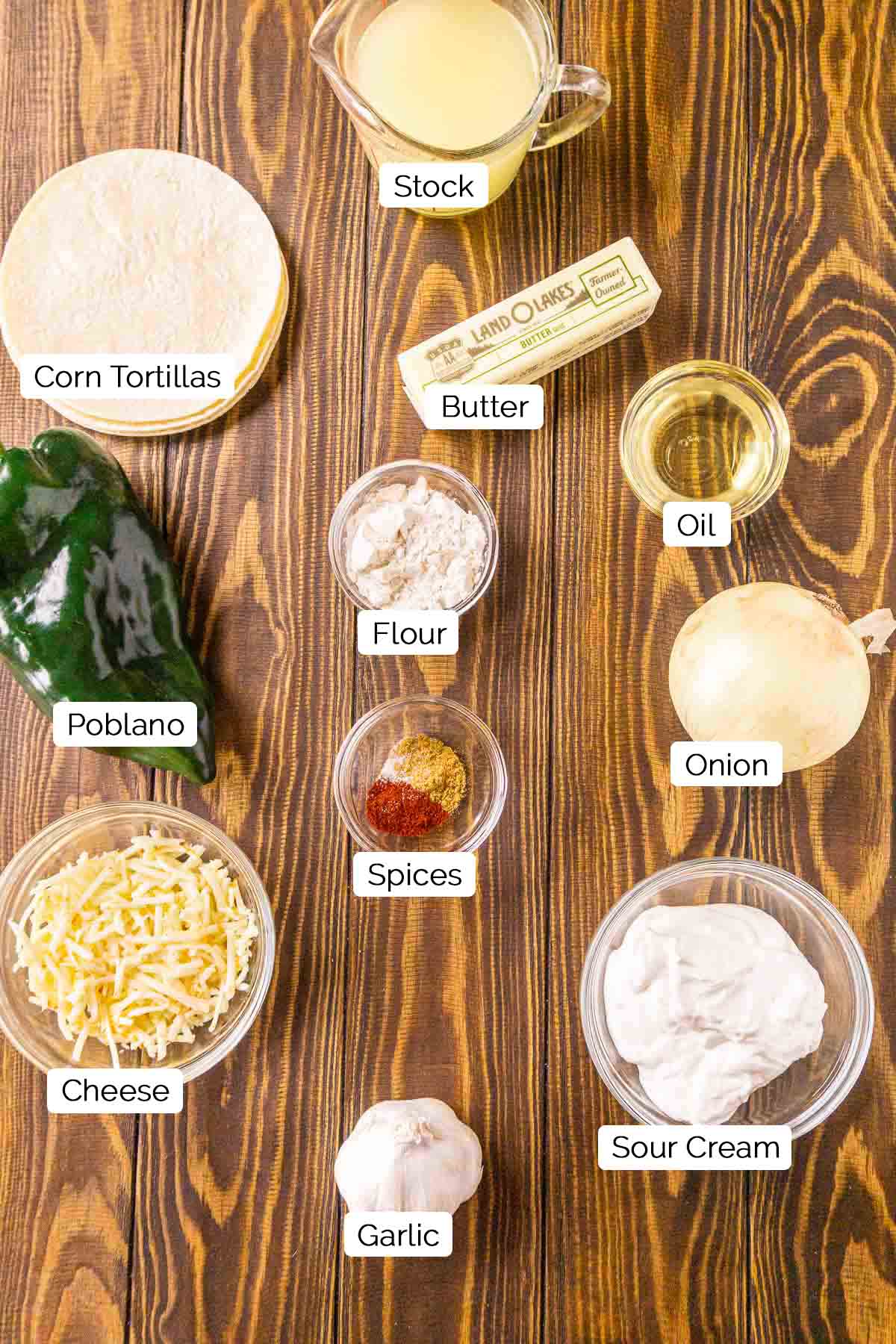 Poblano peppers: This is the star of our show. Poblano chiles are widely available at your typical grocery store, but if your store happens to run out, you can use different peppers. Anaheim peppers and hatch green chiles make great substitutes.
Cheese: You can use any type of melting cheese here. I opted for a Mexican Muenster, which melts into the most creamy, luxurious texture, but queso asadero and queso Chihuahua are also nice options. You could even go with Monterey Jack cheese or pepper jack cheese.
Corn tortillas: Enchiladas are made with corn tortillas, not flour tortillas. This dish is a Tex-Mex classic, and as someone who grew up in Houston, I can assure you that no reputable Tex-Mex restaurant uses flour tortillas. The texture and flavor of corn tortillas is crucial to a proper enchilada.
Stock: I use chicken stock here because I prefer the flavor and am not a vegetarian. That said, you'll want to use vegetable stock if this dish needs to be 100 percent vegetarian.
Sour cream: For the richest flavor, you'll want to use full-fat sour cream. Hey, sour cream enchiladas are all about splurging, so let's use the good stuff.
Spices: We use a simple blend of smoked paprika, ground cumin, salt and black pepper. The roasted poblanos are so flavorful that we can keep it straight forward here.
Step-by-Step Instructions
How to Roast Poblano Peppers
Step 1: Our first step is to roast our poblano peppers, which really brings out that smoky, complex flavor. To take care of this process, we rub the peppers with canola oil and then broil them on a baking sheet in the oven, rotating until all sides turn mostly black (photo 1).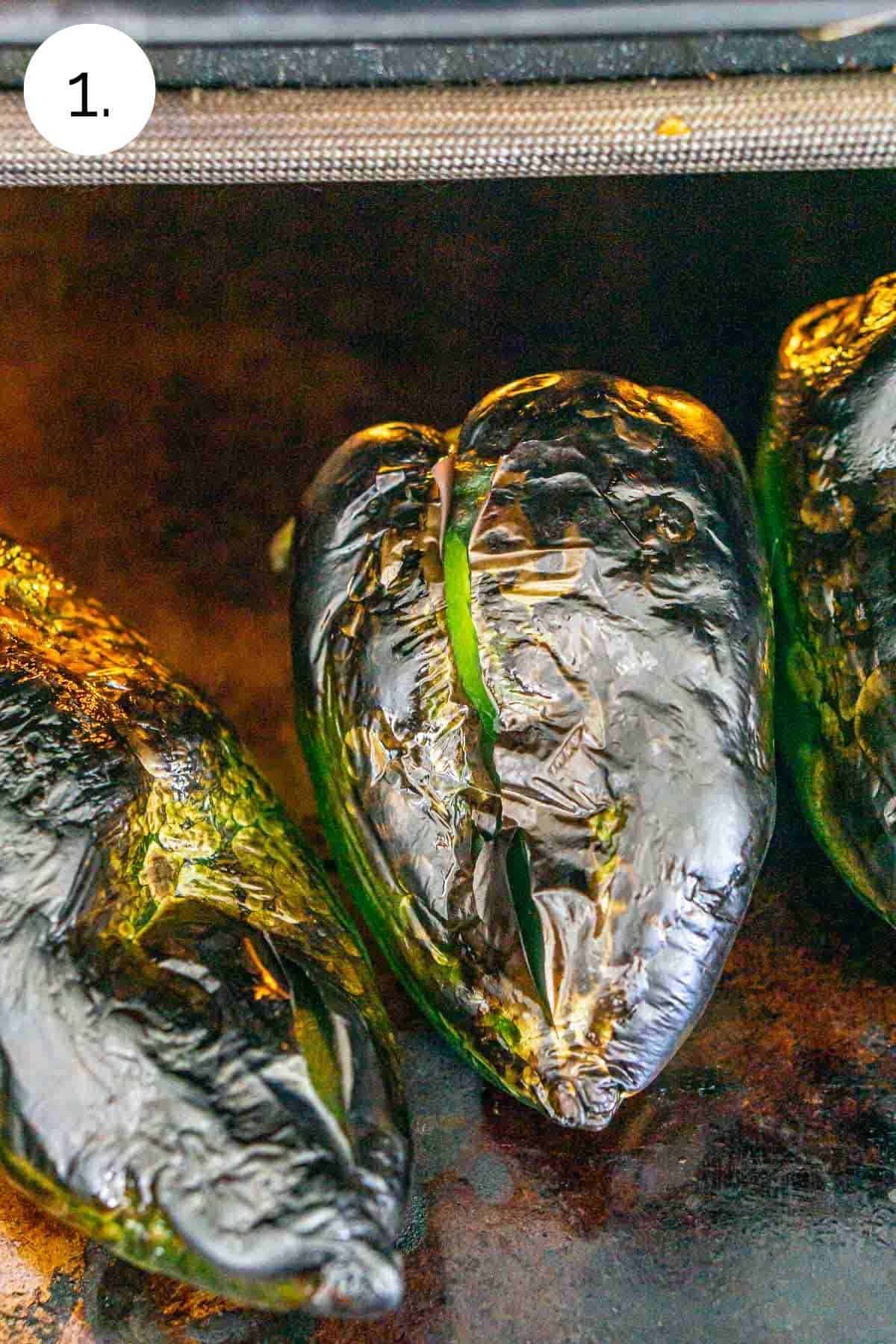 Step 2: When the poblanos are nice and black, we place them in a sealed plastic bag (photo 2). This creates a moist environment and helps the skin separate from the pepper flesh.
Step 3: When the peppers are cool enough to handle, we remove them from the bag, peel off the blackened skin (photo 3) and chop them into small pieces (photo 4). We'll use these chopped peppers for both the enchilada filling and green enchilada sauce.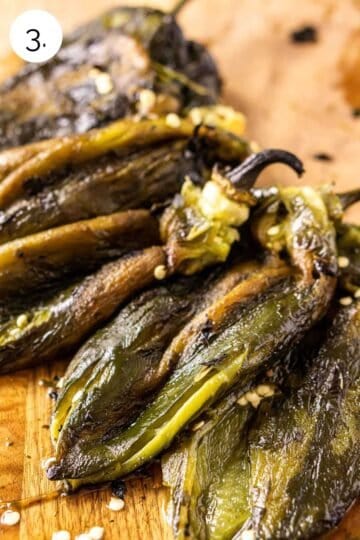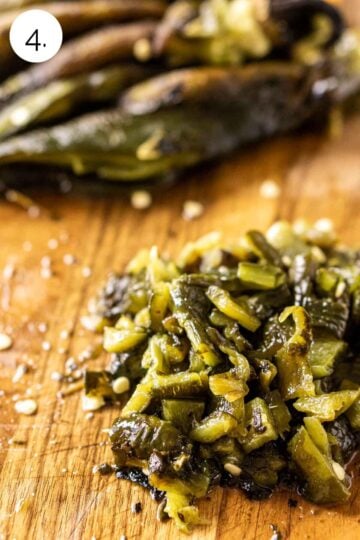 How to Make Verde Sour Cream Sauce
Step 1: Before reviewing how to make the enchiladas, let's first chat about how to make the creamy poblano sauce because we'll need that prepared for assembly. To make our sauce, we begin by cooking the chopped poblano chiles with diced onion over medium heat in a large skillet. After a few minutes, we add some fresh garlic cloves, stirring constantly (photo 5).
Step 2: Now we melt some butter and whisk in flour (photo 6). This is our roux, and it will help properly thicken our sour cream enchilada sauce.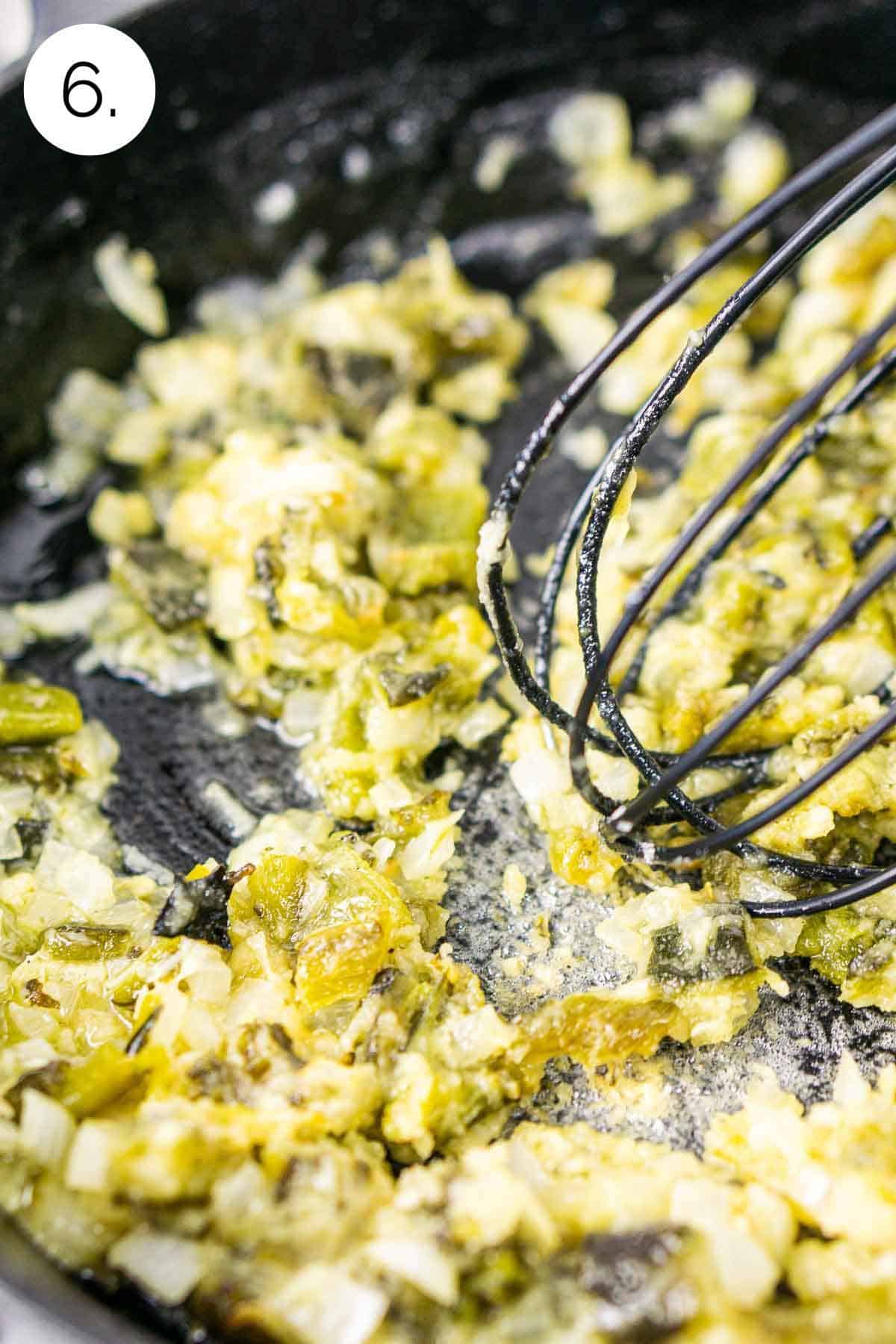 Step 3: From here, we slowly pour in the vegetable or chicken broth and whisk to smooth (photo 7). Once the mixture is free of any flour clumps, we whisk in the sour cream and the spices (photo 8). We taste the sauce and if it needs it, add a pinch of salt and pepper to our liking.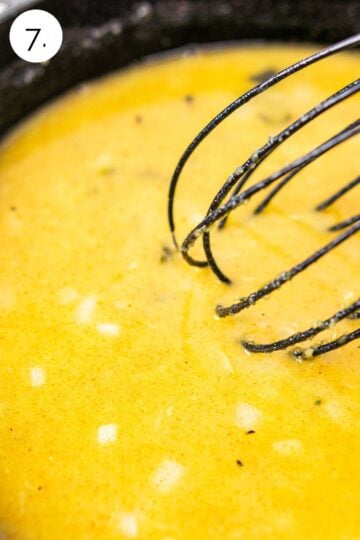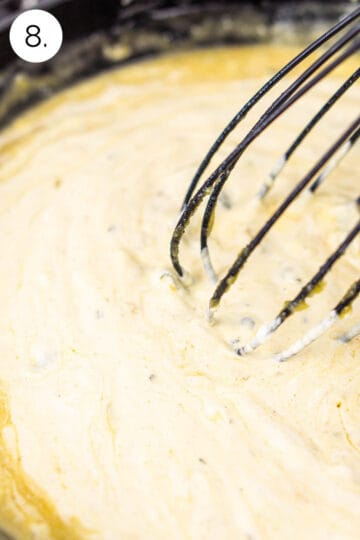 Step 4: Our last step for the sauce is to blend it until smooth like so (photo 9). We can use a standard or immersion blender.
How to Make Enchiladas
Step 1: We're ready to make our enchiladas by heating some oil over medium-high heat in a large skillet and frying the corn tortillas until they're nice and pliable, about 30 seconds on each side (photo 10).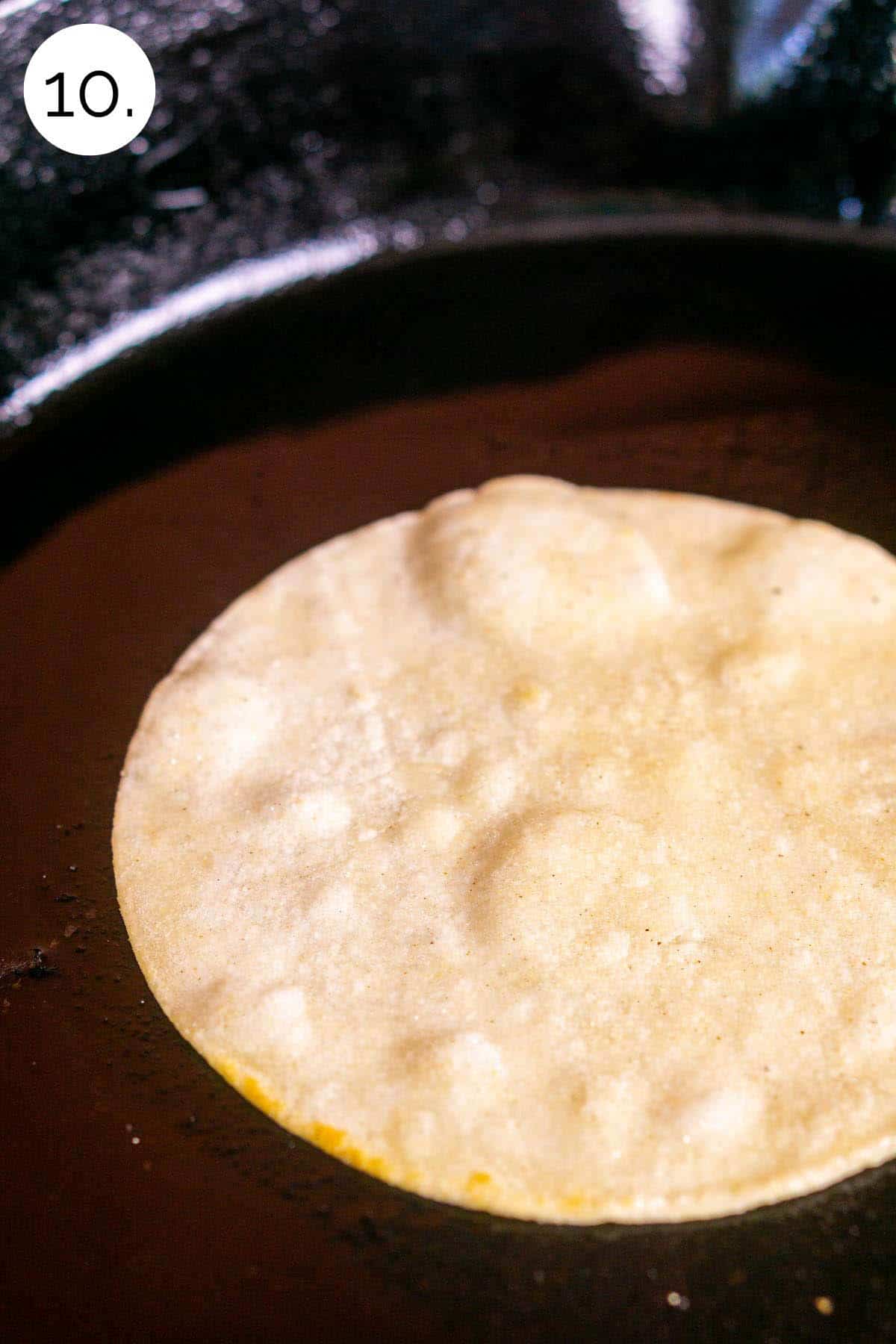 Step 2: As soon as we fry one tortilla, we spoon shredded cheese and the remaining poblanos into the center of the tortilla (photo 11), roll the tortilla and place seam down with some of the verde sour cream sauce spread on the bottom of a baking dish (photo 12).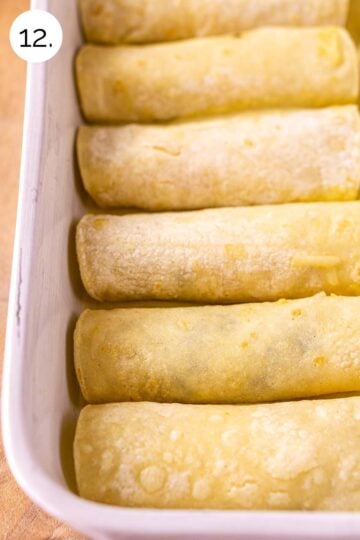 Step 3: After placing all the enchiladas in the baking dish, we cover them with the creamy roasted poblano sauce (photo 13), top with lots of cheese (photo 14) and bake to perfection.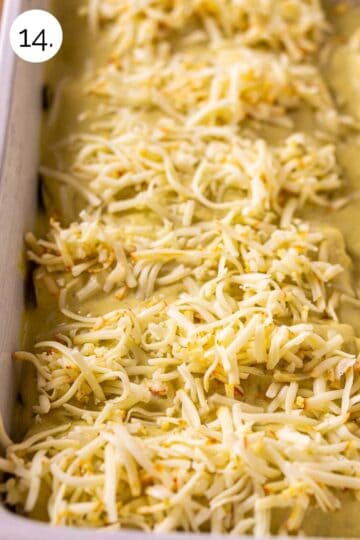 When the enchiladas are ready, feel free to garnish with your favorite toppings. Some of my favorites include fresh cilantro, avocado slices, diced red onion and a dollop of sour cream. Now serve with a Texas margarita, squeeze of fresh lime juice, a side of coconut rice and some black beans or even pinto beans, and you have yourself one delicious Tex-Mex dish.
Make-Ahead Directions
To make this poblano enchilada recipe ahead of time, prepare the verde sour cream sauce as directed and store in an airtight container in the refrigerator. You can then make and assemble the enchiladas, place in a baking dish without the sauce, cover with plastic wrap and refrigerate for a day or two. We don't want to let the enchiladas sit in the sauce, or they'll be soggy.
When you're ready, remove the sauce and enchiladas from the refrigerator an hour before baking. Right before baking, remove the enchiladas from the baking dish, spread the sauce on the bottom of the pan, place the enchiladas back in the dish and top as directed.
Tip: You may want to give the sauce a quick trip to the microwave. It doesn't need to be blazing hot — just a bit warm before it goes in the oven.
Recipe FAQs
Why do you fry tortillas first?
Frying tortillas serves several helpful uses — it heats the tortilla to make it more pliable, but it also brings out the corn flavor and prevents the tortilla from becoming too soggy. For the absolute best enchiladas, do not skip this step.
Do you fold the ends of enchiladas?
Nope, we fold in the ends of a burrito but not an enchilada. We simply fold each side of the tortilla to make a seam in the center, and that is our rolled enchilada. It's as simple as can be.
Do you bake enchiladas covered or uncovered?
We want to bake these enchiladas uncovered. This will help give the edges of the corn tortillas a bit of crispness.
How long can you store leftovers?
Enchiladas are best served fresh, so I don't recommend leftovers for company. That said, they're fine for a quick lunch or dinner. Keep them in an airtight container in the refrigerator, and you can enjoy them for a couple days.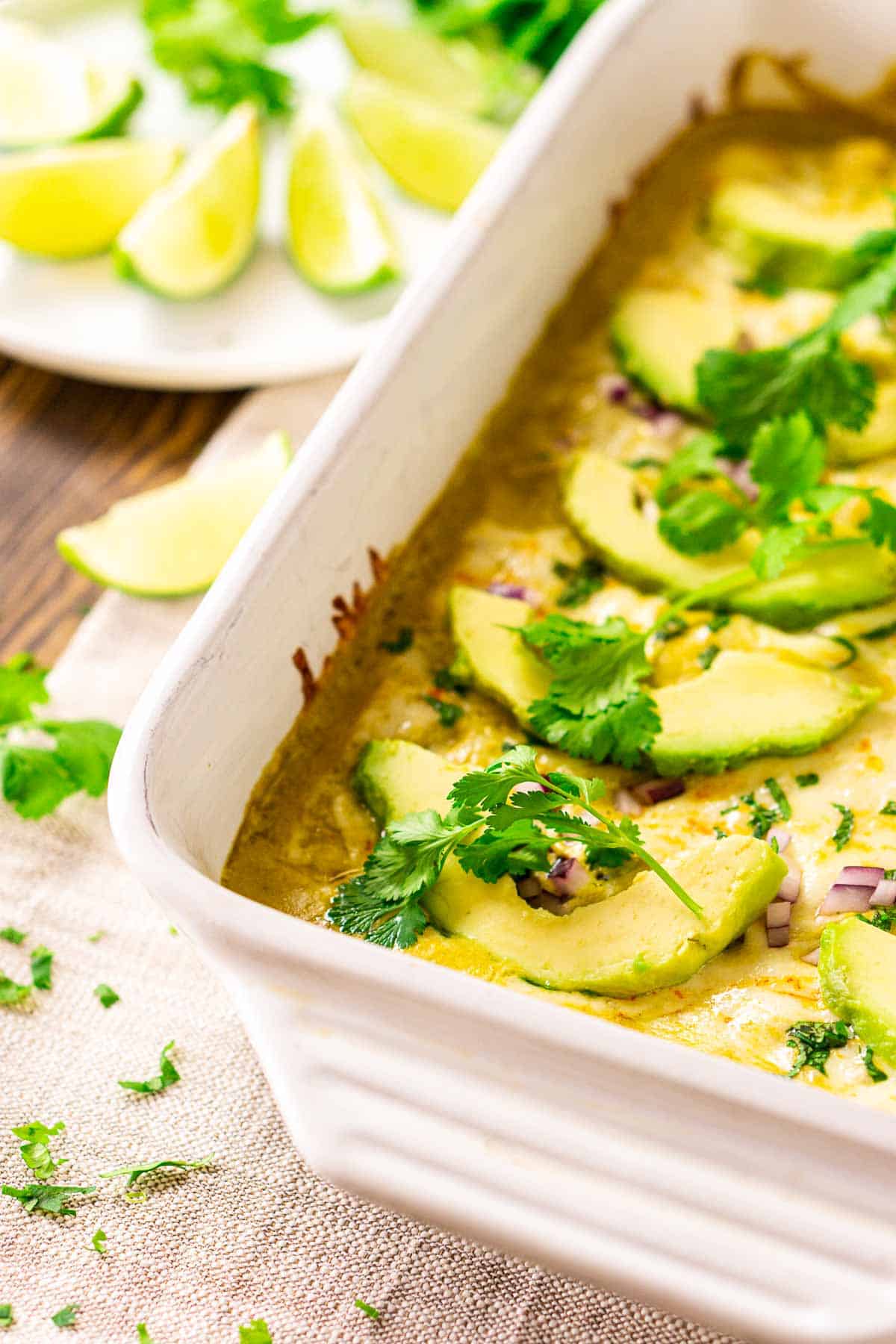 Variations
Use a red sauce. If you're not a fan of sour cream sauce, you're in luck. You can use my quick and easy homemade red enchilada sauce instead. It's full of spicy chili powder and comes together in just 20 minutes.
Add your favorite meat. Turn these into poblano-chicken enchiladas by adding some shredded chicken to the filling. Pulled pork or my braised Mexican beef are also delicious options. You could even go with shrimp and chorizo.
Stuff with other vegetarian fillings. Black beans or roasted corn would also added some nice heartiness.
Give it a spice kick. Poblano peppers are mild, so if you like more heat, you may want to roast some jalapeño or serrano chiles too.
Expert Tips
Fill and roll the tortillas as soon as you fry them: Tortillas lose their heat quickly, which is what makes them so pliable. If you don't roll them right away, they won't be warm enough and will tear.
Allow the enchiladas to set before serving: Enchiladas need time to set after baking. Otherwise, they have a tendency to fall apart. Loosely cover the baking pan with aluminum foil when they come out of the oven, and let the enchiladas sit for 10 minutes.
Use as much sauce as needed: Don't feel like you need to drench the enchiladas. After coating the pan, spread enough remaining sauce to cover the enchiladas, and if you have leftover sauce, that's perfectly OK.
Perfect Pairing
For a beer, you'll love an American pale ale. This style shows off a nice balance of citrusy hops and sweet malt to cut through the creamy sauce while contrasting the spice. Plus, we get plenty of bubbles to keep our palate refreshed.
If wine is more your style, a sauvignon blanc makes a lovely pairing. With this wine, we get a nice acidic kick to balance the sauce and cheesy filling, and its citrusy side adds some brightness to the smoky poblano chiles.
And, of course, we can't go wrong with a little tequila. My tequila sour is always great, but a good margarita is a popular option. A traditional margarita is always welcome, or you can check out this list of fruity margaritas if that's more your style.
When you need a big plate of delicious Mexican food, I hope you make these cheesy poblano enchiladas. They're sure to be a new family favorite.
Cheers!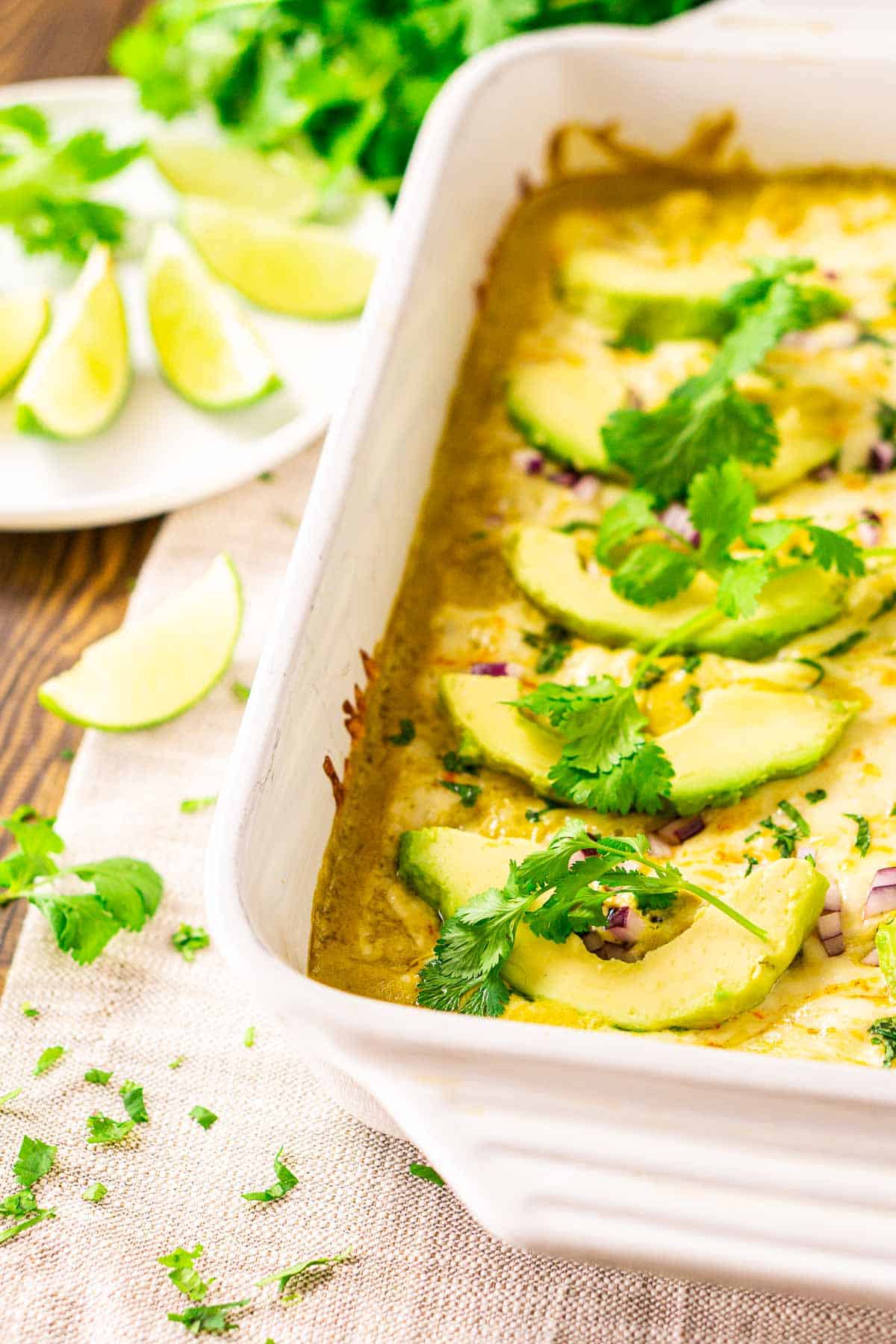 Get More Tex-Mex Favorite Recipes
If you love this recipe, please leave a comment with a five-star rating — or simply hit the five-star button in the recipe card. Don't forget to sign up for my newsletter, and you can follow me on Facebook, Instagram, Pinterest and TikTok.
📖 Recipe
Poblano Enchiladas With Verde Sour Cream Sauce
Enjoy some serious Tex-Mex comfort food with a big pan of these roasted poblano enchiladas with a luscious verde sour cream sauce! Crisp corn tortillas are filled with plenty of melted cheese and roasted poblano peppers for the perfect smoky flavor to make one hearty meal everyone will love. Serve with your favorite top-shelf margarita, and you're in for a delicious night.
Print
Pin
Rate
Equipment
Broiler-safe baking sheet

Sealable plastic bag

Skillet

9-inch-by-13-inch baking dish
Ingredients
Roasted Poblano Peppers
2

poblano peppers

Canola oil
Verde Sour Cream Sauce
1

tablespoon

canola oil

1

peeled and diced roasted poblano pepper

½

cup

chopped yellow onion

4

garlic cloves

minced or grated

3

tablespoons

salted butter

3

tablespoons

all-purpose flour

2

cups

chicken or vegetable stock

1

cup

sour cream

room temperature

½

teaspoon

smoked paprika

½

teaspoon

ground cumin

Salt and black pepper

to taste
Poblano Enchiladas
Canola oil

8

corn tortillas

not flour tortillas

3

cups

white melting cheese

divided, see notes

1

peeled and diced roasted poblano pepper

Toppings of your choice

such as avocado slices, lime wedges, red onion, cilantro, sour cream and salsa
Instructions
Roasted Poblano Peppers
Rub the poblano peppers with canola oil. Place on a broiler-safe baking sheet and roast under the broiler until black. Using metal tongs, turn the peppers periodically until all sides blacken.

Once blackened, place the peppers in a sealable plastic bag. Allow the peppers to rest in the bag until cool enough to handle. This helps loosen the skin from the flesh.

Peel the pepper skin and remove the seeds and stem. Dice each pepper, reserving one pepper for the sauce and one pepper for the enchilada filling.
Verde Sour Cream Sauce
Heat canola oil in a large skillet over medium heat. Add the diced poblano and chopped onions. Cook until onions soften, about four to five minutes. In the last 30 seconds, add the garlic, stirring constantly.

Add the butter to the skillet and allow to melt. Whisk in the flour. Continue to whisk for two to three minutes.

Slowly whisk in the stock until smooth. Bring to a simmer and cook until thickens, about five minutes. Turn off the heat and whisk in sour cream, smoked paprika and cumin until smooth. Add salt and pepper to taste.

Pour the sauce into a blender and process until smooth. Reserve on the side.
Poblano Enchiladas
Heat oven to 375 degrees. Spread about 1 cup of the verde sour cream sauce on the bottom of a greased baking dish. Set the rest of the sour cream sauce aside.

Add enough oil to cover the bottom of a clean skillet and heat over medium-high heat until shimmering. Place a corn tortilla in the oil and cook for 30 seconds. Flip and cook for another 30 seconds.

While the corn tortilla is still warm, add 2 tablespoons shredded cheese and 1 tablespoon diced poblano peppers in the center of the tortilla. Fold each side of the tortilla toward the center to roll the enchilada and place seam-side down in the baking pan. Repeat with all tortillas. If necessary, add more oil to the skillet.

Top the enchiladas with the remaining verde sour cream sauce and cheese. Bake for 20 minutes. Remove from oven, cover with foil and let sit for about 10 minutes to set and prevent the enchiladas from falling apart when serving. Garnish with desired toppings. Enjoy!
Notes
If you have more than enough verde sour cream sauce to cover the enchiladas, don't feel like you have to use all the sauce. You just want enough to coat, but they don't need to swim in sauce.
Do not skip frying the tortillas. This helps develop better texture and enhances the flavor.
Fry the tortillas and immediately fill and roll them. If you fry them all at once and then go to roll them, they will have lost too much heat to be pliable.
I recommend preparing the verde sour cream sauce before the enchiladas because you'll need the sauce for the bottom of the pan during assembly.
I love to use a Mexican melting cheese, such as queso Chihuahua, queso asadero or Mexican Muenster, but Monterey Jack or pepper jack are also great options.
Nutritional information is only an estimate. The accuracy of the nutritional information for any recipe on this site is not guaranteed.
Nutrition
Serving:
2
enchiladas
|
Calories:
792
kcal
|
Carbohydrates:
40
g
|
Protein:
29
g
|
Fat:
59
g
|
Saturated Fat:
29
g
|
Polyunsaturated Fat:
5
g
|
Monounsaturated Fat:
17
g
|
Trans Fat:
0.4
g
|
Cholesterol:
145
mg
|
Sodium:
838
mg
|
Potassium:
495
mg
|
Fiber:
5
g
|
Sugar:
6
g
|
Vitamin A:
1821
IU
|
Vitamin C:
50
mg
|
Calcium:
721
mg
|
Iron:
2
mg