For those times you crave Tex-Mex with a little island flair, these jerk chicken enchiladas are just what you need. Lightly fried corn tortillas are stuffed with flavorful jerk chicken and plenty of cheese, smothered with a creamy habanero-sour cream sauce and then baked to perfection. Serve with a refreshing margarita and you have yourself one festive meal that's sure to please.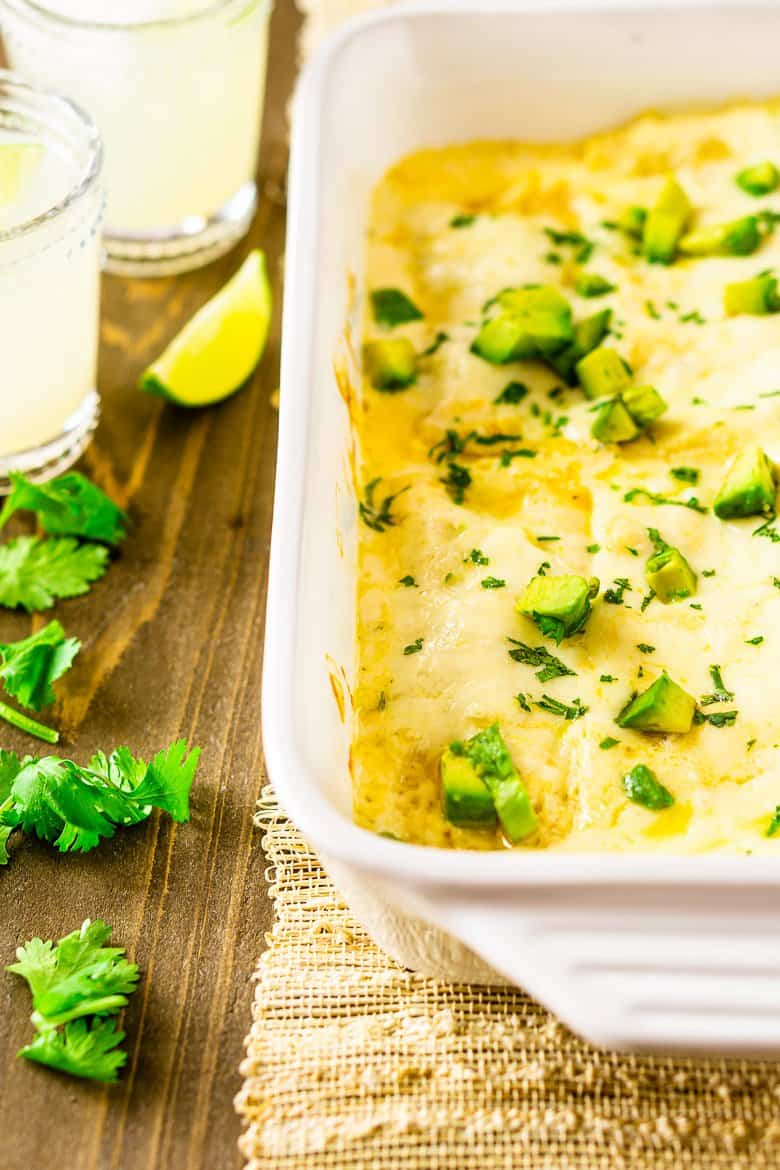 You ever have those foodie moments when you can't decide if you want one dish or another? Oh, I don't know --- say jerk chicken or enchiladas?
I feel you. Life is hard.
Fortunately, these jerk chicken enchiladas have your back. Enchiladas and jerk chicken reign as Tex-Mex and Caribbean favorites, so when they come together, we're treated with the ultimate fusion dish.
Plus, these jerk chicken enchiladas are great for hosting. You can comfortably serve four people with one pan, or you can easily double or triple this chicken enchiladas recipe to serve a crowd. And you know these enchiladas will be a hit because there isn't a person alive who doesn't love chicken enchiladas with a decadent, perfectly spiced sour cream sauce. That's just a fact.
Ingredients
Before we get started, here's everything we need to make these jerk chicken enchiladas.
Monterey Jack cheese
Corn tortillas
Canola oil
Habanero
Sour cream
Onion
Garlic
Flour
Butter
Chicken stock
Your favorite toppings
For the jerk chicken, I highly recommend my own marinade. We only need a cup and a half of meat, so that means you'll either have extra for other uses, or it's the perfect way to use leftover jerk chicken. If you're feeling lazy, you could buy a rotisserie chicken and toss it with a jerk dry rub, but for best results, I definitely recommend making your own jerk chicken.
Also, please note that I specify corn tortillas over flour tortillas. I love few foods as much as a soft, warm flour tortilla, but I'm all about corn tortillas in enchiladas. Besides being the traditional enchilada tortilla, the corn variety holds up well to the sauce and brings a more complex flavor, especially when lightly fried, which we'll discuss below.
Step-by-Step Instructions
To start on our delicious enchilada dish, I like to first make the habanero-sour cream sauce. We take care of this step by cooking some onion, habanero and garlic. While habanero is one spicy pepper, I don't bother seeding it. With the cooling power of the sour cream, leaving the seeds gives us just the right kick without overpowering the palate.
Now we cook some butter and flour together for some thickening assistance, and then we'll whisk in some chicken stock and sour cream. Once it's all smooth, we can spoon a little bit into our baking dish and set the rest aside.
At this point, we're ready to assemble our enchiladas. We start by heating some oil in a skillet and then lightly fry our corn tortillas on both sides until soft. This doesn't take long --- about 30 seconds or so on each side.
While the tortillas are still warm, we fill with jerk chicken and Monterey Jack cheese, roll, place seam-side down in our baking dish and repeat.
Now we pour the remaining habanero-sour cream sauce over our jerk chicken enchiladas and top with more cheese for obvious reasons. Pop those enchiladas into the oven and bake until the cheesy is perfectly melted and the sour cream sauce is bubbly.
Sounds good, huh?
Once our enchiladas come out of the oven, we want to give them a few minutes to set. This helps make sure they don't fall apart when serving.
For garnishes, avocado cubes and cilantro are great, but I highly recommend serving these enchiladas with my jerk salsa. This salsa elevates the jerk flavor in a way that no other salsa can. I promise you'll be glad you took the time to make this jerk salsa.
And that's it! Dig in and enjoy every bite.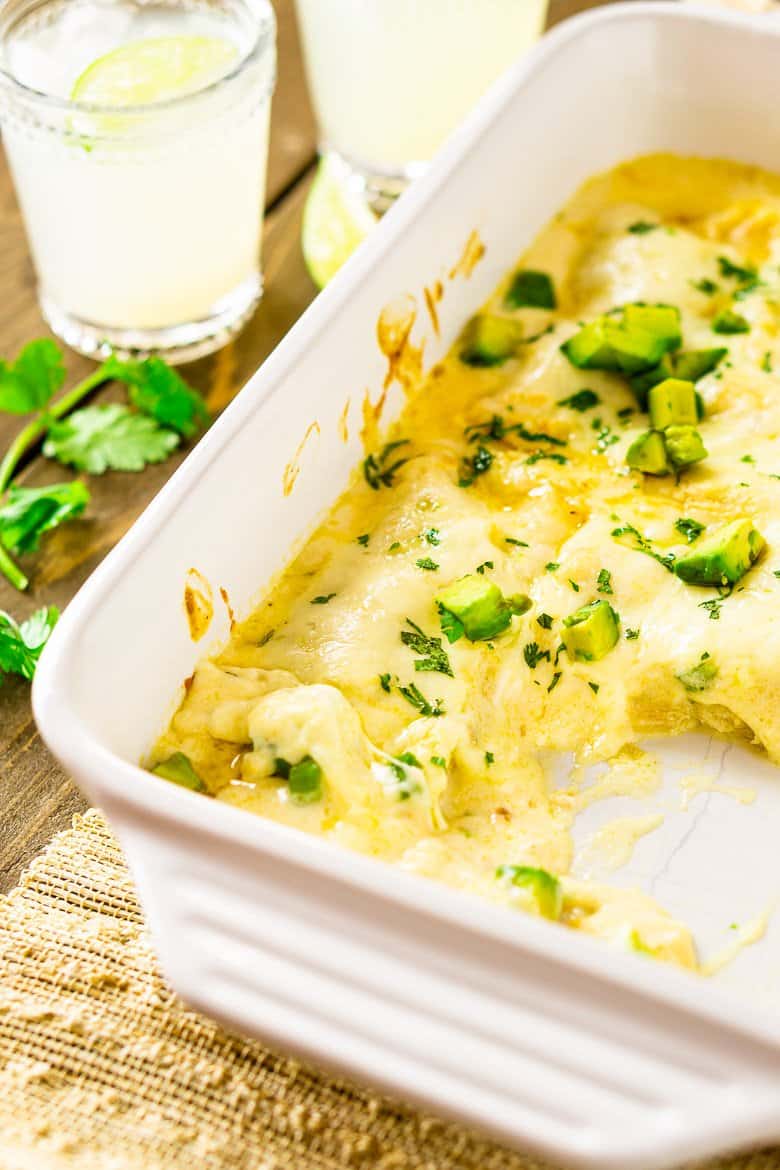 Why Fry Tortillas for Enchiladas
If you think frying tortillas for enchiladas is a needless step, I mean no offense, but you're wrong. In fact, frying the corn tortillas is a critical step. Sure, frying heats the tortillas, which makes it easier to roll without tearing, but if that were the only benefit, we could accomplish that in the microwave. By first frying our tortillas for enchiladas, we develop a more complex flavor that complements the rest of the dish while also giving the tortillas better texture to hold up to the sauce.
Trust me on this. Enchiladas are one of the most iconic Tex-Mex menu items. As someone who grew up in Houston, I've eaten some of the best enchiladas out there, and I promise that authentic enchiladas are always lightly fried first. This step makes all the difference.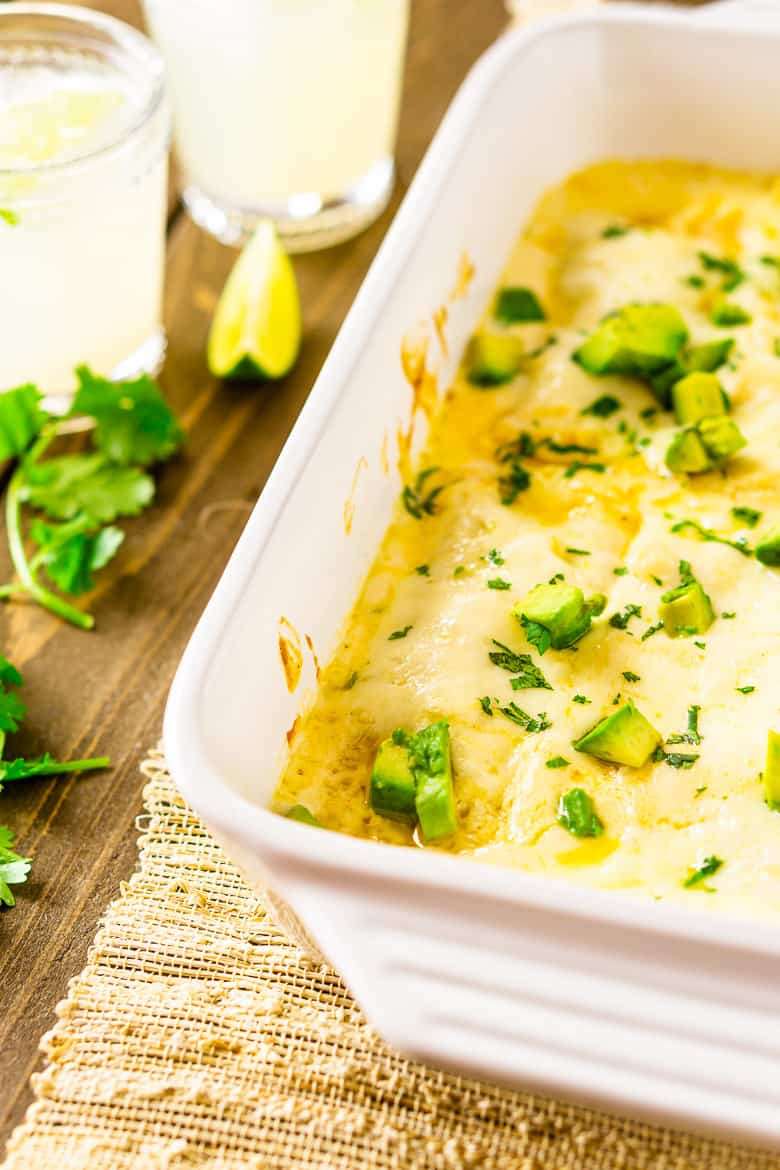 Perfect Pairing
Love a cold beer with your enchiladas? A helles lager takes care of the job well. A malt-forward helles is great with spicy food because the subtle sweetness contrasts the heat while also providing lots of bubbles for palate-cleansing action.
If wine is more your style, you'll enjoy these jerk chicken enchiladas with a riesling. Like the helles, the bit of sweetness balances the heat, and then we get some lively acidity that adds a nice pop to all those bold flavors.
And, of course, you can't go wrong with a margarita. While I have plenty of unique margarita recipes, I especially love keeping it simple with a classic margarita on the rocks. That said, when you're itching for something a bit more creative, I suggest my mango-jalapeno margarita.
If creamy, cheesy Tex-Mex and Caribbean fusion comfort food sounds like your kind of meal, I hope you try these jerk chicken enchiladas with habanero-sour cream sauce. Please let me know how you enjoyed this jerk chicken enchilada recipe in the comment section and don't forget to sign up for my newsletter. You can also catch me on Instagram, Pinterest, Facebook and Twitter.
Cheers!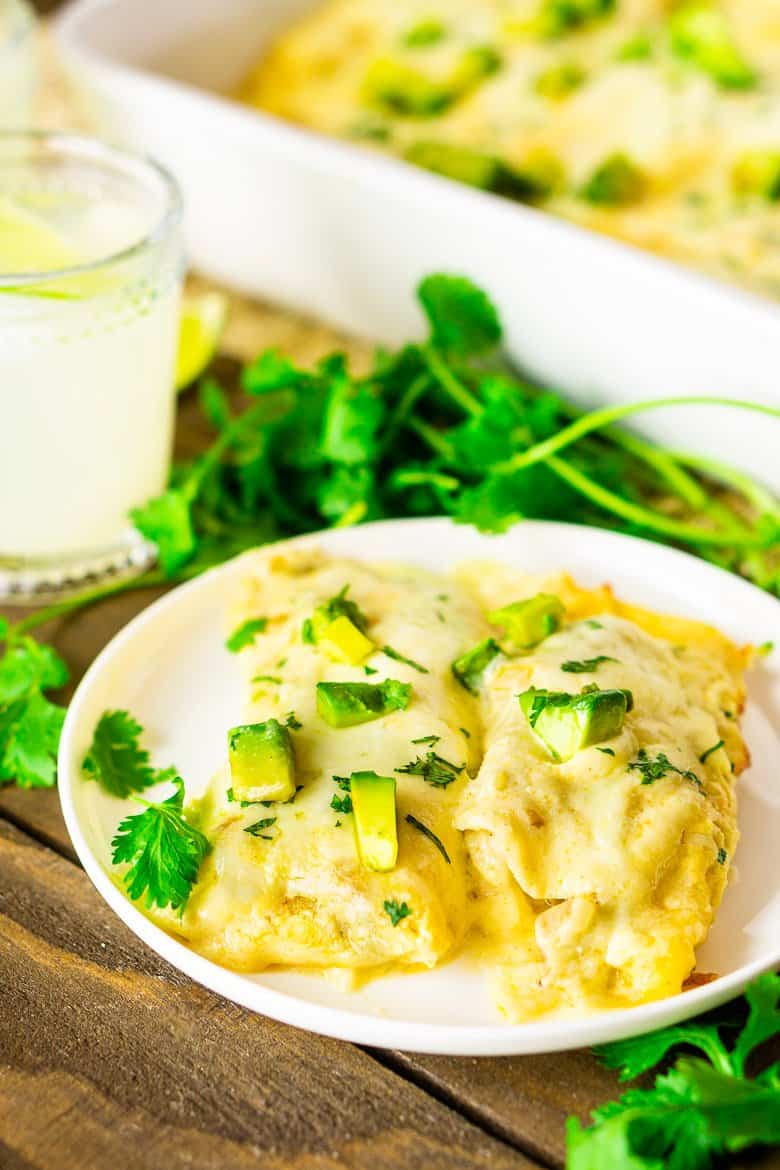 Need Some More Tex-Mex Ideas?
Print
Jerk Chicken Enchiladas With Habanero-Sour Cream Sauce
---
Author:

Prep Time:

40 minutes

Cook Time:

20 minutes

Total Time:

1 hour

Yield:

8

enchiladas

1

x
Description
For those times you crave Tex-Mex with a little island flair, these jerk chicken enchiladas are just what you need. Lightly fried corn tortillas are stuffed with flavorful jerk chicken and plenty of cheese, smothered with a creamy habanero sour cream sauce and then baked to perfection. Serve with a refreshing margarita and you have yourself one festive meal that's sure to please.
---
1 tablespoon canola oil, plus more for frying
½ cup chopped onion
1 habanero, stem removed, seeds and membrane left intact, chopped
3 garlic cloves, minced or grated
3 tablespoons flour
3 tablespoons butter
2 cups chicken stock
1 cup sour cream
8 corn tortillas
3 cups Monterey Jack cheese, shredded, divided
1 ½ cups shredded jerk chicken or regular shredded chicken generously sprinkled with dry jerk seasoning
Toppings of your choice, e.g., jerk salsa (highly recommended), cilantro, avocado, red onion
---
Instructions
In a skillet over medium heat, cook chopped onion and chopped habanero with seeds until softened, about four to five minutes. Add garlic and cook for about 30 seconds, stirring constantly.
Whisk in flour and butter and cook until the flour flavor cooks out, about two to three minutes, whisking constantly. Slowly pour in chicken stock and whisk until smooth. Bring to a simmer and cook until thickens, about five minutes. Take off heat and stir in sour cream until smooth.
Heat oven to 375 degrees. Spread about half a cup of the habanero-sour cream sauce  on the bottom of a greased baking dish. Set the rest of the sour cream sauce aside.
Add enough oil to cover the bottom of a clean skillet and heat over medium-high heat until shimmering. Place a corn tortilla in the oil and cook for 30 seconds. Flip and cook for another 30 seconds. While the corn tortilla is still warm, spoon in jerk chicken and cheese. Roll and place seam-side down in the baking pan. Repeat with all tortillas. If necessary, add more oil to the skillet.
Top the enchiladas with the remaining habanero-sour cream sauce and cheese. Bake for 20 minutes. Remove from oven, cover with foil and let sit for about 10 minutes to set and prevent the enchiladas from falling apart when serving. Garnish with desired toppings. Enjoy!
Notes
For full tips, please see blog post.
Nutritional information is only an estimate. The accuracy of the nutritional information for any recipe on this site is not guaranteed.
Category:

Main Dish

Method:

Oven

Cuisine:

Tex-Mex
Nutrition
Serving Size:

2 enchiladas

Calories:

827

Sugar:

3

Sodium:

786

Fat:

25

Saturated Fat:

0

Unsaturated Fat:

0

Trans Fat:

0

Carbohydrates:

40

Fiber:

0

Protein:

24

Cholesterol:

184
Keywords: jerk chicken enchiladas, chicken enchiladas with sour cream sauce