For the perfect combination of sweet and spicy flavors, you have to try this easy mango-habanero salsa recipe! Made with juicy mango, fresh ginger, spicy habanero and bright lime juice, this is the ultimate fruit salsa, and it comes together in less than 20 minutes. You'll want to snack on this fruity salsa all summer long.
Jump to:
Why You Need to Make This Recipe
Warm nights call for leisurely meals on the patio, and I can't think of a better way to spend the evening than enjoying this salsa with a refreshing margarita on the side. You'll love this vibrant mango-habanero salsa.
Summer in a bowl: Every bite is full of fresh, tropical flavor. You'll think you're on the beach enjoying a big bowl of salsa.
No cooking required: All we do is chop and blend.
Ridiculously quick and easy: Make entertaining a breeze with this chunky salsa that requires no advanced skills or hours upon hours to prepare -- it's truly one easy recipe. Plus, it only requires a handful of ingredients.
Ultra versatile: Serve it as a dip or use it to top your favorite Mexican dishes.
Related: For another fruity dip, try my pineapple pico de gallo!
Ingredients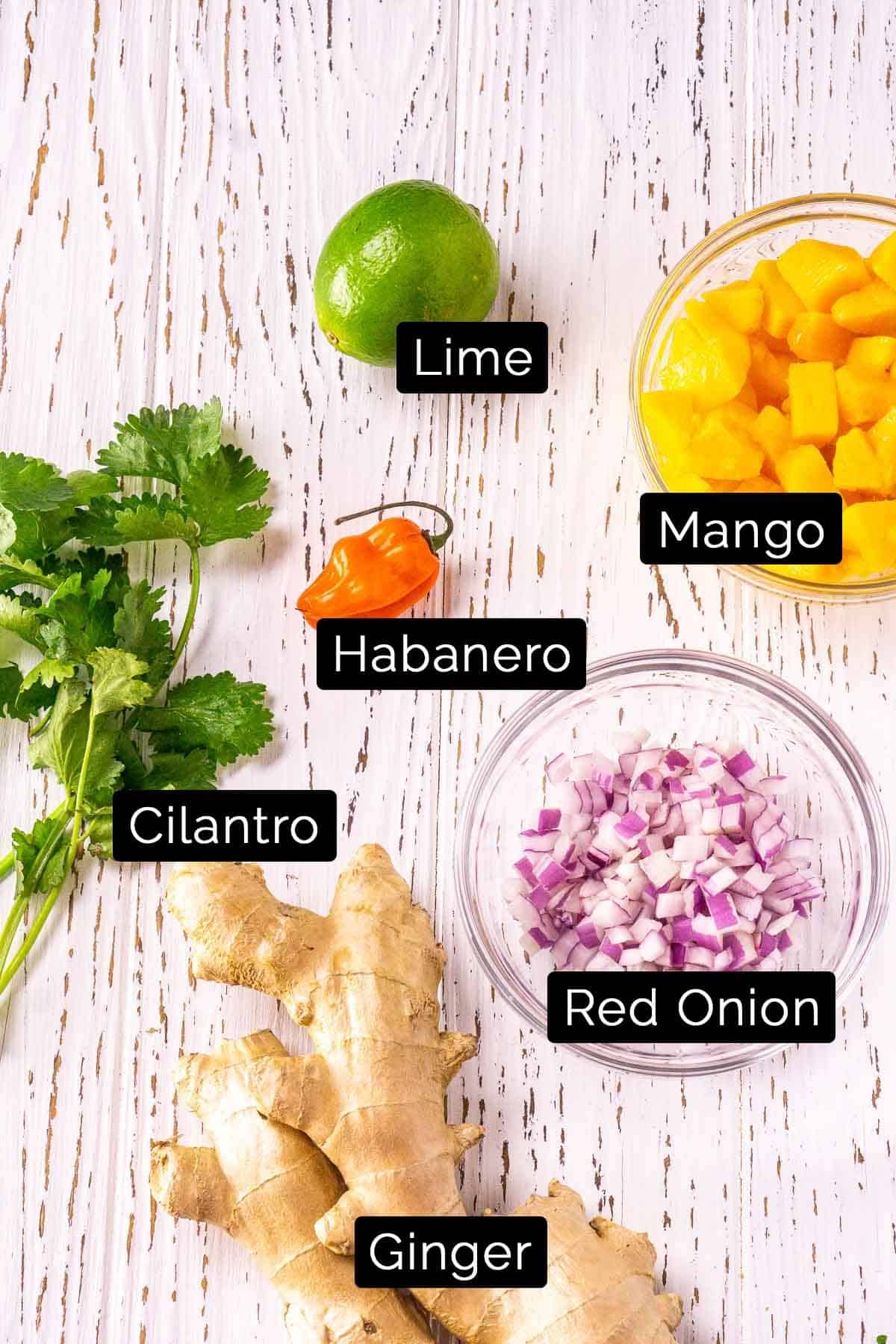 If you've made salsa, these ingredients should all be familiar. Let's chat about these simple, fresh ingredients to prepare the best homemade mango-habanero salsa.
Ripe mangoes: We want to make sure our mangoes are nice and ripe. An unripened mango will be hard and flavorless. Alternatively, frozen mango works well too.
Ginger: This is my secret ingredient for an extra delicious fruit salsa. Like in my tropical pico de gallo, fresh ginger gives a fruit salsa a wonderful spice character with a slightly peppery and sweet touch. For best results, adding fresh ginger to your fruit salsa is the way to go.
Red onion: A red onion is much milder than a yellow or white onion, and the flavor goes better with tropical fruits. Save the yellow and white onions for a traditional salsa.
Lime juice: Make sure you use fresh lime juice specifically. The bottled juice isn't as bright. Since we're only working with a few ingredients, quality is important.
Cilantro: Like the lime juice, we need fresh cilantro, not the dried variety.
Step-by-Step Instructions
Let's walk through how truly simple it is to make your own spicy mango-habanero salsa recipe with these easy steps.
Step 1: We begin by adding the mango chunks to a food processor (photo 1) and pulse it until it reaches our desired consistency (photo 2). I don't like soupy salsa, so I just pulse it until it reaches a nice and chunky texture, but you do you. This is our mango-habanero salsa base.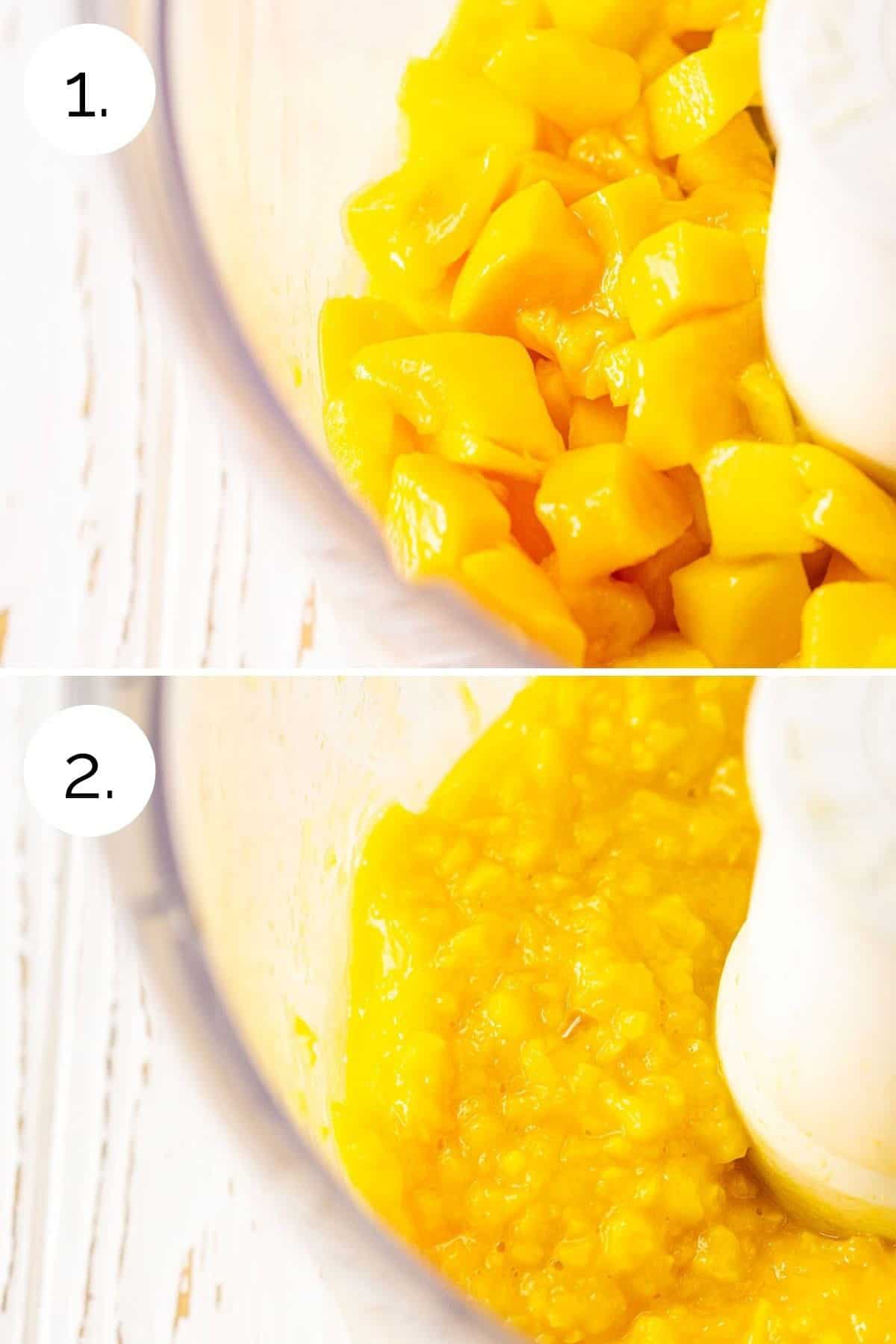 Step 2: Now we move the processed mango to a large bowl and add in the remaining ingredients, including our habanero, fresh ginger, lime juice, cilantro and a touch of salt (photo 3).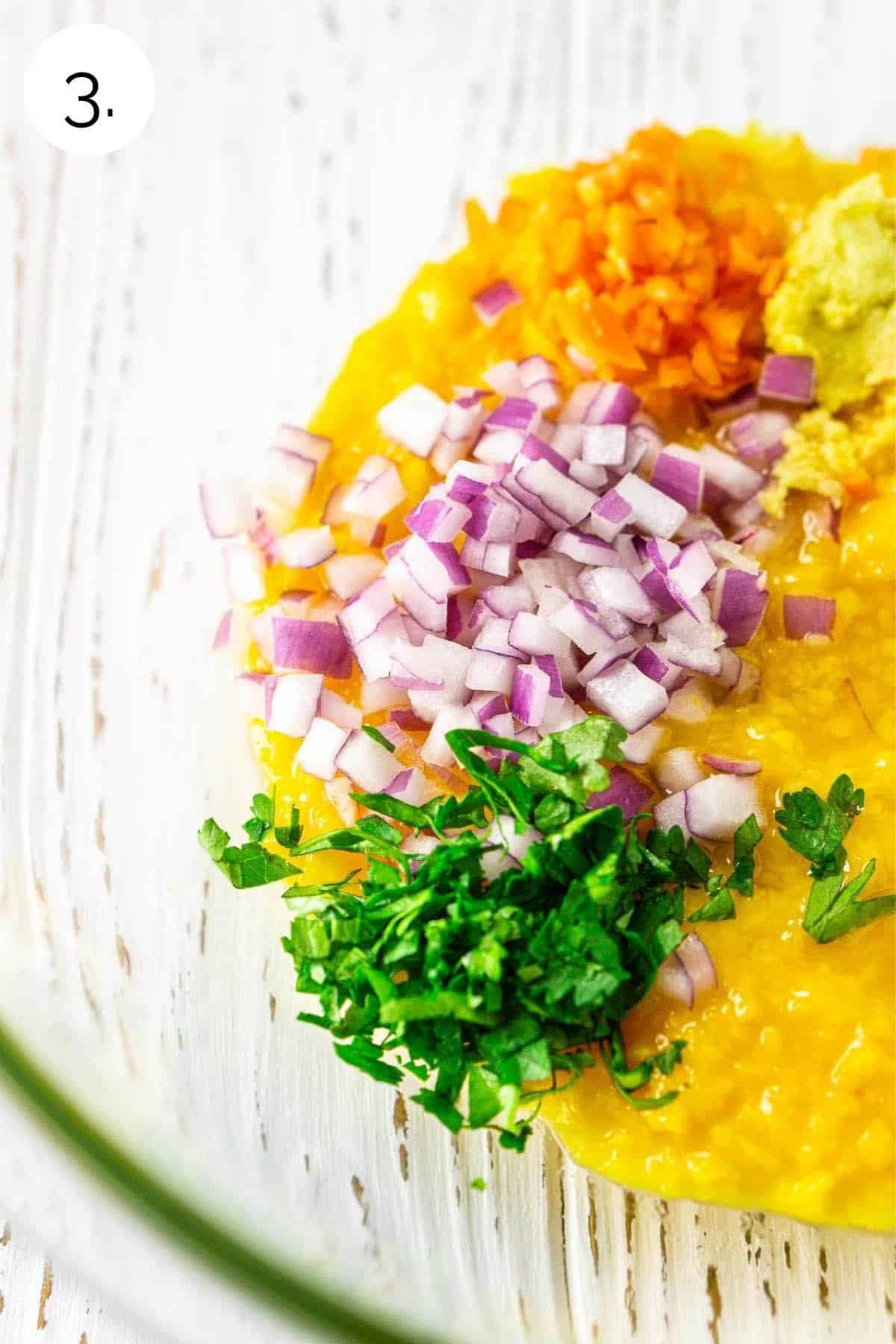 Step 3: We simply stir until it's all combined (photo 4).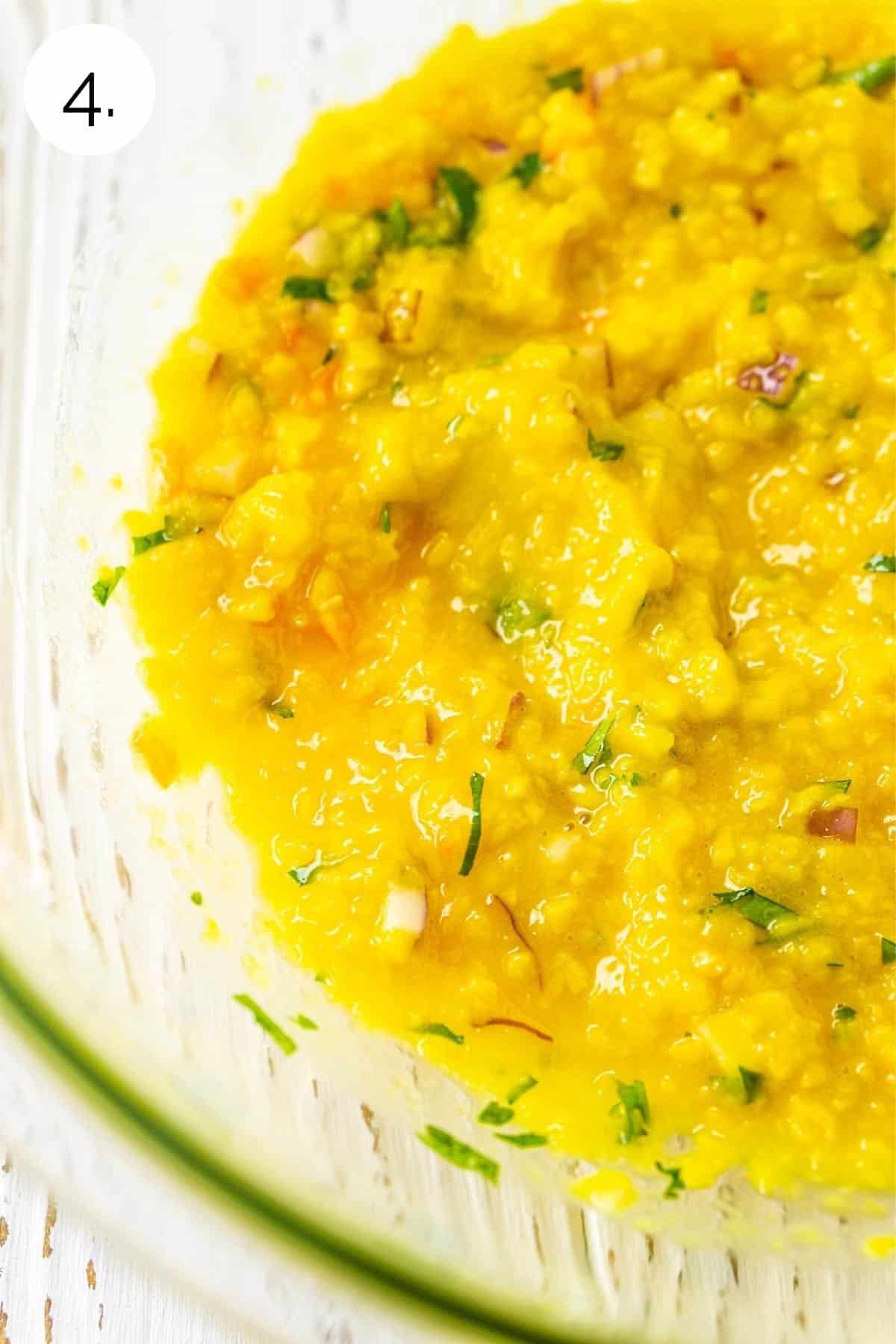 And that's it! See? Making a homemade fruit salsa doesn't get easier. Now grab some chips and a drink -- say my mango mojito or jalapeño-mango margarita -- and enjoy the evening. You'll just love how the mango's sweet flavor plays with the habanero chile.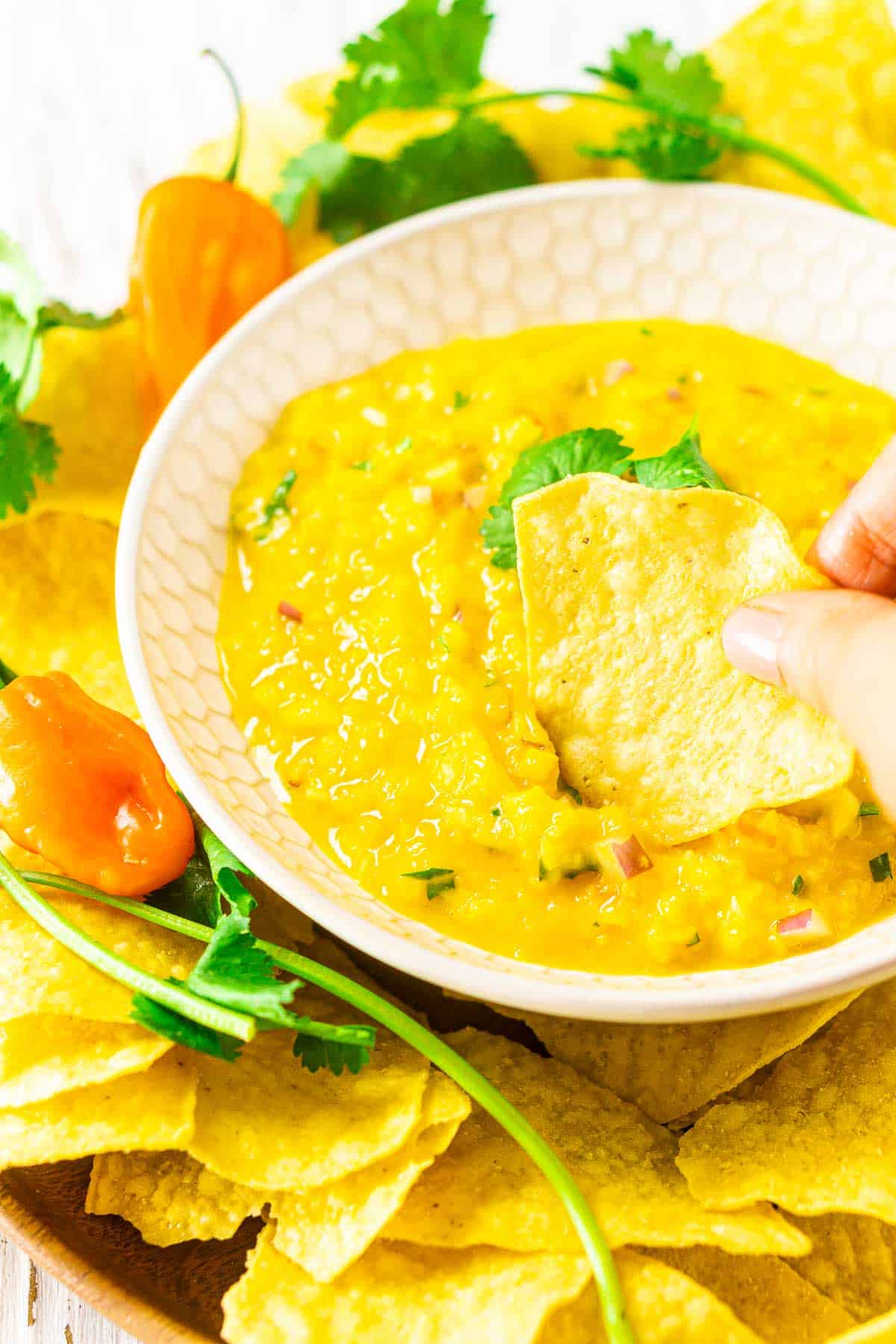 How to Serve
If you're simply serving this fresh mango salsa as an appetizer, tortilla chips are great, but you can get extra fancy and sprinkle your chips with a little chili powder and lime juice. Cinnamon-sprinkled chips are also popular with fruit salsa, and the cinnamon pairs beautifully with the ginger and hot peppers.
But that's not all. This habanero mango salsa recipe is also delicious on top of all sorts of Mexican dishes, especially lighter fare like chicken, pork and seafood. Think blackened fish tacos or lobster tacos, chicken enchiladas, grilled shrimp fajitas or jerk pork nachos.
And if you're looking for another appetizer, my mango-habanero chicken wings are an obvious flavor match. It doesn't get better than a platter of salsa and wings.
Recipe FAQs
Are habaneros spicy?
On the Scoville scale, which measures the heat of chile peppers, the habanero comes in at the extra-hot zone with a rating of 100,000–350,000 Scoville heat units, or SHU. Despite the hot rating, this salsa won't burn your tongue off. We use enough to keep it spicy without going overboard. That said, you're certainly more than welcome to use more habanero if you can't get enough heat.
Can you use frozen mango for salsa?
Absolutely — I've made this salsa with frozen mangoes, and it turned out delicious. In fact, these images feature frozen mango. Fruit is frozen at its peak ripeness, so it will still have great flavor. Sometimes the mango selection at the grocery store can be sparse with only unripened mangoes. Frozen mango is a great substitute in that case.
How can you tell if a mango is ripe?
Similar to an avocado, give the mango a gentle yet firm squeeze, and if it yields to pressure, it's ripe. You may also notice a fragrance coming from the fruit. If the mango is squishy, it's overripe, and you should discard it.
How long will mango salsa last in the refrigerator?
Mangoes are best as fresh as possible, so I would only keep this salsa for two to three days in an airtight container. Besides, this salsa with its perfect mix of sweet and spicy flavors is too delicious to last in your refrigerator much longer than that.
Variations
For a little extra crunch, add a finely chopped red bell pepper to this chunky mango-habanero salsa. While I think this salsa is perfect as is, bell peppers also work well with fruit salsa.
Play around with your favorite chile peppers. Sweet mango pairs beautifully with spicy habanero peppers, but you could also use a serrano pepper, jalapeño peppers or even scotch bonnet peppers for a Caribbean flair. These three spicy pepper varieties are all delicious.
Swap different tropical fruits to make your own unique fresh salsa. A peach-habanero salsa, for instance, would be tasty too.
As you can probably tell from the photos, I prefer a chunkier salsa, but you're welcome to process the mango until it reaches a thinner consistency. Do what suits your taste.
Expert Tips
Adjust the heat level: While heat is subjective, I consider this a mild to medium salsa, depending on the heat of the habanero you use. For an extra spicy kick, you can add another habanero pepper. Just keep in mind what spice level anyone else snacking on this salsa can tolerate. If they prefer more of a mild heat, one habanero is plenty, and you'll still have a flavorful salsa.
For easier grating: To grate the ginger, I recommend first peeling it and then freezing it. Frozen ginger grates like a dream with a microplane grater. I love to always keep ginger in my freezer, so I have it on hand, but it doesn't take long to freeze if you don't have any in stock.
Wear gloves: I recommend you wear rubber gloves while handling the habanero. If you don't, wash your hands well, and give it time before you touch your eyes. The chile oil can stay on your fingers for a good while.
Work more efficiently: To get the most out of your lime, I recommend firmly rolling it on the countertop first. This helps get the juice moving.
Turn salsa into a pico de gallo for versatility: Don't have a food processor? You can dice the mango into ½-inch chunks instead and mix with the rest of the ingredients. This will technically be a mango pico de gallo, but you can use it just as you would a salsa.
Perfect Pairing
I love a refreshing blonde ale with this fresh mango salsa. Not only do blonde ales make wonderful palate cleansers to balance the spice, this light, bubbly beer is a classic pairing with fruit. However, if you'd like to accentuate the spice, you can pair this salsa with a hoppy IPA.
Looking for a wine pairing option? A gewürztraminer is perfect with a spicy habanero salsa. This German wine comes with a residual sweetness that counters the spice. We also get some tropical fruit notes that are delightful with our mango and fresh ginger.
And, of course, we're talking salsa here, so a tequila cocktail isn't a bad idea. Try my tequila sour or triple citrus tequila smash. Or if you're a margarita lover, you'll enjoy my Cadillac margarita, raspberry-peach margarita, blueberry margarita or fresh blackberry margarita.
When you need a fruity, tropical salsa, I hope you try this easy mango-habanero salsa. Just make sure you get plenty of your favorite tortilla chips because you won't be able to stop dipping!
Cheers!
Need More Salsa Recipes?
If you love this recipe, please leave a comment with a five-star rating — or simply hit the five-star button in the recipe card. Don't forget to sign up for my newsletter, and you can follow me on Facebook, Instagram, Pinterest and TikTok.
📖 Recipe
Mango-Habanero Salsa
For the perfect combination of sweet and spicy flavors, you have to try this easy mango habanero salsa recipe! Made with juicy mango, fresh ginger, spicy habanero and bright lime juice, this is the ultimate fruit salsa, and it comes together in less than 20 minutes. You'll want to snack on this fruity salsa all summer long.
Print
Pin
Rate
Equipment
Food processor

Mixing bowl

Citrus juicer

Microplane grater

Cutting board
Ingredients
3

cups

diced mango

frozen or fresh (see note)

1-2

habanero peppers

stem removed and chopped (see note)

½

lime

juiced

¼

cup

finely diced red onion

1

tablespoon

grated fresh ginger

1

tablespoon

finely chopped cilantro

½

teaspoon

salt
Instructions
Add the diced mango to a food processor. Process until the mango reaches your desired consistency for a salsa.

Move the processed mango to a mixing bowl. Add the habanero pepper, lime juice, red onion, grated fresh ginger, cilantro and salt. Stir to combine.

Store in an airtight container and chill until ready to serve. While you can eat it right away, I like to give it a few hours to allow the flavors to meld. Enjoy!
Notes
For the mangoes, 3 cups of diced mangoes is approximately the equivalent to three to four fresh mangoes or 1 pound of frozen mango. If using frozen mango, thaw first.
One habanero pepper gives you a mild to medium salsa, depending on the individual pepper's heat. If you'd like a spicier salsa, I recommend starting at one pepper, taste and then decide if you need to add another. Keep in mind, the heat develops as it sits in the refrigerator.
I recommend wearing gloves when handling the peppers as it can irritate the skin. If you do not have gloves, make sure you wash your hands very well before touching your eyes. The pepper's oil can really stay on your skin.
To easily grate ginger, I like to peel it, freeze it and then use a microplane grater. Frozen ginger grates like a dream, though you can grate it unfrozen. I keep it in my freezer at all times to have on hand, but it doesn't take long for it to freeze if you don't have any at the moment.
Pick a lime that has some give when you squeeze it and firmly roll it on the counter before juicing. This helps ensure you maximize your lime juice output.
Store in an airtight container in the refrigerator for two to three days.
Nutritional information is only an estimate. The accuracy of the nutritional information for any recipe on this site is not guaranteed.
Nutrition
Serving:
2
tablespoons
|
Calories:
19
kcal
|
Carbohydrates:
5
g
|
Protein:
1
g
|
Fat:
1
g
|
Saturated Fat:
1
g
|
Polyunsaturated Fat:
1
g
|
Monounsaturated Fat:
1
g
|
Sodium:
73
mg
|
Potassium:
54
mg
|
Fiber:
1
g
|
Sugar:
4
g
|
Vitamin A:
336
IU
|
Vitamin C:
12
mg
|
Calcium:
4
mg
|
Iron:
1
mg