Life hack: You can never have too many margarita recipes. Maybe you're feeling simple one day and want to kick back with a classic margarita. Another day, you might need to pretend you're on a tropical island, and a coconut margarita hits the spot. Believe me. I've had those days. Or maybe you're in the mood for something fun and fruity, and this raspberry-peach margarita is just what you need.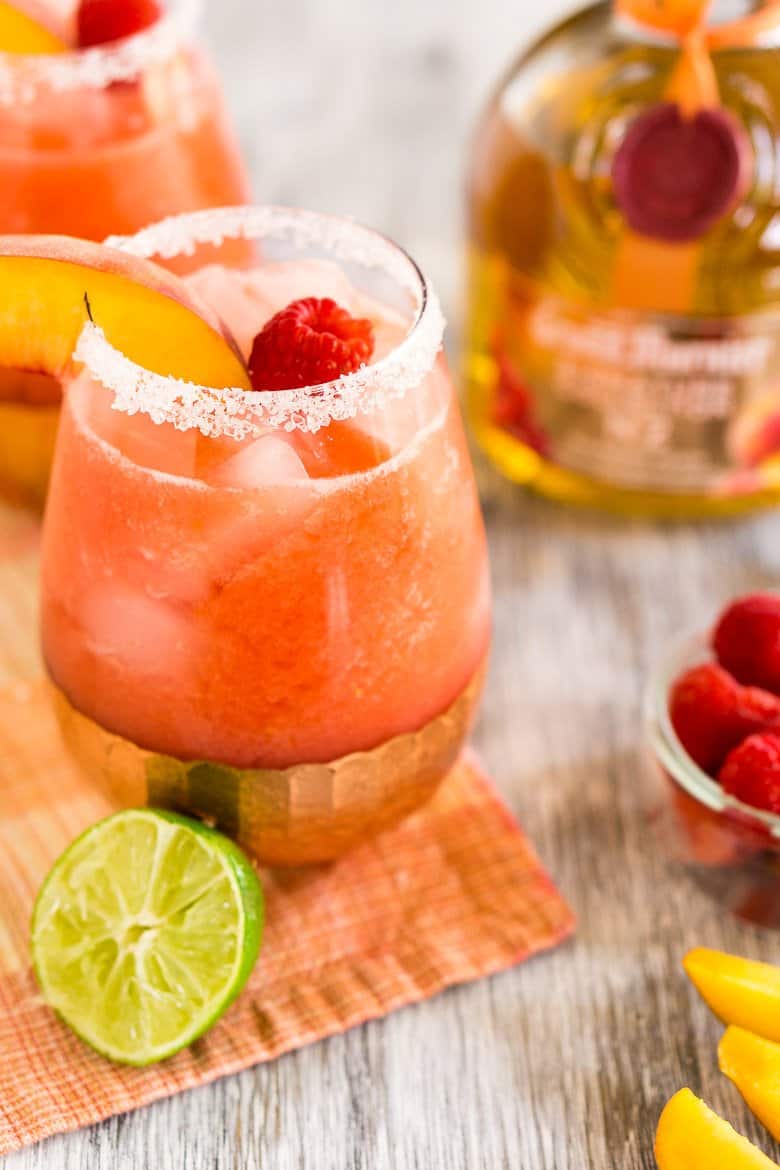 A margarita lends itself to so many delicious fruit combinations, but I especially love the marriage of raspberry and peach. Raspberry gives it an extra boost of tartness, which is perfect with the freshly squeezed lime juice, and then the peach comes in with its sweet kick to round it out. Tart and sweet -- just what you need for a margarita, right? Right.
Step-by-Step Instructions
All right, let's chat about ingredients. Tequila? Obviously. Freshly squeezed lime juice? You bet. Along with the usual suspects, this margarita uses fruit puree. If you've tried my roasted strawberry margarita, you already know I love using fruit puree in my cocktails. Fruit puree gives this raspberry-peach margarita a touch more body without being too heavy. I dig it.
Rather than triple sec, I use Grand Marnier Raspberry Peach in this recipe for an extra fruity boost. I love Grand Marnier in my margaritas, so when I saw this sitting pretty on the shelf, I knew I needed to add it to my collection. And that lovely pinky-peachy color? Swoon.
To make this raspberry-peach margarita, we start by blending together raspberries and peaches. Fresh or frozen fruit works just fine. In fact, if you stumble upon this post in the dead of winter, frozen fruit is probably the better call. Now, I don't mind raspberry seeds floating around my drink. For me, it adds to the fun. But if you aren't into raspberry seeds, push the fruit puree through a fine mesh sieve and toss the seeds.
Add the seeded or seedless puree to a cocktail shaker along with freshly squeezed lime juice, tequila and Grand Marnier Raspberry Peach. I like simple syrup in my classic margaritas, but it's hit or miss for me when it comes to fruity margaritas. The fruit adds its own sugar, so it's not always necessary. I recommend mixing up a batch without the simple syrup and then give the margarita a taste. If you'd like it a little sweeter, you can add the simple syrup directly in your glass.
Now add a handful of ice, put on the top and shake vigorously for 15 seconds. If you'd like, run a lime slice around the rim of your glass and press the rim into a mixture of sea salt and sugar. You're now ready to sip a fun and fruity margarita, and who doesn't love that?
Perfect Pairing
With the sweet peaches and tart raspberry and lime, this margarita goes perfectly with a Brie quesadilla. Peaches and Brie always make such a nice combination of flavors, and the acidity you get from the raspberries and lime contrast the richness from the cheese. If you'd like to add some protein to your Brie quesadilla, shrimp or chicken are both delicious.
The next time you find yourself in need of a cocktail, I hope you give this raspberry-peach margarita a try. This margarita is just what you need when something fun, fruity and tart calls to you. If you try this recipe, please leave a comment to let me know your thoughts, and don't forget to sign up for my newsletter.
Cheers!
Here for Some Fruity Cocktails?
Print
Raspberry-Peach Margarita
---
Author:

Prep Time:

5 minutes

Total Time:

5 minutes

Yield:

1

drink

1

x
Description
This raspberry-peach margarita is loaded with fresh fruit puree, making for one fun and fruity drink. It's perfectly tart with a touch of sweetness.
---
¼ cup peaches, diced
¼ cup raspberries
2 ounces tequila
1 ounce Grand Marnier Raspberry Peach
1 lime, juiced
Ice
1 ounce simple syrup, homemade or store-bought, optional
Sea salt, for garnish, optional
Sugar, for garnish, optional
Lime slice, for garnish, optional
---
Instructions
In a blender, process peaches and raspberries until smooth. If you want to remove the raspberry seeds, push the puree through a fine mesh sieve into a bowl. You can skip this step if you don't mind seeds.
Add puree, tequila, Grand Marnier Raspberry Peach, lime juice and ice to a cocktail shaker. Put on the lid and shake vigorously for about 15 seconds. If it needs sweetening for your taste, add the simple syrup either in the cocktail shaker or directly in your glass.
On a small plate, mix together sea salt and sugar. Run the lime slice around the rim of your glass and dip it into the salt-sugar mixture. Fill the glass with ice and strain the margarita into your glass. Enjoy!
Notes
If making your own simple syrup, simmer the 1 cup sugar and 1 cup water in a small saucepan over medium-high heat. Stir frequently to dissolve the sugar. As soon as the sugar dissolves, remove from heat.
Keywords: margarita, raspberry peach margarita, raspberry margarita, peach margarita