If you want to pretend you're on a tropical escape, do yourself a favor and whip up this sweet and tart coconut margarita! Made with cream of coconut and fresh lime juice, this is one margarita full of tropical flavor. With just one sip, this fruity coconut margarita will trick you into thinking you're sipping refreshing cocktails on a beach getaway.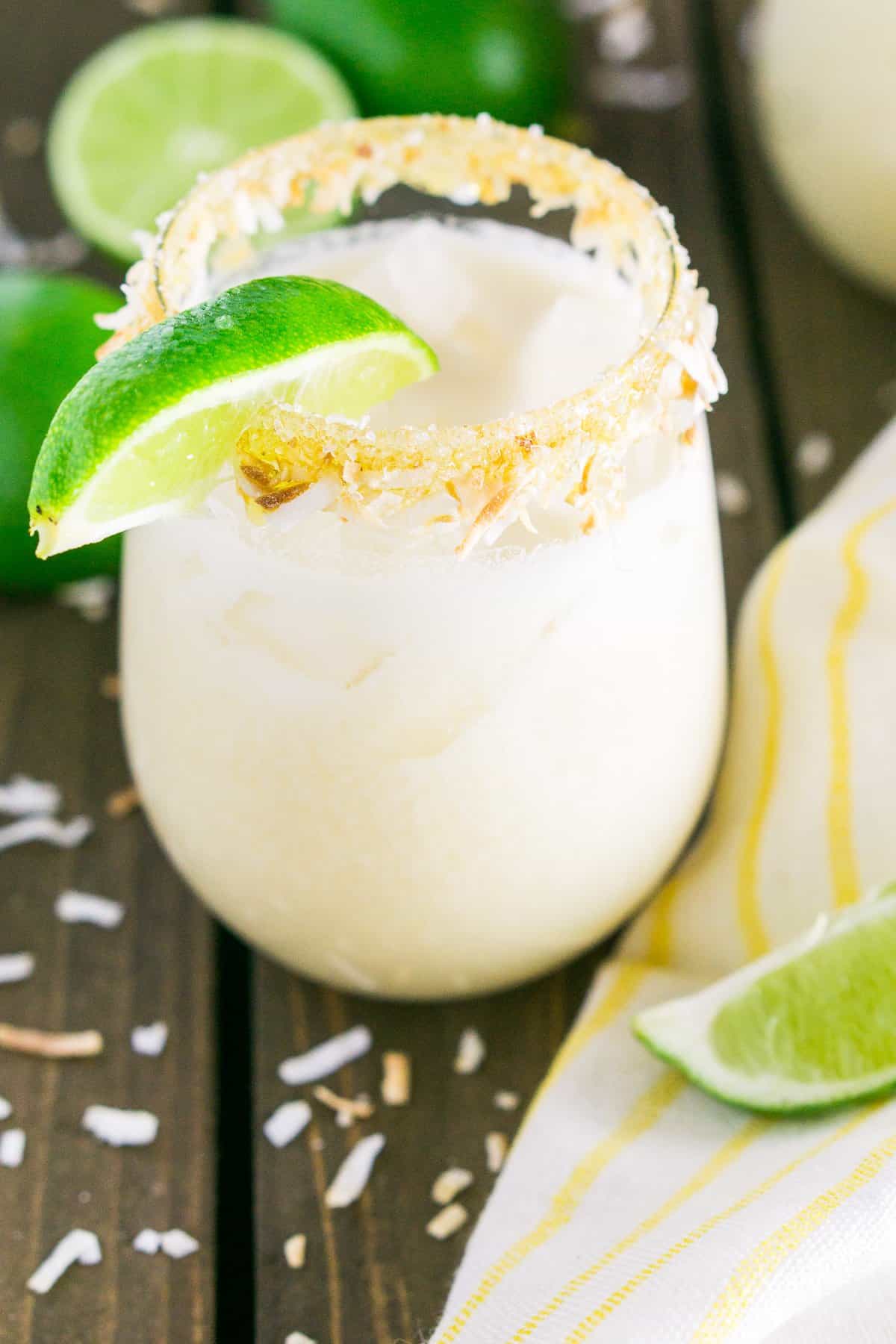 Jump to:
Why You'll Love This Recipe
A tropical take on a classic: I love a classic margarita. In fact, I strongly believe everyone should have a go-to classic margarita recipe that ditches the mix and uses only tequila, orange liqueur, fresh lime juice and a touch of simple syrup if desired.
While it's important to have that baseline for a proper margarita, let's make our hearts happy and have some fun with flavored margaritas. So without further ado, I present this coconut margarita recipe!
Perfect for pool sipping and any outdoor party: If you're somewhere tropical or by a pool, I wouldn't blame you for trying to drink your weight in pina coladas — a noble goal. But why stop at pina coladas? Coconut margaritas bring that same tropical vibe, but served on the rocks, they're not as heavy, which makes them great for pool sipping.
Quick and easy: These tropical margaritas are super easy to whip up. They only require a few ingredients, and you can have this refreshing beach cocktail in hand in under five minutes.
Related: If you can't get enough tropical margarita recipes, you'll also love my pina colada margarita and passion fruit margarita.
Ingredients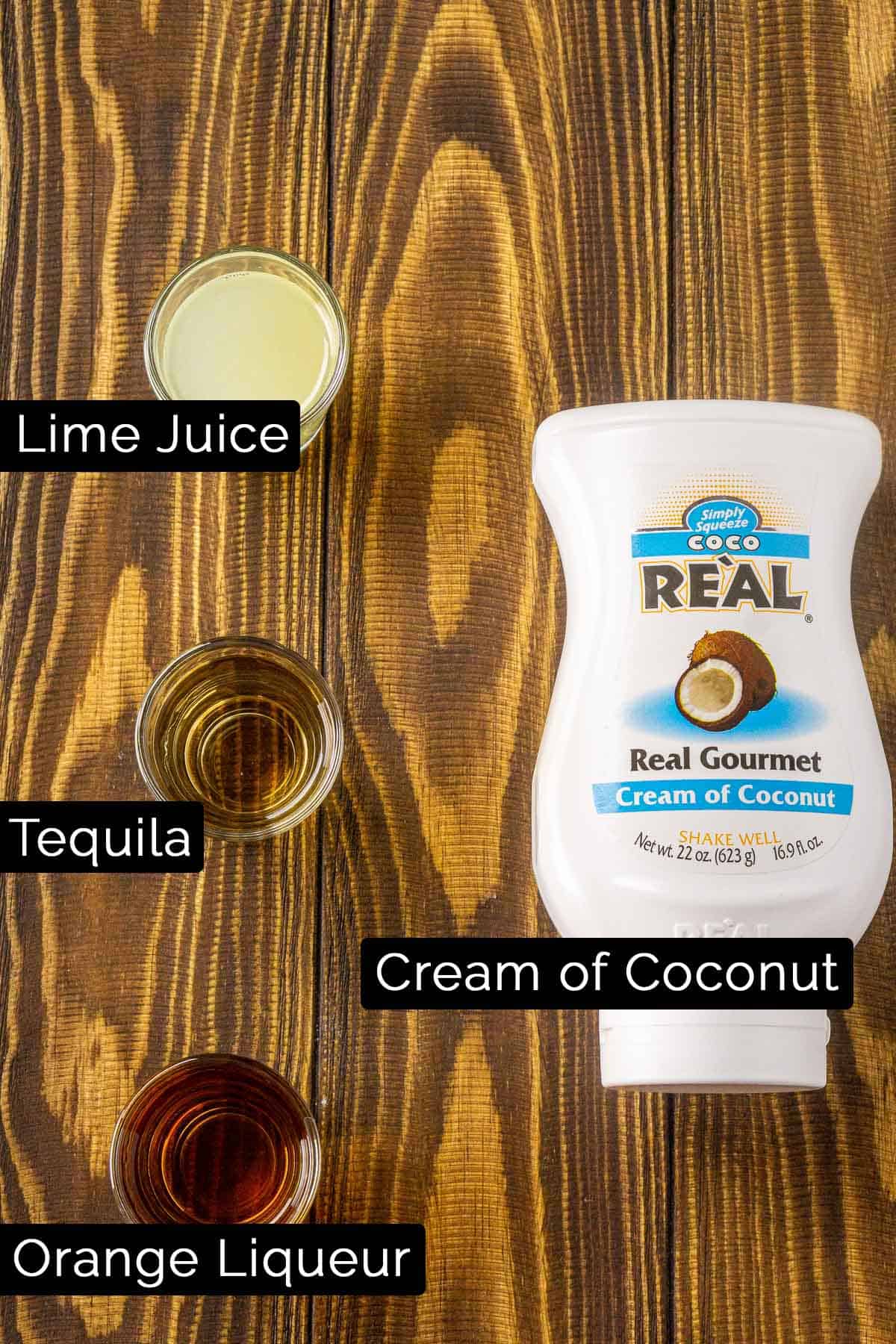 Tequila: I've made this recipe with both reposado tequila and blanco tequila. While you can certainly use either variety, I prefer reposado. This type of tequila ages in oak barrels from anywhere from two to 12 months, which gives it a more nuanced flavor with hints of vanilla. Blanco, also known as white or silver tequila, goes straight into stainless barrels, so we don't get those delicious aging notes.
Cream of coconut: I took the Pepsi Challenge and made these margaritas with both coconut milk and cream of coconut to see how the ingredients compared. Matt and I agreed that cream of coconut was the winner.
Now, the coconut milk was still enjoyable. We certainly finished our drinks without a problem, but the strong coconut flavor wasn't as prominent. Cream of coconut is also one of the classic ingredients in a pina colada, so it gave that exact sweetness I was craving.
Orange liqueur: For a top-shelf margarita, I love Cointreau or Grand Marnier. Triple sec also works well.
Lime juice: Make sure you use freshly squeezed lime juice. The bottled juice is not nearly as bright tasting. The best margaritas absolutely call for fresh juice.
Step-by-Step Instructions
Make the Toasted Coconut Rim
Step 1: For a fun toasted coconut rim, we pour some honey or agave nectar on a small plate and add toasted coconut to another plate. We then dip the rim of the glass in the honey and then swirl it in the toasted coconut flakes (photo 1).
Mix the Margarita
Step 2: Now we add our cream of coconut, tequila, lime juice and orange liqueur to a cocktail shaker (photo 2) and toss in a handful of ice cubes into the mixture.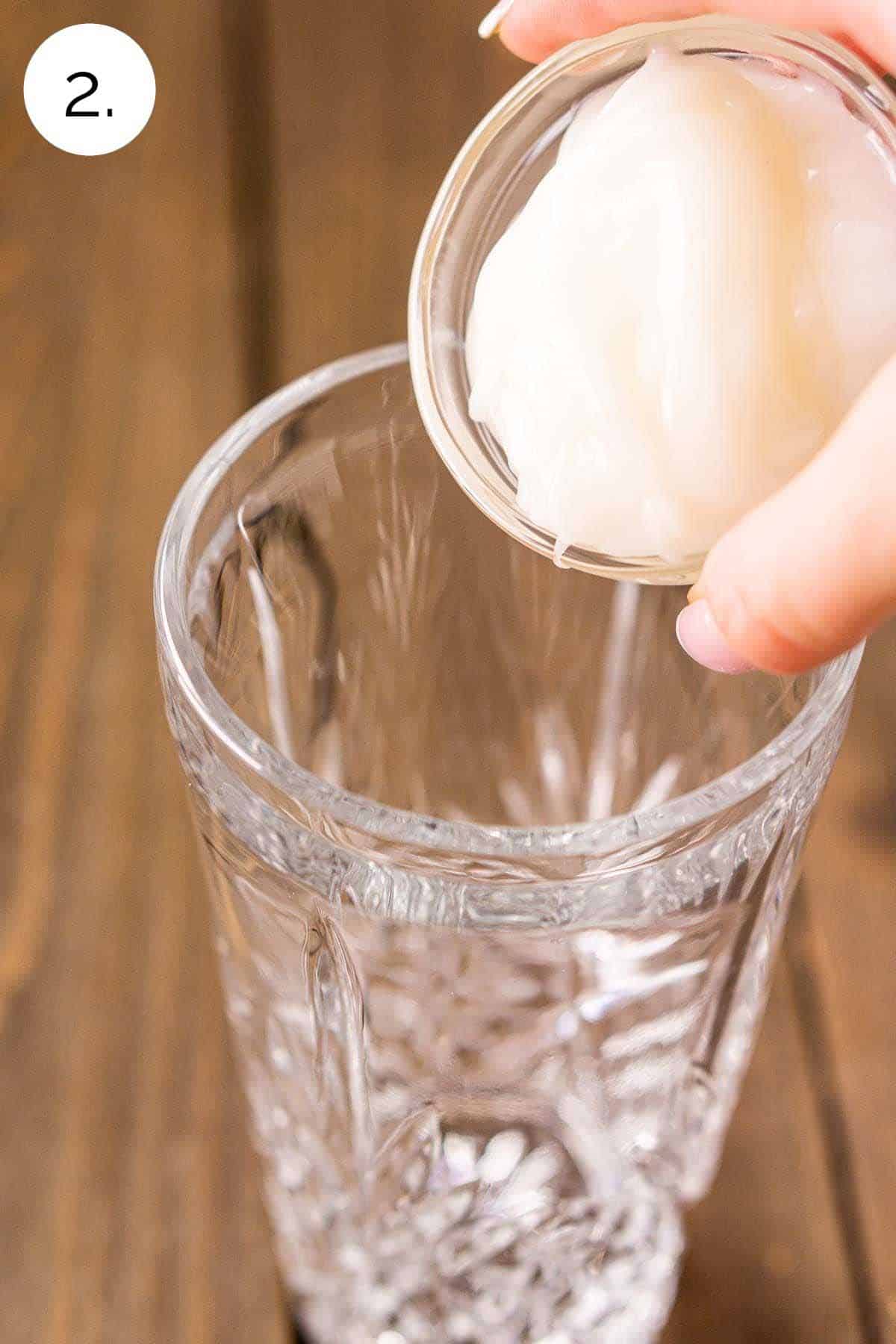 Step 3: We put on the cocktail shaker top and vigorously shake for 15-30 seconds (photo 3).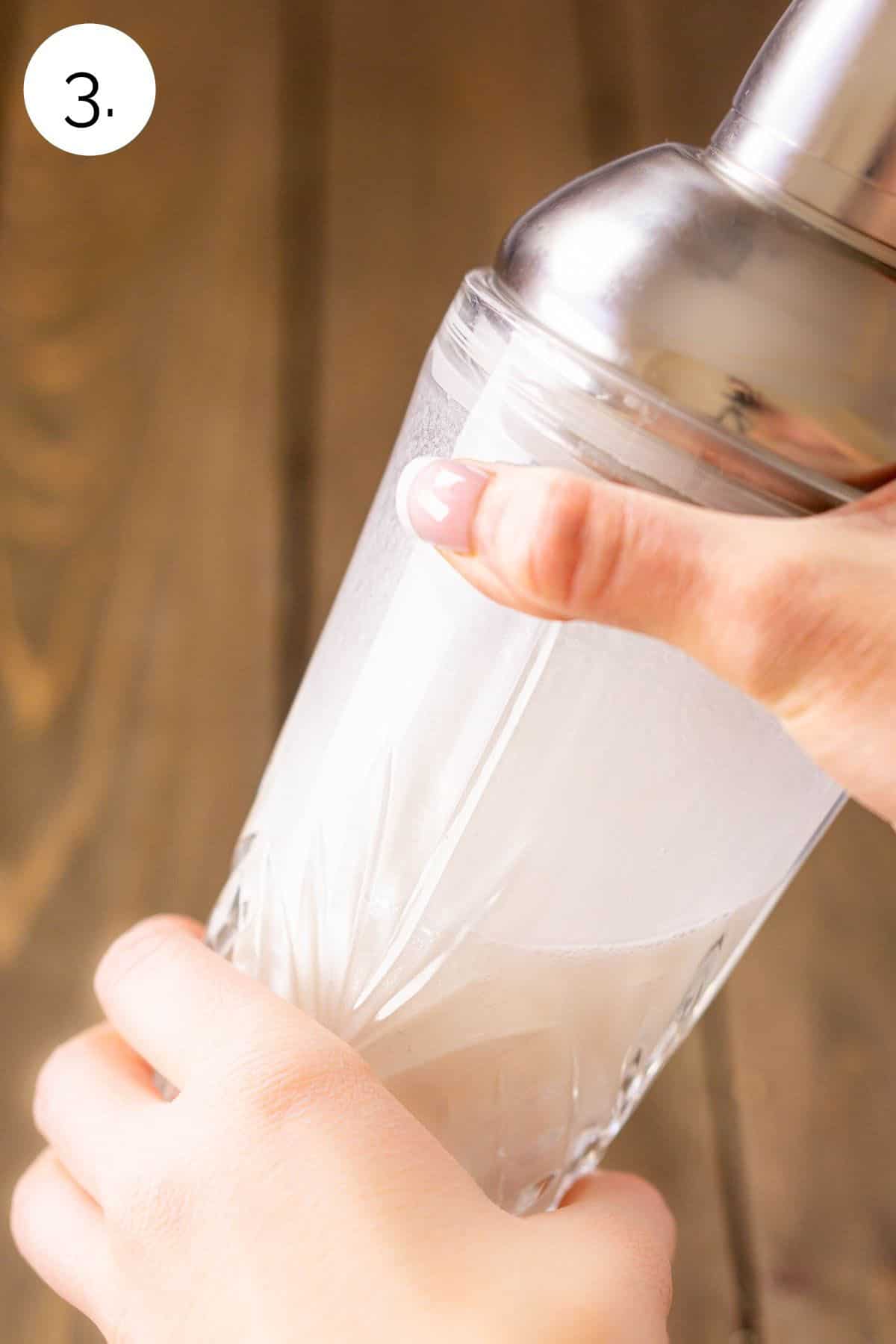 Strain, Garnish and Serve
Step 4: All that's left is to strain our delicious coconut beverage into our glass and garnish with a fresh lime wedge.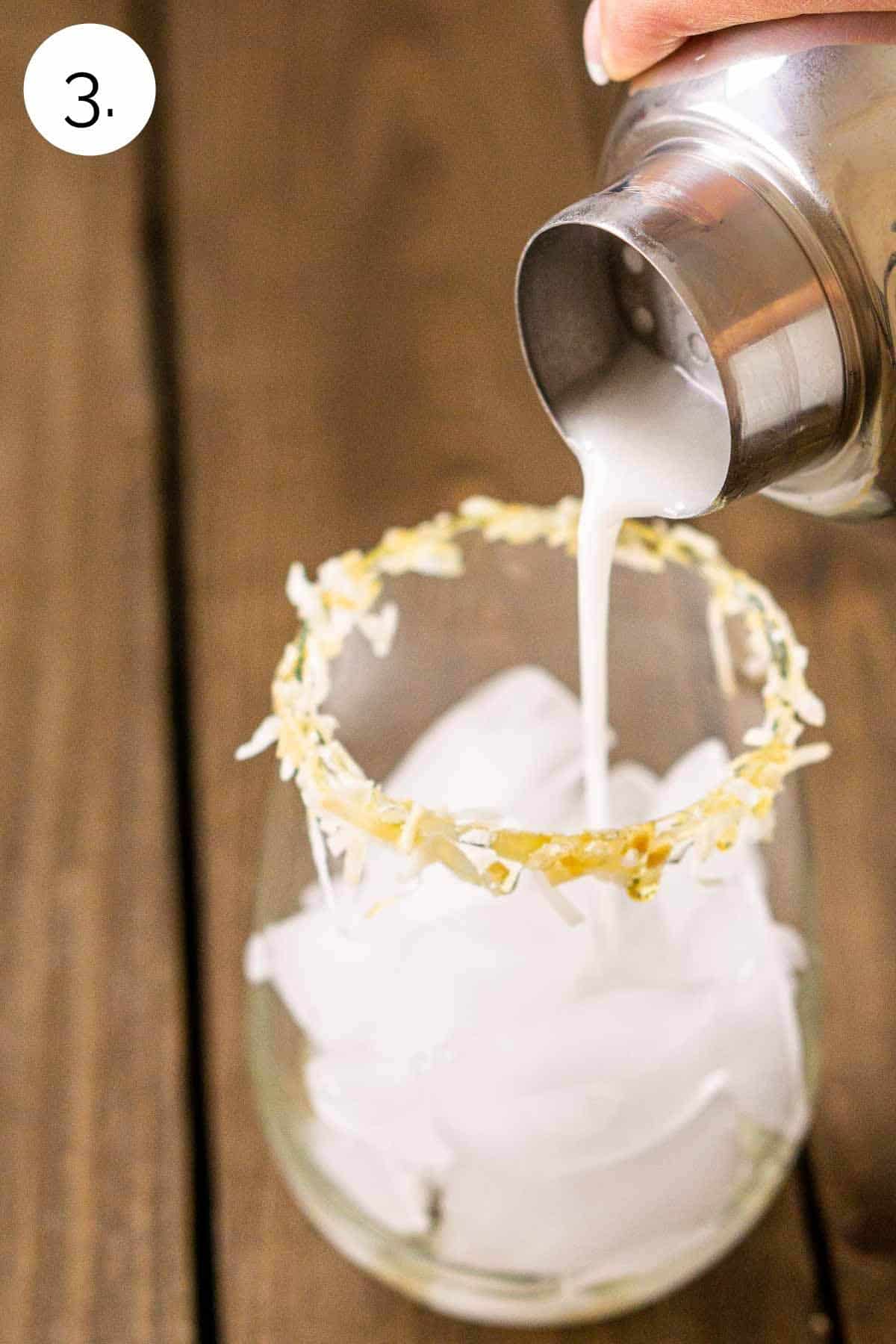 Find a spot on the patio, give it a taste and enjoy those tropical vibes! Delicious, isn't it?
Bonus: For more beachy cocktails, you'll also love my passion fruit martini, Painkiller cocktail and mango mojito.
How to Make a Pitcher of Coconut Margaritas
For your next summer party, you need a pitcher of coconut margaritas ready to go. Here's how to do it.
Simply stir together the tequila, cream of coconut, lime juice and orange liqueur in a large pitcher.
Cover and refrigerate for up to 24 hours. After that, the lime juice starts to lose its brightness.
Stir before stirring since the cream of coconut will settle on the bottom of the pitcher.
While guests can serve themselves from the pitcher, I recommend still shaking each drink. Not only does this better incorporate the thick cream of coconut but it adds the necessary dilution, and it aerates the drink for a nicer texture.
You can find the exact proportions for a pitcher in the notes section of the recipe card.
Recipe FAQs
How do you toast coconut for the rim?
To toast coconut, we add a handful of flakes to a non-stick skillet and turn the heat to medium. We then let the heat work its magic, and the coconut will start to brown after a few minutes. Make sure you periodically shake the pan to keep the coconut from burning. You'll know it's done when it turns fragrant, and some flakes will turn brown.
What if I only have coconut milk instead of cream of coconut?
Although I highly recommend using cream of coconut for this recipe, you technically could use canned coconut milk with 1 ounce of simple syrup. Make sure you shake the canned coconut milk well before using. I do not recommend the refrigerated type of coconut milk that is sold near the dairy alternatives.
How do you choose the best tequila for margaritas?
Look for the best 100% agave tequila that fits your budget. Don't feel like you have to spend a fortunate. A mid-range tequila is perfectly fine.

I'm especially partial to Corralejo, and we always keep a bottle on hand — it's silky smooth at a great price point.
Can you adjust this recipe to make a frozen coconut margarita?
Absolutely. Instead of shaking the ingredients in a cocktail shaker, we add them to a blender with ½-1 cup crushed ice and blend until smooth.

Rather than cubed ice, I definitely recommend crushed ice. It blends much easier to give you a smoother texture.
Can you make this into a mocktail margarita?
Sure, simply substitute the regular tequila for a zero-proof tequila. These days, we have so many more nonalcoholic spirit options, and it's a great way to still enjoy margaritas without the kick.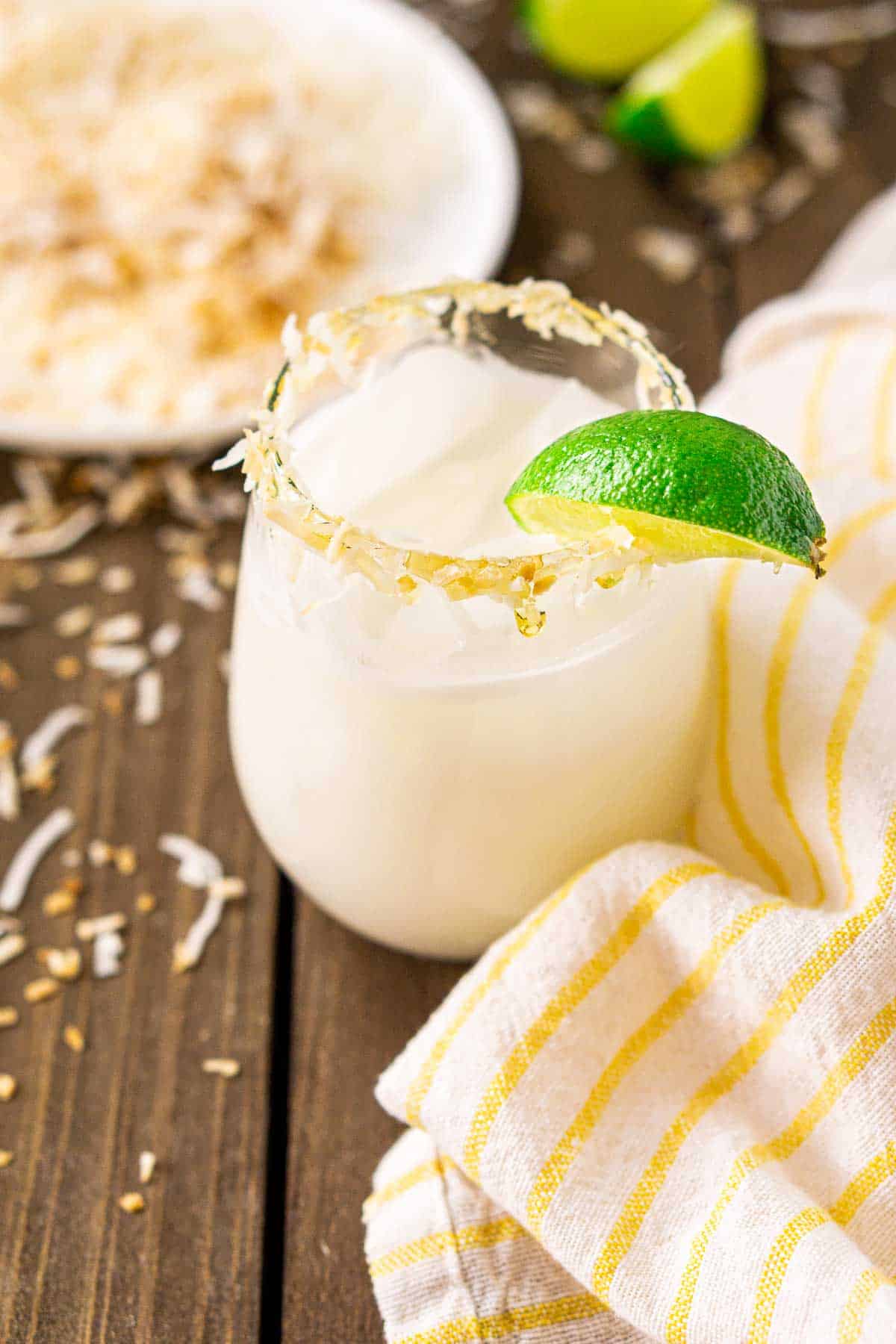 Variations and Substitutions
While I've made this margarita so many times and find it perfect as is, you can absolutely put your own spin on it. Here are a few suggestions.
Give it a spicy kick: Muddle a couple jalapeño slices with the cream of coconut before mixing or use Tajin on the rim.
Add an extra fruity twist: To add a strawberry flavor, for instance, you can muddle some fresh strawberries before mixing.
Use another spirit: Not a big tequila fan? Try this with rum or vodka — I bet you'll love the results.
Expert Tips for Making the Best Margaritas
Make sure you use cream of coconut, not coconut cream: They are very different products. You can generally find cream of coconut near the cocktail mixers, and it comes in either a can or squeeze bottle.
Grab limes that have some give when you squeeze them: If the limes are hard, they're dried out.
Before juicing the lime, firmly roll it on the countertop under the palm of your hand: This helps get the juices flowing.
Adjust sweetness to your taste: Given that I was going for that kind of sweetness you get in a pina colada, I used 3 ounces of cream of coconut. If you don't like your drinks sweet, you may want to tone down the cream of coconut. But if you're like me and dig pina coladas, 3 ounces should be just right.
Perfect Pairing
My tropical pico de gallo with mango, papaya, toasted coconut and fresh ginger is an obvious choice with this coconut margarita. You also love my lobster tacos with mango-habanero salsa with this summery sipper.
If you're craving dessert, my strawberry mojito sorbet is a delicious pairing. You could even throw a scoop of sorbet into your coconut margarita for a fun adult float. And who doesn't love fun adult floats? And, of course, my spiced orange tres leches is the perfect sweet end to a margarita night.
Let's take advantage of this summer weather and make a batch of these coconut margaritas for your next patio dinner. This coconut margarita is everything I love in a summer cocktail, and I hope you love it too.
Cheers!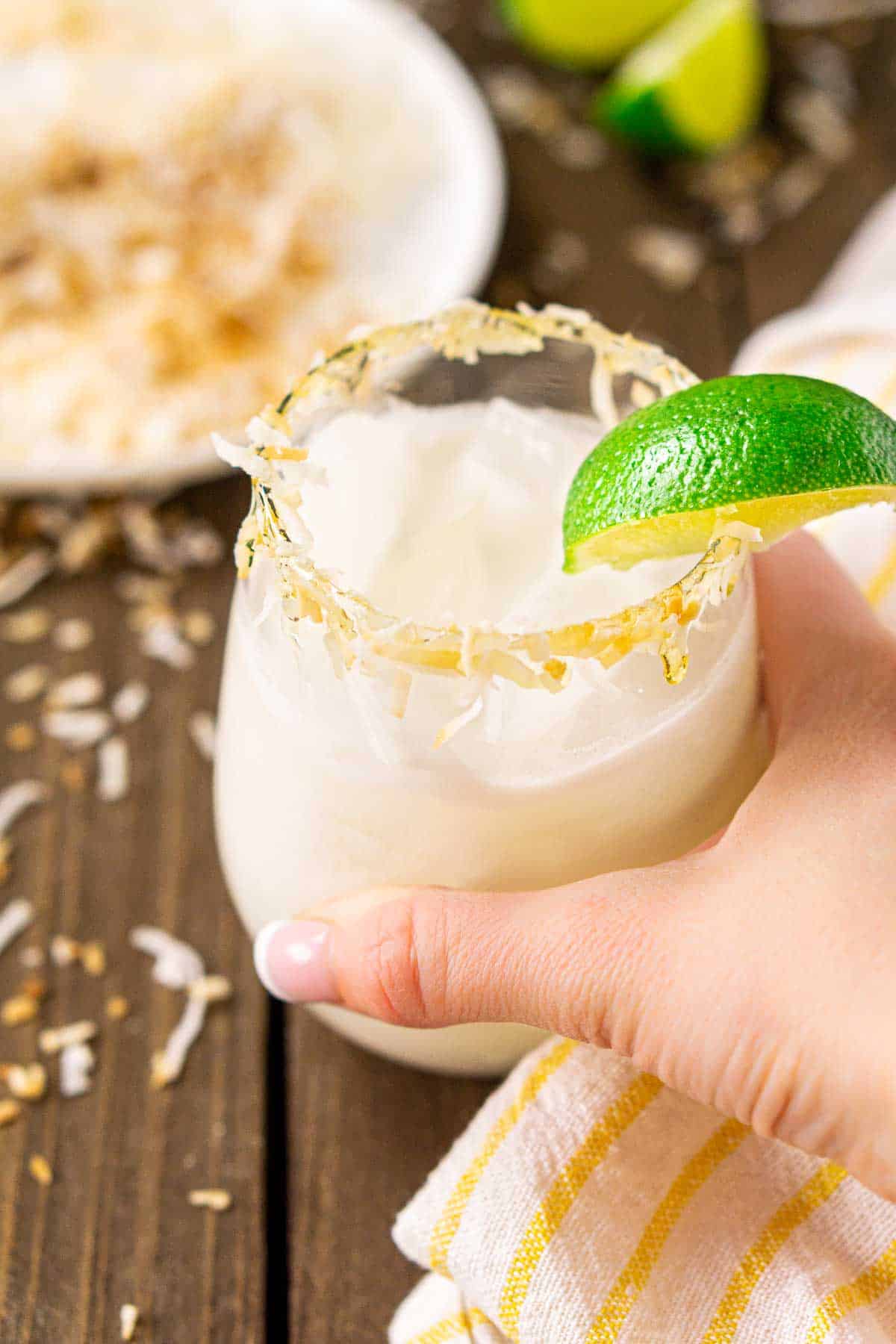 Enjoy More Margaritas
If you love this recipe, please leave a comment with a five-star rating — or simply hit the five-star button in the recipe card. Don't forget to sign up for my newsletter, and you can follow me on Facebook, Instagram, Pinterest and TikTok.
📖 Recipe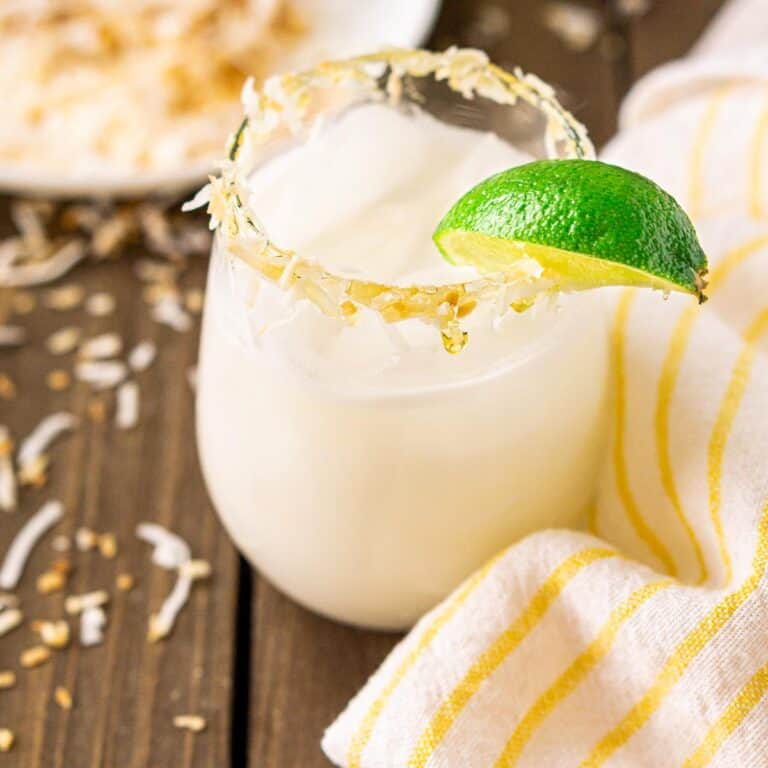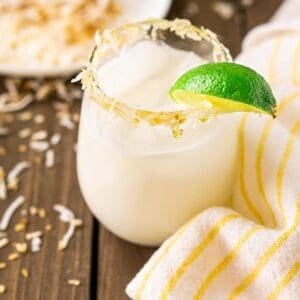 Coconut Margarita
If you want to pretend you're on a tropical escape, do yourself a favor and whip up this sweet and tart coconut margarita! Made with cream of coconut and fresh lime juice, this is one margarita full of tropical flavor. With just one sip, this fruity coconut margarita will trick you into thinking you're sipping refreshing cocktails on a beach getaway.
Print
Pin
Rate
Equipment
Cocktail shaker

Handheld lime juicer

Jigger or small measuring cup
Ingredients
Honey

optional, for garnish

Toasted coconut

optional, for garnish (see note)

3

ounces

cream of coconut

not coconut milk or coconut cream (see note)

2

ounces

tequila

preferably reposado

1

ounce

orange liqueur

preferably Cointreau or Grand Marnier

1

ounce

freshly squeezed lime juice

about 1 lime

Ice

Additional lime slice

optional, for garnish
Instructions
For a garnished toasted coconut rim, spread the honey on a plate and the toasted coconut on another plate. Dip the serving glass in honey and then swirl in the toasted coconut. Set aside.

Pour cream of coconut, tequila, orange liqueur and lime juice in a cocktail shaker. Add a handful of ice. Put the top on the shaker and shake vigorously for about 15-30 seconds.

Strain the shaken margarita into the garnished glass filled with more ice. Garnish with a lime slice. Enjoy!
Notes
Pitcher recipe: For an eight-serving pitcher, stir together 3 cups cream of coconut, 2 cups tequila, 1 cup orange liqueur and 1 cup freshly squeezed lime juice (about eight limes). Refrigerate for up to a day. When ready to serve, stir the pitcher well, pour each drink into a cocktail shaker with ice and shake as you would. Most cocktail shakers can handle two drinks at a time. While you could have guests serve themselves from the pitcher, shaking better incorporates the cream of coconut, adds the necessary dilution and aerates the drink for an improved texture.
There is a difference between coconut milk, coconut cream and cream of coconut. They are all three different products. Cream of coconut is typically found in the grocery aisle with drink mixers. It has a syrup-like consistency.
To toast coconut, add to a skillet over medium heat. Cook until the coconut starts to brown and turns fragrant. Stir occasionally. Remove from heat as soon as it toasts.
3 ounces of cream of coconut makes a drink that's sweet like a pina colada. If you prefer your margaritas less sweet, you might prefer to half the amount of cream of coconut.
Nutritional information is only an estimate. The accuracy of the nutritional information for any recipe on this site is not guaranteed.
Nutrition
Serving:
1
drink
|
Calories:
594
kcal
|
Carbohydrates:
71
g
|
Protein:
1
g
|
Fat:
14
g
|
Saturated Fat:
13
g
|
Sodium:
46
mg
|
Potassium:
43
mg
|
Fiber:
3
g
|
Sugar:
66
g
|
Vitamin A:
14
IU
|
Vitamin C:
9
mg
|
Calcium:
4
mg
|
Iron:
1
mg