Step up your party appetizer game with a new spin on meatballs! These tender, succulent Tex-Mex meatballs come with just the right spice kick and a decadent avocado-crema sauce for your dipping pleasure.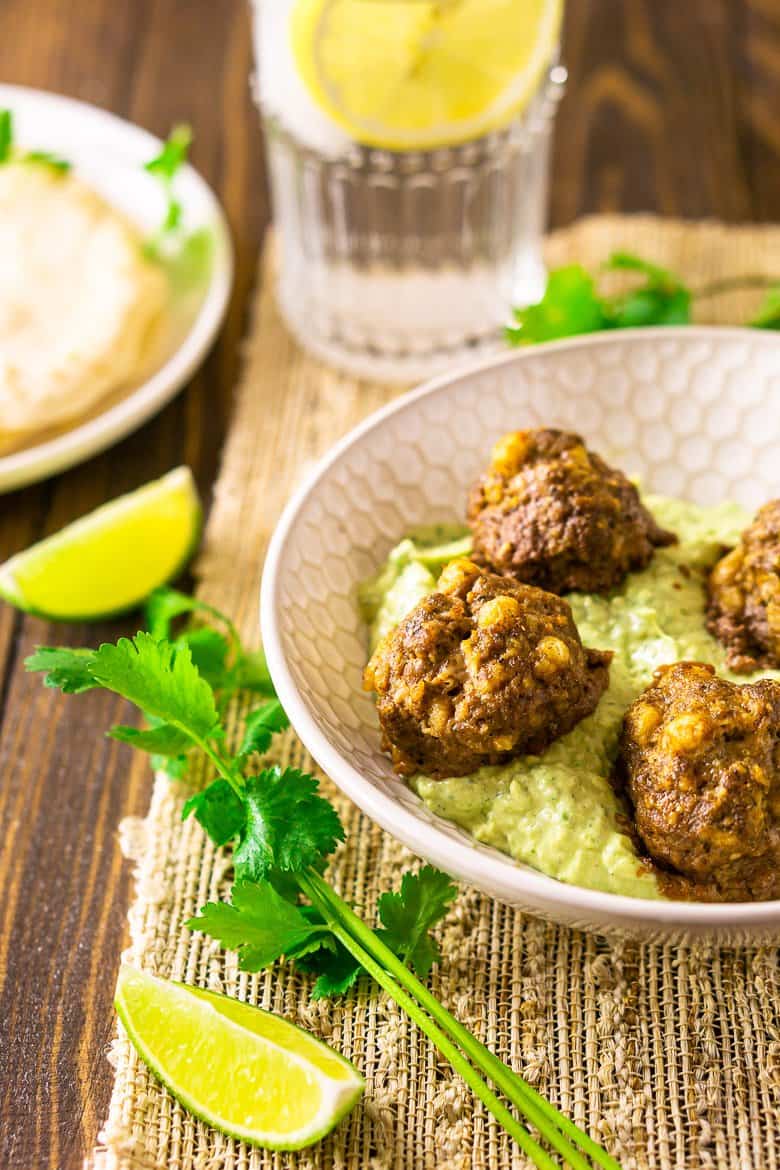 Jump to:
Why You Need to Make This Recipe
Easy party hack: Serve meatballs. Sit back and watch people rave about your culinary genius.
People go crazy for meatballs — it's that simple. I've always loved serving my smoked meatballs, Italian-style meatballs or curried lamb-feta meatballs for parties. They're simple to make and a guaranteed crowd favorite, and now I have these Mexican meatballs with avocado sauce to keep everyone full and happy. Let's jump into it, shall we?
Step-by-Step Instructions
Making our avocado-crema sauce couldn't be easier. We toss an avocado and Mexican crema into a food processor along with garlic cloves, lime juice, jalapeno, cilantro, salt and pepper and give it a whirl. Once it's all smooth and creamy like so, we set it aside.
See? This step is as simple as it gets.
And now for our meatballs. We start by soaking small pieces of torn sandwich bread in milk or heavy cream. The bread crumbs act as our binder, and soaking adds wonderful moisture. I find heavy cream gives an extra decadent touch, but milk is just fine too.
While our bread crumbs soak, we mix together an egg, garlic, onion, cumin, chili powder, coriander, salt, pepper and a few dashes of hot sauce. For the onion, I like to grate it rather than chopping it. The pieces end up much finer and almost melt into the meat mixture, which I much prefer to chunks of onion.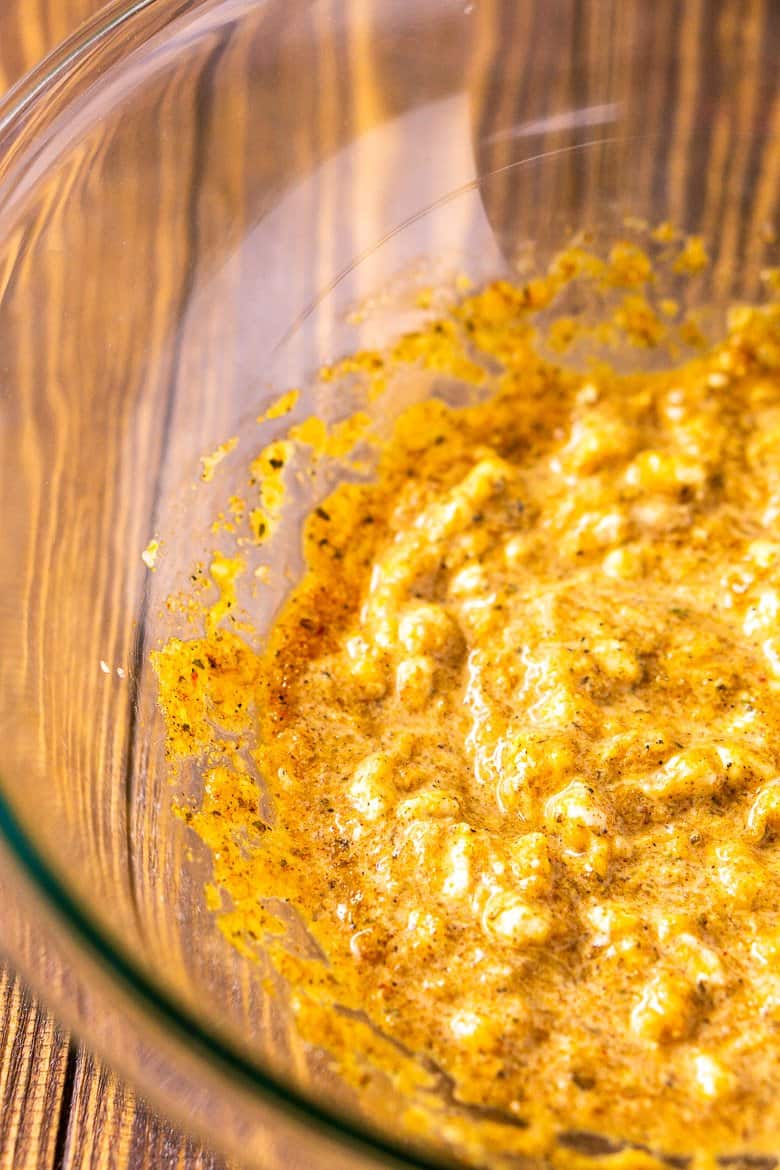 Once we mixture together those flavorings, we add our ground beef. You might be tempted to add the beef along with the other ingredients, but I don't recommend it. We want to handle our beef as little as possible to keep our meatballs tender. Creating a cohesive mixture first ensures we don't have to mess with the beef too much.
From here, we're ready to form our meatballs and cook, which brings us to two options: frying and baking. Both methods produce a delicious meatball, but for entertaining purposes, I find baking is much easier. After we form our meatballs, we pop them in the oven, and all our work is done.
That said, I know some people insist frying is the only way to make meatballs. If that's you, by all means, fry away. But I truly believe you'll be just as happy with these meatballs if you bake them instead.
How to Serve
We have options here. As you can see from the photos, you can spoon the avocado sauce onto a plate or shallow bowl and add the meatballs on top. Your guests can use a serving spoon to scoop up both the sauce and meatballs at the same time.
Alternatively, you can keep the two separate and allow guests to spoon sauce directly onto their meatballs.
You could even turn these meatballs and avocado sauce into a taco bar. Meatball tacos? Sound different? Perhaps. But it works.
Matt and I spooned these into homemade flour tortillas with the sauce, and I couldn't get over how good they were. Why have meatball tacos not become a thing sooner? Put out some shredded lettuce, pickled onion and pico de gallo with these meatballs and avocado-crema sauce and you have yourself one delicious taco bar.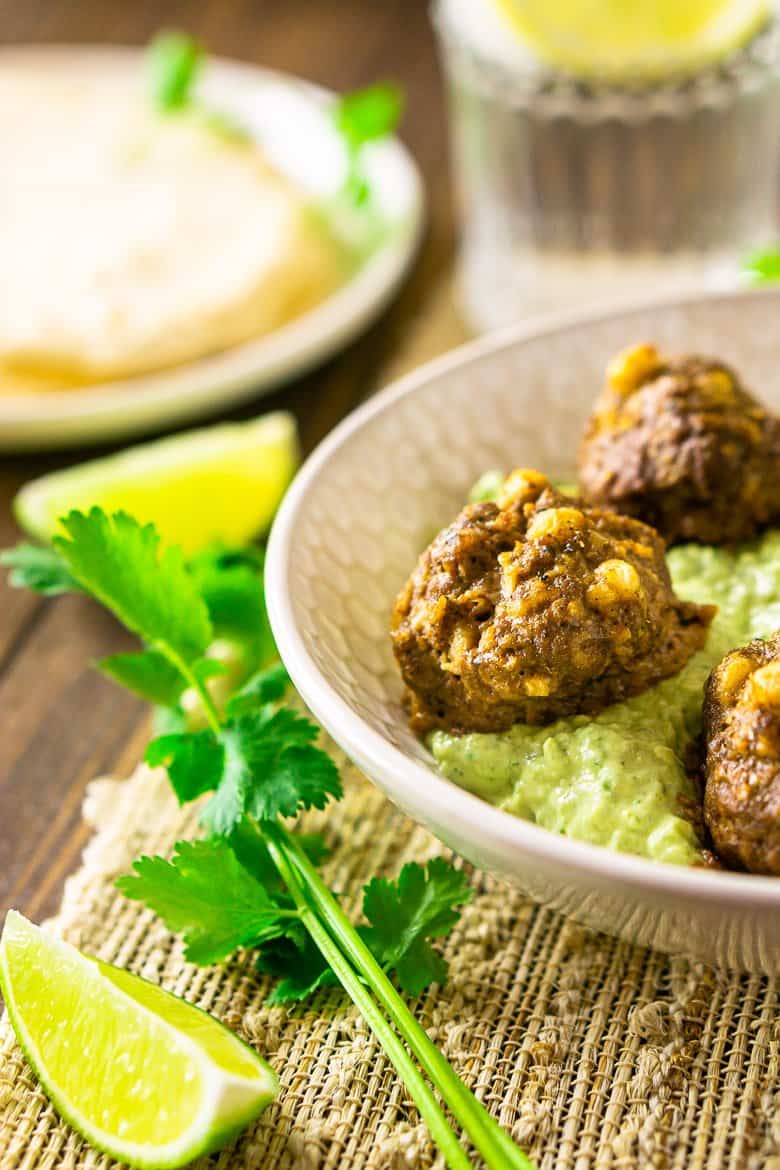 Can You Make Ahead of Time?
You sure can, which is super helpful for entertaining. Once you mix the beef, seasoning and add-ins, you simply cover the bowl and store in the refrigerator until you're ready to form, or you can go ahead and form the meatballs, store covered and bake when ready.
You can even make the avocado-crema sauce ahead of time and store in the refrigerator. Unlike guacamole, this sauce stays its lovely green hue overnight.
Can You Freeze?
Absolutely! In fact, I love making big batches of meatballs, so I always have some on hand for those impromptu gatherings. That way, you always have a delicious dish ready to go.
After they cool, store in an airtight, freezer-safe container. A freezer bag works as well. These meatballs are best consumed within three to four months, but they're still safe to eat if you extend the freezing period.
The avocado-crema sauce, however, doesn't freeze well. Fortunately, the sauce only takes a few minutes to whip up, so that shouldn't cause too much trouble.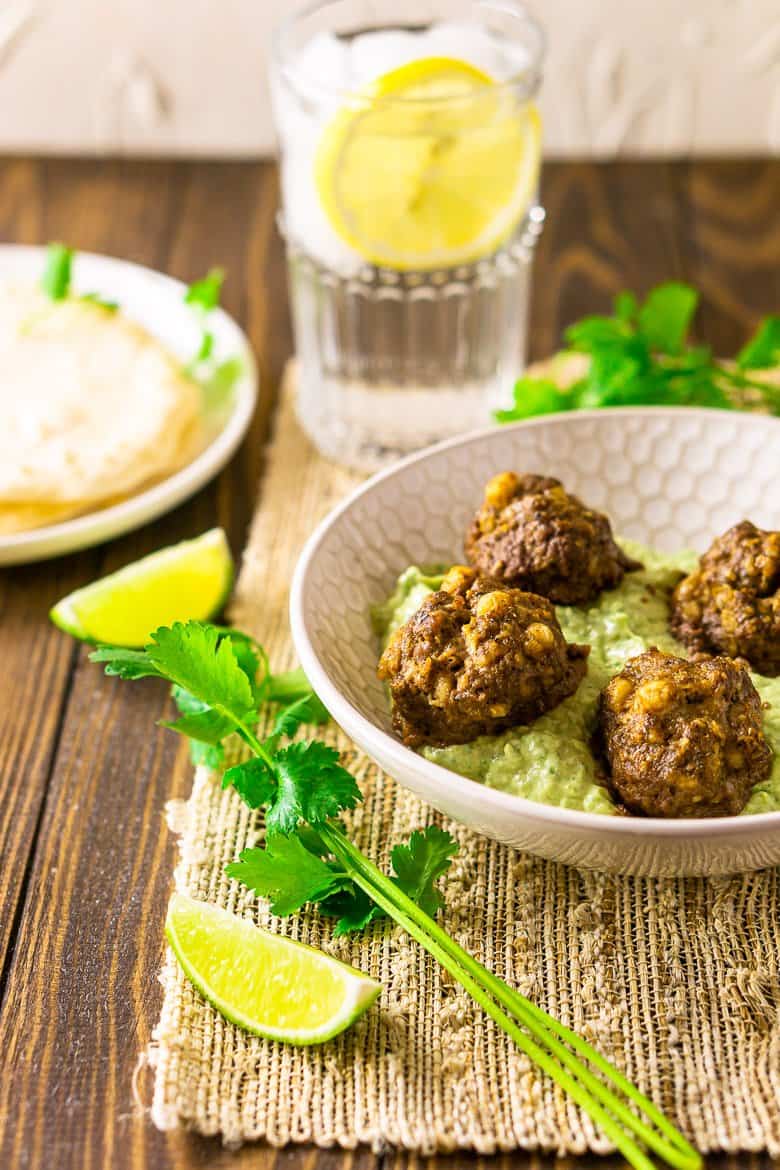 Perfect Pairing
If you're in the mood for a beer, I love an American pale ale with these meatballs. The hops elevate the chili powder and spices while the sweet malt backbone matches nicely with the caramelization we get from the beef. Plus, an American pale ale offers plenty of bubbles to keep our palates clean from the fatty beef and avocado sauce.
For a wine, a bold, fruity red, like a syrah, is a good bet. The fruity notes balance the spice, and syrah comes with enough body to hold up to our beefy meatballs.
And with those Mexican-inspired spices, a little tequila is never a bad idea. Try my triple citrus tequila smash, blood orange margarita, raspberry-peach margarita or classic margarita and let me know what you think.
When you need an easy but guaranteed crowd-pleasing party appetizer, I hope you try these Tex-Mex meatballs with avocado-crema sauce.
Cheers!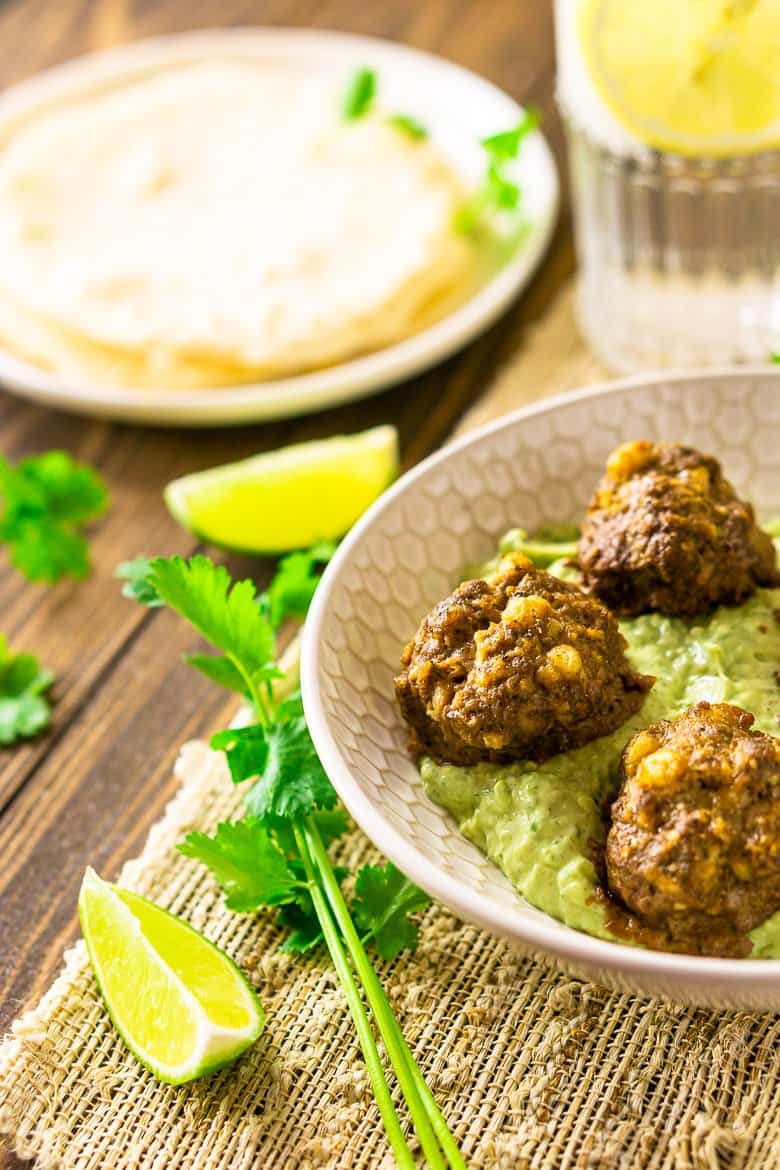 Love Tex-Mex?
If you love this recipe, please leave a comment with a five-star rating — or simply hit the five-star button in the recipe card. Don't forget to sign up for my newsletter, and you can follow me on Facebook, Instagram, Pinterest and TikTok.
📖 Recipe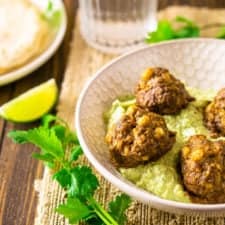 Tex-Mex Meatballs With Avocado-Crema Sauce
Step up your party appetizer game with a new spin on meatballs! These tender, succulent Tex-Mex meatballs come with just the right spice kick and a decadent avocado-crema sauce for your dipping pleasure.
Print
Pin
Rate
Equipment
Mixing bowl

Large baking sheet

Parchment paper

Food processor
Ingredients
Tex-Mex Meatballs
½

cup

white sandwich bread torn into small pieces

crust removed

½

cup

milk or heavy cream

1

egg

beaten

3

garlic cloves

minced or grated

½

cup

grated onion

using large holes on box grater

2

teaspoons

ground cumin

1

teaspoon

chipotle chili powder

1

teaspoon

ground coriander

1

teaspoon

salt

½

teaspoon

pepper

A few dashes of hot sauce

1

pound

ground beef

preferably 80 percent lean and 20 percent fat
Avocado-Crema Sauce
4

garlic cloves

1

avocado

1

lime

juiced

1

jalapeno

roughly chopped, stem removed, seeds left intact

½

cup

fresh cilantro leaves

½

cup

Mexican crema

¾

teaspoon

salt

¼

teaspoon

pepper
Instructions
Tex-Mex Meatballs
Heat oven to 450 degrees. Place the white sandwich bread crumbs in a small bowl and pour the milk or heavy cream on top. Allow to soak while preparing the rest of the ingredients.

In a large mixing bowl, whisk together the egg, garlic cloves, onion, ground cumin, chipotle chili powder, ground coriander, salt, pepper and hot sauce until it becomes one cohesive mixture. Drain the bread crumbs in a fine-mesh sieve and lightly tap out excessive moisture. Stir into the egg mixture.

Add the ground beef. Using a gentle touch, either combine the egg mixture into the beef with a wooden spoon or even your hands. Mix just until combined. You don't want to excessively handle to meat, which can make it tough.

Lightly oil your hands. Form into golf ball-size meatballs. Place on a parchment paper-lined baking sheet and bake until cooked through, about 15 minutes. Alternatively, you can fry in a skillet with oil. Brown on all sides over medium heat until the meatball is cooked. Don't overcrowd the pan. You'll have to do this in batches.
Avocado-Crema Sauce
While the meatballs bake, prepare the avocado-crema sauce by adding the garlic, avocado, lime juice, jalapeno, cilantro, crema, salt and pepper to a food processor. Process until smooth.

Serve with meatballs. Enjoy!
Notes
Meatballs freeze well after baking or frying. You can also make the meat mixture up to a day in advance, cover and store in the refrigerator.
If you don't have chipotle chili powder, regular chili powder will also work. I just like the extra smokiness from the chipotle.
Nutritional information is only an estimate. The accuracy of the nutritional information for any recipe on this site is not guaranteed.
Nutrition
Serving:
2
meatballs
|
Calories:
160
kcal
|
Carbohydrates:
9
g
|
Protein:
11
g
|
Fat:
8
g
|
Saturated Fat:
3
g
|
Cholesterol:
50
mg
|
Sodium:
470
mg
|
Sugar:
2
g