You'll love these crispy, freshly fried tostada shells loaded with all your favorite toppings. These tostada shells are delicious and simple to make.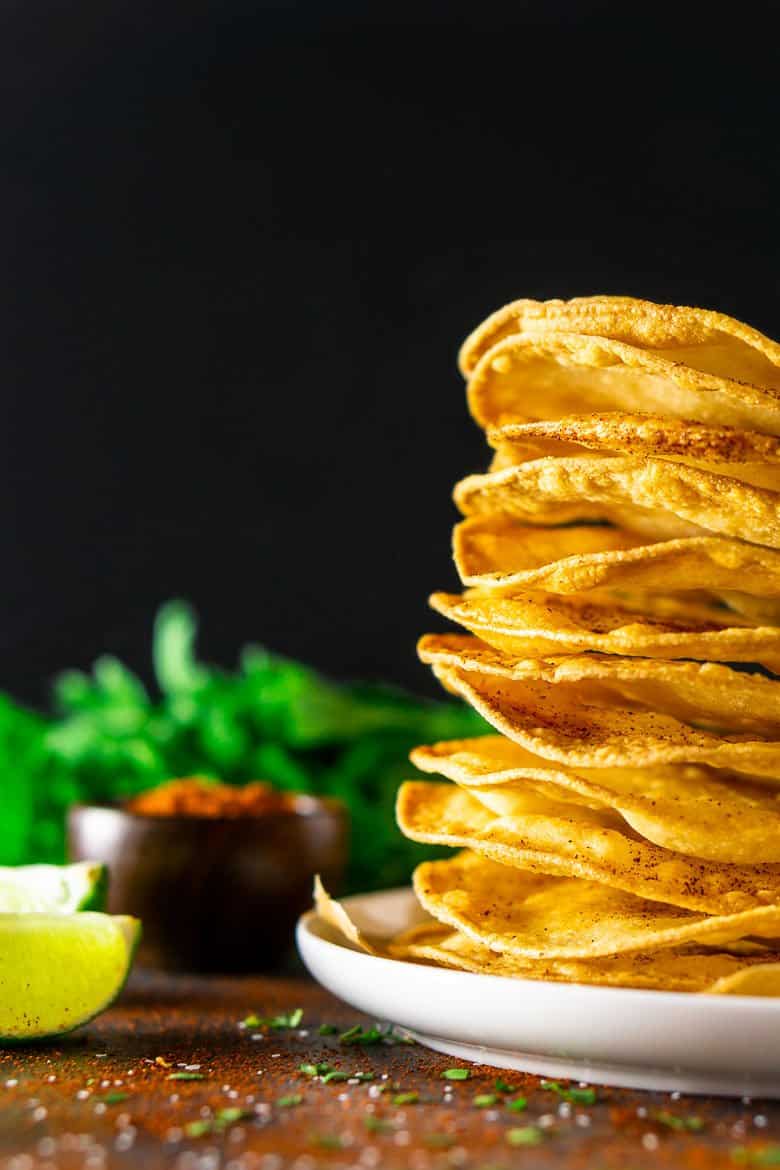 Look, I love tacos. When I'm sitting on a patio with a big plate of tacos and a margarita on the side, I'm a happy lady. Wrapping a bunch of tasty fillings in a tortilla is my kind of food, so this is in no way an attack on tacos.
However, tacos tend to hog the spotlight. While tacos are nothing short of delicious, tostadas are also worthy of our obsession, and it's time to give tostadas the love they deserve.
Besides, if Taco Tuesday is a thing, why can't we have Taco and Tostada Tuesday? The alliteration still works, and then we get to celebrate both delicious dishes. I say we go with it.
What Is a Tostada?
If you've always been on Team Tacos and aren't familiar with tostadas, let me give you a quick rundown. Basically, a tostada is a flat fried corn tortilla loaded with toppings --- similar to the fillings we use for our beloved tacos. Think of the tostada as a crunchy taco but flat like a pizza.
Because tostadas are flat and fried, they're sturdier than tacos, so they can hold plenty of your favorite toppings. As a topping fanatic, that suits me well. Here are some of my favorite tostada toppings.
Refried beans
Salsa
Enchilada sauce
Pulled pork
Shredded beef
Roasted chicken
Sautéed shrimp
Fresh avocado, guacamole or this avocado sauce
Sour cream or Mexican crema
Cheese --- cojita or shredded cheese melted under the broiler
Fresh jalapeños
Crisp lettuce
Cilantro
I could keep going, but you get the picture. Almost anything goes.
Some recipes bake tostada shells for a healthier option, but let's be real. Frying tostada shells makes them more delicious with a crispier texture. I'm all about delicious, so we're sticking with frying in this recipe. Life is about balance, and I'd much rather eat healthier during my other meals to make room for a little tostada splurge.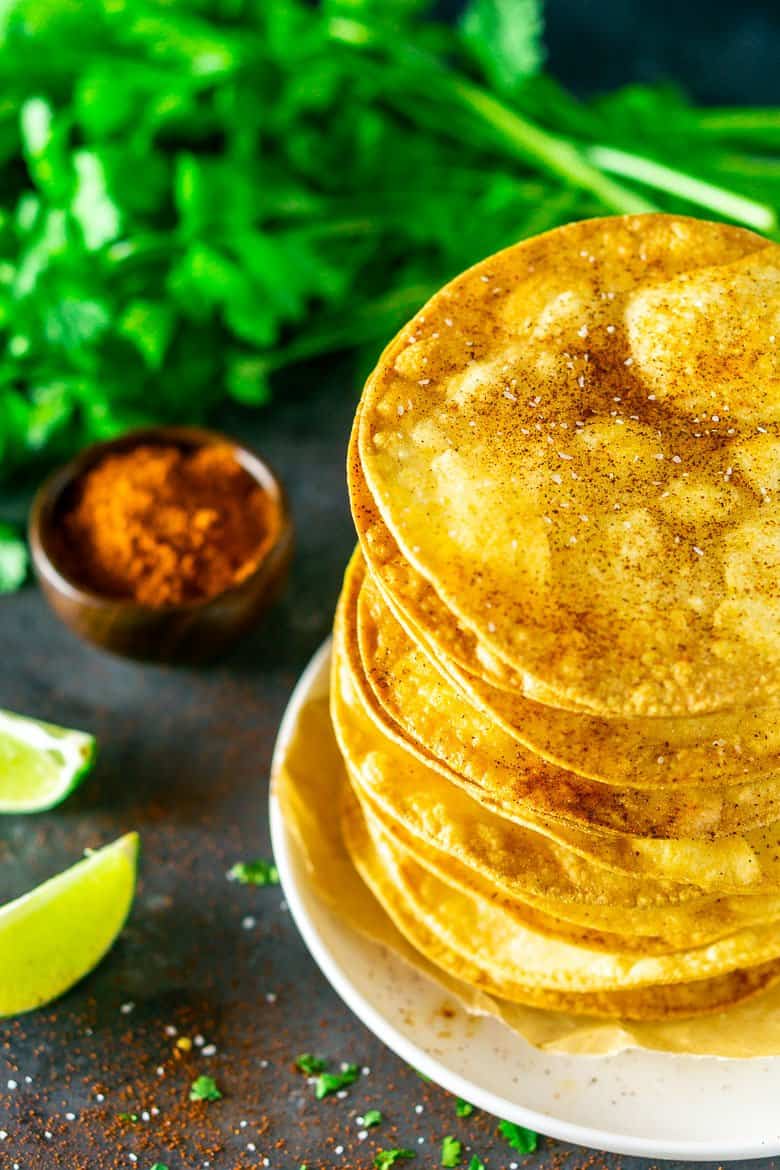 Step-by-Step Instructions
Now that you're sold on the goodness of tostadas, let's get into it. To make these tostada shells, I like to use a deep fry thermometer and a Dutch oven. You could use a skillet and infrared thermometer, but I find the tall side of the Dutch oven reduces splatter. Plus, I like to constantly monitor the oil temperature, so it's just easier clipping on a deep fry thermometer. If you don't have a Dutch oven or deep fry thermometer, I included links below.
Once we have our equipment ready to go, we fill the Dutch oven with about an inch or two of oil and heat to 350 degrees. Typically, I use peanut or grape seed oil. Both have high smoke points, so they're good for deep frying.
We now drop in a corn tortilla and fry for about a minute and a half. Flip the corn tortilla with tongs and fry for about another minute and a half.
While I say about a minute and a half, know that this time is flexible. If the tortilla hasn't browned enough to your liking, keep frying. Or if it looks like the tortilla is perfectly browned before those three total minutes, go ahead and remove it.
After frying, move the tostada shell to a paper towel-lined plate. We can leave it as is or sprinkle with coarse kosher salt, chili powder or even a little lime juice. And that's it. Our tostada shells are now ready for topping, which is the best part. Truth.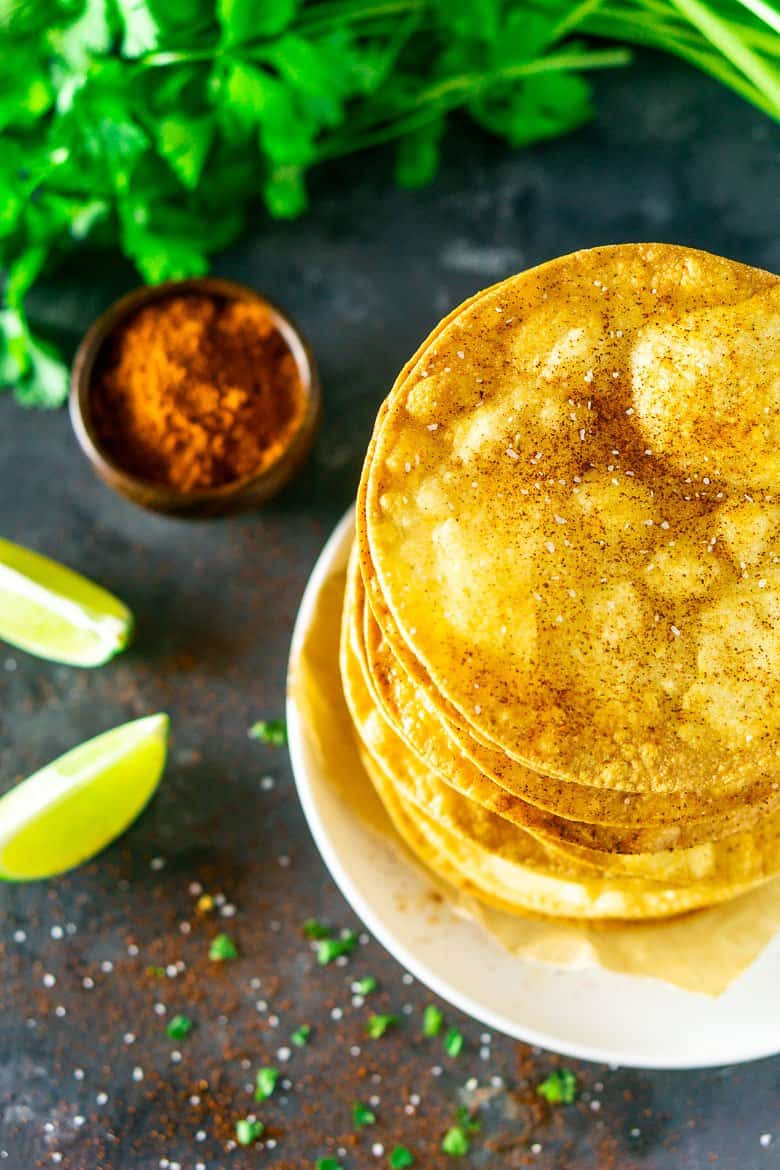 Perfect Pairing
Honestly, it's a little difficult to recommend a pairing for a tostada shell because it all comes down to your toppings. That said, an American pale ale is a good all-purpose beer, and Mexican lagers are always nice palate cleansers. For wine, a sparkling rosé works with a lot of Mexican dishes because of its fruity notes and cleansing bubbles.
And, of course, you can't go wrong with margaritas. As far as I'm concerned, Mexican food and margaritas are never a bad call. Never.
Need a few options? I have your back.
The next time a taco craving hits, I hope you decide to try these tostada shells for something new. I have no doubt you'll be happy you did.
Cheers!
Love Tex-Mex?
If you love this recipe, please leave a comment with a five-star rating — or simply hit the five-star button in the recipe card. Don't forget to sign up for my newsletter, and you can follow me on Facebook, Instagram, Pinterest and TikTok.
📖 Recipe
Homemade Tostada Shells
You'll love these crispy, freshly fried tostada shells loaded with all your favorite toppings. These tostada shells are delicious and simple to make.
Print
Pin
Rate
Servings:
8
tostada shells
Ingredients
Oil for frying

Coarse kosher salt

optional

Chili powder

optional

1

lime

sliced, optional
Instructions
In a Dutch oven, pour in enough oil to come up about an inch. Heat oil over medium-high until it reaches 350 degrees. Once it reaches 350 degrees, drop the heat level to keep the oil from getting too hot. Adjust the temperature as necessary to keep it at a consistent 350 degrees.

Using tongs, carefully place a corn tortilla in the hot oil and fry for about a minute and a half. Flip the tortilla and cook for another minute and a half or until golden brown.

Remove the corn tortilla with the tongs and allow the excessive oil to drip back into the Dutch oven. Move the tortilla to a paper-towel lined plate.

If desired, sprinkle with salt, chili powder and lime juice. Enjoy!
Notes
I typically use peanut or grape seed oil for frying.
Nutritional information is only an estimate. The accuracy of the nutritional information for any recipe on this site is not guaranteed.
Nutrition
Serving:
1
tostada
|
Calories:
182
kcal
|
Carbohydrates:
12
g
|
Protein:
2
g
|
Fat:
14
g
|
Sodium:
12
mg