Meet the easiest, quickest appetizer you'll want to serve at all your parties — this whipped ricotta dip with lemon and fresh herbs! Every creamy bite is delicate and airy with bright citrus notes for a perfectly light dip, and you can whip up this delicious appetizer in just under five minutes. This whipped ricotta dip is sure to be a new favorite party snack.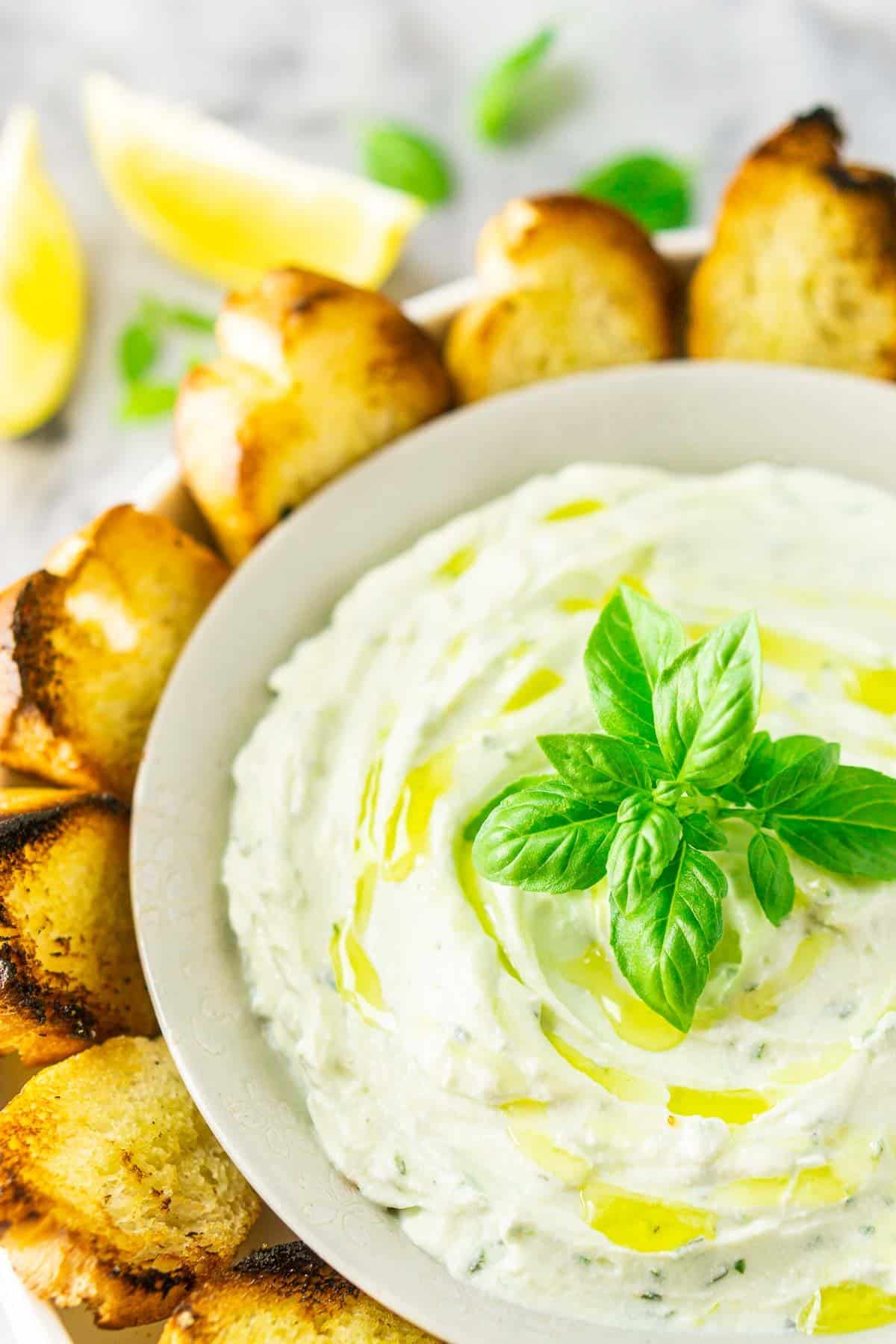 Jump to:
Why You'll Love This Recipe
I'm officially calling this whipped ricotta dip the appetizer of the summer. Honestly, I've lost track of how many times I've made a batch — it's the perfect go-to dip.
Tastes like a citrusy, herby dream: With whole milk ricotta cheese as the base, it's a decadent dip, but the fresh lemon and herbs give it almost a light touch.
Makes entertaining a breeze: I truly can't think of a quicker or easier appetizer to prepare. Even a kitchen newbie can make a gourmet-tasting dip.
Versatile for any occasion: Keep this recipe in your back pocket because you'll come back to it over and over again. Need an appetizer for a fancy holiday or dinner party? Or maybe you're just hosting a casual backyard gathering. This creamy dip is perfect for both.
Budget friendly: With just three simple ingredients plus salt, this whipped cheese dip is easy on the wallet.
Bonus: If you can't get enough cheesy appetizers, try my smoked cream cheese, smoked queso and baked green chile dip! This baked feta recipe from Moon and Spoon and Yum is also a tasty option.
Ingredients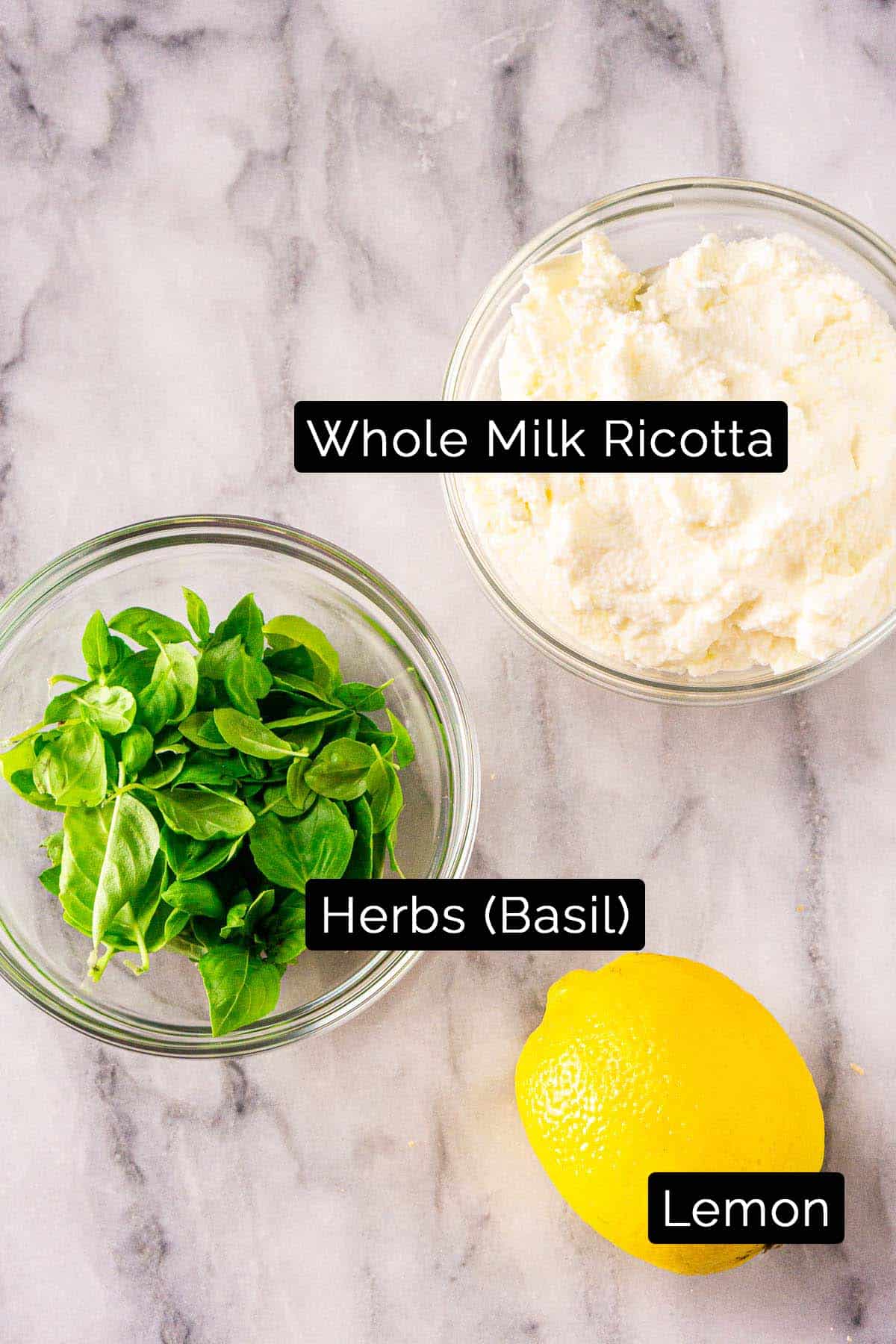 As you can see, I wasn't joking about the easy ingredient list. These are straightforward ingredients.
Ricotta: My biggest recommendation is to make sure you use whole milk ricotta of the highest quality you can find. Whole milk ricotta is much more flavorful and less watery than part skim or fat free. Considering that we only rely on a few ingredients, we want to make sure they're the best we can find.
Basil: Make sure you use fresh basil, not dried basil. Dried basil doesn't come close to matching the flavor of fresh basil.
Lemon: We're using both the lemon zest and lemon juice here.
Step-by-Step Instructions
Now let's show you how truly simple this dip is to prepare. I like to serve this dip with grilled bread, so we'll first walk through that process and then get to our herbed whipped ricotta dip.
Step 1: To prepare our bread, we cut a baguette into ½-inch slices and brush each side with extra-virgin olive oil (photo 1). Now we place the bread on a hot grill and cook until the slices are nice and toasty (photo 2).
Step 2: Just like that, we're ready for our whipped ricotta dip. We add our whole milk ricotta, herbs, lemon juice and zest, and a pinch of salt to a food processor (photo 3).
Step 3: Now we give the food processor a whirl until the ricotta is smooth and creamy like so (photo 4). I find a good minute takes care of the job, but you can go longer for an even airier texture. This comes down to personal preference.
And that's it! Told you it was easy.
Now grab that grilled bread, add a drizzle of olive oil and treat yourself to a big scoop of the best whipped ricotta dip you'll ever try. Serve this dip with some truffled deviled eggs and you have yourself a delicious appetizer spread.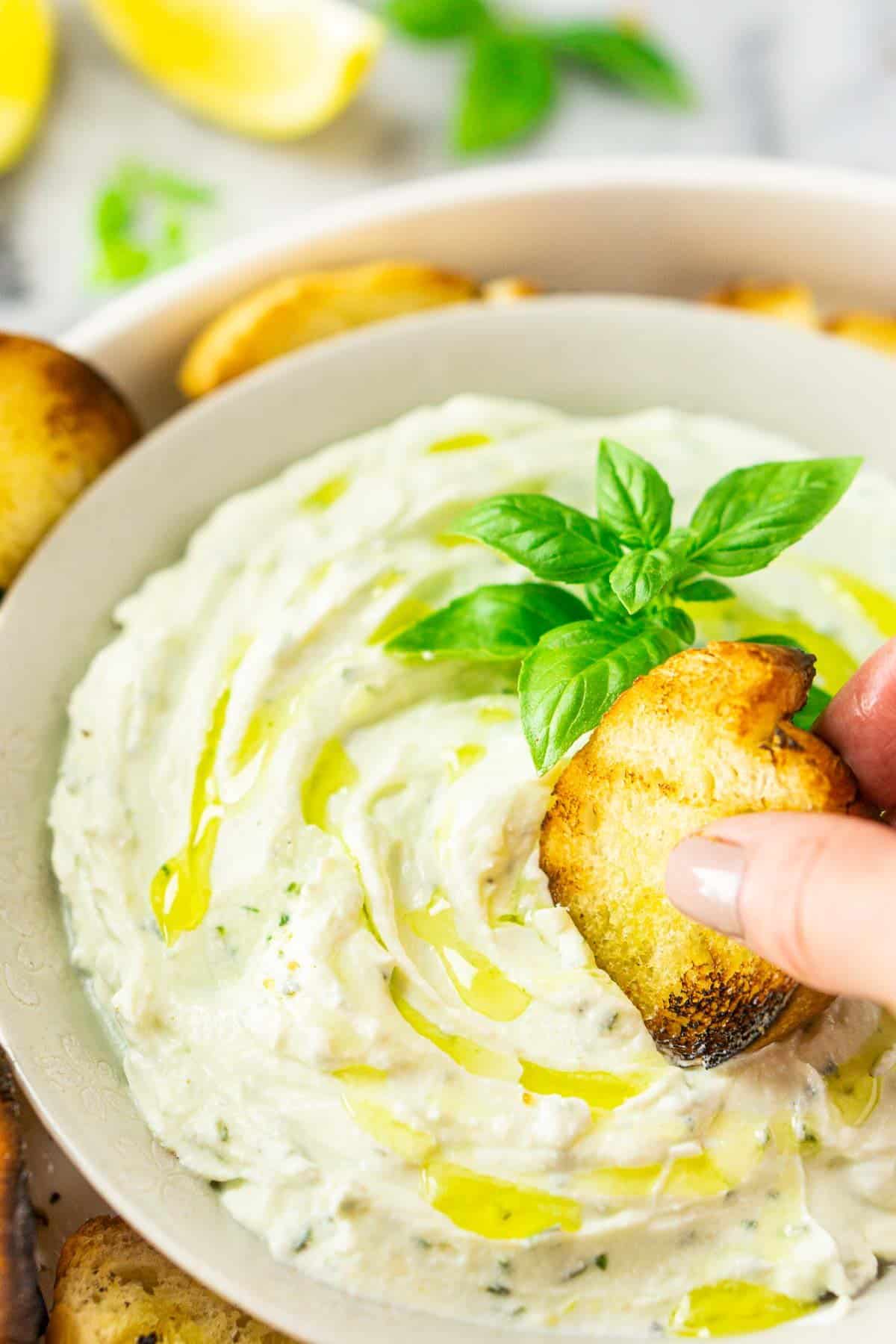 How to Store and Prepare Ahead of Time
Great news! You can prepare this whipped ricotta ahead of time. Here's how to do just that.
Make the whipped ricotta as directed.
Store it in an airtight container in the refrigerator for up to three days in advance of serving.
Before serving that wonderfully creamy spread, give the ricotta mixture a quick whisk to fluff it back up.
Set it out on your serving plate with bread slices and watch everyone fall in love with this crowd pleaser. Talk about easy entertaining.
Best Serving Ideas and Uses for Leftovers
I love to spoon this ricotta dip in a serving bowl, lightly drizzle olive oil on top and add some fresh-cracked black pepper. Spread the grilled bread on a platter around the bowl, and you're set. If you'd like to get fancy, you garnish with more herbs and a lemon twist.
That said, you can serve this easy dip in so many ways. These are just a few ideas.
For a little crunch, sprinkle toasted pistachios or macadamia nuts on top or spoon some chili crisp over the creamy ricotta cheese. You'll love the textural contrast.
Add a drizzle of honey on top for a touch of sweetness — hot honey is also nice for a little kick.
Top with sun-dried tomatoes, roasted red peppers, bacon jam, fruit marmalade or roasted cherry tomatoes.
Along with French baguettes, serve with pita chips, fresh vegetables or tortilla chips.
If you happen to have leftovers, you can put this dip to so many different uses. Let me know your favorites ideas. You have so many options!
Use as a sandwich or burger spread.
Thin out with some cooked pasta water to make a creamy sauce.
Dollop onto pizza.
Make whipped ricotta crostini.
Turn it into ricotta toast with some fresh fruit on top.
Recipe FAQs
What does whipped ricotta taste like?
Ricotta has a rich texture but a delicate flavor with just a touch of sweetness. It's a beautiful blank canvas for so many light and refreshing flavors, like our fresh herbs and burst of citrus.
Is whipped ricotta grainy?
Ricotta is known for it's grainy texture; however, that all changes once we whip it. After whipping, ricotta transforms into the most silky, creamy texture. If you don't like the graininess of ricotta in its original state, give this whipped ricotta recipe a try. It will change everything you thought you knew about ricotta.
Do I need to strain the ricotta to keep it from being runny?
Most store-bought ricotta is dry enough that it shouldn't require straining, but if you have an especially wet, fresh ricotta, you may want to strain it first. To strain, line a fine-mesh sieve with cheese clothe and spoon the ricotta into the sieve. Let the ricotta strain for about 10-20 minutes, and you'll be good to go. It doesn't need to be bone dry, but we don't want to add any big puddles of whey.
Variations and Substitutions
Like any recipe, you're more than welcome to put your own spin on this dip. This is truly a customizable dip.
Add more herbs — a little fresh mint or thyme would be lovely as well as chives, tarragon, dill, thyme, cilantro or even a combination of your favorite herbs.
Mix in a little bit of honey before whipping to accentuate the ricotta's natural sweetness.
Whip in some roasted garlic or freshly grated garlic.
Swap the fresh basil for pesto.
Make it extra decadent with a splash of heavy cream.
Expert Tips
No food processor, no problem: You can use a hand mixer or stand mixer on medium speed to whip the ricotta or even manually whisk the ricotta. An electric mixer makes the process quicker and easier, so if you go the manual route, it may take a little more time to get that whipped consistency. Keep whisking and you'll get there.
Use a microplane grater: To grate the lemon zest, I recommend using a microplane grater. It's more efficient than a zester and produces a finer peel.
Go fresh: Don't use bottled lemon juice or dried lemon peel. We want fresh lemon for the brightest, best flavor.
Perfect Pairing
For a beer, we want something light and bubbly, like a wheat ale. Given the light texture of this dip, we don't want a beer that's too heavy bodied, and you'll love how the wheat ale's citrus notes complement the dip.
With the fresh herbs, I'm a big fan of a sauvignon blanc, which comes with its own herbal quality as well as a citrusy profile with a crisp, acidic finish to cut through the ricotta's whole milk. That said, this dip is versatile with other white wines — Chablis, Champagne and pinot grigio all pair nicely.
Love a cocktail? You won't mind sipping on this strawberry-basil limoncello martini. The cocktail's flavors match perfectly to our lemony whipped ricotta dip. You'll also love my garden gin and tonic with its medley of freshly muddled herbs.
For an easy, crowd-pleasing appetizer, I hope you try this easy whipped ricotta dip recipe with lemon and fresh herbs. It's sure to be a new party favorite.
Cheers!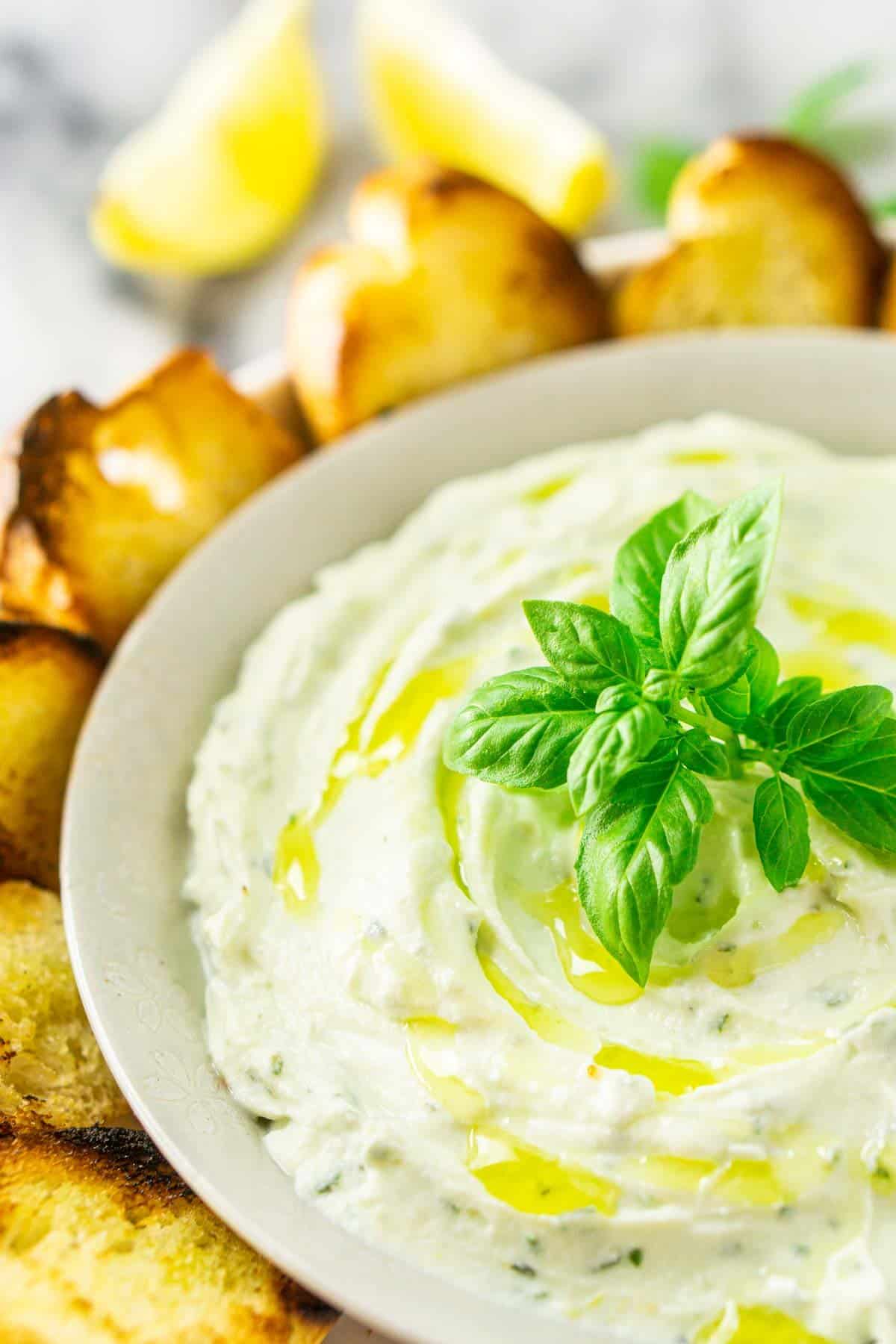 Looking for More Party Appetizers?
If you love this recipe, please leave a comment with a five-star rating — or simply hit the five-star button in the recipe card. Don't forget to sign up for my newsletter, and you can follow me on Facebook, Instagram, Pinterest and TikTok.
📖 Recipe
Whipped Ricotta Dip With Lemon and Herbs
Meet the easiest, quickest appetizer you'll want to serve at all your parties -- this whipped ricotta with lemon and fresh herbs! Every creamy bite is delicate and airy with bright citrus notes for a perfectly light dip, and you can whip it up in just under five minutes. This whipped ricotta dip is sure to be a new favorite party snack.
Print
Pin
Rate
Equipment
Food processor, mixer or hand whisk
Ingredients
1

(15-ounce)

container of whole milk ricotta

½

cup

roughly chopped fresh basil

see note

½

teaspoon

salt

Juice and zest of one lemon

Olive oil

for garnish, optional

Additional basil

for garnish, optional

Grilled bread

for serving
Instructions
Add the ricotta, basil, salt, lemon juice and lemon zest to a food processor. Blend until smooth and creamy to your liking. About one minute should do it, though you could go up to two minutes for an even airier dip. Check periodically to see when it transforms into your desired consistency.

Alternatively, you can whip the ricotta using a hand mixer or whisk until it's light, smooth and creamy.

Spoon into a bowl for serving. If desired, garnish it a drizzle of olive oil and additional herbs. Serve with grilled bread or your favorite dipper. Enjoy!
Notes
To grate the lemon zest, I recommend using a microplane grater. It's quicker and easier than a zester while also producing a finer peel.
I used just basil for the herbs, but you are more than welcome to get creative here. Start with the basil and then add a tablespoon or two to taste of mint, parsley, chives, tarragon, dill, thyme, cilantro or even a combination of your favorite herbs.
Nutritional information is only an estimate. The accuracy of the nutritional information for any recipe on this site is not guaranteed.
Nutrition
Serving:
2
tablespoons
|
Calories:
46
kcal
|
Carbohydrates:
1
g
|
Protein:
3
g
|
Fat:
3
g
|
Saturated Fat:
2
g
|
Polyunsaturated Fat:
1
g
|
Monounsaturated Fat:
1
g
|
Cholesterol:
14
mg
|
Sodium:
95
mg
|
Potassium:
28
mg
|
Sugar:
1
g
|
Vitamin A:
118
IU
|
Calcium:
55
mg
|
Iron:
1
mg