Meet the spicy hummus of your dreams! Featuring an ultra creamy, almost mousse-like texture, this Hatch green chile hummus is whipped to perfection with just the right kick of spice that keeps everyone coming back for more.
No matter the occasion, you can never go wrong serving hummus. Preparing hummus takes hardly any work, and the end result is always a crowd-pleasing dip that disappears in no time.
And when you add Hatch green chiles to the equation? Your hummus gets a major flavor explosion that makes this everyone's favorite party dip. After one taste, I have no doubt you'll add this hummus to your go-to recipe repertoire for entertaining -- and your friends and family will thank you for it.
Bonus: If you love this hummus, make sure to also try this everything bagel hummus, beetroot hummus and green chile dip with artichokes!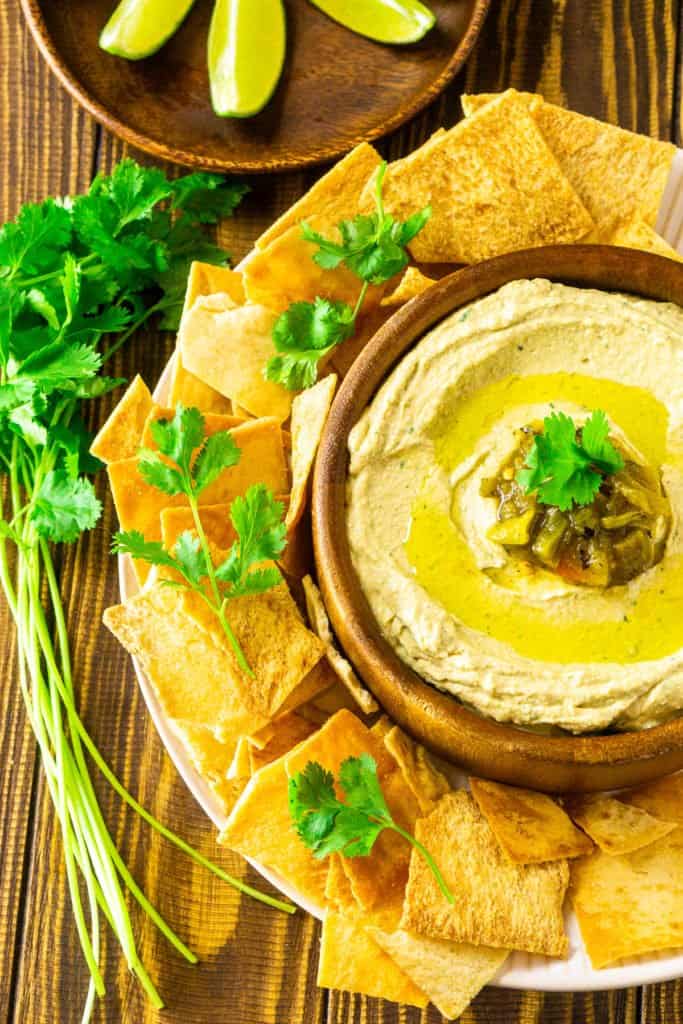 What Are Hatch Green Chiles?
This type of chile grows in the Hatch Valley region of New Mexico and comes with a distinct taste. Ranging from mild to extra hot, the Hatch green chile shows off a sweet and smoky balance with a notable earthiness. This makes for one complex, delicious chile that gives our hummus an irresistible flavor that will have everyone wanting more.
Fresh Hatch green chiles are generally available from August through October. Here in Colorado, we have these roadside stands that roast bushels of fresh Hatch green chiles for you on the spot. I get my fill of green chiles there, but that's a short-lived option and not available in all markets.
Fortunately, Hatch green chiles come canned, frozen and jarred. If you can't pick up fresh Hatch green chiles, those three options all make a tasty hummus. You can typically find canned and jarred Hatch green chiles in the Mexican section of the grocery store while the frozen green chiles are usually stored in the frozen Mexican food section.
How to Make the Creamiest Hummus
I firmly believe hummus should be a creamy delight. If you just dump a can of chickpeas into the food processor and blend, your hummus will be fine but not as creamy as it could be. Let's fix that.
Common advice is to peel your chickpeas before blending, but over the years, I discovered an even better secret to making the creamiest hummus. Instead, we boil canned chickpeas with a touch of baking soda for 20 minutes. Boiling chickpeas plumps them up, and that added moisture helps whip them up to creamy perfection. Plus, the boil doesn't require any hands-on time unlike peeling chickpeas.
You may be wondering if you can get the creamiest of creamy hummuses by peeling and boiling chickpeas. Being the perfectionist I am, I thought I'd try this and conducted a side-by-side test. You know what? We could not tell the difference between the unpeeled boiled chickpeas and peeled boiled chickpeas.
Honestly, you have no reason to ever peel chickpeas again. A quick, hands-off boil is all you need to make the creamiest hummus.
Once we boil our chickpeas, we can then blend the rest of our ingredients, but even with this, I recommend processing the ingredients in stages for the best texture. To start, we blend together our tahini, garlic, lime juice and olive oil. This helps create an initial smooth paste.
Now we add our Hatch green chiles, fresh cilantro, cumin, coriander and salt and blend until this mixture is also nice and smooth. Just like the first step, if we have a smooth base to start before adding the chickpeas, we'll get a creamier texture.
From here, we add our chickpeas and repeat the blending process. At this point, you might be worried that it's almost too smooth and thin but don't worry. We place the hummus in the refrigerator for a few hours, which helps the hummus thicken as well as chill and allow the flavors to meld.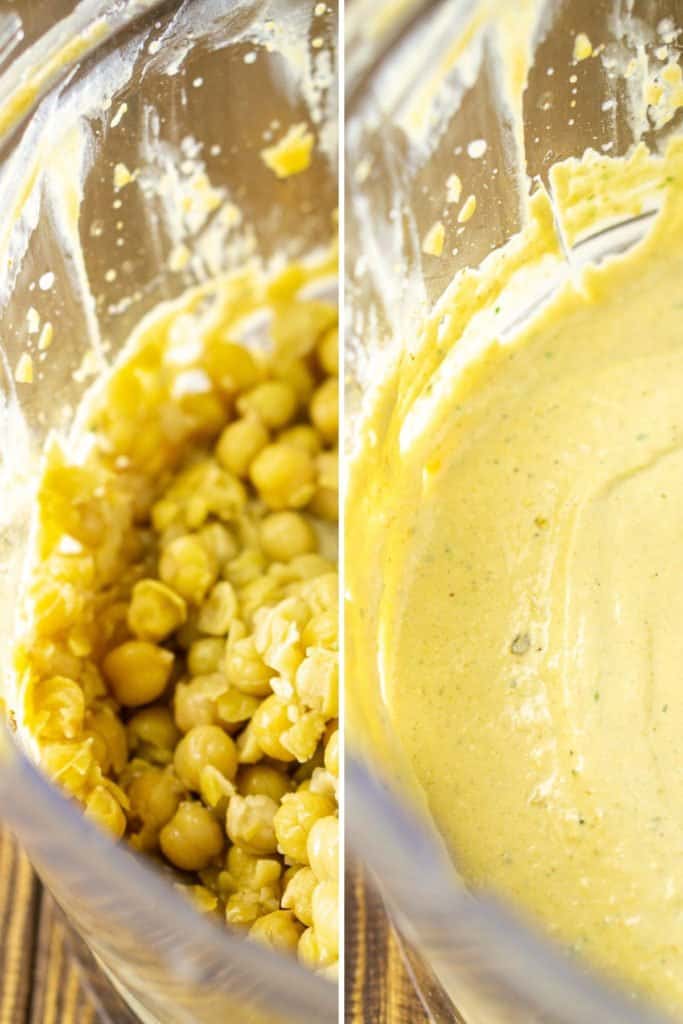 And that's all it takes, friends! With just a little boiling and blending, you have the creamiest, dreamiest hummus for your dipping pleasure. Lucky you.
How to Serve
When you're ready to serve, I love drizzling this spicy hummus with a touch of olive oil and spoon an extra scoop of green chiles on top. A little fresh cilantro never hurt anyone either. While these garnishes are optional, I find it makes for a nicer presentation than a naked hummus.
Of course, we need to consider our dippers. Pita chips are my usual go-to hummus dipper, but cucumber slices, cherry tomatoes, celery sticks, cauliflower and broccoli florets are all popular options. My homemade garlic naan also takes care of the job nicely.
And don't feel like you only have to use this hatch green chile hummus as a dip either. This hummus also makes a tasty sandwich spread, deviled egg filling, toast topping or salad add-in. Feel free to get creative.
How Long Will Homemade Hummus Last?
Besides its status as a crowd favorite, hummus is great for entertaining because you can make it in advance. As long as you store it in an airtight container in the refrigerator, it will last a good four to five days. Before serving after sitting in the refrigerator, I recommend giving it a good stir first and then garnishing as desired.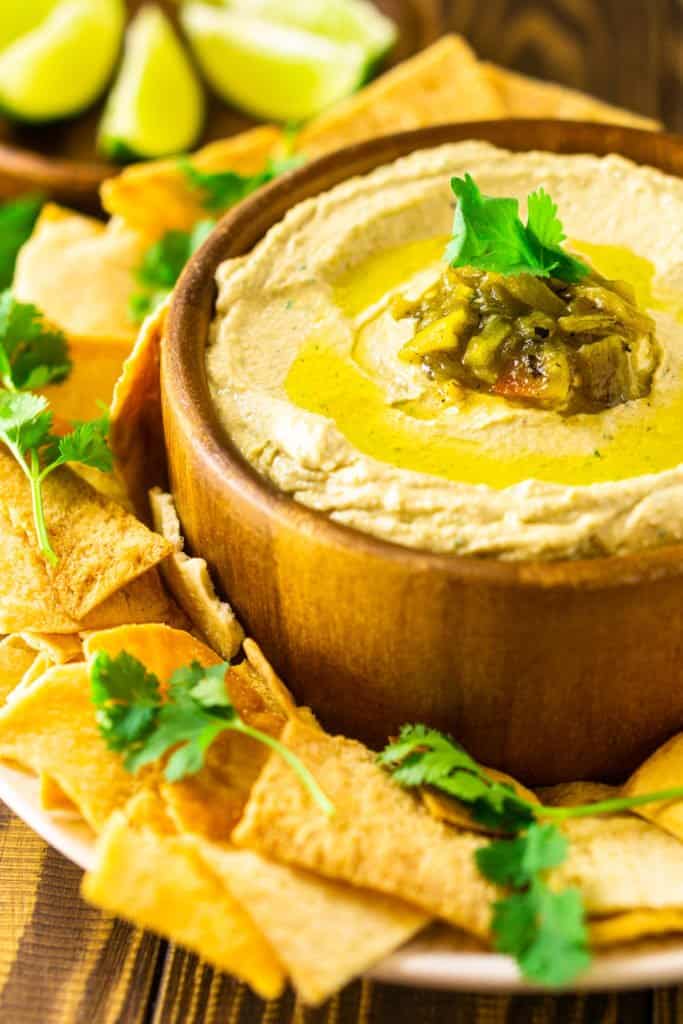 Perfect Pairing
This spicy hummus is perfect with a crisp yet not-too-heavy beer with some malt backbone. With that in mind, I recommend an English-style pale ale. This version isn't quite as hoppy as the American style and brings some fruity undertones that complement the chiles.
For a wine, I like a pinot noir with this Hatch green chile hummus. Pinot noir brings an earthiness that works with the chiles, and it has some nice fruit notes to balance the spice. This is also a low-tannin wine, so it won't clash with the heat from the chiles.
When you need an easy yet crowd-pleasing dip, I hope you try this Hatch green chile hummus.
Cheers!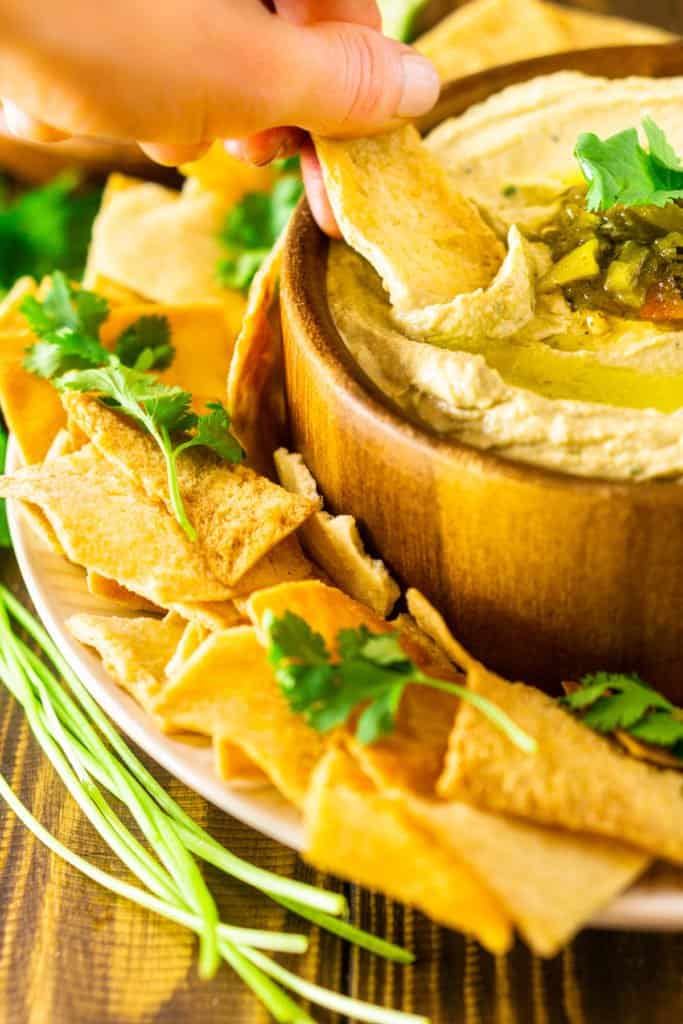 Looking for More Easy Appetizers?
If you love this recipe, please leave a comment with a five-star rating — or simply hit the five-star button in the recipe card. Don't forget to sign up for my newsletter, and you can follow me on Facebook, Instagram, Pinterest and TikTok.
📖 Recipe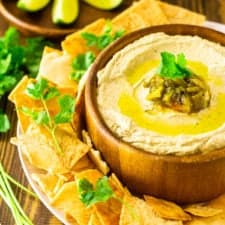 Hatch Green Chile Hummus
Meet the spicy hummus of your dreams! Featuring an ultra creamy, almost mousse-like texture, this Hatch green chile hummus is whipped to perfection with just the right kick of spice that keeps everyone coming back for more.
Print
Pin
Rate
Ingredients
1

15-ounce can chickpeas or garbanzo beans

liquid reserved

1

teaspoon

baking soda

Water

4

garlic cloves

roughly chopped

½

lime

juiced

½

cup

tahini

stirred until smooth before measuring

2

tablespoons

olive oil

½

cup

roasted chopped green chiles

(see note)

2

tablespoons

fresh cilantro

chopped

1

teaspoon

ground cumin

½

teaspoon

ground coriander

½

teaspoon

salt

Reserved chickpea liquid

optional
Instructions
In a saucepan, add the chickpeas and baking soda and cover with about an inch or two of water. Bring to a low boil for 20 minutes. Skim off any skins that float to the top and then drain in a fine-mesh sieve. Discard any obvious chickpea skins you see but don't feel like you need to get them all. Rinse the chickpeas well to remove any residual baking soda.

In a food processor, combine garlic, lime juice, tahini and olive oil. Blend into a mostly smooth paste. Add the green chiles, cilantro, cumin, coriander and salt and blend until smooth. Then, add the chickpeas and blend again until smooth. Taste. Add more salt if necessary to suit your taste but if you do, add a small amount at a time. The hummus may look a little thin at this point.

Refrigerator for a few hours to allow the flavors to meld and the hummus to chill and thicken. Stir before serving. If it thickens too much, thin it out with some of the reserved chickpea liquid. Garnish with more green chiles, olive oil and cilantro if desired. Enjoy!
Notes
You can use freshly roasted Hatch green chiles or buy them prepared frozen, canned or jarred. If you roast your own Hatch green chiles, rub them with canola oil and place on the grill or under the broiler until charred black. Turn to char all over. Place in a plastic bag and tie to close and allow the chiles to sweat in the bag for 10 minutes. Open the bag and remove the skin, stem and seeds. The chiles are now ready to chop.
The heat level of this hummus depends on the heat of the Hatch green chiles you choose to use. Green chiles range from mild to extra hot. Check the package to see heat level.
Nutritional information is only an estimate. The accuracy of the nutritional information for any recipe on this site is not guaranteed.
Nutrition
Serving:
2
tablespoons
|
Calories:
128
kcal
|
Carbohydrates:
8
g
|
Protein:
5
g
|
Fat:
9
g
|
Saturated Fat:
1
g
|
Polyunsaturated Fat:
2
g
|
Sodium:
190
mg
|
Fiber:
3
g