Perfectly soft and pillowy, this homemade garlic naan is just what you need when comfort food calls. Each bite is chewy and buttery, and a sprinkling of fresh herbs delivers a flavorful kick. Plus, this naan is so easy to make you'll want to serve it with just about every meal.
While I'm always excited to share new recipes, I'm particularly happy to bring you this homemade garlic naan. For some recipes, I'll make it the first time and instantly fall in love. That was not the case with this naan recipe. Honestly, it took a few tries to get the right combination of ingredients, but now that I have one delicious and easy naan recipe to share, I couldn't be happier.
I still remember the first naan recipe I created —- if you can even call it naan. The naan came out stiff, dry and overall terrible. I felt like a huge failure.
But as someone who's been called stubborn once or twice, I was determined to perfect my naan. I kept tweaking my recipe and ingredients as I tried a few more times. Each time, the naan got better and better, but it wasn't quite there --- and then I landed on this recipe. Everything I wanted in a naan came together perfectly.
*Cries tears of joy*
While a part of me hates that it took so many tries to create this recipe, another part of me feels emotionally attached to this naan for all the determination that went into it. Making a homerun on the first try is still preferred. Obviously. But finally creating a killer recipe after so many tries feels so dang good.
Step-by-Step Instructions
For novice bread makers, I know tackling any kind of dough recipe can seem intimidating, but I have no doubt you can successfully make this garlic naan. The process couldn't be simpler. Promise. Let's jump into it.
We start by stirring together some warm water and honey. Once they come together, we sprinkle some yeast on top and let it sit for about 10 minutes. In the meantime, we mix together flour, salt and baking powder.
After the yeast mixture has time to sit, we whisk in milk and yogurt, pour it over the flour and stir to combine. And now we get to the fun part --- kneading! We can make it super simple and knead in a stand mixer with a dough hook, or we can knead by hand. Either way, the kneading doesn't take long, about two minutes in a stand mixer or four minutes by hand.
Now we cover our dough and let it rise until doubled in size. Plan for about an hour or two.
With our dough doubled in size, we're ready to divide it into eight pieces and roll out. The naan will puff up quite a bit once it cooks, so you want it to start thin, about ⅛ inch in thickness.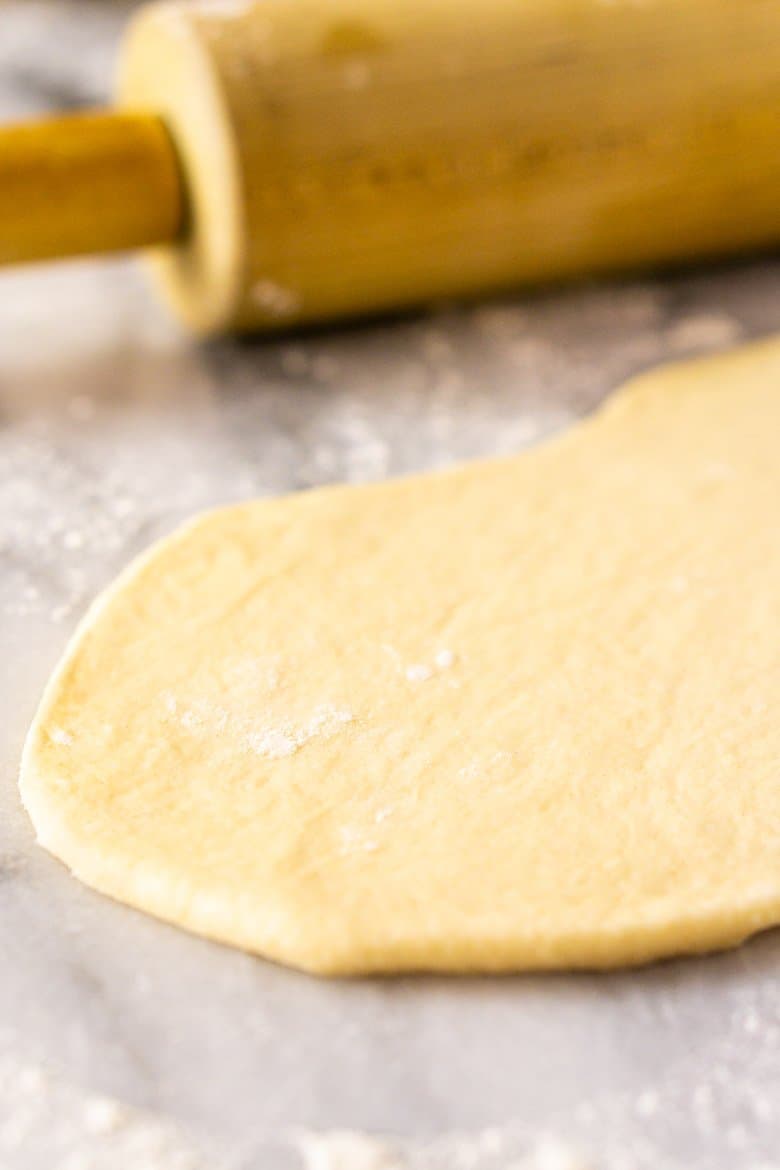 As we work on dividing and rolling the dough, we should also start heating our cast-iron skillet until it's scorching hot. Traditionally, you'd cook naan in a tandoori oven, but since that's not exactly an option for most of us, I find the cast-iron skillet works best. The high heat from the cast-iron skillet helps the naan quickly puff up and gives us all those delicious golden brown speckles.
We can now lightly brush our naan dough with a little ghee and place in the hot cast-iron skillet to cook for about a minute. Brush the other side with ghee as it cooks and then flip.
Ghee is a clarified butter that's popular in Indian cooking. You'll find ghee has a rich, nutty flavor that makes our naan even more indulgent. If you don't have ghee, you can substitute butter, but it should be easy to find. I picked it up in the baking aisle at my grocery store. Plus, ghee has a higher smoke point than butter, so it'll handle the heat better.
While we cook the naan, we also melt more ghee with fresh garlic in another skillet. As each piece of naan finishes cooking, we brush it with the garlic ghee and sprinkle the naan with fresh herbs if desired. I love adding a little chopped cilantro for an extra flavor kick and pretty color. Parsley works well too.
And that's it! Now enjoy a piece of that freshly cooked, warm naan with lots of garlicky, buttery goodness.
How to Serve
I love snacking on naan as an appetizer, but this recipe has so many other uses. Here are some of my favorite ways to serve naan.
Use as a substitute for pizza dough, like this shrimp and avocado grilled naan pizza.
Try as a wrap.
Switch traditional sandwich bread for naan.
Use as a dipper for hummus.
Serve as an accompaniment for curry.
Cut into triangles and add to salads.
Substitute tortillas for naan and use to make quesadillas for a fun twist.
Use to sop up delicious shakshuka sauce.
And those are just a few ideas. You're welcome to get creative and use this naan in other ways or simply enjoy as traditionally served.
Can You Freeze?
You sure can. Once you form the dough balls, you can wrap them in parchment paper and store in an airtight container in the freezer, or you can cook the naan and then freeze it. I prefer to freeze the dough balls, so you get freshly cooked naan, but that's your call.
Perfect Pairing
If you serve this garlic naan on its own, I love it with an amber ale. The bready quality of the amber ale nicely mimics the naan for a cohesive pairing.
Craving a glass of wine instead? Reach for a glass of chardonnay, which has a rich, buttery quality. You'll find it matches perfectly with the naan's buttery coating.
When nothing but soft, buttery bread will do, I hope you try this homemade garlic naan. I have no doubt it'll be one of your new favorite comfort food recipes.
Cheers!
Looking for the Perfect Meal to Go With Naan?
If you love this recipe, please leave a comment with a five-star rating — or simply hit the five-star button in the recipe card. Don't forget to sign up for my newsletter, and you can follow me on Facebook, Instagram, Pinterest and TikTok.
📖 Recipe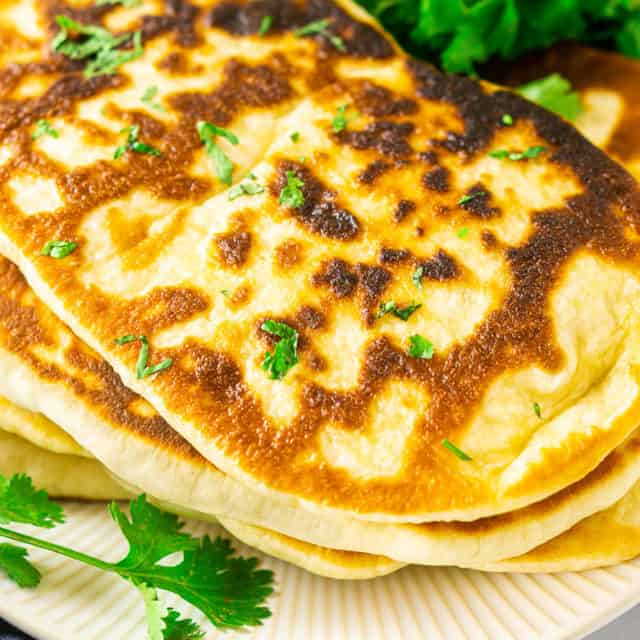 Homemade Garlic Naan
Perfectly soft and pillowy, this homemade garlic naan is just what you need when comfort food calls. Each bite is chewy and buttery, and a sprinkling of fresh herbs delivers a flavorful kick. Plus, this naan is so easy to make you'll want to serve it with just about every meal.
Print
Pin
Rate
Equipment
Mixing bowl

Stand mixer (optional)

Cast-iron skillet
Ingredients
¼

cup

warm water

105-110 degrees

2

tablespoons

honey

1

packet active dry yeast

4

cups

all-purpose flour

1

teaspoon

baking powder

1

teaspoon

salt

1

cup

whole milk

½

cup

plain

full fat yogurt (see note)

8

tablespoons

ghee

divided (see note)

4

garlic cloves

grated or minced

Fresh cilantro or parsley

chopped, for garnish, optional
Instructions
Stir together the honey and water until combined. Sprinkle the packet of yeast on top. Let sit for about five to 10 minutes. The mixture will start to look foamy. Use a bowl that has some depth for this. It makes step three easier.

In a mixing bowl, stir together the flour, baking powder and salt.

Whisk in the milk and yogurt to the yeast mixture and pour on top of the flour. If using a stand mixer, mix with the paddle attachment until the dough starts to form a ball. Then, switch to the dough hook and knead for about a minute and a half to two minutes on speed two. If making by hand, stir the yeast and flour mixtures with a wooden spoon. Once it comes together, knead by hand in the bowl for about three to four minutes. The dough will be a bit sticky and shaggy looking.

Grease a bowl and place the dough inside. Cover with plastic wrap or a towel and let sit in a warm place until it doubles in size. This should take about one to two hours.

Divide the dough into eight equal balls. On a lightly floured surface, roll one ball at a time until it's about ⅛-inch thick. For a more traditional look, roll into a rectangular shape.

Heat a cast-iron skillet over medium-high heat until scorching hot. Lightly brush one side of the rolled naan dough with ghee. Set aside four tablespoons of ghee for this step. Place in the hot skillet and cook for about a minute to a minute and a half. While it cooks, lightly brush the other side with ghee. Flip and cook for another minute to a minute and a half. The naan will bubble up, potentially with huge bubbles. This is normal. Repeat with all the dough.

As you cook the naan, melt the remaining ghee with garlic over medium heat in another pan. Turn to low if the garlic starts to get too hot. When each piece of ghee finishes cooking, brush with the garlicky ghee mixture and sprinkle with fresh chopped cilantro or parsley if desired. To keep warm, you can cover the naan in tinfoil until all the pieces cook and are ready for serving. Enjoy!
Notes
For the yogurt, I used plain, regular yogurt, not Greek yogurt. This recipe has not been tested with Greek yogurt.
You can substitute butter for ghee, though I recommend ghee if possible. I can find it easily in the baking aisle at my grocery store.
Eight balls is just a suggestion based on a 12-inch skillet. You can make them bigger or smaller if you'd like.
Nutritional information is only an estimate. The accuracy of the nutritional information for any recipe on this site is not guaranteed.
Nutrition
Serving:
1
piece
|
Calories:
350
kcal
|
Carbohydrates:
51
g
|
Protein:
13
g
|
Fat:
15
g
|
Cholesterol:
37
mg
|
Sodium:
383
mg
|
Sugar:
7
g