Enjoy a taste of the season's favorite flavors with a big slice of this fluffy sweet potato cornbread! Served with a cinnamon-maple butter, this fall-inspired cornbread is a comforting accompaniment to your Thanksgiving dinner or bowl of warming chili. You'll want to make this cornbread a staple for all your fall meals.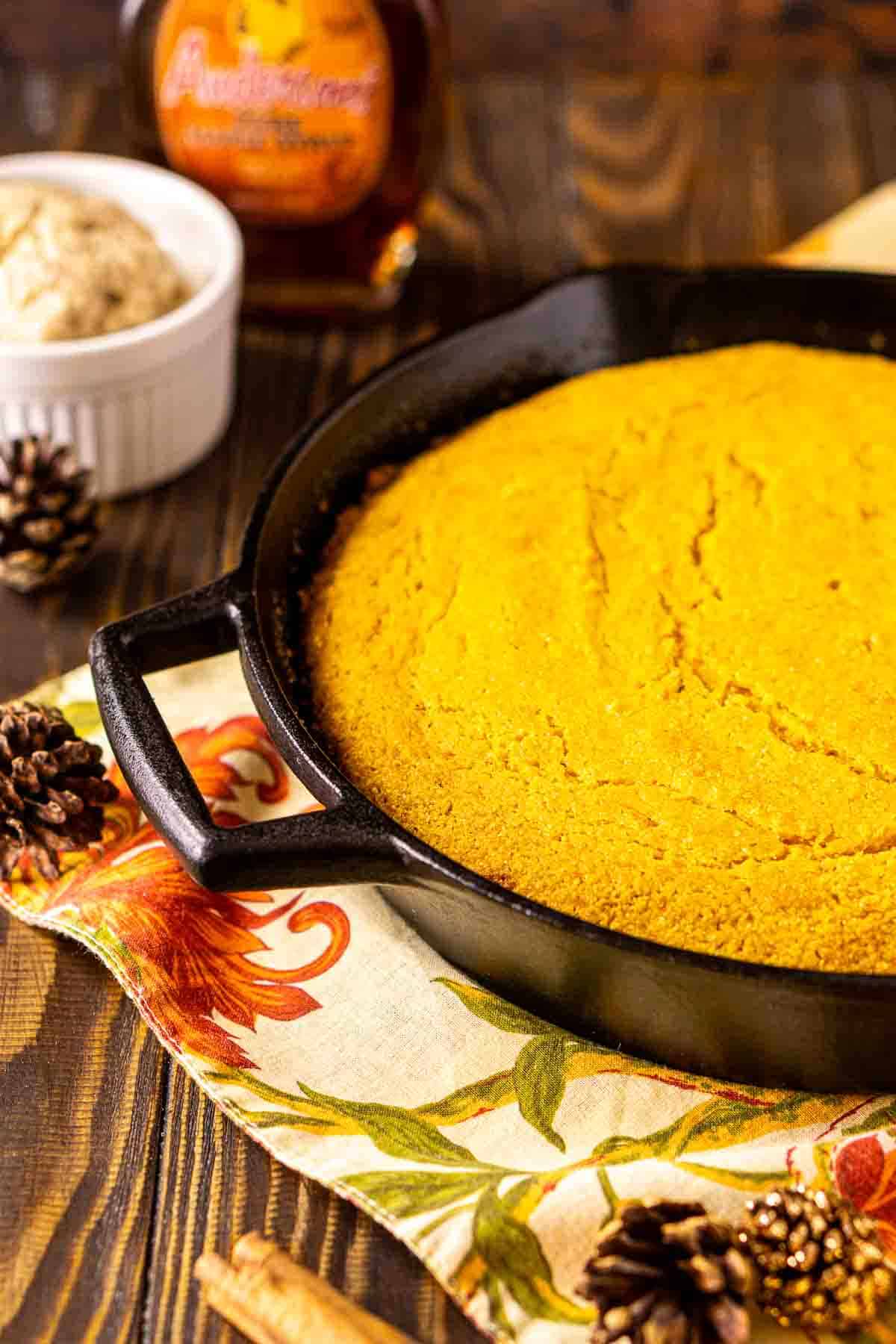 Jump to:
Why You'll Love This Recipe
A fall twist on classic comfort food: Sweet potatoes, cinnamon and maple — how cozy does that sound? This cornbread will give you extra fall vibes, and that sweet potato adds a nice moisture boost for an even more delicious bite.
An easy recipe for all skill levels: Not an expert baker? No problem here. Beginner bakers can master this recipe just as much as expert bakers.
Pairs well with so many recipes: This cornbread isn't just for Thanksgiving and your next chili night. Try it on the side of pot roast, braised short ribs, duck gumbo or pork schnitzel. You will get so much use out of this recipe.
Related: For more cornbread recipes, you'll also love this jalapeño popper cornbread.
Ingredients
Sweet potato: Look for whole sweet potatoes with a firm texture and no sprouts, bruises or cracks.
Cornmeal: You can use either white or yellow cornmeal. Yellow cornmeal gives you a brighter yellow color and has a more prominent corn flavor. This comes down to personal preference. No matter which variety you choose, make sure you don't get self-rising cornmeal.
Flour: I specifically tested this recipe with all-purpose flour, so that's what I recommend here.
Buttermilk: Don't substitute regular milk for buttermilk, which gives you a much more moist cornbread with a tender crumb.
Eggs: We want large eggs rather than medium eggs.
Maple syrup: Make sure you use real maple syrup, not that fake pancake syrup. Maple syrup comes in both grade A and grade B. I recommend grade A for the perfect balance of sweetness and richness, though both will technically work.
Step-by-Step Instructions
How to Make Sweet Potato Cornbread
Step 1: Before starting on the cornbread, we need to prepare our mashed sweet potato. For this step, we add peeled sweet potatoes to a pot of cold salted water, bring it to a boil and continue cooking until we can easily pierce the potato with a fork. We then drain the water and mash the sweet potato (photos 1-3).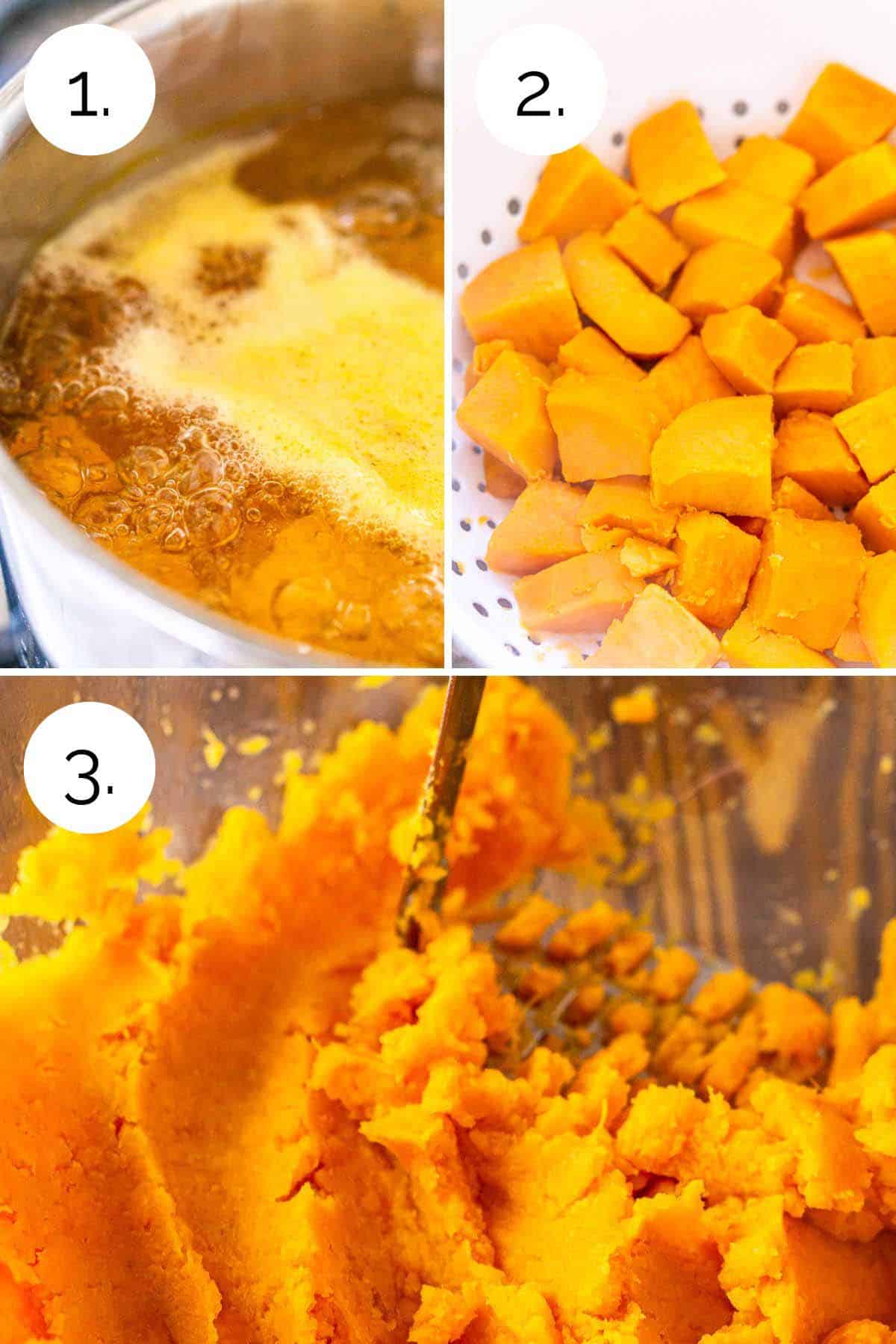 Step 2: Now we place a 10-inch cast-iron skillet in a cold oven and heat it to 400 degrees F. As the oven heats, we stir together the cornmeal, flour, sugar, baking soda and salt in a large mixing bowl (photo 4).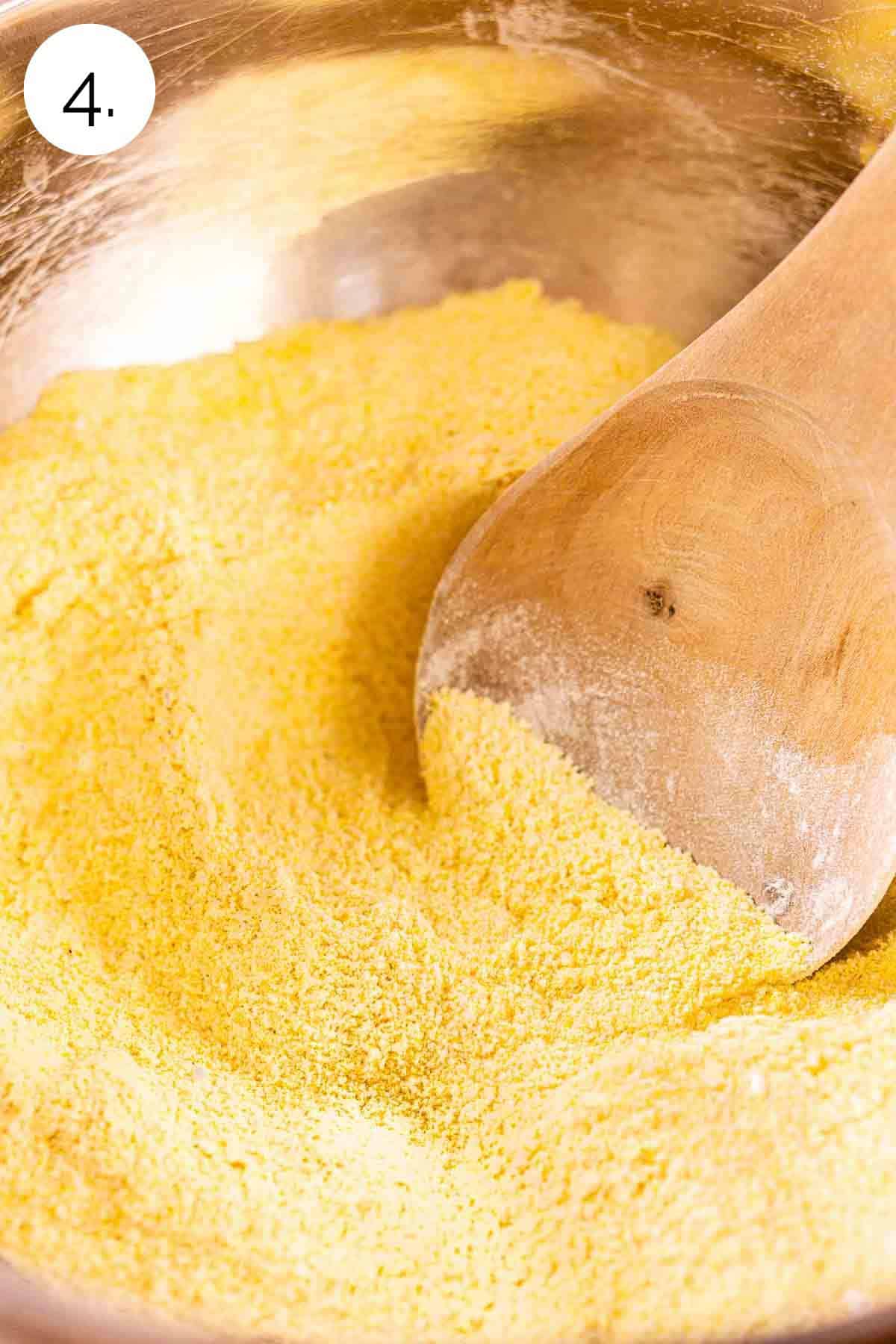 Step 3: We grab a separate large bowl and whisk together the eggs, mashed sweet potatoes, buttermilk and melted butter until the mixture turns nice and smooth (photo 5).
Step 4: From here, we stir the dry ingredients into the wet ingredients to make the sweet potato cornbread batter (photo 6). Don't worry that it's lumpy — that's normal.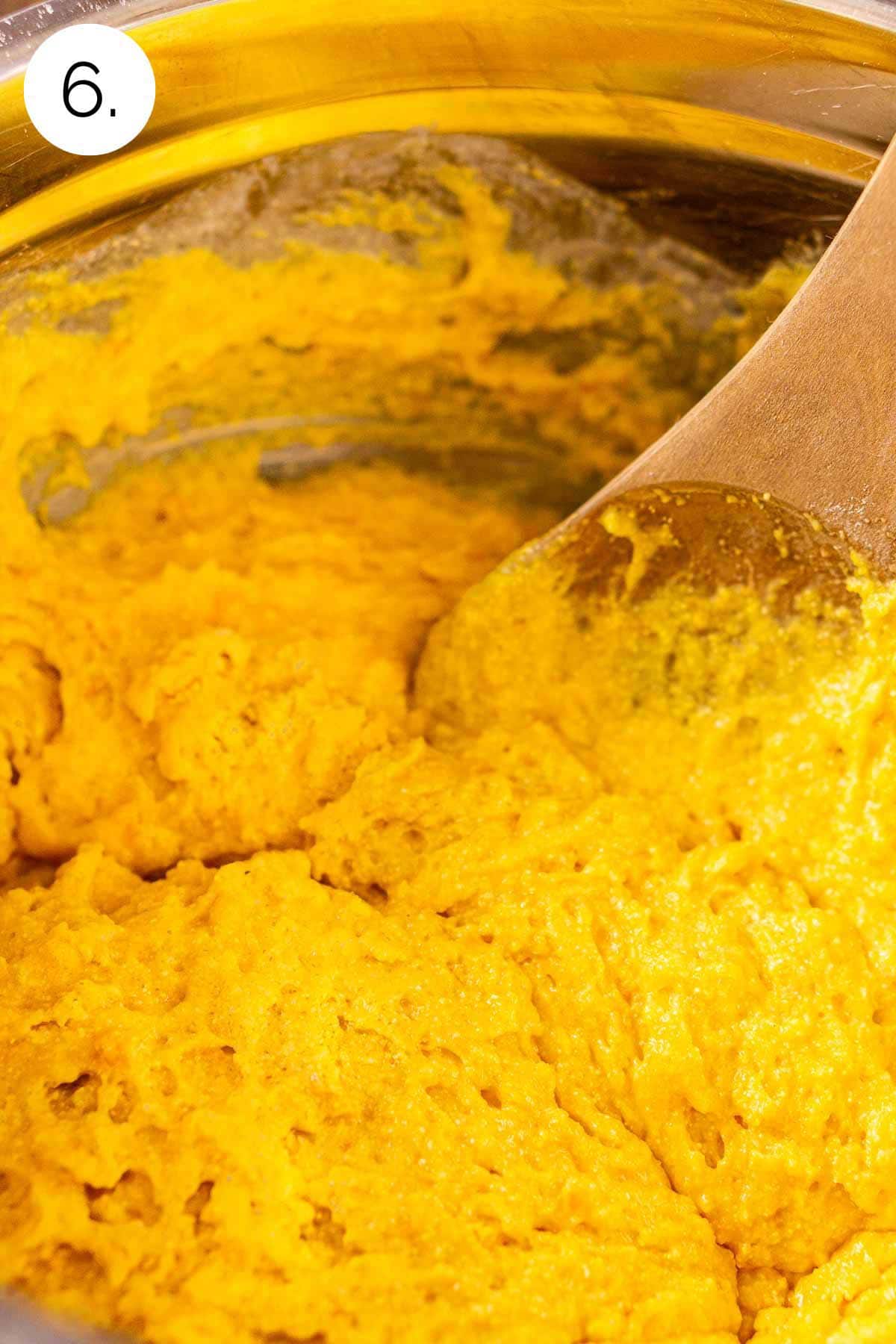 Step 5: At this point, the oven should be up to temperature, and the skillet should be blazingly hot. We remove the hot skillet from the oven and add some butter and then spread the cornbread batter on top like so (photo 7). Now we put the skillet back in the oven and let it bake until a toothpick comes about clean from the center.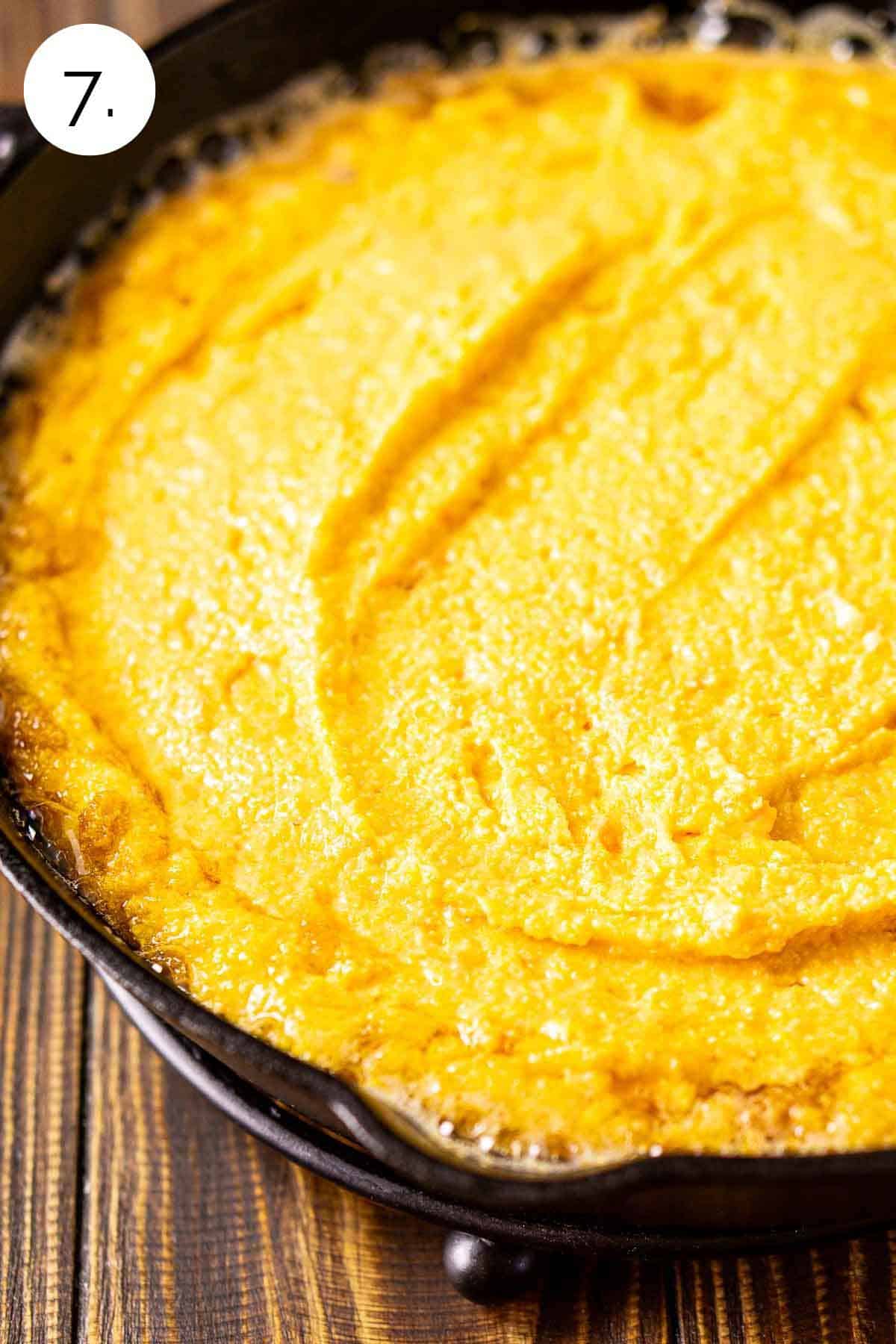 How to Make Cinnamon-Maple Butter
Step 1: We grab another bowl and beat together the butter, maple and ground cinnamon until it becomes one cohesive mixture (photo 8).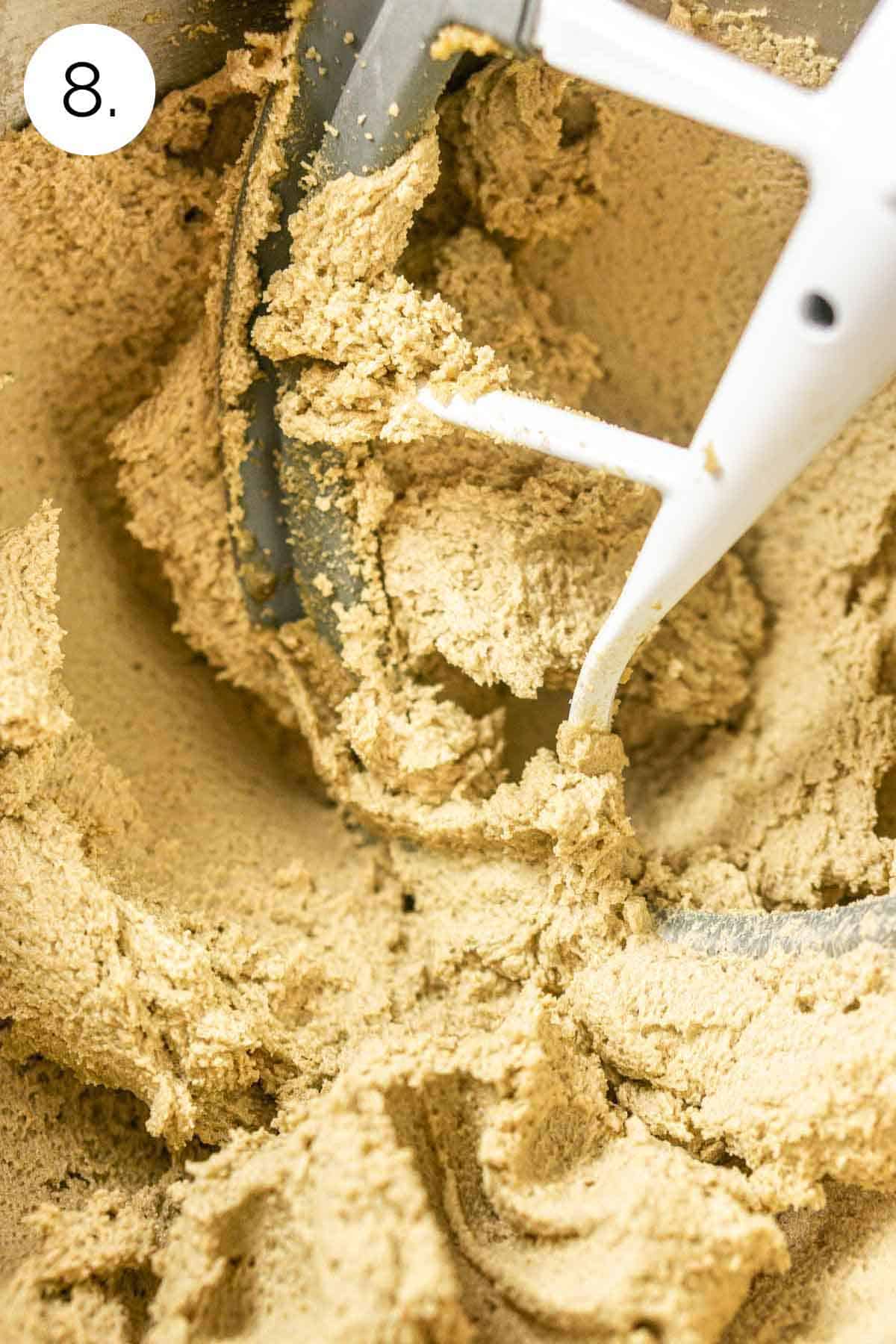 And there you have it. Our soft, fluffy sweet potato cornbread is ready to smear with that spiced butter and enjoy.
Additional Serving Ideas
If you're looking for some delicious holiday meals to go with this sweet potato cornbread recipe, I have plenty of delicious options for you.
Turkey: These maple-braised turkey legs and thighs make for some incredibly juicy, tender meat, and you'll love that maple flavor for Thanksgiving. If you love smoking turkey, you have lots of options here, including my smoked turkey thighs, smoked turkey drumsticks and smoked turkey wings.
Duck: Duck is also a favorite for a special occasion with that rich meat. My holiday roast duck and smoked duck are wildly popular during Thanksgiving and Christmas.
Chicken: For a smaller holiday dinner, consider a whole chicken. You can make my holiday roast chicken, smoked whole chicken or even a smoked spatchcock chicken.
Beef: This smoked prime rib is the crown jewel of any holiday meal and would make a wonderful serving partner with this cornbread. You'll also love this smoked tri tip.
Lamb: My smoked leg of lamb is a beautiful centerpiece.
And don't forget the side dishes. This pumpkin macaroni and cheese, smoked mashed potatoes and croissant stuffing are a few favorites.
How to Store, Freeze and Reheat Leftover Cornbread
After baking, we can keep the cornbread right in the cast-iron skillet and cover it tightly with heavy-duty aluminum foil or move it to an airtight container. The cornbread should stay fresh for two to three days.
For even longer storage, we can freeze it. To freeze, we cover the cornbread with plastic wrap, add a layer of aluminum foil, place the cornbread in a freezer-safe container or bag, and freeze it flat for up to three months. We can either freeze the entire cornbread or as individual slices.
To thaw the cornbread, we place the cornbread on the countertop and let it sit at room temperature. Although you can let it thaw in the refrigerator, I find the refrigerator has a tendency to dry out cornbread.
When we're ready to reheat, we wrap the cornbread with a new layer of aluminum foil and place it in a 350-degree F oven until it's warmed throughout the center. To keep from drying out the cornbread, we want to check it at the 10-minute mark. If we're just reheating a slice, a quick burst in the microwave also works.
Recipe FAQs
Is Southern cornbread traditionally sweet?
Surprisingly, no, Southern cornbread traditionally doesn't use additional sugar. If you'd like to make this cornbread in more of the Southern style, you can eliminate the sugar completely.

That said, this recipe only calls for 2 tablespoons of sugar, so it's not overly sweet. The sugar just enhances the corn flavor.
Can you roast the sweet potatoes instead of boiling them?
While you can roast the sweet potatoes, I prefer boiling. This gives the sweet potatoes a little extra water to make for a moist cornbread.
How do you avoid dry, crumbly cornbread and ensure it stays moist?
The biggest culprits of dry cornbread are overbaking, overmixing and using milk over buttermilk. As long as you don't do any of those, you should have a moist cornbread.
What if you don't have buttermilk?
Make your own buttermilk instead. Simply stir together 1 tablespoon and ¾ teaspoon lemon juice or distilled white vinegar with 1 ¼ cups whole milk. Let the milk mixture sit for five to 10 minutes, and your buttermilk substitute is ready.
Why is a cast-iron skillet ideal for cornbread?
That hot cast-iron skillet is perfect for getting that golden brown crust. A ceramic dish won't give you that classic crisp texture.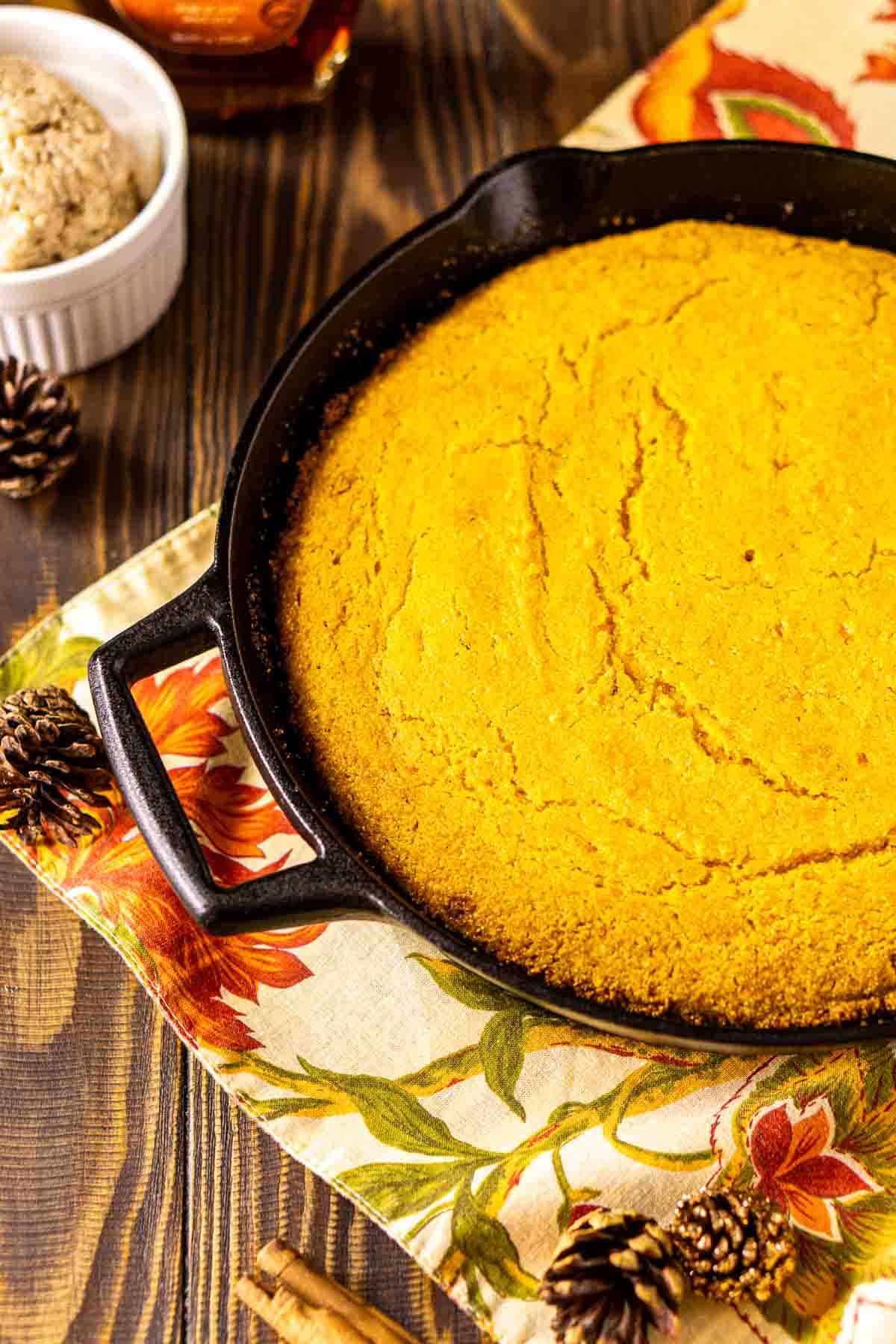 Variations and Substitutions
While I love this cornbread as is, sometimes it's fun to put your own stamp on a recipe. Here are a few ways you can make this cornbread with a twist.
Make a pumpkin cornbread by swapping the sweet potato mash for pumpkin purée.
Serve with another flavored butter — a honey butter, for instance, is delicious or try more warm spices than just cinnamon.
Add a touch of molasses flavor by substituting white sugar for brown sugar.
Add a pinch of pumpkin pie spice to the dry ingredients or vanilla extract to the wet ingredients.
Give it a heat kick by placing fresh jalapeño slices on top of the batter before baking.
Mix in fresh corn kernels for some extra heartiness and flavor.
Expert Tips
Shake the buttermilk before measuring: Buttermilk separates as it sits.
Give the cornbread 10-15 minutes to cool before slicing: This helps keep it moist and prevents it from crumbling.
Properly measure the flour: Don't scoop the measuring cup into a bag of flour. This packs in too much and can throw off the recipe. Instead, spoon it into a measuring cup and then level the flour with a butter knife.
Check the date on your baking soda: If it's expired, you won't get the proper rise.
Let the buttermilk and eggs sit at room temperature for 30 minutes: Room-temperature ingredients mix better into a batter, so you don't risk overmixing.
Perfect Pairing
Considering that many people enjoy sweet potato cornbread with a holiday meal, let's make pairing recommendations that work for the whole dinner.
For a beer, you'll especially love a bière de garde. This style of beer is known for how well it works with herb-forward flavors, like your Thanksgiving turkey and stuffing.
If you prefer wine with your holiday celebration, grab a pinot noir for the red lovers and a sauvignon blanc for the white lovers. Like the bière de garde, pinot noir features earthy notes to pair with those herby dishes, and a sauvignon blanc has lots of acidity to cut through that heavy meal.
Or maybe you'd like a cocktail. My maple whiskey sour is delightful with so many classic holiday dishes, and you'll love the way the maple and whiskey play with the sweet potato flavor.
When you need a festive side dish the whole family will love, serve this homemade sweet potato cornbread and watch everyone devour every delicious bite. This cornbread is sure to become a new holiday tradition.
Cheers!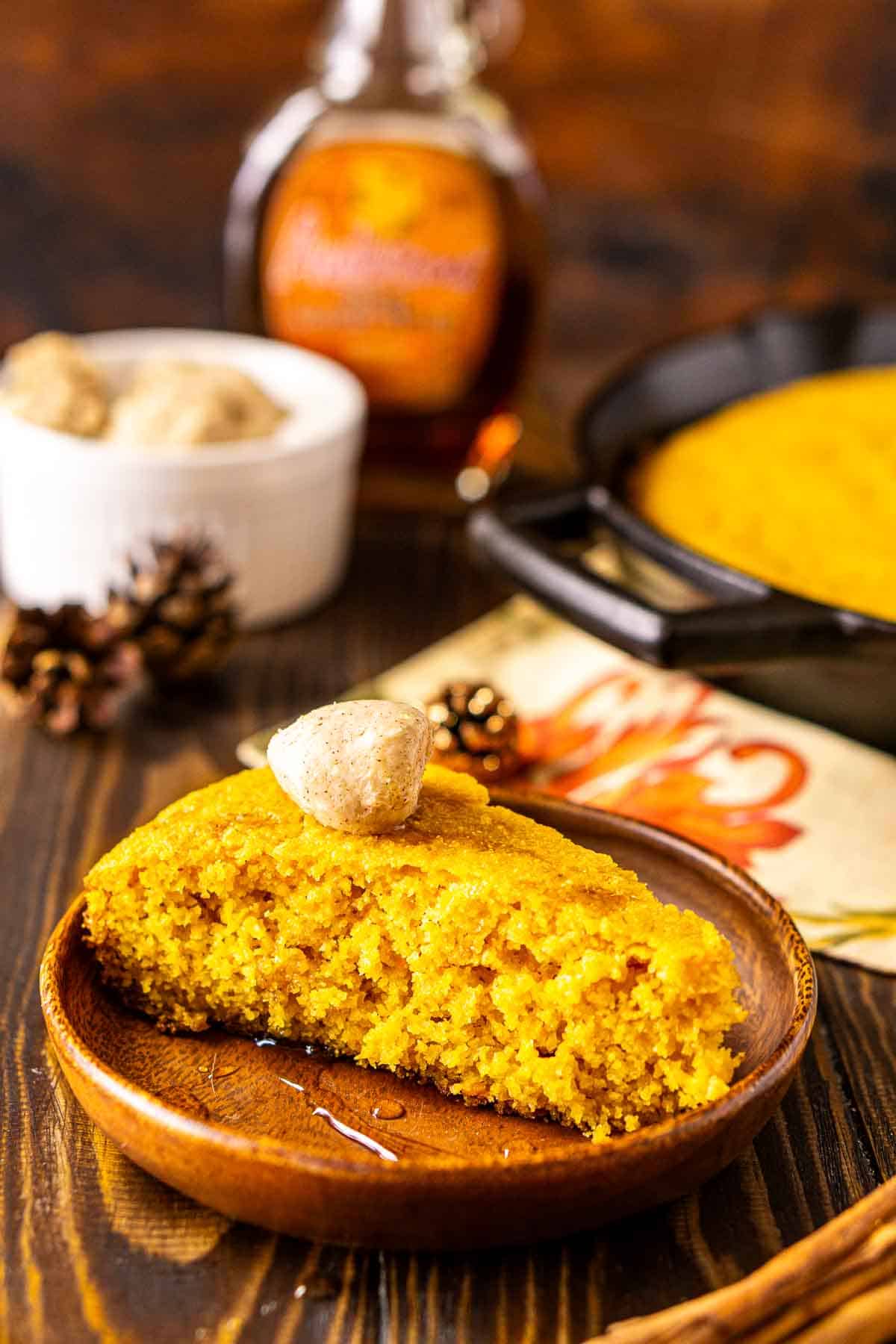 Get More Holiday Side Dishes
If you love this recipe, please leave a comment with a five-star rating — or simply hit the five-star button in the recipe card. Don't forget to sign up for my newsletter, and you can follow me on Facebook, Instagram, Pinterest and TikTok.
📖 Recipe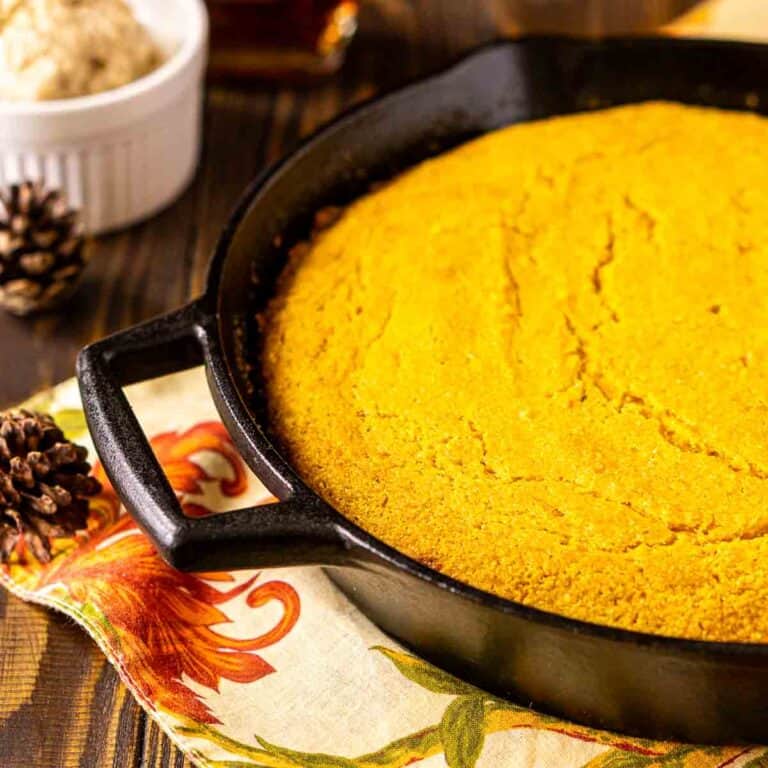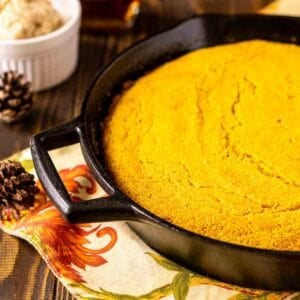 Sweet Potato Cornbread With Cinnamon-Maple Butter
Enjoy a taste of the season's favorite flavors with a big slice of this fluffy sweet potato cornbread! Served with a cinnamon-maple butter, this fall-inspired cornbread is a comforting accompaniment to your Thanksgiving dinner or bowl of warming chili. You'll want to make this cornbread a staple for all your fall meals.
Print
Pin
Rate
Equipment
10-inch cast-iron skillet
Ingredients
Sweet Potato Cornbread
2

large sweet potatoes

peeled and cut into 1-inch cubes

Salted water

1 ½

cups

cornmeal

½

cup

all-purpose flour

spooned and leveled

2

tablespoons

white sugar

2

teaspoons

baking soda

1

teaspoon

salt

2

large eggs

beaten, room temperature

1 ¼

cups

buttermilk

shaken before measuring, room temperature

½

cup

melted salted butter

2

tablespoons

unmelted salted butter
Cinnamon-Maple Butter
½

cup

salted butter

softened

2

tablespoons

real maple syrup

preferably grade A

½

teaspoon

ground cinnamon
Instructions
Sweet Potato Cornbread
Add the sweet potato cubes to a pot of cold salted water. Bring to a boil. Continue to boil until a fork can easily pierce the sweet potatoes, about 10-15 minutes. Drain the sweet potatoes and pat with a paper towel to absorb excess moisture. Move the sweet potatoes to a bowl. Using a potato masher or fork, mash the sweet potatoes. Measure out 1 cup mashed sweet potatoes and reserve.

Place a 10-inch cast-iron skillet in a cold oven and heat to 400 degrees F. In a large mixing bowl, stir together the cornmeal, flour, sugar, baking soda and salt. These are the dry ingredients. Set aside.

In a separate large mixing bowl, whisk together the eggs, reserved mashed sweet potatoes, buttermilk and melted butter until it's smooth. These are the wet ingredients.

Stir the dry ingredients into the wet ingredients just until combined. Do not overmix. The batter will be a bit lumpy.

By now, the oven should be 400 degrees F. If not, allow it to reach 400 degrees F. When it hits 400 degrees F, carefully remove the skillet from the oven and place on a heat-proof surface, such as a trivet or the stove. Add the 2 tablespoons unmelted butter. Use a spoon to move the butter around to evenly coat the skillet. Pour in the batter. Bake until a toothpick comes out clean, about 20 minutes. Allow to cool for 10-15 minutes before slicing.
Cinnamon-Maple Butter
In a large mixing bowl, beat the butter, maple syrup and cinnamon until well mixed. Spoon into a serving bowl. Cover with plastic wrap until ready to serve on the side of the sweet potato cornbread. Enjoy!
Notes
For baking at 5,280 feet, I used 1 ¾ teaspoons baking soda. I did not make any additional adjustments for altitude.
Cover leftovers tightly or store in an airtight container. It should stay fresh for two to three days.
You might not need the entire sweet potato mash, but I like to boil two potatoes instead of one to be safe.
Nutritional information is only an estimate. The accuracy of the nutritional information for any recipe on this site is not guaranteed.
Nutrition
Serving:
1
slice
|
Calories:
306
kcal
|
Carbohydrates:
38
g
|
Protein:
6
g
|
Fat:
15
g
|
Saturated Fat:
8
g
|
Polyunsaturated Fat:
1
g
|
Monounsaturated Fat:
4
g
|
Trans Fat:
0.5
g
|
Cholesterol:
66
mg
|
Sodium:
613
mg
|
Potassium:
301
mg
|
Fiber:
4
g
|
Sugar:
9
g
|
Vitamin A:
6863
IU
|
Vitamin C:
1
mg
|
Calcium:
64
mg
|
Iron:
1
mg