Maybe you're looking for an easier, quicker turkey alternative for Thanksgiving, especially if you're serving a small group. Or perhaps you're getting into the holiday spirit and crave a festive turkey dish before Thanksgiving hits. Heck, this is the internet. Maybe you've stumbled upon this recipe post holiday season and miss those satisfying turkey meals.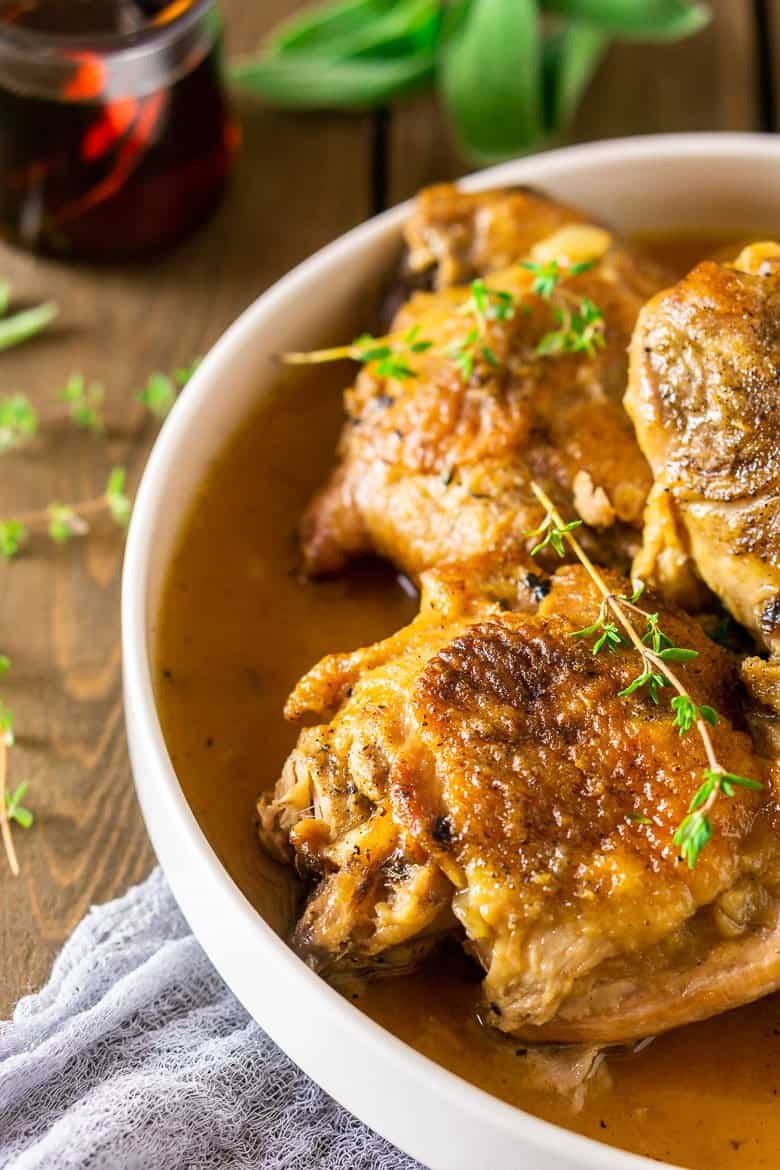 In any case, this maple-braised turkey legs and thighs recipe was made just for you. You're welcome.
If you've never braised turkey legs and thighs, you're in for a good time. The meat slowly cooks, which makes it fall-off-the-bone tender, and the delicious braising liquid keeps the turkey moist and full of flavor.
Although it takes some time to cook, it's still much quicker than preparing a whole turkey. Plus, the turkey spends most of the time in the oven, so that always makes those slow-cooking recipes more manageable.
Step-by-Step Instructions
Let's walk through the steps, so you can be on your way to making this easy, tasty maple-braised turkey. We start by patting dry the turkey skin, sprinkling with salt and pepper, and dredging in flour.
If you have some time, you can salt the turkey the day before and store uncovered in the refrigerator. The salt will pull out some moisture, making for crispier skin.
But no worries if you don't have time. I didn't do that when I photographed this recipe because life was just too busy. It happens, but know that option is there if you'd like.
We now use our trusty Dutch oven to brown the turkey in hot oil, which is a crucial, must-not-skip step. Browning the turkey will start to crisp up the skin. Otherwise, we'll be left with gummy skin covered in flour, and no one wants that.
We'll also have to brown the skin in batches. If the pan is too crowded, we'll just create a bunch of steam, which means no delicious browning.
Once the skin is perfectly browned, we cook onion slices for a few minutes and then add apple cider vinegar to deglaze the pan. That's basically a fancy way of saying we pour in some liquid and use a wooden spoon to loosen up cooked bits in the Dutch oven.
From here, we finish the braise with maple syrup and chicken stock along with some fresh thyme, sage and dried bay leaves. Plop the turkey back into the Dutch oven with the skin facing up and bring to a boil.
Make sure the liquid doesn't cover the turkey. We want the skin exposed, so it can stay crisp in the oven. As long as the liquid is about halfway up the turkey, we should be good.
Now let's pop our turkey uncovered into a 275-degree oven and cook for about two hours. We'll know when the turkey is ready because the meat will easily fall off the bone. And let's be real —- any time meat falls off the bone, we know we're about to experience something magical.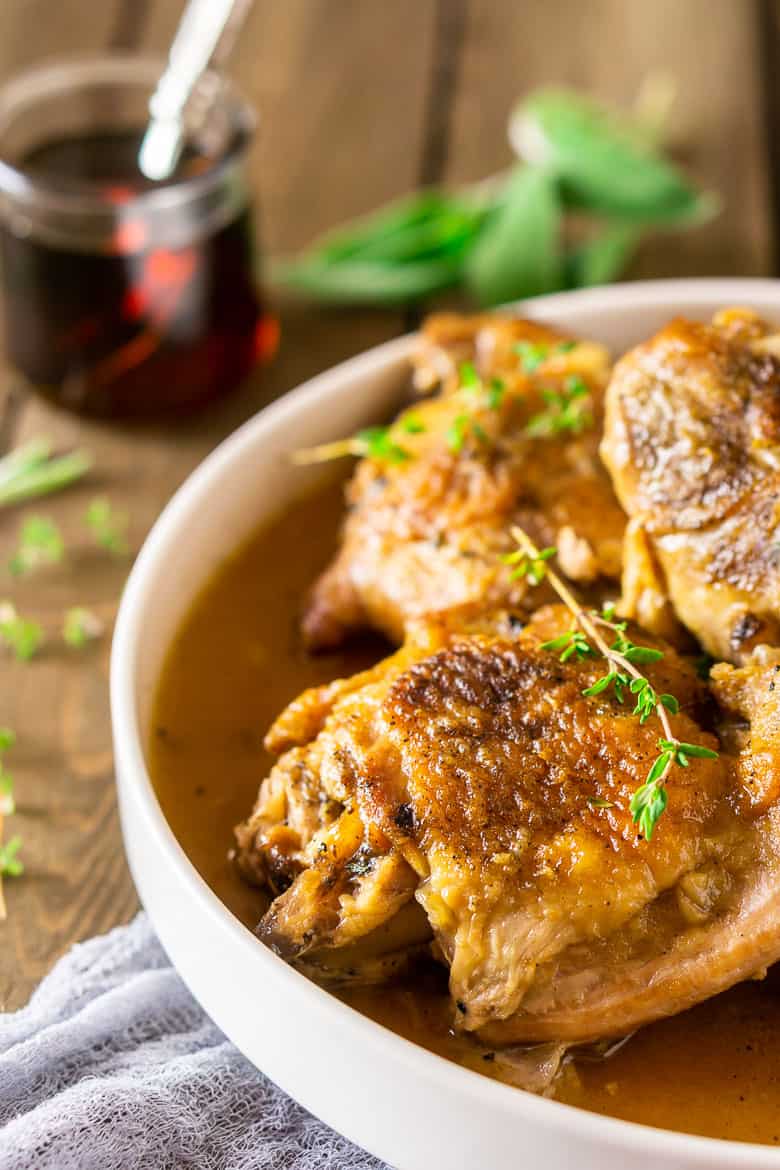 What to Serve on the Side?
As I mentioned, you can definitely serve these maple-braised turkey legs and thighs in place of your traditional roasted turkey on Thanksgiving. Obviously, that means your typical holiday side dishes match perfectly. For a festive fall meal, my Gruyere-pumpkin ale risotto is also a great option.
On top of serving this maple-braised turkey as is, you can shred the meat and use it in so many different ways. For instance, I love it grilled cheese sandwiches. The maple gives this turkey a sweetness, so it contrasts nicely against the savory cheese.
I also love using this maple turkey in enchiladas. The spicy enchilada sauce against the sweet meat is a delicious combination, and I plan to share that recipe soon so stay tuned! I've also used this turkey in nachos, which were fantastic. Feel free to get creative with how you use this turkey.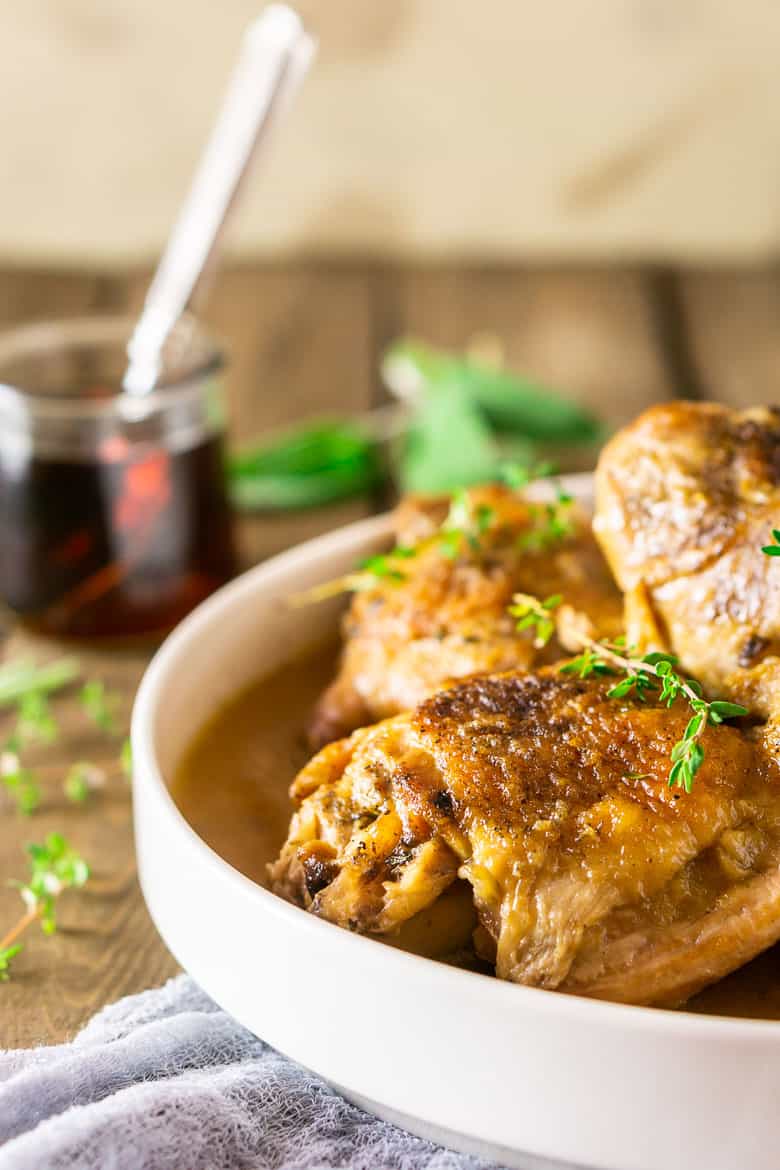 Perfect Pairing
Between the richness of the dark meat and maple syrup, I like a bold beer that can stand up to this hearty dish. A Belgian-style quad is perfect for the job with its dried fruit notes and thick mouthfeel. The clove flavor from the yeast also adds some contrast.
For your perfect wine pairing with braised turkey, look no further than a gewürztraminer. Like a Belgian-style quad, gewürztraminer has a thick body and touch of baking spice that I love with maple. Gewürztraminer is also a classic pairing with rich fowl dishes, so you really can't go wrong here.
Whether these maple-braised turkey legs and thighs become part of your Thanksgiving dinner or just a fun fall meal, I hope you give them a try. Please let me know how you enjoyed this recipe in the comment section and don't forget to sign up for my newsletter. You can also catch me on Instagram, Pinterest, Facebook and Twitter.
Cheers!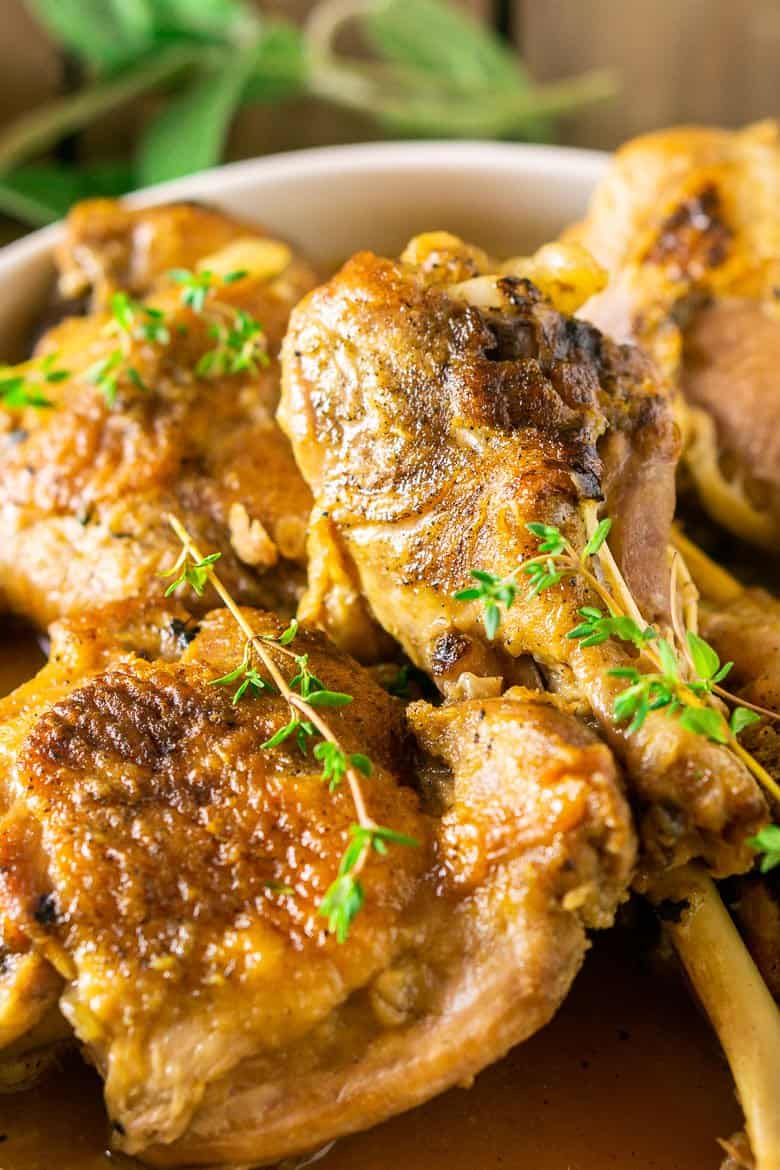 Don't You Just Love Fall Recipes?
Print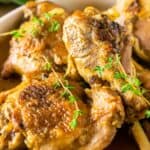 Maple-Braised Turkey Legs and Thighs
---
Author:

Prep Time:

10 minutes

Cook Time:

2 hours 30 minutes

Total Time:

2 hours 40 minutes

Yield:

6

servings

1

x
Description
These slow-cooked maple-braised turkey legs and thighs are fall-off-the-bone tender, moist and full of rich flavor. Plus, they're super simple to make.
---
3 pounds turkey legs and thighs
Salt
Pepper
¼ cup all-purpose flour
2-3 tablespoons olive oil
1 onion, sliced
1 cup Apple cider vinegar
1 cup maple syrup
2 cups chicken stock
2 dried bay leaves
1-2 fresh sage sprigs
Several fresh thyme sprigs
---
Instructions
Heat oven to 275 degrees. Pat turkey legs and thighs dry with a paper towel and generously sprinkle with salt and pepper. Dredge in flour.
Heat olive oil in a Dutch oven over medium-high heat. Once the oil shimmers, add turkey skin-side down and cook until browned, about five minutes. Flip and cook until the other side browns, about another five minutes. You don't want to overcrowd the pan, so don't add more than three pieces at a time. Otherwise, the skin won't brown properly. If the Dutch oven starts to get too hot, you can turn the heat down to medium.
After you brown all the turkey, turn the heat down to medium if you haven't already and place the browned turkey on a separate plate. If necessary, add a little more oil to the pan. Cook the onion slices for about four minutes. Pour in the apple cider and scrap up the brown bits.
Stir in the maple syrup, chicken stock, bay leaves, sage and thyme. Add turkey and bring the mixture to a boil. Move the Dutch oven to the 275-degree oven and cook uncovered for two hours. The turkey is done when the leg meat is fall-off-the-bone tender. Enjoy!
Notes
For the crispiest skin, pat dry with paper towels, sprinkle generously with salt and pepper, and store overnight in the refrigerator uncovered. Dredge with flour the next day and proceed with the rest of the steps.
The turkey shouldn't be fully submerged to encourage browning in the oven. The liquid should cover the turkey by about halfway.
Nutritional information is only an estimate. The accuracy of the nutritional information for any recipe on this site is not guaranteed.
Category:

Main Dish

Method:

Braising

Cuisine:

American
Nutrition
Serving Size:

1 piece

Calories:

300

Sugar:

34

Sodium:

550

Fat:

7

Saturated Fat:

0

Unsaturated Fat:

0

Trans Fat:

0

Carbohydrates:

30

Fiber:

0

Protein:

13

Cholesterol:

40
Keywords: braised turkey legs, braised turkey, braised turkey thighs, maple-braised turkey