Give everyone's favorite side dish a major flavor upgrade with these creamy smoked mashed potatoes! Prepared with browned butter, sour cream and rich Gouda, these mashed potatoes are infused with hickory notes to make the perfect accompaniment to any meal. Don't be surprised if smoking becomes your new favorite way to prepare this classic side dish.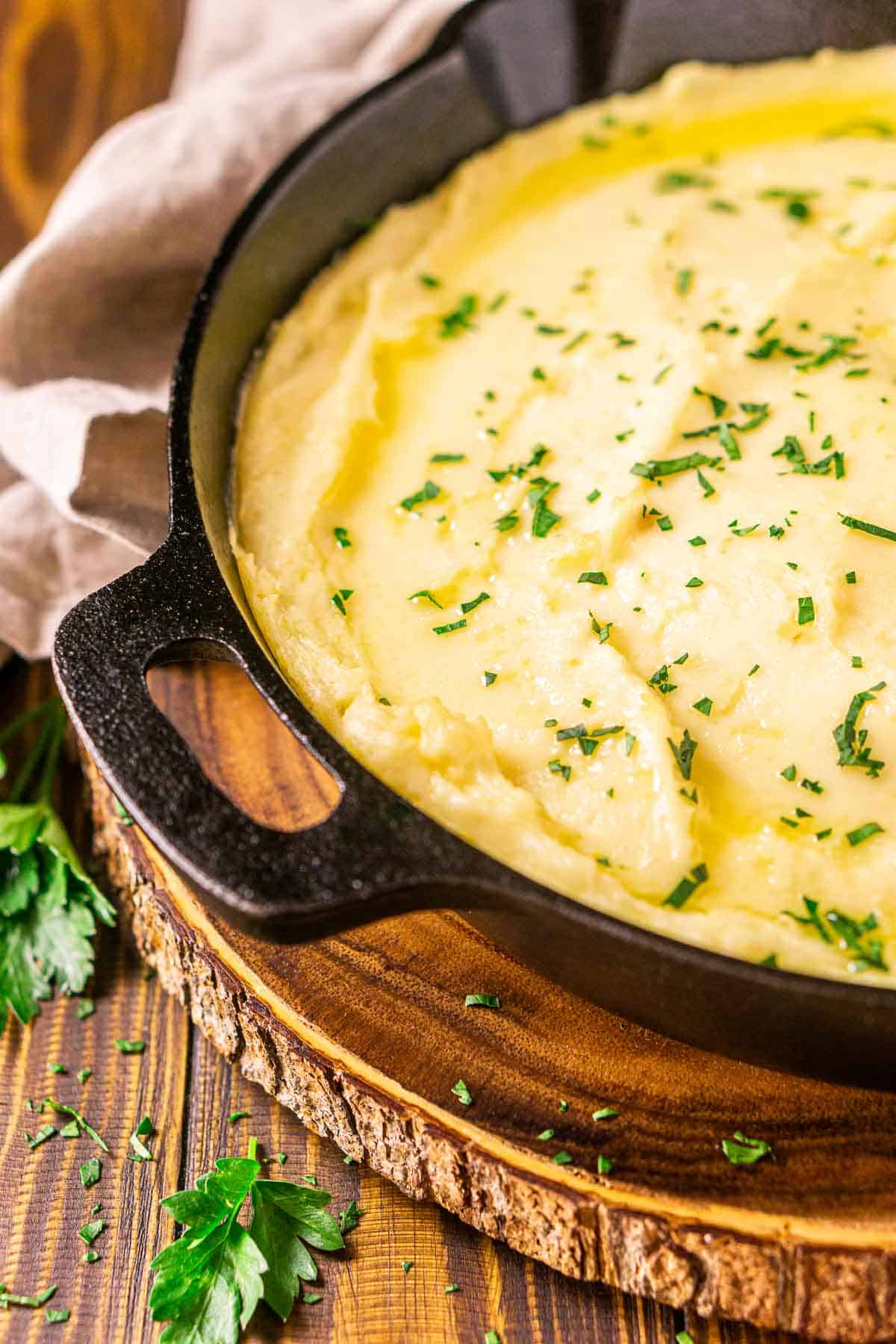 Jump to:
Why You'll Love This Recipe
More depth of flavor: After just an hour of smoking, these mashed potatoes show off a complexity you can't get from boiled potatoes alone. We also take inspiration from my brown butter mashed potatoes to use that delicious elixir, which adds a rich nuttiness. You've never enjoyed a more flavorful mashed potato recipe.
Always a beloved side dish: Who doesn't love mashed potatoes? When you put mashed potatoes on the table, you know they'll disappear quickly and leave everyone full and happy. This is the ultimate crowd-pleasing side dish.
No oven required: This especially comes in handy during the holidays when oven space is tight. All you need is the stove-top and your trusty smoker.
Great for any occasion: If you're smoking some brisket or ribs during the summer, throw on these buttery potatoes and you have a great side dish for your backyard barbecue. This recipe equally works well for the holiday season. Make sure you keep this recipe in your back pocket.
Related: For more potato recipes, you'll also love my air fryer fingerling potatoes, Hawaiian potato salad and roasted potato salad.
Ingredients
Just in case you need one more reason to love this smoked mashed potato recipe, check out this simple ingredient list.
Potatoes: You can use Yukon Gold potatoes or russet potatoes in this recipe. They're both high-starch potatoes, resulting in a fluffier, creamier texture. You can even use a combination of the two.
Butter: This recipe calls for salted butter. If you use unsalted butter, you'll likely want to add a pinch of salt to taste while mashing.
Sour cream: This adds to the creaminess and gives the potatoes just a touch of tang.
Gouda: With Gouda, we get an extra layer of rich, nutty flavor. While adding cheese is certainly optional, you'll adore that additional depth the Gouda brings to these potatoes.
Heavy cream: For total decadence, I highly recommend heavy whipping cream over half and half, whole milk or evaporated milk. That said, those three certainly work as a substitute if need be, but heavy cream is preferred for best results.
Step-by-Step Instructions
Step 1: First up is to prepare our potatoes. For this step, we peel the whole potatoes, slice them into quarters on a cutting board and rinse well (photo 1).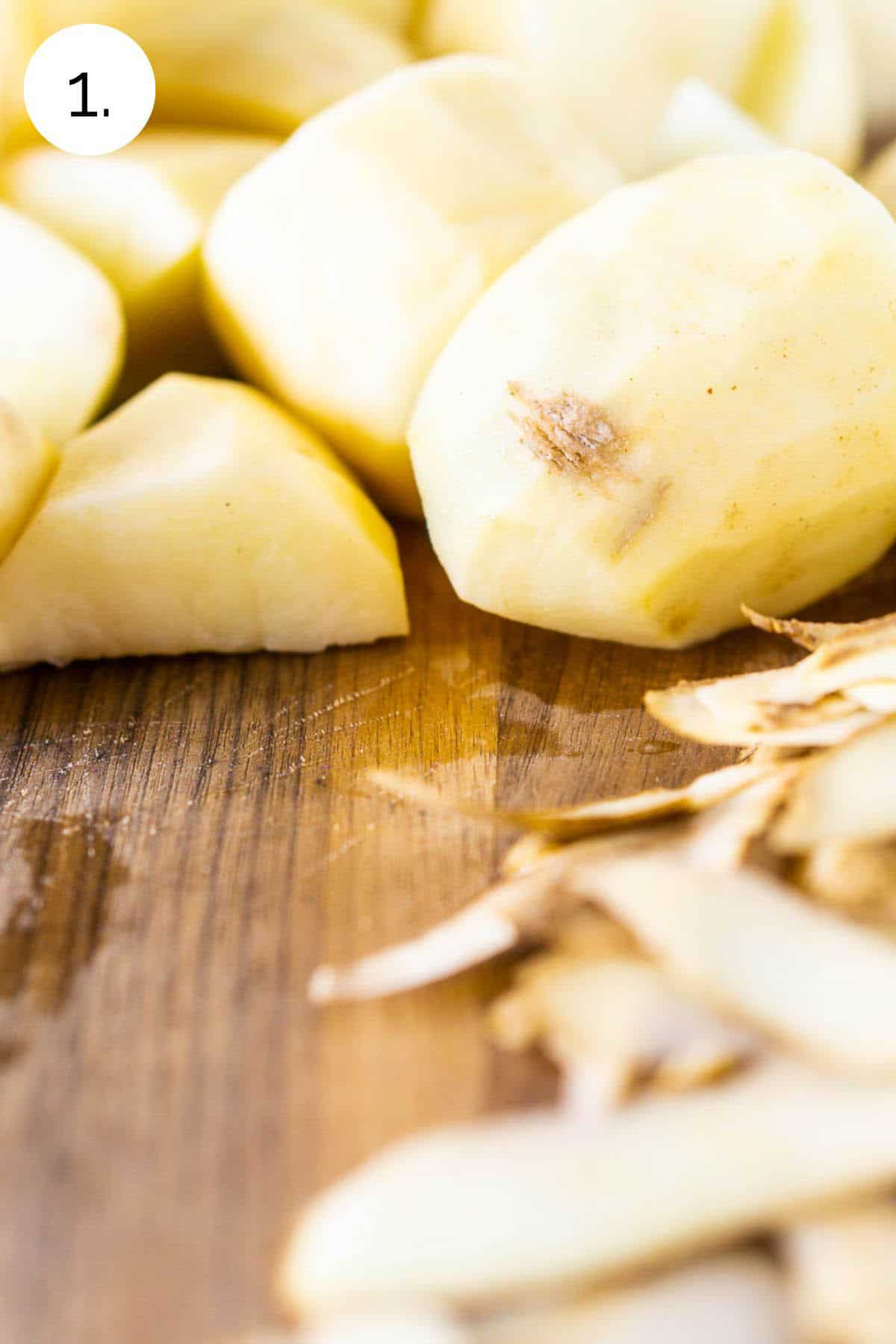 Step 2: Our next step is to add the peeled potatoes to a large stock pot with salted cold water, bring to a boil over high heat and then drop the temperature to a simmer until we can easily pierce the potatoes with a fork (photo 2).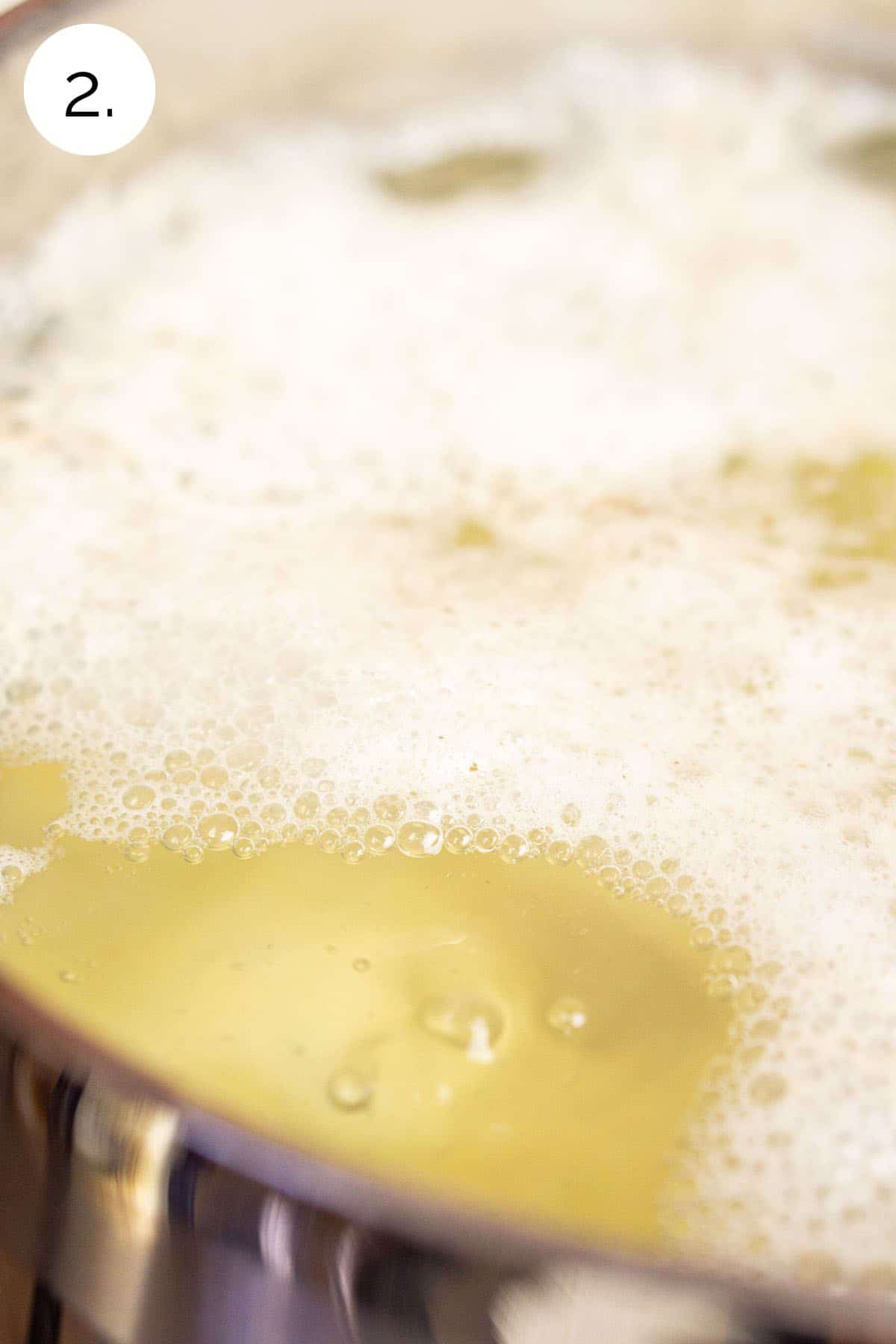 Step 3: While the potatoes simmer, we melt our butter in a small saucepan over medium heat and whisk occasionally until it turns golden brown and foams on top. This is our brown butter. Once the butter browns, we stir in the sour cream and heavy cream (photo 3).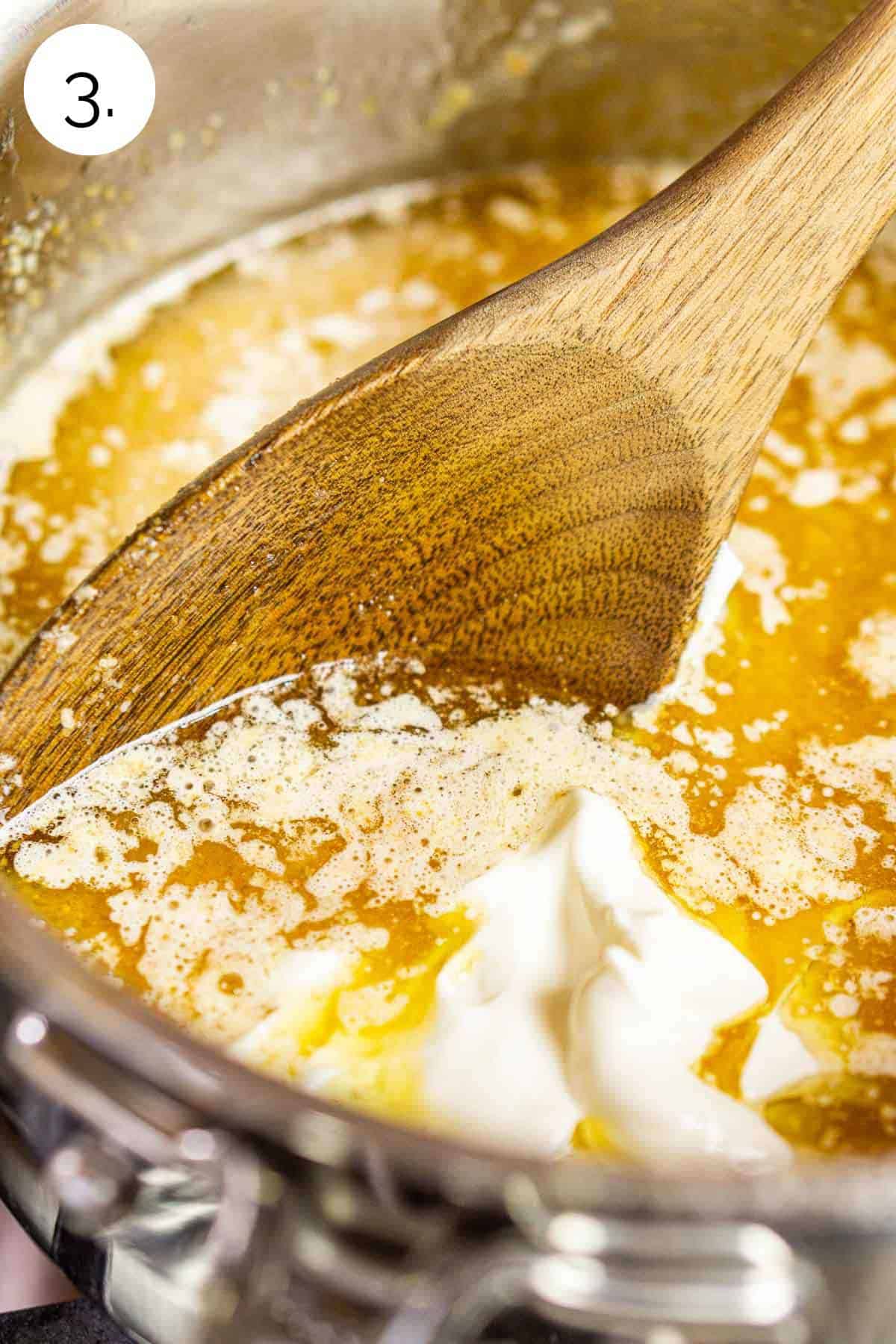 Step 4: When the potatoes become fork tender and finish cooking, we drain the large pot of water (photo 4) and pat the potatoes in a strainer with a paper towel to remove any excessive moisture.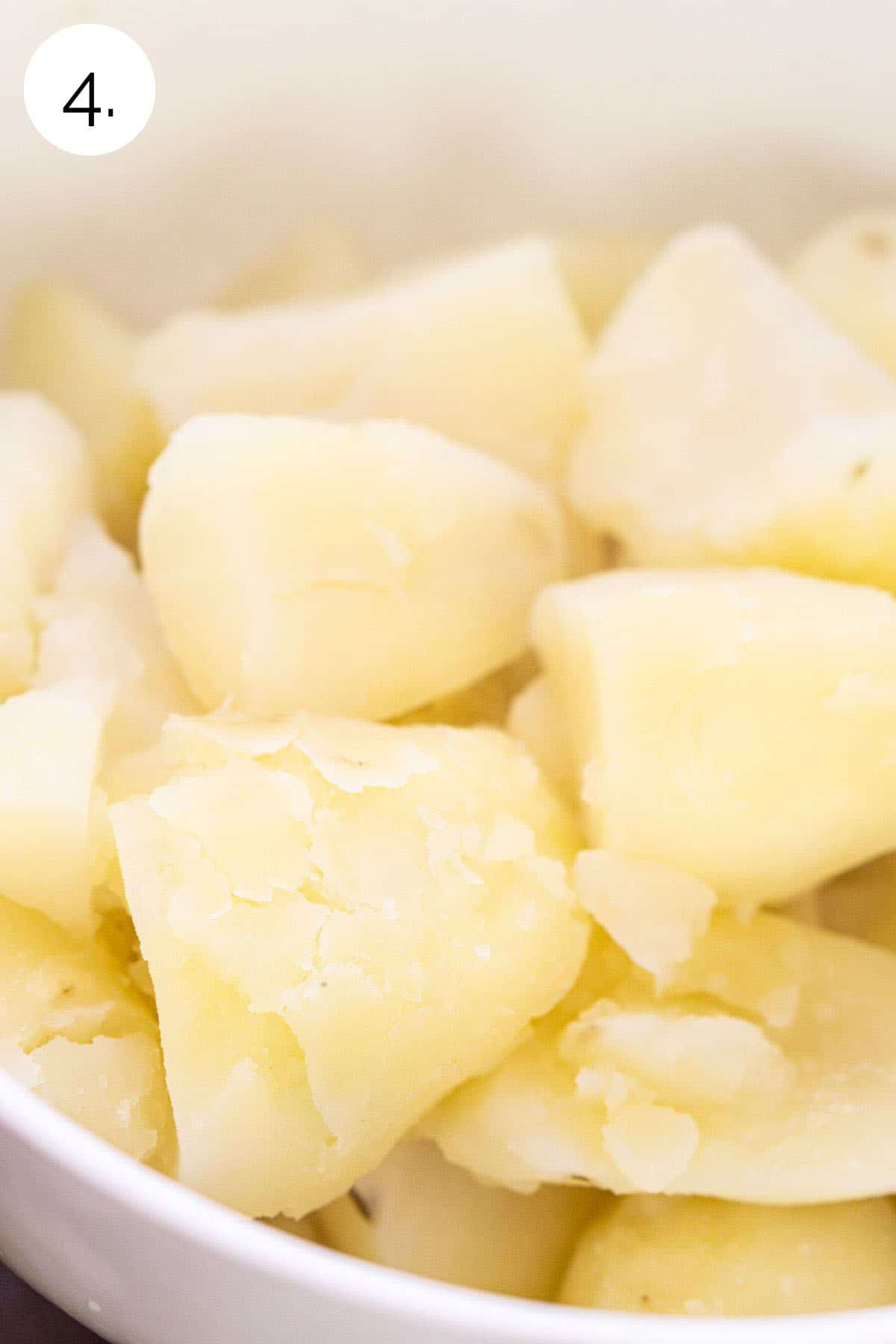 Step 5: Now it's time to mash the potatoes in a large bowl. I like to use a potato ricer to first process the chunks into small, fluffy pieces, which makes for a smoother consistency (photo 5). We then stir in the brown butter mixture and Gouda (photo 6) and continue to stir or whip until the potatoes are nice and creamy.
For stirring, a sturdy wooden spoon works well, or we can use a hand mixer or stand mixer for more of a whipped consistency. Alternatively, we can use a traditional potato masher.
Step 6: And just like that, we're ready to spoon the mashed potatoes into a 12-inch cast-iron skillet or disposable aluminum pan (photo 7) and place on a 225-degree F smoker with a water pan for one hour (photo 8).
Tip: We don't want to go more than an hour. Otherwise, we risk drying out the potatoes — one hour is plenty to get that unique smoky flavor.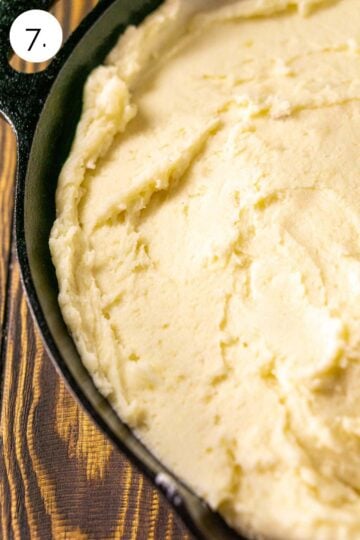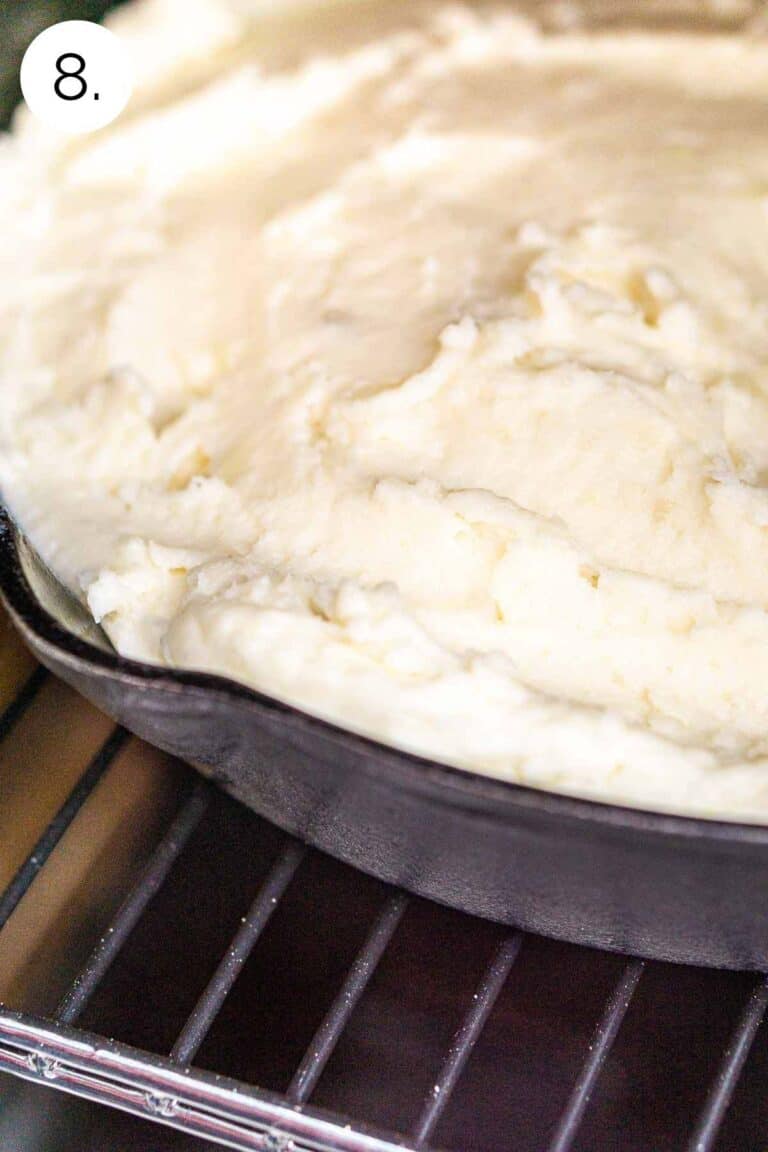 After smoking, our perfect mashed potatoes are ready. Serve with my smoked duck and smoked mac and cheese, and you have yourself some serious comfort food ready to devour. Aren't these the best mashed potatoes?
Tip: For more dinner ideas to go with this amazing side dish, check out this guide on what to serve with mashed potatoes.
Make-Ahead Directions
Considering that these smoked potatoes are a holiday side dish favorite, a make-ahead option keeps your hosting duties as simple as can be. And luckily for you, we have multiple options for your convenience.
We still make the potatoes as directed. Once they cool, we spoon the potatoes into an airtight container and store in the refrigerator for up to three days. When we're ready to serve, we reheat and rehydrate with a little heavy cream as the potatoes will stiffen a bit in the refrigerator. Here are a few ways to tackle that step.
Save the smoking step: Spoon the refrigerated mashed potatoes into the cast-iron skillet and mix with some heavy cream. Let the mashed potatoes sit at room temperature for 30-60 minutes to take off the chill and then smoke as directed. If needed, add more cream or butter at the end of smoking.
Reheat on the stove: Simply warm the mashed potatoes on the stove over low to medium-low heat. Stir here and there and pour in a touch of heavy cream.
Keep warm in a slow cooker: Spoon the mashed potatoes into a slow cooker with a liner and stir in some heavy cream. Set the slow cooker to low until the mashed potatoes heat through, and then turn it to the warm setting, stirring occasionally. You can also make the mashed potatoes the same day as serving, immediately move the potatoes to the slow cooker after smoking and keep them on the warm setting for up to four hours.
Use the microwave: Microwave the mashed potatoes in a covered dish with some heavy cream in short intervals and stir. Continue this step until the mashed potatoes are warm.
Tip: You can also use chicken stock to rehydrate if you don't want to use additional cream.
Recipe FAQs
What's the best wood for smoking mashed potatoes?
My preferred wood is hickory. Since this is a short smoking session, I prefer a stronger wood to infuse that wonderful flavor. That said, you can certainly use apple, cherry or pecan wood, but the smoke infusion will be a bit gentler.

I'd be cautious with mesquite, which is so strong that it can overwhelm the potatoes. If you need to use mesquite, I recommend taste testing the potatoes as they smoke because you likely won't need the entire hour.
What kind of smoker should I use?
Good news — any type of smoker works with this recipe. I use a vertical pellet grill, but your favorite electric smoker, charcoal smoker or propane smoker will work just fine.
Do you cover the potatoes before smoking?
No, please leave the potatoes uncovered. If you cover the dish with aluminum foil, the smoke can't leave its delicious infusion.
Can you freeze cooked mashed potatoes?
Absolutely, mashed potatoes are great for freezing leftovers. Keep the potatoes in an airtight, freezer-safe container, and they should keep for two months.

To thaw, place the frozen mashed potatoes in the refrigerator overnight or thaw on the defrost setting on your microwave. As the mashed potatoes thaw, they may seem watery, especially using the microwave, but keep stirring as you heat them, and they should come back together nicely.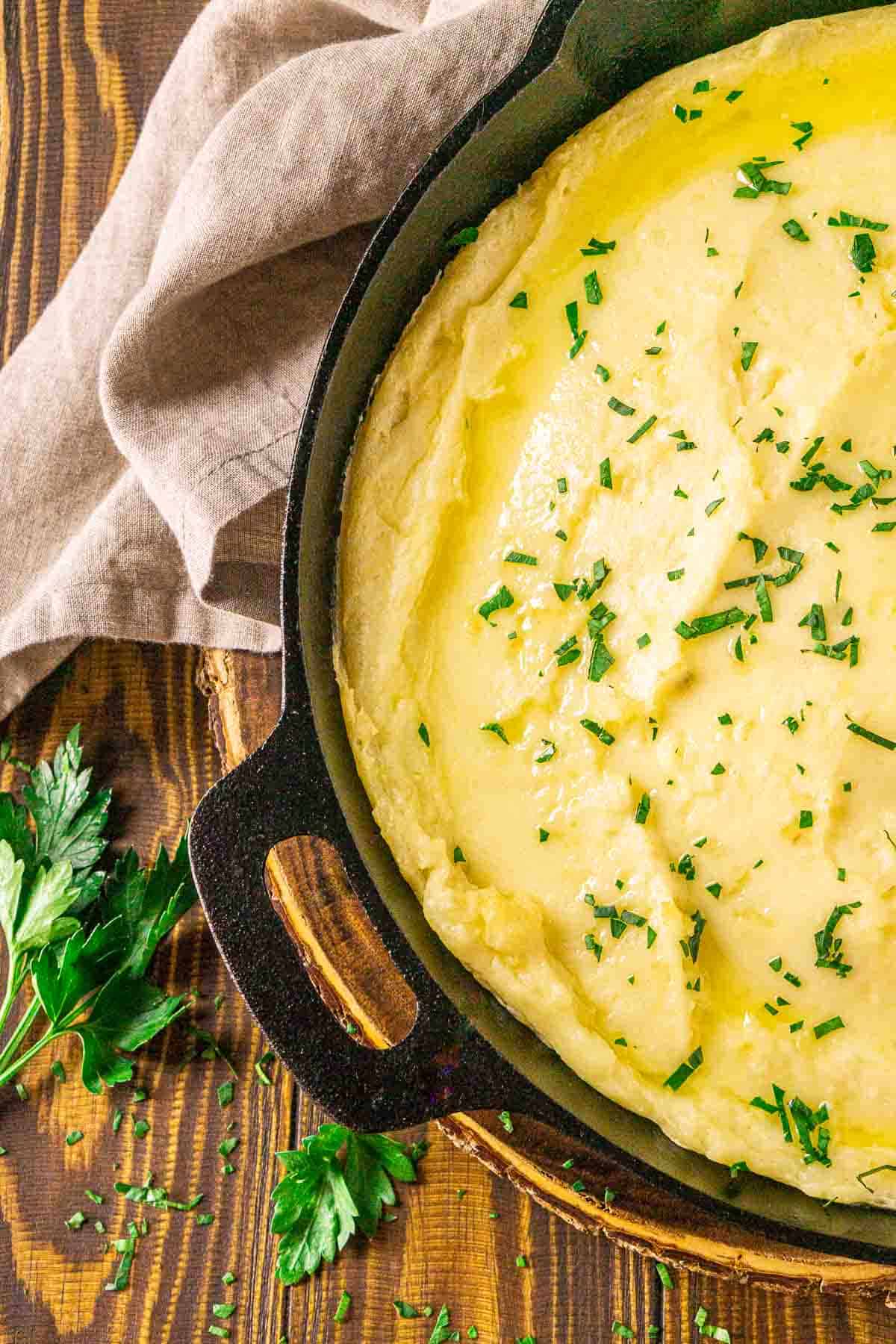 Variations
Add loads of garlicky flavor. Stir in a few minced garlic cloves at the very end of making the brown butter. Another option is to mash in a whole head of roasted garlic or sprinkle in garlic powder to taste.
Swap the Gouda for your favorite cheese. Gruyère, white cheddar and fontina are nice options and melt beautifully.
Make it a loaded mashed potato casserole. Before smoking, top with cheddar cheese and cooked bacon, and then sprinkle fresh chives or green onions all over when it finishes cooking.
Stir in your favorite mix-ins. Sautéed jalapeños add a fun spice kick, or you could go with some caramelized onions for an added richness. Fresh herbs also bring on a wonderfully savory flavor. Feel free to get creative.
Expert Tips
Don't forget to peel the potato skin: For the smoothest, creamiest, fluffiest texture, don't skip the peeling process.
Use the right potato: As recommended above, use Yukon Gold or russet potatoes. Do not use a waxy variety, like red potatoes. You won't get that ultra creamy texture with waxy potatoes.
Watch the whipping and mashing: Just whip or mash the potatoes until they reach your desired consistency and no more. Overworking can lead to gluey potatoes.
Add a little extra butter: For an extra decadent touch, drizzle some melted butter on the potatoes when they come out of the smoker.
Cut the potatoes into roughly equal sizes: This ensures the potatoes cook evenly.
Perfect Pairing
You'll love a nice dunkel with these potatoes. This German-style dark lager features a malty backbone with biscuit and caramel-like notes that pair nicely with the nutty brown butter. The malt also adds a touch of sweetness that offers the right contrast to the hickory.
If you're looking for a wine, try an oaked chardonnay. The char from the oak is a lovely match with the smoking process, and a buttery chardonnay complements the richness from the heavy cream, Gouda and brown butter.
Whether you're hosting a backyard barbecue party or Thanksgiving dinner, I hope you put these smoked mashed potatoes on the menu. They're truly the perfect side dish for any occasion and sure to be a family favorite.
Cheers!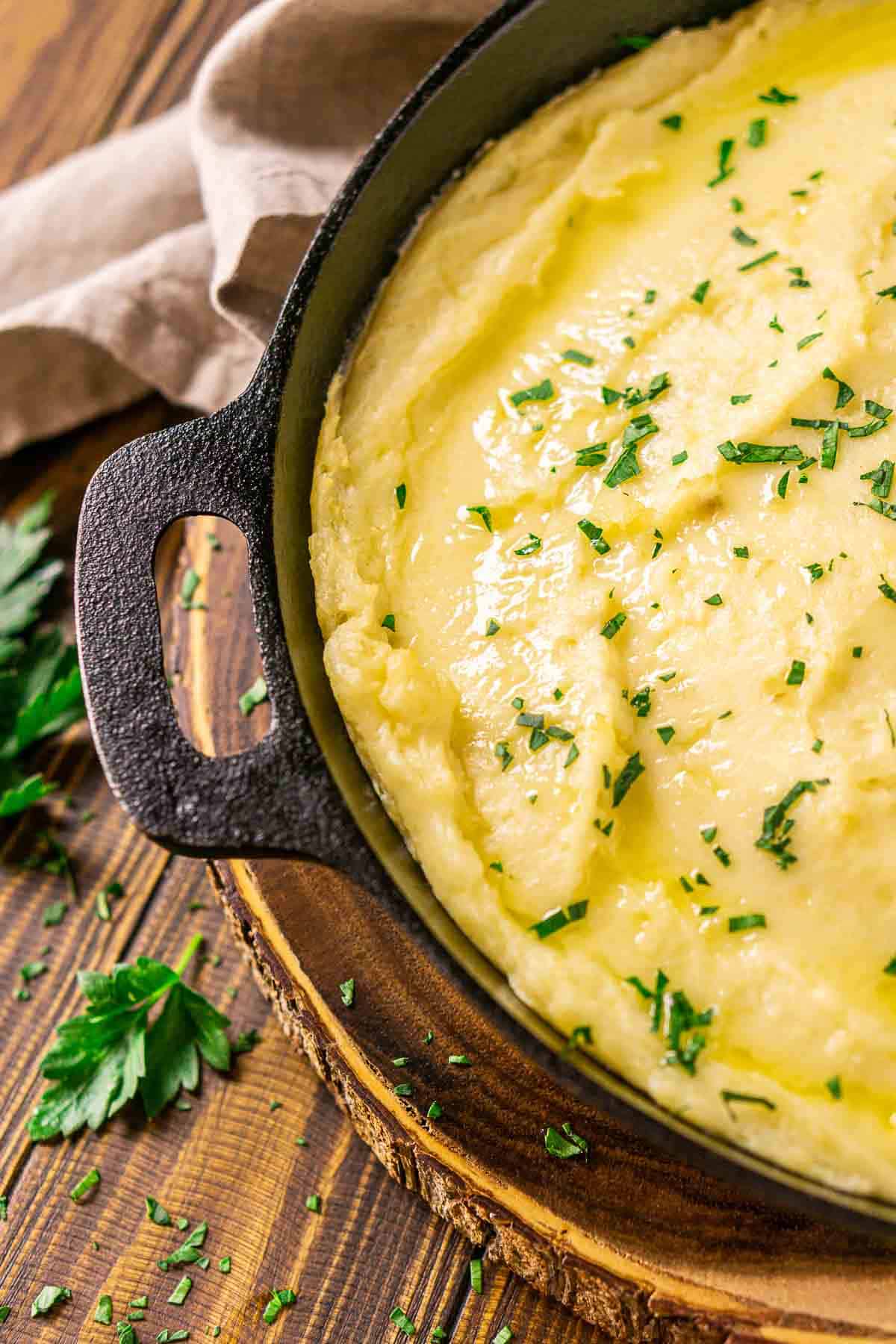 Get More Side Dish Recipes
If you love this recipe, please leave a comment with a five-star rating — or simply hit the five-star button in the recipe card. Don't forget to sign up for my newsletter, and you can follow me on Facebook, Instagram, Pinterest and TikTok.
📖 Recipe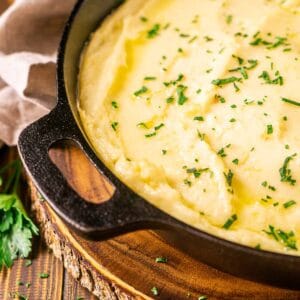 Smoked Mashed Potatoes With Gouda
Give everyone's favorite side dish a major flavor upgrade with these creamy smoked mashed potatoes! Prepared with browned butter, sour cream and rich Gouda, these mashed potatoes are infused with hickory notes to make the perfect accompaniment to any meal. Don't be surprised if smoking becomes your new favorite way to prepare this classic side dish.
Print
Pin
Rate
Equipment
Large stock pot

Large strainer

Potato ricer or masher

preferably ricer

Sturdy spoon or mixer

12-inch cast-iron skillet or 9-inch-by-13-inch disposable aluminum pan

Smoker

Wood pellets or chunks

preferably hickory
Ingredients
5

pounds

russet or Yukon Gold potatoes

2

tablespoons

salt

Cold water

1

cup

salted butter

2

cups

heavy cream

1

cup

shredded Gouda

½

cup

sour cream
Instructions
Peel potatoes, cut into quarters and rinse well.

In a large stock pot, add potatoes, salt and enough cold water that it covers the potatoes by an inch or two. Bring to a boil and then reduce to a simmer. Continue to simmer until you can easily pierce the potatoes with a fork, about 20 to 30 minutes.

In a small saucepan, melt the butter over medium heat until it turns golden brown and foamy. Stir in the heavy cream and sour cream and reduce to medium-low. Don't boil — just heat until warm. Remove from heat once warmed.

When a fork easily pierces the potatoes, drain, pat dry with paper towels to remove excess moisture and move to a mixing bowl. If using a potato ricer, pass the potatoes through the ricer before adding them back to the mixing bowl.

Begin to roughly mash the potatoes to break them up. Pour the warm brown butter-cream mixture over the potatoes, add the Gouda and continue to mash until they reach your desired consistency and then immediately stop mashing to prevent overmixing. To mash, you can use a potato masher, sturdy wooden spoon, or handheld or stand mixer on low. Taste and add salt if necessary.

Spoon the potatoes into a 12-inch cast-iron skillet or 9-inch-by-13-inch disposable aluminum pan. Place in a 225-degree F smoker with a water pan. Closer the lid and smoke for one hour. Don't smoke any longer because it can dry out the potatoes. If the potatoes need any rehydrating after smoking, simply stir in a little cream.

Remove from smoker. If desired, spoon some melted butter on top and serve with your favorite gravy. Enjoy!
Notes
Cut the potatoes into roughly equal sizes. This ensures the potatoes cook evenly.

Keep leftovers in an airtight container in the refrigerator for up to three days. You can also freeze leftovers for up to two months.
Nutritional information is only an estimate. The accuracy of the nutritional information for any recipe on this site is not guaranteed.
Nutrition
Serving:
1
scoop
|
Calories:
611
kcal
|
Carbohydrates:
43
g
|
Protein:
13
g
|
Fat:
44
g
|
Saturated Fat:
28
g
|
Polyunsaturated Fat:
2
g
|
Monounsaturated Fat:
11
g
|
Trans Fat:
1
g
|
Cholesterol:
136
mg
|
Sodium:
1763
mg
|
Potassium:
1040
mg
|
Fiber:
3
g
|
Sugar:
4
g
|
Vitamin A:
1474
IU
|
Vitamin C:
13
mg
|
Calcium:
244
mg
|
Iron:
2
mg