Comfort food meets elegance with these braised red wine short ribs. Cooked low and slow in a rich herbed red wine sauce, these short ribs are melt-in-your-mouth tender and always sure to impress. As a bonus, these gourmet short ribs are surprisingly simple to make and come together in one pot to make your life a little easier. Who doesn't love that?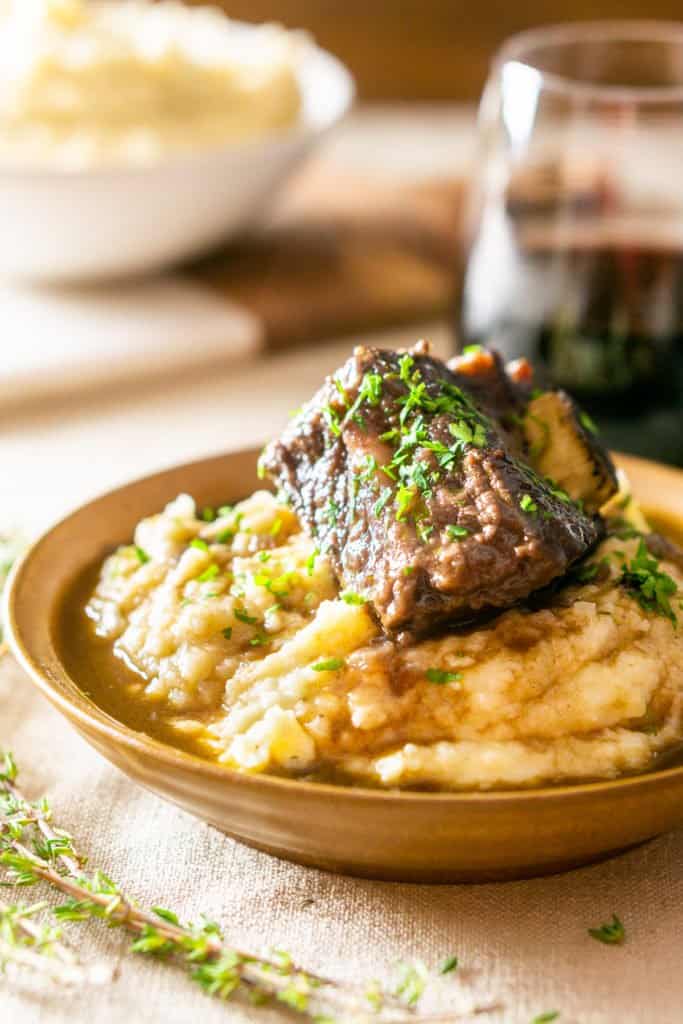 Jump to:
Oh, and in case you're feeling greedy and need yet another bonus, these short ribs are the perfect entertaining recipe whether you're preparing a delicious holiday meal, dinner party or quiet date night at home. With that succulent meat and complex, decadent red wine sauce, you can't help but feel you're eating a gourmet meal at a five-star restaurant.
At the same time, short ribs have a certain homey vibe to them. Short ribs don't feel stuffy, unapproachable or pretentious, and sharing a relaxed, comforting meal always makes for a good time.
OK, ready to start cooking? Let's get to it.
How to Make Short Ribs in Oven
Although we make these braised red wine short ribs in the oven, we start the process on the stove. First, we generously season our short ribs with some salt and pepper and dust them with flour.
Once our ribs are lightly coated, we brown them in a Dutch oven. This gives our ribs the perfect crust and locks in the flavors so don't get lazy and skip this step. We have plenty of time to be lazy once our ribs braise.
Now we remove the ribs and cook some onions, carrots, celery and garlic in the beef drippings and add a little flour and tomato paste, which will give our braising liquid a hearty but not overly heavy mouthfeel.
From here, we put the ribs back in the Dutch oven and pour in a whole bottle of cabernet sauvignon because we love ourselves and deserve the best. We also add a little crushed red pepper and plenty of herbs, including sage, rosemary, oregano, thyme, parsley and bay leaves, as well as a touch of anchovy paste.
I know some people might raise an eyebrow at anchovy paste but don't worry. The anchovy paste adds a delicious umami quality and depth to the braising liquid. I promise --- you won't be left with anchovy-tasting ribs. I wouldn't do that to you.
For a more concentrated sauce, we give the wine some time to reduce. After about 15 minutes or so, we bring the wine up to a boil, cover and place in a 300-degree oven. And, yes, we keep the oven that low. I've tried short ribs at 350 degrees, but I find they come out even more tender when we lower the temperature.
And now you can get lazy because we let our short ribs cook for about three to three and a half hours until they're fall-off-the-bone tender. I like serving this braised short rib recipe over these brown butter mashed potatoes. The nutty brown butter and rich braising liquid are a perfect match.
We can also serve these short ribs over polenta. Both my pumpkin polenta and caramelized onion polenta are delicious options, or you can keep it simple with a Parmesan polenta. Now dig in and enjoy a big bowl of fancy comfort food.
Can You Make Braised Short Ribs Ahead of Time?
You sure can, and that's one of the reasons I love this recipe so much --- you know, besides the fact that it's ridiculously delicious. While I love entertaining, spending too much time cooking once our friends and family arrive stresses me out. The process of preparing a meal for everyone to enjoy is fun, but when the socializing starts, I'm ready to kick back with a drink. I don't want to be stuck stirring, measuring, mixing and the like.
Granted, once the fancy short ribs go in the oven, most of our work is done, but it's still nice to make it even simpler by preparing this meal in advance. With these red wine short ribs, you can make everything up to three days before serving and simply reheat it on the stove. Now you can take out all the stress of same-day cooking and enjoy time with your favorite people.
Can You Make Red Wine-Braised Short Ribs in the Slow Cooker or on the Stove?
While cooking these short ribs in a low-temperature oven is my favorite method, you could also cook them in a slow cooker or on the stove if you don't have a Dutch oven. For the slow cooker, cook everything on the stove as you would, but instead of putting the short ribs in the oven, put them in the slow cooker on the low setting for eight hours. If you go with the stove, cover and simmer --- not boil --- for about two to three hours.
The short ribs are ready once they're easily shreddable. If the meat is still tough, keep cooking.
Can You Make Red Wine-Braised Short Ribs in the Instant Pot?
You can, but I hope you don't. Look, I love my Instant Pot, but I don't think it shines in recipes that traditionally call for slow cooking. Some recipes just need time to truly develop their rich, complex flavors. Those recipes can't be rushed for best results --- even in an Instant Pot.
I tried this recipe in the Instant Pot, and while it was fine, the sauce wasn't as flavorful, and the ribs weren't as tender. Trust me. For this braised short rib recipe, it's worth taking the extra time.
Perfect Pairing
As I mentioned, I use a cabernet sauvignon for these ribs, and it's the perfect drinking partner. That said, if you'd like some other options, go for another bold red. A full-bodied malbec or syrah are both great and hold up to hearty dishes with plenty of umami flavor.
If beer is on the mind, I love a stout with these short ribs. The roasted malt and coffee notes work beautifully with the earthy, savory flavors of the sauce, and stouts have enough body to stand up to the short ribs. A doppelbock is also a good call. The caramel-like malt brings out the caramelization we get from browning our short ribs, which makes for a delicious match.
When you need a little fancy comfort food in your life, I hope you give these braised red wine short ribs a try.
Cheers!
Fancy Comfort Food Your Thing?
If you love this recipe, please leave a comment with a five-star rating — or simply hit the five-star button in the recipe card. Don't forget to sign up for my newsletter, and you can follow me on Facebook, Instagram, Pinterest and TikTok.
📖 Recipe
Braised Red Wine Short Ribs
Comfort food meets elegance with these braised red wine short ribs. Cooked low and slow in a rich herbed red wine sauce, these short ribs are melt-in-your-mouth tender and always sure to impress. As a bonus, these gourmet short ribs are surprisingly simple to make and come together in one pot to make your life a little easier. Who doesn't love that?
Print
Pin
Rate
Equipment
Large Dutch oven or slow cooker
Ingredients
8

beef chuck short ribs

Salt and pepper

3

tablespoons

all-purpose flour

plus additional flour for dusting

2

tablespoons

olive oil

1

medium onion

chopped

3

carrots

peeled and chopped into 3-inch pieces

2

celery ribs

chopped

5

garlic cloves

grated or minced

1

tablespoon

tomato paste

1

(750-ml)

bottle cabernet sauvignon

10

fresh parsley sprigs

10

fresh thyme sprigs

5

fresh oregano sprigs

3

fresh rosemary sprigs

2

fresh sage sprigs

2

dried bay leaves

2

teaspoons

anchovy paste

¼

teaspoon

crushed red pepper

4

cups

beef stock
Instructions
Heat oven to 300 degrees. Generously sprinkle short ribs with salt and pepper and lightly dust with flour. In a large Dutch oven, heat oil over medium-high until it shimmers. Without overcrowding the pan, brown about half of the short ribs on all sides. Cook about four to five minutes on the large, wide sides and a couple minutes should do on the smaller sides. Remove first batch of short ribs and repeat with the second batch. Transfer browned short ribs to a plate.

Reduce the heat to medium and add onions, carrots and celery. Stirring every so often, cook until the vegetables soften and brown, about four to five minutes. Add garlic and cook for 30 seconds, stirring constantly.

Keep the constant stirring and add 3 tablespoons flour and tomato paste and cook for about 2-3 minutes.

Pour in wine, scrapping the bottom of the Dutch oven to deglaze. Add the short ribs back to the pot and simmer for about 15 minutes to reduce. Add the herbs and beef stock and bring to a boil. Cover and move to the oven.

In the oven, cook until short ribs are tender and shreddable and can easily be removed from the bone, about three to three and a half hours. Alternatively, you could cook the short ribs in a slow cooker on low for eight hours or cover and simmer on the stove for about two to three hours, though the oven is my favorite method.

Once the short ribs are ready, you could serve immediately or refrigerate for up to three days. If refrigerating, scrape the layer of fat off the surface and reheat on the stove. Serve short ribs with sauce over mashed potatoes or polenta. Enjoy!
Notes
If you don't have homemade beef stock, I highly recommend using 4 cups of water with 1 tablespoon Better Than Bouillon Beef Base rather than canned stock or regular bouillon cubes. The flavor is much better, and it's readily available in the soup section at most grocery stores.
Nutritional information is only an estimate. The accuracy of the nutritional information for any recipe on this site is not guaranteed.
Nutrition
Serving:
1
short rib
|
Calories:
585
kcal
|
Carbohydrates:
16
g
|
Protein:
30
g
|
Fat:
31
g
|
Cholesterol:
230
mg
|
Sodium:
1.079
mg
|
Sugar:
3
g