Pumpkin and polenta --- two ultimate comfort foods come together to make one perfect fall recipe. And as if that weren't enough, we then top this pumpkin polenta with brown butter shrimp and fried sage and pumpkin seeds. Really, how tasty does that sound?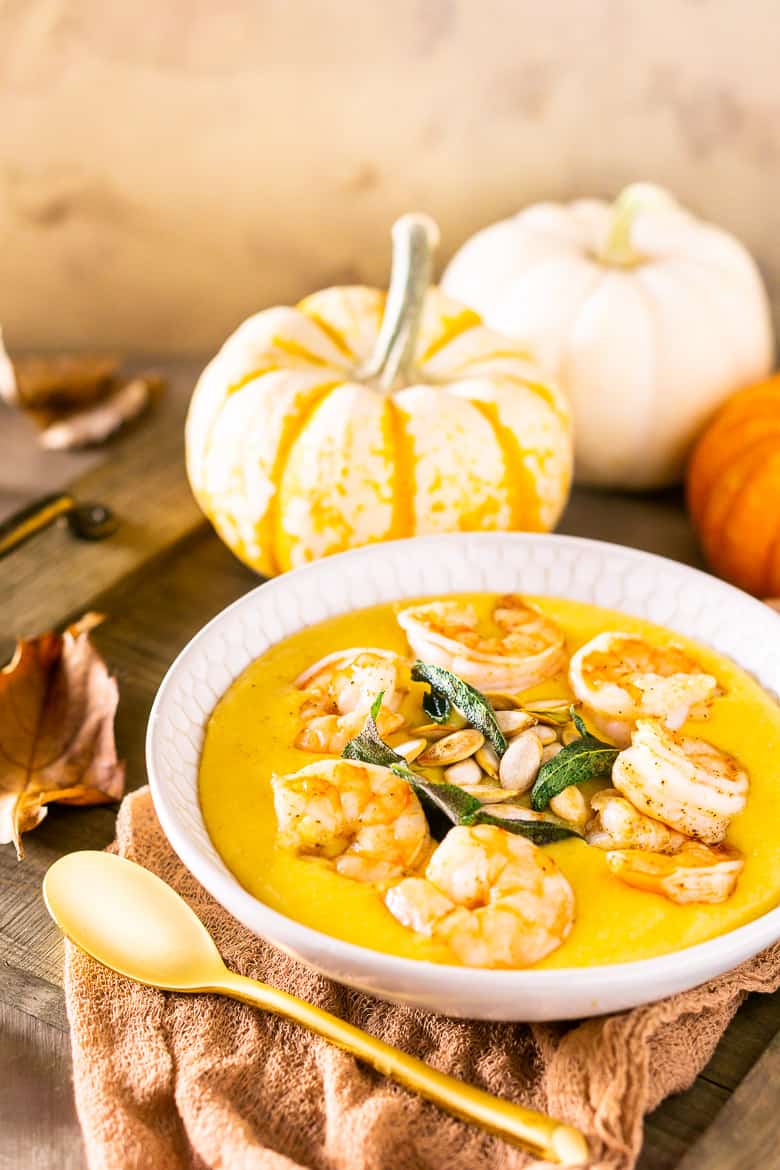 On top of being a delicious dreamboat, I love how this pumpkin polenta is such down-to-earth and comforting dish, but then the brown butter shrimp and fried savory toppings add an air of sophistication. That homey yet fancy vibe is my jam.
Honestly, when I first made this dish years ago, I didn't plan on making polenta. I intended to make a fall-themed shrimp and grits dish, but when I went to the store, I could only get instant grits. That would not do. Look, I'm not above shortcuts, but some dishes should not be rushed. Grits are one of those dishes.
So I went to plan B --- polenta, of course! Although polenta has a finer, more delicate texture than grits, they work as great substitutes for each other. Both are made from stone-ground cornmeal and result in one big bowl of ultra creamy goodness that's the perfect vehicle for adding your favorite toppings, cheese or mix-ins.
As it turns out, I loved the pumpkin polenta so much that it became a fall staple for me. Funny how that works, huh? This pumpkin polenta wasn't the recipe I had in mind, but it ended up a winner.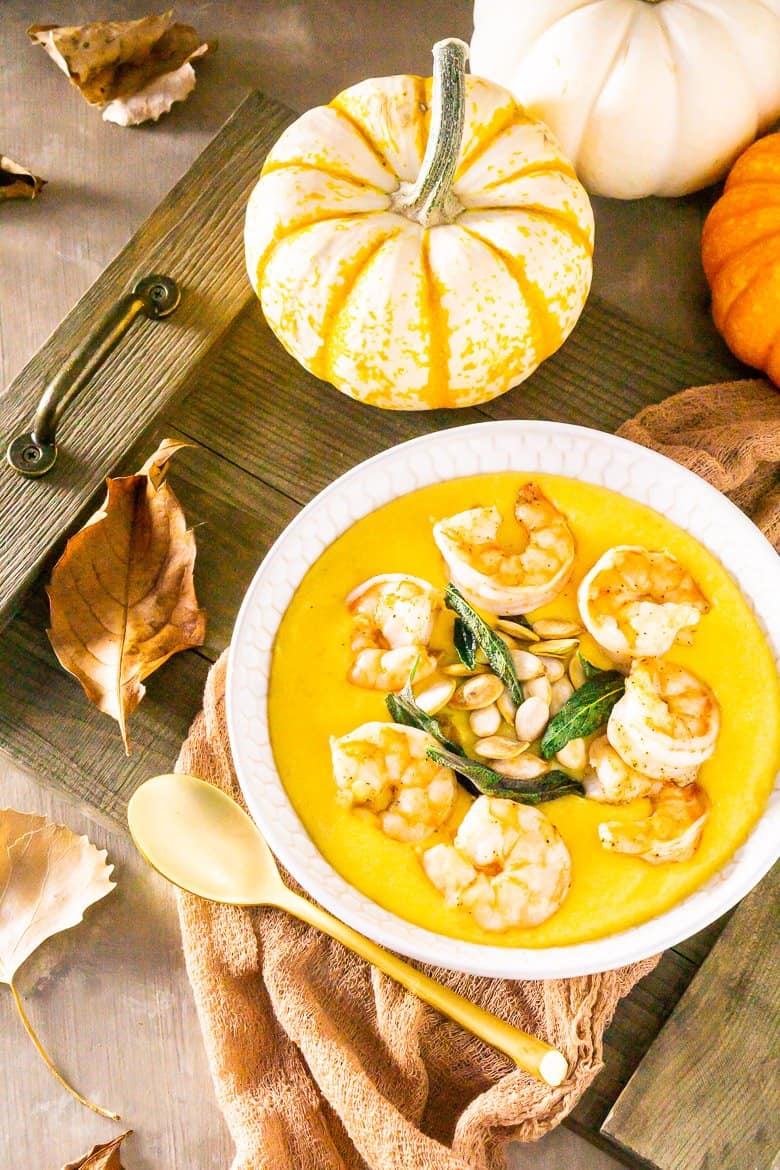 Step-by-Step Instructions
All right, let's get cooking. To start, we boil chicken stock over medium-high heat and then lower the temperature as we frantically stir in a steady stream of polenta until it thickens. This should only take a minute or two.
Now let's cover the polenta and give it a vigorous stir every 10 minutes for the next 30 to 40 minutes. As the polenta cooks, we'll now prep the other elements of this dish. Hey, polenta is mostly hands-off cooking, so we might as well keep ourselves busy, right?
I like to start with the fried sage and pumpkin. They cook quickly, so it's nice to get them out of the way. Simply heat some oil in a small pan and add the sage, which will take almost no time. Just fry the sage until the edges start to brown and then remove and add the pumpkin seeds. While the pumpkin seeds won't take too long, they require a bit more time. Keep frying those until they start to brown.
Now we move on to the brown butter. Once it browns, we set it aside and roast the shrimp after the polenta has cooked for about 20 minutes. When the shrimp is good and ready, we pour the brown butter on top and give the shrimp a stir. Just like that, we have brown butter shrimp, and each topping is ready to go.
After 30 or 40 minutes of cooking the polenta, give it a taste. If you're happy with the softness of the cornmeal, turn off the heat and stir in pumpkin puree, a splash of heavy cream, butter, salt, pepper and smoked Gouda. Spoon the pumpkin polenta into a bowl, top with the brown butter shrimp, sage and pumpkin seeds and enjoy every bite. And you will. Everything about this smoked Gouda-pumpkin polenta is delicious.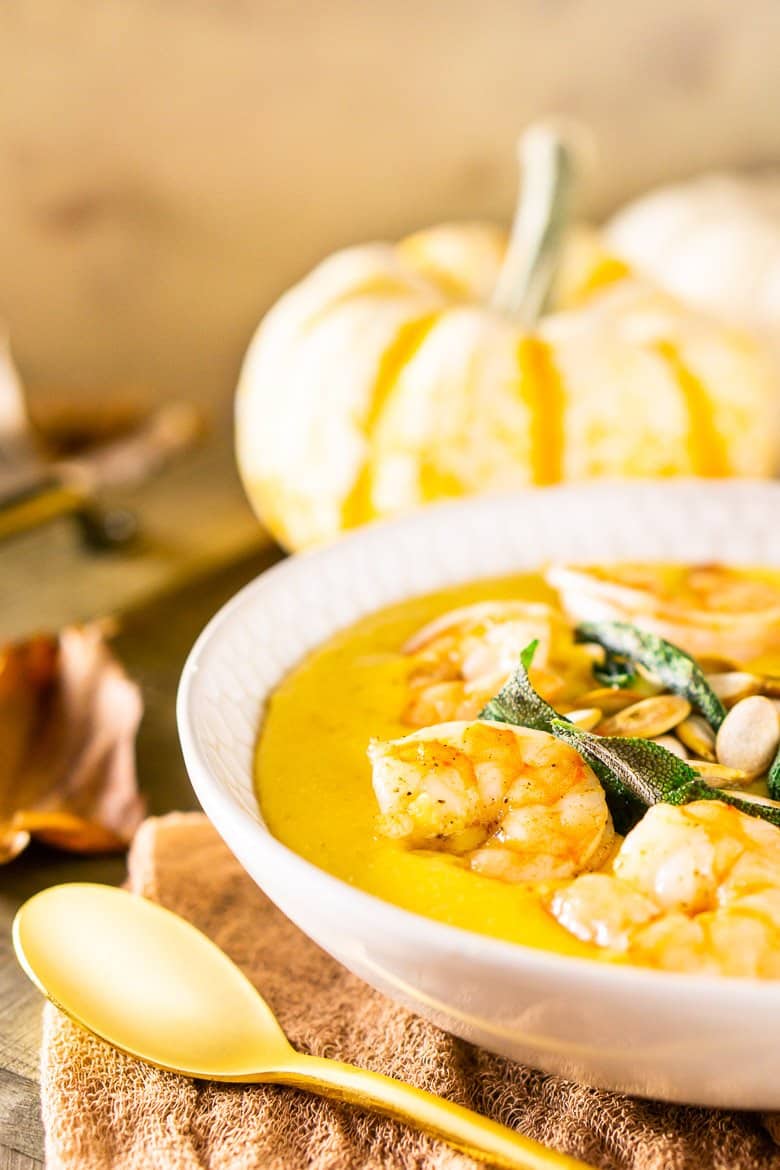 Perfect Pairing
A pumpkin ale may sound like an obvious pairing, but sometimes that's the way it goes. The spices naturally complement the pumpkin and sage, and the sweet, bread-like malt is perfect with the brown butter. That said, you might want to branch out from the pumpkin family. In that case, a winter warmer is a good choice.
When a wine craving hits, I love this pumpkin polenta with an oaked chardonnay. The full body of the chardonnay balances the richness of the polenta, and the buttery wine notes meld perfectly with the shrimp and pumpkin.
If you love a delicious, comforting meal, I hope you give this pumpkin polenta with Gouda and brown butter shrimp a try. You'll be happy you did.
Cheers!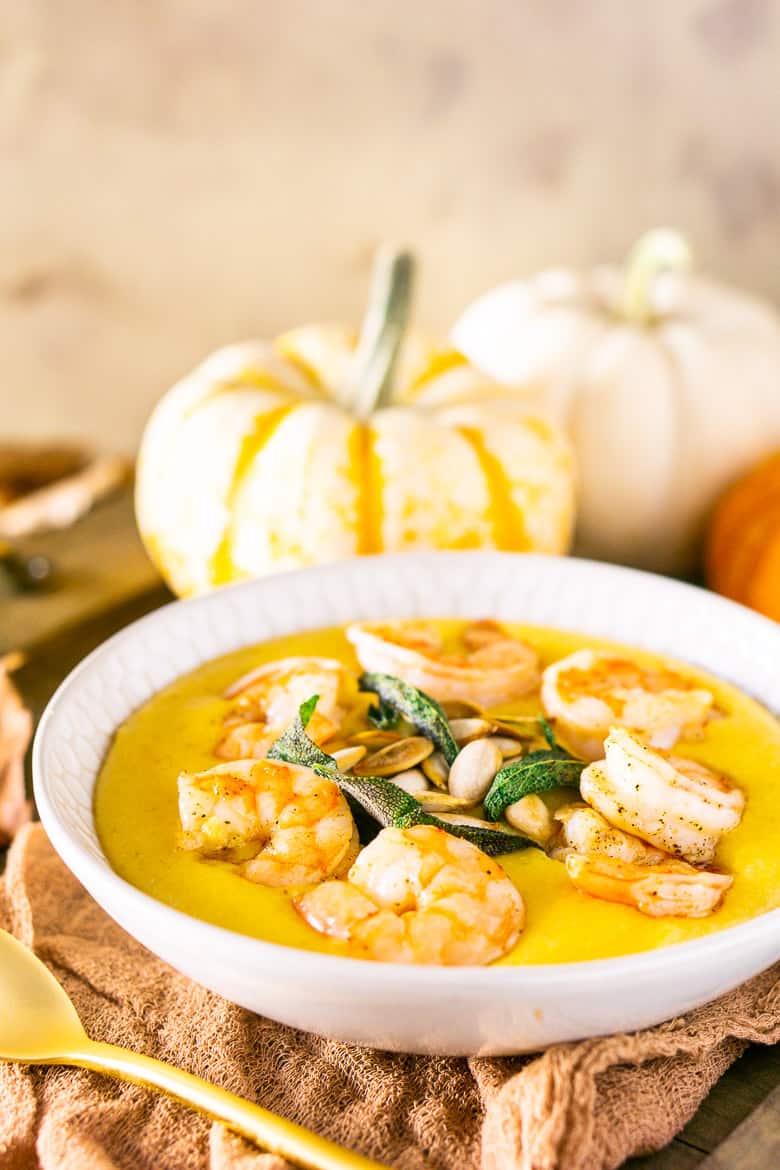 Searching for More Savory Pumpkin Recipes?
If you love this recipe, please leave a comment with a five-star rating — or simply hit the five-star button in the recipe card. Don't forget to sign up for my newsletter, and you can follow me on Facebook, Instagram, Pinterest and TikTok.
📖 Recipe
Pumpkin Polenta With Gouda and Brown Butter Shrimp
This pumpkin polenta with Gouda and brown butter shrimp, fried sage and pumpkin seeds is the perfect fall meal. It's as comforting as it is delicious.
Print
Pin
Rate
Ingredients
Pumpkin Polenta
4

cups

chicken stock

1

cup

yellow cornmeal

1

cup

shredded smoked gouda

½

cup

pumpkin purée

Splash of heavy cream

Pinch of freshly grated nutmeg

Salt and pepper to taste
Brown Butter Shrimp With Fried Sage and Pumpkin Seeds
3

tablespoons

canola oil

divided

¼

cup

pumpkin seeds

Handful of fresh sage leaves

7

tablespoons

salted butter

divided

1

pound

shrimp

shelled

Salt and pepper
Instructions
Pumpkin Polenta
In a saucepan, bring stock to a boil over medium-high heat. Constantly stirring with a wooden spoon, slowly pour in cornmeal.

Reduce heat to low. Cover and cook for 30 to 40 minutes, vigorously stirring about every 10 minutes. The polenta is done when the grains soften to your liking.

Once the polenta is tender to your liking, turn off heat and stir in smoked Gouda, pumpkin puree, heavy cream, remaining butter, nutmeg, salt and pepper. Top with brown butter shrimp, pumpkin seeds and sage. Enjoy!
Brown Butter Shrimp With Fried Sage and Pumpkin Seeds
While polenta cooks, turn the oven to 425 degrees and heat 2 tablespoons of canola oil over medium-high heat and fry sage until the edges brown. This should just take a matter of seconds. Remove from pan and fry the pumpkin seeds until browned. Set aside.

Melt 4 tablespoons of butter over medium heat until it turns brown. Whisk occasionally. Remove from heat.

After the polenta has cooked for about 20 minutes, toss shrimp with remaining oil, salt and pepper in a baking pan. Roast in the oven until no longer opaque, about five to seven minutes. Remove from oven and pour brown butter over shrimp. Cover with foil to keep warm if the polenta isn't quite ready.
Notes
Nutritional information is only an estimate. The accuracy of the nutritional information for any recipe on this site is not guaranteed.
Nutrition
Serving:
1
bowl
|
Calories:
739
kcal
|
Carbohydrates:
39
g
|
Protein:
35
g
|
Fat:
49
g
|
Cholesterol:
277
mg
|
Sodium:
960
mg
|
Sugar:
5
g