Mushroom lovers, this recipe is for you. We take tender, earthy morel mushrooms and pile them on a bed of pasta covered in a garlicky Parmesan cream sauce with a sprinkling of fresh herbs and a kick of citrus. Every decadent bite of this morel mushroom pasta is comfort food at its finest.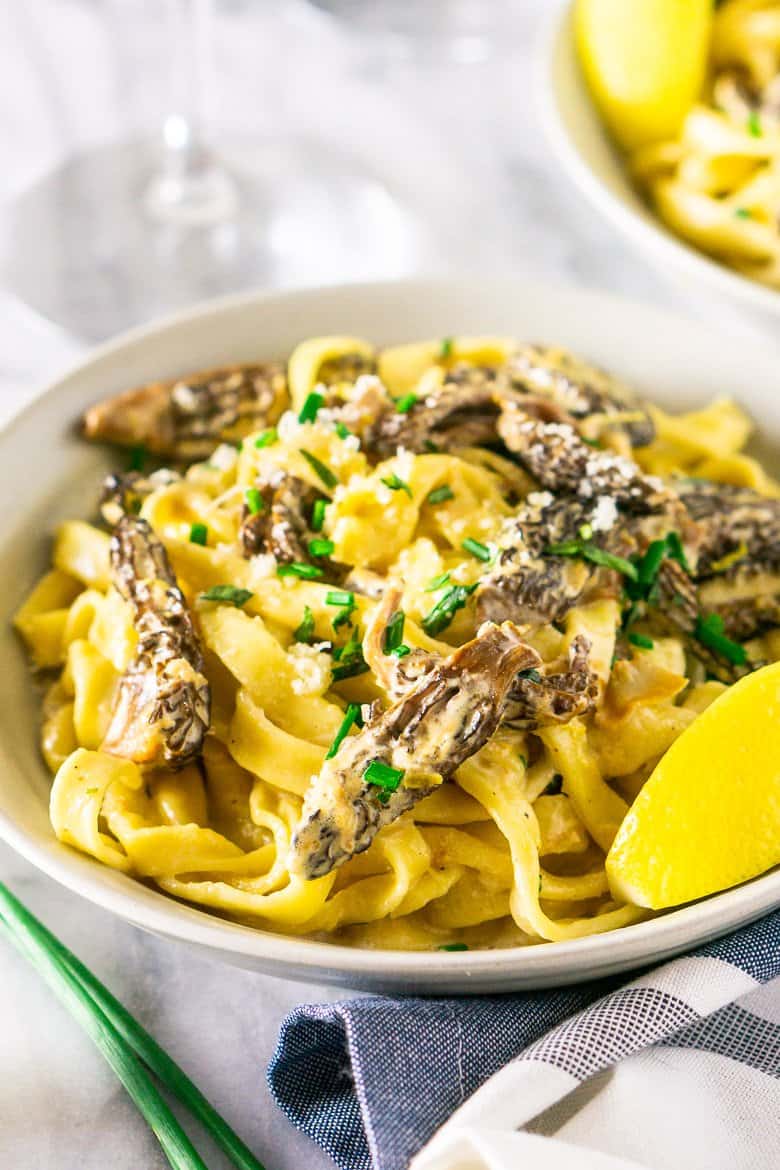 Jump to:
And while this pasta is certainly comfort food, the morel mushrooms make it plenty fancy to serve for a special occasion. Large-scale commercial farmers don't grow morel mushrooms in rows and rows like other mainstream crops.
Rather, morel mushrooms are harvested by literally foraging the forest to hand-pick these delicious beauties between March and May. Considering all the hard work and dedication that goes into bringing us morel mushrooms, I always feel fortunate when they're on my plate.
In the interest of full disclosure, dried morel mushrooms are on the pricy side because of their labor-intensive harvesting; however, these are meaty little 'shrooms, and a little bit goes a long way. Only 1 ounce of dried morel mushrooms easily serves four people. Because morel mushrooms are so substantial, we're not using a protein in this pasta, so the cost balances out when you think about it that way.
And, hey, this is special-occasion pasta. Sometimes you need a splurge in your life.
Given their limited availability and specialty nature, you might worry about finding morel mushrooms at your local grocery store but don't fear. That's why Amazon exists, so we can easily get our dried morel mushrooms there.
How to Rehydrate Morel Mushrooms
Before we make our morel mushroom pasta, we need to rehydrate our morel mushrooms. Simply place the morel mushrooms in a bowl and cover with two cups of warm water. We don't want boiling-hot water. Warm water is just fine. We let our morel mushrooms sit in the water for 20-30 minutes and then drain, slice and rinse, reserving the mushroom liquid.
And don't skip the rinsing. Grit can get stuck in those little honeycomb-like holes, but make it a quick swish.
Step-by-Step Instructions
Now that our morel mushrooms are rehydrated, we're ready to start on the pasta. Let's go ahead and start boiling our pasta water and add the pasta when it's ready. If you prep all the ingredients for the sauce ahead of time --- and you most definitely should --- the sauce goes pretty quickly, so you should be able to time it well with the pasta.
For the sauce, we start by melting a stick of butter because this recipe is all about special occasions, which always call for lots of butter. We add our morel mushrooms and let them brown for a few minutes. From here, we add in plenty of garlic and then pour in the reserved liquid from the morel mushrooms.
After the reserved liquid reduces, we're ready to add a good dose of heavy cream and let that heat up just a bit. Now we throw in a handful of freshly grated Parmesan and stir to melt. And I'd like to emphasize the "freshly grated" part. Please don't use that pre-grated Parmesan in a can. That stuff won't melt, and you'll be left with a gritty texture. Definitely not what we want with special-occasion pasta. Or any pasta for that matter.
By now, our pasta should be ready, so we turn off the heat and stir in a little lemon zest along with fresh chives and tarragon. Give it a taste and season with salt and pepper if you'd like. Parmesan is on the salty side, so you might only need a little pepper. Listen to your heart on that one.
To finish, we stir in the pasta, scoop into bowls and enjoy pure bliss. Oh, and make sure you have plenty of crusty bread on the side. This recipe makes a saucy bowl for the specific purpose of dipping. You're welcome. ❤️
Bonus: For more elegant meals, you'll also love this spring risotto, black garlic pasta and smoked salmon risotto!
How to Substitute Fresh Morels
Get lucky and score some fresh morels? You can still make this dish.
Obviously, fresh morels don't require rehydrating, so you won't have that mushroom liquid. You can instead substitute vegetable stock for that liquid.
Dried morels also weigh less than fresh, so we'll need to adjust that measurement. Generally, 1 pound of fresh morels equals about 2-3 ounces of dried morels. Since this recipe calls for 1 ounce of dried morels, somewhere between ⅓ pound to ½ pound of fresh morels will do.
Perfect Pairing
Morel mushrooms are known for pairing well with many wines, but for this particular dish, I recommend an oaky chardonnay. With chardonnay, you get a buttery undertones with a rich mouthfeel, which stand up well to the cream sauce. The oaky notes also pair perfectly with the earthiness from the mushrooms.
Keeping the oak theme alive, a wild ale aged in oak barrels is a great option for my fellow beer lovers. During the fermentation process of wild ales, the yeast tends to result in herbal, grassy notes that complement the morel mushrooms. These beers also typically have a dry finish to cut through the creamy sauce, and it's not uncommon to get some tartness.
If you have access to Crooked Stave beers, Surette is an excellent choice. But no worries if not. I'm sure a friendly face at your local bottle shop could offer some alternatives.
When a special occasion calls, I hope you try this morel mushroom pasta in a Parmesan cream sauce.
Cheers!
Pasta Obsessed, Are We?
If you love this recipe, please leave a comment with a five-star rating — or simply hit the five-star button in the recipe card. Don't forget to sign up for my newsletter, and you can follow me on Facebook, Instagram, Pinterest and TikTok.
📖 Recipe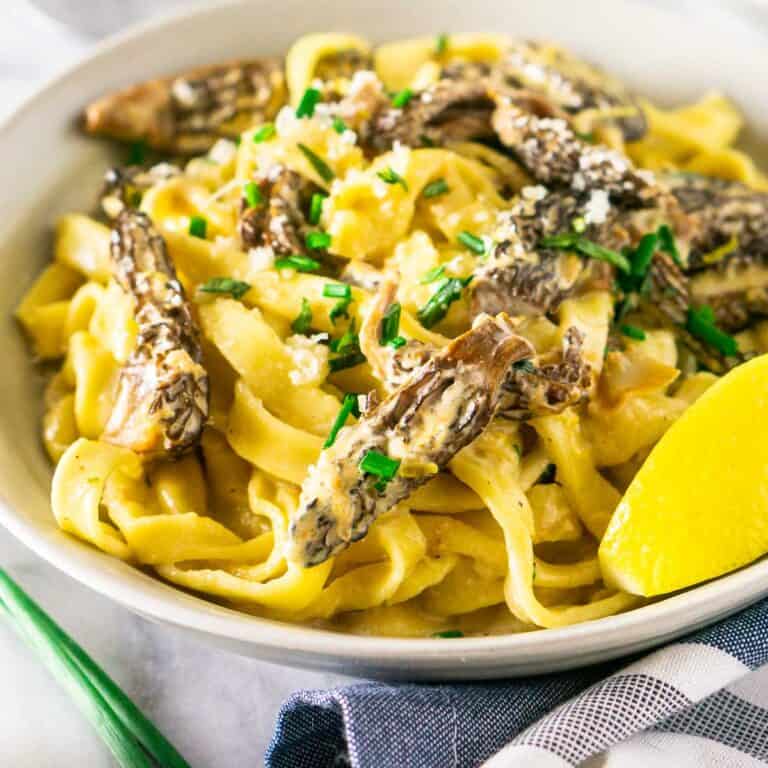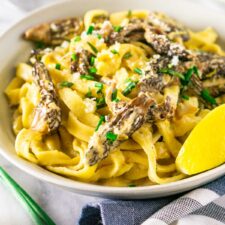 Morel Mushroom Pasta in Parmesan Cream Sauce
Tender, earthy morel mushrooms sit on a bed of pasta covered in a garlicky Parmesan cream sauce with a sprinkling of fresh herbs and a kick of citrus. Every decadent bite of this morel mushroom pasta is comfort food at its finest.
Print
Pin
Rate
Ingredients
1

ounce

dried morel mushrooms

see notes for fresh morel substitution

2

cups

warm water

Fettuccine

12-16 ounces dried or 18 ounces fresh

½

cup

butter

4-5

garlic cloves

minced or grated

2

cups

heavy cream

1

cup

Parmesan

freshly grated using the small-hole side

2

tablespoons

fresh chives

chopped

2

tablespoons

fresh tarragon

chopped

1

teaspoon

fresh lemon zest

Salt and pepper to taste

Crusty bread for serving

optional
Instructions
Place dried morel mushrooms in a bowl and cover with warm water. Let the morel mushrooms sit for 20-30 minutes. Drain, reserving the morel mushroom liquid (see note). Quickly rinse the morel mushrooms and slice them in half.

Bring a pot of water to boil for the pasta and cook the pasta when the water is ready. As the water heats, prep your other ingredients.

In a large skillet or saucepan over medium heat, melt the butter. Add the morel mushrooms and cook until they're golden, about four minutes, and then add the garlic and cook for 30 seconds, stirring often.

Pour in the reserved morel mushroom liquid. Cook until it reduces to about ¼ cup.

Add the heavy cream, stir to combine and allow to heat to a near simmer. Stir in the Parmesan cheese until it melts. Let it simmer for a few minutes to thicken but don't boil. If the sauce is ready before the pasta, turn the heat to the lowest setting and stir occasionally.

Drain the pasta when ready. Turn off the heat on the sauce and stir in chives, tarragon and lemon zest. Taste and add salt and pepper if needed. Toss pasta in with the sauce and divide into bowls. Serve with crusty bread for dipping. Enjoy!
Notes
If you'd like to substitute fresh morels, use vegetable stock for the mushroom liquid and about ⅓ to ½ pound of fresh morels.
When draining the liquid, you may want to use a coffee filter or place a paper towel over a fine-mesh sieve to catch any grit.
Nutritional information is only an estimate. The accuracy of the nutritional information for any recipe on this site is not guaranteed.
Nutrition
Serving:
1
bowl
|
Calories:
536
kcal
|
Carbohydrates:
8
g
|
Protein:
14
g
|
Fat:
51
g
|
Saturated Fat:
32
g
|
Polyunsaturated Fat:
2
g
|
Monounsaturated Fat:
13
g
|
Cholesterol:
155
mg
|
Sodium:
467
mg
|
Potassium:
299
mg
|
Fiber:
1
g
|
Sugar:
5
g
|
Vitamin A:
2207
IU
|
Vitamin C:
4
mg
|
Calcium:
456
mg
|
Iron:
2
mg