When you find yourself craving a leisurely, home-cooked meal, you need this coq au vin in your life. Slowly braised chicken cooks in a rich red wine sauce with a bundle of fresh herbs, bacon, pearl onions and mushrooms to make this fall-off-the-bone tender, flavorful coq au vin. If that doesn't sound like the perfect meal, I don't know what does.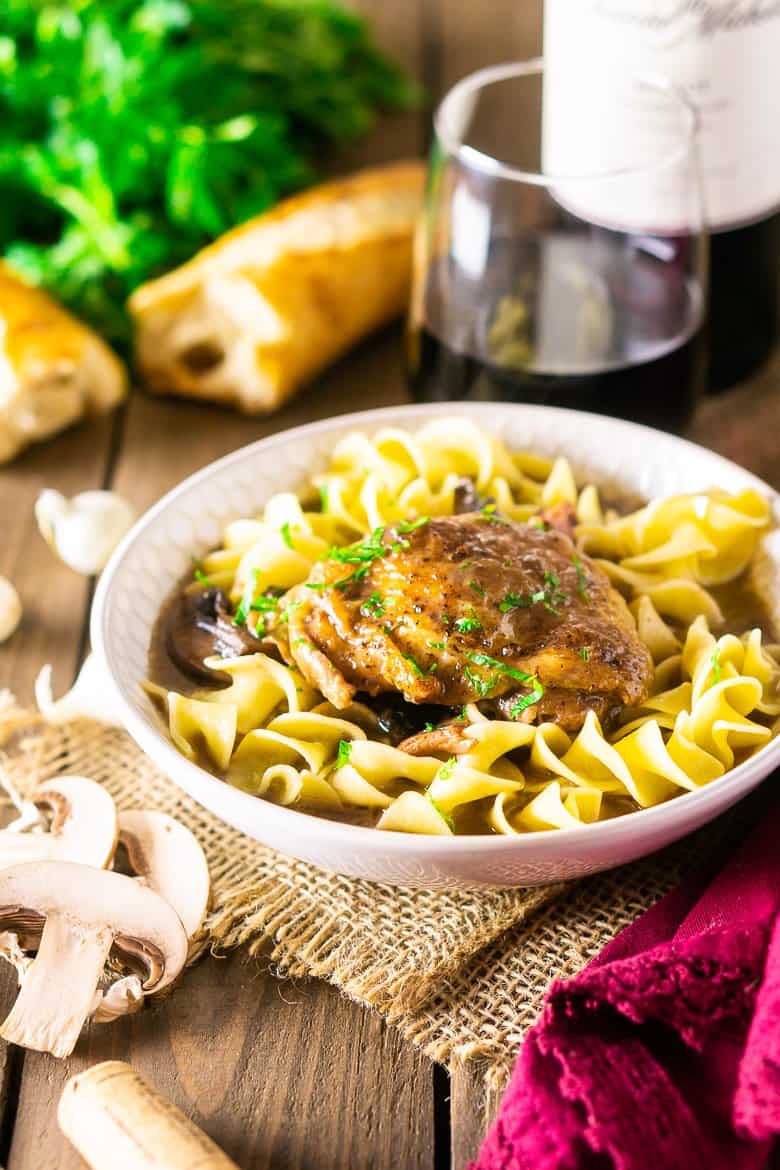 Jump to:
While I love cooking this amazing coq au vin recipe for just our small household, it also happens to be one of my favorite meals to make when friends or family visit. As a classic French dish, coq au vin never fails to impress, and it's actually a low-key meal for entertaining. Sure, there's a bit of prep work and cooking time, but once the chicken braises away on the stove, your work is mostly done. You're free to enjoy a glass of wine with your favorite people as your gourmet dinner finishes without much fuss. Or you could even make this coq au vin recipe up to three days in advance and reheat on the stove if you really want to make it easy. Not a bad deal, huh?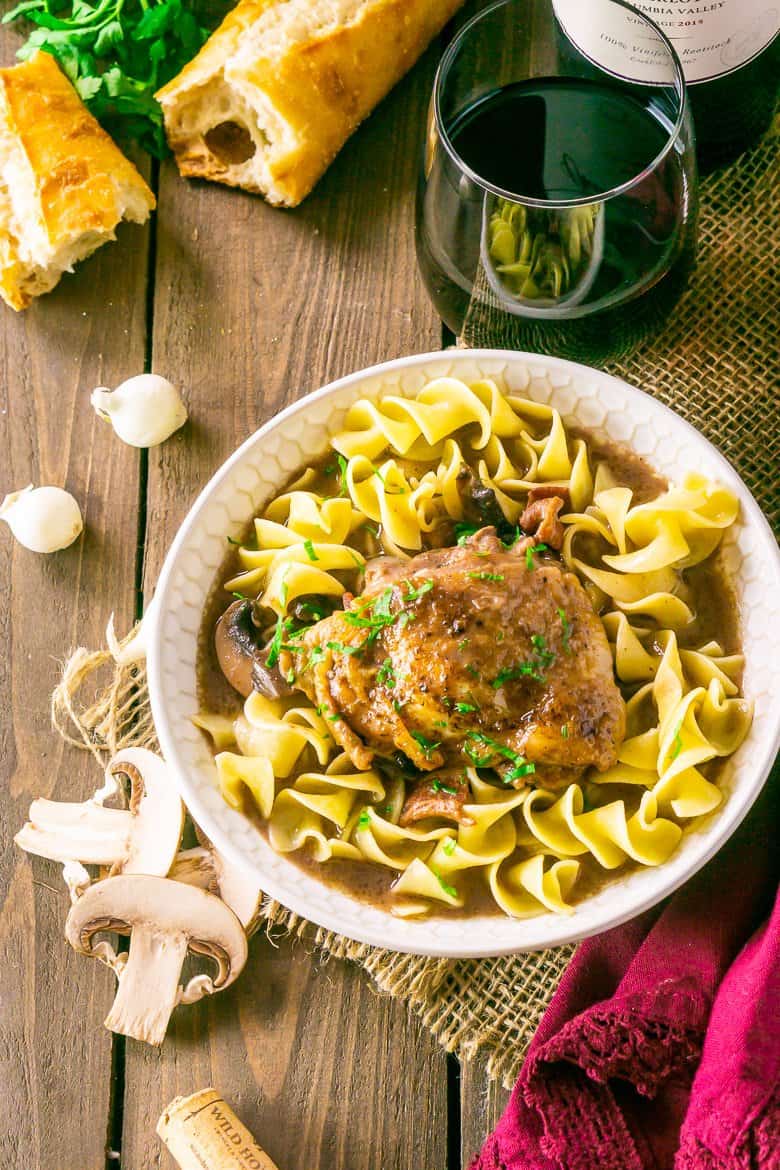 Step-by-Step Instructions
While coq au vin is surprisingly simple to make --- despite its fancy name --- it does take some time, so let's jump into it. We start by boiling a couple handfuls of pearl onions to soften. Once the onions are ready, we slip off the skins and cook them with a little bacon and butter.
Now we dust some bone-in, skin-on chicken thighs with salt, pepper and flour and brown the skin in the rendered bacon fat and butter. You know, the good stuff. ❤️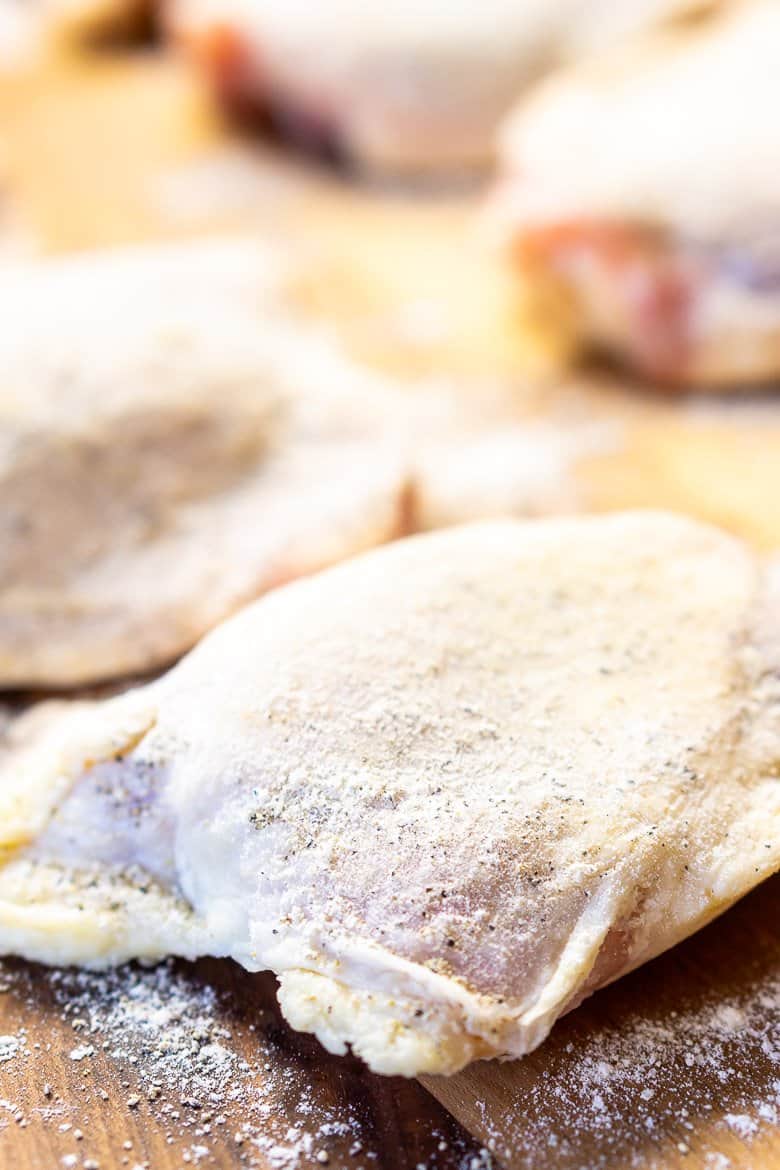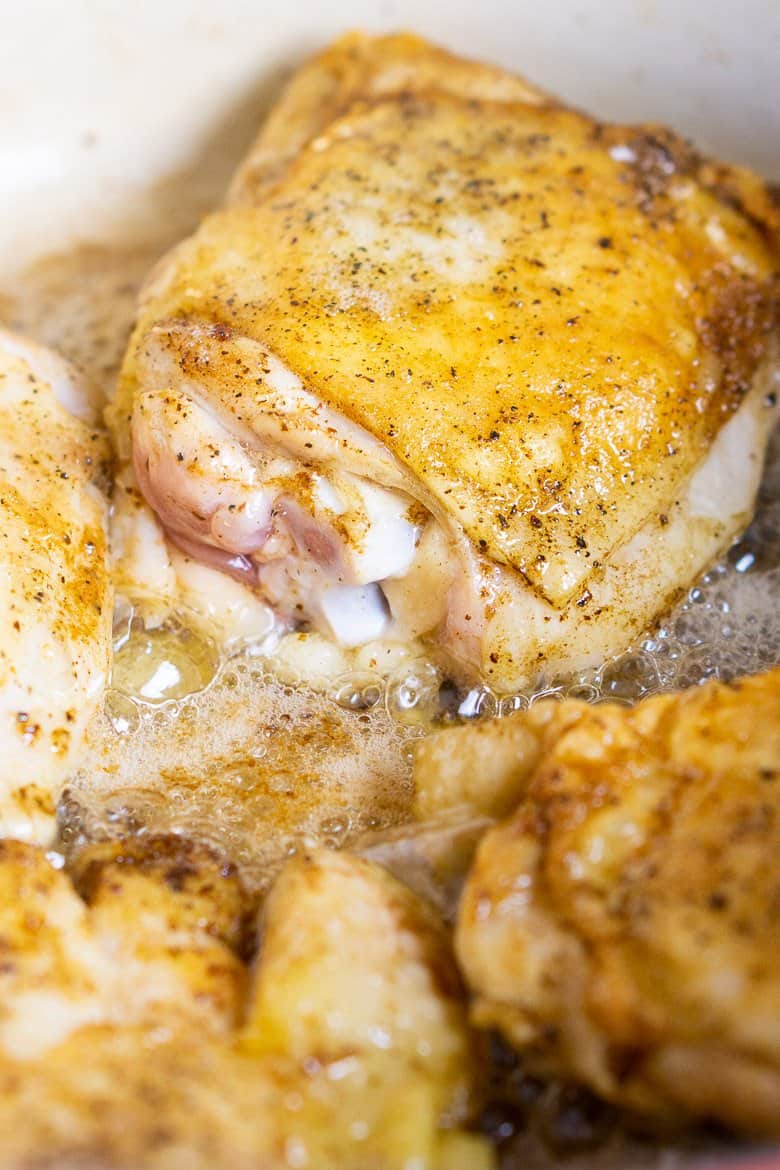 After the chicken browns, we whisk in a little flour and then pour in our red wine and a touch of brandy along with the bacon, onions, a head of garlic, a handful of herbs and three teaspoons of Better Than Bouillon Chicken Base, which I consider the secret ingredient in this coq au vin recipe.
Some coq au vin recipes use a combination of chicken stock and red wine, but there isn't quite as much wine as I prefer in those recipes. We can't simply add chicken stock to a copious amount of wine because then we'd have too much liquid. Still, chicken stock adds great flavor. With Better Than Bouillon, we can get that concentrated stock flavor without drowning our braise. You can find Better Than Bouillon in pretty much every major grocery store chain, or it's available on Amazon.
And, no, I'm not paid to tout Better Than Bouillon. I just love it that much.
From here, we cover the pot and allow the chicken to braise for about 45 minutes covered and then uncover the pot for another 15 minutes. As it braises, we take a few minutes to cook some mushrooms in butter until golden, and then we add the mushrooms to the chicken at the end of cooking. If you'd like, you can cook the mushrooms ahead of time, so you don't have to worry about them while the chicken braises. Your choice.
How to Serve
Coq au vin is traditionally served on buttered egg noodles. I'm always a fan of pasta, so I tend to default to this option. You also can't go wrong with mashed potatoes, rice or polenta. All three perfectly sop up that delicious sauce.
Speaking of sauce, we'll likely have some leftover but don't throw it out. We can use that leftover sauce to make this ridiculously delicious coq au vin pizza. If you plan to make the pizza within a few days, you can strain the sauce and refrigerate it or freeze it if you don't have a chance to make the pizza right away.
With the bacon and chicken thighs, we will get a little fat that solidifies on top as the sauce cools. You can scoop it away with a spoon if that's not your thing, or you can just reheat the sauce when you're ready to make the pizza. That layer will turn back to liquid form and then simply stir.
Voilà! Now dig in and enjoy a giant bowl of French comfort food.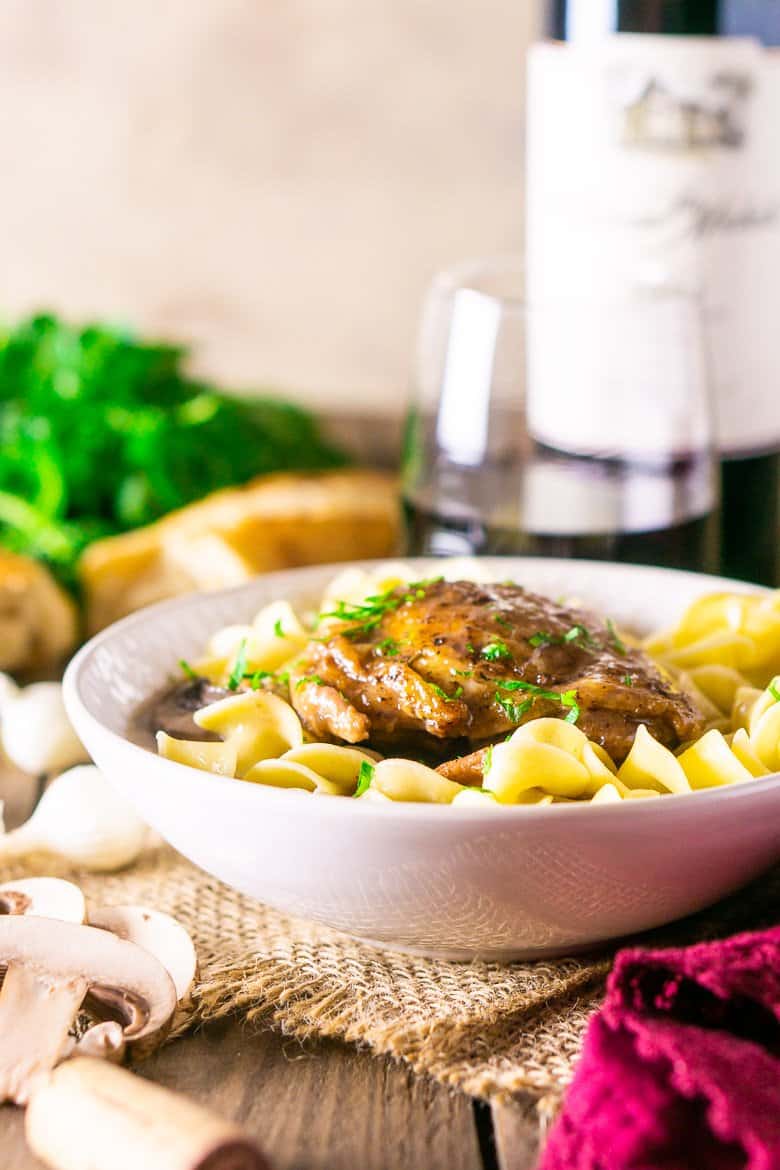 Best Wine to Use
Considering that red wine is the flavor base for the coq au vin sauce, you might wonder exactly which type of wine to use. Burgundy is traditionally used in coq au vin. That said, Burgundy is made from pinot noir grapes. The Burgundy name simply comes from the region of France that makes this type of wine, so Burgundy and pinot noir are essentially the same.
For you grammar nerds, that's also why we capitalize Burgundy wine but not pinot noir. Wine named after a region is capitalized while wine named after grape varietals is lowercase. The more you know, right?
Perfect Pairing
Naturally, you can't go wrong with a Burgundy or pinot noir, so that pairing is easy. If you feel like changing it up, a Beaujolais is similar to Burgundy with its high acidity and low tannins and matches nicely with coq au vin.
If you'd rather enjoy this dish with a beer, I highly recommend a biere de garde, which is a French-style farmhouse ale. Biere de gardes have a nice earthiness and herbal notes that work well with the mushrooms and complement the sauce, and the strong biscuit-like malt backbone pair perfectly with the braised chicken. With biere de gardes, you also get a snappy finish, which makes for a great palate cleanser.
When you need a comforting yet classy meal, I hope you try this coq au vin. You'll find it's surprisingly simple to make and full of tons of flavor.
Cheers!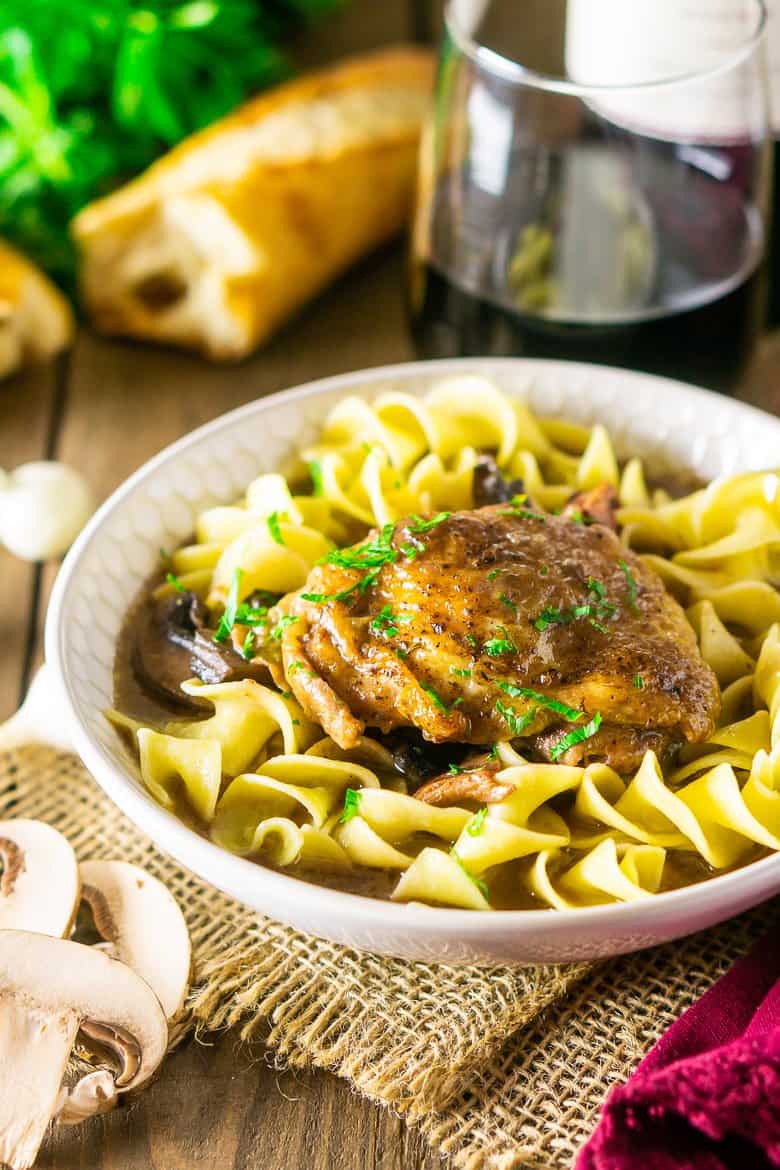 Love Your Comfort Food?
If you love this recipe, please leave a comment with a five-star rating — or simply hit the five-star button in the recipe card. Don't forget to sign up for my newsletter, and you can follow me on Facebook, Instagram, Pinterest and TikTok.
📖 Recipe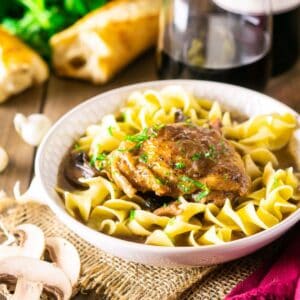 The Best Coq Au Vin
Slowly braised chicken cooks in a rich red wine sauce with a bundle of fresh herbs, bacon, pearl onions and mushrooms to make this fall-off-the-bone tender, flavorful coq au vin.
Print
Pin
Rate
Ingredients
15

pearl onions

4

tablespoons

butter

divided

6

ounces

bacon

chopped

3-4

pounds

bone-in

skin-on chicken thighs

Salt

Pepper

3

tablespoons

flour

plus more for dusting chicken

1

bottle Burgundy or pinot noir

¼

cup

brandy

3

teaspoons

Better Than Bouillon Chicken Base

10

fresh parsley sprigs

8

fresh thyme sprigs

2

fresh rosemary sprigs

2

bay leaves

1

garlic head

cut crosswise

8

ounces

baby portobello or white mushrooms

sliced

Buttered egg noodles

mashed potatoes or polenta for serving
Instructions
In a small saucepan, bring water to a boil, add pearl onions and reduce to a simmer for 10 minutes. Drain, cut off the root ends and slip off the skins.

In a Dutch oven or large heavy-bottomed pot, melt two tablespoons of butter over medium heat. Cook chopped bacon and pearl onions until the bacon turns crisp. Transfer the bacon and pearl onions to a plate with a slotted spoon and drain. Some chopped bacon pieces might finish cooking before others. Go ahead and transfer those as they're ready to prevent burning.

While the bacon cooks, season the chicken with salt and pepper and dust with flour. Once you transfer all the bacon and pearl onions, place the chicken skin-side down in the rendered bacon fat and butter. Cook undisturbed until the skin browns, about five to seven minutes. Flip and cook for another five minutes. You'll likely have to do this in two batches because you don't want to overcrowd the pan during browning.

Remove the last batch of chicken and whisk in 3 tablespoons of flour. Continuously whisk for about three to four minutes.

Slowly pour in the wine, brandy and Better Than Bouillon and continue to whisk until the flour smoothly incorporates with the liquids. Add the parsley, thyme, rosemary, bay leaves and garlic cut-side down.

Return the chicken, bacon and pearl onions to the pot. Bring to a boil and then reduce to a simmer and cover. Stir occasionally. Simmer covered for 45 minutes.

While the chicken braises, melt the remaining two tablespoons of butter in a pan. Add the mushrooms and cook until golden. During the final minutes of braising, add the mushrooms to the pot. You can cook the mushrooms ahead of time.

After the 45 minutes are up, add the mushrooms and simmer uncovered for another 15 minutes. Serve over buttered egg noodles, mashed potatoes or polenta. Enjoy!
Notes
Don't forget to save any leftover sauce to make this coq au vin pizza!
Nutritional information is only an estimate. The accuracy of the nutritional information for any recipe on this site is not guaranteed.
Nutrition
Serving:
1
piece with sauce and pasta
|
Calories:
762
kcal
|
Carbohydrates:
69
g
|
Protein:
39
g
|
Fat:
34
g
|
Cholesterol:
163
mg
|
Sodium:
1.043
mg
|
Sugar:
29
g