For all those summer grill-outs, make sure your dinner menu includes this succulent smoked spatchcock chicken, featuring everyone's favorite perfectly crispy skin! A simple dry rub gives the chicken those classic BBQ flavors with just the right kiss of smoke. You only need about 10 minutes of hands-off preparation time, and it smokes even faster than a traditional trussed chicken.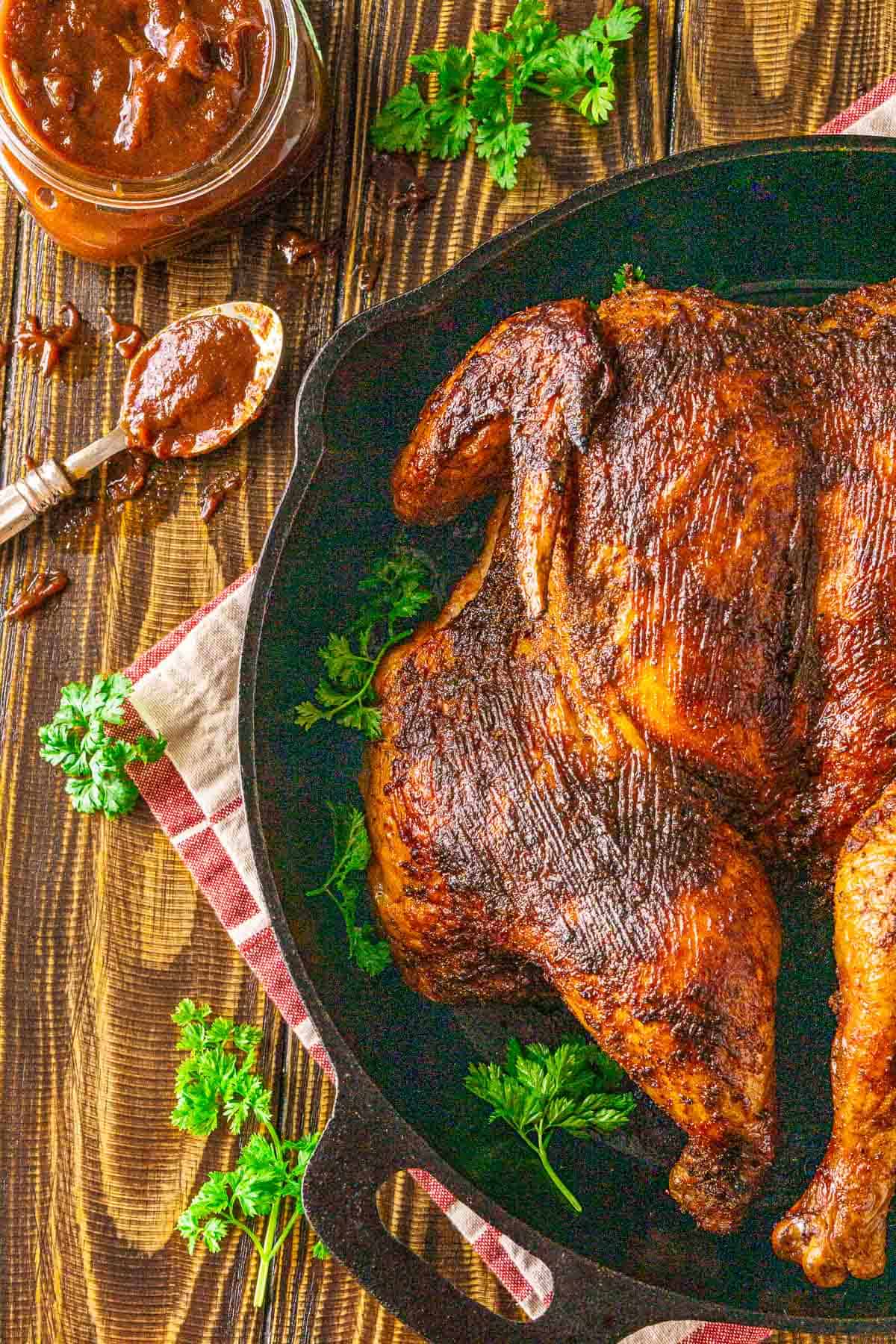 Jump to:
What Is Spatchcocking?
This is essentially butterflying a whole chicken. We cut off the backbone, flip it and use our hands to flatten the chicken.
While this may sound complicated, I promise the process is surprisingly easy. For a little visual help, we'll review the process with step-by-step photos, and you can check out the accompanying video if that's also helpful.
So why spatchcock a chicken? Since we flatten the whole bird, it makes the chicken cook faster and more evenly.
This means the white meat and dark meat cook at a similar pace, so overcooking one section of the bird isn't really an issue. Once you spatchcock your first chicken, you'll see how easy it is, and I won't be surprised if it becomes your go-to method for cooking a whole chicken.
Why You'll Love This Recipe
Wonderfully crisp skin: Don't let anyone tell you smoking a chicken means gummy skin. That rumor exists, but with proper preparation, it's not true. We follow three easy steps to avoid rubbery chicken skin.
Dry brine the chicken before smoking.
Coat the skin with olive oil.
Blast the chicken with high heat after smoking low and slow.
Faster cooking time: If you've ever tried my trussed smoked whole chicken, it's a relatively quick smoker recipe, though it still calls for 45-60 minutes per pound. However, spatchcocking significantly decreases the smoking time, which is great if you have an especially large cut or find yourself behind schedule.
Ultra juicy meat: No dry chicken here. Every bite is tender, juicy and oh-so flavorful. It doesn't get better than smoked chicken.
Related: Put that smoker to use. You'll also love my smoked chicken wings, smoked chuck roast, smoked brats and smoked corned beef.
Ingredients
Whole chicken: A typical whole chicken is about 4 to 5 pounds, but you can use an even bigger chicken if that's what's available. I actually once smoked a massive chicken that was nearly 7 pounds, and it turned out great.
Spices: We use a mixture of chili powder, brown sugar, black pepper, garlic powder, onion powder, smoked paprika, ground cumin, mustard powder and cayenne pepper. Of course, you're welcome to use another favorite spice blend.
Salt: This is what we used for dry brining.
Favorite BBQ sauce: This is optional. Some people prefer their chicken without sauce, but I love a nice slathering. For a homemade option, I have a few flavors you'd love.
Step-by-Step Instructions
Prep and Dry Brine the Chicken
Step 1: To dry brine the chicken for that perfect skin, we pat the surface dry with a paper towel, sprinkle salt all over and refrigerate the chicken uncovered (photo 1). Overnight is best, but at least eight hours works if you're short on time.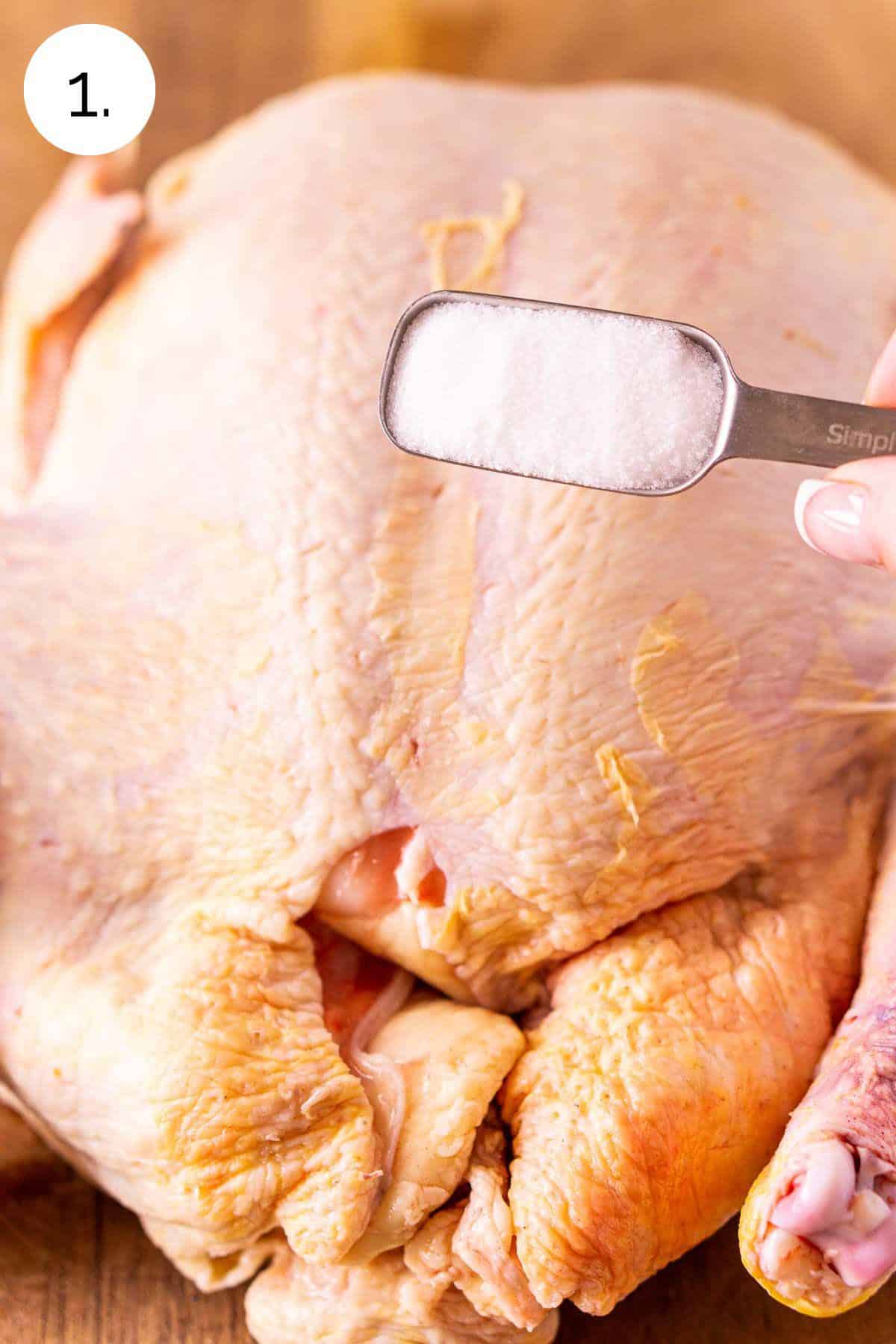 When we dry brine chicken, the salt initially pulls out the moisture from the skin and meat. As it rests, that moisture dissolves the salt, which is reabsorbed into the chicken.
This makes for a more tender, juicy chicken. Plus, it dries out the skin for that crispy texture.
Spatchcock the Chicken
Step 2: After dry brining, we're ready to spatchcock the chicken. We flip the chicken so that the breasts are facing down on the cutting board. At the bottom of the cavity, you'll notice a triangle-shaped flap, which is the end of the backbone.
We take a pair of sharp kitchen shears and cut along the side of the backbone (photo 2), and then we cut along the other side of the backbone to remove it (photo 3).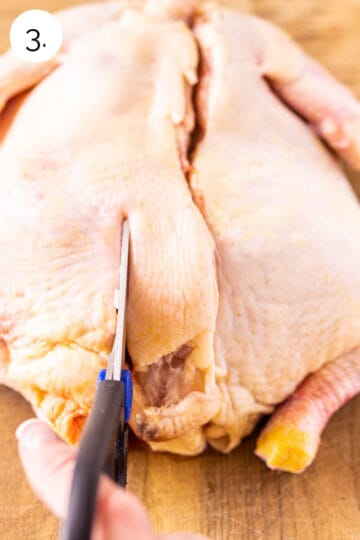 Now we flip the chicken and press down on the breast bone until it cracks and flattens (photo 4). Our chicken is now spatchcocked.
Season With the Dry Rub
Step 3: With the chicken prepped, we stir together our spices in a small bowl and apply the dry rub all over the entire chicken (photo 5). Along with coating the outside, we also want to gently lift the skin to season the meat.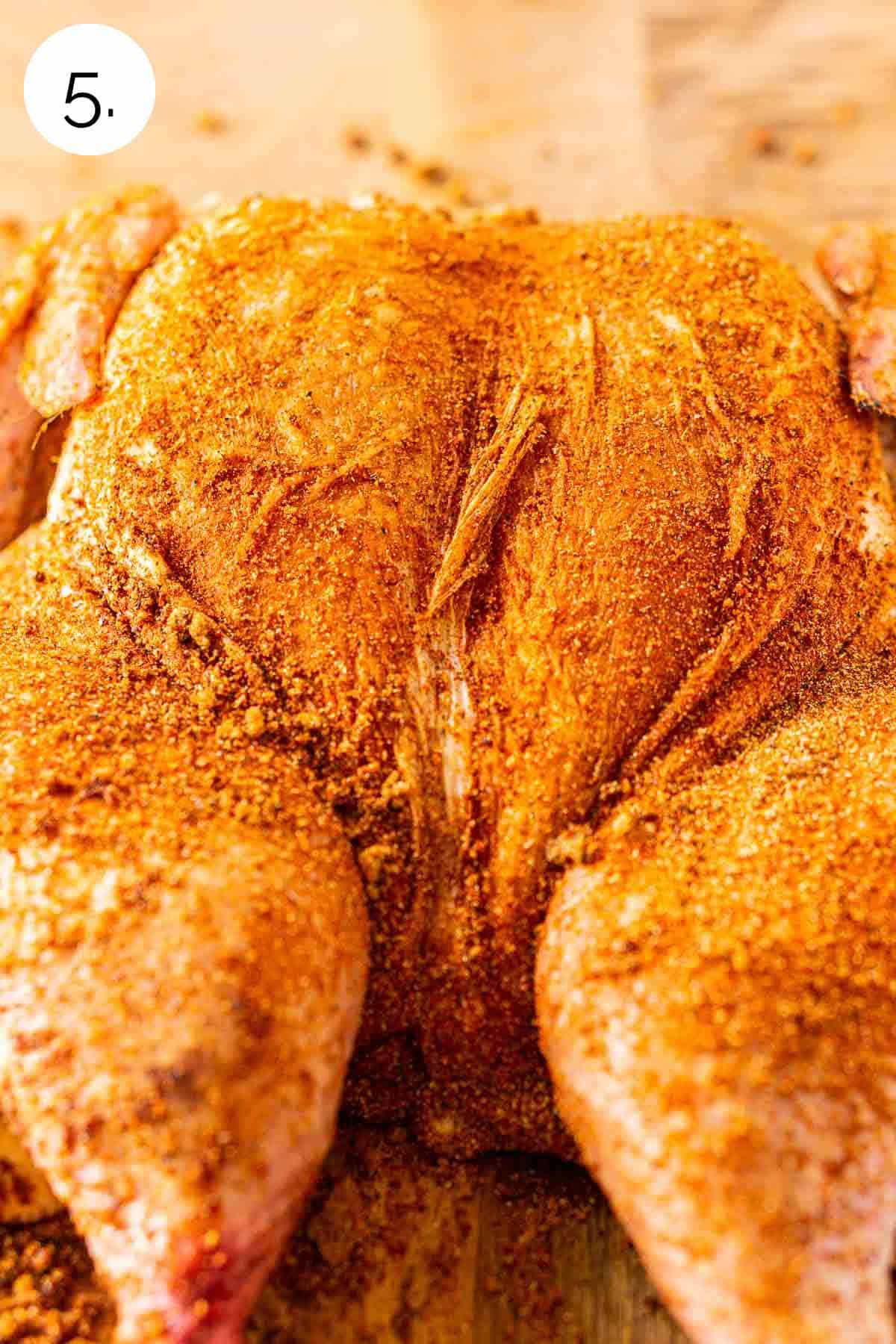 Smoke the Chicken
Step 4: Now we put the spatchcocked chicken cut-side down on the grill grates of a 225-degree F smoker with a water pan and close the lid (photo 6).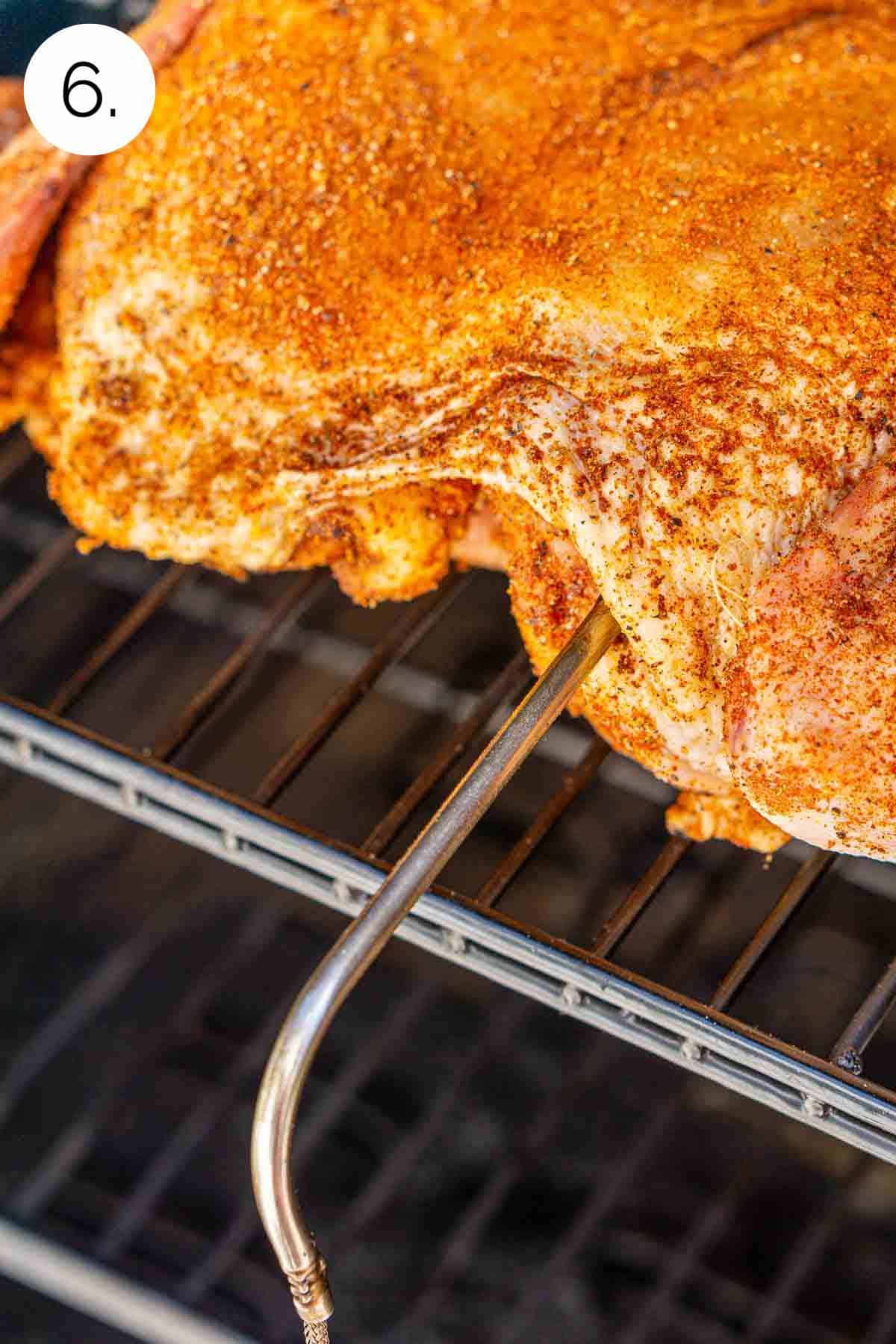 Step: 5: When the chicken reaches about 130 degrees F, we crank up the smoker from the lower temperature to 400 degrees F and brush the skin with the olive oil (photo 7). If you'd like a sauced chicken, you can brush it a few minutes before it finishes cooking.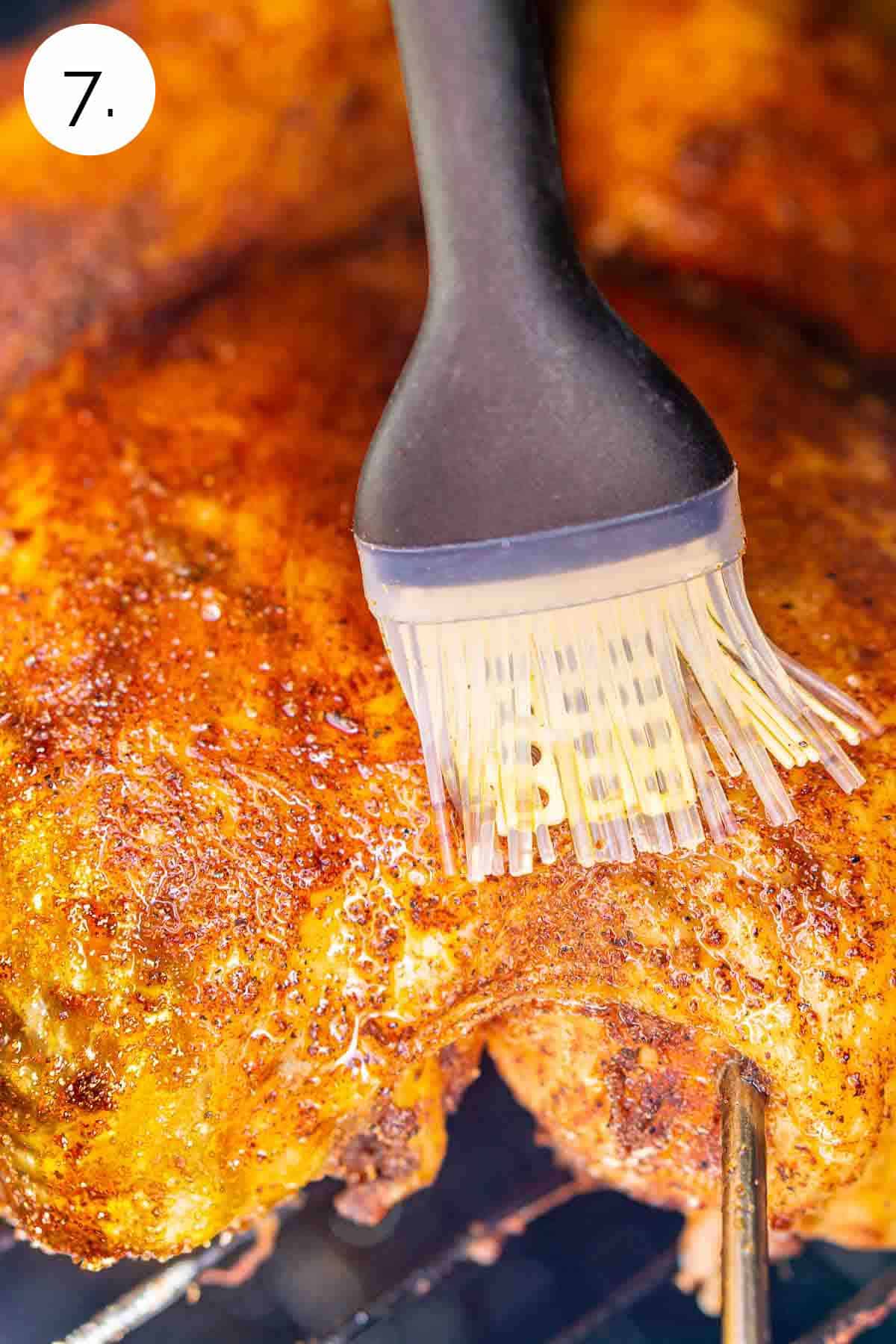 With the chicken ready, we remove it from the smoker and let the chicken rest for about 10 minutes. This allows the juices to redistribute to ensure every bite is nice and moist. We carve on a cutting board with a sharp knife and serve.
Note: I tested this smoked spatchcock chicken recipe on a vertical pellet grill, but any kind of traditional or electric smoker works.
Final Internal Temperature
The chicken is done when it reaches a final temperature of 165 degrees F in the breast meat. For the legs and thigh meat, 175 degrees F is the sweet spot. Those pieces have connective tissues that need extra time to break down.
To ensure the chicken cooks to perfection, I like to insert a leave-in meat thermometer in the thickest part of the breast. That way, I always know the temperature and don't have to frequently open the smoker and lose the heat.
How to Store and Freeze Leftovers
If you have any leftovers, allow them to fully cool and then keep them in an airtight container in the refrigerator for three to four days.
For longer storage, you can keep the chicken in a freezer-safe bag or container for up to four months. While you can safely enjoy the frozen chicken after four months, the quality eventually starts to degrade.
When you're ready to eat those leftovers, you can use the chicken in so many ways. Think Buffalo chicken dip, tacos, salads, grilled cheese, mac and cheese, or quesadillas. Believe me, you will get plenty of uses out of those leftovers.
Delicious Serving Ideas
Of course, a good backyard BBQ is always a feast, so let's give you some additional serving ideas to keep your guests full and happy.
For appetizers, you already have the smoker fired up, so try some smoked salsa, smoked cream cheese or smoked jalapeño poppers. Both are crowd favorites and so simple to make.
If you're hosting an especially large party, you might want another smoked meat option. These recipes are always hits with our friends and family.
And then there are side dishes. Don't miss my smoked bourbon baked beans and smoked macaroni and cheese. I'm especially partial to that mac and cheese — it's an absolute dream for cheese lovers.
If you're smoker is already full, you can also try this spaghetti squash gratin, bacon macaroni salad and Hawaiian potato salad.
Recipe FAQs
Why is spatchcocking faster than trussing a chicken?
That flatter surface area evenly exposes the whole chicken to heat. When it's trussed, the chicken breast meat naturally plumps up, which makes it thicker and inevitably requires more cooking time.
Do you flip a spatchcock chicken while smoking?
No, we don't have to flip the chicken. We just leave it with the skin side facing up during the entire smoking process.
How long does it take to smoke spatchcock chicken?
Plan for about 2 ½ to three hours of smoking time. That said, many factors can play into the total smoking time, such as the weather, the size of the chicken and the efficiency of your smoker to hold heat. When smoking, I always recommend being a little flexible with your serving time.
What's the best wood to use for smoking?
Chicken works nicely with a lot of wood varieties, but hickory is my favorite. Hickory gives a noticeable smoky flavor without overwhelming the meat.

If you prefer a lighter smoke flavor, apple wood, cherry wood, pecan wood or maple wood would make a nice option. Some people like mesquite with chicken, but I think it's a bit overpowering for lighter meats. But you do you — if it works with your palate, that's all that matters.
Can you smoke this chicken on a grill if you don't have a dedicated smoker?
Sure, you can turn your gas or charcoal grill into a smoker by using a smoke box. If you're unfamiliar with the process, here's a guide on how to use a smoker box.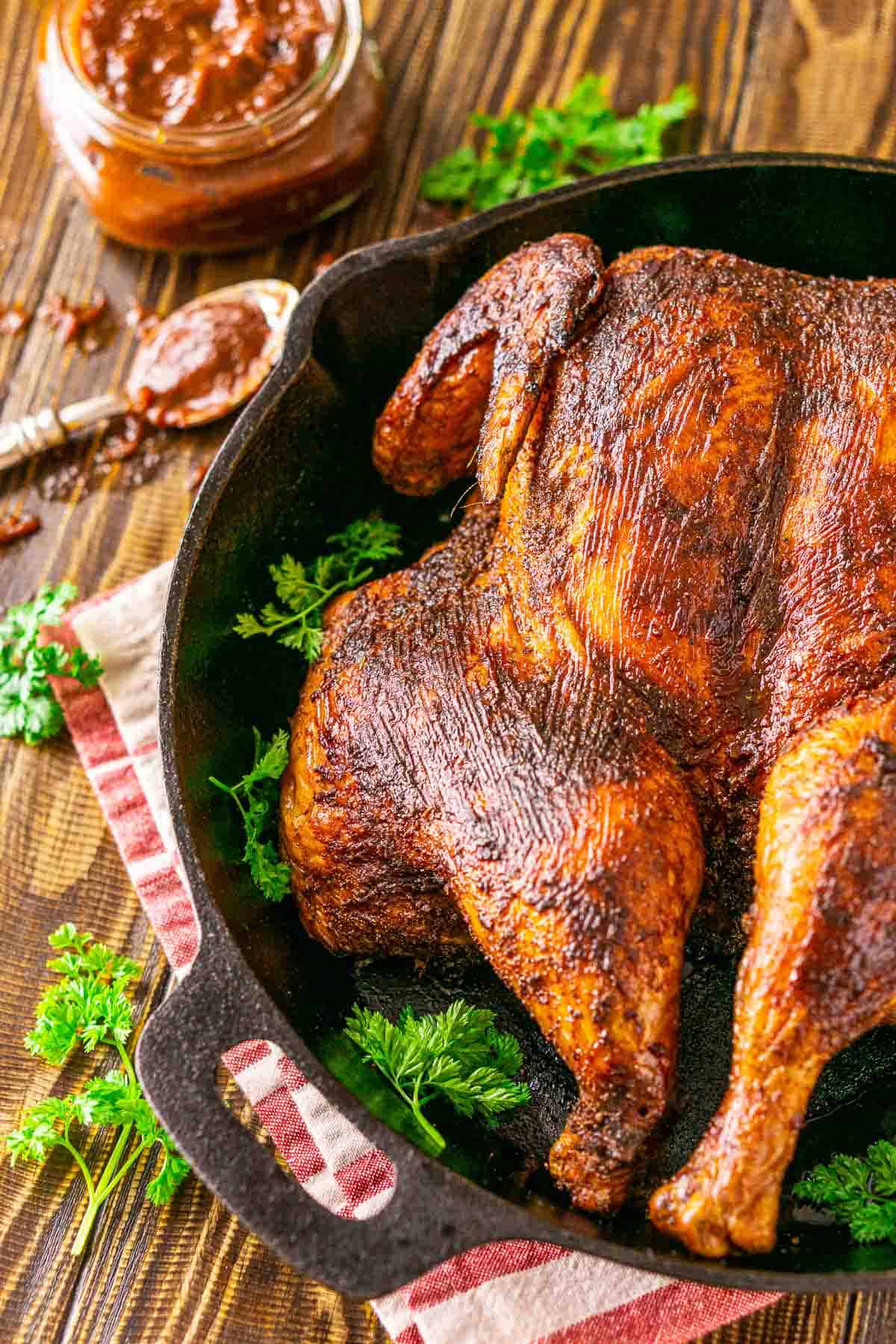 Expert Tips
Don't skip the dry brining if you like crispy skin: This step makes a huge difference in the final result.
Save the backbone: It's great for making a flavorful chicken stock.
Thaw the chicken first: We don't want to smoke or dry brine a frozen chicken. Make sure it's fully thawed before dry brining. Otherwise, it won't properly dry brine or absorb the smoke.
Pat the chicken skin thoroughly with paper towels before salting: We want the skin as dry as possible.
Let the chicken sit at room temperature for 30 minutes before smoking: This takes off the chill and allows for more even cooking.
Bonus: For more ways to smoke a chicken, you can also try my smoked chicken leg quarters and smoked chicken breasts.
Perfect Pairing
What's a good BBQ without plenty of beers on hand? Try this chicken with an American amber ale. You'll love how the strong malt profile melds with the brown sugar while adding contrast to the dry rub spices.
If you're feeling a little fancier and prefer wine, an oaked chardonnay is great with smoked chicken. The char from the oak barrels makes for a nice match with the touch of smoky flavor.
Your family and friends will devour this smoked spatchcock chicken at your next backyard BBQ. With that juicy, flavorful meat and crispy skin, this chicken is absolute perfection.
Cheers!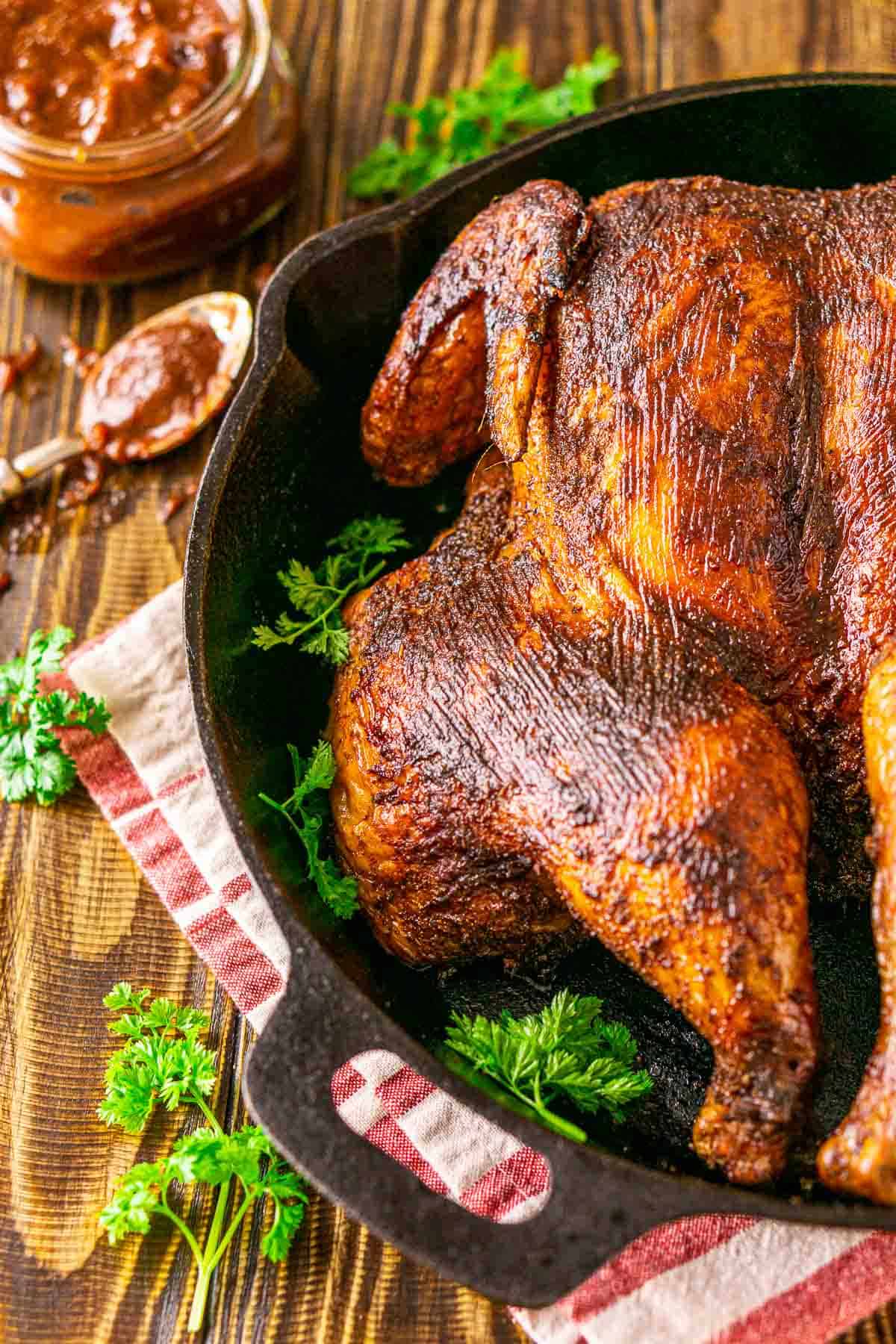 Get More Smoker Recipes
If you love this recipe, please leave a comment with a five-star rating — or simply hit the five-star button in the recipe card. Don't forget to sign up for my newsletter, and you can follow me on Facebook, Instagram, Pinterest and TikTok.
📖 Recipe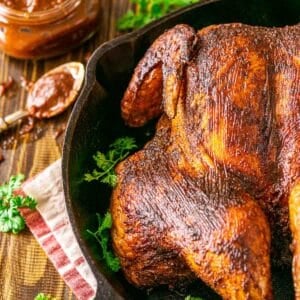 Smoked Spatchcock Chicken With Crispy Skin
For all those summer grill-outs, make sure your dinner menu includes this succulent smoked spatchcock chicken, featuring everyone's favorite perfectly crispy skin! A simple dry rub gives the chicken those classic BBQ flavors with just the right kiss of smoke. You only need about 10 minutes of hands-off preparation time, and it smokes even faster than a traditional trussed chicken.
Print
Pin
Rate
Equipment
Kitchen shears

Smoker

Wood pellets or wood chips

see notes for recommendations

Leave-in meat thermometer
Ingredients
1

whole chicken

1

heaping tablespoon

salt

2

teaspoons

chili powder

2

teaspoons

packed brown sugar

1

teaspoon

garlic powder

1

teaspoon

black pepper

½

teaspoon

smoked paprika

½

teaspoon

onion powder

½

teaspoon

cayenne pepper

½

teaspoon

ground cumin

¼

teaspoon

mustard powder

2

tablespoons

olive oil

BBQ sauce

optional
Instructions
To dry brine for crisp skin, pat the chicken dry with paper towels, and then generously sprinkle with salt and rub onto the skin. Place the chicken in the refrigerator uncovered for at least four to eight hours, though overnight is ideal. Do not wipe off the salt after brining.

Flip the chicken so that the breast side faces down. You'll notice a triangle-shaped flap. Using kitchen shears, completely cut along one side of the flap and then completely cut on the other side of the flap to remove the backbone. Flip the chicken over and use your hands to flatten the chicken until you hear the breast bone crack.

Prepare the smoker according to the manufacturer's directions, fill the water pan and set the temperature to 225 degrees F. As the smoker heats, stir together the spices and rub the spice mixture all over the skin. Gently lift the skin and rub some spices directly onto the meat as well.

Place the chicken in the smoker with the breast-side up and thighs closest to the heat source. Insert a leave-in thermometer into the thickest part of the breast meat without touching a bone, which can skew the reading.

Close the smoker and smoke the chicken until it reaches an internal temperature of 130 degrees, about 1 ½ to 2 hours. Replenish the wood if necessary while cooking. Open the smoker, brush the skin with olive oil and crank up the heat to 400 degrees to finish cooking. In the last few minutes, brush with BBQ sauce if desired. The chicken is done when it reaches 165 degrees in the thickest part of the breast meat and 175 degrees in the thickest part of the thigh meat.

Let the chicken rest for 10 minutes to allow the juices to settle and then carve with a sharp knife. If desired, serve with additional BBQ sauce. Enjoy!
Notes
Store leftovers in the refrigerator for up to three or four days. Freeze for up to four months.
This salt for dry brining will look like a lot. Don't worry. This is normal, and it will not come out too salty because of the reabsorption into the meat.
If possible, remove the chicken from the refrigerator for 30-60 minutes to allow it to come down in temperature.
Hickory is great for a smokier chicken, though mesquite is a bit strong. Apple, pecan, cherry and maple are great for a milder smoke flavor.
Nutritional information is only an estimate. The accuracy of the nutritional information for any recipe on this site is not guaranteed.
Nutrition
Serving:
6
ounces
|
Calories:
301
kcal
|
Carbohydrates:
2
g
|
Protein:
24
g
|
Fat:
22
g
|
Saturated Fat:
6
g
|
Polyunsaturated Fat:
4
g
|
Monounsaturated Fat:
10
g
|
Trans Fat:
1
g
|
Cholesterol:
95
mg
|
Sodium:
90
mg
|
Potassium:
269
mg
|
Fiber:
1
g
|
Sugar:
1
g
|
Vitamin A:
257
IU
|
Vitamin C:
5
mg
|
Calcium:
22
mg
|
Iron:
1
mg