For the ultimate summer appetizer for any occasion, you'll turn to this homemade smoked salsa over and over again! Made with only a handful of fresh ingredients, this smoky salsa is perfect for dipping or serving with your favorite Mexican dishes. You only need about 20 minutes of hands-on preparation time, and the process couldn't be easier, no matter your skill level. Let's show you how to make your new go-to tomato salsa.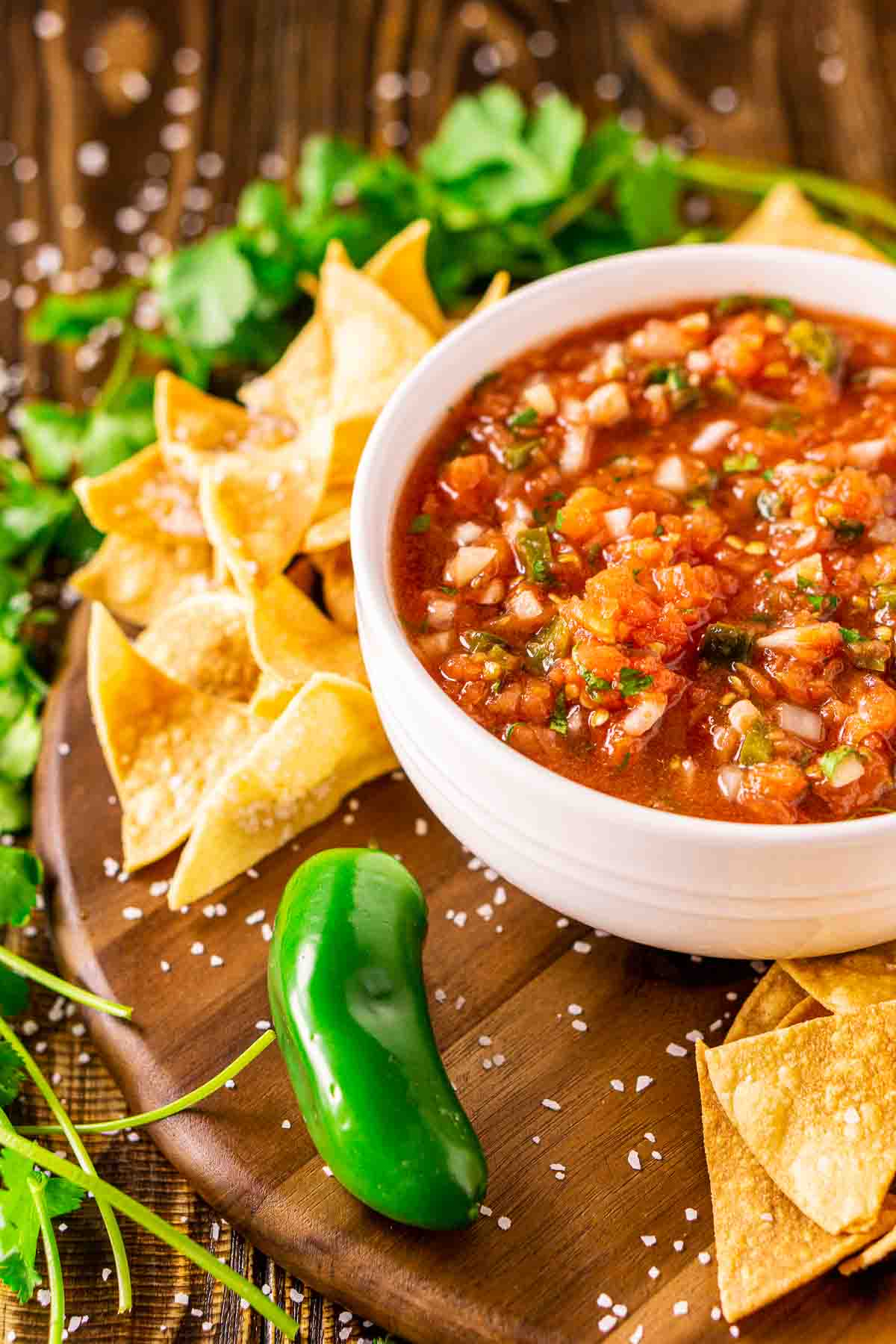 Jump to:
Why You'll Love This Recipe
That touch of smoky flavor: After just an hour, the fresh vegetables absorb those smoky notes to make a homemade salsa with the most incredible depth of flavor. You'll never want to make salsa any other way.
No expert BBQ skills required: If you just bought your smoker, this is a great recipe for first-timers. As long as you can chop, you can master this salsa.
Only calls for simple ingredients: No need for a trip to a specialty store here. You can find everything you need in your most basic grocery store.
Make ahead of party time: Whether you'd like to simplify your hosting duties or need a dish to take to a potluck, this salsa is here for you with a convenient make-ahead preparation option.
Related: For more taco night appetizers, you'll also love these jerk pork nachos and tropical pico de gallo.
Ingredients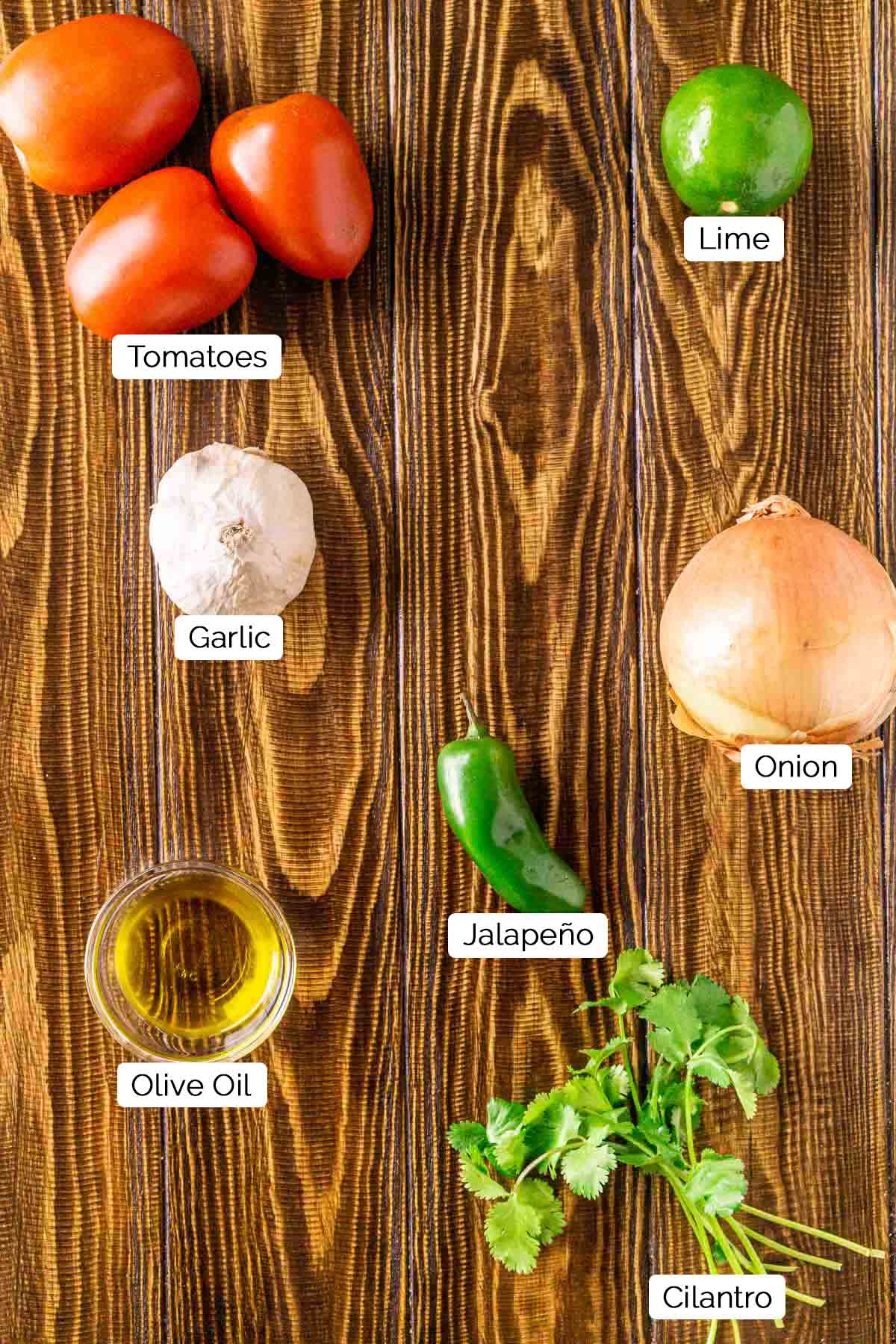 Tomatoes: We want to use Roma tomatoes. They're my favorite variety for making salsa, and the proportions in this recipe are designed for Roma tomatoes.
Jalapeños: No pickled jalapeños here. We want fresh, whole jalapeños.
Onion: For a more gentle flavor, try a red onion or yellow onion. If you prefer a sharper flavor, a white onion works well.
Garlic: We first peel a few garlic cloves and then let them smoke whole. I don't recommend substituting garlic powder.
Lime juice: Only freshly squeezed lime juice will do. That bottled juice is not nearly as citrusy. You can't beat fresh.
Cilantro: Like the lime juice, we want fresh cilantro. Dried cilantro is not a good option.
Step-by-Step Ingredients
Step 1: Our first step is to toss the fresh tomatoes, jalapeños, onion and cloves of garlic with olive oil, salt and black pepper until the vegetables are well-coated (photo1). You'll notice the tomatoes, jalapeños and onions are cut into pieces. That's so we get a better smoke infusion.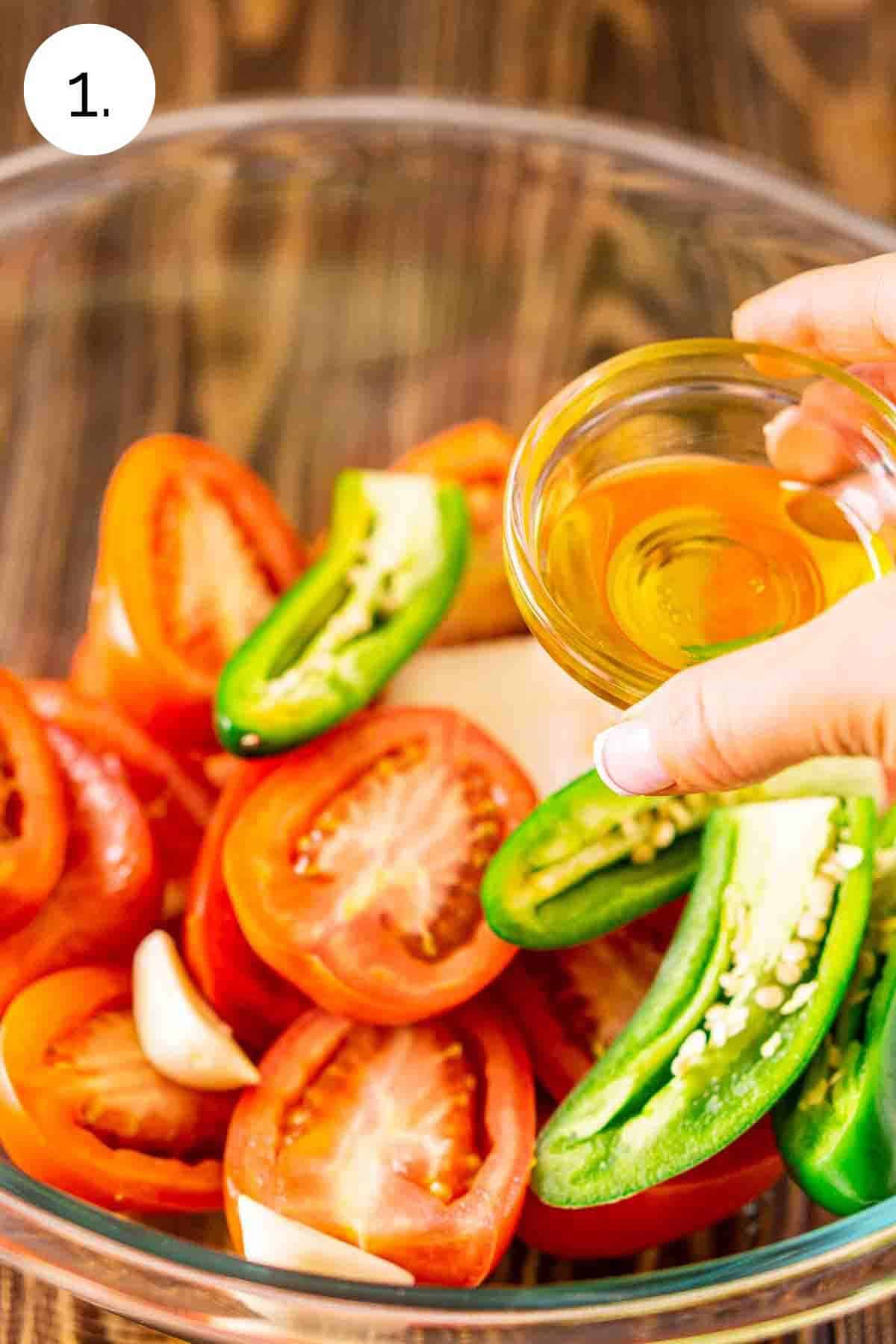 Step 2: Now we spread the vegetables on a sheet pan with a wire rack, place it in a 225-degree F smoker and close the lid (photo 2). When the vegetables are done, the tomatoes will look like so (photo 3). I like to taste the liquid in the tomatoes, and if it's smoky to my liking, I go ahead and pull the vegetables.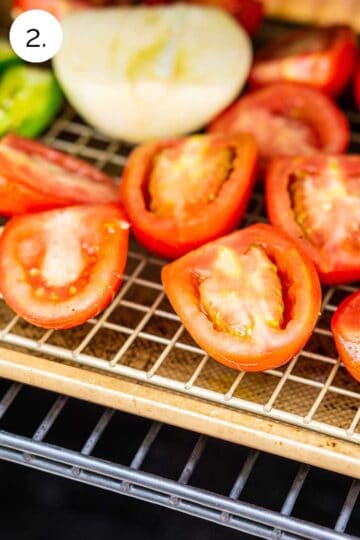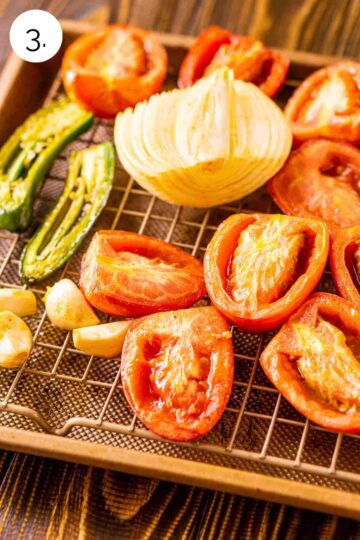 Tip: While you can technically put the vegetables directly on the grill grates, a sheet pan makes it much easier to transport, and you don't have to worry about the garlic falling off the grates. If you don't have a smoker-friendly sheet pan, a disposable aluminum pan works too.
Step 3: To make the base of our salsa, we add the tomatoes to a food processor and blend until we get our desired consistency (photo 4). I like a chunky salsa, but you can process it longer if you prefer a smoother salsa.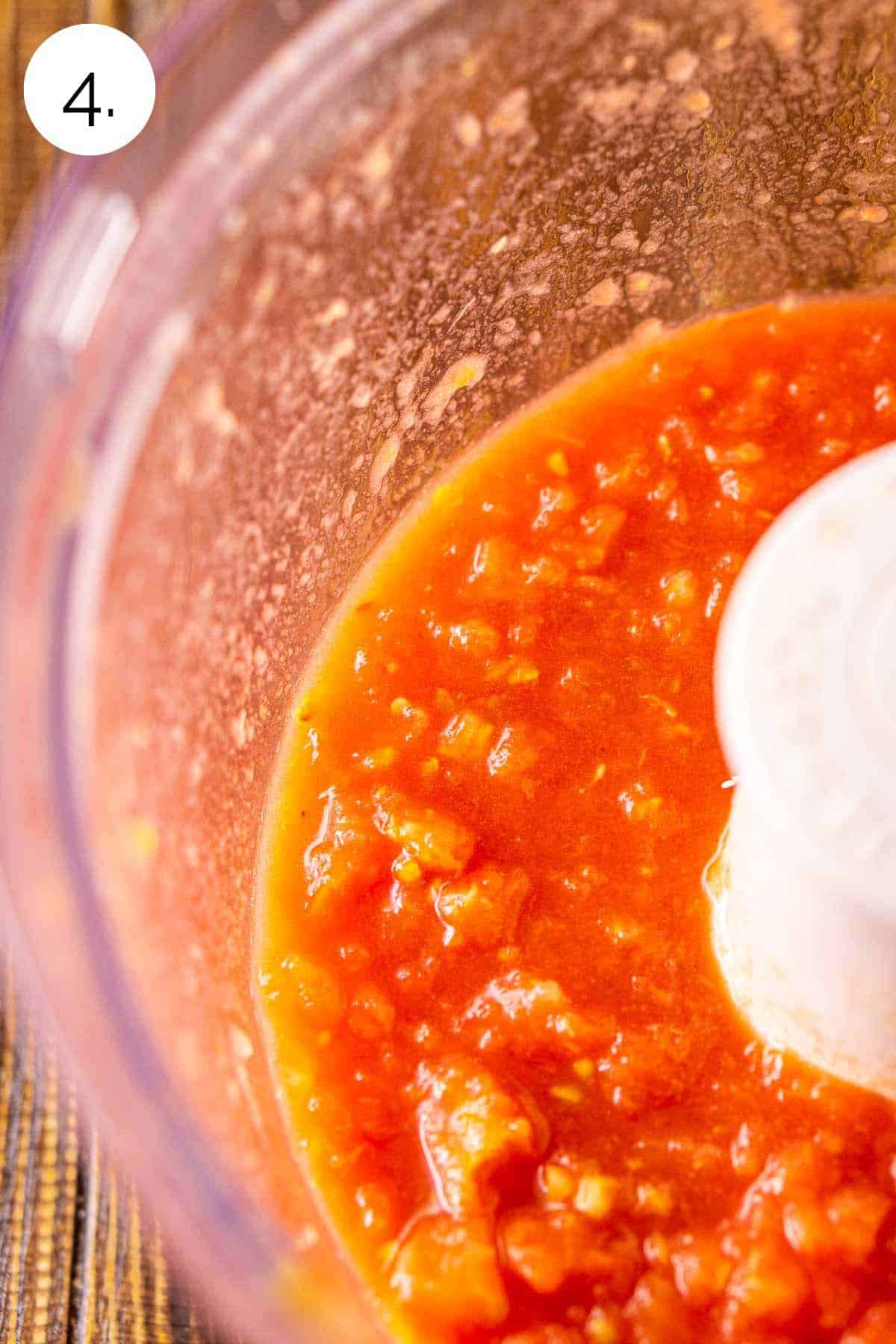 Step 4: Now we transfer the tomato base to a large bowl. We finely chop the garlic, jalapeños, onion and cilantro and stir those into the salsa along with some fresh lime juice and salt (photo 5).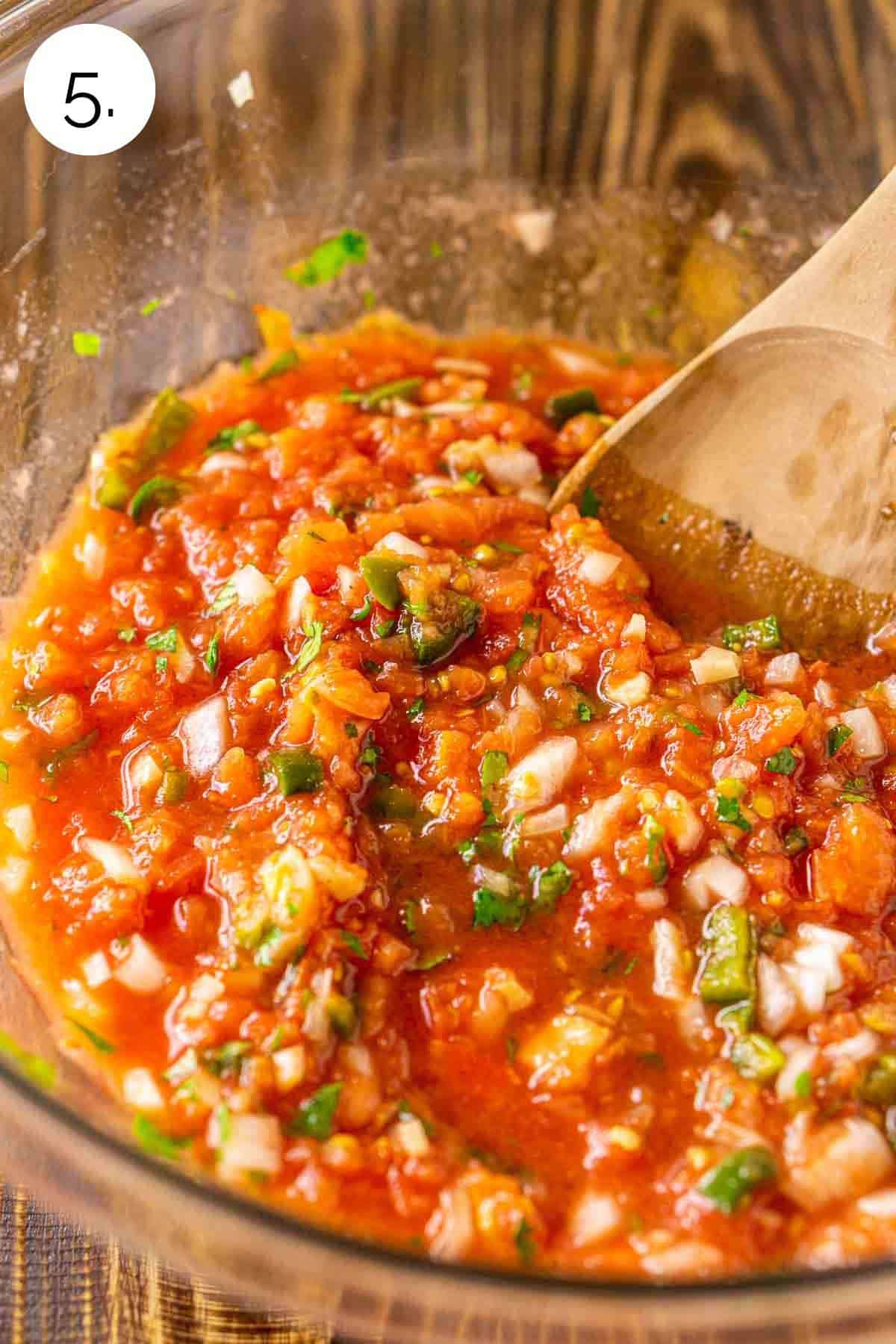 Wasn't that easy? Make sure you keep this smoked salsa recipe handy because you'll want to put it on repeat all summer.
Note: This recipe was tested using a vertical pellet grill. However, you can use it with any type of smoker.
Favorite Ways to Use Salsa
Obviously, you can simply grab some crispy tortilla chips and start snacking. But you can also serve this salsa in so many other ways. Here are a few ideas to get the most out of this salsa.
Tip: When serving, you can absolutely serve it warm or chilled. If you've never had warm salsa, it might sound funny, but Pappasito's, my absolute favorite Tex-Mex restaurant from my Texas days, does this, and it's wonderful.
How to Store
Once we finish preparing the salsa, we can keep it in an airtight container in the refrigerator. With proper storage, it should last up to five days, which makes it great for preparing ahead of time.
When it comes to freezing, I find salsa is at its best fresh, not frozen. Salsa has a tendency to get a bit watery when it thaws. If your heart is set on freezing the salsa, you might want to drain any excess liquid off first and use it within three months.
Recipe FAQs
What are the best tomatoes for salsa?
Roma tomatoes are perfect for making salsa. This variety is nice and meaty without too much water. I specifically designed this recipe to go with Roma tomatoes, so if you substitute them for, say, beefsteak tomatoes, the recipe proportions won't be quite right, and you may have to do some adjusting.
How long do you smoke vegetables for salsa?
Anywhere between 60-90 minutes is perfect for smoking our salsa vegetables. That said, I rarely need more than 60 minutes. That's usually plenty of time to get that smoky flavor, so definitely check it at the 60-minute mark to see if they're good and ready.
What's the best type of wood for smoking salsa?
If you like a bigger smoke flavor like me, go with hickory. I find hickory gives the salsa a bold, deep smoky flavor without overpowering the other ingredients. If you prefer a lighter touch of smoke, you can try pecan wood, apple wood or cherry wood.
How spicy is this salsa?
With the caveat that spice is subjective, I consider this a medium salsa. You can taste the kick, but most people can handle the heat level just fine.
Can this salsa undergo canning?
This salsa has not been tested for canning, which requires a specific pH level to safely consume.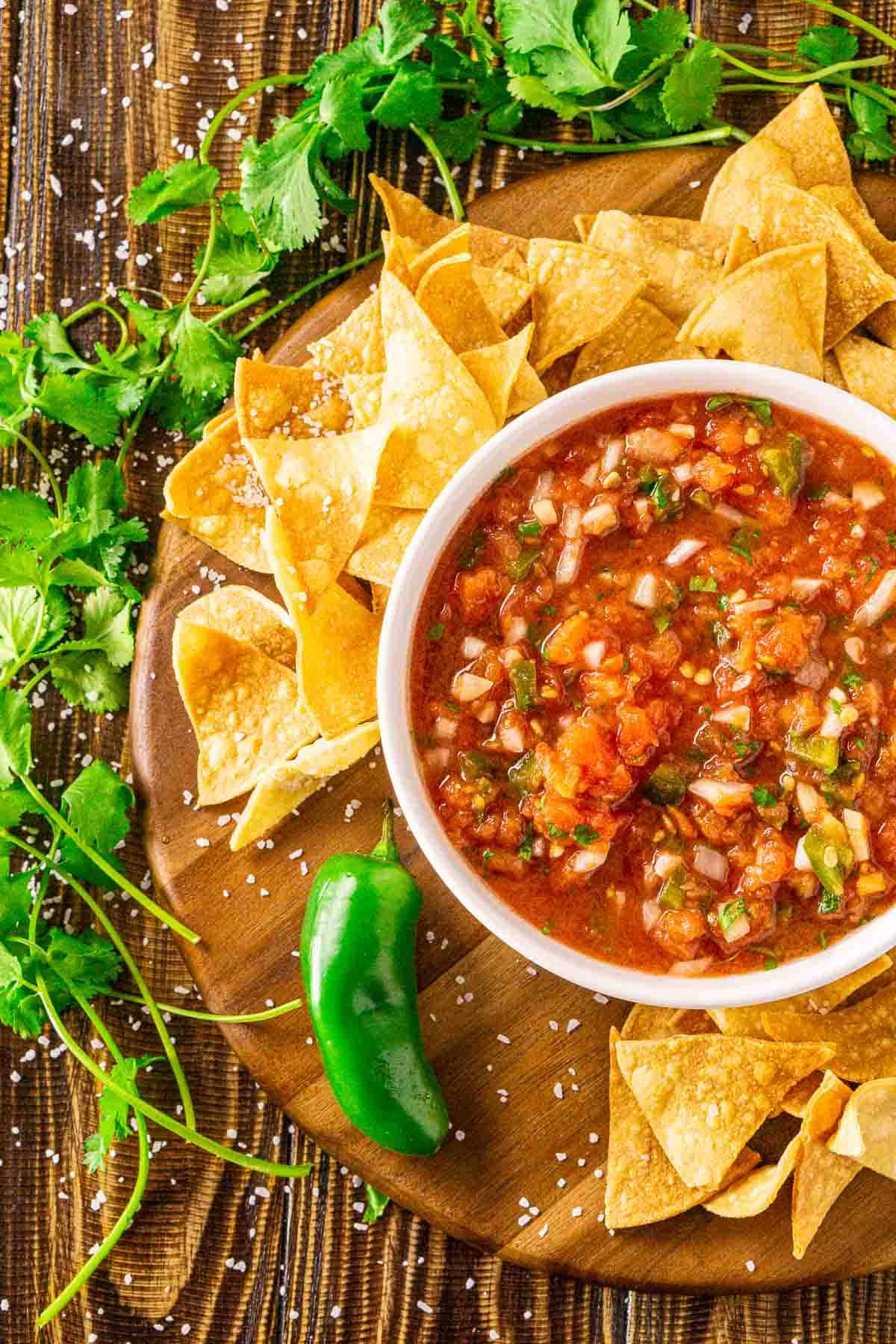 Variations and Substitutions
If you ask me, this recipe is perfect as is. But it's still fun to play around with different variations. And now for a few ideas for you.
Stir in some grilled corn, cubed avocado or black beans.
Smoke some bell peppers with the rest of the ingredients and use those as well for an extra crunch.
Substitute the jalapeño peppers for serrano or habanero peppers for extra heat.
Turn it into a milder salsa and use only one jalapeño with the seeds and membrane removed or try a more mild option, such as a poblano pepper or Anaheim pepper.
Make it a salsa verde and use tomatillos instead of tomatoes or even a combination of the two.
Add a dash of ground cumin or coriander.
Expert Tips
Wear kitchen gloves: This protects your skin when handling the jalapeños. Trust me — you do not want to get those pepper oils on your fingertips and then touch your eye.
Use the pulse function: When blending the tomatoes, use the pulse function to ensure you don't overwork the tomatoes.
Try a smoke box: No smoker? That's not a problem. You can turn your grill into a smoker with a smoke box.
Don't blend the onions, garlic and jalapeños in the food processor: We want these three chopped uniformly, and the food processor is not good at that. Plus, you'll likely end up with overworked tomatoes if you blend them together at once. Take a few minutes to chop for best results.
Perfect Pairing
With this smoky salsa, you'll love a crisp pilsner. It's not overly hoppy, which can intensify the heat, and it has a malty touch to add a slightly sweet contrast. Plus, it's ultra bubbly, making it your perfect palate refresher.
For a wine option, a dry riesling is your ultimate drink partner. This acidic wine brings out the fresh lime notes, and it helps liven up those smoked tomatoes.
And we certainly can't forget the margaritas. This Cadillac margarita is lovely. For this margarita, we use a reposado tequila, which is aged in oak barrels to pair nicely with those smoky flavors.
If you're more of a fruity margarita person, my pineapple-coconut margarita, passion fruit margarita or blackberry margarita are nice options. You can also check out this guide to fruity margaritas for more sipping inspiration.
When your next patio night comes calling, whip up this smoked salsa and enjoy with your favorite chips on the side. You'll love every smoky, spicy bite.
Cheers!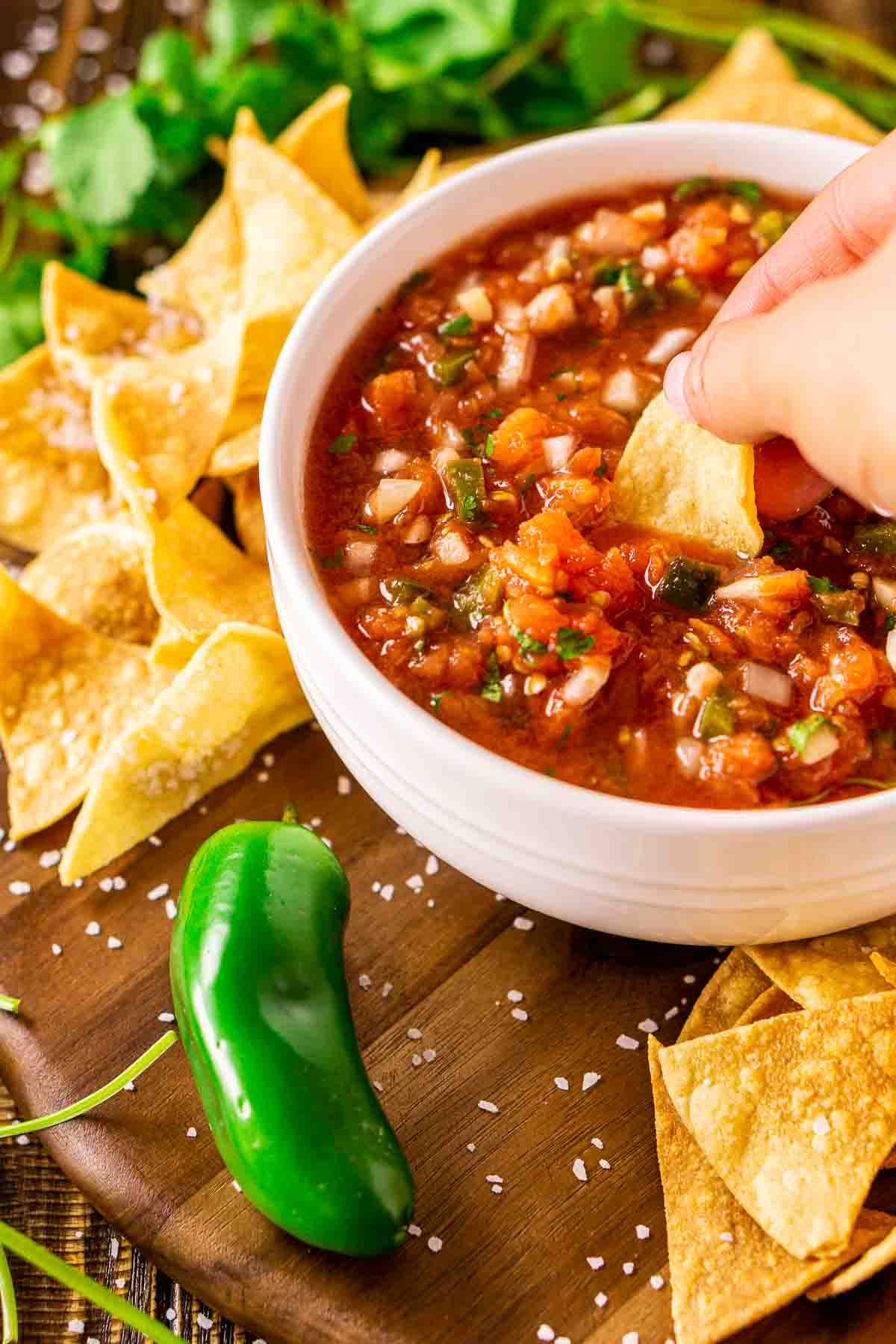 Get More Salsa Recipes
If you love this recipe, please leave a comment with a five-star rating — or simply hit the five-star button in the recipe card. Don't forget to sign up for my newsletter, and you can follow me on Facebook, Instagram, Pinterest and TikTok.
📖 Recipe
The Best Smoked Salsa
For the ultimate summer appetizer for any occasion, you'll turn to this homemade smoked salsa over and over again! Made with only a handful of fresh ingredients, this smoky salsa is perfect for dipping or serving with your favorite Mexican dishes. You only need about 20 minutes of hands-on preparation time, and the process couldn't be easier, no matter your skill level. Let's show you how to make your new go-to tomato salsa.
Print
Pin
Rate
Equipment
Smoker

Wood pellets or wood chips

hickory recommended

Sheet pan or disposable aluminum pan
Ingredients
8

Roma tomatoes

halved vertically

4

garlic cloves

2

jalapeños

stemmed, halved vertically, seeds left intact

½

yellow onion

peeled

2

tablespoons

olive oil

Salt and pepper

1

lime

juiced

¼

cup

chopped fresh cilantro

1

teaspoon

salt
Instructions
Heat the smoker to 225 degrees F and add a water pan to the smoker. Place the tomatoes, garlic cloves, jalapeños and onion in a large mixing bowl. Drizzle olive oil on top and sprinkle with salt and pepper. Toss to coat.

Spread the tomatoes, garlic cloves, jalapeños and onion half on a wire rack on top of a sheet pan. Make sure the tomatoes and jalapeños are cut-side up. Place the sheet pan in the smoker and close the lid. Smoke for an hour to an hour and a half. You can taste test the juice from the tomatoes to determine if it's absorbed enough smoke for your liking.

In a food processor, pulse the tomatoes until they reach your desired consistency. Finely chop the garlic, jalapeños and onion and measure the chopped onion so that you have ¾ cup.

Spoon the processed tomatoes into a large mixing bowl with the chopped garlic, jalapeños and onion. Stir in the lime juice, cilantro and salt. For a hot salsa, serve right away or refrigerate in an airtight container for up to five days. Enjoy!
Notes
This recipe yields about 3 cups.
Wear kitchen gloves when handling the peppers to protect your skin.
Don't place the jalapeños, garlic and onion in the food processor with the tomatoes. Food processors aren't good at uniformly chopping, which is what we want, and you may end up overworking the tomatoes.
Nutritional information is only an estimate. The accuracy of the nutritional information for any recipe on this site is not guaranteed.
Nutrition
Serving:
0.25
cup
|
Calories:
34
kcal
|
Carbohydrates:
3
g
|
Protein:
1
g
|
Fat:
2
g
|
Saturated Fat:
0.3
g
|
Polyunsaturated Fat:
0.3
g
|
Monounsaturated Fat:
2
g
|
Sodium:
196
mg
|
Potassium:
120
mg
|
Fiber:
1
g
|
Sugar:
1
g
|
Vitamin A:
372
IU
|
Vitamin C:
11
mg
|
Calcium:
9
mg
|
Iron:
0.2
mg