Give your fall breakfast a decadent touch with these apple cinnamon rolls with maple cream cheese glaze! Loaded with warm apples caramelized in real maple syrup, these fall-themed cinnamon rolls feature the softest, fluffiest interior and a perfectly gooey cinnamon-sugar filling that everyone is sure to love.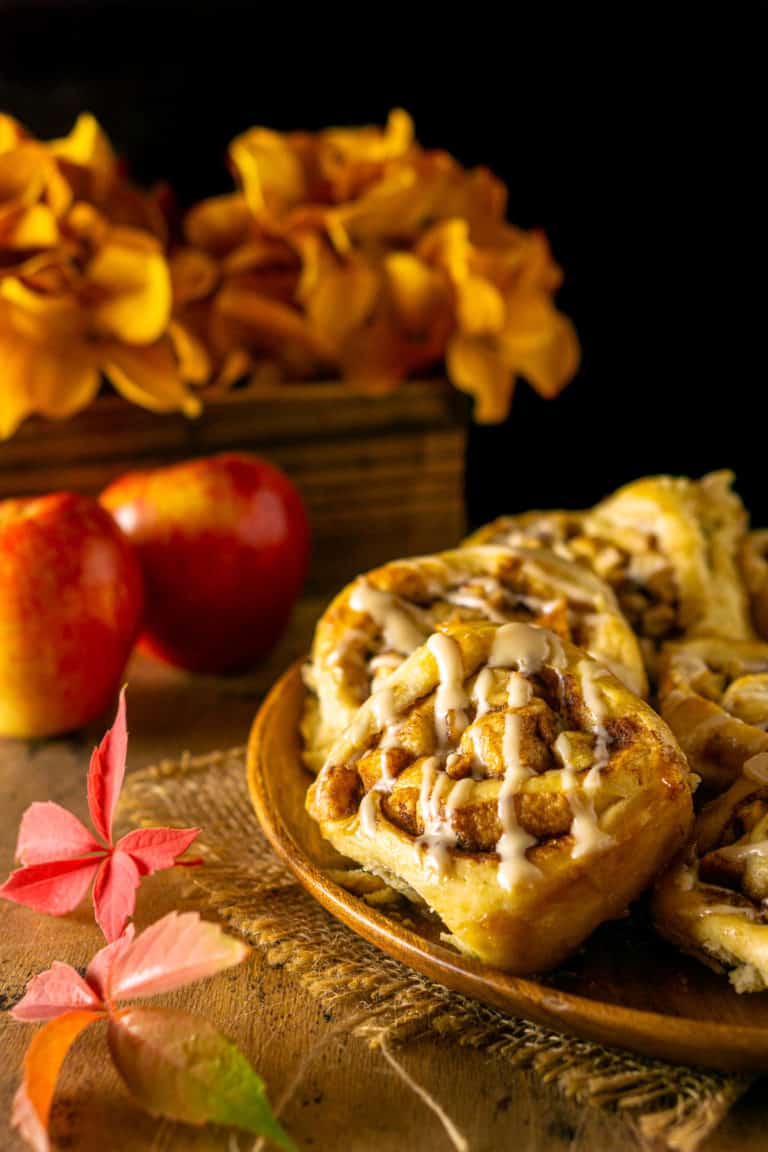 Once fall hits, I can't stop baking for friends and family. Whether I'm making apple spice cupcakes, buttermilk-pumpkin pound cake or brown butter pumpkin cupcakes, I'm ready to share those cozy fall baking vibes, but let's not just stop at dessert. There's nothing like kicking off the weekend with a leisurely brunch, and I can't think of a more perfect seasonal breakfast treat than these apple cinnamon rolls.
If you've never made cinnamon rolls from scratch, it may sound intimiating, but we'll walk through the process, and you'll see how easy they are. The dough is forgiving and easy to handle, and the filling and maple cream cheese glaze are both a breeze to make. Once you see how easy these apple cinnamon rolls are, you'll want to make them for just about every fall brunch.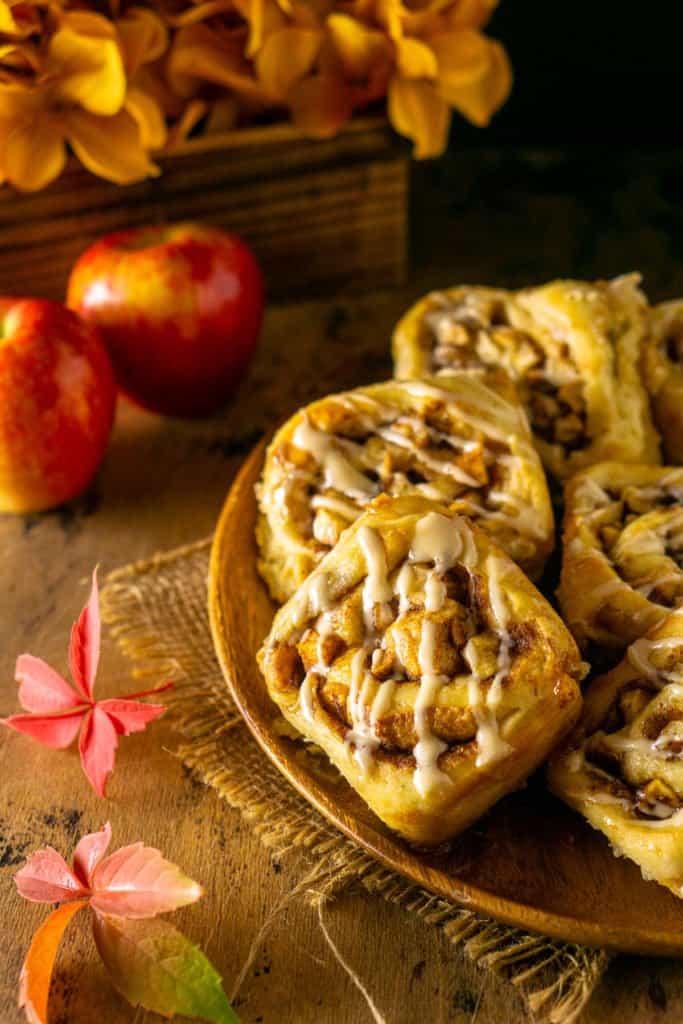 How to Make Cinnamon Roll Dough
First up is our dough. We begin by mixing together all-purpose flour, instant yeast, salt and sugar. Because we're using instant yeast rather than dry active, we can stir it directly into our flour mixture without blooming it in a liquid, which makes prep even easier and faster.
Separately, we heat melted butter and whole milk until the mixture reaches 105-115 degrees. We can do this on the stove, but I find it's even easier to mix the two in a large measuring glass and then microwave it in short increments until the mixture reaches said temperature range. Once it hits the correct temperature, we add it to our flour mixture along with a couple eggs, vanilla extract and almond extract.
I like to use my stand mixer to prepare the dough. First, I use the paddle attachment to combine the ingredients, and then I switch to the dough hook to knead until it becomes smooth and elastic.
If you don't have a stand mixer, you can still stir together the ingredients with a wooden spoon and then knead by hand. This process may take a little extra work without the help of a machine, but it's certainly doable.
With all the whole milk, eggs and butter, we're left with a soft, supple dough that will be on the sticky side after kneading. Don't worry, though. Despite it feeling sticky now, it seems to subside after rising and is easy to handle. Promise.
Now we move the dough to a lightly oiled mixing bowl, cover it tightly with plastic wrap and allow it to rise until it doubles in size, which should take about an hour. To ensure proper rising, we want to make sure the dough goes in a warm space, and sometimes the ambient temperature of our home is too cool. If I have a sunny spot in my kitchen, I'll put the bowl directly into the sunlight, and that typically does the job. However, that's not always an option.
Instead, I'll turn the oven to 200 degrees as I prepare the dough ingredients. Before I start kneading, I turn off the oven with the door closed. My covered bowl then goes into the oven with the door cracked for rising.
If you have a fireplace, that's another option if the oven isn't available. In that case, I'll turn the fireplace on while I make the dough to give the area around it time to warm up, and then I'll place the covered bowl about 3 feet or so away from the fire.
How to Make Apple Filling
As our dough rises, this is the perfect time to start on our apple filling. We peel and dice four apples and then add them to a large skillet with melted butter and real maple syrup. The maple syrup adds a richness and depth, so I highly recommend you don't skip this ingredient.
Now we let the apples cook until they soften, which should take about seven to 10 minutes, and then drain in a fine-mesh sieve. I like taking care of this step right after preparing our dough because it gives us plenty of time to allow the apples to cool to prevent them from instantly melting our filling.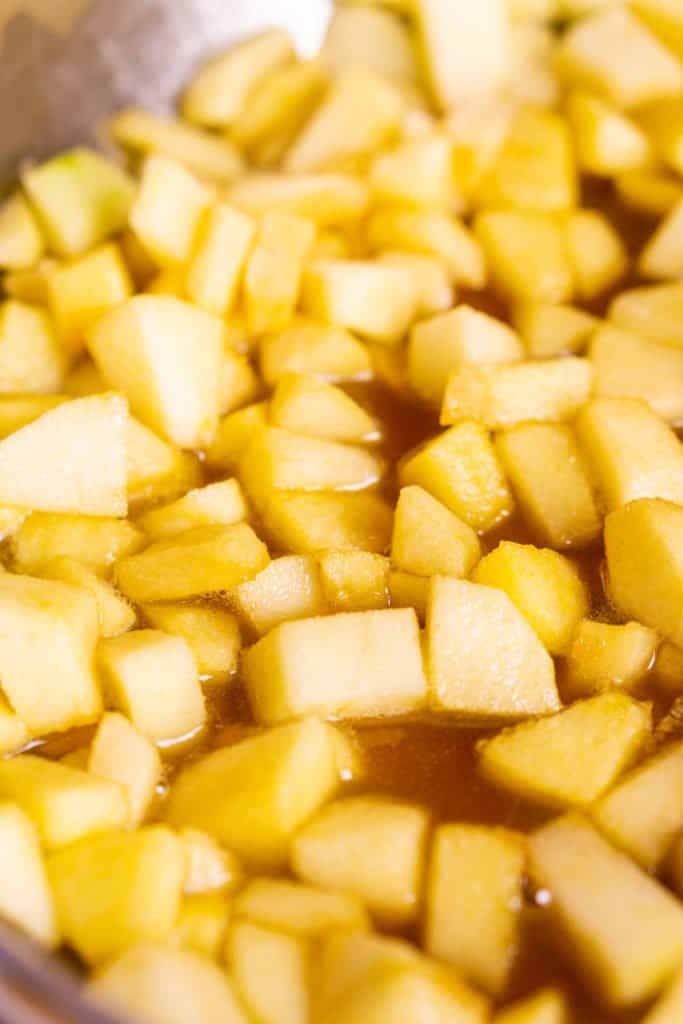 How to Shape Cinnamon Rolls
By now, our dough has risen and our apples have softened, so we're ready to shape our cinnamon rolls. We start by rolling out our dough into a large rectangle. Generally, I make my rectangle about 15 inches by 18 inches, but you have leeway here. As long as it's somewhere in the ballpark, you're fine.
Now we spread our dough with softened butter, a mixture of cinnamon and dark brown sugar and then our softened apples. Before adding the cinnamon-sugar mixture, I recommend combining the two in a bowl. This helps ensure a more even filling.
With our filling in place, we're ready to shape. We take care of this step by simply rolling the long edge of the dough until it forms a log. The very ends will likely be dough with no filling, so feel free to trim those pieces off.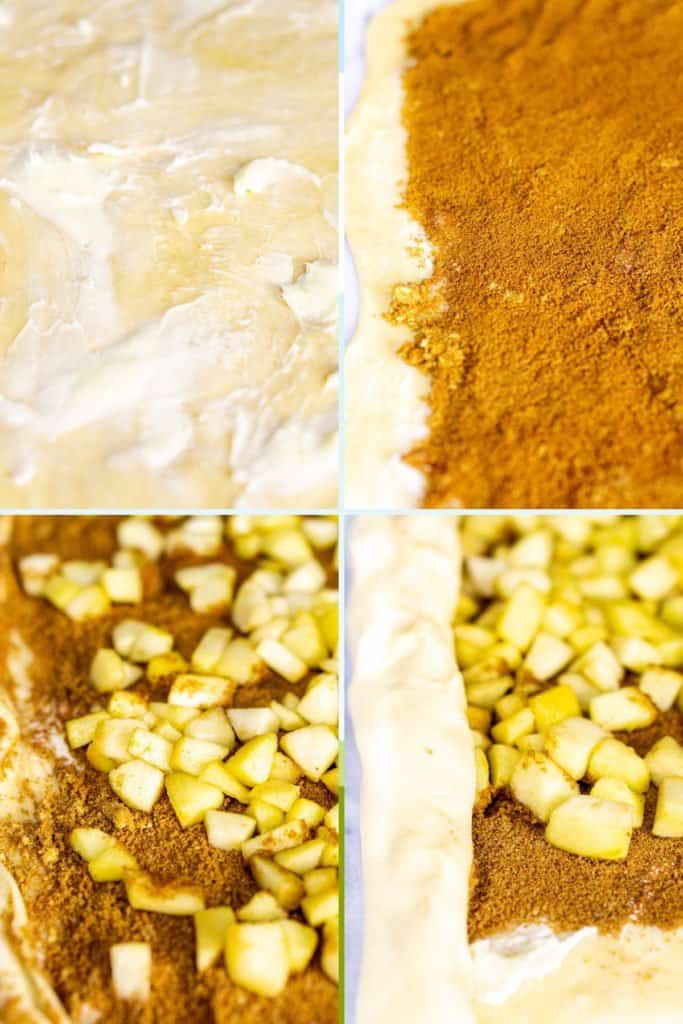 Now we cut into 12 pieces and place in a large baking dish. The rolls should have some room initially, but we let them rise again for 20 minutes. After the second rise, they should be puffy enough that they're touching, which is what we want. Otherwise, they'll spread.
And just like that, we're almost ready to pop our cinnamon rolls into the oven, but before we do, we pour some heavy cream on top. Rumor has it, this is what Cinnabon does to make an extra gooey, decadent filling, so this step is definitely worth it. In about 25 minutes, we'll have a batch of fresh, warm apple cinnamon rolls that are perfect for any fall breakfast or brunch or even Thanksgiving morning.
How to Make Maple Cream Cheese Glaze
While the apple cinnamon rolls bake, this is the perfect time to prepare our maple cream cheese glaze. With a hand or stand mixer, we beat softened cream cheese until it's nice and fluffy, and then we beat in a little powdered sugar at a time. I like to take care of this step in increments because it keeps clumps from forming, which can be a problem if we dump in too much powdered sugar at once.
Now we beat in real maple syrup and milk to give it the perfect pourable consistency. For more of a drizzled look, I like to pour the glaze into a squeeze bottle and then decorate, but you can also spoon it directly onto the cinnamon rolls if prefer a thicker coating. This comes down to personal preference.
Can You Make Cinnamon Rolls the Night Before Baking?
Absolutely. While it's doable to make these apple cinnamon rolls the same morning as serving, I understand that you may not want that hassle, especially on a lazy Saturday.
To make these apple cinnamon rolls ahead of time, we take care of everything but only allow them to rise a second time for 10 minutes. We then cover the cinnamon rolls and store in the refrigerator overnight.
Before baking, we remove the cinnamon rolls to allow them to come to room temperature, which should take 45-60 minutes, and give them time to complete their second rise for another 10 minutes if they haven't already. Again, you might need to prepare a warm spot, especially after coming out of the refrigerator. After the second rise, we bake as we normally would.
How to Store Cinnamon Rolls
If you can't eat all the cinnamon rolls in one setting, don't worry. All that work didn't go to waste. You can store them in an airtight container for two to three days.
When you're ready to serve, just give them a quick pop in the microwave for best results. Warm cinnamon rolls always trump room-temperature cinnamon rolls. Always.
Perfect Pairing
With a sweet brunch item, I love an imperial coffee stout. This beer gives off a residual sweetness, and the roasted malt melds nicely with the spice. Plus, who doesn't love those coffee notes in the morning? A caramel-like barley wine is another tasty pairing with the apple and maple.
Or say you're in the mood for some brunch wine. A sweet riesling is a great choice. With riesling, we get some orchard fruit notes, which are perfect with our apples, but we also get a nice dose of acidity to cut through that gooey filling.
If you're looking for a cocktail, my apple Bellini, cranberry-apple cider holiday sangria, Thanksgiving mimosa, Baileys Irish coffee martini and cranberry-spice Christmas mimosa are all delicious options.
When you need a comforting, cozy breakfast perfect for fall, I hope you try these apple cinnamon rolls with maple cream cheese glaze. Please let me know how you enjoyed this recipe in the comment section and don't forget to sign up for my newsletter. You can also catch me on Instagram, Pinterest, Facebook and Twitter.
Cheers!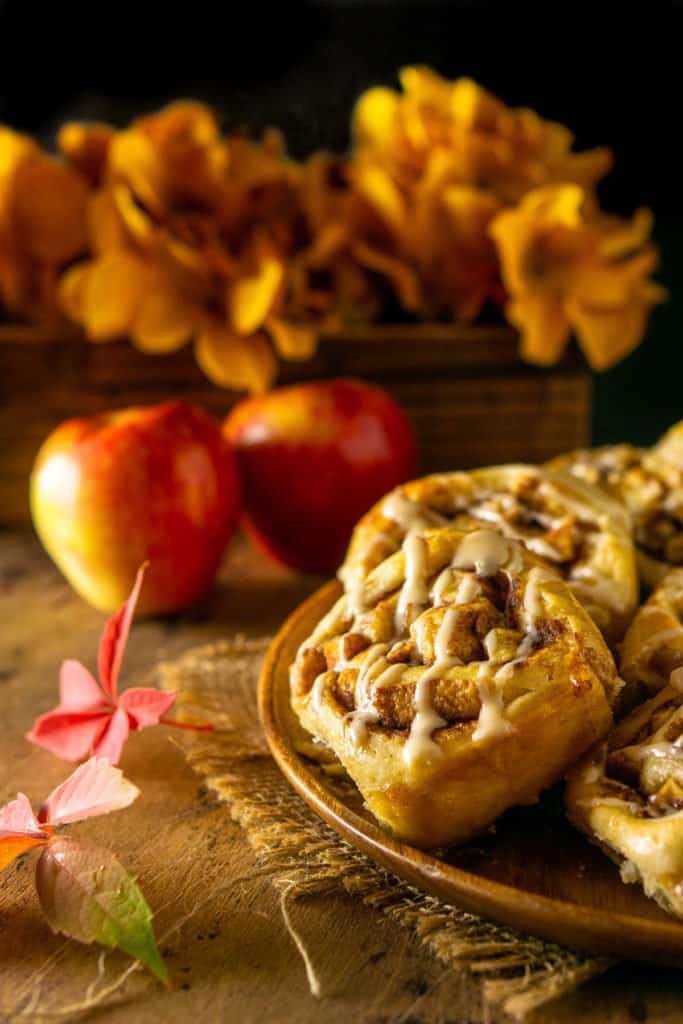 Looking for More Sweet Breakfast Recipes?
Print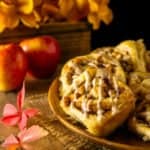 Apple Cinnamon Rolls With Maple Cream Cheese Glaze
---
Author:

Prep Time:

45 minutes

Cook Time:

35 minutes

Total Time:

1 hour 20 minutes

Yield:

12 cinnamon rolls
Description
Give your fall breakfast a decadent touch with these apple cinnamon rolls with maple cream cheese glaze! Loaded with warm apples caramelized in real maple syrup, these fall-themed cinnamon rolls feature the softest, fluffiest interior and a perfectly gooey cinnamon-sugar filling that everyone is sure to love.
---
For the Dough
4 ½ cups all-purpose flour, spooned and leveled
½ cup white sugar
2 ¼ teaspoons or 1 packet instant yeast
2 teaspoons salt
½ cup butter
1 cup whole milk
2 eggs, room temperature
1 teaspoon vanilla extract
1 teaspoon almond extract
For the Caramelized Apple Filling
2 tablespoons butter
4-5 apples, peeled, cored and diced
½ cup real maple syrup
¼ cup butter, softened
1 cup packed dark brown sugar
1 ½ tablespoons ground cinnamon
½ cup heavy cream
For the Maple Cream Cheese Glaze
4 ounces cream cheese, softened
1 cup powdered sugar
¼ cup real maple syrup
2 tablespoons whole milk
---
Instructions
In a large mixing bowl, stir together the flour, sugar, yeast and salt. 
Melt butter in the microwave or in a small saucepan on the stove. Stir in milk and heat to 105-115 degrees. 
Add the milk and egg mixture, eggs, vanilla extract and almond extract to the flour mixture. If kneading by hand, use a wooden spoon to stir into one cohesive mixture and then turn dough out onto a lightly floured surface and knead until the dough turns smooth and elastic. If kneading with a stand mixer, use the paddle attachment on low speed to make one cohesive mixture. Switch to the dough hook and knead until smooth and elastic, about five minutes. The dough will be a bit sticky.
Remove the dough and scrape off any that sticks to the bottom or side and place the dough in a lightly oiled bowl and cover tightly with plastic wrap. Allow to rise until it's doubled in size, about an hour. Your ambient home temperature may not be warm enough for proper rising, so please see notes about how to create a warm atmosphere. 
As the dough rises, start on the caramelized apple filling by melting butter in a large skillet over medium heat. Add apples and maple syrup and stir to coat. Cook mostly undisturbed until the apples soften, about seven to 10 minutes. Remove from heat, drain in a fine-mesh sieve and set aside to cool.
Punch down risen dough. On a lightly floured surface, roll out the  dough so that it's approximately 15 inches by 18 inches. Spread softened butter all over the dough. In a small bowl, mix together the dark brown sugar and cinnamon and sprinkle on top of the butter. Add the apples on top of the brown sugar and cinnamon mixture. 
Tightly roll up the dough to make a log. The two ends will likely not have much -- if any -- filling. Cut off the excess dough and discard. Cut the cinnamon rolls into 12 slices. Place the cinnamon rolls in a 9-inch-by-13-inch or 10-inch-by-14-inch baking dish coated with cooking spray, leaving space in between the cinnamon rolls for them to expand. Cover with plastic wrap and allow them to turn puffy for 20 minutes.
Pour heavy cream all over cinnamon rolls. Bake in a 375-degree oven until lightly brown on top, about 25 minutes. 
As the cinnamon rolls bake, make the maple cream cheese glaze. Start by beating the softened cream cheese until fluffy. Beat in the powdered sugar a little bit at a time. Then, beat in the maple syrup and whole milk. 
Remove from oven and allow to cool for about five minutes. Drizzle warm cinnamon rolls with maple cream cheese glaze and serve. Enjoy!
Notes
The easiest way to ensure your environment is warm enough for rising is to turn the oven to 200 degrees while you prepare the dough ingredients. When ready to knead, the oven should be at 200 degrees. Turn off the oven with the door remained closed, knead, and then place the covered dough in the oven with the door cracked. A sunny spot also generally does the trick, or if you have a fireplace, you can turn it on while preparing the dough ingredients to heat the area, and then place the covered dough about 3 feet away from the fire to rise. 
For the apples, I like to use a mix of Honeycrisp and Granny Smith for a sweet and tart combo. 
For full tips, including make-ahead directions, please see blog post.
Nutritional information is only an estimate. The accuracy of the nutritional information for any recipe on this site is not guaranteed.
Category:

Breakfast

Method:

Baking

Cuisine:

American
Nutrition
Serving Size:

1 cinnamon roll

Calories:

485

Sugar:

36

Sodium:

426

Fat:

19

Saturated Fat:

10

Unsaturated Fat:

4

Trans Fat:

0

Carbohydrates:

67

Fiber:

3

Protein:

6

Cholesterol:

76
Keywords: apple cinnamon rolls