Fall brunch, anyone? These pumpkin crullers need a place on your seasonal menu. With that delicate, airy texture and those warm spices, these pumpkin crullers are covered with a rich caramelized maple glaze for the perfect fall treat.
Jump to:
Why You'll Love This Recipe
Two of life's greatest pleasures are weekend doughnuts and pumpkin spice season. True story. So with the fall in full swing, I'm all about taking advantage of this indulgent season by combining these two pleasures.
As you probably guessed, that's where these pumpkin crullers join the fall brunching party. Pumpkin spice gives our favorite breakfast pastry a cozy feel that celebrates the best of this season, especially when paired with that caramelized maple topping for an extra decadent touch. Put these pumpkin crullers on your brunch menu, and you're in for a festive treat that's filled with fall flavor and perfect for a relaxed weekend gathering.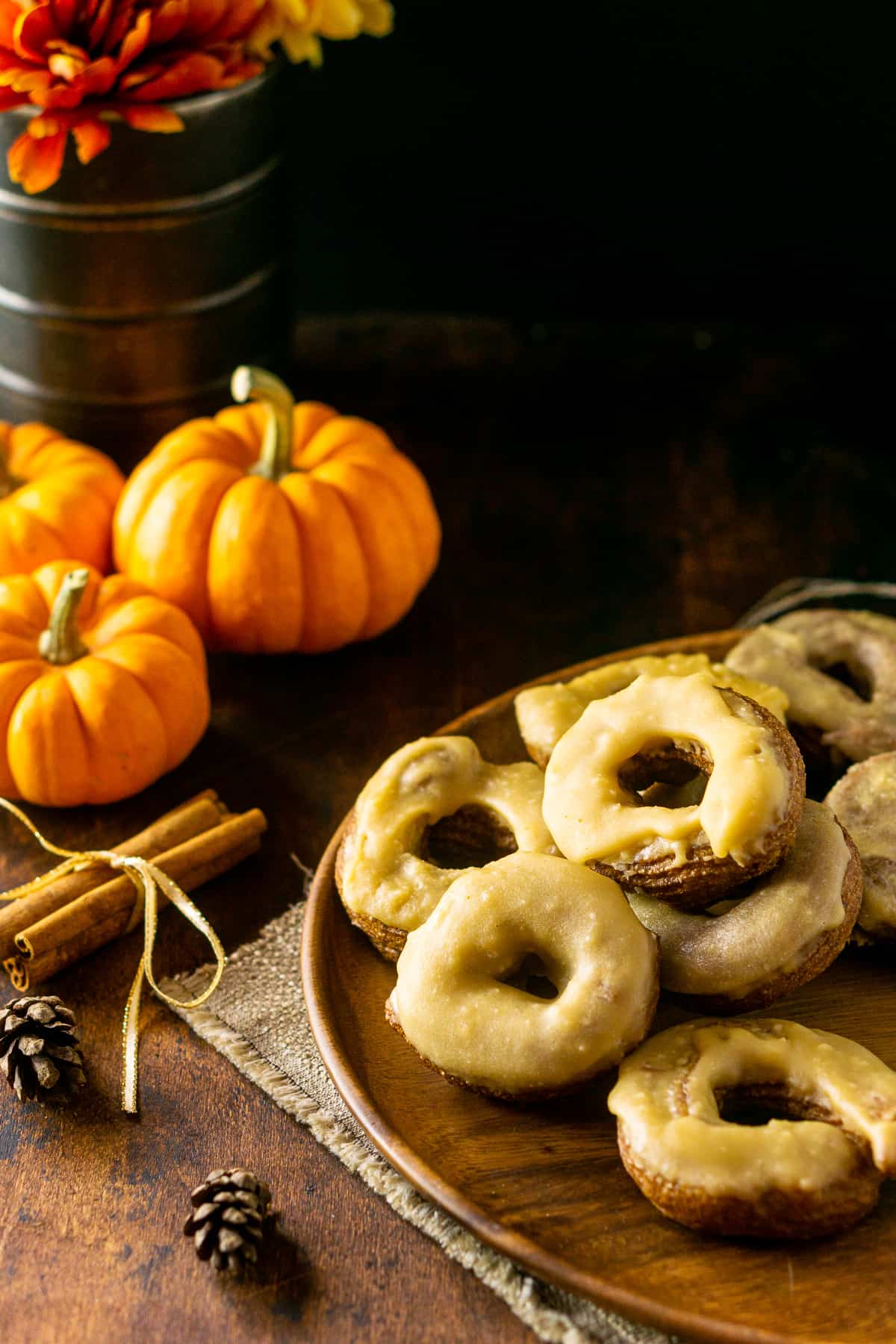 What's a Cruller Doughnut?
For this recipe, we're talking about French crullers, which are fried doughnuts made from pâte à choux, or choux pastry. French crullers are perfectly crisp on the outside but give way to a light, flaky interior full of delightful air bubbles. While these French crullers may sound fancy and impressive to your guests, they're surprisingly simple to make.
Unlike traditional doughnut dough, choux pastry doesn't require messing with yeast, rising time or kneading. Not that those steps are necessarily hard but skipping those processes makes these pumpkin crullers even easier and quicker. All it takes to make the cruller dough is a little boiling and mixing. How hard can that be?
Now, we do deep fry these cruller doughnuts, but I promise that part is just as simple. I know a lot of people are reluctant to deep fry, but we'll walk through the process to show you what a breeze it is. All you need is a thermometer and a deep pot, and you're ready to fry.
Ingredients for Pumpkin Crullers
Before we start on our fun fall-themed doughnuts, let's organize our ingredients. Here's a list of everything we need for both our crullers as well as our caramelized maple glaze.
Water
Butter
Dark brown sugar
Pumpkin puree
Salt
Flour
Cinnamon
Cloves
Nutmeg
Ginger
Eggs
Oil
Real maple syrup
Powdered sugar
Heavy cream or milk
How to Make Pumpkin Crullers
Now that we have our ingredients ready, we can start on our pumpkin crullers. We begin by stirring together some flour and spices and setting them aside. I like to take care of this first, so it's ready to go when I need the flour mixture.
From here, we can start on the rest of our cruller dough by mixing together water, dark brown sugar and pumpkin puree in a saucepan. We drop in our butter and bring the mixture to a boil until the butter melts. At this point, we lower the heat and stir in our flour mixture.
The mixture will look clumpy but don't worry. That's normal as you can see.
Now we give our flour mixture a few minutes to cool, and then we beat in one egg at a time.
How to Pipe Crullers onto Parchment Paper
Our pumpkin choux pastry is now ready for piping. If you'd like, you can cover and refrigerate for a quick 20 minutes, which stiffens the dough and makes it easier to pipe. But this step is optional.
For easy frying, it's best to pipe the crullers onto 4-inch-by-4-inch pieces of parchment paper. We'll get about 12 pumpkin crullers with the recipe, so we cut out 12 squares.
Using a large star tip, we then pipe the pumpkin choux pastry in a circle onto the parchment paper like so.
How to Fry Pumpkin Crullers
And now we're ready to fry! Exciting stuff, huh?
To fry our pumpkin crullers, we clip a candy thermometer onto a large Dutch oven or pot with a tall side and pour in about 3 inches of oil. I like to use peanut oil for deep frying. Vegetable oil also works. Just make sure you use an oil that has a smoke point well above our frying temperature.
With our pot filled with oil, we're ready to heat it to 360-365 degrees. Once we add the crullers, the temperature will drop, so we start a little high to give some cushion.
When our oil hits the right temperature, we carefully place our pumpkin crullers into the hot oil with the parchment side up. The hot oil will release the parchment paper, and we can then remove the parchment paper with tongs. We fry the crullers for two and a half minutes on one side, flip and cook for the same amount of time.
As I mentioned, the temperature will drop once the crullers go into the oil, so during the frying process, you may have to play with the heat on your stove. Try to not let the oil go below 350 degrees.
Once our crullers are ready, we move them to a wire rack to cool and start on our caramelized maple glaze.
How to Make Caramelized Maple Glaze
Look, plain maple syrup is delicious, but have you ever tried caramelized maple syrup? Oh, my goodness. When maple caramelizes, the flavor intensifies and becomes more complex. You'll want to eat this syrup by the spoonful.
To make our caramelized maple glaze, we cook real maple syrup on the stove until it comes to a boil and then let it continue cooking until it slightly reduces. This should take about four to five minutes.
Now we turn off the heat and whisk in our powdered sugar. The sugar will look like a clumpy mess initially, but once we add a little heavy cream or milk, it'll smooth out.
At this point, I recommend pouring the glaze into a regular dinnerware bowl. I find it's much easier to dip the pumpkin crullers into the glaze. Alternatively, we could spoon the caramelized maple glaze over the crullers for more of a drizzle effect. As we coat our crullers, the glaze may start to harden if we don't work quickly enough. If that starts to happen, we can stir in a tiny splash of additional heavy cream.
Once we cover our pumpkin crullers with the caramelized maple glaze, let them set and then serve with a pumpkin chai latte for one delicious fall brunch.
Can You Make Crullers Ahead of Time?
Unfortunately, these pumpkin crullers don't stay fresh for long, so you definitely want to eat them the same day, preferably within a couple hours if you can swing it.
But, hey, who doesn't love a freshly fried doughnut? Any recipe that encourages me to eat a warm, fresh doughnut is OK by me.
That said, we have a couple options for make-ahead choux pastry dough for easy entertaining. Choux pastry lasts about two days in the refrigerator, so we can cover and pipe when we're ready to serve. We could also go ahead and pipe the dough, cover with plastic wrap and then fry the crullers shortly before the entertaining starts.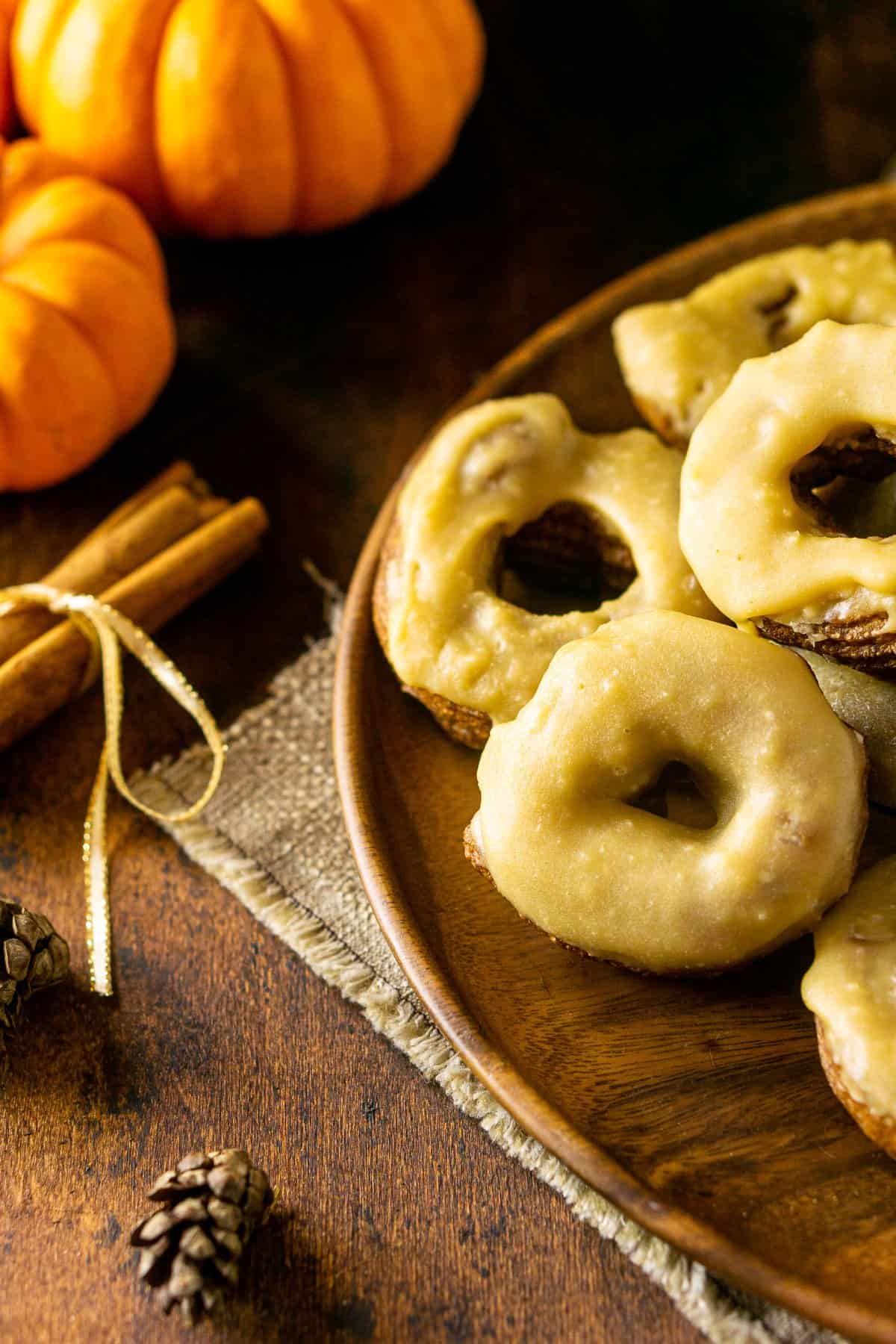 Perfect Pairings for Pumpkin Crullers
I'm a sucker for pairing a pumpkin ale with all things pumpkin. And you know what? The pairing works beautifully, so I don't plan on changing here.
If pumpkin ales aren't your favorite, a coffee stout is a delicious option. Who doesn't love a cup of coffee with their morning doughnuts? Speaking of coffee, my gingerbread latte and maple latte also make delicious matches.
For a brunch, I love a sangria, and this cranberry-apple cider holiday sangria is perfect with these pumpkin doughnuts. The tart cranberry and warm apple cider spices are perfect with the pumpkin while the bubbly finish is a fun complement to those light air bubbles.
These fall crullers are also delicious with a glass of warm apple cider. You can heat up your favorite store-bought brand or create your own cozy homemade apple cider. Or you could even pair these pumpkin crullers with this gingered bourbon-apple cider cocktail. Bourbon, pumpkin and apple make for one tasty trio, so you'll love this cocktail with a cruller or two.
When fall brunch calls, I hope you try these pumpkin crullers with caramelized maple glaze. They're the perfect sweet treat for your weekend brunching.
Cheers!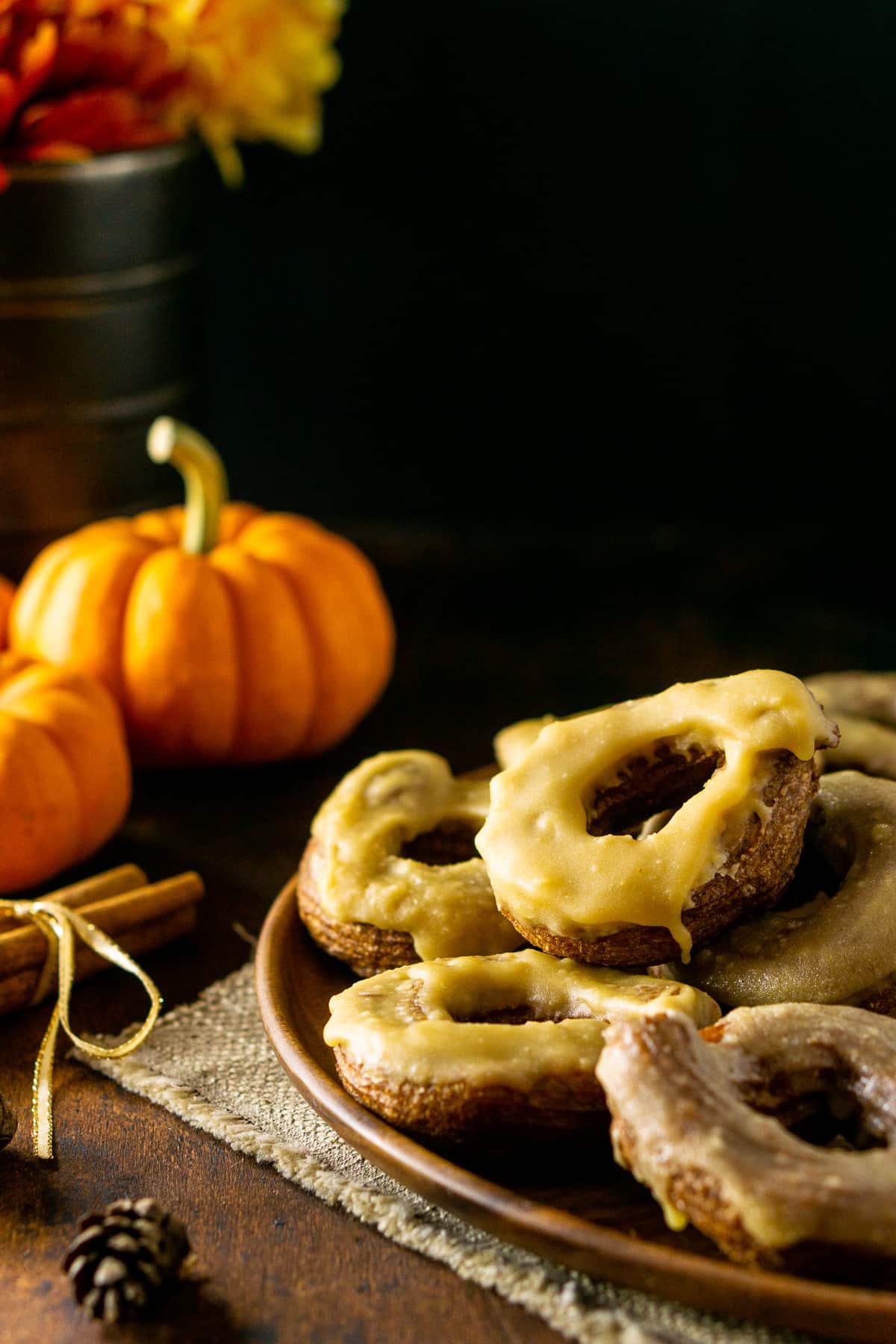 Love Everything Pumpkin? Try These Burrata and Bubbles Recipes.
If you love this recipe, please leave a comment with a five-star rating — or simply hit the five-star button in the recipe card. Don't forget to sign up for my newsletter, and you can follow me on Facebook, Instagram, Pinterest and TikTok.
📖 Recipe
Pumpkin Crullers With Caramelized Maple Glaze
Fall brunch, anyone? These pumpkin crullers need a place on your seasonal menu. With that delicate, airy texture and those warm spices, these pumpkin crullers are covered with a rich caramelized maple glaze for the perfect fall treat.
Print
Pin
Rate
Equipment
Large pot

Frying thermometer

Parchment paper

Piping bag
Ingredients
Pumpkin Crullers
1

cup

all-purpose flour

1

teaspoon

ground cinnamon

½

teaspoon

ground nutmeg

preferably freshly grated

¼

teaspoon

ground cloves

¼

teaspoon

ground ginger

1

cup

water

½

cup

butter

diced

⅓

cup

pumpkin purée

2

tablespoons

packed dark brown sugar

½

teaspoon

salt

4

eggs

room temperature

Peanut oil for frying
Caramelized Maple Glaze
1

cup

maple syrup

see note

½

cup

powdered sugar

4-8

tablespoons

heavy cream or milk

Pinch of cinnamon
Instructions
Pumpkin Crullers
Stir together the flour, cinnamon, nutmeg, cloves and ginger in a small bowl and set aside.

In a saucepan, stir together the water, butter, pumpkin puree, dark brown sugar and salt. Over medium-high heat, bring to a low boil. As soon as the butter melts, turn the heat to medium and stir in the flour mixture. Continue to stir for a minute or two to cook the flour mixture. Place in a mixing bowl and allow the mixture to slightly cool for a few minutes.

Beat in an egg, one at a time. Scrap down the side of the bowl as necessary to ensure everything incorporates. For easier piping, you can refrigerate the choux pastry at this point for 20 minutes, though this step is optional. See notes for make-ahead instructions.

Cut 12 4-inch-by-4-inch squares of parchment paper. Spoon the choux pastry into a pastry bag with a ½-inch star tip. On each sheet of parchment paper, pipe the choux pastry into a circle.

Clip a candy thermometer to a Dutch oven or large pot with a tall side. Pour in enough peanut oil to come up about 3 inches. Heat peanut oil to 360-365 degrees.

With the cruller attached to the parchment paper, carefully drop the cruller into the hot oil with the parchment paper facing up. When the crullers hit the hot oil, the parchment paper will release, and you can remove it with metal tongs. Depending on the size of your pot, you should be able to fry about three to four crullers at a time. Just make sure you don't crowd the pan or they won't crisp up correctly.

Once the crullers go into the oil, the temperature will drop. Keep an eye on the temperature, and if necessary, adjust the heat of the stove to keep the oil temperature between 350-360 degrees. Fry the crullers for two and a half minutes on one side. Using metal tongs, flip the crullers and fry for another two and a half minutes. Remove the fried crullers from the pot and transfer to a wire rack with paper towels underneath to catch the grease.
Caramelized Maple Glaze
After frying the pumpkin crullers, it's time to make the caramelized maple glaze. In a small saucepan, bring the maple syrup to a boil over medium heat. Cook until slightly reduced, about four to five minutes.

Turn off the heat and whisk in the powdered sugar. It will look like a clumpy mess but pour in a little heavy cream or milk at a time and keep whisking. The mixture will smooth out. Whisk in a pinch of cinnamon.

Pour the glaze into a dinnerware bowl. The shallow size makes it easier to dip. Dip one side of the cruller into the glaze. Repeat with remaining crullers. Keep in mind, the glaze is designed to harden, so if it starts to harden while dipping, just stir in a few drops of cream or milk. You can even zap it in the microwave for a few seconds if it hardens if need be. Alternatively, you can drizzle the glaze onto the crullers with a spoon. Allow the glaze to set. Enjoy!
Notes
Make sure you use real maple syrup and not the fake pancake syrup.
If you'd like to make the choux pastry ahead of time for easy entertaining, you can cover it with plastic wrap and refrigerate it for up to two days. You could even go ahead and pipe the crullers onto parchment paper. Just make sure they'll well covered with plastic wrap to prevent the dough from drying out.
Nutritional information is only an estimate. The accuracy of the nutritional information for any recipe on this site is not guaranteed.
Nutrition
Serving:
1
cruller
|
Calories:
238
kcal
|
Carbohydrates:
32
g
|
Protein:
3
g
|
Fat:
11
g
|
Cholesterol:
83
mg
|
Sodium:
127
mg
|
Sugar:
21
g