Make the most of the holiday season with this ultra festive peppermint bark ice cream! This luscious, creamy vanilla ice cream base is studded with crunchy peppermint bark in every bite to make one crowd-pleasing Christmas dessert. Don't save ice cream for only the summer months — you'll want to enjoy this holiday ice cream all December long.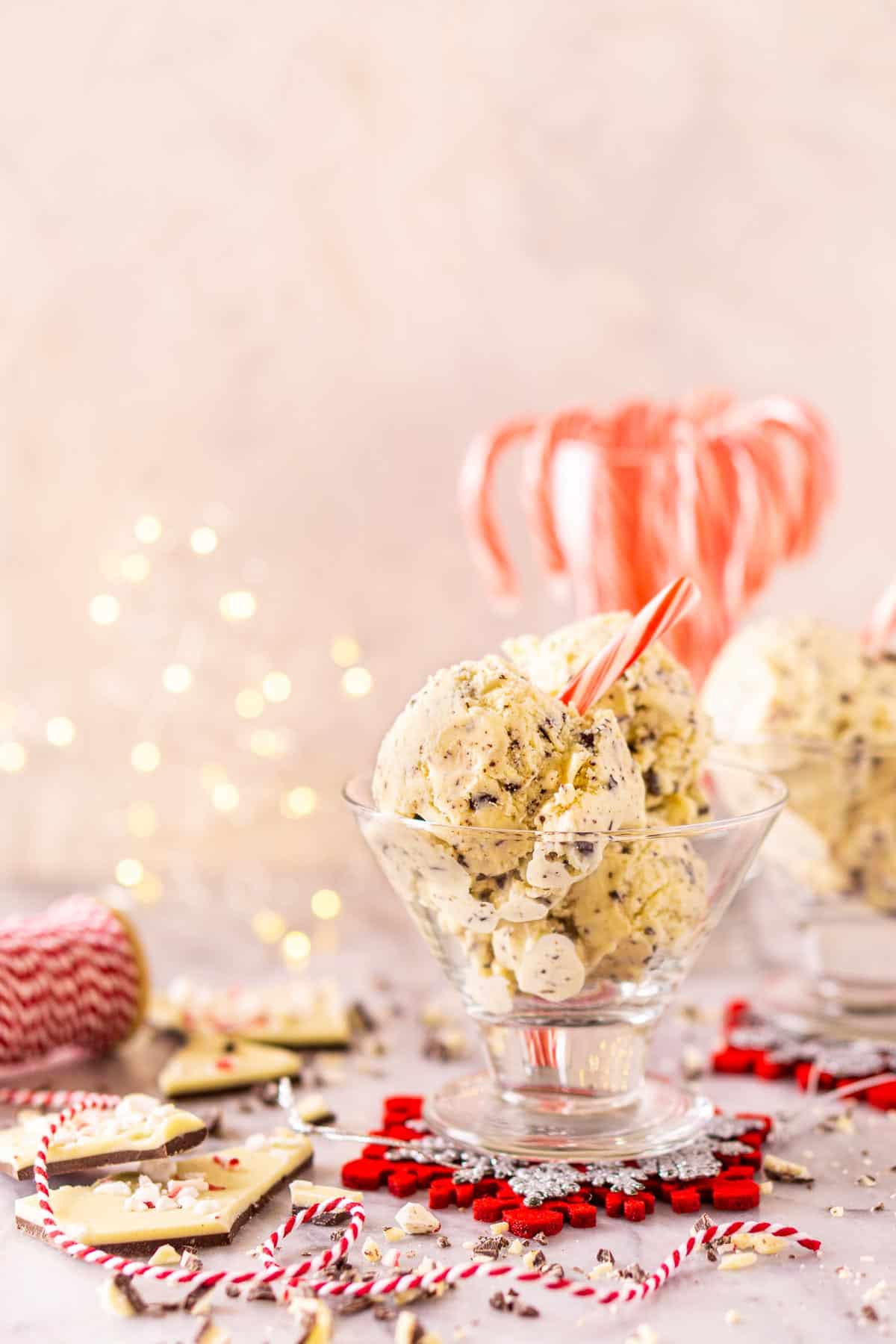 Jump to:
Why You'll Love This Recipe
Full of festive flavor: Who else waits all year for everything peppermint? This ice cream was made for you in mind. Not only do we get peppermint from the holiday chocolate bark, but we also add a dash of peppermint extract to ensure every bite tastes like Christmas in ice cream form.
Better than store-bought ice cream: Sure, store-bought ice cream is convenient, but it just can't beat the creamy texture of a good homemade ice cream. And it is the holidays, so we deserve an extra special dessert.
Prepare well ahead of serving time: Ice cream makes entertaining a breeze because it requires make-ahead preparation. There's no negotiation there, so you can enjoy a cocktail and good company without running around trying to make a dessert at the last minute.
Bonus: For more holiday ice cream options, try my gingerbread ice cream and bourbon-pumpkin ice cream.
Ingredients
Peppermint bark: Around November, peppermint bark starts to hit shelves for a limited time. Williams Sonoma and World Market both offer tins of peppermint bark, and Ghirardelli sells it in little squares. I like to get the 1-pound tin from Williams and Sonoma, and it's enough so that I have a bit leftover for snacking or topping. Another option is to use your own homemade peppermint bark, so you can have a taste of the holidays throughout the year.
Whole milk: For the silkiest, smoothest texture and best flavor, you want whole milk, not a lesser-fat variety.
Heavy cream: Like the milk, we want to go with full heavy cream rather than half and half. Sometimes it's listed as "heavy whipping cream."
Egg yolks: No need for the egg whites here.
Peppermint extract: While the peppermint bark adds a lovely touch of mint, the extract gives us an extra boost of seasonal flavor. I don't recommend skipping this ingredient.
Step-by-Step Instructions
Step 1: We begin by chopping the peppermint bark, so it's ready to go. Make sure you chop it fine like so (photo 1). You don't want to bite into giant chunks of frozen chocolate.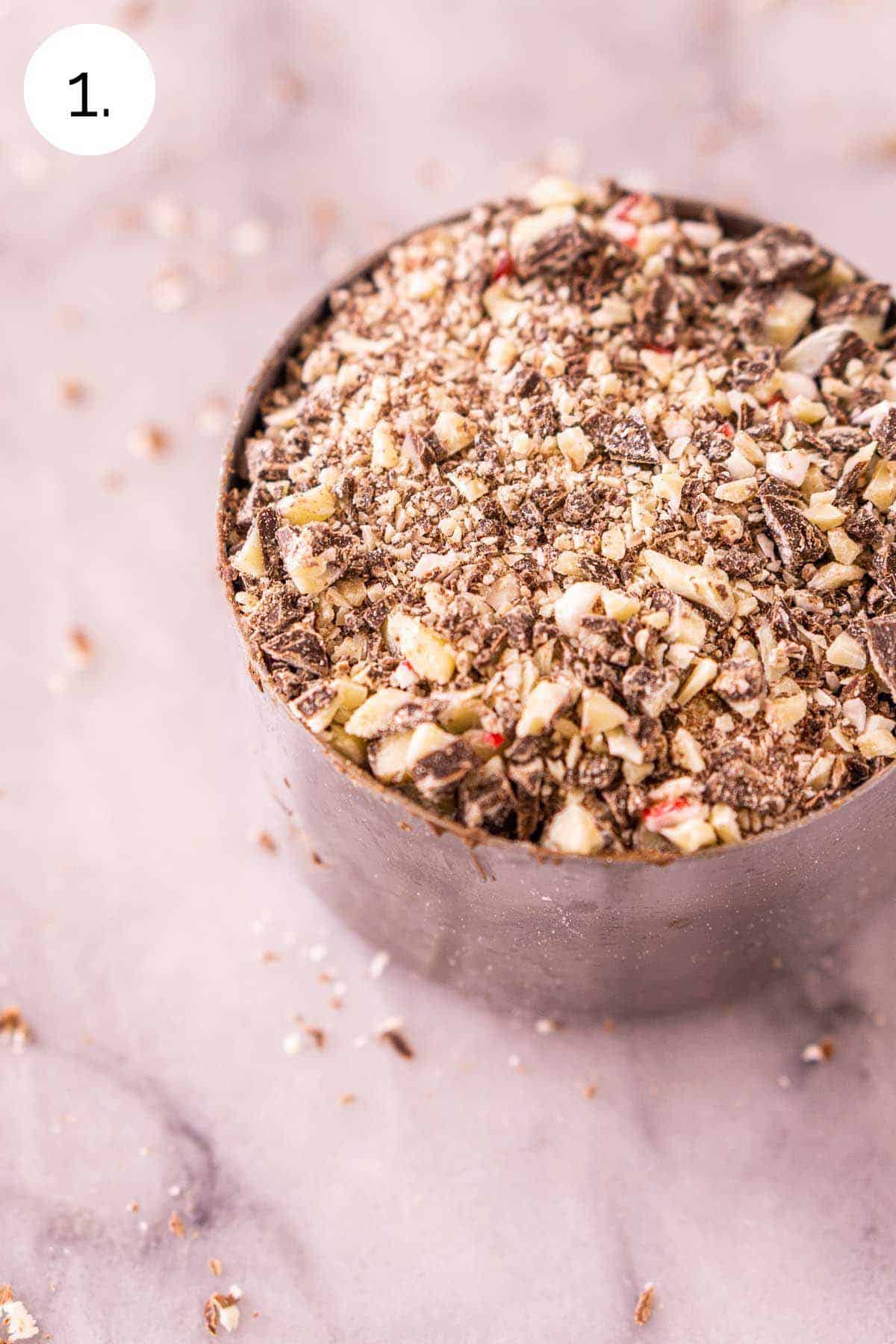 Step 2: For the ice cream custard base, we start by bringing together the milk, heavy cream and sugar to a simmer on the stove-top range (photo 2).
Step 3: While the milk mixture warms, we whisk together the egg yolks, vanilla extract and peppermint extract until it's nice and smooth (photo 3). I find about three minutes of hand whisking works perfectly.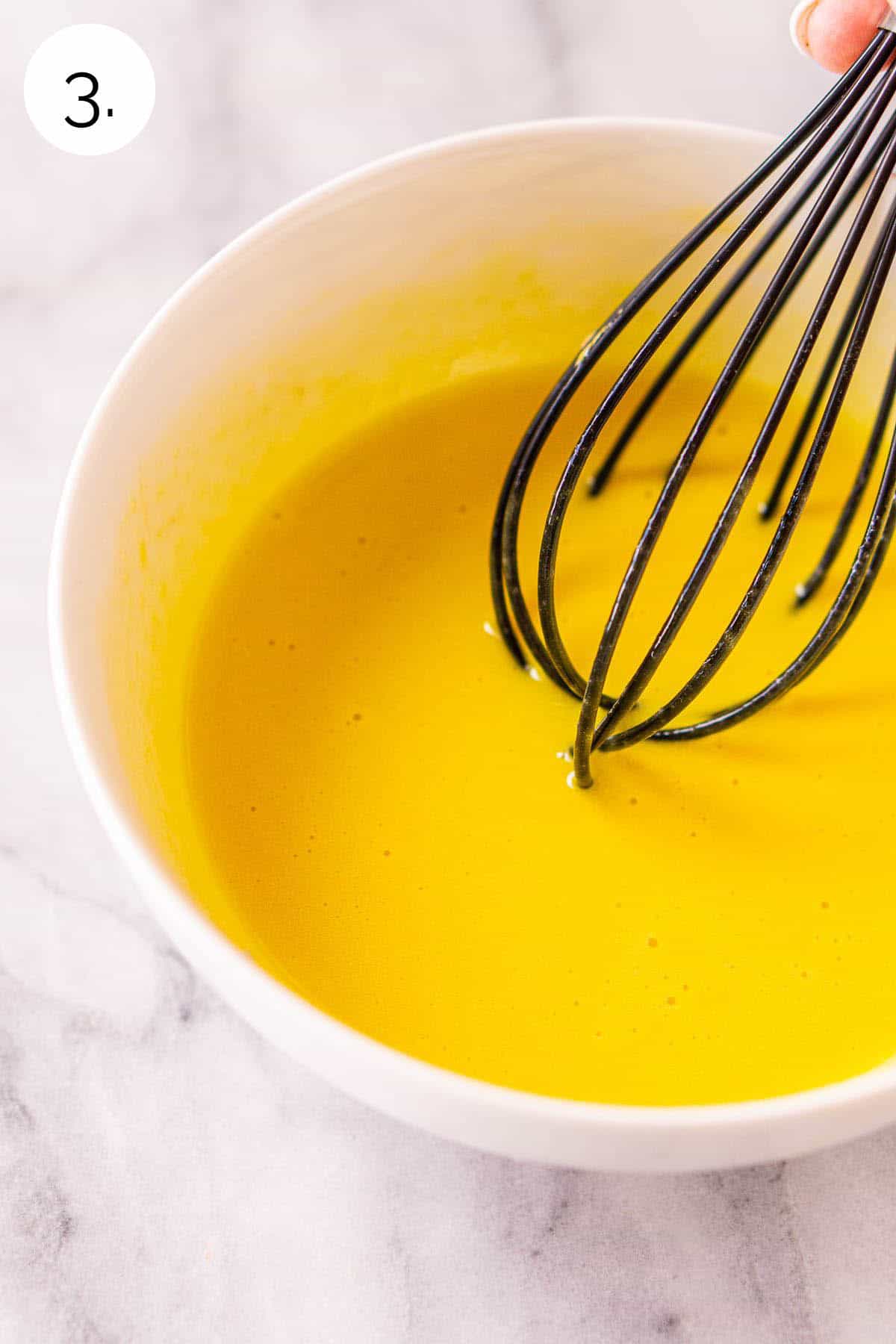 Step 4: Now we temper our eggs. For this step, we add a scoop of the warm milk mixture and whisk to combine (photo 4). We repeat this step several times.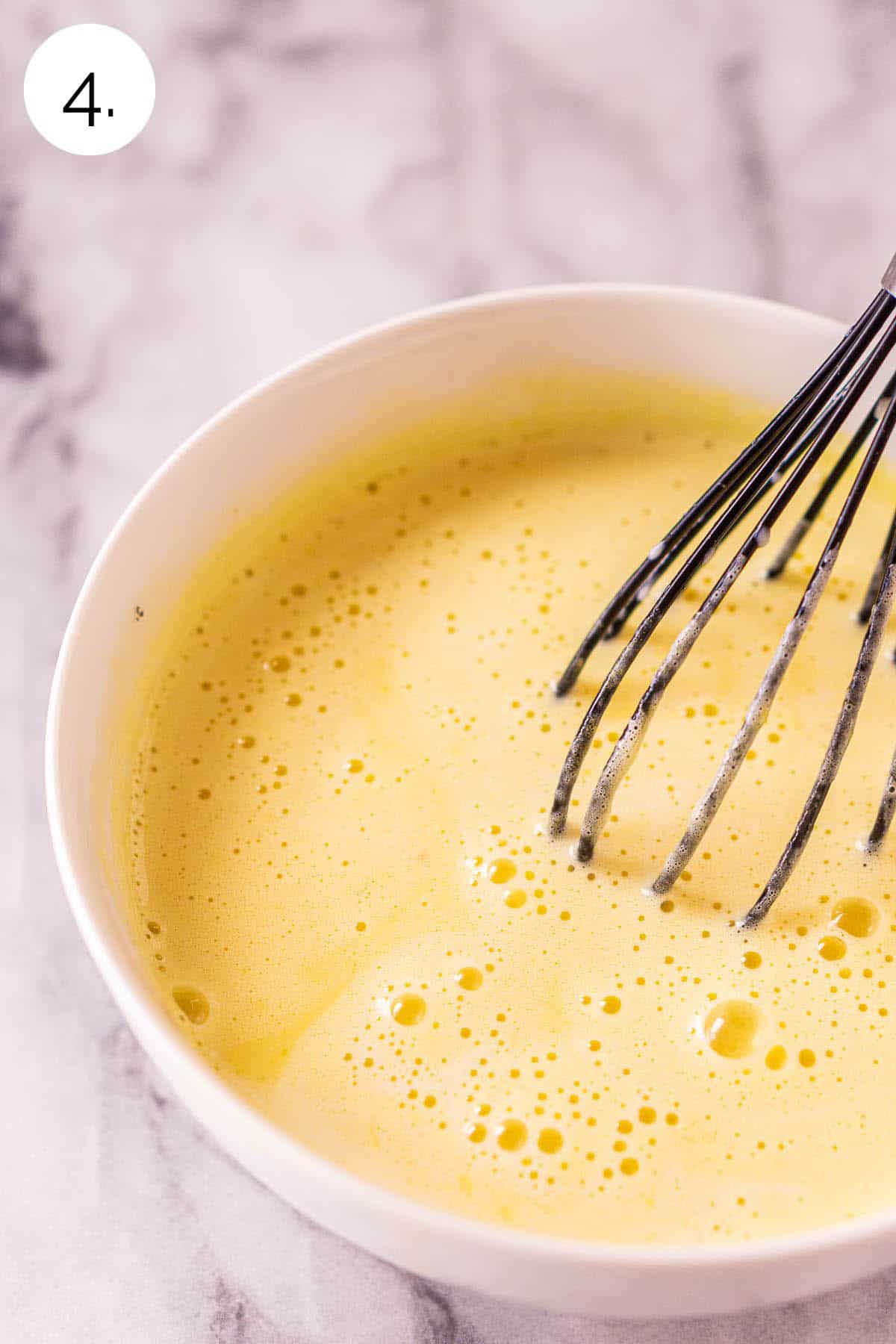 Step 5: With our eggs tempered, we pour the yolks into the rest of the cream and heat it again on the stove. We want to stir it frequently until the ice cream custard is thick enough to coat a wooden spoon (photo 5).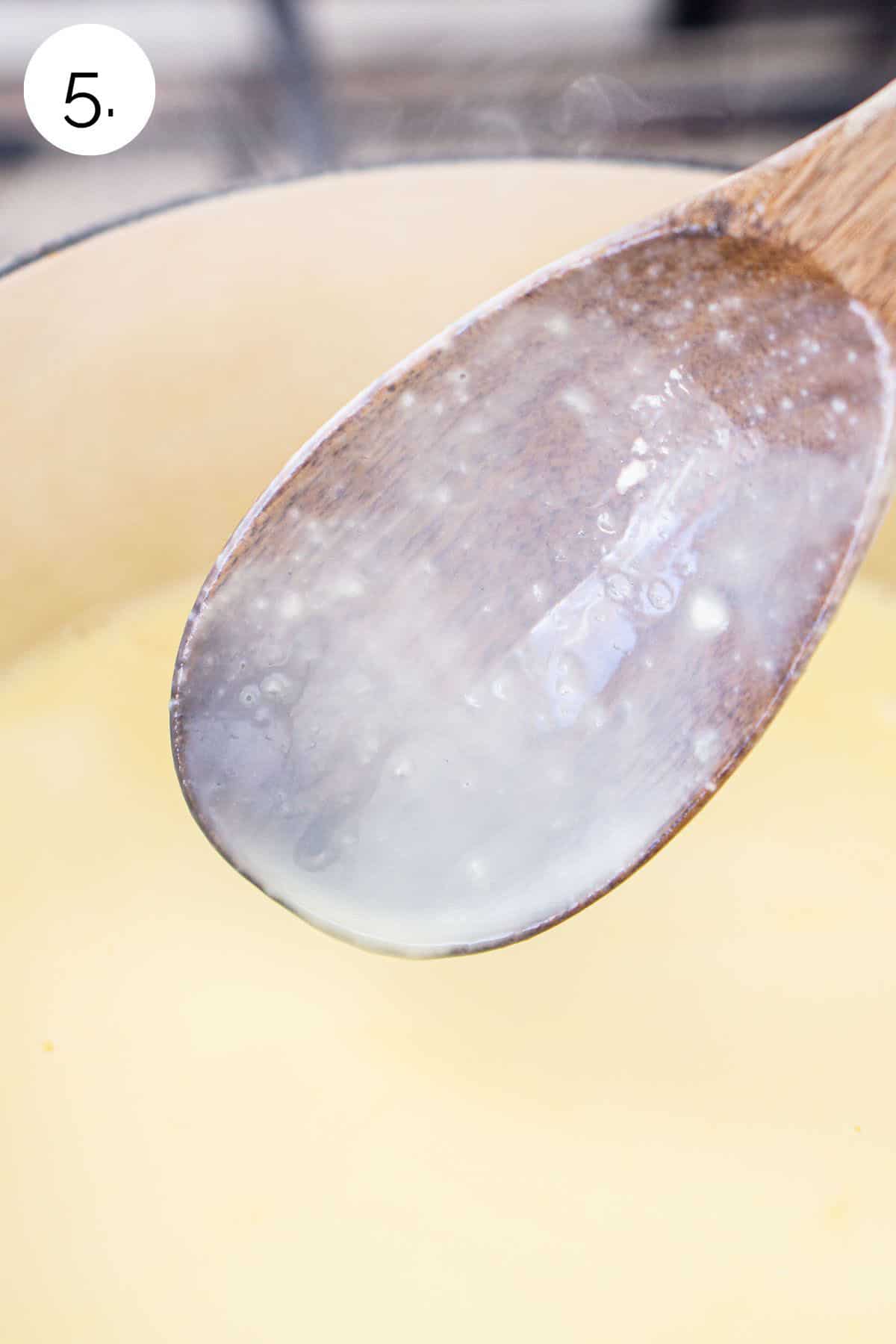 Step 6: From here, we pour the custard into a large mixing bowl and directly cover the surface with plastic wrap (photo 6). This helps prevent a film from forming. Now we place the bowl in the refrigerator until it's fully chilled.
Step 7: After chilling, we pour the custard into an ice cream maker and churn according to the manufacturer's directions. At the end of churning, we pour in those tasty peppermint bark pieces (photo 7).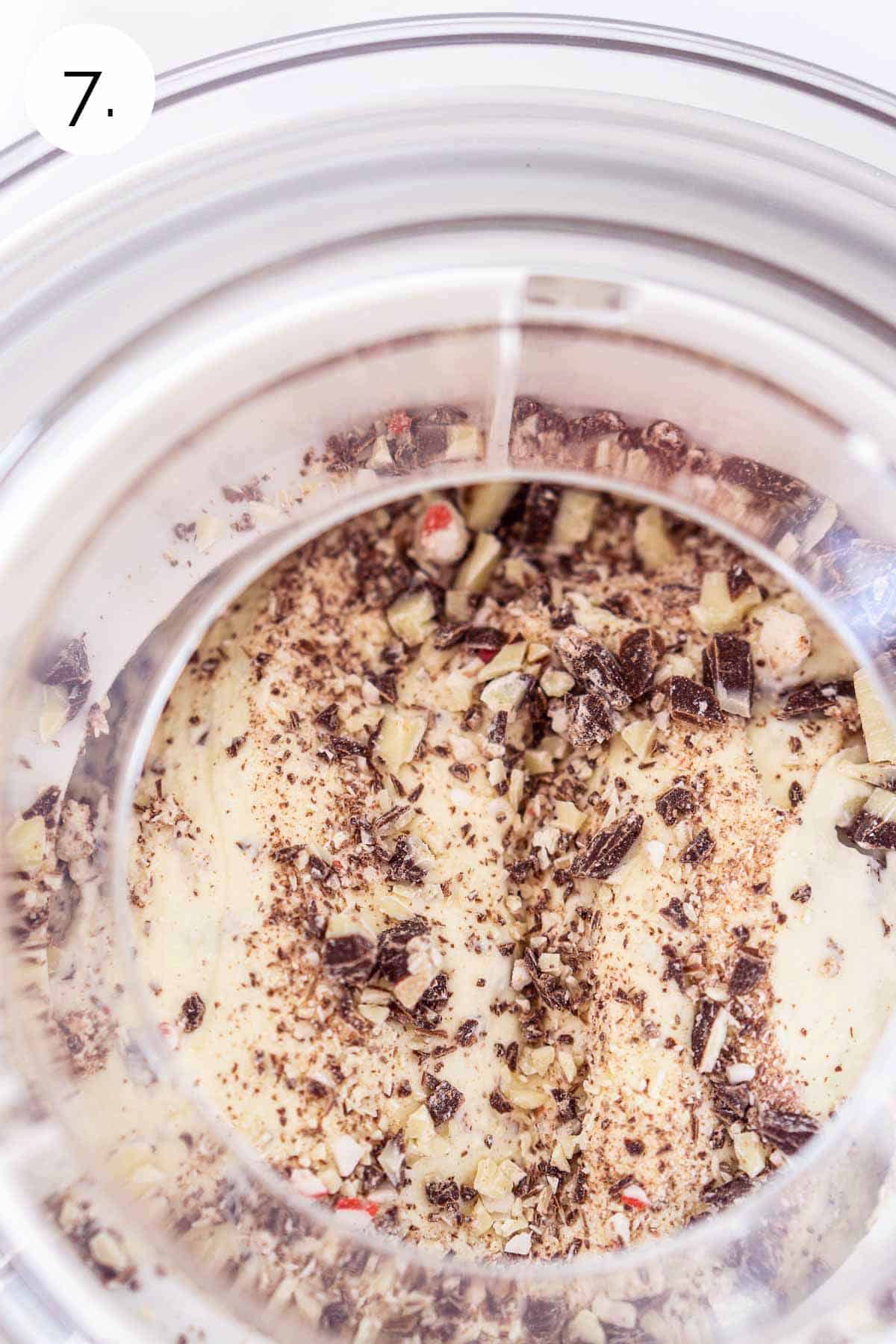 Step 8: For our final step, we spread the ice cream into an airtight container and freeze for several hours (photo 8). The ice cream will be more of a soft-serve texture right after churning, but this final freeze will firm it up nicely.
Once the ice cream finishes its final freezing, we're ready to scoop and serve. For an extra touch of holiday fun, you can use candy canes and whipped cream to garnish and top the ice cream with more peppermint candy pieces or serve it with these peppermint chocolate chip cookies. Grab a spoon and enjoy.
Related: For more homemade ice cream recipes, you'll also love my Baileys ice cream, amaretto ice cream and Biscoff ice cream.
Recipe FAQs
How long can you refrigerate the ice cream custard?
If you'd really like to get ahead, the custard will last in the refrigerator for up to three days.
How long does homemade ice cream keep in the freezer?
As long as you store the ice cream in an airtight container, it should last for two weeks. Air can cause freezer burn, so we want to make sure the ice cream is well-protected.
How cold does ice cream need to be before churning?
We want to ensure the ice cream is 40 degrees F or colder. If it's too warm, it won't set up properly. This is why I recommend refrigerating overnight. However, if you need to churn sooner, you can chill the base using an ice bath and check the temperature with an instant thermometer.
Expert Tips
Don't skip tempering the eggs: This helps gently cook the eggs, so we don't end up with scrambled bits in our ice cream.
Plan ahead: Many churning bowls require freezing for 24 hours before using, and you'll want to plan for chilling and freezing time. Homemade ice cream isn't something you want to leave to the last minute. If you have the freezer space, I recommend always keeping the churning bowl frozen, so you don't have to worry about that.
Don't allow the milk mixture to boil: Milk can separate once it boils. If it separates, you have to start over. Avoid this by keeping it to a simmer and no hotter.
Give it an extra chocolatey twist: Make it a chocolate-peppermint ice cream by simply whisking in ½ cup cocoa powder with the milk, heavy cream and sugar, and you have a wonderful chocolate ice cream base. This is how I make my favorite s'mores ice cream, and it's divine.
Perfect Pairing
If you're looking for a beer, an imperial coffee stout is lovely. Think of the pairing as a play on a peppermint mocha latte. Plus, imperial stouts show off some residual sweetness that's great with desserts.
For wine, a cabernet sauvignon is a favorite with peppermint. The cab's dry finish matches the crisp peppermint, and the oak is tasty with the ice cream's vanilla notes.
When a cocktail sounds good, you'll love it with my peppermint-chocolate martini. Could the flavors be a better match? My Baileys chocolate martini is also a good choice. It's pure chocolatey goodness that's perfect with this Christmas ice cream.
When you need a festive dessert that's full of holiday flavor, you'll love this indulgent peppermint bark ice cream recipe. Don't let the start of the holiday season pass without making this sweet treat.
Cheers!
Get More Christmas Desserts
If you love this recipe, please leave a comment with a five-star rating — or simply hit the five-star button in the recipe card. Don't forget to sign up for my newsletter, and you can follow me on Facebook, Instagram, Pinterest and TikTok.
📖 Recipe
Peppermint Bark Ice Cream
Make the most of the holiday season with this ultra festive peppermint bark ice cream! This luscious, creamy vanilla ice cream base is studded with crunchy peppermint bark in every bite to make one crowd-pleasing Christmas dessert. Don't save ice cream for only the summer months — you'll want to enjoy this holiday ice cream all December long.
Print
Pin
Rate
Equipment
Medium saucepan

Plastic wrap

Ice cream maker

Freezer safe, airtight container
Ingredients
12-16

ounces

peppermint bark

2

cups

heavy cream

2

cups

whole milk

1

cup

white sugar

7

egg yolks

1

tablespoon

vanilla extract

1

teaspoon

peppermint extract
Instructions
Finely chop the peppermint bark to get 1 cup. Set aside.

Whisk together the heavy cream, whole milk and white sugar in a medium saucepan. Bring to a simmer over medium heat. Continue to whisk periodically to help dissolve the sugar. Once it simmers, turn off the heat and allow it to cool for a few minutes. Do not bring to a boil as this can cause the milk to separate.

Whisk egg yolks, vanilla extract and peppermint extract until it thickens for about three minutes.

Temper the yolks by adding about ¼ to ½ cup of warm cream mixture into egg mixture, whisking constantly. Repeat this step a few times.

Add tempered egg-cream mixture back to the pot. Whisk constantly over medium heat and bring back to a simmer. Again, do not boil. Cook until mixture thickens and covers the back of a wooden spoon. Turn off heat.

Pour into a large bowl, and then directly cover the top of the custard's surface with plastic wrap and refrigerate until cold, at least 40 degrees F or colder.

Pour custard into an ice cream maker and churn according to manufacturer's directions. In the last couple minutes of churning, add the chopped peppermint bark to the ice cream machine.

Pour the churned ice cream into an airtight, freezer-safe container. Freeze until firm for several hours before serving. Enjoy!
Notes
Overnight chilling is recommended to ensure it's plenty cold. If you need it sooner, use an ice bath to bring the temperature down to 40 degrees F or colder.

You can store the ice cream custard up to three days in the refrigerator before churning.
Keep the ice cream in an airtight container to prevent it from freezer burn. It should last for about two weeks.
Many ice cream bowls require freezing for 24 hours before churning, so double check your manufacturer's directions.
Nutritional information is only an estimate. The accuracy of the nutritional information for any recipe on this site is not guaranteed.
Nutrition
Serving:
0.5
cup
|
Calories:
391
kcal
|
Carbohydrates:
30
g
|
Protein:
6
g
|
Fat:
28
g
|
Saturated Fat:
16
g
|
Polyunsaturated Fat:
2
g
|
Monounsaturated Fat:
8
g
|
Cholesterol:
245
mg
|
Sodium:
47
mg
|
Potassium:
168
mg
|
Sugar:
30
g
|
Vitamin A:
1201
IU
|
Vitamin C:
0.4
mg
|
Calcium:
135
mg
|
Iron:
1
mg