Make this year's celebration extra special with your own homemade Halloween candy! Loaded with toasted almonds in each buttery, rich bite, this Halloween toffee adds a festive touch to your holiday party.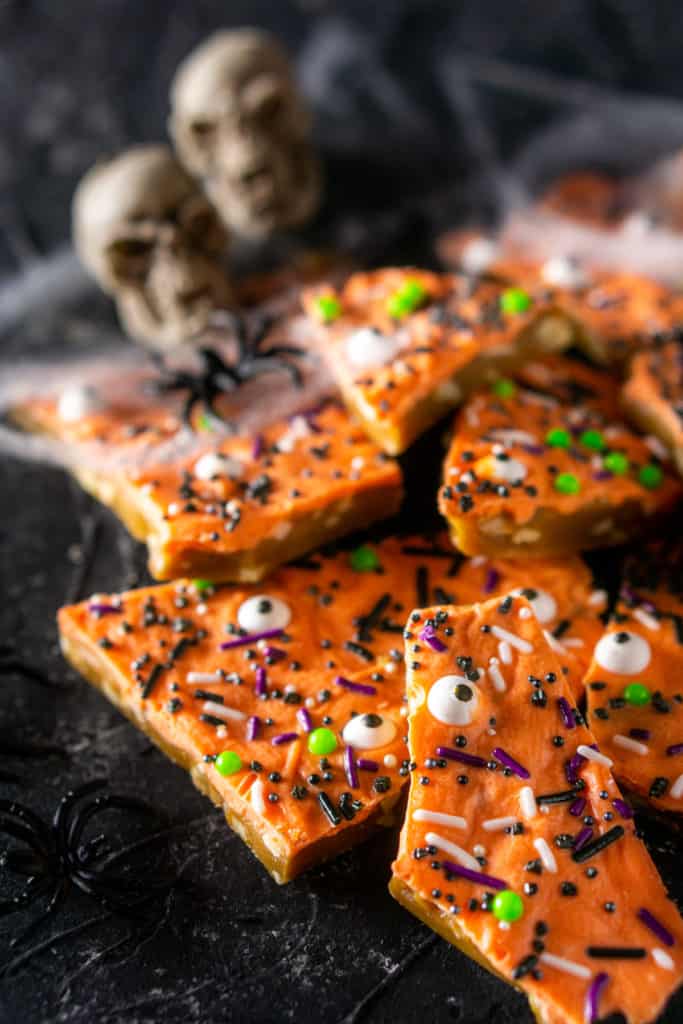 Why buy Halloween candy when you can make your own? OK, fine, buying a bag of candy may be easier, but there's no fun or novelty in that. Anyone can throw a bunch of mass-produced candy in a bowl and call it a day.
But you? You're clearly here to add an elevated touch to your Halloween celebration, and I can't think of a better way to do just that than making a batch of homemade Halloween candy to spread the spirit with friends and family. And after one bite of this perfectly crisp toffee, I have no doubt they'll be happy you put in a little extra effort to make their Halloween so special.
Ingredient Notes
Before we jump into how to make toffee, let's review some notes about a few of the ingredients.
Dark corn syrup: You are welcome to substitute light corn syrup, but I like the richness the dark variety adds to the toffee.
Almonds: Traditional toffee uses almonds, but if you're not a big almond fan, use your favorite kind. Pecans and walnuts are both delicious.
Vanilla and almond extract: While these extracts are not necessarily required to make toffee, I love the added flavor they deliver.
Candy melts: Rather than chocolate, we use candy melts to get a festive orange base. However, if you don't like the flavor of candy melts, you can always use chopped chocolate and simply include orange sprinkles instead.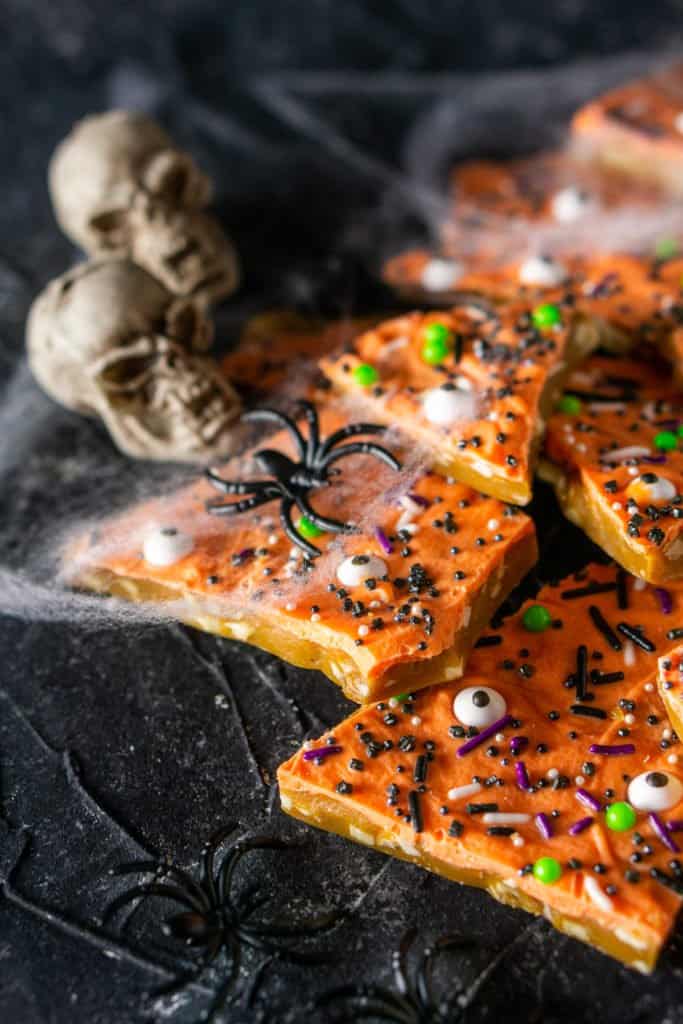 How to Make
Let's start making candy. We begin by cooking together sugar, butter, dark corn syrup and water over medium heat and stirring nearly constantly. Initially, the mixture will be thick but keep at it. As the butter melts, everything will become more cohesive and turn into a smooth, pale-colored mixture.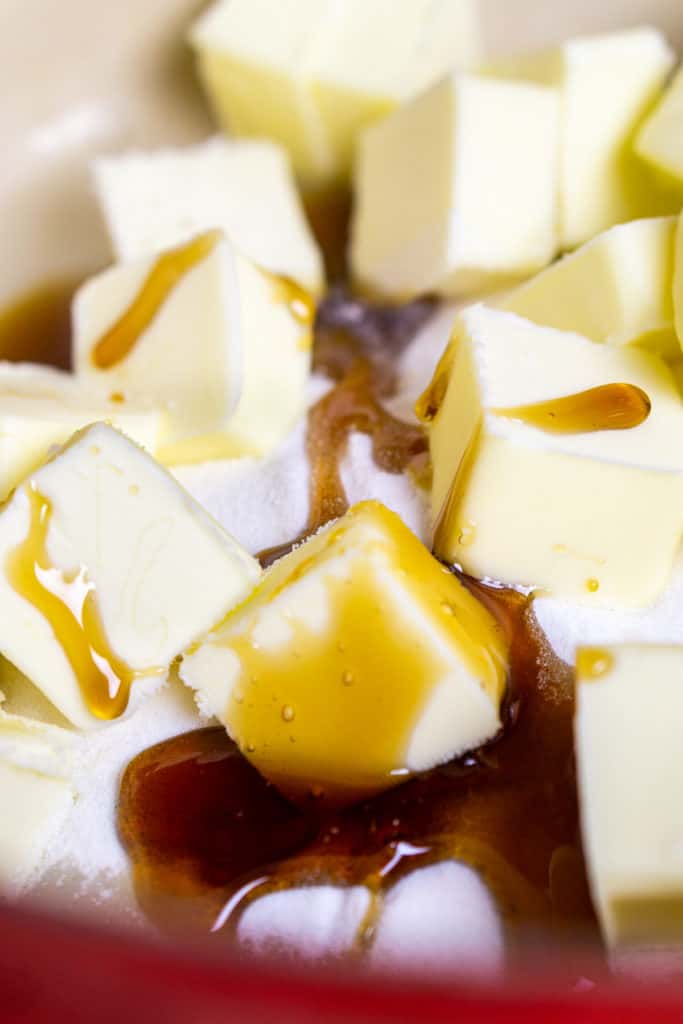 At this point, we slightly turn down the heat and let the mixture continue to cook. Medium heat may not seem very hot, but I find it can lead to burned toffee. We don't want to go too low or it will take about five years for our toffee to finish cooking -- just a slight turn down from medium will do.
Now we let the toffee work its magic. We still want to stir our toffee with but only occasionally, and please make sure you use a wooden spoon, not a plastic spoon. Our toffee will reach high temperatures, and we don't want melted plastic in our candy.
This mixture will start to simmer and eventually come to a boil. As it boils, that pale color will turn a rich amber hue, and its thin consistency will thicken. Please see below to see what to expect from the progression.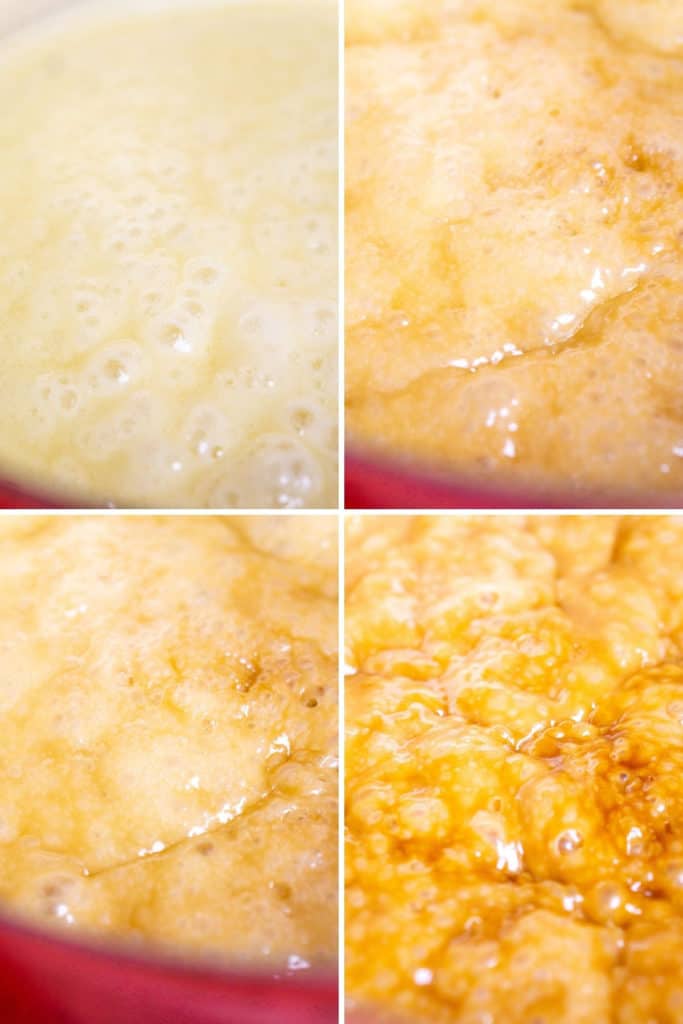 Once the toffee reaches 300-305 degrees, we turn off the heat and stir in toasted almonds, vanilla extract and almond extract. You'll notice in the beginning that the temperature will slowly creep up, but once it reaches about 270 degrees, the temperature starts to increase quickly. Make sure you keep an especially close eye on the toffee toward the end of the cooking process.
Now we pour our toffee onto a large parchment paper-lined baking sheet and use that wooden spoon to spread the toffee to make a thin layer. I find spreading the toffee so that it's not too thick makes for a better crunch. Remember, we're dealing with a 300-degree mixture here, so please be careful.
How to Decorate
While our toffee is still blazing hot, we sprinkle chopped orange candy melts on top, let them sit for five minutes and then use the back of a spoon to smooth out the candy melts. This gives us a festive Halloween orange base. We can now add fun holiday sprinkles to create our own custom look. I used a combination of black, white, green and purple sprinkles along with these edible eyes that give this Halloween toffee the perfect spooky touch.
Once decorated, we let our toffee set for at least three hours and then break the candy into pieces. And just like that, our Halloween toffee is ready! Wasn't that more fun than buying a bag of Halloween candy?
If you'd like more homemade festive treats, you can also try these Hocus Pocus brownies, Halloween popcorn and Halloween pumpkin cupcakes. We're ready for one spooky and fun Halloween.
How Long Will Homemade Toffee Keep?
With homemade toffee, you can store it for a good two to three weeks. This makes it perfect for entertaining. You can make this toffee well in advance to your Halloween party, and then you don't have to stress about also making a dessert when you're trying to take care of those last-minute entertaining details.
Just make sure you store the toffee in an airtight container. Moisture can ruin that crunchy texture, so we want to keep it as dry as possible.
Do I Need a Candy Thermometer to Make Homemade Toffee?
You definitely want to use a candy thermometer when making homemade toffee. While I don't use a candy thermometer when I whip up my bourbon caramel sauce, candy-making requires accurate temperature monitoring to ensure the candy reaches the proper stage.
Fortunately, candy thermometers are inexpensive, and then you'll have it for any deep frying recipes you may want to try. Trust me -- it's absolutely worth the small investment to avoid a ruined batch of homemade toffee.
Perfect Pairing
A bold barley wine is a delicious choice with our Halloween toffee. This malt-forward beer boasts caramel-like and dried fruit notes that pair perfectly with toffee. Plus, the high alcohol content gives it residual sweetness, making it a delicious dessert beer.
For wine, I love a tawny port with toffee. Not only is tawny port a classic dessert wine but it also shows off a lot of similar flavors as our barley wine, so you can imagine why this rich, sweet sipper is lovely with any kind of toffee dessert.
For a festive treat, I hope you try this Halloween toffee. There's nothing like a batch of homemade Halloween candy to get into the holiday spirit.
Cheers!
Looking for More Halloween Recipes?
If you love this recipe, please leave a comment with a five-star rating — or simply hit the five-star button in the recipe card. Don't forget to sign up for my newsletter, and you can follow me on Facebook, Instagram, Pinterest and TikTok.
📖 Recipe
Halloween Toffee
Make this year's celebration extra special with your own homemade Halloween candy! Loaded with toasted almonds in each buttery, rich bite, this Halloween toffee adds a festive touch to your holiday party.
Print
Pin
Rate
Equipment
Baking sheet

Parchment paper

3-quart heavy-bottomed saucepan

Wooden spoon

Candy thermometer
Ingredients
2

cups

white sugar

2

cups

butter

¼

cup plus 2 tablespoons

water

2

tablespoons

dark corn syrup

1

cup

almond slivers

1

teaspoon

vanilla extract

1

teaspoon

almond extract

2

cups

orange candy melts

chopped

Halloween sprinkles
Instructions
Line a large baking sheet with parchment paper. Set aside.

Add the sugar, butter, water and dark corn syrup to a heavy-bottomed 3-quart saucepan and attach a candy thermometer. Turn heat to medium and stir nearly constantly until the butter melts.

Slightly reduce the heat. Cook until the mixture reaches 300-305 degrees (see notes), stirring occasionally with a wooden spoon. As it cooks, it will bubble up, thicken and turn from a pale color to a rich amber hue.

While the toffee cooks, toast the almonds over medium heat until fragrant, about two to three minutes. Set aside.

When the toffee reaches 300-305 degrees, turn off heat. Stir in vanilla and almond extracts and toasted almonds. Carefully pour onto the parchment paper-lined baking sheet. Using a wooden spoon, spread the toffee into a thin layer. Sprinkle with chopped orange candy melts and let sit for five minutes. Using the back of a metal spoon, spread the warmed candy melts to coat the toffee. Immediately decorate with Halloween sprinkles. Allow to set for at least three hours. Break into pieces and store in an airtight container. Enjoy!
Notes
At 5,280 feet in elevation, I cook the toffee to 300 degrees, but if you're at sea level, you'll want to go slightly higher to 305 degrees.
Nutritional information is only an estimate. The accuracy of the nutritional information for any recipe on this site is not guaranteed.
Nutrition
Serving:
1
piece
|
Calories:
190
kcal
|
Carbohydrates:
15
g
|
Protein:
1
g
|
Fat:
14
g
|
Saturated Fat:
8
g
|
Polyunsaturated Fat:
4
g
|
Cholesterol:
32
mg
|
Sodium:
4
mg
|
Sugar:
13
g