Elevate any soup or stew recipe with this rich, savory homemade seafood stock. Made with plenty of seafood shells, fresh herbs and a punch of white wine, this stock is much more flavorful than anything you'd find on a shelf. Plus, making your own seafood stock couldn't be easier.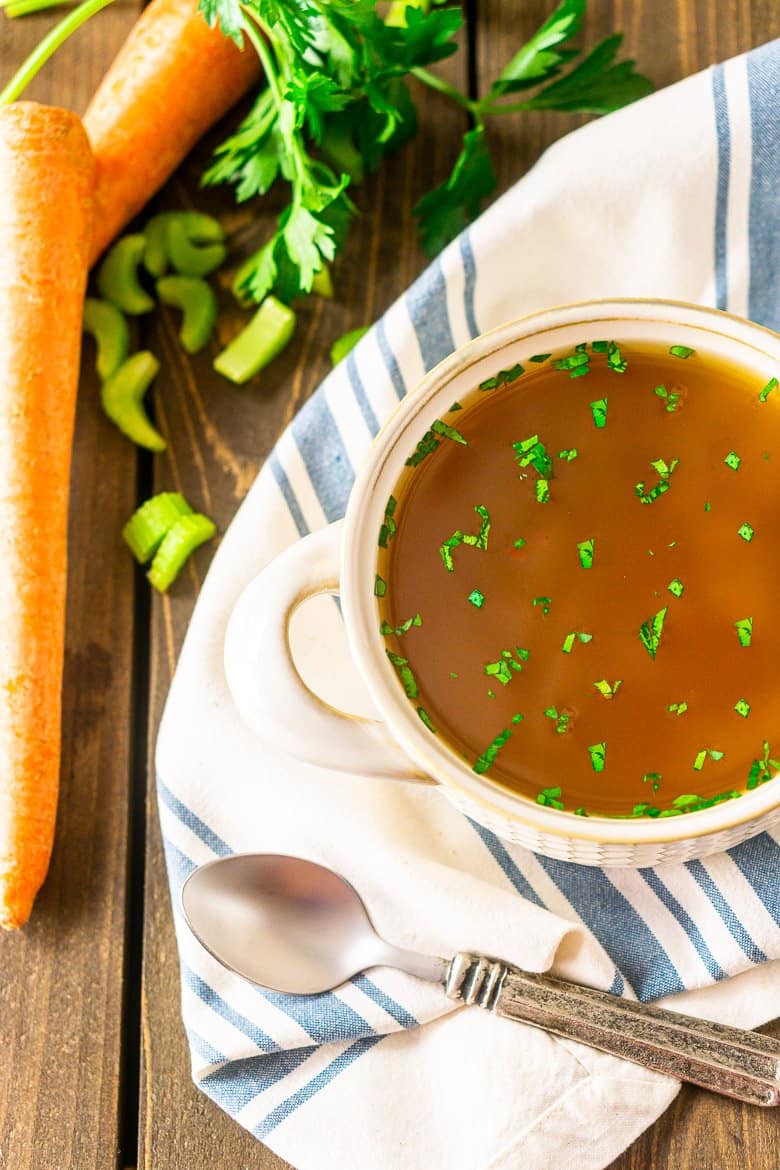 Jump to:
If you've never made your own stock, you're in for a treat. Any soup gets an instant flavor upgrade when homemade stock gets involved, especially of the seafood variety. Can you imagine a richer base than slowly simmered roasted seafood shells in a pot full of aromatics? Doubtful.
Besides adding such a depth of flavor to your favorite soups, making this homemade seafood stock doesn't require any fancy techniques or expert culinary know-how. A little roasting, a little chopping and a little simmering are all you need to make a pot of this seafood stock.
While this seafood stock is simple to make for cooks of all experience levels, it does take some time. I love making this stock on a lazy weekend when I have a chance to relax and enjoy the process.
These days, I see so many recipes that emphasize quick, quick, quick. And I get it. We're all busy, but if we can't take a moment to slow down and enjoy the process, where's the joy in cooking? Quick recipes certainly have their place but so do leisurely, slow-cooked meals.
Let's clear our weekend schedule and spend some time making this wonderful homemade seafood stock, shall we?
Ingredients
Making a good homemade seafood stock takes a few basic aromatics, white wine and seafood shells. For the aromatics, here's what I like to use.
Celery
Carrot
Onion
Garlic
Leek
Tomato paste
Black peppercorn
Parsley
Rosemary
Thyme
Bay leaf
Salt
When it comes to seafood shells, I typically like to use a variety, such as shrimp shells, lobster shells, crab shells and fish bones. That said, if you only have one type of shell, that's perfectly fine too. I've made this stock using only shrimp shells with success.
In the recipe card, you'll notice I give a range of seafood shells in cups. This is just a guideline. While I measured my seafood shells to give you a range this time, I normally don't bother.
Whenever I have leftover seafood shells, I stick them in a gallon-size zipper bag and throw it in the freezer. As I collect more seafood shells, I keep adding them to the zipper bag until it's full, and then I make my stock. Sometimes my bag is filled but not at full capacity, and other times, it barely zips.
Just know you have some leeway when it comes to measuring your shells. Making homemade stock isn't a precise science.
Step-by-Step Instructions
To start, we roast our seafood shells in the oven for 10 minutes. This brings out the shells' rich flavor, so don't skip this step. We can easily take care of this step while prepping the other ingredients.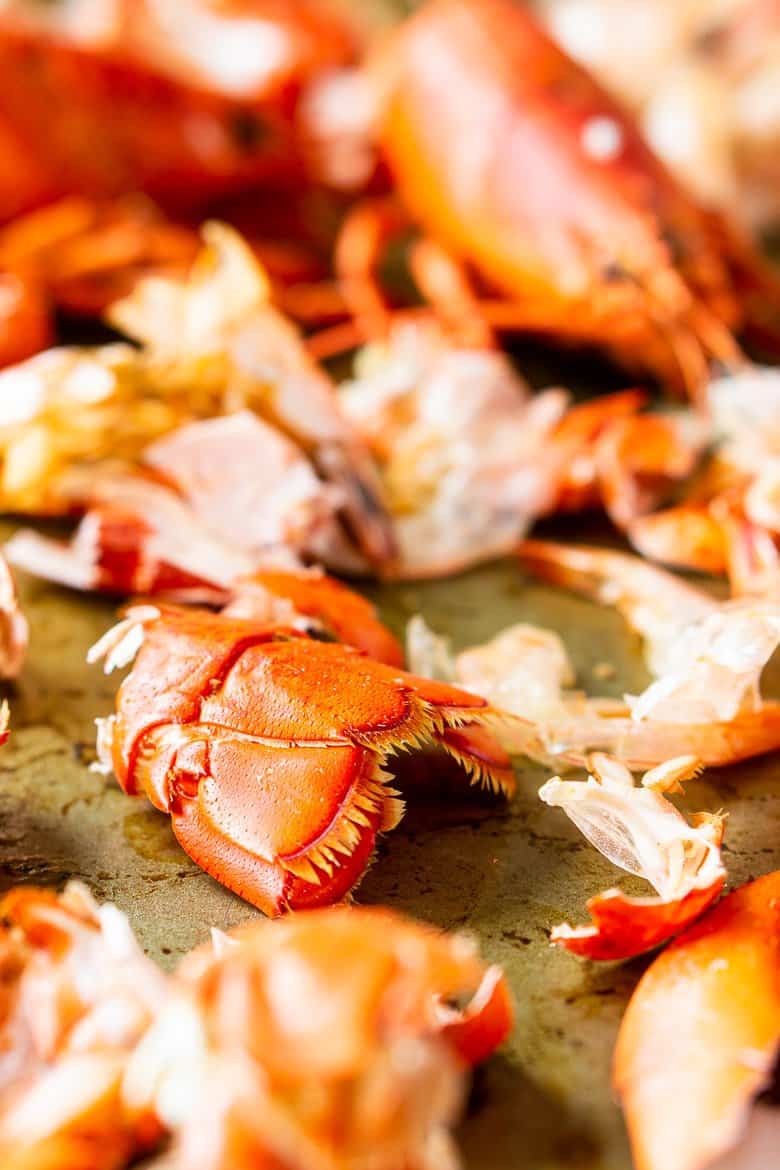 Now we toss the roasted seafood shells into a large pot and add enough water to cover them along with the rest of our stock ingredients.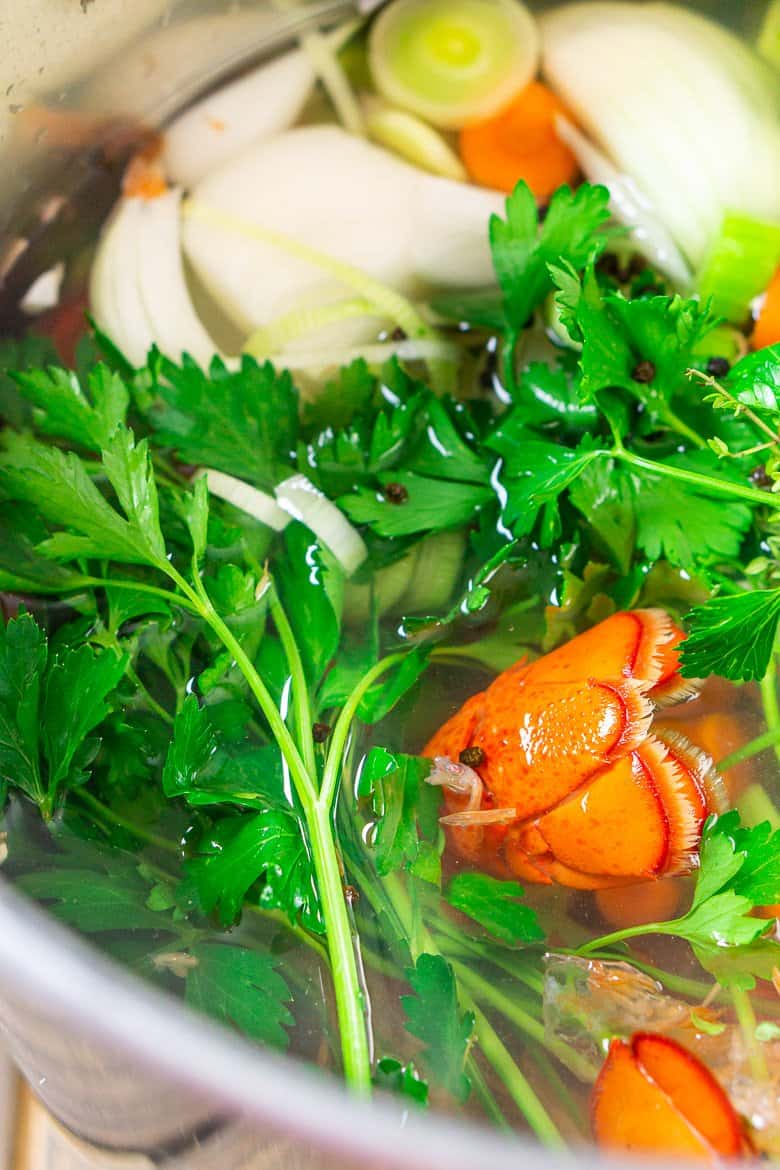 From here, we bring our stock to a boil and then drop to a simmer. The stock will foam as it simmers, so we just skim that off as it forms.
At this point, we've taken care of most of the work, so pour yourself a drink, like this triple citrus tequila smash, and turn on some music or Netflix as you relax. The stock needs to simmer for another hour or so, and I find this is the perfect chance to enjoy some me time.
After simmering, we simply add salt to taste, strain our seafood stock and call it a day. We now have a delicious batch of homemade seafood stock ready to use in all sorts of recipes.
How to Use
Of course, you can use this stock in your seafood soups, chowders, bisques and the like, but those aren't the only uses. Here are a few of my favorite ways to enjoy this seafood stock recipe.
Risotto
Bouillabaise
Paella
Cioppino
Steaming mussels or clams
All sorts of Cajun cooking, like seafood gumbo or my summer shrimp etouffee
Can You Freeze?
Without a doubt. In fact, I always make a huge batch to freeze leftovers. Making a double or triple batch doesn't take much additional effort, so if I'm going to take the time to make homemade stock, I want to keep plenty on hand.
I find the frozen stock is at its best if you use it within six months. That said, it will last longer and still be tasty if you don't use all of it within that timeframe.
Perfect Pairing
Obviously, your exact pairing with this seafood stock depends on how you plan to use it. Rather than giving a specific pairing like usual, I'll share a few beer and wine styles that go well with seafood. Given that seafood is so light and delicate, you can generally rely on these go-to styles.
If you're in the mood for beer, give these a try.
Hefeweizen
American wheat ale
Cream ale
Blonde ale
Berliner weisse
Kolsch
Saison
However, if wine is your drink of choice, these are good bets.
Champagne
Sauvignon blanc
Chablis
Chardonnay
Pinot grigio
Pinot gris
Chenin blanc
If you're looking for a way to take your soups and stews to the next level, I hope you try this homemade seafood stock.
Cheers!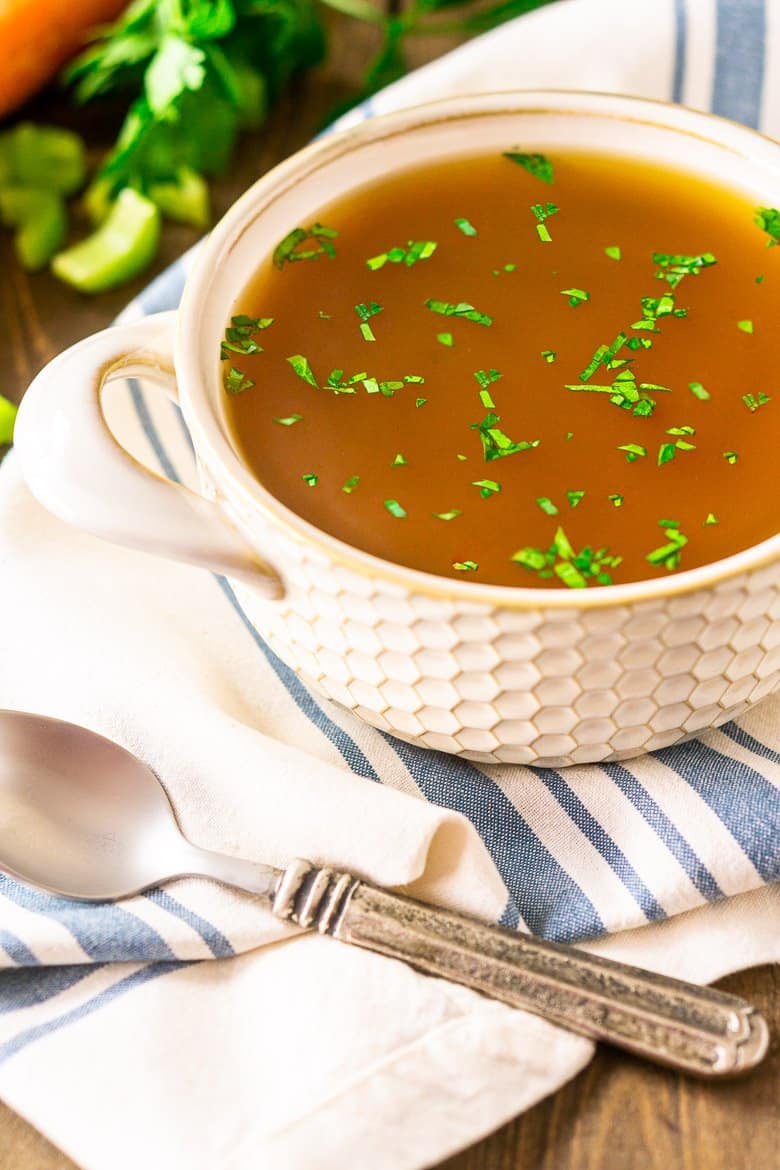 Love a Comforting Bowl of Soup?
If you love this recipe, please leave a comment with a five-star rating — or simply hit the five-star button in the recipe card. Don't forget to sign up for my newsletter, and you can follow me on Facebook, Instagram, Pinterest and TikTok.
📖 Recipe
Homemade Seafood Stock
Elevate any soup or stew recipe with this rich, savory homemade seafood stock. Made with plenty of seafood shells, fresh herbs and a punch of white wine, this stock is much more flavorful than anything you'd find on a shelf. Plus, making your own seafood stock couldn't be easier.
Print
Pin
Rate
Ingredients
7-10

cups

seafood shells and bones

see note

4

garlic cloves

smashed

2

celery stalks

chopped

2

carrots

chopped

1

onion

quartered

1

leek

white and light green part thinly sliced

10

fresh thyme sprigs

10

fresh parsley sprigs

2

fresh rosemary sprigs

2

dried bay leaves

1

teaspoon

peppercorns

Water

1

(6-ounce)

can tomato paste

1

cup

dry white wine

Salt to taste
Instructions
Heat oven to 400 degrees. Spread seafood shells on a large baking sheet lined with parchment paper and roast for 10 minutes.

Add the roasted seafood shells to a large pot with the garlic, celery, carrots, onion, leek, herbs and peppercorn. Pour in enough water to cover the ingredients. Stir in the tomato paste and wine.

Bring the water to a boil and then lower to a simmer. Skim off the foam as it forms on the top of the stock. Keep simmering until the stock develops a rich seafood flavor, about an hour. You could even simmer for up to two hours, but know you won't get quite as much stock from the water cooking off.

Add about ½ tablespoon to 1 tablespoon of salt and taste. If it needs more salt, add more until your liking. Don't be surprised if you add more than you'd think. Stock tends to need a decent amount of salt.

Line a larger strainer with cheesecloth and strain the stock from the shells and aromatics. Use immediately or store in the refrigerator or freezer. Enjoy!
Notes
You can use a variety of shrimp shells, crab shells, lobster shells or fish bones. The amount of seafood shells is just a guideline because they can be a bit awkward to measure. Generally, I add leftover shells to a gallon zipper bag that I leave in the freezer. When it's full, I make stock. Sometimes that bag is so full it barely zips, and other times it's filled but not bursting at the seams. You have leeway here.
The exact amount of stock you'll yield varies based on the amount of water used and how much cooks off.
Nutritional information is only an estimate. The accuracy of the nutritional information for any recipe on this site is not guaranteed.
Nutrition
Serving:
1
cup
|
Calories:
10
kcal
|
Carbohydrates:
1
g
|
Sodium:
550
mg