Comfort food lovers, meet your new favorite dish — this meatball lasagna! With its layers of tender meatballs, gooey mozzarella and creamy ricotta tucked in between delicate pasta, this meatball lasagna is a guaranteed crowd pleaser. For one unforgettable meal, gather good company and serve this meatball lasagna with a loaf of crusty garlic bread and a bottle of chianti.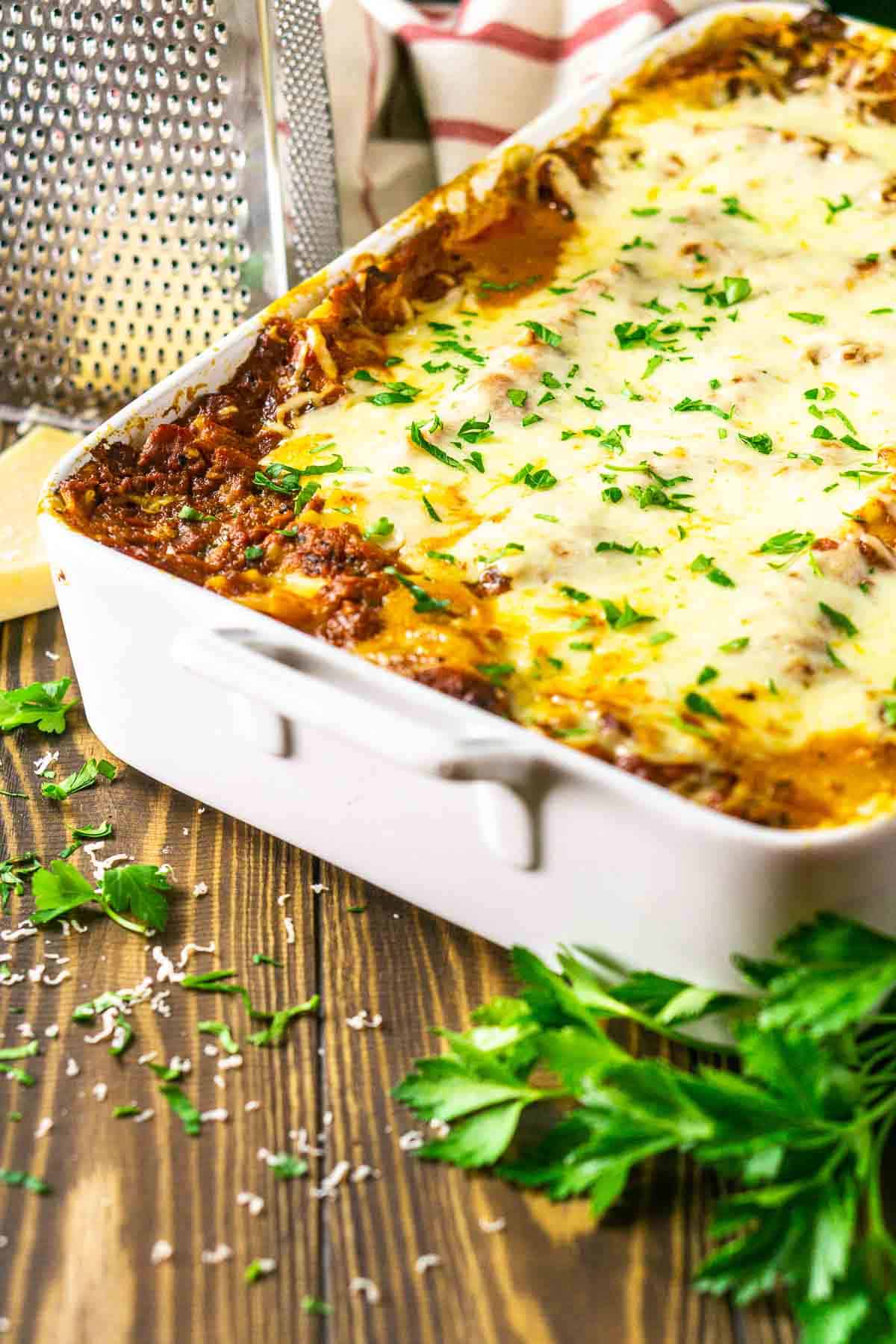 Jump to:
Why You'll Love This Recipe
Inspired by an amazing Italian restaurant: The next time you find yourself in Vegas, do yourself a favor and leave the Strip for a dinner at Capo's Italian Steakhouse and Speakeasy. Not only will you enjoy some great cocktails and a cozy atmosphere but the meatball lasagna is a dream dish.
Fortunately for you, I've recreated it, so you can enjoy it from the comfort of your own home. We love this dish so much that it's become a Christmas Eve tradition, and I bet you'll love this spin on a classic lasagna just as much after one bite.
Feeds plenty: With one tray, you can easily get 10 servings. Have a smaller guest list? No problem there — that means you get lots of delicious leftovers! Lasagna makes the best leftovers of all pasta dishes.
Great for making ahead: I love assembling this lasagna the night before serving, so my hosting duties are as easy as can be. In fact, I think lasagna is even better when you make it the night before because it gives the flavors a chance to meld.
Related: If you love this dish, make sure you try my white baked ziti and this lasagna fritta from Pass the Sushi!
Ingredients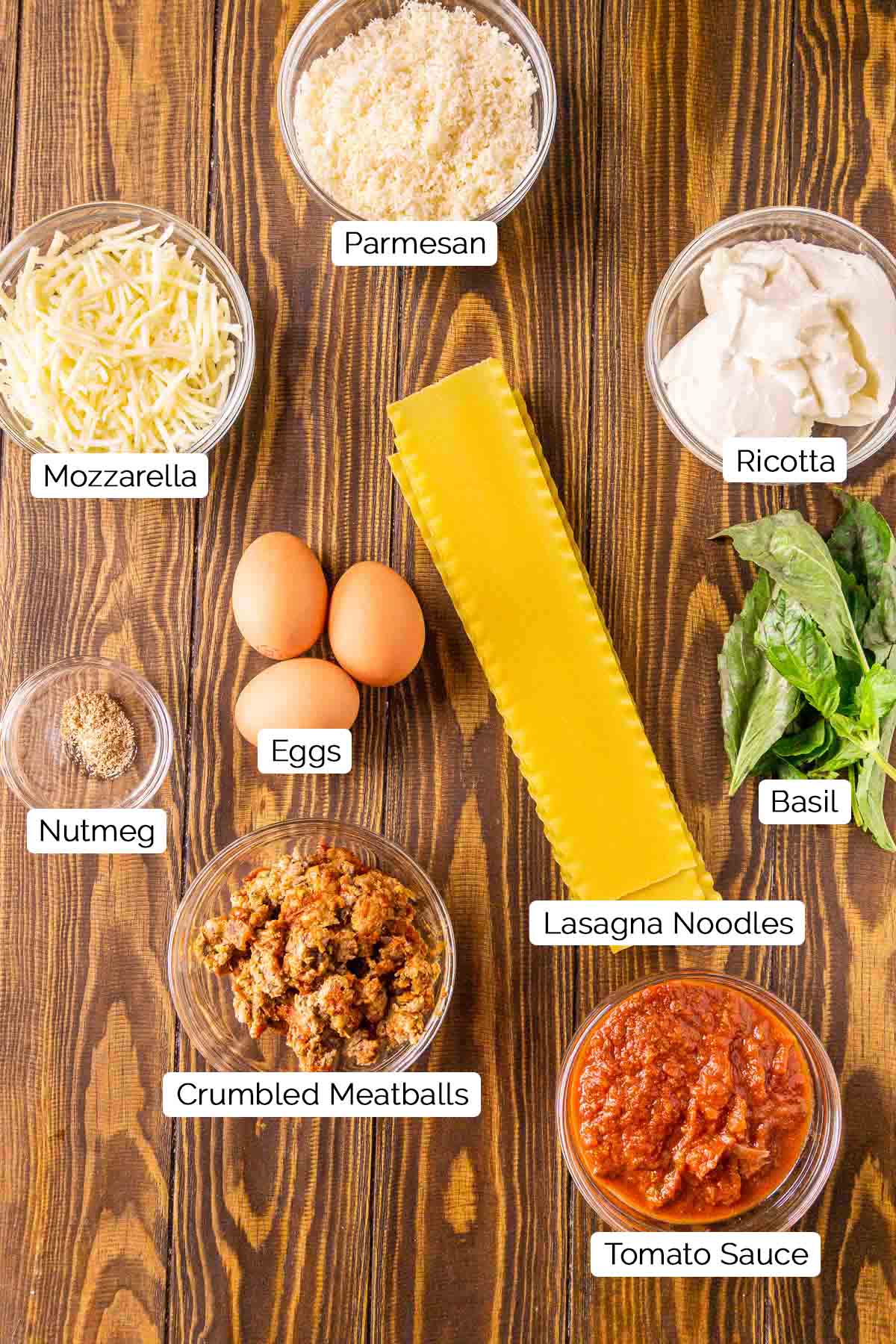 Crumbled meatballs: I love to use my recipe for Italian-style meatballs, or you can try my smoked meatballs, which also feature Italian seasoning. That said, you're more than welcome to use another meatball recipe or even store-bought meatballs if you're tight on time.
Tomato sauce: My Italian meatballs come with a tomato sauce recipe, so I use that. But like above, you can use a family favorite recipe or a store-bought sauce.
Lasagna noodles: I always use regular dried lasagna noodles instead of no-boil noodles.
Ricotta: For the best flavor, I recommend whole milk ricotta cheese over skim milk ricotta. Some people like to use cottage cheese, but I much prefer the ultra creamy texture of ricotta.
Parmesan: Don't get that canned Parmesan cheese. We want the real thing. Canned Parmesan doesn't melt and will leave our lasagna filling with a gritty texture.
Mozzarella: Fresh mozzarella packed in water is a real treat, but I don't recommend it for lasagna. I've used it once, and it left the lasagna way too watery. Save that for some pre-dinner snacking and get a block of dry-packed mozzarella.
Basil: This gives our ricotta filling the most wonderful flavor. Make sure you use fresh basil, not dried basil. The flavor between the two doesn't even compare.
Nutmeg: This may sound strange, but it's actually a common ingredient in cheese and cream sauces. That subtle spice and nutty flavor wonderfully complements those richer ingredients.
Step-by-Step Instructions
Step 1: We start by cooking our lasagna noodles, and we surprisingly have two options for this. One is to boil the noodles for two minutes under what's listed in the package directions for al dente. The noodles will finish cooking in the oven.
However, my favorite way to prepare lasagna noodles is to fill the lasagna pan with the hottest tap water you can get and let the uncooked noodles soak in the hot water for about 30 minutes (photo 1).
Boiled noodles have a tendency to clump together, which can be a headache. Soaking the lasagna noodles leaves them perfectly pliable, and you can prep the other ingredients while they soak. Like underboiling the noodles above, they won't be fully cooked after soaking, but they'll finish in the oven.
Step 2: Now we prepare the ricotta filling. To make this element, we stir together ricotta, beaten eggs, Parmesan, grated nutmeg and chopped basil in a medium bowl until it becomes one cohesive mixture (photo 2).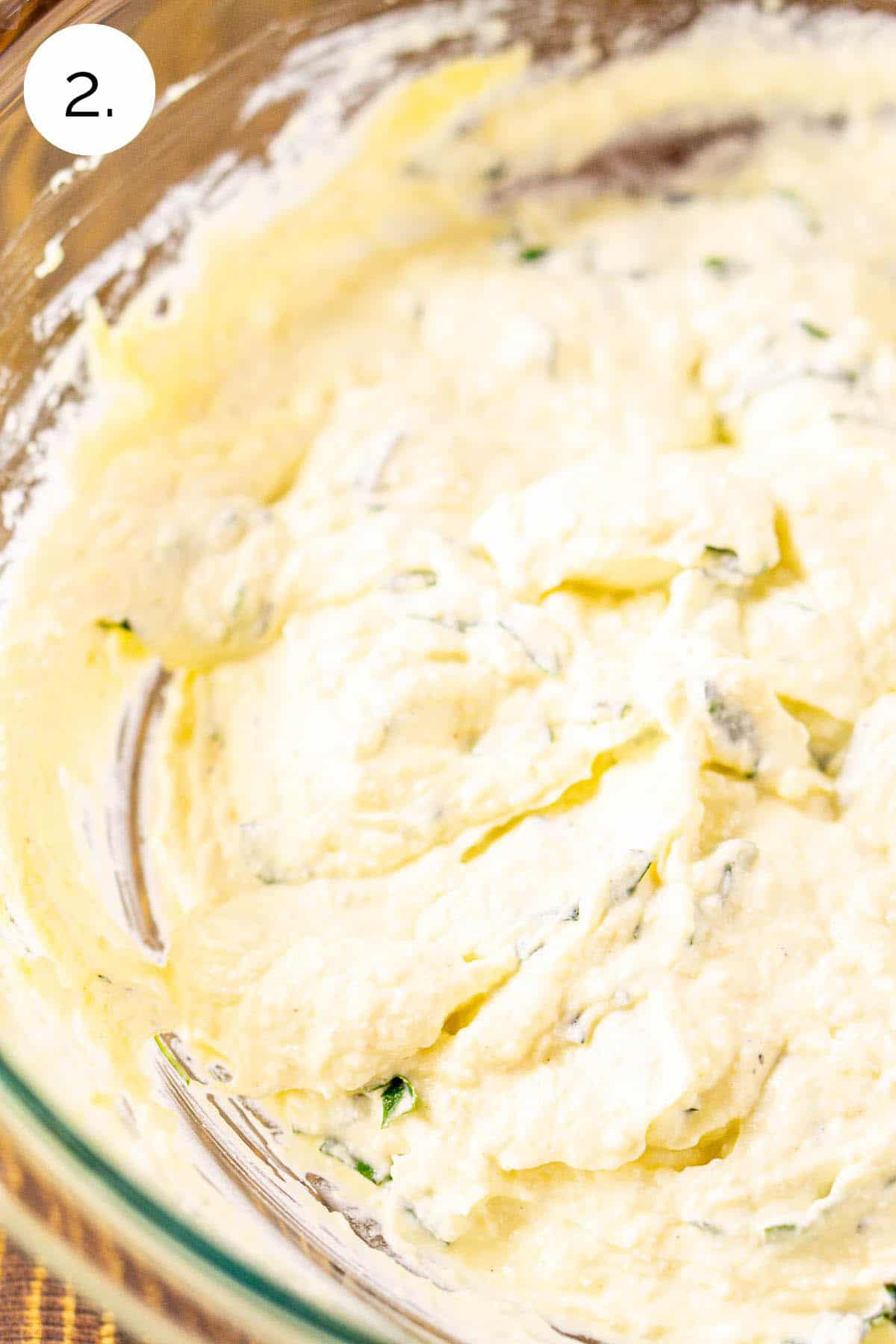 Step 3: Once the noodles and filling are ready, we can start layering. We first spread some of the tomato sauce on the bottom of the lasagna pan (photo 3). This prevents the noodles from sticking, so don't skip this step.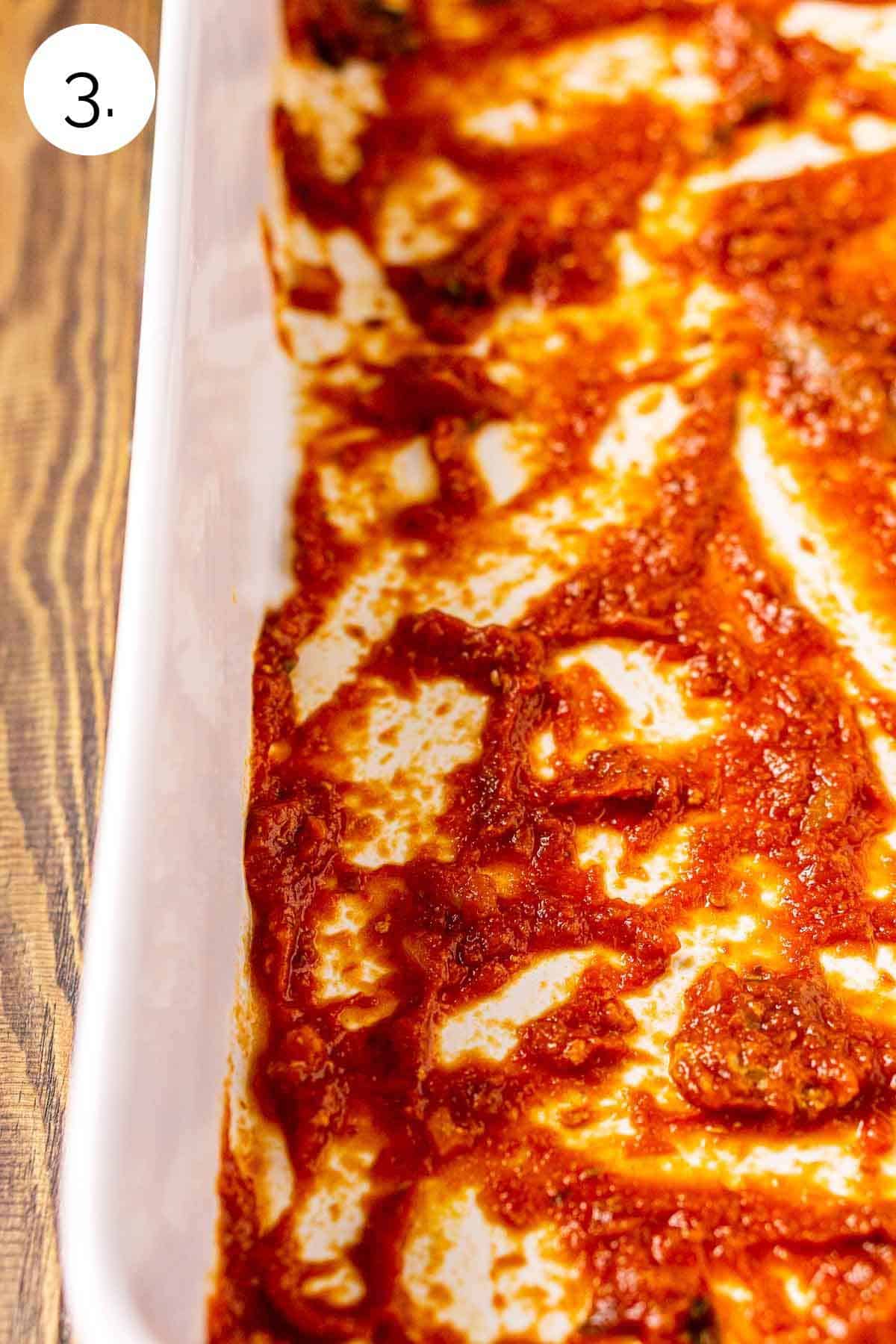 Now we place enough lasagna sheets over the sauce to cover the bottom of the pan (photo 4) and spread the ricotta filling over the pasta and sprinkle mozzarella cheese on top (photo 5).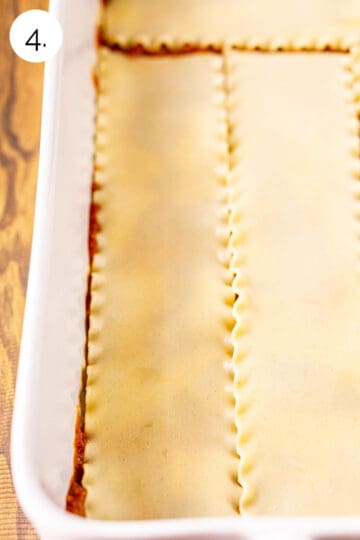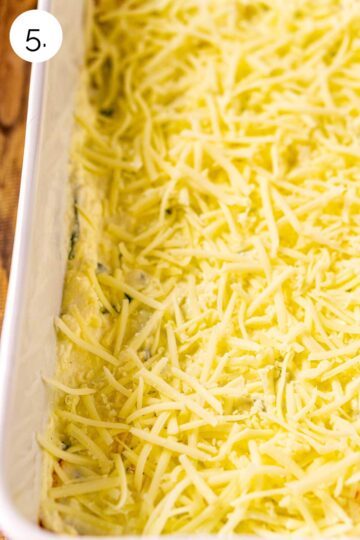 We then top the cheese with a layer of meatballs (photo 6) and tomato sauce (photo 7).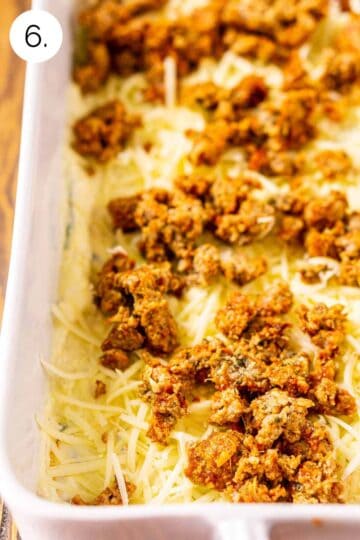 With our first layer prepared, we repeat this one more time, finishing with a layer of noodles, meatballs, tomato sauce and mozzarella cheese (photo 8).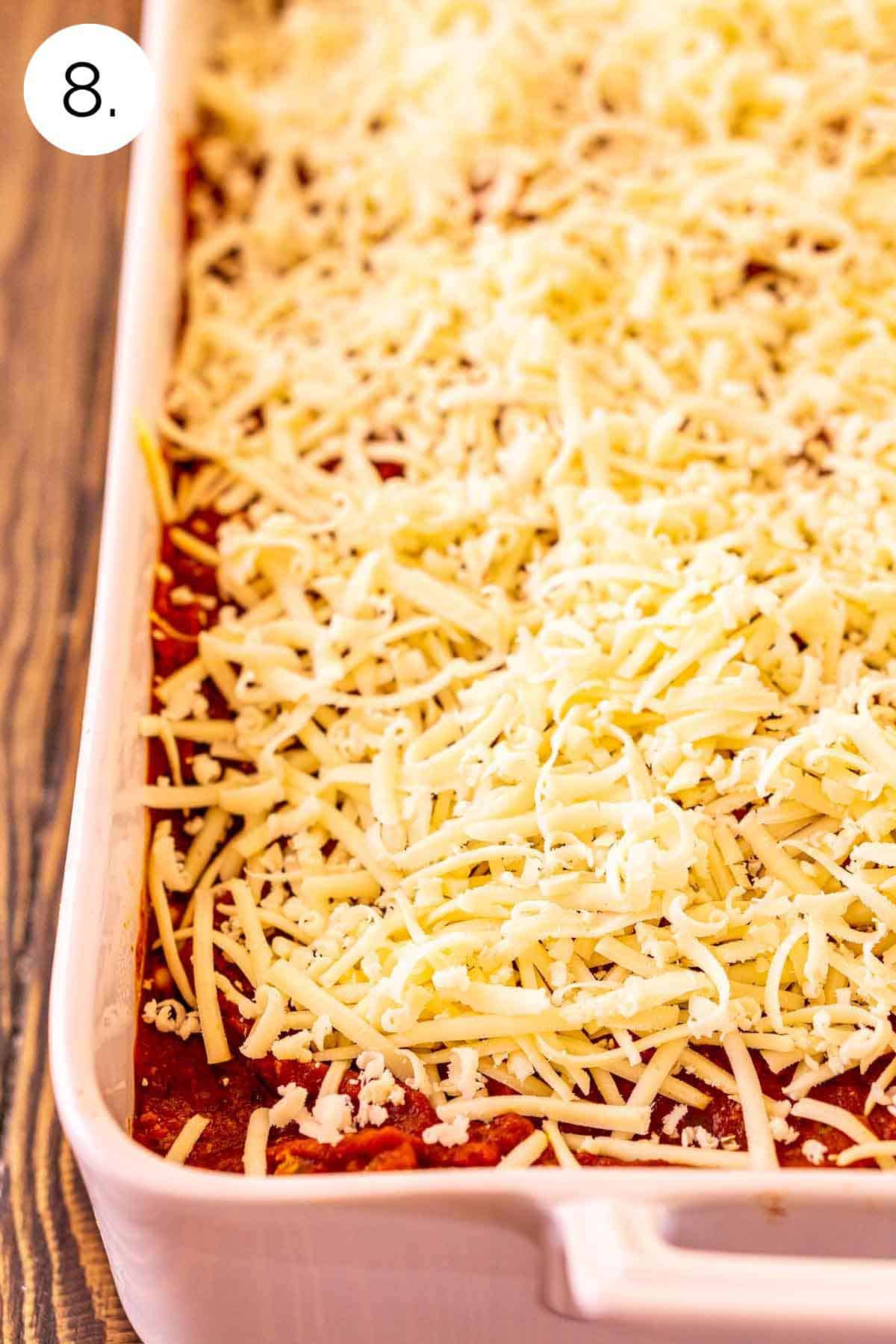 Step 4: After layering our lasagna, we're ready to pop it in the oven. For the first 30 minutes, we cover the lasagna in aluminum foil, and then we remove the foil for the last 15 minutes. We take the lasagna out of the oven and let it set for 15-20 minutes before cutting.
When the lasagna is ready, we serve it with some crusty bread and a bowl of Italian sausage soup for a complete meal and enjoy some serious comfort food. And if you need another pasta option to complete your Italian feast, you can also try this eggplant lasagna.
Make-Ahead Directions
If you'd like to make the lasagna ahead of time, here's how to do it.
Assemble the layers, cover and place in the refrigerator for up to a day.
Take the lasagna out two hours before baking to give it time to come down to temperature.
Bake as directed. As long as it's room temperature, it should bake in the same amount of time as making it fresh, but if it's not bubbling on the sides, give it a few minutes longer until it does.
You can even make the meatballs ahead of the lasagna. Either store the meatballs in the sauce for a few days or freeze them. This significantly cuts down the cooking and prep times and especially comes in handy during the holidays.
Say you want to make this meatball lasagna for Christmas or New Year's Eve. Make a batch of the meatballs and freeze them at the beginning of December — or even months earlier. Now all you have to do is prepare your lasagna noodles, mix together your ricotta filling and assemble. Take care of those steps the day before the holiday, and you're in for some easy hosting duties.
Recipe FAQs
Does lasagna have to sit before cutting?
Absolutely. If you cut into lasagna before allowing it to set after baking the oven, you'll be left with a soupy mess. This step is not optional for a good lasagna.

Once you pull the lasagna from the oven, let it sit on the counter uncovered for 15 to 20 minutes. Don't worry. The lasagna will still be plenty warm once you cut into it.

While the lasagna sits, this is the perfect time to warm up some garlic bread, pour drinks and all that jazz. After the lasagna sets, serve and enjoy this unforgettable meal.
What's the best pan to use for lasagna?
I realize a 9-inch-by-13-inch-by-2-inch pan is a common baking dish, but I highly recommend using lasagna pan or at least a deep-dish 9-inch-by-13-inch-by-3-inch baking pan. With a deeper lasagna pan, you can pack those layers with loads of cheese and meatballs without worrying about overfill.

See? This lasagna is packed full, but we still have overfill insurance. If you love making lasagna, I truly believe a lasagna pan is worth the purchase.
Why do you add egg to the ricotta filling?
The eggs keep the ricotta mixture from drying out in the oven. They also add a nice richness to the filling. I don't recommend skipping the eggs.
How do you store leftovers?
You can move the leftover lasagna to airtight containers or tightly cover the pan with the remaining pasta with aluminum foil and store it in the refrigerator. It should last a good three to five days.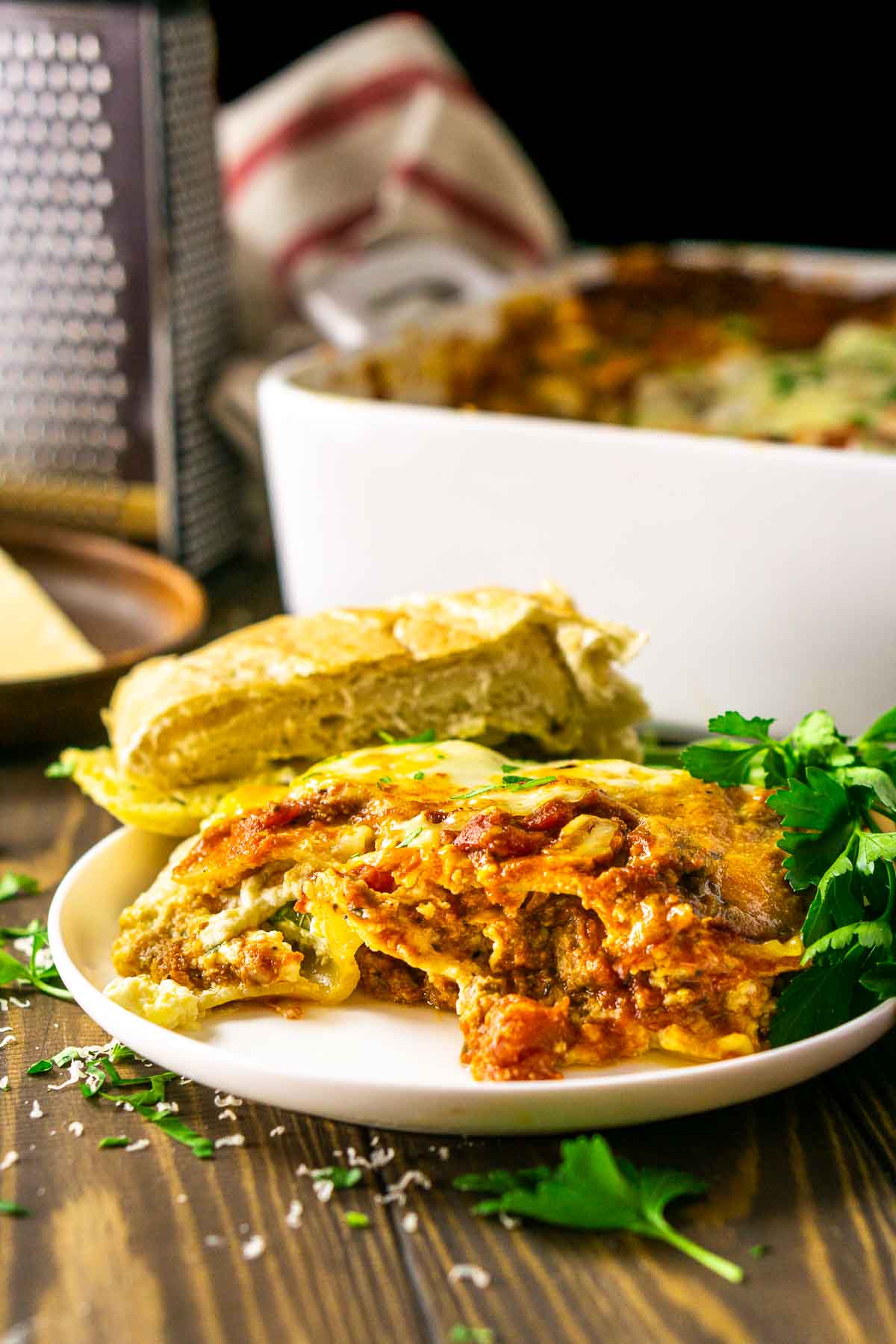 Expert Tips
Grate your own cheese: Pre-shredded cheese is coated in a substance to prevent clumping, which also keeps it from melting as nicely as freshly grated cheese.
Don't forget to cover the pan: The lasagna will dry out if you don't cover it with foil during the first phase of baking. You don't want to skip this easy step.
Lay out the noodles immediately after draining: If you boil the noodles following the traditional method, they have a tendency to clump if you dump them into a strainer and let them sit. Instead, immediately move the noodles using tongs to parchment paper after straining to keep them from sticking.
Don't rinse the noodles after cooking: Whether you boil or soak your noodles, don't rinse them. We want that starchy goodness to help the sauce cling to the pasta.
Save time with store-bought meatballs and sauce: While I included meatballs and tomato sauce recipes, there may be occasions where you don't have time to make these ingredients from scratch. In that case, use the best-quality store-bought ingredients you can find.
Perfect Pairing
Looking for a beer? Try an amber ale with this meaty lasagna. You'll love how the malt complements the sweet tomatoes, and it has plenty of bubbles to cut through such a bold dish.
I always love a chianti with a tomato sauce-based pasta, and it works perfectly here. The high acidity keeps your palate cleansed from the meatballs and layers upon layers of creamy cheese while balancing the tomatoes. I wouldn't turn down a cabernet sauvignon with this lasagna either — both red wine options are lovely.
When you need a comforting yet impressive meal, I hope you try this meatball lasagna. With its cheesy, meaty layers and delicate pasta, everyone is sure to love this delicious dish.
Cheers!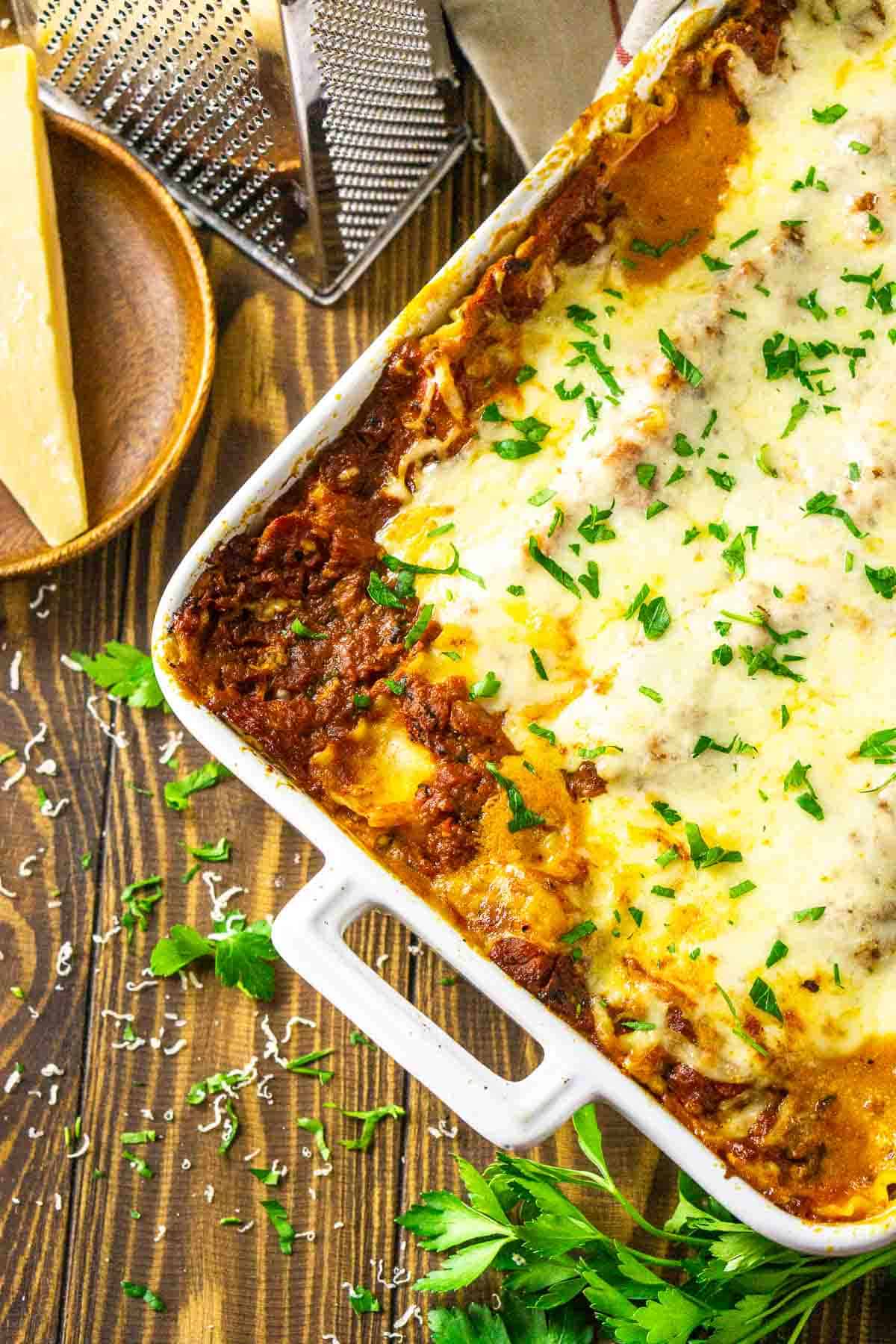 Love a Cozy Pasta Dish?
If you love this recipe, please leave a comment with a five-star rating — or simply hit the five-star button in the recipe card. Don't forget to sign up for my newsletter, and you can follow me on Facebook, Instagram, Pinterest and TikTok.
📖 Recipe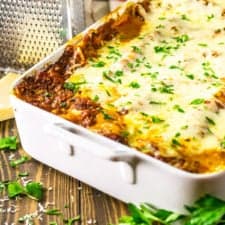 Meatball Lasagna
Comfort food lovers, meet your new favorite dish! With its layers of tender meatballs, gooey mozzarella and creamy ricotta tucked in between delicate pasta noodles, this meatball lasagna is a guaranteed crowd pleaser. For one unforgettable meal, gather good company and serve this meatball lasagna with a loaf of crusty garlic bread and a bottle of chianti.
Print
Pin
Rate
Ingredients
Homemade Tomato Sauce
1

tablespoon

olive or canola oil

1

cup

chopped yellow onion

5

garlic cloves

minced or grated

1

(6-ounce)

can of tomato paste

½

cup

chianti

optional

3-4

(28-ounce)

cans of crushed tomatoes

see notes

10

fresh thyme sprigs

5

fresh rosemary sprigs

4

fresh oregano sprigs

2

dried bay leaves

1

teaspoon

salt

½

teaspoon

pepper

½

cup

fresh chopped basil
Italian Meatballs
1

cup

soft bread crumbs

torn from white sandwich bread, no crust (see note)

1

cup

heavy cream or milk

2

eggs

6

garlic cloves

minced or grated

1

cup

freshly grated Parmesan

using the small holes of a box grater

1

cup

grated onion

using the large holes of a box grater

½

cup

chopped fresh parsley

2

tablespoons

Italian seasoning

2

teaspoons

salt

1

teaspoon

pepper

1

teaspoon

anchovy paste

optional

1

pound

ground beef

preferably 80 percent lean and 20 percent fat

1

pound

ground pork
Meatball Lasagna
1

pound

dried lasagna noodles

30

ounces

ricotta

3

eggs

slightly beaten

1

cup

freshly grated Parmesan

½

cup

fresh chopped basil

½

teaspoon

ground nutmeg

preferably freshly grated

Salt and pepper

5

cups

shredded mozzarella

see note

6

cups

crumbled meatballs

4

cups

tomato sauce

Fresh parsley, chopped, for garnish, optional
Instructions
Homemade Tomato Sauce
Before starting on our meatballs, we make our sauce, so it can get a head start simmering. Heat olive or canola oil in a large stockpot over medium heat. Add chopped onion and cook until soft, about five to eight minutes. Add the garlic cloves and cook for 30 seconds, stirring constantly.

Stir in the tomato paste and chianti. Cook until the chianti is nearly fully reduced.

Pour in the crushed tomatoes with the juice. Tie the thyme, rosemary and oregano together with kitchen twine. Add the bundled herbs with bay leaves and stir in salt and pepper. Mostly cover, leaving a crack open, and bring to a simmer. Stir occasionally and keep the heat as low as possible to maintain a simmer.
Italian Meatballs
Now we start on the meatballs. In a bowl, combine the bread crumbs and heavy cream or milk. Allow the bread crumbs to soak as you prepare the other ingredients.

Beat the eggs in a large mixing bowl. Stir in the garlic cloves, Parmesan, onion, parsley, Italian seasoning, salt, pepper and anchovy paste if using. Drain the bread crumbs in a fine-mesh sieve. Stir in the bread crumbs.

Add the ground beef and pork. Using a gentle touch, stir with a wooden spoon to form one cohesive mixture. You could even use your hands to mix the ingredients together. Mix just until combined.

Lightly oil your hands and form into balls slightly larger than the size of a golf ball. Drop directly into the simmering sauce. Simmer on low to medium-low heat until cooked through, about two to three hours, stirring occasionally. Try to be as gentle as possible when stirring. Alternatively, you could bake the meatballs in a 450-degree oven for 15 minutes or fry in a skillet before simmering. For more details on those instructions, see notes for link.

After simmering, stir in the freshly chopped basil, remove the other herbs and turn off heat.
Meatball Lasagna
Heat oven to 375 degrees. Bring a large pot of salted water to a boil. Cook lasagna noodles according to package directions. Using tongs, immediately remove each lasagna noodle and place on lightly greased parchment paper. This prevents the noodles from clumping together. Alternatively, you can fill the lasagna pan with the hottest tap water possible, place the lasagna noodles in the water so that they're completely submerged, cover with foil and let the soak until they pliable without any hard spots, about 30 minutes.

Mix together ricotta, eggs, Parmesan, basil and nutmeg. Season with salt and pepper and set aside.

Spread ½ cup tomato sauce from meatballs on bottom of a greased lasagna pan or a deep-dish 9-inch-by-13-inch-by-3-inch pan. Place noodles on top to cover the bottom of the pan. If necessary, you can cut a noodle to fill a small space if they don't span over the entire pan. Spread ½ of the ricotta mixture on top of the noodles and then 1 ½ cups of shredded mozzarella. Top with 2 cups crumbled meatballs and 1 cup sauce. Place another layer of lasagna noodles on top. Repeat the ricotta, mozzarella, meatball and sauce filling. Place another layer of lasagna noodles on top. This is the final layer of lasagna noodles. Spread 2 cups of crumbled meatballs on that final noodle layer and 2 cups of sauce on top of the meatballs. Make sure the noodles are fully covered in sauce. Top the meatballs and sauce with 2 cups shredded mozzarella. Cover with foil, trying not to let the foil touch the cheese.

Bake covered for 30 minutes. Remove the foil. Bake for another 15 minutes. Remove from oven and allow to sit in room temperature for 15-20 minutes. This step is crucial to allow the filling to set, so don't skip it. Once the lasagna sits and the filling sets, cut into squares and serve. Enjoy!
Notes
If you don't have time to make the tomato sauce and meatballs from scratch, you can substitute store-bought sauce and meatballs.
Do not use the fresh mozzarella stored in water. It's too wet and can make lasagna soupy. Just get a block of mozzarella and shred it. Shredding it yourself is better than buying a bag of shredded mozzarella because it melts better.
Do not use canned Parmesan. It doesn't melt properly and will leave you with a grainy texture.
Visit my original post for more details on how to make Italian meatballs.
Nutritional information is only an estimate. The accuracy of the nutritional information for any recipe on this site is not guaranteed.
Nutrition
Serving:
1
slice
|
Calories:
750
kcal
|
Carbohydrates:
44
g
|
Protein:
46
g
|
Fat:
40
g
|
Cholesterol:
100
mg
|
Sodium:
2.487
mg
|
Sugar:
18
g