Banana lovers, you're in for a treat. This bananas foster cheesecake is your dream dessert. Studded with crushed toffee and a homemade bananas foster curd on a crisp Nilla wafer crust, you won't find a more decadent, luscious cheesecake.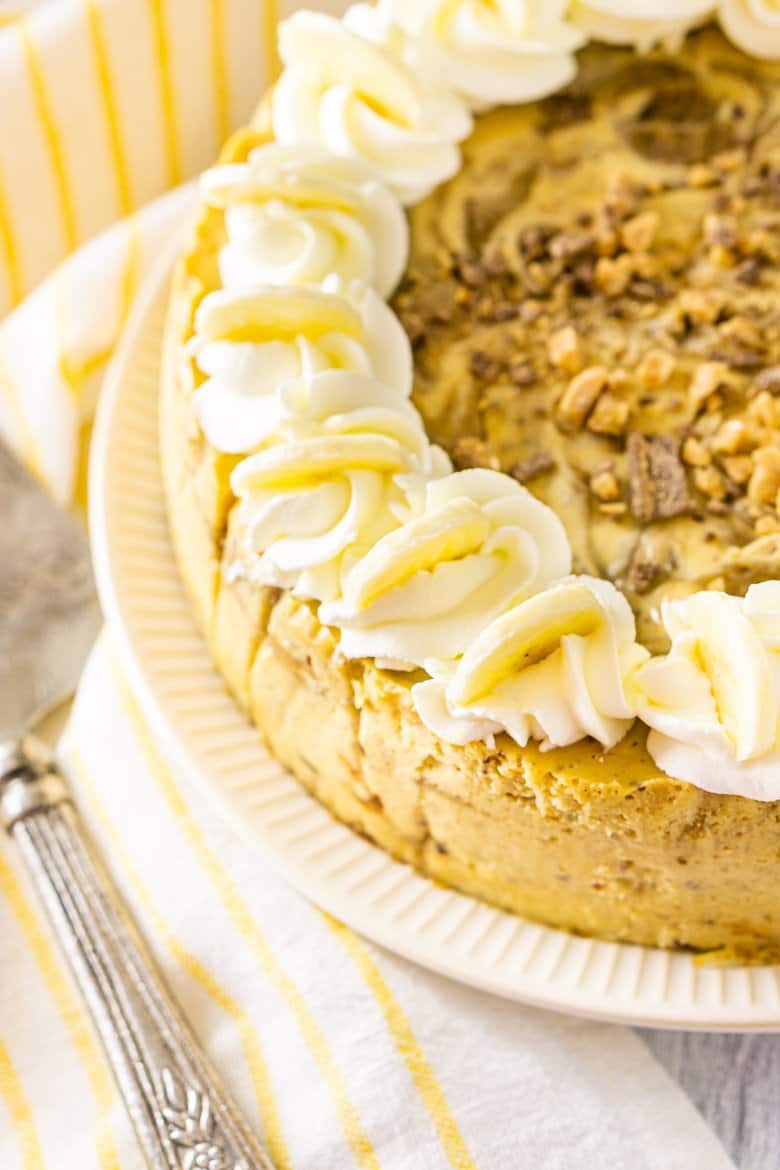 OK, I have to confess. I'm obsessed with this bananas foster cheesecake. No joke.
Have you ever had one of those desserts that's so delicious you can't stop thinking about it? For me, this cheesecake is it. When this cheesecake was last sitting in the refrigerator, I found it constantly popping into my thoughts: "You can have just a sliver. That tiny sliver will hold you over." "The cheesecake was made for human enjoyment. Help it fulfill its destiny." "Was it really that delicious? Is that possible? I better get another slice to make sure."
Sigh. You get it. I can't get enough.
The secret to making this unforgettable cheesecake isn't just in the rich bananas foster curd or chocolatey toffee bits. This cheesecake also boasts the creamiest filling, which we get from a specific baking method.
Rather than simply baking this bananas foster cheesecake at a consistent 350 degrees like most recipes, we initially place the cheesecake in a 350-degree oven, immediately turn the oven to 250 degrees and bake for 90 minutes. Once the cheesecake finishes baking, we turn off the heat and let it sit in the oven with the door closed for three hours.
That low, gentle heat rewards us with an ultra velvety texture that's known to bring tears of joy. By baking at such a low temperature, we also don't have to worry about overbaking, which is a common problem with cheesecake.
Yes, this creamy banana cheesecake takes some time to prepare, but that's true for any baked cheesecake. Some desserts work fine as last-minute options, but cheesecake is not one of them. I figure that means you won't mind baking this luscious cheesecake low and slow and allowing it to rest for a bit longer if it means an even creamier result.
Right? Right.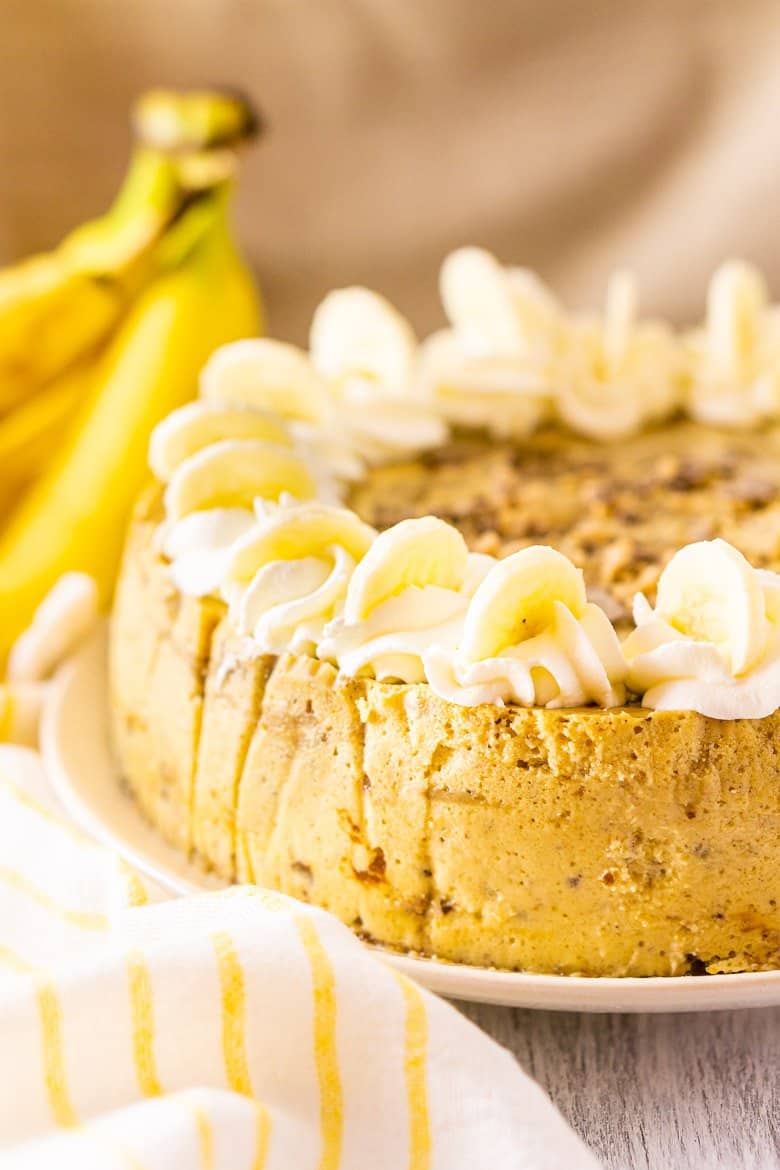 How to Make Nilla Wafer Crust
Let's start with our homemade Nilla wafer crust. We first heat the oven to 350 degrees and prep our springform pan by spraying it with cooking spray and then lining both the bottom and the side with parchment paper like so. This makes it much easier to remove the sides, so I highly recommend this step.
Now we crush our Nilla wafers and stir in a little sugar and melted butter. To crush the wafers, I find a food processor does an excellent job, but you can also put them in a large zip bag and crush with a rolling pin. Just make sure you get it so that the crumbs are nice and fine.
Once our Nilla wafer crumbs are perfectly coated with sugar and butter, we press them down into the springform pan to make a crust and pop in an oven to bake. I recommend using the bottom of a glass or measuring cup to press down the crumbs. This helps compact the crumbs for a sturdy crust.
This next step is optional, but I like to pull the crust out of the oven after about 10 minutes, brush it with an egg white and bake it for another few minutes. Adding the egg white will help the crust stay crisp.
How to Make Homemade Bananas Foster Curd
While our Nilla wafer crust bakes, we can start on our homemade bananas foster curd, which is as easy as can be and takes little time. We simply combine mashed ripe bananas, dark brown sugar and a few egg yolks in a saucepan. To mash the bananas, you can use a couple forks, but I find a potato masher takes care of the job well.
We whisk the mixture constantly on the stove for a few minutes, turn off the heat, and stir in butter and dark rum for good measure. From here, we blend the mixture until smooth using a food processor or immersion blender, and that's it. Now we pour the bananas foster curd in a shallow bowl to allow the mixture to cool and set aside.
If it makes your life easier, you can prepare this bananas foster curd ahead of time and store in the refrigerator. The curd will thicken in the refrigerator, but if you zap it in the microwave and stir, it'll thin out perfectly. You don't have to microwave the curd for long --- just until it's pourable.
Consider this your warning, but you'll want to eat this by the spoonful, so try to find some self-control. Good luck.
Step-by-Step Instructions
All right, with our other ingredients prepped, it's cheesecake time. This part doesn't take too long --- about 15 minutes or so. We first beat softened cream cheese with dark brown sugar with an electric mixer in a large bowl until the mixture is light and fluffy like so.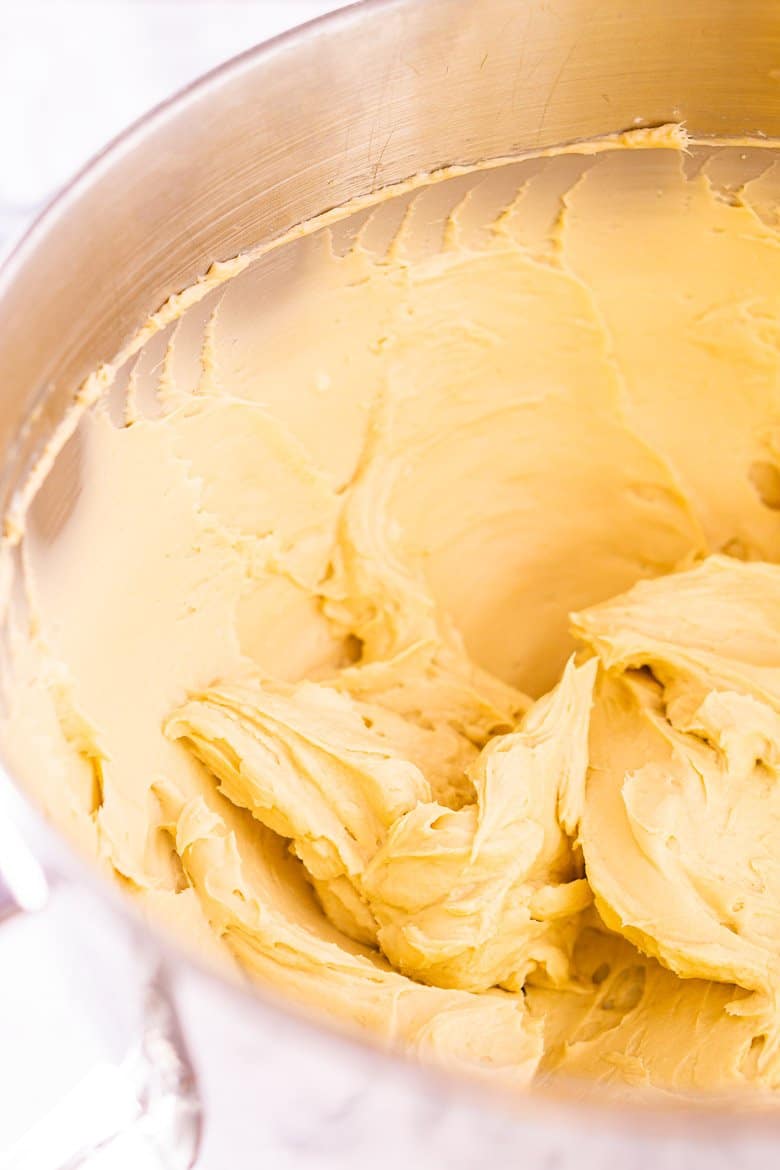 Using softened cream cheese is important. To help ensure the cream cheese is plenty soft, I like to cut the blocks into bite-size cubes and let those sit in room temperature for 30 minutes to an hour. Smaller pieces warm up quicker because, you know, physics.
Now we mix in a little vanilla, sour cream and salt and then add in three eggs, one at a time. Like the cream cheese, we want to make sure the eggs are at room temperature to make a more cohesive mixture, which helps us avoid overbeating the mixture. Stir in some toffee bits and we're ready to prepare the rest of our cheesecake in the springform pan.
To do this, we pour half of our cheesecake mixture into the pan and dollop half of the bananas foster curd on top. We take a butter knife and swirl the two together. Then, we repeat with the second halves. We're now ready to bake using the aforementioned method.
Once our cheesecakes bakes and cools to perfection, we store it in the refrigerator overnight. If you want to get fancy, garnish with some fresh whipped cream and sliced bananas and dig into to your new favorite cheesecake bursting with rich banana flavor.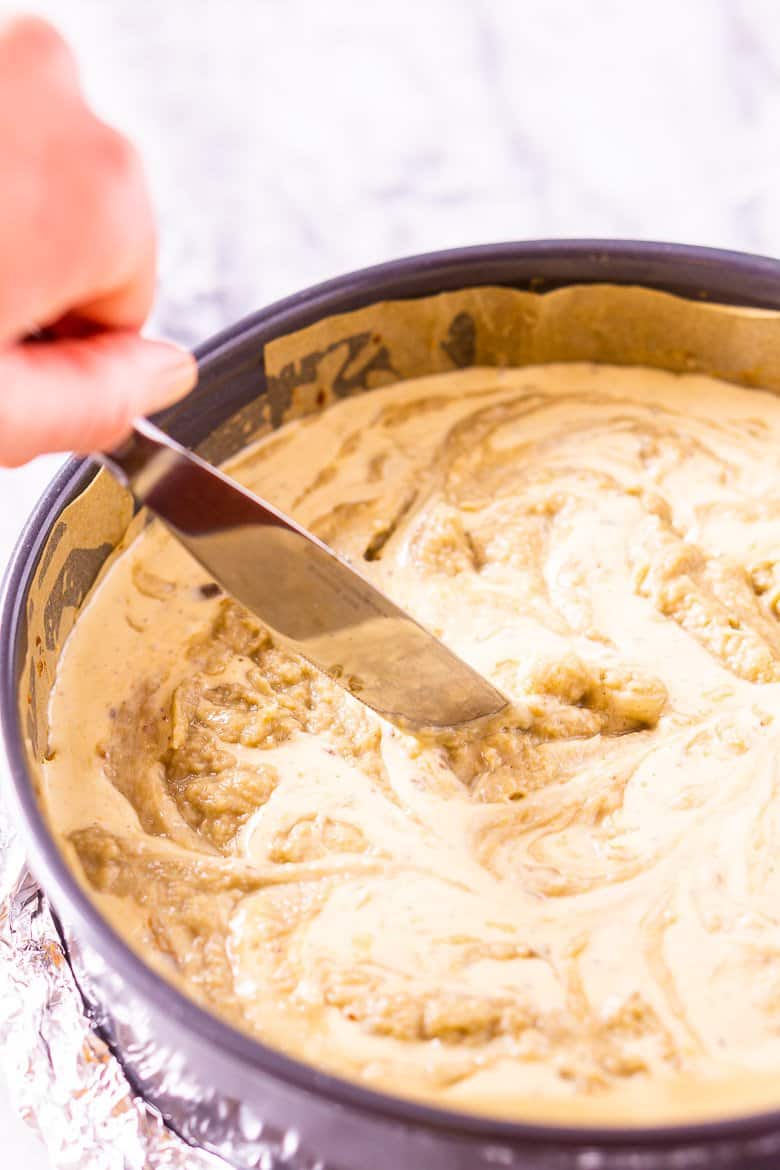 Water Bath or No Water Bath for Cheesecake?
Besides our low and slow baking method, there's also the matter of a water bath, which is when we place our springform pan directly into another pan of hot water while baking. This gives the cheesecake gentle heat and a moist environment.
When I originally posted this blog, I said I don't place my cheesecakes directly into water baths because my springform pan always leaks. Instead, I'd place a pan of boiling water on the rack below the cheesecake. But that's all changed because I discovered a new tip that allows me to place my cheesecake directly into the water bath without leaking.
First, you place your springform pan in an oven bag, and then you double wrap it with foil. How brilliant is that? I can't believe I never thought of this. I learned this trick from Life, Love and Sugar, and it's now my go-to method for baking cheesecake. For the full tutorial, you can check it out here.
Perfect Pairing
As far as I'm concerned, this toffee-studded bananas foster cheesecake was made for a coconut porter or stout. The chocolate notes from the porter or stout are perfect with toffee and a classic banana pairing, and the coconut adds to the tropical vibe we get from the banana. I especially love Maui Brewing Coconut Hiwa Porter or Oskar Blues Brewery Death By Coconut.
For a delightful wine pairing, I suggest a Madeira. The dried fruit and nutty flavors of Madeira play up the caramelization of the bananas while matching beautifully with the toffee for the ultimate dessert harmony.
When nothing but a creamy, dreamy dessert will do, I hope you try this bananas foster cheesecake. I'm sure you'll instantly fall in love. Please let me know how you enjoyed this fresh banana cheesecake recipe in the comment section and don't forget to sign up for my newsletter. You can also catch me on Instagram, Pinterest, Facebook and Twitter.
Cheers!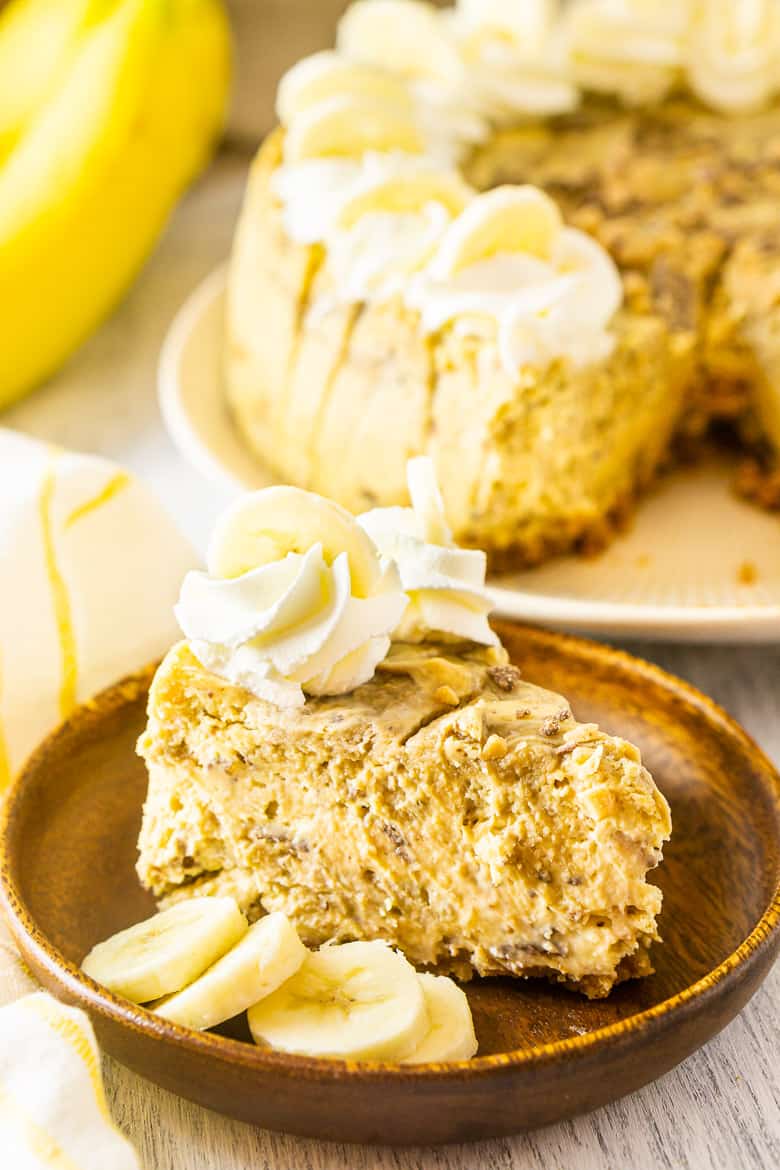 Looking for More Fruity Desserts?
Print
Bananas Foster Cheesecake With Toffee
---
Author:

Prep Time:

45 minutes

Cook Time:

1 hour 50 minutes

Total Time:

2 hours 35 minutes

Yield:

About 12 servings
Description
Banana lovers, you're in for a treat. This bananas foster cheesecake is your dream dessert. Studded with crushed toffee and a homemade bananas foster curd on a crisp Nilla wafer crust, you won't find a more decadent, luscious cheesecake.
---
For Nilla Wafer Crust
1 ½ cups crushed Nilla wafers, approximately 45 cookies
⅓ cup sugar
6 tablespoons butter, melted
1 egg white, lightly beaten (optional)
For Bananas Foster Curd
4 ripe bananas, mashed
3 egg yolks
¼ cup dark brown sugar
Pinch of cinnamon
6 tablespoons butter
2 tablespoons dark rum
For Toffee-Bananas Foster Cheesecake
3 (8)-ounce packages full-fat cream cheese in block form, softened (see note)
1 cup dark brown sugar
1 cup sour cream, room temperature
2 teaspoons vanilla paste or extract
¼ teaspoon salt
3 large eggs, room temperature
1 (8)-ounce package Heath toffee bits
1 cup bananas foster curd
Banana slices, for garnish, optional
Whipped cream, for garnish, optional
---
Instructions
For the Nilla Wafer Crust
Heat the oven to 350 degrees. Spray a 10-inch springform pan with cooking spray. Cut parchment paper to fit the bottom and side of the pan and press to adhere.
Stir together the crushed Nilla wafers, sugar and butter in a bowl until the mixture is evenly moist. Press the crumbs into the parchment paper-lined springform pan. Use the bottom of a measuring cup or glass to compress the crumbs. Bake for 10 minutes.
Remove from the oven. Brush the crust with the beaten egg white and bake for another three to fives minutes. This step is optional, but it helps the crust stay crisp.
For the Bananas Foster Curd
While the Nilla wafer crust bakes, cook the mashed bananas, egg yolks, dark brown sugar and pinch of cinnamon in a saucepan over medium heat. Whisk constantly until the mixture thickens, about five to seven minutes.
Remove from heat and stir in butter and rum until the butter melts. Using an immersion blender or food processor, blend until smooth. Pour into a bowl to allow the mixture start to cool. You will use 1 cup of the bananas foster curd for the cheesecake and can reserve the rest for other uses.
For the Toffee-Bananas Foster Cheesecake
Heat oven to 350 degrees. Tightly wrap the outside of the springform pan with an oven bag and tie on the side if possible. Then, tightly wrap the outside with two layers of aluminum foil, making sure the foil goes all the way up the side for extra insurance. Start boiling water for the water bath. 

To make the cheesecake filling, combine the softened cream cheese and dark brown sugar in the large mixing bowl. Using a stand mixer with the paddle attachment or a hand mixer, beat on medium speed until smooth, creamy and fluffy, about two to three minutes. As needed, scrape down the side of the bowl with a spatula.

Beat in the sour cream, vanilla and salt until it all comes together. Don't overmix.

Beat in the eggs one at a time on medium speed. Mix just until the egg is fully incorporated before adding the next. Gently s

tir in toffee bits.

Pour half of the cheesecake batter into the crust and dollop with half of the bananas foster curd. Use a butter knife to swirl around the batter. Repeat with the remaining cheesecake batter and curd.

Place the wrapped springform pan into a large roasting pan. Fill with enough boiling water to come about halfway up the side of the springform pan. Don't pour water past the foil. Alternatively, you can place a pan of boiling water on the rack below the cheesecake. I recommend this method if you don't have an oven bag and are worried about leakage.
Place the cheesecake on the middle rack, close the oven door and immediately turn the oven to 250 degrees. Bake for 1 hour and 40 minutes.

After the hour and 30 minutes, turn off the oven completely. Do not open the oven door. Let the cheesecake sit for 3 hours. Do not open the oven door at this point either. 

Remove the cheesecake and allow to come to room temperature, about an hour or so. Place in the refrigerator uncovered with the springform pan intact. Do not cover at this point or condensation will build up. Refrigerate until the cheesecake is cold, at least four hours, before covering. Allow to set in the refrigerator for at least another four hours or overnight, which is preferred.
When ready to serve, remove the springform pan. The parchment paper should make it easy to remove. If desired, garnish with banana slices and whipped cream. Enjoy!
Notes
The crust can be made two or three days ahead of time. Allow to cool and then store covered until ready to use.
The bananas foster curd can also be made ahead and stored in the refrigerator. It will thicken in the refrigerator, so you'll need to thin it out in the microwave. Just microwave it for short bursts and stir until it's pourable. You don't need to get the mixture hot. Just a little extra warmth and stirring should get it back to the pourable stage.
For blending the bananas foster curd, I definitely recommend an immersion blender or food processor over your typical counter blender. It just doesn't work as well for this step.
To most effectively soften the cream cheese, cut the blocks into bite-size pieces and let sit for 30 minutes to an hour until soft. This is important to make sure it reaches the right consistency when beaten.
For a more detailed tutorial on wrapping the springform pan with an oven bag and foil, see this article from Life, Love and Sugar.
For the water bath, I find it easiest to boil water on the stove in a tea kettle.
Nutritional information is only an estimate. The accuracy of the nutritional information for any recipe on this site is not guaranteed.
Category:

Desserts

Method:

Baking

Cuisine:

American
Nutrition
Serving Size:

1 slice

Calories:

500

Sugar:

32

Sodium:

440

Fat:

25

Saturated Fat:

0

Unsaturated Fat:

0

Trans Fat:

0

Carbohydrates:

45

Fiber:

0

Protein:

8

Cholesterol:

157
Keywords: bananas foster cheesecake, banana cheesecake, toffee cheesecake