Buckle up because this authentic Texas chili is the most flavorful, perfectly spiced bowl of red you've ever tried. Made with a dried chile paste rather than chili powder, every bite of this beefy chili is filled with tender chuck roast in a rich red gravy. This real Texas chili comes with just the right kick and is a guaranteed party pleaser.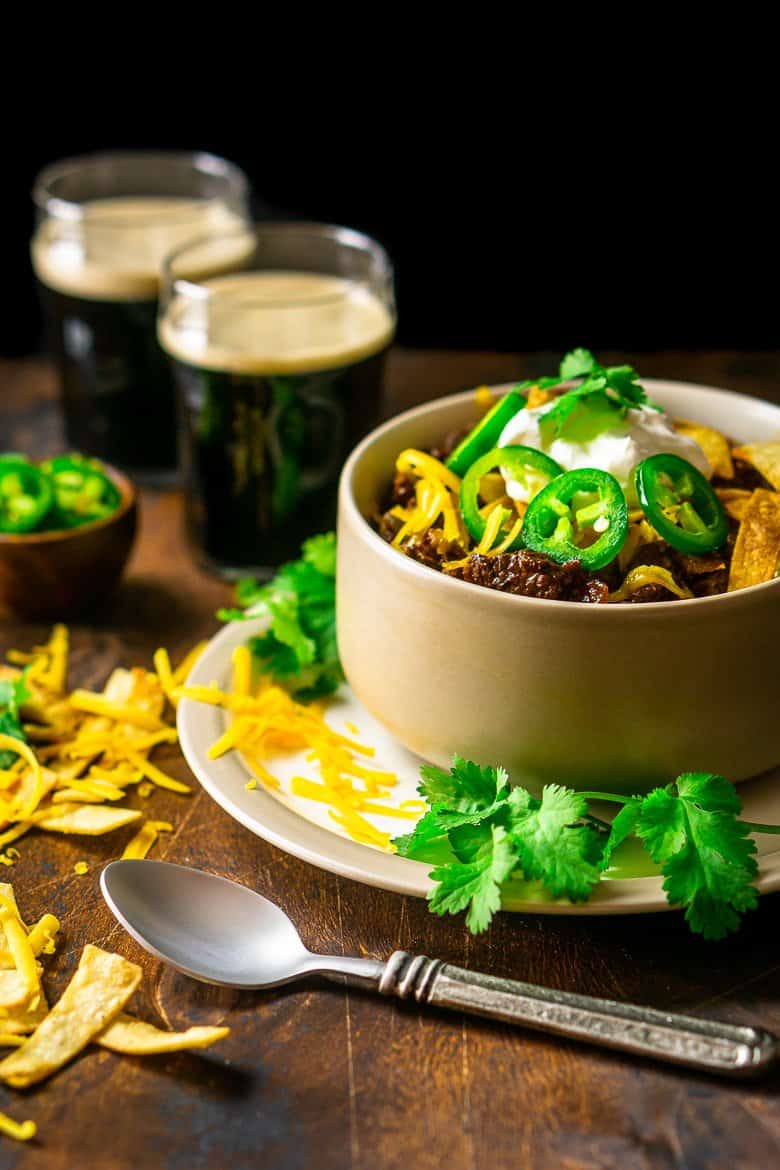 Jump to:
While I live in Denver, I was born and raised in Houston and spent my college years in Waco, Texas, so I've made and tried countless chili recipes in my lifetime. Of course, being an annoying perfectionist, I've also spent years tinkering and testing different spice combinations for my own recipe, and I'm happy to report I've perfected my Texas chili.
So what makes my chili especially great? Making a paste from dried chiles instead of your standard chili powder that many other recipes use. Yes, it's a little extra work, but a fabulous chili takes some effort. After you taste how much more complex and flavorful dried chile paste is compared to those with just chili powder, you won't go back.
In addition, I complement that dried chile paste with a few warm spices. Cumin is a given, but I also include cinnamon, allspice and cloves, which add a richness. When these elements all come together, you're in for one lip-smacking delicious bowl of authentic Texas chili.
Bonus: If you love this recipe, make sure you also check out my smoked chili, short rib chili and Dutch oven chili!
What Is Texas Chili?
While you can find all sorts of chili varieties, Texas chili comes with a red base and two strict rules: no beans and no tomatoes. Real Texas chili is all about the beef, chiles and spices.
Of course, that's not to say beans and tomatoes aren't delicious in chili. Despite growing up in Texas, I've had many delicious chilis over the years that feature beans and tomatoes. Those chilis just aren't a true Texas style.
If you're a big bean or tomato chili fan and not overly concerned with adhering to strict Texas guidelines, you're more than welcome to use this recipe as a base and add those fillers. But if you have your heart on staying true to an authentic recipe, leave the beans and tomatoes for another day.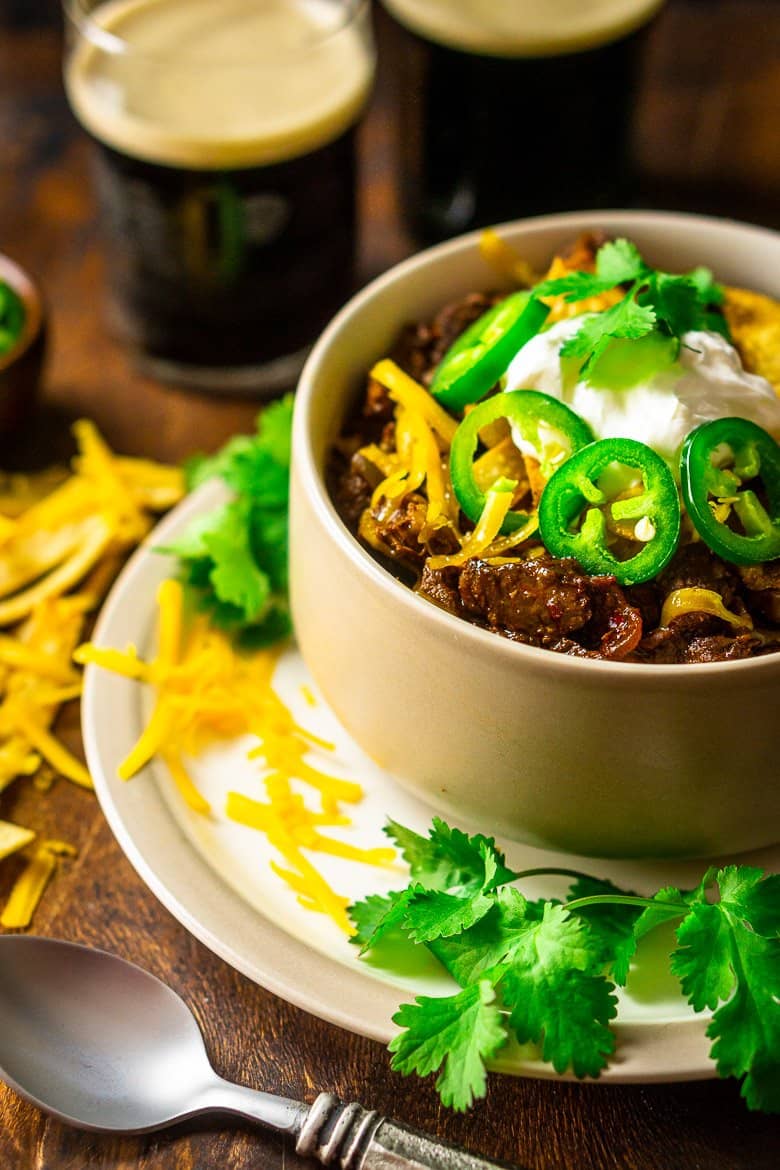 Ingredients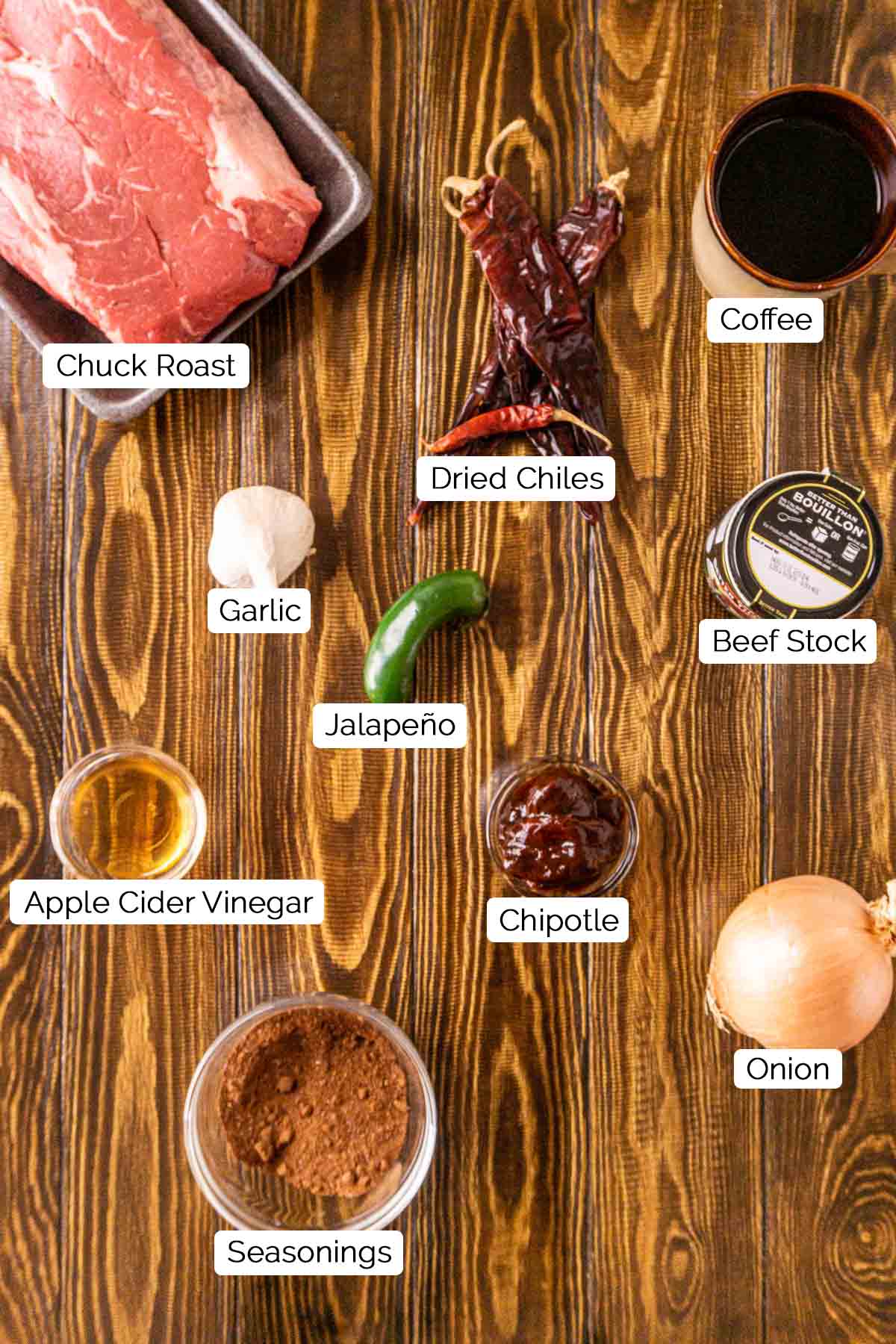 Before we start cooking, let's organize our ingredients. Here's what we need to make this perfectly spiced red chili.
Chuck roast
Dried guajillo chiles
Dried arbol chiles
Chipotles in adobo sauce
Fresh jalapenos
Olive oil
Onions
Garlic
Beef stock
Coffee
Apple cider vinegar
Dark brown sugar
Cocoa powder
A variety of spices, including cumin, smoked paprika, Mexican oregano, cayenne, coriander, cinnamon, cloves and allspice
Salt
Step-by-Step-Instructions
How to Make Dried Chile Paste
To make our dried chile paste, we start by toasting our chiles on the stove until they turn fragrant. This should only take a few minutes. After toasting, we add some beef stock to the pot and allow the chiles to simmer for about 15 minutes.
We then throw our chiles and beef stock into a blender with some chipotle peppers and adobo sauce and then mix until it becomes a smooth paste. That's all it takes.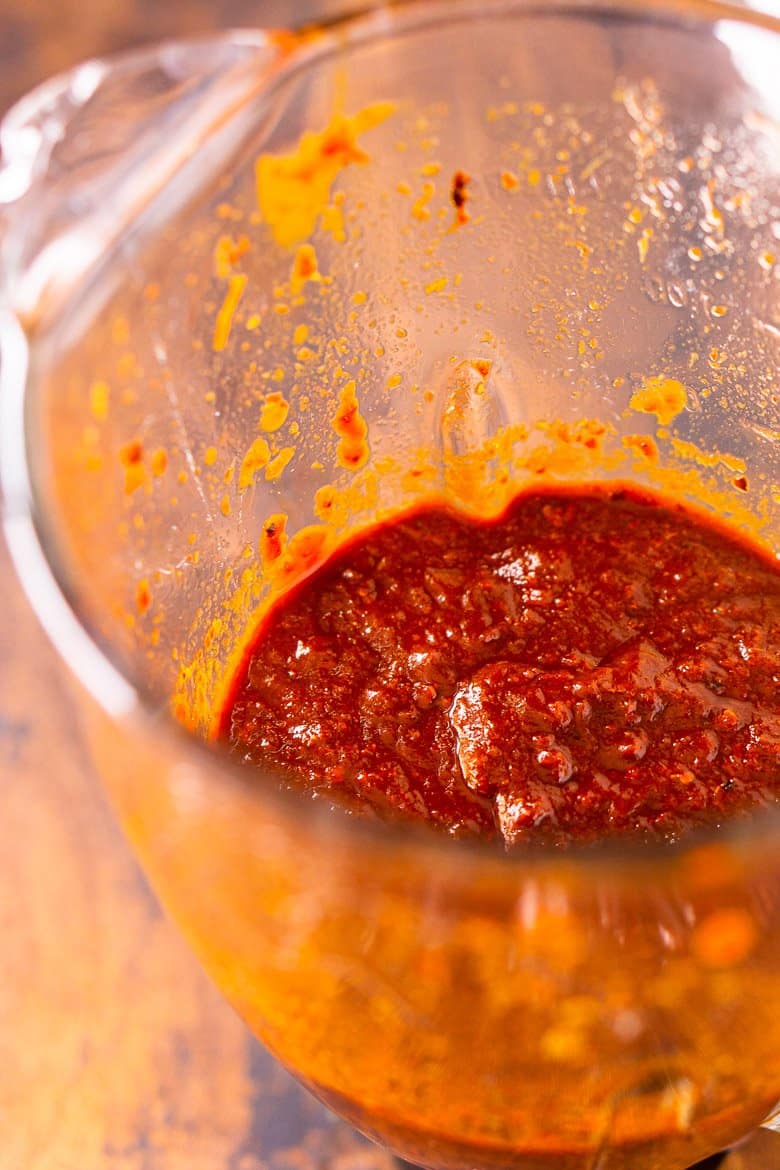 How to Make Chili
With our dried chile paste prepared, we're ready to start on the rest of the dish. We begin by cutting our chuck roast into small, bite-size pieces, about ½-inch diameter.
I won't lie. This step takes some time, so put on your current Netflix show or some good music and just enjoy the process of cooking a leisurely meal.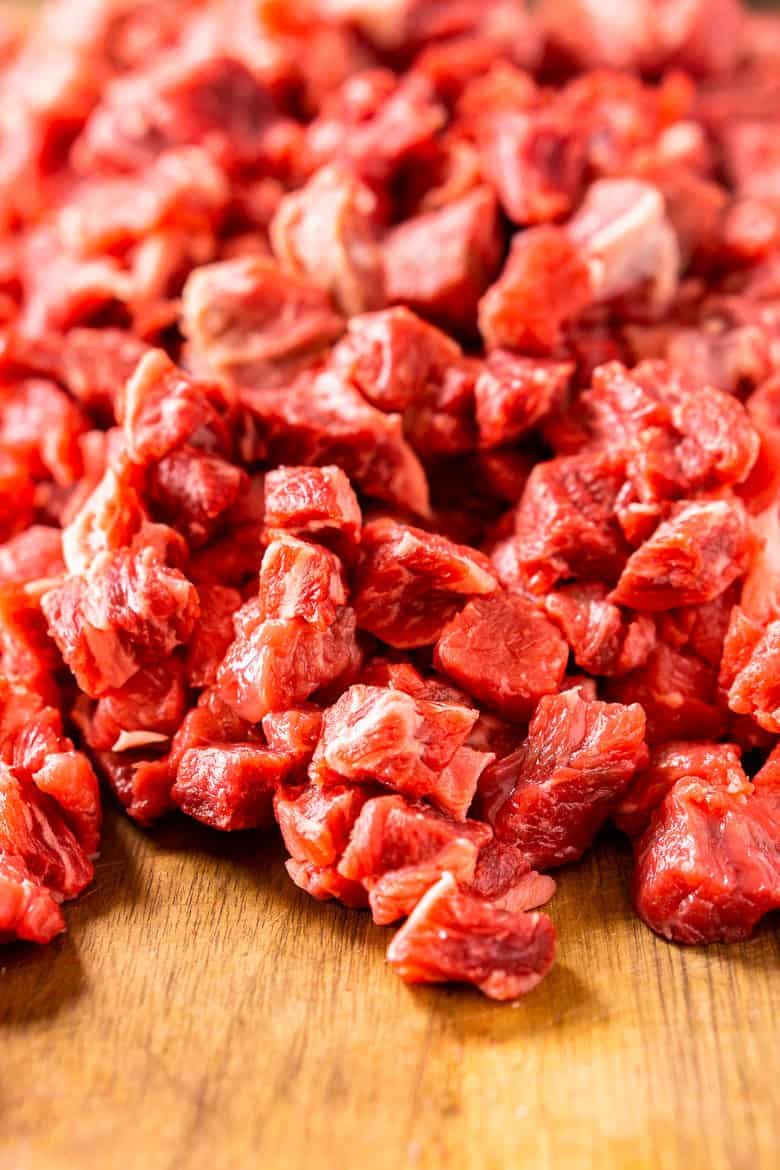 Once we cut up our chuck roast, we brown the meat.
After the chuck roast browns, we remove it from the pot and cook some onion, jalapeño and garlic.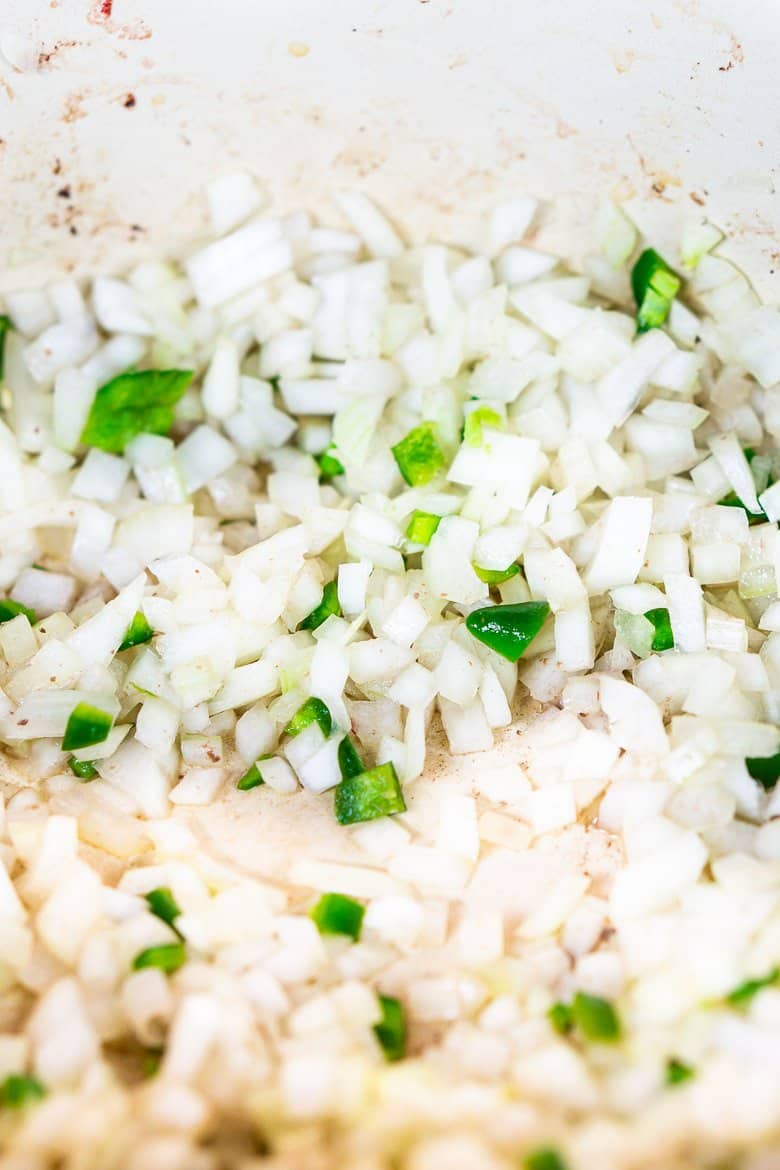 We put the beef back in the pot along with our chile paste, beef stock, coffee, apple cider vinegar and spices and let the mixture simmer away.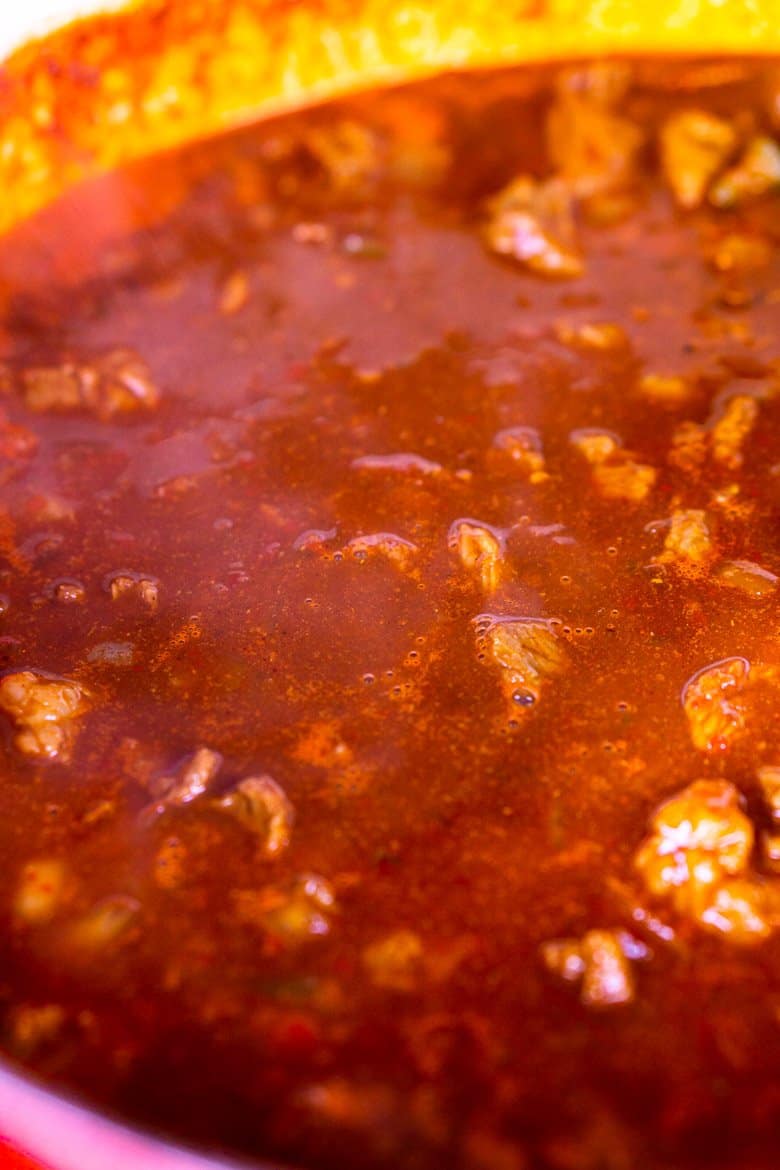 After about two hours, the beef chuck will be perfectly tender, and the chili will thicken to a gravy-like consistency. You'll notice the gravy will reduce quite a bit. That's normal for Texas chili, which isn't as soupy as some other chilis.
If you're dying for more liquid, you can always add some beef stock, but I prefer not to as I don't want to dilute that complex chile flavor. But you do you.
Recipe FAQs
Is Texas chili spicy?
I believe a good Texas chili recipe should come with a kick. At the same time, I'm against spice that's so intense you can only taste the heat without the nuanced flavors.

I designed this recipe for just that. This recipe comes with enough spice that we know we're eating chili and not some flavorless beef stew, but it also won't disintegrate your taste buds.

Of course, heat levels are subjective. If you're sensitive to heat, you may want to skip the cayenne pepper. Once the chili finishes cooking, you can taste it and add cayenne pepper to your liking or skip it entirely.
Can you make chili ahead of time?
Absolutely! In fact, I encourage it.

I love making this chili at least a day before serving. Not only does this make for easy entertaining but it also gives the flavors a chance to meld, making for an even more delicious chili.

That's not to say this chili isn't tasty right after cooking. I just think it gets even better when it has a chance to sit.
How do you serve Texas chili?
I typically love to serve my chili in a bowl like a stew with my favorite toppings. Cheese, sour cream, cilantro, lime slices, fried tortillas strips, fresh jalapenos and avocado are all delicious options. And, of course, you can't go wrong with a side of my jalapeno popper cornbread with whipped cream cheese butter.

But this chili doesn't only have to come in a bowl. I'm a huge fan of serving this chili with nachos, fries, baked potatoes, queso, burgers -- you name it. You'll find Texas red chili is as versatile as it comes.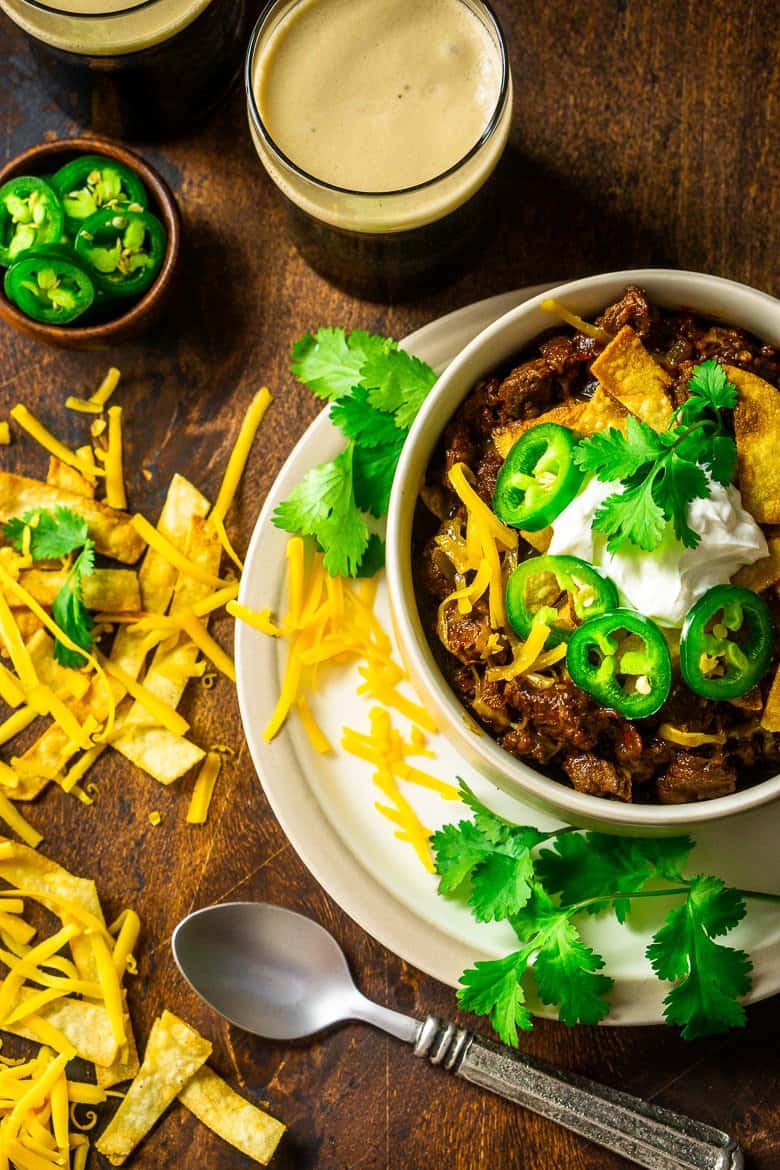 Perfect Pairing
A roasty stout is the perfect beer with this chili. The stout's thick body is bold enough to stand up to our heavy stew and rich beef, and the roasted malt nicely complements the warm spices.
Not a beer fan? Try a zinfandel. With a zinfandel, we get a lot of fruit to counter the heat as well as a peppery finish that melds with the rest of the spices. Zinfandel also has plenty of acidity to keep our palate refreshed after each bite.
Of course, if you'd like a cocktail, you can't go wrong with a Texas margarita. Besides the namesake, this margarita is great with chili. It features both fresh lime and orange juices to give those warm spices a welcome brightness.
When nothing but a big bowl of red will do, I hope you try this authentic Texas chili. After many years of testing, I truly believe this chili is as good as it gets.
Cheers!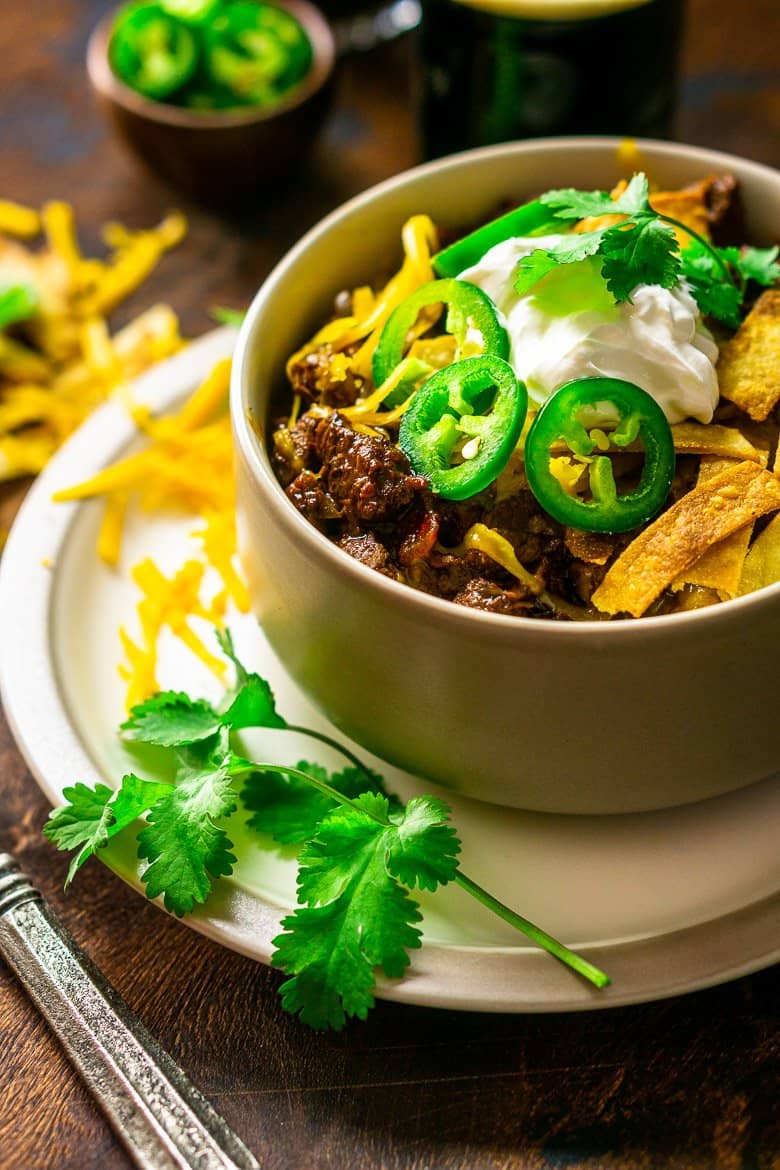 Get More Cozy Soups and Stews
If you love this recipe, please leave a comment with a five-star rating — or simply hit the five-star button in the recipe card. Don't forget to sign up for my newsletter, and you can follow me on Facebook, Instagram, Pinterest and TikTok.
📖 Recipe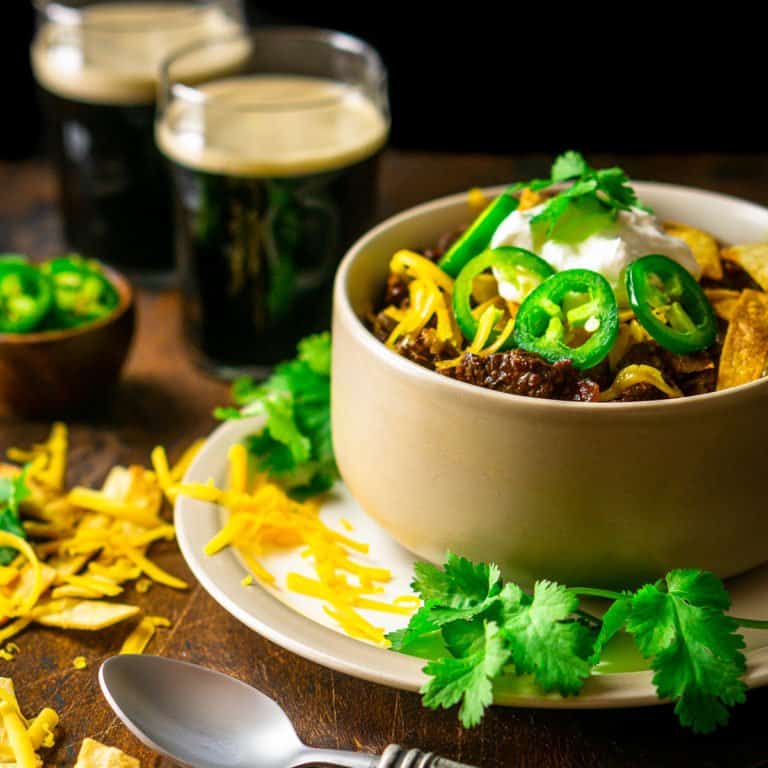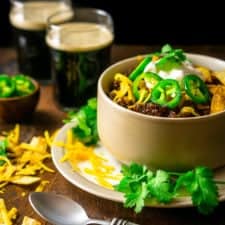 Authentic Texas Chili From a Texan
Buckle up because you're about to cook the most flavorful, perfectly spiced chili you've ever tried. Made with a dried chile paste rather than chili powder, every bite of this authentic Texas chili is filled with tender chuck roast in a rich red gravy. This chili comes with just the right kick and is a guaranteed party pleaser.
Print
Pin
Rate
Ingredients
8

dried guajillo chiles

stemmed and seeds removed

1

dried arbol chile

stemmed and seeds removed

5

cups

beef stock

divided

4

chipotle peppers in adobo sauce

seeds left intact

2

tablespoons

adobo sauce

2

tablespoons

olive oil

4

pounds

boneless beef chuck roast

cut into ½- to ¾-inch pieces, excess fat removed

2

onions

diced

2

jalapenos

seeded and chopped

6

garlic cloves

minced or grated

1

cup

strong coffee

2

tablespoons

apple cider vinegar

1

tablespoon

cocoa powder

1

tablespoon

dark brown sugar

1

tablespoon

ground cumin

2

teaspoons

smoked paprika

1

teaspoon

salt

1

teaspoon

dried Mexican oregano

1

teaspoon

cayenne pepper

1

teaspoon

coriander

½

teaspoon

ground cinnamon

½

teaspoon

ground cloves

½

teaspoon

ground allspice
Instructions
Over medium-high heat in a large Dutch oven or stock pot, toast the dried chiles until fragrant, about two to three minutes. Add 2 cups beef stock and bring the mixture to a simmer. Cover, reduce heat and continue to simmer for 10-15 minutes until the chiles soften and are pliable.

Add the chiles and beef stock used to simmer the chiles to a blender with the chipotle peppers and adobo sauce. Blend until smooth. This is the dried chile paste. Set aside.

Heat oil in a large stock pot over medium heat. Cook half of the beef chuck until browned, about a few minutes on both sides. Remove from the pot and then repeat with the other half of the beef. Once the second half is browned, remove that beef from the pot as well. Remove excessive drippings so that there's about 2 tablespoons of liquid left in the pot.

Add the onion and jalapenos to the pot. Cook until softened, about four to five minutes. Add the garlic and cook for 30 seconds, stirring constantly. Pour in remaining 3 cups of beef stock and strong coffee, scraping up the bottom of the pot with a wooden spoon.

Add the beef back to the pot with the dried chile paste. Stir in apple cider vinegar, cocoa powder, dark brown sugar, cumin, smoked paprika, salt, Mexican oregano, cayenne pepper, coriander, cinnamon, cloves and allspice.

Bring the chili up to a boil and then lower heat to a simmer. Keep the pot mostly covered with a crack open. Simmer for two to two and a half hours while stirring occasionally. Serve with desired toppings. Enjoy!
Notes
If you're sensitive to heat, you might want to leave out the cayenne pepper until the end. Try the chili after cooking and then add cayenne pepper in small increments to taste.
This chili is even better if it has time to sit in the refrigerator. If possible, I recommend making it at least a day in advance, though it's still good if you need to serve it immediately.
After cooking, the liquid will reduce a lot. This is normal for Texas chili, which isn't as soupy as some other chilis. If you want it soupier, you can add more beef stock, but I don't really recommend it because you'll dilute the chile flavor. Your call but just consider it a warning.
You can absolutely freeze this chili in an airtight container.
Nutritional information is only an estimate. The accuracy of the nutritional information for any recipe on this site is not guaranteed.
Nutrition
Serving:
1
bowl
|
Calories:
585
kcal
|
Carbohydrates:
3
g
|
Protein:
44
g
|
Fat:
42
g
|
Saturated Fat:
16
g
|
Cholesterol:
140
mg
|
Sodium:
202
mg
|
Sugar:
2
g