Bring an authentic taste of New Orleans right to your own kitchen with a big batch of this crowd-favorite crawfish gumbo with andouille sausage! A deep, dark roux is perfectly seasoned with Cajun spices and loaded with tender crawfish tails to make one unforgettable gumbo. One taste and your friends and family will beg you to make this Cajun classic for every occasion.
Jump to:
What Are Crawfish?
Also known as crayfish, crawdads and mudbugs, these are freshwater crustaceans that look like a mini lobster. In fact, the flavor is delicate and slightly sweet, similar to a cross between lobster and shrimp.
Crawfish season runs from November to July with the spring being the peak. This is when crawfish boils become especially popular social events in the South.
If you've never attended a crawfish boil, put it on your bucket list. Crawfish are boiled with plenty of Cajun seasoning, potatoes, corn and sausage and then dumped onto a butcher paper-lined table and eaten family style. It's the perfect way to enjoy good company and warmer weather while chowing down on some spicy crawfish and sipping on an ice-cold beer.
And, of course, you can always host your own boil. Here's a great crawfish boil recipe.
Why You'll Love This Recipe
Full of Louisiana flavor: You'll think you're in the French Quarter when this crawfish gumbo is on the menu. I grew up in Houston, where Cajun influence is all over the food scene, and have made many trips to New Orleans, so I know a good gumbo. This crawfish gumbo recipe tastes just like what you would get in the Big Easy.
Serves a crowd: If you serve this as the main meal, you can feed 10 people. This also works just as well as a starter for more like 20 appetizer servings. No matter when you serve this, everyone will be full and happy.
Perfect for making ahead: While you can certainly serve this gumbo right away, I think it's even better the next day for easy entertaining. A little time in the refrigerator gives the flavors time to meld. Plus, you can make a batch, freeze it and serve at a later time — gumbo freezes beautifully.
Related: If you love Creole and Cajun cuisine, make sure you also try this crawfish mac and cheese.
Ingredients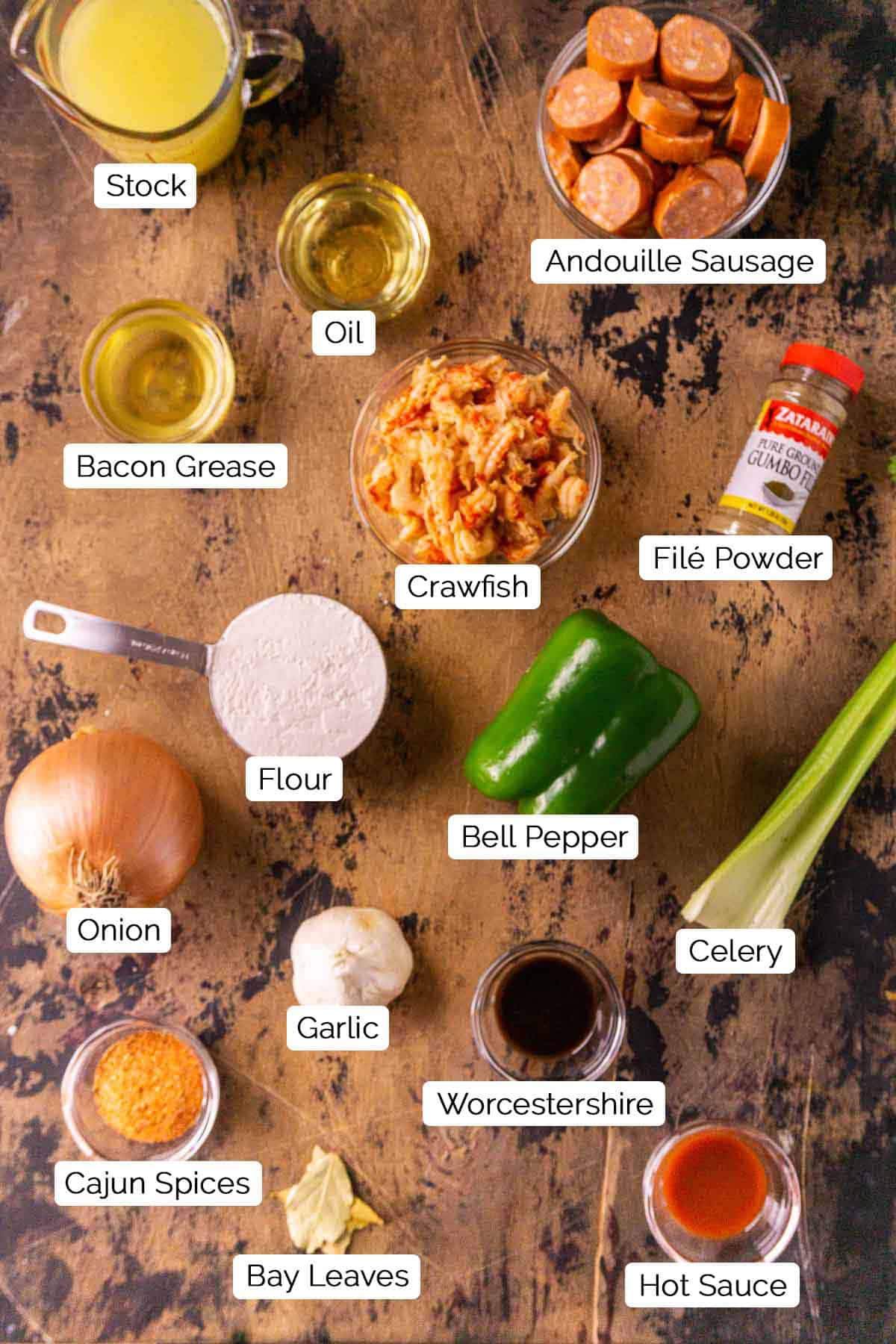 Crawfish: You can use leftover tail meat from your crawfish boil or frozen, pre-cooked crawfish tails. Generally, I can find frozen crawfish tails at Whole Foods. They're also available online.
Andouille sausage: This is a smoked Cajun sausage. You'll love how it adds just a touch of smoky depth to the gumbo.
Onion, celery and green bell pepper: In Cajun and Creole cooking, these three are known as the Holy Trinity and serve as the flavor base for so many dishes, such as red beans and rice and étouffée. You may have also heard this combination referred to as a mirepoix.
Canola oil and bacon grease: These are the fats we use to make the traditional gumbo roux. I love using bacon grease because of the flavor it adds, but if you don't have any on hand, you can replace the bacon grease with more canola oil.
All-purpose flour: This is our thickening agent to make the classic gumbo roux.
Stock: You can use chicken stock or seafood stock.
Cajun seasoning: I always use my homemade Cajun seasoning. The flavor is better than store-bought seasoning, the ingredients are all natural, and you probably have the seasonings in your spice cabinet. Of course, you can substitute a store-bought seasoning, but I think it's well-worth a few minutes of your time to whip up your own blend.
Filé powder: Do not skip this important ingredient. Filé powder is simply ground sassafras leaves. Not only does filé powder help thicken the gumbo but it also adds a distinct flavor — your final gumbo just isn't the same without filé powder. You should be able to find it in the spice section, often near the seafood boil seasoning blends, and it's even available on Amazon.
Step-by-Step Ingredients
Step 1: We begin by browning the andouille sausage in a heavy-bottomed pot or large Dutch oven on both sides like so (photo 1). You'll love how this step gives the sausage a nice crust for some texture.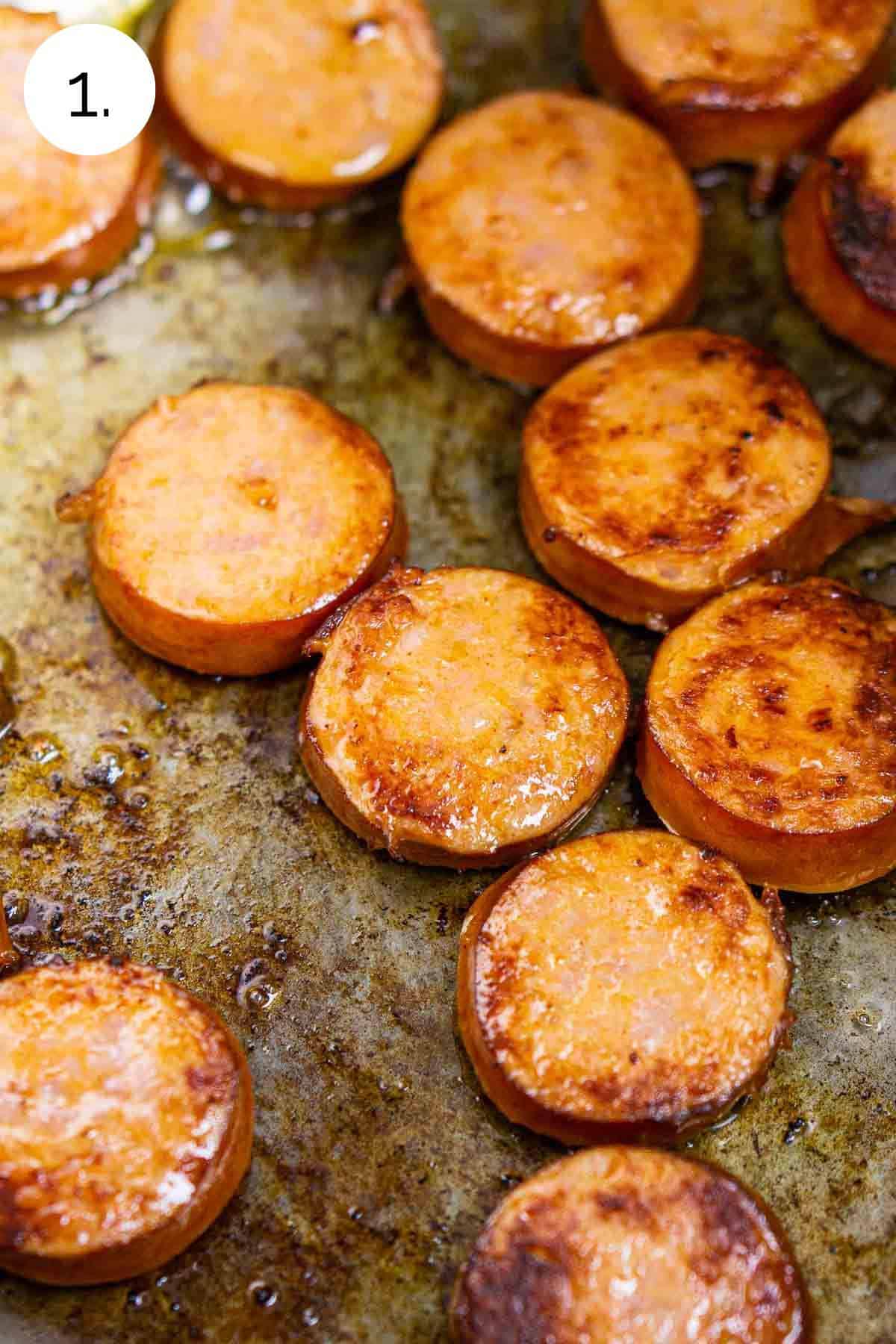 Step 2: Now we're ready to make our roux. For this step, we add in more canola oil with the bacon grease and whisk in the flour. At first, the roux will be a pale blond color, but as we continue to whisk, it will darken to the color of peanut butter and eventually transform into the color of melted chocolate (photos 2-5).
This takes time. I always expect for this stage to take anywhere from 45-60 minutes for a proper dark roux, so put on some music and enjoy the cooking process. The darker the roux, the more flavorful the gumbo — we don't want to skimp on this step for best results.
Step 3: Once we get that perfect dark gumbo roux, we add the onion, green bell pepper and celery to the large pot (photo 6) and cook the three until they soften. We then add the garlic cloves and stir constantly for 30 seconds.
Step 4: From here, we slowly pour in the stock and add the dried bay leaves, Cajun seasoning, Worcestershire sauce, hot sauce and reserved sausage. We turn up the heat to bring the mixture to a boil (photo 7) and then cover the pot and reduce the heat to keep the gumbo at a simmer for an hour.
Step 5: After simmering, we stir in the crawfish tail meat and filé powder and allow it to cook for just a couple minutes to heat the crawfish (photo 8). And just like that, our gumbo is ready.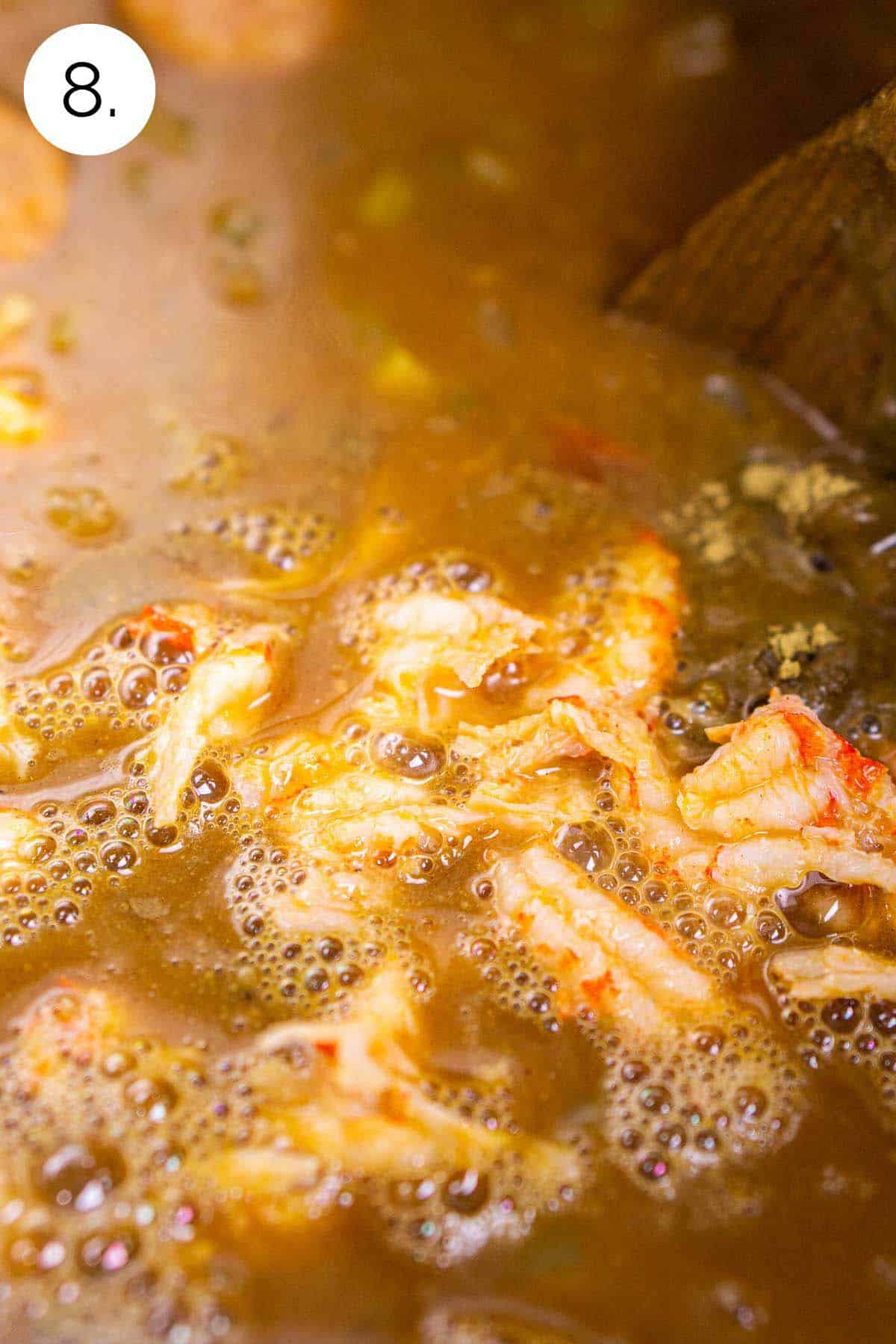 How to Serve
When you're ready to dig in, scoop the crawfish gumbo into bowls, add some steaming white rice, sprinkle some fresh parsley on top and serve with hot sauce on the side. You now have yourself the perfect Cajun meal. Seriously, how amazing is that gumbo?
In addition to some hot rice, here are some other side dishes that perfectly complement our gumbo.
How to Store, Freeze and Reheat
After simmering, allow the gumbo to cool completely and store it in the refrigerator in an airtight container. The gumbo should last for about three days.
For longer storage, keep the gumbo in a freezer-safe container and freeze for up to six months. You can still eat the gumbo after six months, but you may find the quality will degrade over time. When you're ready to thaw the gumbo, you can use the defrost setting on your microwave.
To reheat, you can again use the microwave or warm it on the stove. Simply heat the gumbo over medium heat until it simmers and warms to your liking.
Recipe FAQs
What is a roux?
This is the base of the gumbo, made from cooking fat and flour together. In addition to thickening the gumbo in conjunction with the filé powder, it also acts as the flavor backbone. That's why we want to let the roux properly darken — the best gumbos take time.
Can you make roux ahead of time?
Absolutely, you can make the roux ahead of time without a problem. Once the roux reaches that beautiful chocolate stage, store it in an airtight container in the refrigerator for up to two to three weeks. The refrigeration will cause it to solidify, but it will liquify once heated.
Is this gumbo spicy?
This gumbo recipe has a kick, but it certainly won't set your tongue ablaze. In my experience, most people can tolerate the spice in gumbo just fine.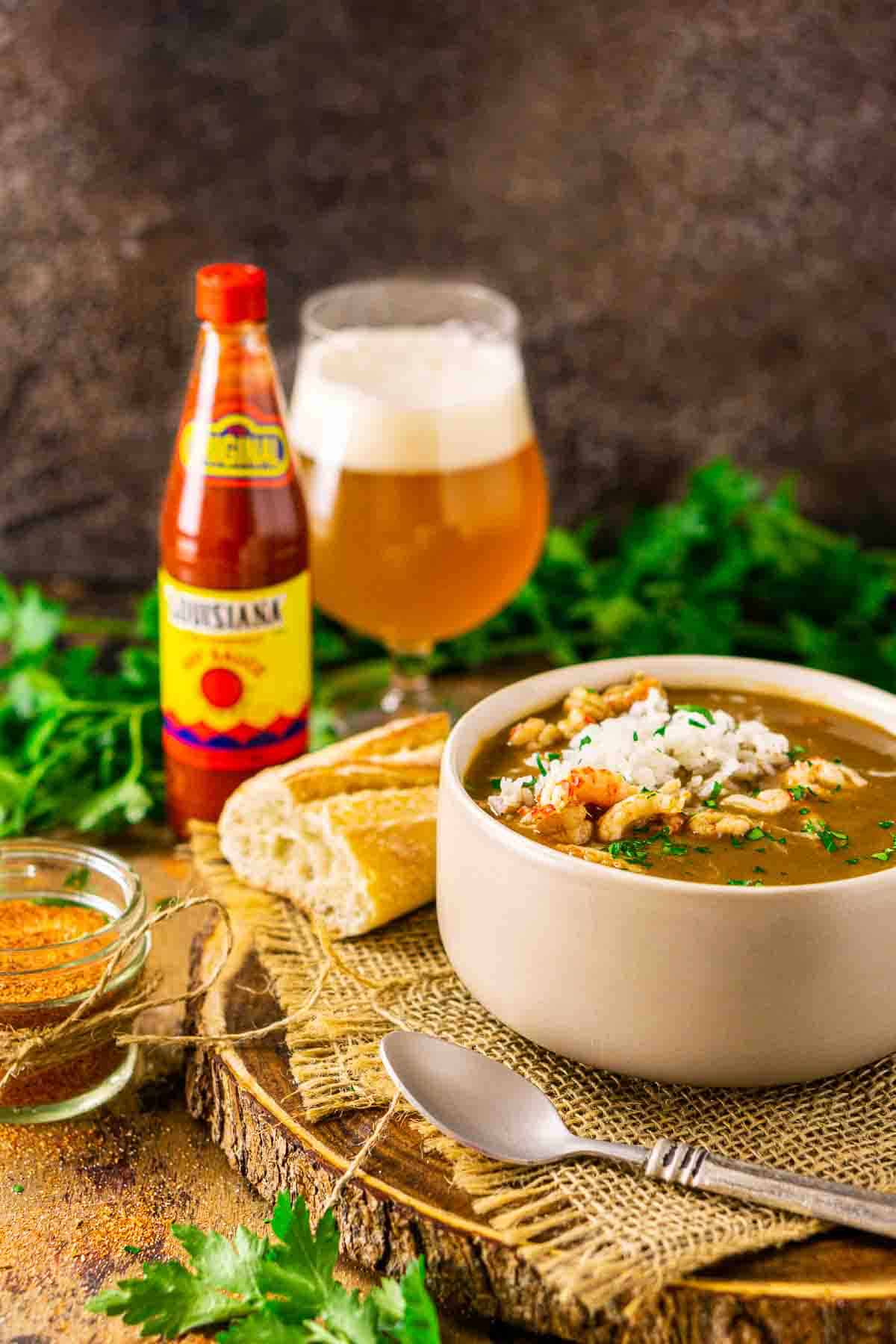 Variations and Substitutions
Need to make a tweak to this recipe? Here are a few ways you can add a different spin.
Use another seafood: Like in my crab and seafood gumbo, you can absolutely substitute the crawfish for another type of seafood.
Try another smoked sausage: I recommend andouille sausage for the most authentic gumbo flavor, but you can use another smoked sausage if andouille isn't available. Fortunately, andouille is pretty easy to find these days.
Add okra: Not all gumbos include okra. I think this gumbo is perfectly thickened and flavored with just filé powder and the roux, but you can certainly add it if you'd like. Simply add sliced okra and simmer with the rest of the ingredients. Frozen or fresh okra both work.
Make it spicier: Want more of a kick? Add cayenne pepper to taste.
Expert Tips
Don't overcrowd the pan when browning the sausage: If you add too much sausage at a time, you won't get that brown exterior. We use a lot of sausage, so you need to take care of this step in batches.
Keep an eye on the roux: Once the roux burns, it's ruined, and you have to start from the beginning. If it starts smoking, lower the heat to medium low. You can turn it back up after it cools down a bit.
Prep the Holy Trinity before making the roux: The roux requires constant whisking, so you can't really multitask and chop the onion, bell pepper and celery at the same time unless you have a cooking buddy.
Use canola oil, not olive oil: Olive oil is much more likely to burn. We want an oil with a higher smoke point, which is why canola oil works so well.
Perfect Pairing
A pale ale is just what you need with this gumbo. This type of beer brings us a nice balance of hops and malt. While the hops accentuate the spice, the bready malt complements the toasted notes of the roux and also balances any heat.
For a wine pairing, you'll love an off-dry riesling on the side. With an off-dry riesling, we get a nice acidic kick that cuts through that rich, complex broth and helps the crawfish flavor shine. You'll also love how that slight sweetness contrasts the warm spices.
If you're looking for a cocktail, a Ramos gin fizz is a classic New Orleans cocktail. Besides the historic parallels, this cocktail features fresh lemon and lime juices to add some brightness to our crawfish and help keep our palates refreshed.
When you need the ultimate Cajun dish, it doesn't get better than this crawfish gumbo with andouille sausage. It's sure to whisk you away to a trip to New Orleans for some good eats.
Cheers!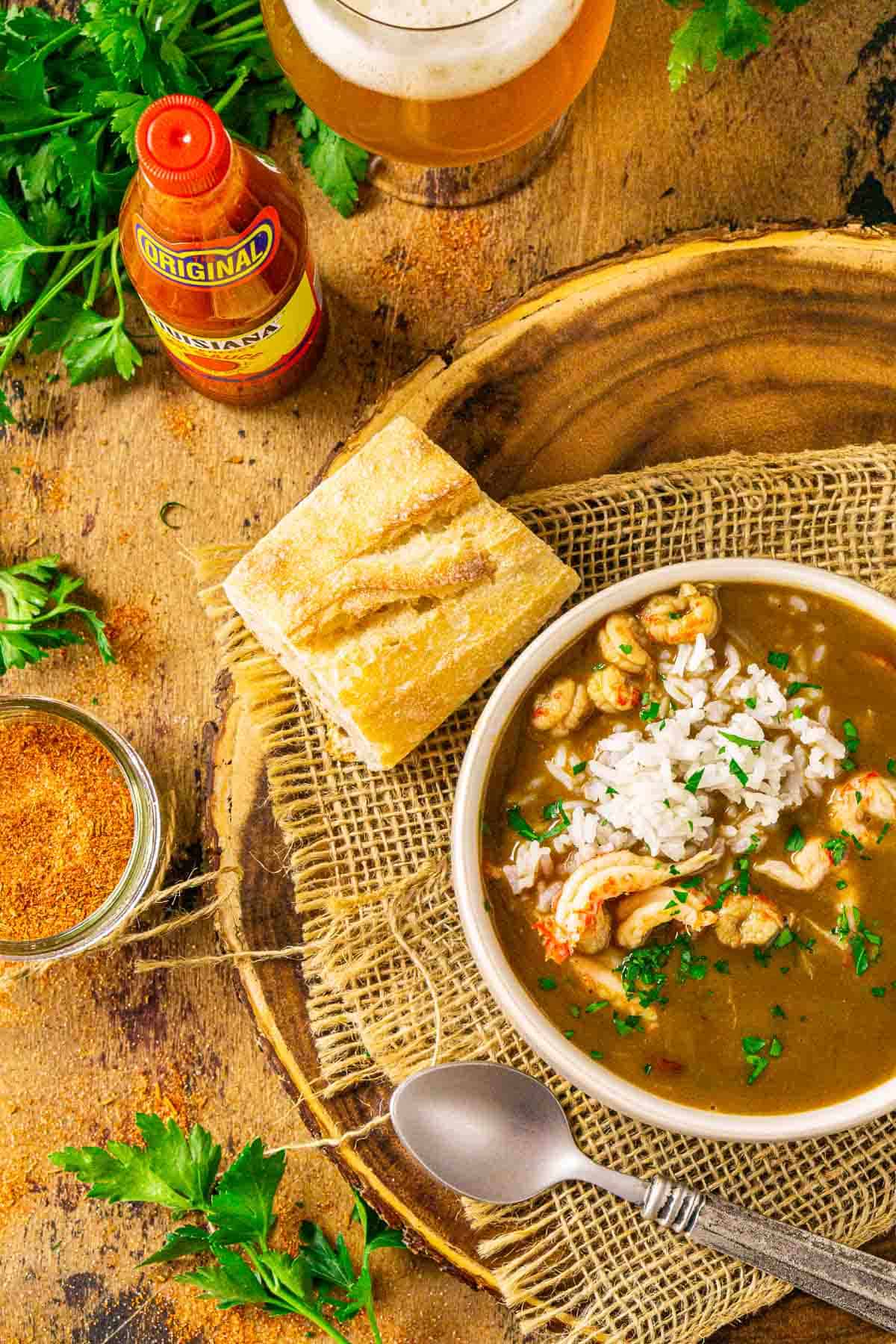 Get More Cajun Recipes
If you love this recipe, please leave a comment with a five-star rating — or simply hit the five-star button in the recipe card. Don't forget to sign up for my newsletter, and you can follow me on Facebook, Instagram, Pinterest and TikTok.
📖 Recipe
Crawfish Gumbo With Andouille Sausage
Bring an authentic taste of New Orleans right to your own kitchen with a big batch of this crowd-favorite crawfish gumbo with andouille sausage! A deep, dark roux is perfectly seasoned with Cajun spices and loaded with tender crawfish tails to make one unforgettable gumbo. One taste and your friends and family will beg you to make this Cajun classic for every occasion.
Print
Pin
Rate
Equipment
Large stock pot or Dutch oven
Ingredients
¼

cup plus 1 tablespoon

canola oil

divided

24

ounces

andouille sausage

cut into slices

¼

cup

melted bacon grease

1

cup

all-purpose flour

3

celery ribs

chopped

2

green bell peppers

chopped

1

yellow onion

chopped

4

garlic cloves

minced or grated

9

cups

chicken stock

can substitute seafood stock

3

dried bay leaves

2

tablespoons

Cajun seasoning

preferably homemade

1

tablespoon

Worcestershire sauce

1

tablespoon

hot sauce

2

pounds

cooked crawfish tails

about 4-5 cups

1

tablespoon

filé powder

Rice for serving

Chopped fresh parsley

optional, for garnish
Instructions
In a large stockpot, add 1 tablespoon canola oil and heat on medium. When the oil is hot, add half the andouille sausage and cook until browned, about two to three minutes. Flip and brown on the other side and remove from the pot. Repeat with the other half of the sausage and also remove from the pot and reserve.

Add ¼ cup canola oil and bacon grease. After it heats, whisk in flour. Whisk continuously until the roux turns the color of melted chocolate. This should take about 45-60 minutes. As it cooks, you may need to reduce the heat to medium-low if it starts to smoke and get too hot. You don't want the heat too high to make the roux cook faster because it could burn.

Once the roux is ready, stir in the celery, green pepper and onion and cook for about five minutes. Stir the vegetables often. Add garlic and cook for about 30 seconds, stirring constantly.

Slowly stir in the stock. Add in the bay leaves, Cajun seasoning, Worcestershire sauce, hot sauce and reserved sausage. Bring to a boil over medium-high heat and then reduce to a simmer over medium-low heat. Cover and simmer for about an hour and stir occasionally.

After an hour, stir in the crawfish tails and filé powder. Allow to simmer for a minute or two — just enough to heat the crawfish. Serve with rice and parsley if desired. Enjoy!
Notes
Store the gumbo in an airtight container in the refrigerator for up to four days. You can also freeze it for up to six months.
Prep the bell pepper, onion and celery before starting on the roux. Making a roux requires constant whisking, so you can't really multitask unless you have a cooking partner who can chop while you whisk the roux.
Nutritional information is only an estimate. The accuracy of the nutritional information for any recipe on this site is not guaranteed.
Nutrition
Serving:
1
bowl
|
Calories:
473
kcal
|
Carbohydrates:
22
g
|
Protein:
22
g
|
Fat:
33
g
|
Saturated Fat:
10
g
|
Polyunsaturated Fat:
6
g
|
Monounsaturated Fat:
15
g
|
Trans Fat:
0.2
g
|
Cholesterol:
86
mg
|
Sodium:
942
mg
|
Potassium:
612
mg
|
Fiber:
1
g
|
Sugar:
6
g
|
Vitamin A:
828
IU
|
Vitamin C:
22
mg
|
Calcium:
33
mg
|
Iron:
3
mg