Rich, dense and ultra moist, this perfectly spiced carrot pound cake with a cream cheese glaze puts a tasty spin on a classic dessert. For the utmost decadence, serve with a giant scoop of ice cream for a dessert everyone is sure to love. Pound cake never tasted so good.
Jump to:
Why You'll Love This Recipe
OK, who loves carrot cake? And who loves pound cake? I know you have two hands raised. That's why you're here, right?
As you can probably guess, I love both, so I naturally had to bring the two together to make one ultimate cake.
My inspiration for this cake came when I made my buttermilk-pumpkin pound cake. The dense nature of the pound cake perfectly held up the moisture-filled pumpkin, and I just loved how those warm spices played with the subtle buttermilk tang. Instantly, I started thinking of other pound cake variations, and my brain went to my favorite carrot cake.
Of course! If this pumpkin pound cake was so delicious, how could a carrot variation not be up to the task? And trust me. This carrot pound cake certainly is.
Bonus: If you love this recipe, all check out my banana pound cake! It's truly divine.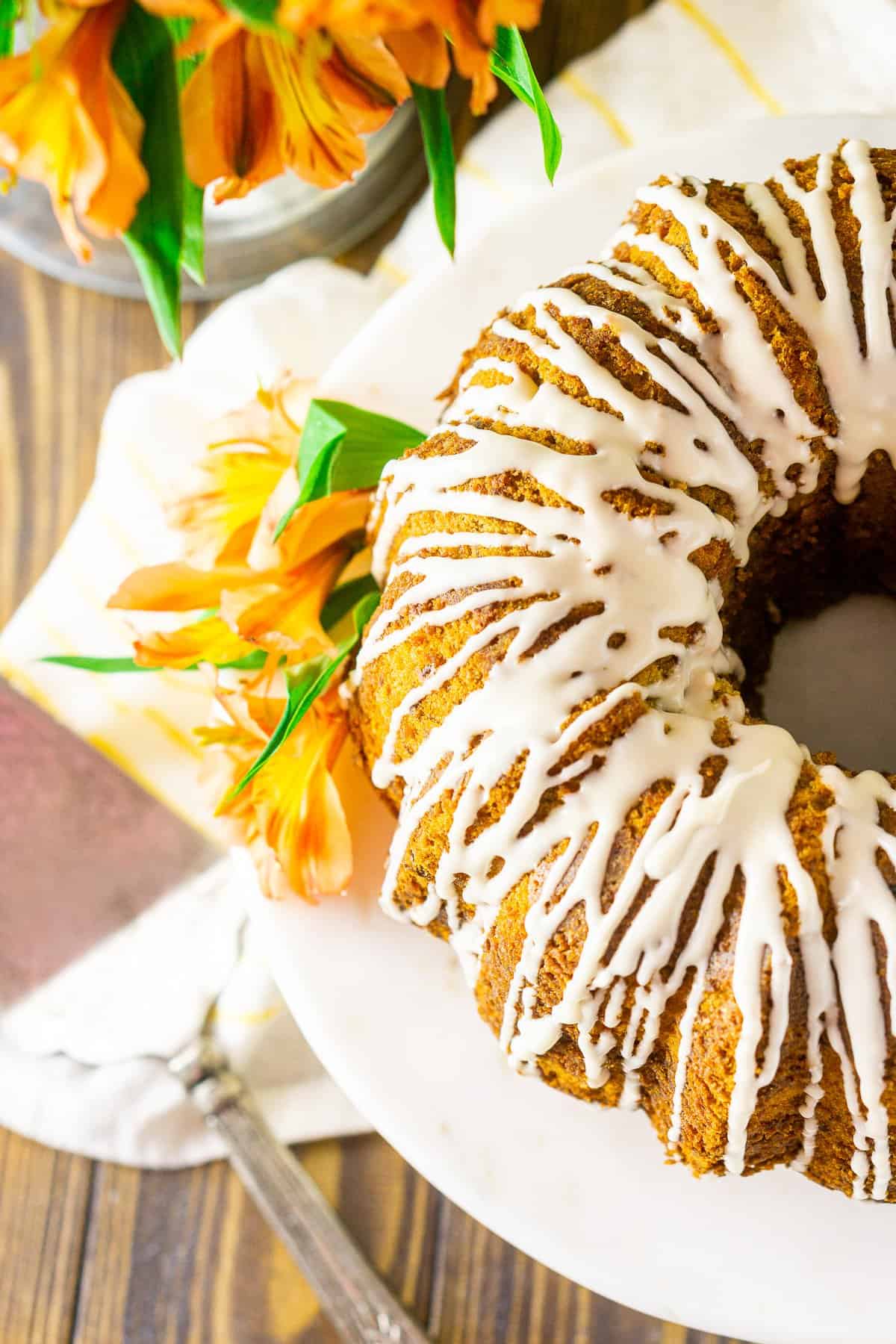 Ingredients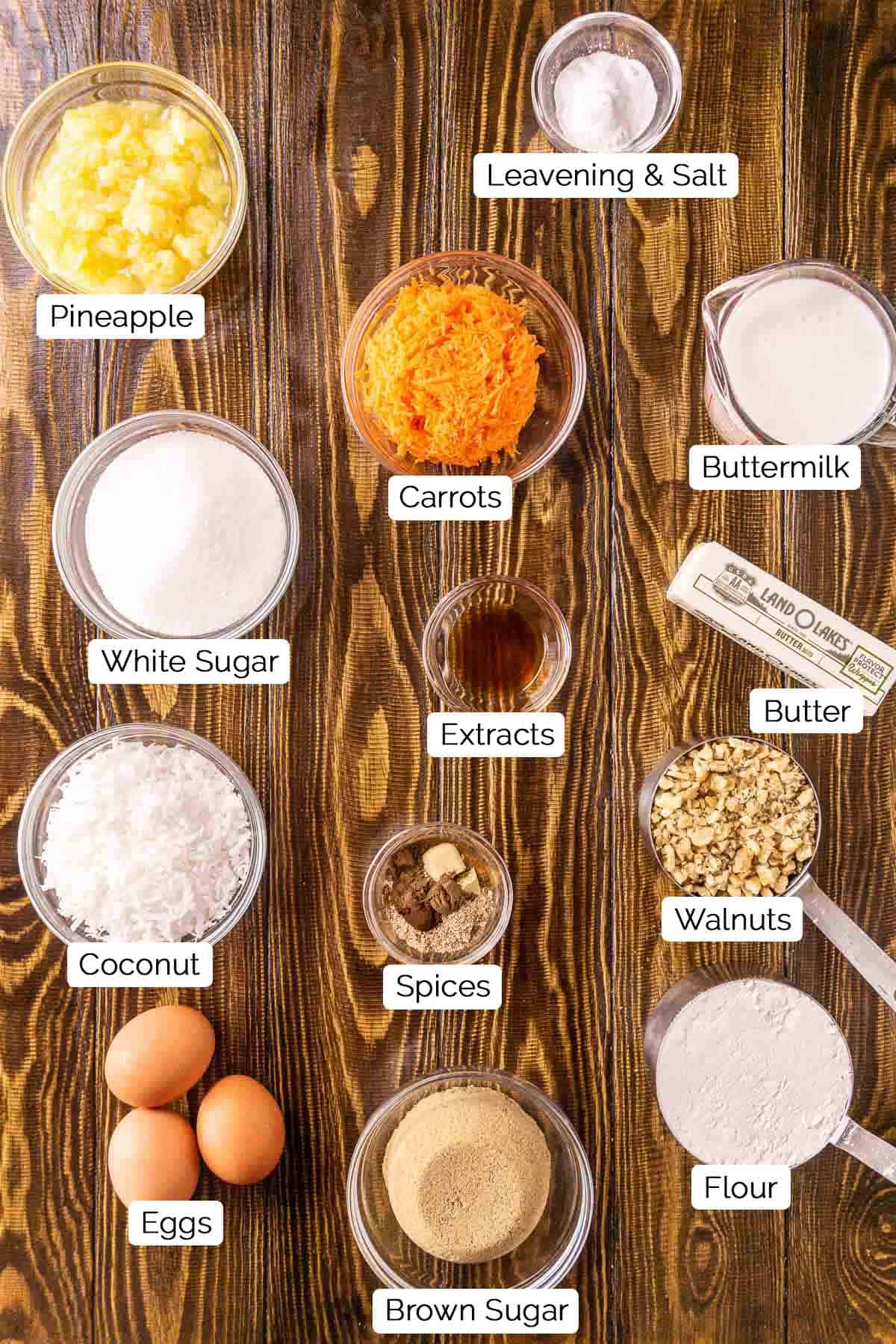 Flour: This recipe has been tested with all-purpose flour.
Carrots: Make sure you grate your own carrots and don't buy packaged grated carrots, which are much too dry. Grating our own carrots just takes a few minutes, and it adds moisture to the cake.
Buttermilk: If you don't have buttermilk on hand, you can make your own by adding ½ tablespoon lemon juice or distilled white vinegar to ½ cup whole milk. Once the mixture sits for five to 10 minutes, we have our buttermilk substitute.
Brown sugar: I'm a huge fan of dark brown sugar over light brown sugar. The extra molasses adds an extra touch of moisture and richness that I love, but don't worry if you only have light brown sugar. That will also work, but my favorite is dark brown sugar.
Eggs: This recipe calls for seven eggs. Yes, it's a lot of eggs, but six to seven eggs are standard for most pound cake recipes.
Walnuts: Before adding the walnuts to the batter, I recommend toasting them to bring out the flavor. To toast the walnuts, simply heat a skillet over medium heat, add the walnuts and stir frequently until they turn fragrant, which should take only two to three minutes.
Crushed pineapple: Make sure you save the juice. We're adding both the crushed pineapple and juice to the batter.
Extracts: We use a combination of vanilla extract and almond extract. I love the unique flavor almond extract brings to the dark brown sugar and warm spices, but if you only have vanilla extract, you can use that instead and still end up with a delicious cake.
Cream cheese glaze: The pictured ingredients are for the cake. If you'd like to make the optional cream cheese glaze, you'll need cream cheese, powdered sugar, vanilla extract and milk.
Step-by-Step Instructions
How to Make the Cake
Step 1: Let's start baking. We begin by sifting together flour, salt, baking powder, baking soda and plenty of spices, including cinnamon, nutmeg, cloves, ginger and allspice (photo 1).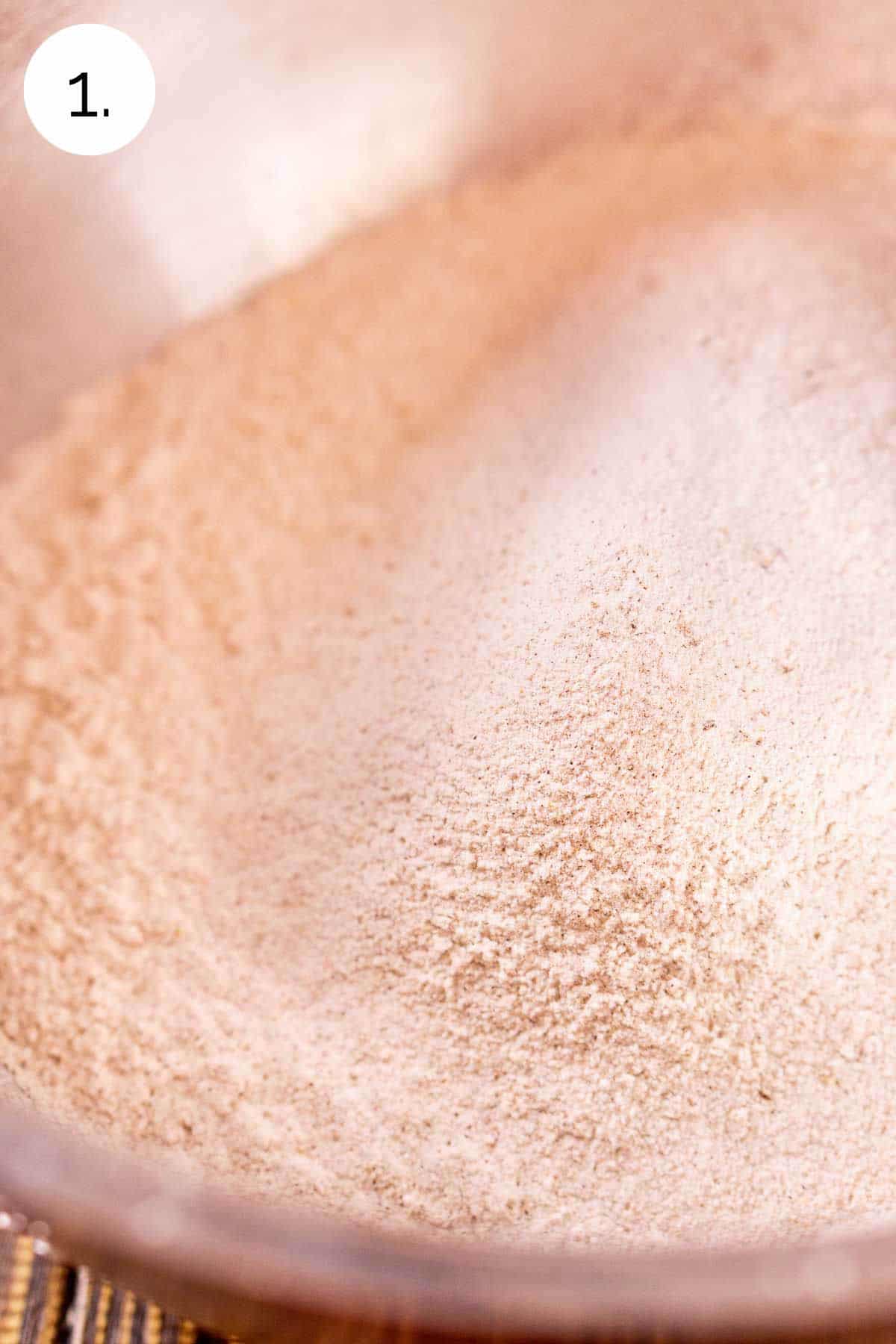 Step 2: Now we move on to our wet ingredients. We start by beating a combination of dark brown sugar, white sugar, butter, vanilla extract and almond extract until the mixture turns light and fluffy (photo 2).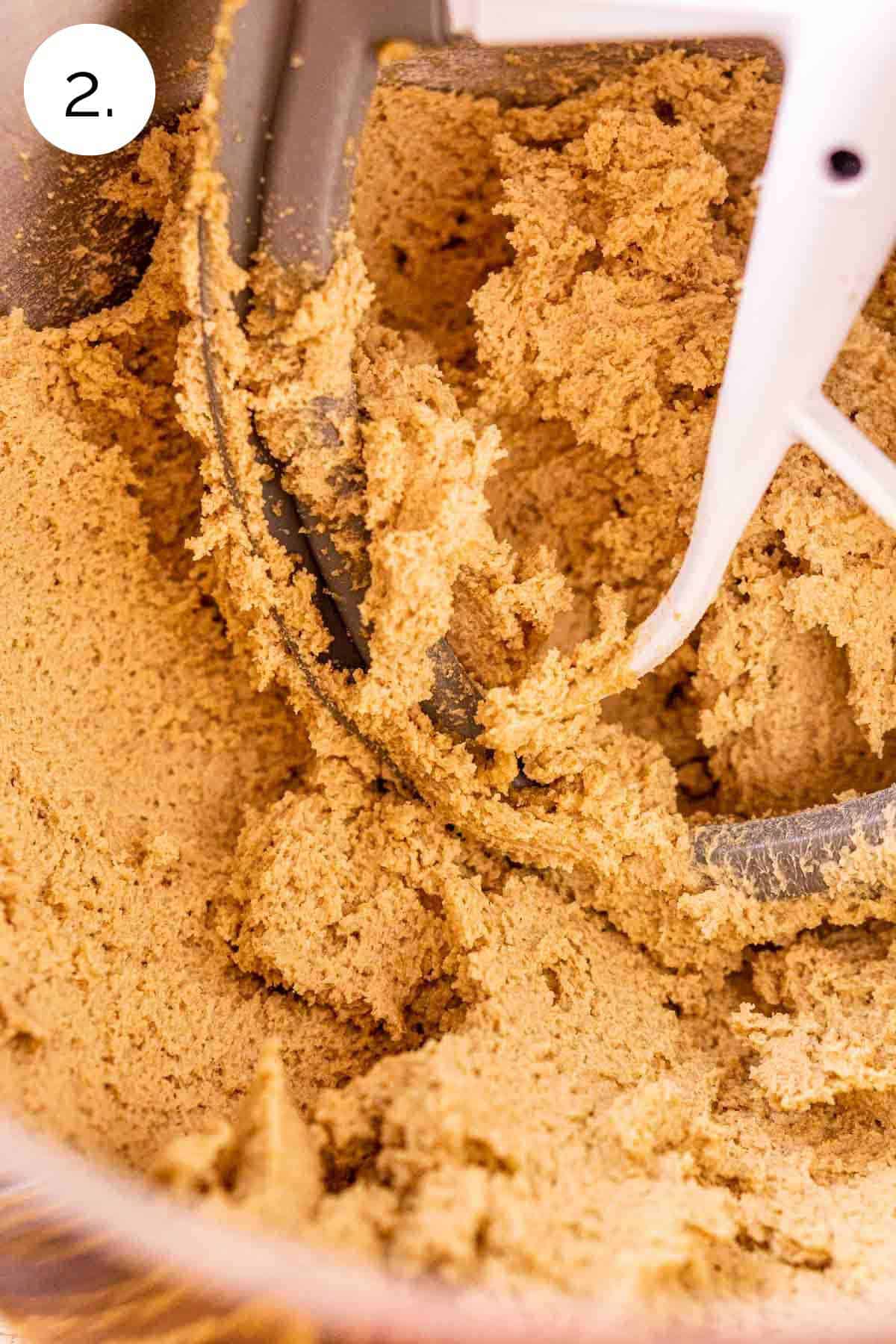 Step 3: Now we add our eggs (photo 3). Don't just add the eggs all at once. We want to beat them into the batter one at a time to ensure they properly incorporate with the other ingredients.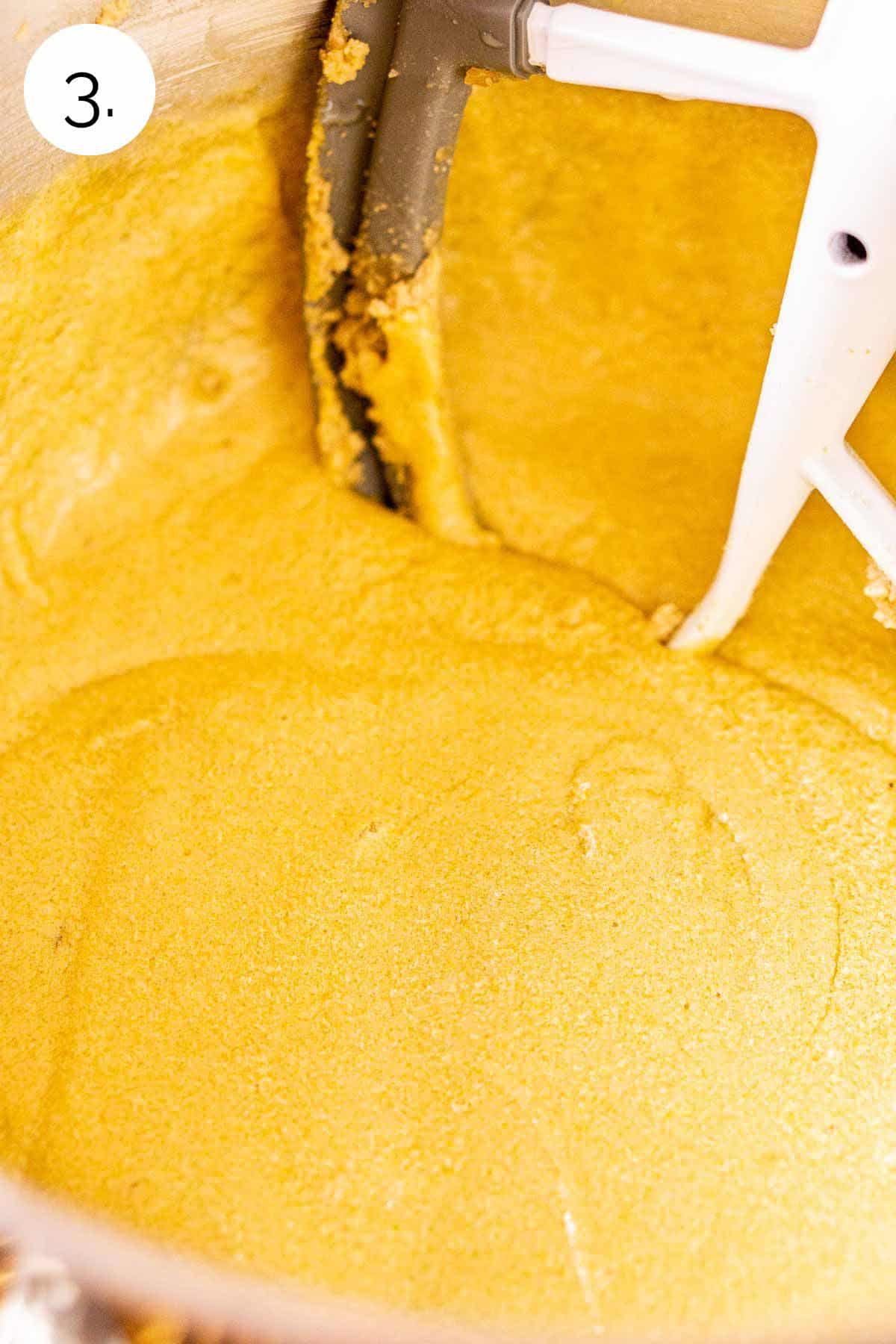 Step 4: For our next step, we alternate adding the flour mixture and buttermilk until both are fully incorporated (photos 4 and 5).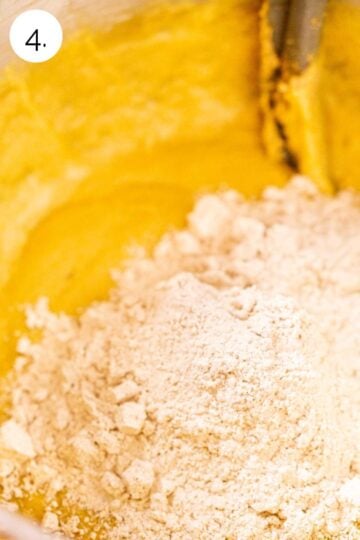 Step 5: Once we mix in all our flour and buttermilk, we stir in our carrots, crushed pineapple and toasted walnuts (photo 6).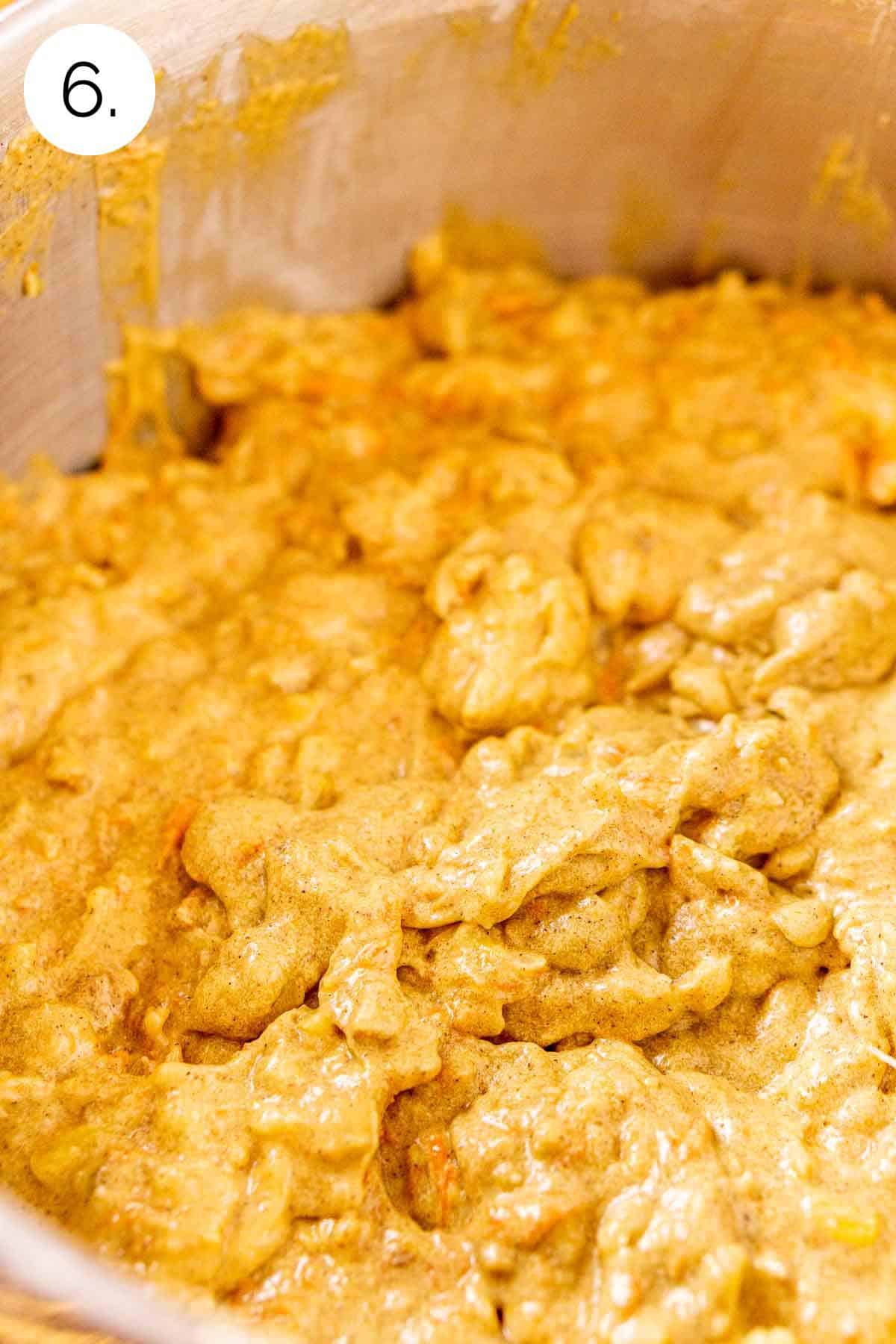 Step 6: With our batter mixed, we're ready to grease the bundt pan. Unlike layer cakes, I like to do this right before adding the batter to make sure everything doesn't start sliding down the side of the pan.
We first generously coat the bundt pan with cooking spray, including the middle, and then sprinkle flour inside. Now we cover the top of the bundt pan with plastic wrap and give it a good shake to coat the pan with the flour (photo 7). Once we grease and flour the bundt pan, we can add the batter (photo 8).
Step 7: Just like that, we're ready to bake our carrot pound cake. Considering the thickness, it's probably obvious that pound cake takes some time to bake. Plan for 55-60 minutes of baking time (photo 9).
How to Make Cream Cheese Glaze
And now for our cream cheese glaze. It just isn't carrot cake without some kind of cream cheese-based finishing touch, you know?
Step 1: To make the glaze, we simply beat room-temperature cream cheese until it's fluffy like so (photo 10).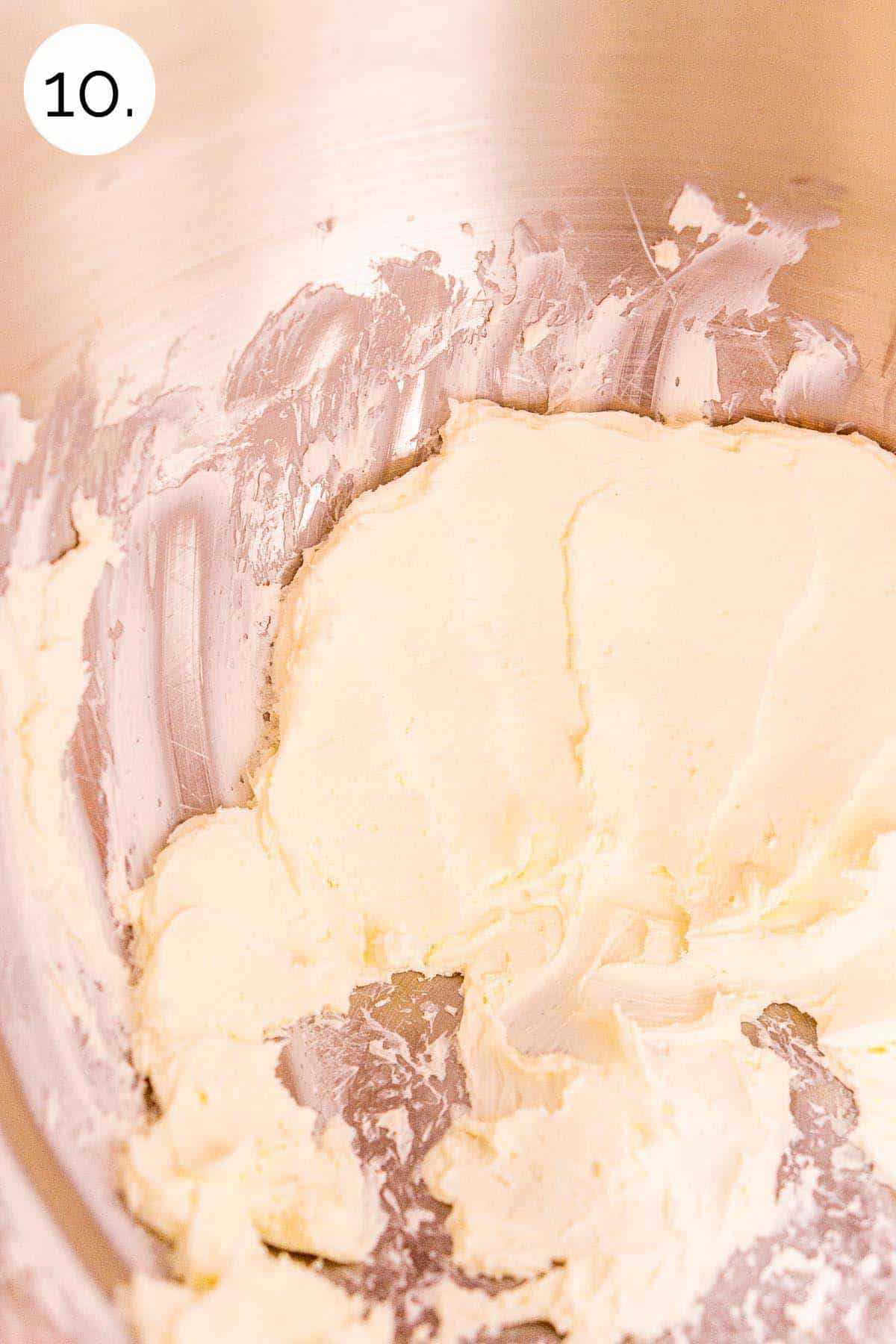 Step 2: Next up is to add the powdered sugar (photo 11).
Step 3: For our last step, we beat in the vanilla extract and milk until it transforms into a drizzling consistency (photo 12).
All that's left is to decorate our cake with that delicious glaze and devour every bite. How good is that?
How to Serve
Considering that we just topped this cake with a homemade cream cheese glaze, we technically don't need anything else. A simple slice of this carrot pound cake is a treat in itself. But that doesn't mean we can't give it an even more decadent twist.
I'm a huge fan of serving pound cake and ice cream together. After the ice cream sits for a few minutes, it starts to slowly soak that dense cake, making for the most luscious bite.
I made this cake around the same time I made this Baileys ice cream for the blog, so I had to try the two together along with a healthy drizzle of my bourbon caramel sauce. Y'all, that is one unbelievably scrumptious combination. I bet my butterscotch ice cream with candied pecans would also be a delightful option.
Pound cake also makes for a tasty trifle. Simply cube the pound cake and then layer it in a trifle dish with pudding and whipped cream. Voila! Just like that, you have a carrot pound cake trifle.
Recipe FAQs
How do you know when a bundt cake finishes baking?
To make sure it's completely baked, a toothpick won't do like in your layer cakes. We need a long skewer that we poke all the way through to ensure we don't have wet batter in the middle. To be safe, I test it a few times in other areas of the cake. When the skewer comes out clean, our carrot pound cake is ready.
How do you store the cake?
To keep the cake nice and moist, store it in an airtight container. Like most cakes, I find this baked treat is best consumed within the first couple of days. This is a moist cake, which gives it some longevity, but you will definitely enjoy it much more on day two than, say, day five.

There's enough sugar in the glaze to act as a preservative, so it will keep at room temperature. If you decide to store it in the refrigerator, I recommend letting it come to room temperature or heating it in the microwave before serving.
Can you freeze pound cake?
Once the cake completely cools, we cover it with plastic wrap to ensure it's airtight and then cover with a layer of foil. If you have a container big enough, you can place it in there, but if not, give it an extra layer of foil to make sure it's well-protected. don't apply the glaze before freezing. You'll need to do that after it thaws.

You can freeze the cake for up to three months. After that, it will start to dry out. Admittedly, I prefer my pound cake fresh, but that doesn't mean it doesn't freeze reasonably well.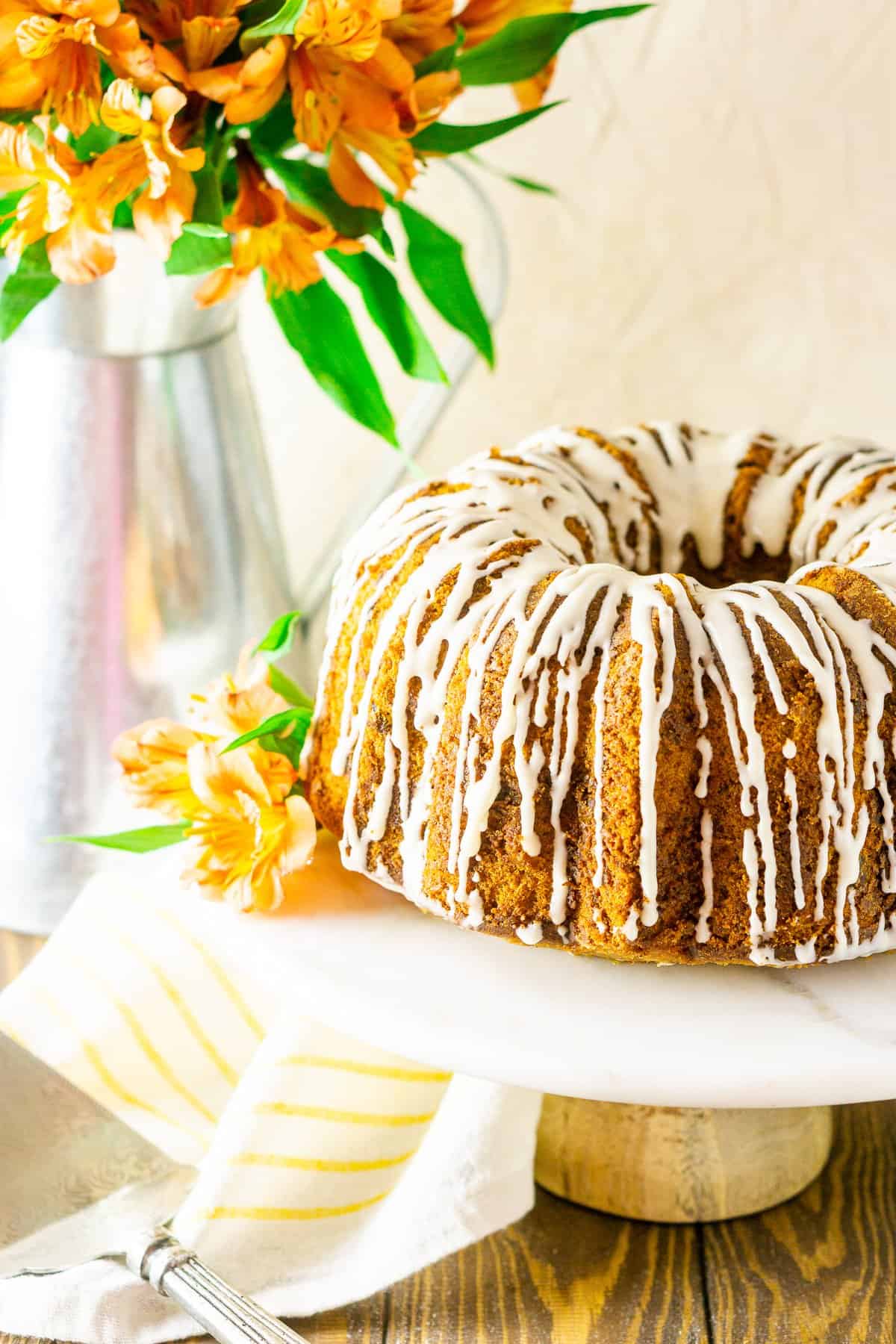 Expert Tips
Use the small holes for grating: We don't want to use the large holes on our grater. These small pieces of carrots meld perfectly into our cake. Otherwise, the large holes would leave us with huge carrot chunks, and no one wants that.
Properly measure your flour: Don't just scoop the measuring cup into the bag of flour. That can pack in too much flour and throw off the recipe. Instead, spoon and level the flour into a measuring cup.
Use room-temperature eggs: Cold eggs don't blend as well into the batter. Simply let the eggs sit on the countertop for 30 minutes before mixing. If you forget, you can place the eggs in warm — not hot — water for 10 minutes.
Shake your buttermilk before measuring: Buttermilk has a tendency to separate, so we want to make sure it's well incorporated before measuring and adding to our pound cake batter.
Don't worry about any removal spots: Removing a cake from a bundt pan is tricky, but I find a well-floured pan helps my cakes come out nicely. And if you do have any spots that don't come out smoothly, you can always cover it with a little cream cheese glaze, though flouring should do the trick.
Drizzle with a squeeze bottle or spoon — your choice: For this drizzle, I prefer using a squeeze bottle as you can see from the photos. Spooning directly on the cake isn't as precise, and I think those white stripes are just oh-so pretty. But if you don't have a squeeze bottle, carefully spooning will work — you just might have a little clean-up at the end.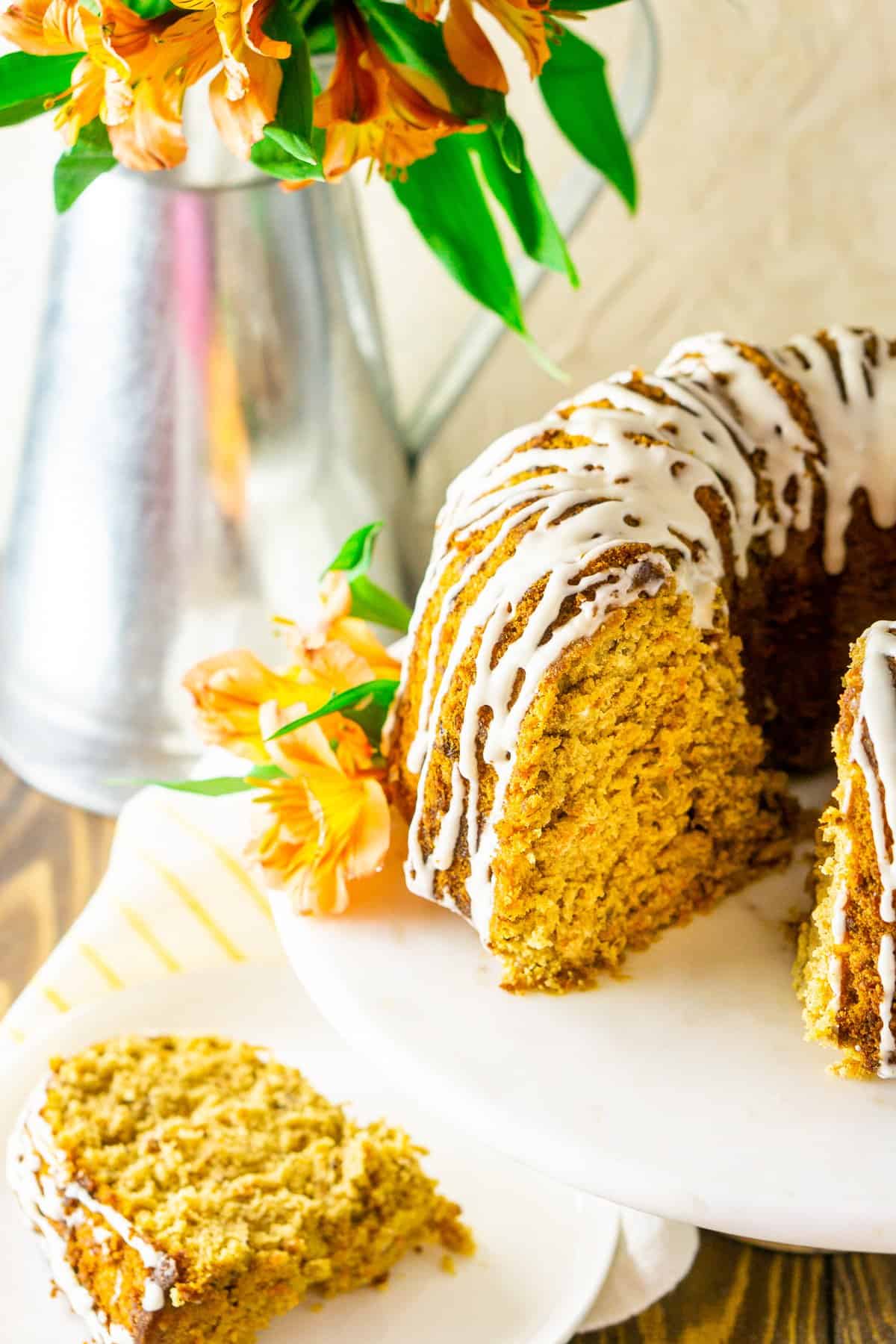 Perfect Pairing
Grab a nice barley wine and you're in for a well-paired treat. Barley wines show off lots of caramel-forward and dried fruit flavors that blend beautifully with our dark brown sugar and spices. Considering that this is such a dense cake, we want a beer with plenty of mouthfeel, and barley wines certainly cover us there.
More of a wine fan? You can't go wrong with a Madeira with its complex, sweet nuttiness. Madeira also comes with a nice level of acidity that balances the tangy buttermilk and cream cheese while adding some brightness to our rich cake.
Oh, and as I mentioned, Baileys is delicious with this pound cake. If you decide on a Baileys pairing rather than ice cream, you'll love my Baileys Irish coffee martini for the perfect dessert cocktail.
For a delicious twist on a classic dessert, I hope you try this carrot pound cake with cream cheese glaze. I have no doubt everyone will fall in love with this super moist, flavorful cake.
Cheers!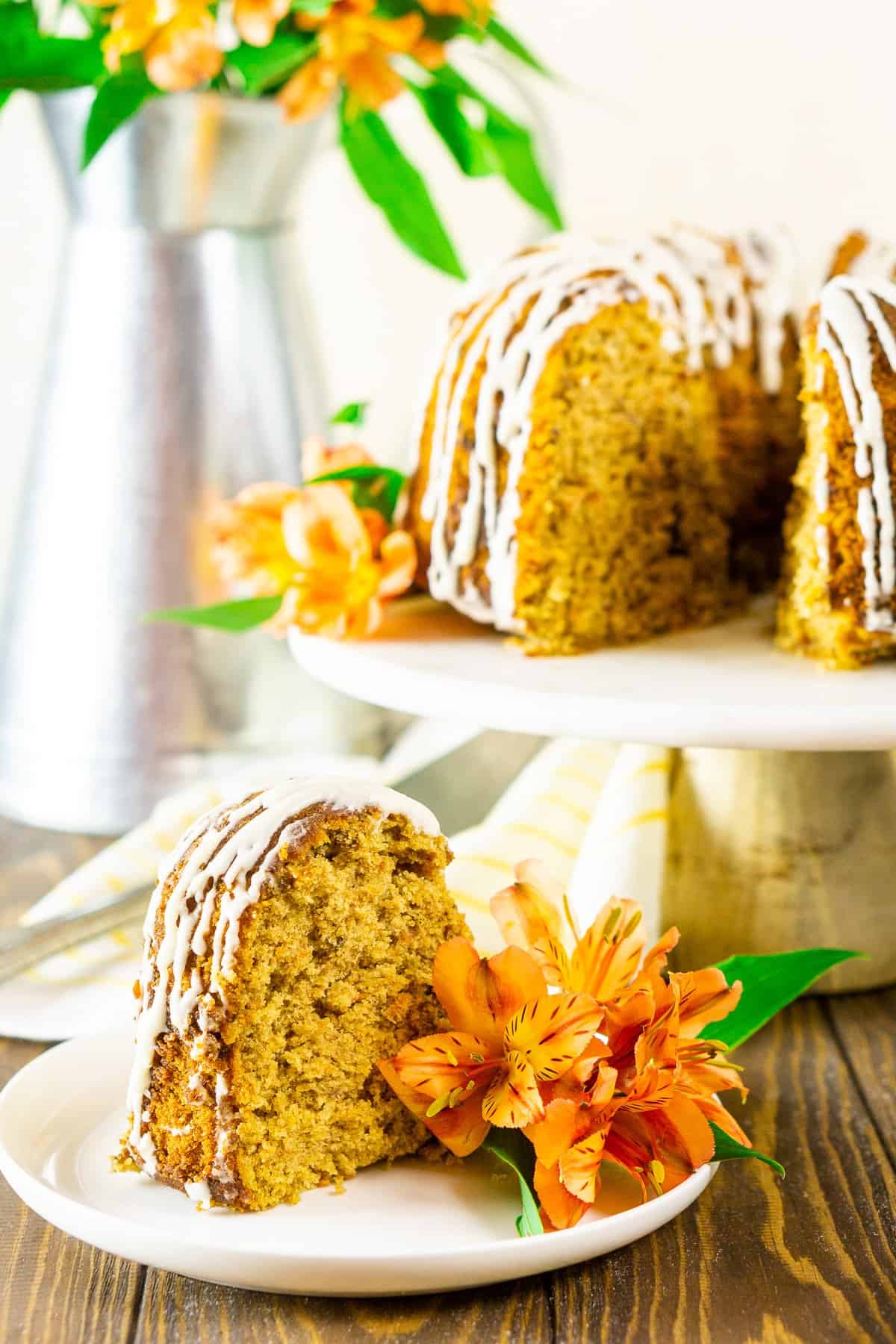 Get More Cake Recipes
If you love this recipe, please leave a comment with a five-star rating — or simply hit the five-star button in the recipe card. Don't forget to sign up for my newsletter, and you can follow me on Facebook, Instagram, Pinterest and TikTok.
📖 Recipe
Carrot Pound Cake With Cream Cheese Glaze
Rich, dense and ultra moist, this perfectly spiced carrot pound cake with a cream cheese glaze puts a tasty spin on a classic dessert. For the utmost decadence, serve with a giant scoop of ice cream for a dessert everyone is sure to love. Pound cake never tasted so good.
Print
Pin
Rate
Equipment
Mixer

12-cup bundt pan

Foil
Ingredients
Carrot Pound Cake
1

cup

chopped walnuts

toasted

3

cups

all-purpose flour

plus more for dusting

1 ½

tablespoons

ground cinnamon

1

teaspoon

ground ginger

1

teaspoon

ground nutmeg

preferably freshly grated

½

teaspoon

ground cloves

½

teaspoon

ground allspice

2

teaspoons

baking powder

1

teaspoon

baking soda

1

teaspoon

salt

2

cups

packed dark brown sugar

1

cup

white sugar

1

cup

butter

softened

1

teaspoon

vanilla extract or paste

1

teaspoon

almond extract

7

eggs

room temperature

1

cup

buttermilk

shaken before measuring

1

cup

grated carrots

3-4 carrots (see notes)

1

cup

shredded coconut

1

8-ounce can crushed pineapple with juice
Cream Cheese Glaze
4

ounces

cream cheese

softened

2 ½

cups

powdered sugar

2

teaspoons

vanilla extract

2-4

tablespoons

milk
Instructions
Carrot Pound Cake
Heat oven to 350 degrees. In a mixing bowl, stir together the 3 cups of flour, spices, baking powder, baking soda and salt. Sift into another bowl and set aside.

Add the dark brown sugar, white sugar, butter, vanilla extract and almond extract to a separate large mixing bowl. Using a stand or hand mixer, cream the ingredients over medium-high speed until light and fluffy, about four to five minutes. If using a hand mixer, it might take an extra minute or so. From time to time, scrape the butter off the side of the bowl to ensure everything is well-incorporated.

Beat in the eggs one at a time just until combined.

Once you beat in all the eggs, add about ½ cup of the flour into the batter and beat until combined on low speed. Beat in a splash of the buttermilk. Repeat the process until both are fully incorporated into the batter, ending with the buttermilk.

Stir in the grated carrots, shredded coconut, crushed pineapple and toasted walnuts.

Grease and flour a 12-cup bundt pan, including the middle. The flour makes a big difference in keeping the finished cake from sticking, so don't skip this step. I find it's helpful to place plastic wrap on top of the bundt pan after flouring and give it a good shake to make sure it's well-coated. Pour in the batter and smooth on top.

Bake for 55-60 minutes. The cake is ready when a long skewer comes out clean. Allow to cool in the pan for an hour or up to two hours. Run a knife along the edge of the bundt pan to loose the cake. Invert on a wire rack to finish cooling before serving. Drizzle with cream cheese glaze once cool. See below for directions.
Cream Cheese Glaze
In a large mixing bowl, beat the softened cream cheese until light and fluffy.

Add about ½ cup powdered sugar and beat until combined. Repeat until you use all the powdered sugar, scraping down the side of the bowl as necessary.

Add the vanilla extract and 2 tablespoons of milk and beat until combined. If you need to thin it out, add the remaining 2 tablespoons of milk. Either pour in a squeeze bottle to drizzle on the cake or do so directly.
Notes
For baking at 5,280 feet altitude, I adjusted to 1

¾ teaspoons baking powder and

⅞ teaspoon baking soda.

Use the smallest holes of the box grater for the carrots. Don't use packaged shredded carrots. They're too dry — we want the moisture that comes from freshly grated carrots.

To toast the walnuts, add them to a large skillet over medium heat and toast until fragrant, stirring often. This should only take two or three minutes.

Don't scoop the measuring cup into a bag of flour. That can pack in too much flour. Instead, spoon flour into a measuring cup and use a knife to level off the flour.
Nutritional information is only an estimate. The accuracy of the nutritional information for any recipe on this site is not guaranteed.
Nutrition
Serving:
1
slice
|
Calories:
340
kcal
|
Carbohydrates:
38
g
|
Protein:
6
g
|
Fat:
8
g
|
Saturated Fat:
3
g
|
Cholesterol:
82
mg
|
Sodium:
208
mg
|
Fiber:
2
g
|
Sugar:
43
g