Meet the perfect brownie. With a decadent yet complex explosion of chocolate, perfectly gooey center and that beloved crinkly, crackly top, these fudgy stout brownies will be your new go-to recipe. Promise.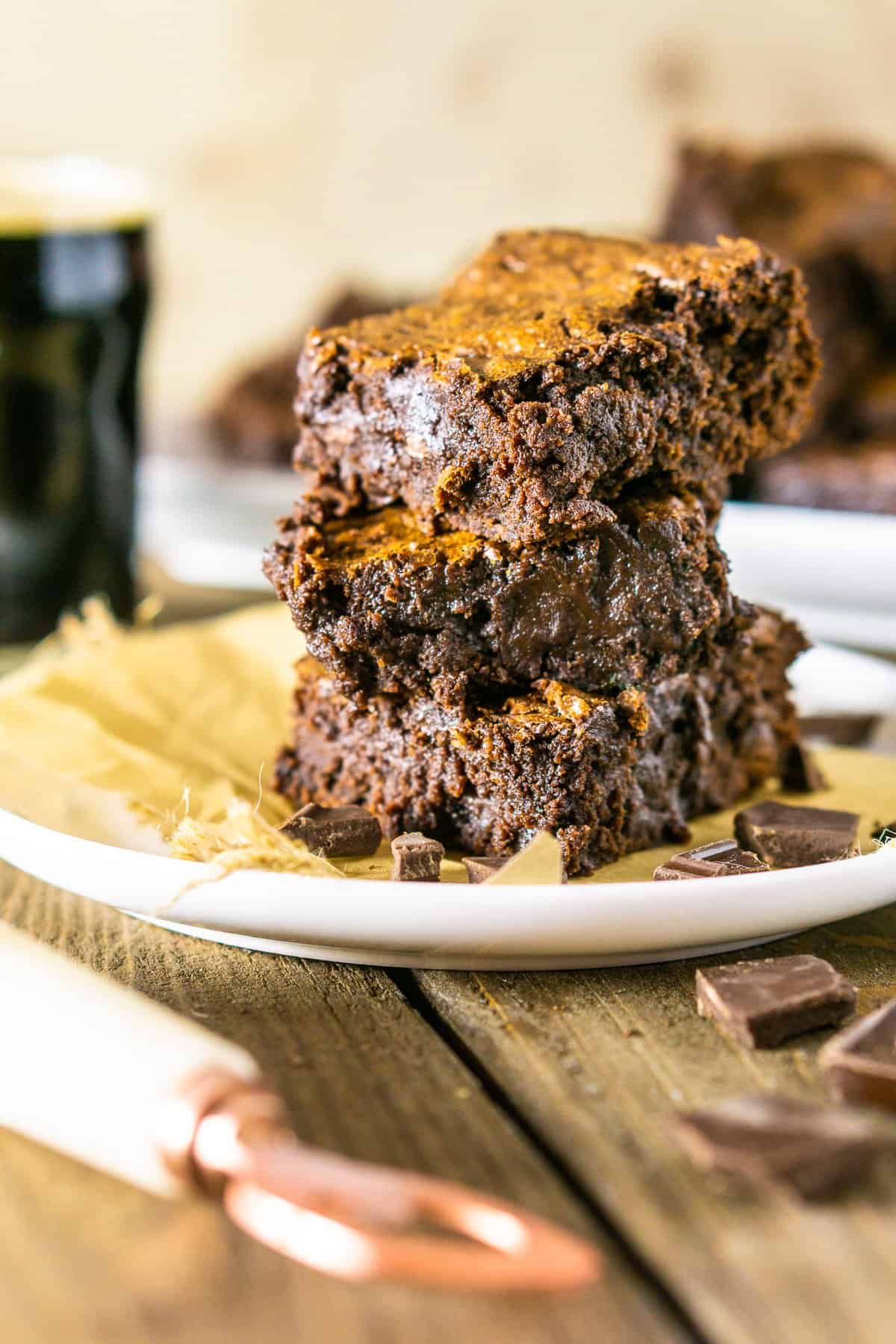 Jump to:
Why You'll Love This Recipe
When I make brownies, I'm all about the fudgy variety. Cakey brownies? Get out of here.
Look, I love cake, but if I want cake, I'll eat cake. I firmly believe brownies should be thick with a fudgy center that is just barely set. Every bite is dense, moist and rich with a serious jolt of chocolate. Essentially, a good fudgy brownie is perfection, and after much recipe testing and tinkering, that's exactly what these brownies are.
*Insert chef's kiss*
Trust me. I've made these fudgy stout brownies for years, and they're always gobbled up and met with rave reviews.
Besides being wonderfully fudgy, I love how the stout adds a complexity and depth to these brownies. Stouts are brewed with roasted barley, which comes across as a coffee-like flavor, so you can imagine how well it melds with the chocolate.
You could also use a porter in place of the stout. Sure, that would mean you would have porter brownies rather than stout brownies, but I actually go between the two with great results. While porters don't use roasted barley, they still typically have a level of roasty notes along with a touch of nuttiness and even chocolate.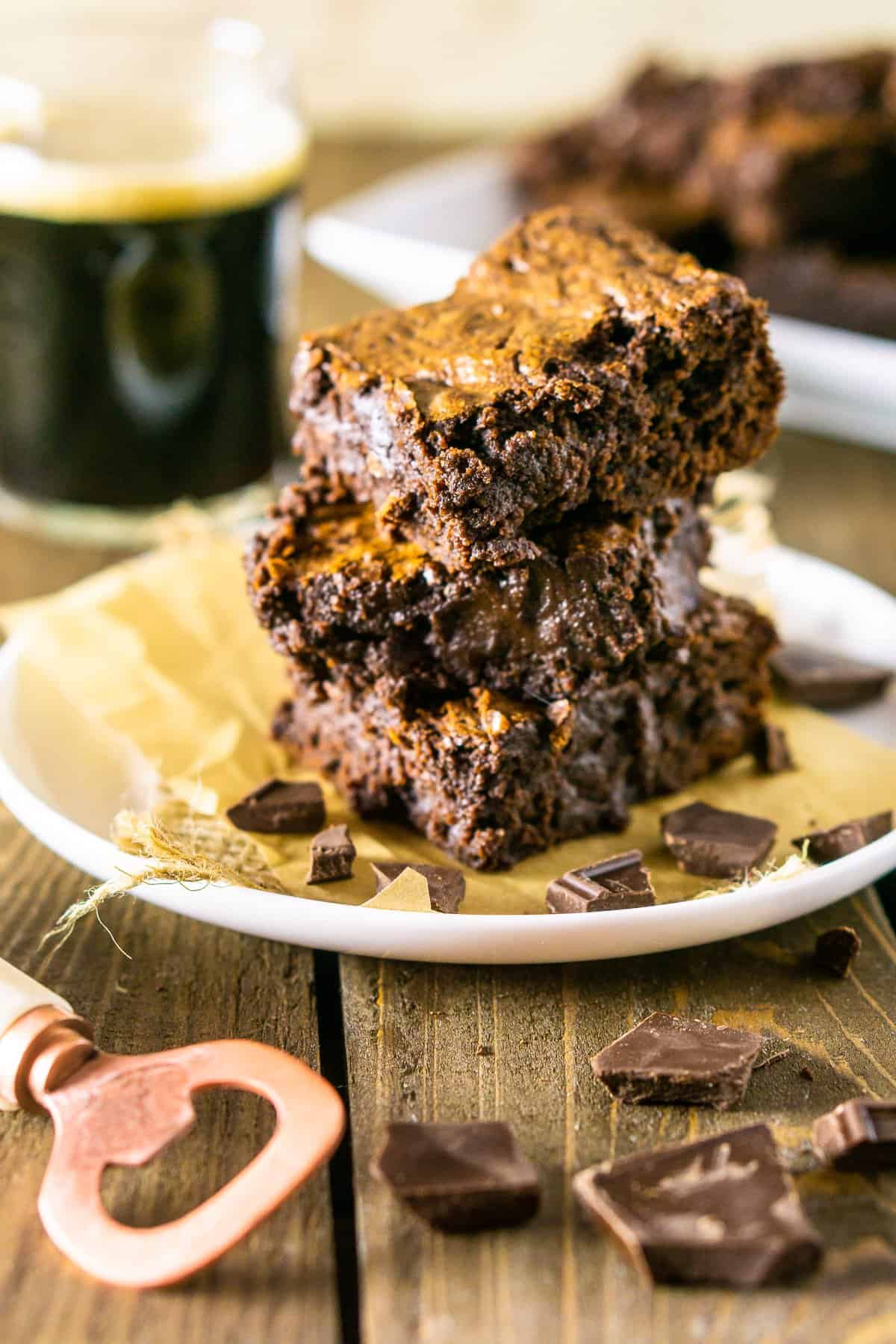 Step-by-Step Instructions
Considering how ridiculously delicious these fudgy stout brownies are, let's not waste time and start baking.
We begin by melting plenty of butter and chocolate with espresso powder. While we could do this in a double boiler over the stove, which I used to do, it's unnecessary. I now melt the two in the microwave. Double boilers are great for making sure the chocolate doesn't burn, especially if you need to melt chocolate on its own, but with all the butter coating the chocolate and short bursts in the microwave, it isn't an issue.
Once we fully melt our chocolate and butter, we whisk in a combination of white and dark brown sugars, stir in the beer and let the mixture cool. I've tried these brownies using beer poured straight out of a can or bottle as well as reducing the beer over the stove. Honestly, I couldn't differentiate between the two, so I don't think it's worth messing with a reduction. Straight beer is perfectly fine.
When measuring the beer, make sure the foam has mostly dissipated before pouring it into the mixture. A thin layer like you see below is fine, but we don't want a thick head because the measurement will be off.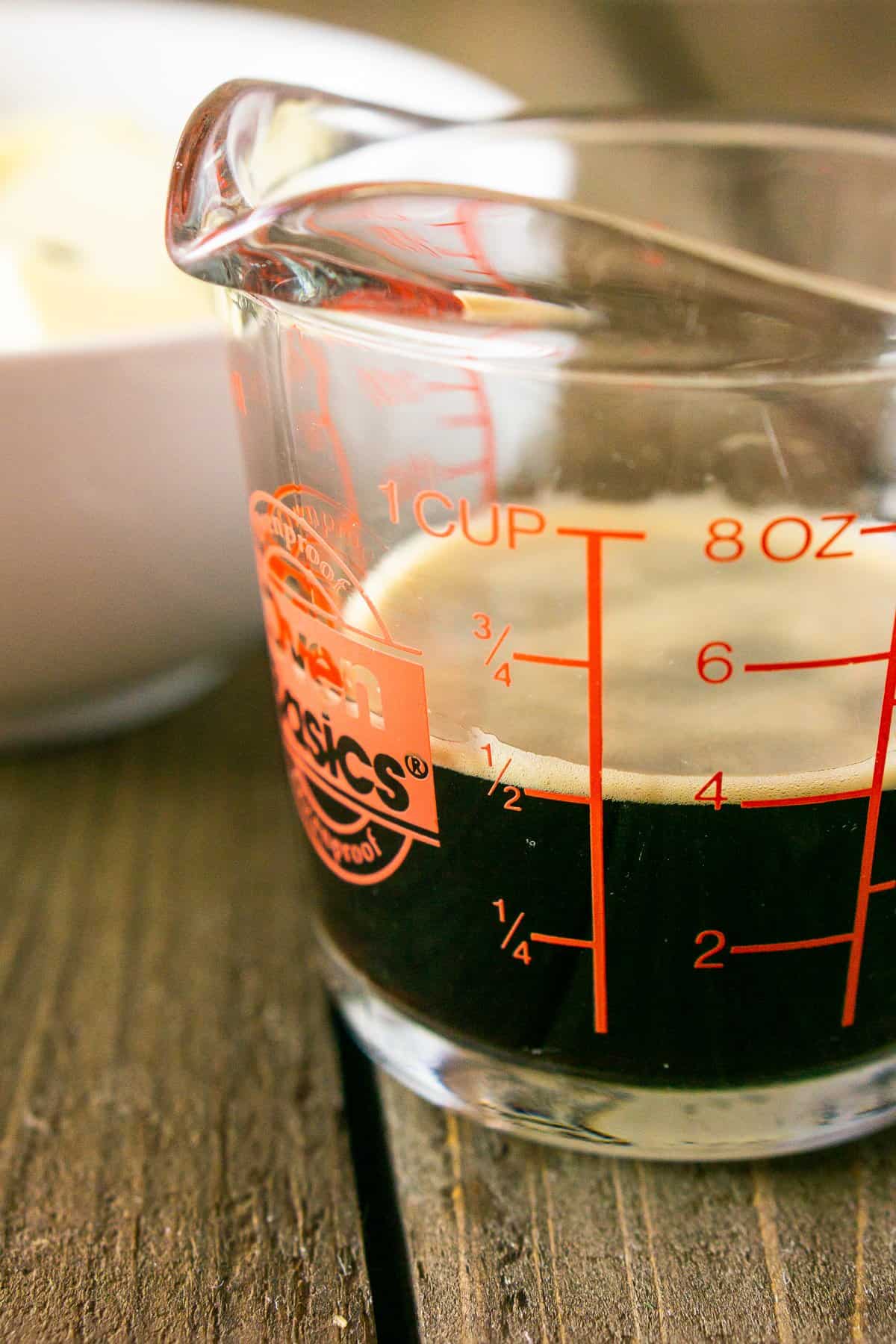 While the chocolate mixture cools, we mix together our dry ingredients, which includes flour, cocoa powder and salt. You might notice we don't use leavening with the dry ingredients. That's intentional. Leavening results in cakey brownies, and you already know how I feel about that.
Now that the chocolate mixture has cooled, we whisk in three eggs and vanilla extract just until incorporated and then whisk in two more eggs.
From here, we gently stir in the dry ingredients just until it's mostly combined. If you have a few flour flakes on top like the below photo, that's OK. Overmixing can also lead to cakey brownies.
Once we mix our batter, we're ready to pour it into a parchment paper-lined pan and bake for 30 minutes.
How to Tell When Brownies Are Done
Now we're ready to test our fudgy stout brownies for doneness. Like most baked goods, we use the trusty toothpick method, but in this case, we don't want our toothpick to come out clean. Instead, we're looking for moist, almost-wet crumbs. No dry crumbs here.
If the toothpick comes out still gooey, the brownies need a little more time, but we don't want to overbake our brownies because we risk losing that fudgy goodness. Just pop the brownies back into the oven for another two minutes and test again. Even if the toothpick comes out gooey, it won't take long to get it to the proper stage. Keep any and all additional baking intervals to no longer than two minutes.
Once our brownies are ready, we let the brownies cool to allow the fudgy center to set. Cut into bars and get ready for pure chocolaty bliss.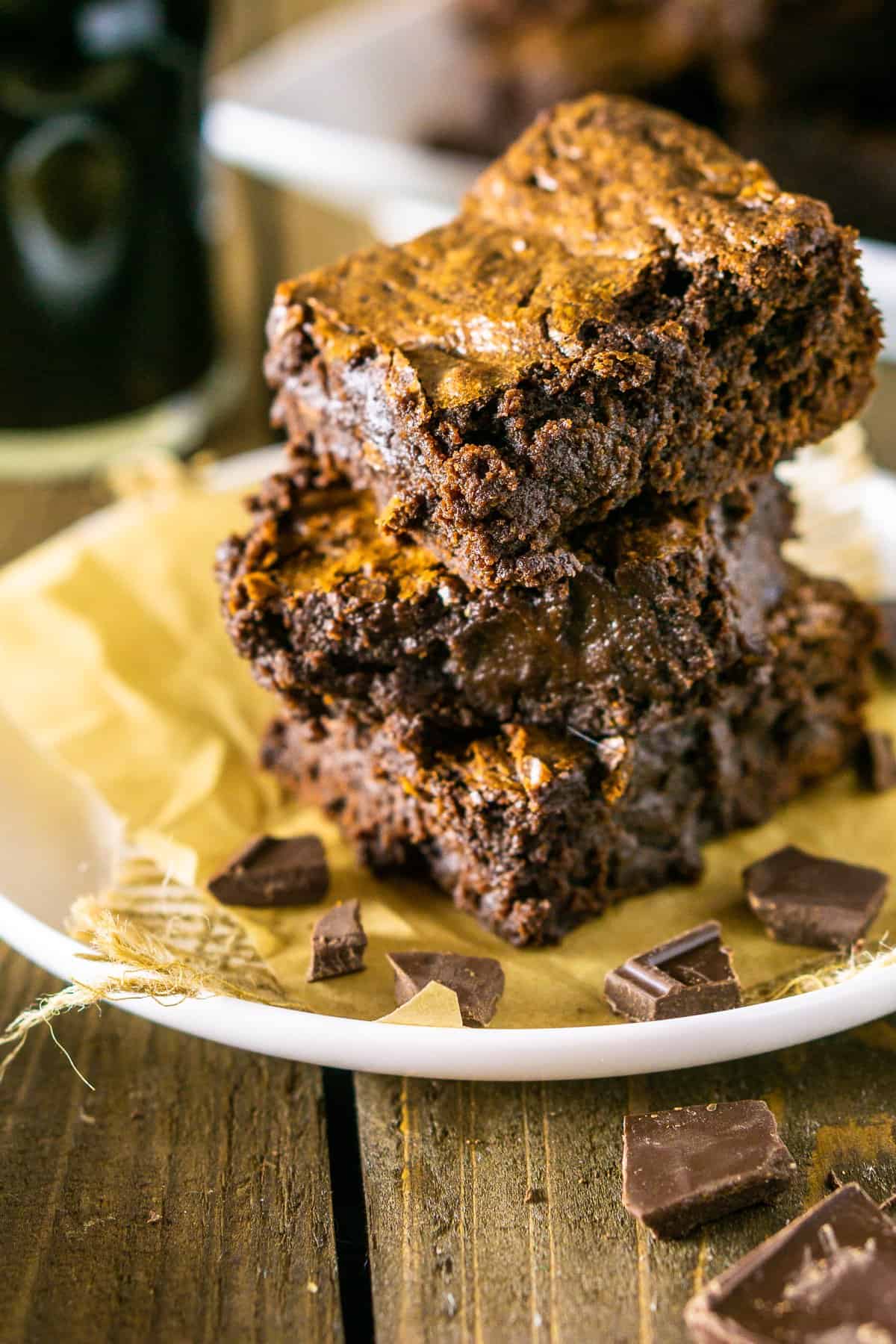 For more chocolatey goodness, make sure you also try my absolute favorite chocolate whiskey cake. You'll also love these chocolate Rice Krispie treats for another bar option.
Perfect Pairing
I don't have to say it, right? Pairing these brownies with the stout used in the batter is an obvious option. That said, if you want to get fancy, you could always pop open a nice barrel-aged imperial stout. The vanilla and coconut notes from the barrel are a welcome addition to these fudgy stout brownies, and imperial stouts boast a residual sweetness from the higher alcohol content, making it delicious with desserts.
And, of course, if you want a wine option, you'll love a ruby port with these fudgy stout brownies. Ruby ports are sweet enough to handle the richness, and they feature lots of berry notes that go well with the chocolate.
The next time you find yourself craving the perfect brownie, I hope you try these fudgy stout brownies. I have no doubt you'll instantly fall in love.
Cheers!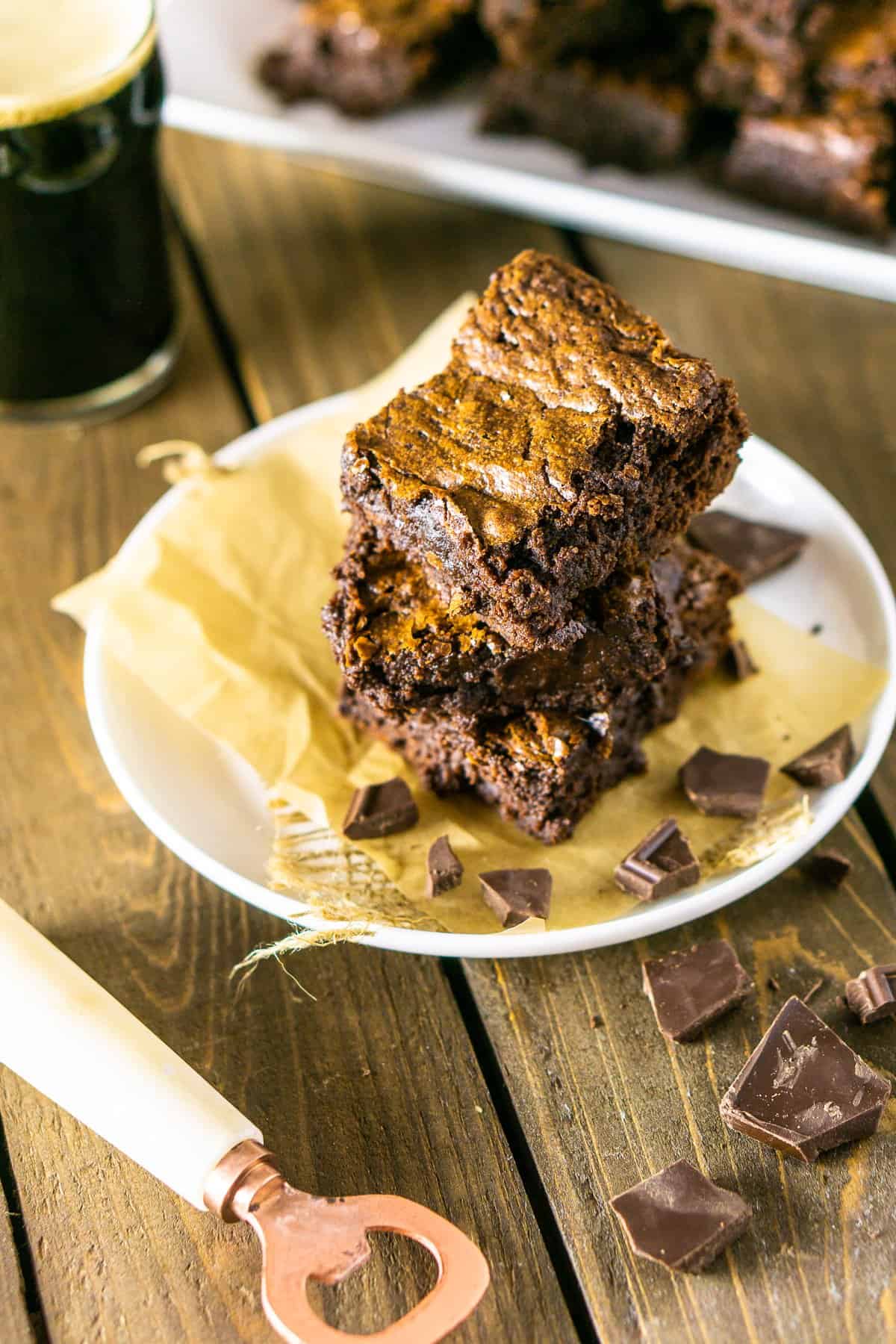 Can't Get Enough Chocolate in Your Life?
If you love this recipe, please leave a comment with a five-star rating — or simply hit the five-star button in the recipe card. Don't forget to sign up for my newsletter, and you can follow me on Facebook, Instagram, Pinterest and TikTok.
📖 Recipe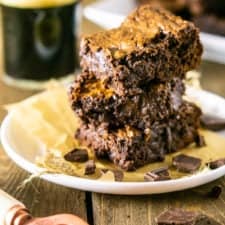 Fudgy Stout Brownies
With a decadent yet complex explosion of chocolate, perfectly gooey center and that beloved crinkly, crackly top, these fudgy stout brownies will be your new go-to recipe.
Print
Pin
Rate
Equipment
Mixing bowl

13-inch-by-9-inch baking pan

Parchment paper
Ingredients
12

ounces

semi-sweet chocolate

chopped

1

cup

butter

1

tablespoon

espresso powder

1 ¼

cups

white sugar

¾

cup

dark brown sugar

½

cup

stout

see note

1 ¼

cups

flour

¼

cup

cocoa powder

1

teaspoon

salt

5

eggs

1

tablespoon

vanilla extract or paste
Instructions
Heat oven to 350 degrees, spray a 9-inch-by-13-inch pan with cooking spray and line it with parchment paper. The cooking spray helps the parchment stay in place.

In a microwave-safe bowl, combine the semi-sweet chocolate, butter and espresso powder. Microwave in a 15-second interval and stir. Repeat until the chocolate and butter are fully melted and the mixture is smooth.

Whisk in the white and dark brown sugars until combined. Stir in beer and allow the mixture to cool for a few minutes.

While the chocolate mixture cools, stir together flour, cocoa powder and salt in a separate bowl.

Add three eggs and vanilla extract to the chocolate mixture. Whisk just until combined and no more. Add the remaining eggs and whisk until combined. Do not overmix to avoid cakey brownies.

Stir in the flour mixture with a wooden spoon. Again, do not overmix and stir just until combined. If a little bit of flour shows on top, that's OK.

Pour the brownie mixture into the parchment paper-lined pan. Bake for 30-35 minutes. Insert a toothpick in the middle of the brownies. If it comes out still gooey, put the brownies back in for two minutes and retest. The brownies are done when moist, almost-wet crumbs come out with the toothpick. We're not looking for a dry toothpick here. Do not put back in the oven for more than two minutes at a time if you have to retest more than once.

Allow to cool so the fudgy center can set. Cut into squares. Enjoy!
Notes
You can substitute a porter for stout. When measuring, make sure the foamy head has dissipated. Otherwise, your measurement won't be accurate.
Nutritional information is only an estimate. The accuracy of the nutritional information for any recipe on this site is not guaranteed.
Nutrition
Serving:
1
brownie
|
Calories:
240
kcal
|
Carbohydrates:
30
g
|
Protein:
3
g
|
Fat:
12
g
|
Cholesterol:
59
mg
|
Sodium:
115
mg
|
Sugar:
23
g