Filled with tender lobster meat, a touch of finely minced celery and just a sprinkling of fresh chives, these easy-to-make Maine-style lobster rolls are the perfect meal for a patio evening. You can whip up these lobster rolls in just a few minutes, and they're always a guaranteed crowd pleaser. With these Maine-style lobster rolls, your summer dinner plans couldn't be more delicious.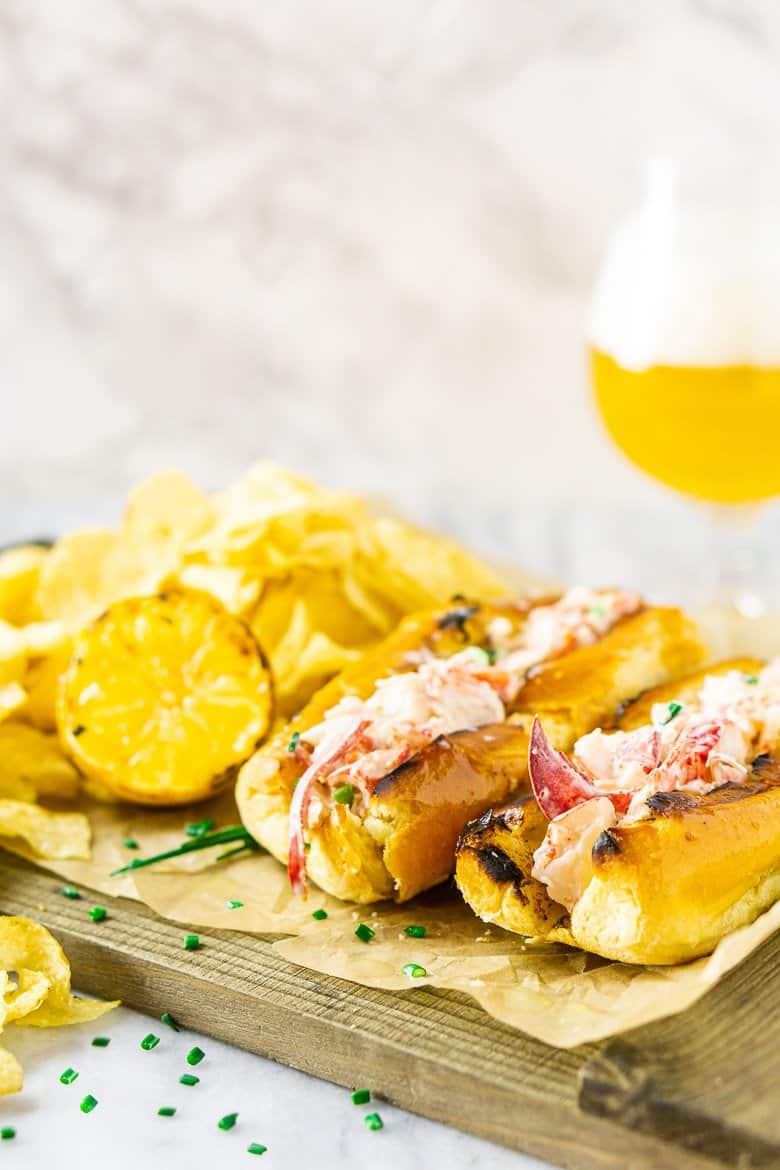 Ingredients
If there are two recipes that seem to bring out angry food commenters on the internet, lobster rolls and crab cakes take the brunt. When it comes to Maine-style lobster rolls, some people adamantly believe you should only dress the lobster with mayonnaise. That's it. Don't you dare think about adding another ingredient.
If that's you, cool. Eat what you like. But I happen to believe that's nonsense.
Now, my Maine-style lobster roll recipe is close to those purist recipes, but I like to add a touch of celery and chives with a healthy squeeze of lemon. And, of course, don't forget a little salt and pepper.
I understand that purists see those other ingredients as distracting from the lobster, and that point is valid if you go overboard with your mix-ins. But with a light touch, I find those few extra ingredients offer the perfect savory complement to the sweet lobster meat.
For the lobster meat, I'm sure many purists insist on cooking live lobsters, and you're certainly welcome to do so. Personally, I can't do that. I'm too much of a softie to send a live lobster to its death. I know, I know. In the end, I still eat the lobster, but I still can't be the one to kill it.
Besides, being in Denver, I've never seen a tank of live lobsters to take home, even at Whole Foods. So, really, even if I wanted to cook live lobsters, it's not a feasible option. That means the purists can't get mad at me for not cooking my own lobster, right? Right.
Instead, I've found my local Safeway carries whole lobsters that are already cooked, which I find is the perfect solution. I can get the lobster meat I need without the emotional damage.
And then we have the traditional top-split hot dog buns. If you've seen photos of traditional Maine lobster rolls, you've probably noticed the flat sides of the hot dog buns. While I'm sure they're widely available in New England, I've never seen those out here. I suspect that's true for a lot of places outside of New England.
However, St. Pierre makes these top-split brioche hot dog buns, and they're delicious. Whole Foods also makes a similar product. I've seen the St. Pierre brand at both my local Safeway and King Soopers, which is a Kroger brand, so I would think it's a widely available product. If you can't get your hands on an authentic New England-style bun, this is still a tasty option.
Step-by-Step Instructions
Now that we have our ingredients, we can make our lobster rolls, which is as simple as can be. In a large bowl, we toss our lobster meat with a touch of mayo, celery, chives and lemon juice. Give it a taste and add salt and pepper to your liking. Now we place our lobster salad in the refrigerator to chill and gives the flavors time to meld.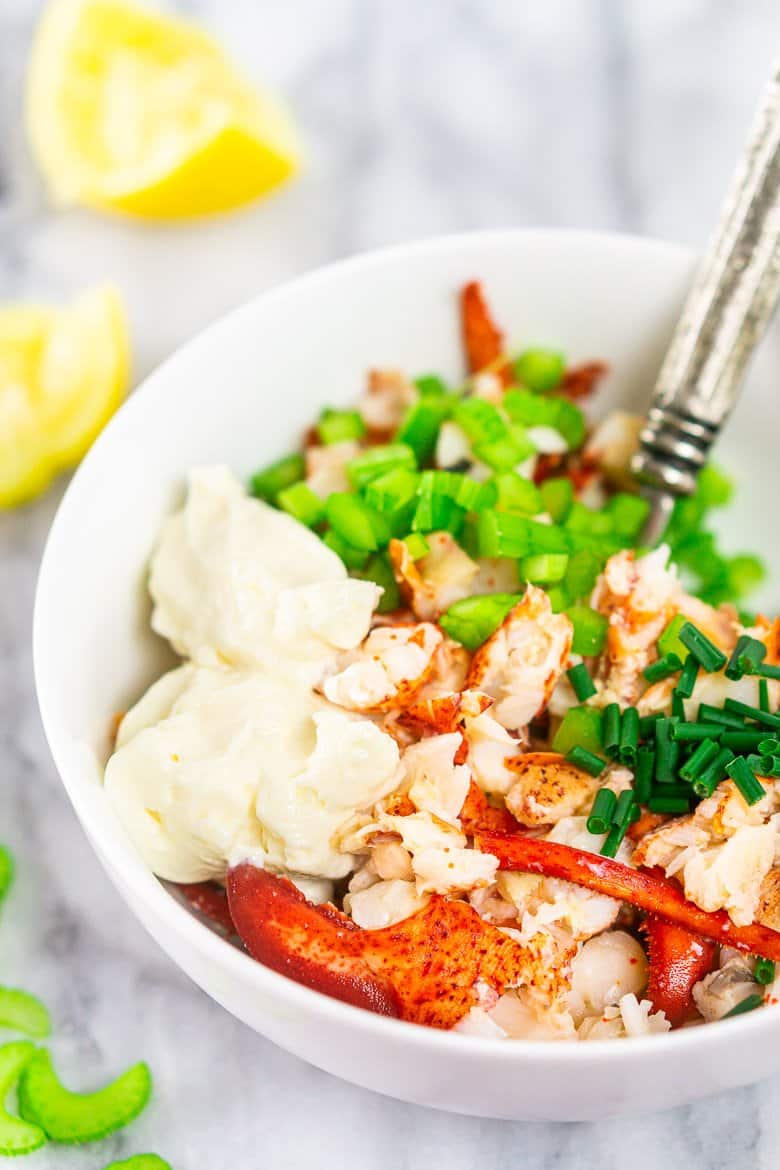 When we're ready to serve, we brush the insides of our buns with butter and grill until lightly charred. Oh, and don't forget to brush the outside of those top-split buns with melted butter once they come off the grill. Trust me. You'll love that buttery kick.
And that's it! We're now ready to enjoy our perfectly summery Maine-style lobster rolls. How easy was that?
Can You Make Ahead of Time?
You sure can. I've made the lobster salad a day ahead, and they were just as delicious as when I make them the same day. Just keep the lobster salad in an air-tight container, and you're good to go. This makes these Maine lobster rolls perfect for summer entertaining.
What host or hostess doesn't appreciate a delicious make-ahead meal? I know I sure do.
Perfect Pairing
You can't go wrong with Maine's own Allagash Brewing Company White. Like excessive mix-ins, you don't want a beer that overpowers the lobster's delicate flavor, and Allagash White's citrus notes from the Curacao orange peel complements this meal well.
A Kölsch is another good bet and the perfect patio supper for summer. With a Kölsch, you get a crisp, clean finish that allows the lobster to shine, but it also typically has a slightly sweet, bread-like malt profile — similar to the flavors in the lobster roll.
For wine, I like a glass of Chablis, which is a type of chardonnay. Chablis is dry and crisp, which adds a nice counter to the rich mayo and buttery rolls. You also get some bright acidity with Chablis, and I always love a good acidic kick to elevate the flavors of a seafood dish.
One of these days, I plan to visit Maine for a vacation full of lobster rolls and brewery hopping. In the meantime, these lobster rolls and drink pairings do the job.
During these beautiful summer months, I hope you give these Maine-style lobster rolls a try. These Maine lobster rolls are perfect for a warm evening on the patio with a cold drink in hand.
Cheers!
Lobster Lover, eh?
If you love this recipe, please leave a comment with a five-star rating — or simply hit the five-star button in the recipe card. Don't forget to sign up for my newsletter, and you can follow me on Facebook, Instagram, Pinterest and TikTok.
📖 Recipe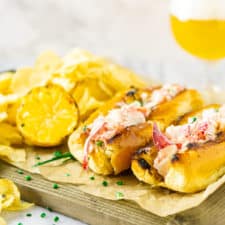 Maine-Style Lobster Rolls
Filled with tender lobster meat and just a touch of fresh herbs, these easy-to-make Maine-style lobster rolls are the perfect meal for a patio evening.
Print
Pin
Rate
Ingredients
1 ½

cups

cooked and chopped lobster meat

from about 3 (1-pound) whole lobsters

3-4

tablespoons

mayonnaise

2

tablespoons

celery

finely chopped

1

tablespoon

fresh chives

chopped

½

lemon

juiced

Salt and pepper to taste

4

top-split hot dog buns

2

tablespoons

butter

softened

1

tablespoon

melted butter
Instructions
In a small bowl, stir together the chopped lobster meat and mayonnaise. Add the celery, chives, salt, pepper and lemon juice. Refrigerate for a few hours to allow the flavors to meld.

Turn the grill to medium-high heat. Spread the softened butter on the inside of the rolls and grill until slightly crusty and char marks appear. Remove rolls from the grill and fill with the lobster mixture. Brush the outside of the buns with melted butter. Enjoy!
Notes
My local Safeway carries whole lobsters already cooked. Sometimes they're in view at the seafood counter, but a lot of times I have to ask for them. If you don't see them, ask your seafood counter person if any are available in the back.
If you want to cook your own live lobsters, here's a step-by-step resource with everything you need to know.
Nutritional information is only an estimate. The accuracy of the nutritional information for any recipe on this site is not guaranteed.
Nutrition
Serving:
1
sandwich
|
Calories:
225
kcal
|
Carbohydrates:
22
g
|
Protein:
15
g
|
Fat:
7
g
|
Cholesterol:
80
mg
|
Sodium:
600
mg
|
Sugar:
3
g