Step up your BLT game with a gourmet twist! Served on a toasted brioche bun, this buttery Connecticut-style lobster BLT elevates a diner food classic into a mouth-watering meal worthy of company. BLTs don't get more decadent than this.
When entertaining, sometimes you want to keep it fancy and elegant. My coq au vin and red wine-braised short ribs are perfect for that sort of occasion. But other times call for a more casual meal. Think a leisurely summer gathering on the backyard patio.
That said, you don't want to serve some ho-hum, average-tasting meal. You still want a meal that's sure to impress and leave everyone feeling satisfied and happy. That's where this lobster BLT has your back.
On top of being effortlessly loaded with flavor, this BLT of the sea also couldn't be easier to make, which helps take a load of stress off when hosting. Preparation takes hardly any time, so you'll have plenty of extra time on your hands to sip on cocktails and chitchat rather than run around in the kitchen trying to get an elaborate meal on the table. Sometimes simple is best, and this Connecticut-style lobster BLT proves it.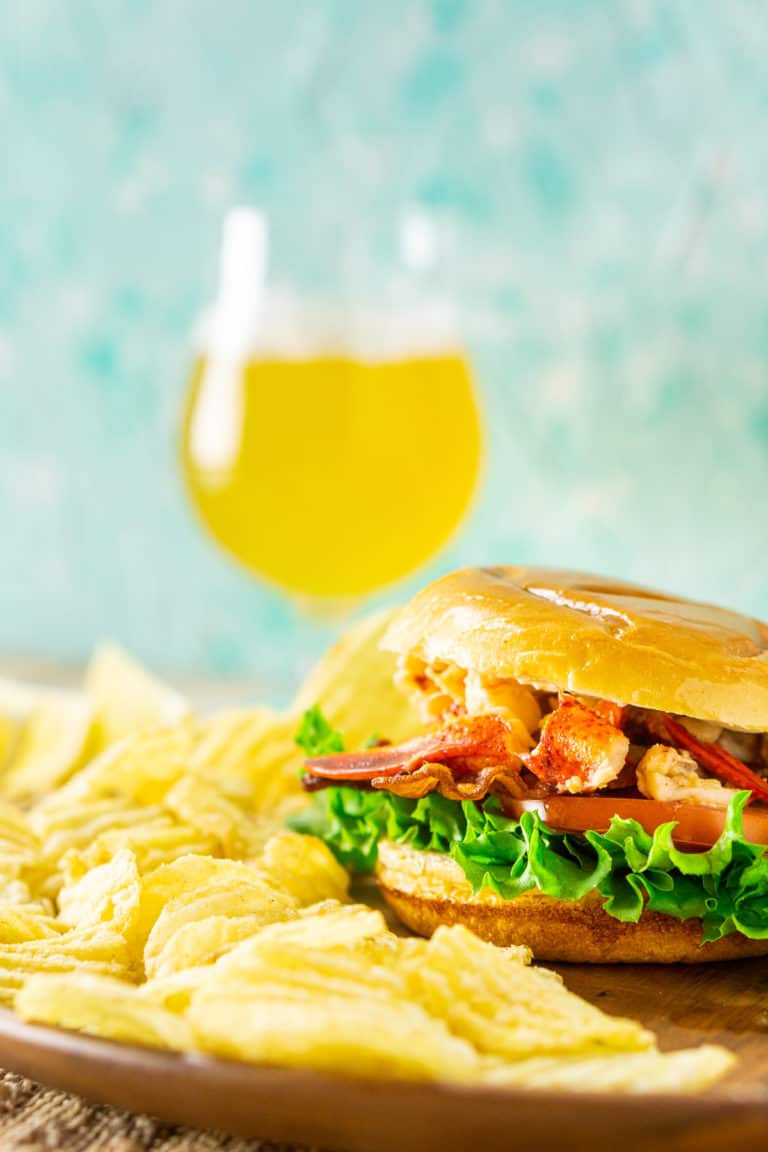 Best Lobster Meat for BLTs
While you could use only lobster tails, I like to use whole lobsters for these BLTs. With a whole lobster, we also get the claw meat, which is sweeter and more tender than the tail meat. Both are delicious, of course. I'm certainly not knocking the tail meat, but having that mix of textures and flavors makes for an even tastier sandwich.
You can cook your own whole lobster, but if you're like me and don't have it in you to cook live lobsters, some grocery stores sell cooked whole lobsters. I can find these lobsters at my Safeway. Here are the cooked whole lobsters I picked up at the store.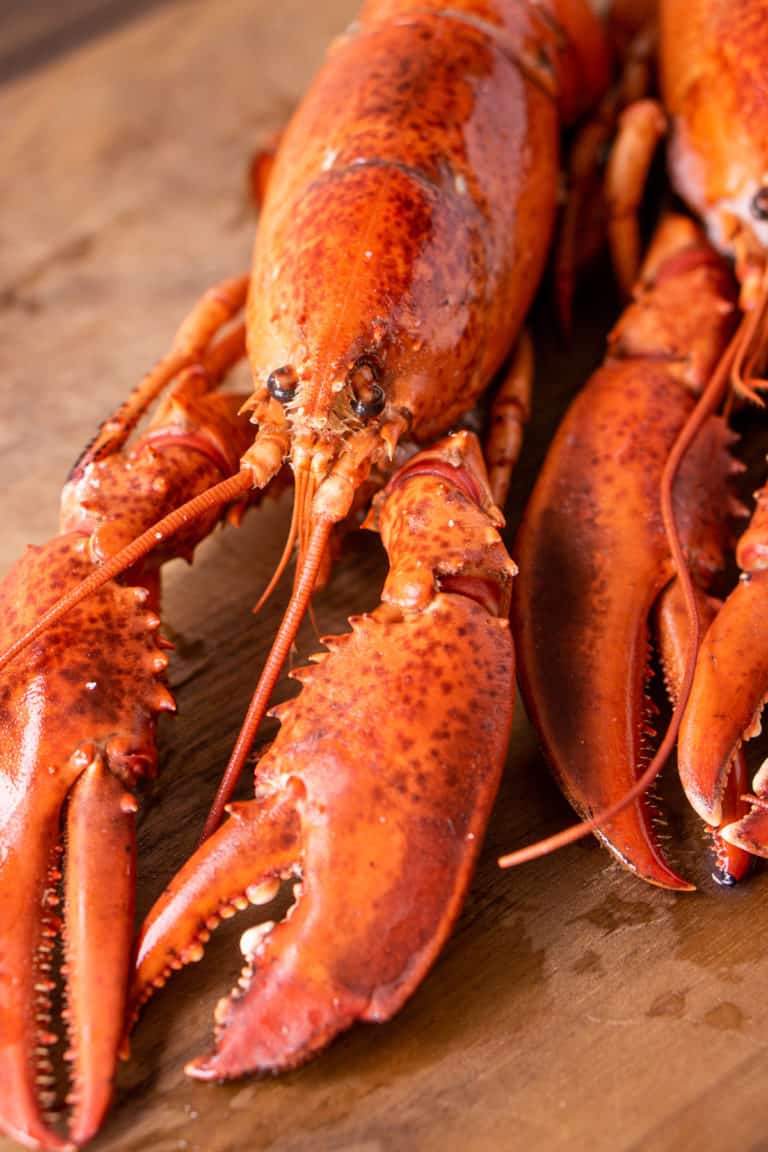 If you don't see them in the display, ask the person behind the seafood counter if that's an option for you. Online sellers are another possibility, and I've even seen Whole Foods sell claw meat and tails separately.
How to Make
Get ready for some seriously easy cooking. We begin by shelling our lobster. For this step, I recommend using a claw cracker to break open the claw and knuckle shells and sharp kitchen shears to access the tail meat. A meat mallet and rolling pin also work for breaking open the shells.
If you've never messed with whole lobsters and would like a tutorial, this guide on how to shell lobsters from Maine Lobster Now is handy.
Admittedly, this step can be a little messy, so I recommend taking care of this ahead of time and then storing in an airtight container in the refrigerator for a day or two. And, hey, that makes entertaining even easier because you don't have to worry about clean up.
To prepare the bacon, I prefer to cook it in the oven. I take care of this by placing thick-cut bacon on a large parchment paper-lined baking sheet and baking in a 400-degree oven for 10 minutes. Then, I flip the bacon, bake for another five minutes and tada! Perfectly cooked bacon.
That said, if you prefer to cook your bacon in a skillet, that's completely fine. Just please do me a favor and save that bacon grease. Reserved bacon grease makes a delicious roux for my shrimp and crab gumbo.
Now that we shelled our lobster and prepared our bacon, we're ready for the final steps. We melt butter in a small saucepan. After it melts, we add our lobster and cook just until the lobster is warm. This should only take a few minutes. Since our lobster is already cooked, we don't want to leave it on the heat any longer than necessary.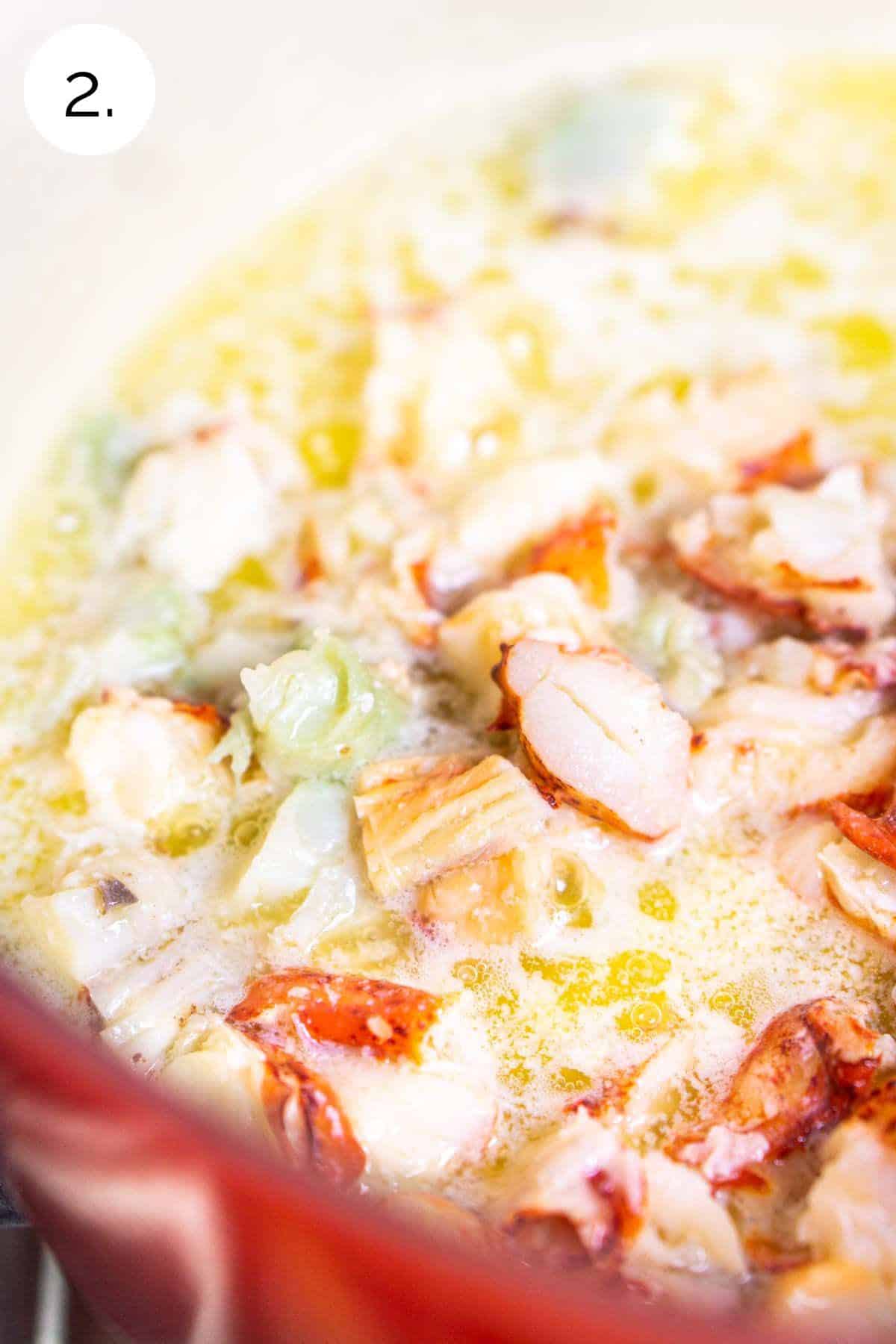 While the lobster heats, this is the perfect time to toast our brioche buns. Usually, BLTs are served on regular toasted white sandwich bread, but let's be honest. Brioche buns are far superior. Lobster deserves the best of the best, so toasted brioche buns are the only way to go.
For toasting, we simply place the buns in a 350-degree oven for three to five minutes. And just like that, we have toasted brioche buns that really make this lobster sandwich something special.
Now all that's left is to put together our lobster BLTs and finish the meat with a generous squeeze of fresh lemon.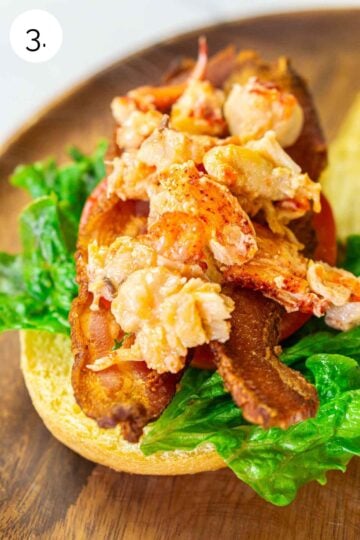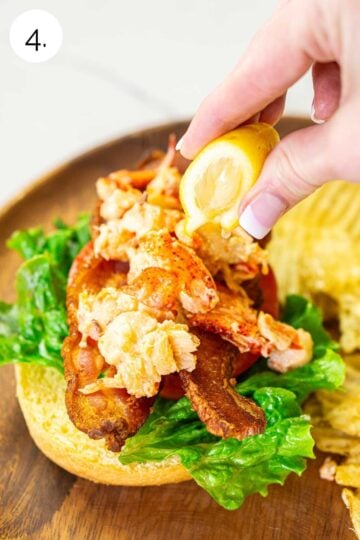 See? Easy and elegant all in one meal.
Perfect Pairing
I truly believe a Belgian-style witbier is as good as it gets when it comes to lobster. With one sip and a bite of this Connecticut-style lobster BLT, I have no doubt you'll agree. The bright citrus notes of the witbier are the perfect match to our buttery lobster, and it's light enough that it won't overpower our delicate lobster.
When the mood for wine strikes, look no further than a chardonnay. This wine is refreshing enough for a warm evening on the patio, and you'll love how the buttery quality of chardonnay complements our Connecticut-style lobster.
For a low-key yet impressive meal, I hope you try this Connecticut-style lobster BLT.
Cheers!
Need More Lobster Recipes?
If you love this recipe, please leave a comment with a five-star rating — or simply hit the five-star button in the recipe card. Don't forget to sign up for my newsletter, and you can follow me on Facebook, Instagram, Pinterest and TikTok.
📖 Recipe
Connecticut-Style Lobster BLT
Step up your BLT game with a gourmet twist! Served on a toasted brioche bun, this buttery Connecticut-style lobster BLT elevates a diner food classic into a mouth-watering meal worthy of company. BLTs don't get more decadent than this.
Print
Pin
Rate
Equipment
Lobster claw crackers

Medium saucepan
Ingredients
1

cup

salted butter

2

cups

cooked lobster meat

about 4 whole lobsters

4

brioche buns

Green leaf lettuce

Tomato slices

8 cooked bacon slices

Mayonnaise

1

tablespoon

melted salted butter

4

lemon slices
Instructions
Melt the butter in a small saucepan over medium heat. Add the lobster and cook just until the lobster is warmed. Don't cook longer than to reheat the lobster.

As the lobster warms, place the brioche burger buns into a 350-degree oven and bake until toasted, about three to five minutes. Layer the toasted brioche buns with green leaf lettuce, tomato slices and two pieces of bacon per sandwich on the bottom piece of bread. Spread mayonnaise on the top piece of bread. Using a slotted spoon, remove the lobster from the melted butter and place on top of the bacon.

Squeeze the juice from a lemon slice onto the lobster. Place the top bun on the lobster. Enjoy!
Notes
If you can't get whole lobsters, you can substitute tail meat. You may want to ask your seafood counter about your options. My local Safeways offer whole cooked lobsters, and I really love having that claw meat.
Nutritional information is only an estimate. The accuracy of the nutritional information for any recipe on this site is not guaranteed.
Nutrition
Serving:
1
sandwich
|
Calories:
615
kcal
|
Carbohydrates:
29
g
|
Protein:
70
g
|
Fat:
22
g
|
Saturated Fat:
6
g
|
Polyunsaturated Fat:
13
g
|
Cholesterol:
261
mg
|
Sodium:
800
mg
|
Fiber:
2
g
|
Sugar:
6
g