With that crinkly top, ultra fudgy center, triple dose of chocolate and chewy bite, you won't find a more decadent brownie cookie. These luscious brownie cookies are perfectly soft and rich with a jolt of chocolate that will satisfy any sweet tooth. Simply put, these are the best fudgy brownie cookies.
Cookies or brownies? Brownies or cookies? With these fudgy brownie cookies, you don't have to pick.
For someone like me who struggles with decisions, especially when it comes to tasty food choices, these brownie cookies make everything right in life. Don't make me choose between a brownie or cookie. Give me both.
Let's take a look at what makes these the best fudgy brownie cookies and how you can make these chocolatey treats right at home.
Ingredients
To make the seriously best fudgy brownie cookies you'll ever try, here's everything we need.
Flour
Dutch process cocoa powder
Baking powder
Salt
Cinnamon
Espresso powder
Chocolate bars
Butter
Eggs
White sugar
Dark brown sugar
Vanilla extract
Chocolate chips
Why These Are the Best Fudgy Brownie Cookies
A quick Google search will show you plenty of other brownie cookie recipes that call themselves the best. While I'm sure they are all delicious, I truly believe these brownie cookies take top ranking because of a few standout ingredients and ratios.
When it comes to making fudgy brownies, it's all about the eggs, and the same goes with these cookies. We're not messing around here. For this recipe, we use five eggs -- the same amount we use in my favorite brownies. Just take a look at that fudgy goodness below.
And then do you see all that chocolate in the ingredient list? We use cocoa powder, chocolate bars and chocolate chips for a triple chocolate threat.
On top of that, we use espresso powder and cinnamon. Neither flavor is so strong that you can taste them independently, but they add a layer of depth and complexity.
We also use dark brown sugar, which has a richer flavor than light brown sugar. When you combine all those components, we're rewarded with the absolute best fudgy brownie cookies you'll ever try. Promise.
How to Make
Like most cookie recipes, these chocolatey little bites are a breeze to make. To start, we stir together our dry ingredients in one bowl and melt our chocolate and butter in another bowl. We set those aside and then mix together our eggs, sugars and vanilla extract.
From here, we add our melted chocolate, dry ingredients and chocolate chips, and that's all it takes to put together these cookies. Easy, huh?
Do You Need to Refrigerate Dough?
Admittedly, some recipes don't call for refrigerating the dough, but my brownie cookie recipe does because we're getting ultra fudgy here. These cookies are the absolute fudgiest thanks to our brownie-like batter, err, dough. As you can see from the picture below, the batter would be much too wet to bake immediately.
But after some time in the refrigerator or freezer, our batter transforms into your typical cookie dough texture like so.
Before baking, make sure the dough is as solid as it is in the above photo. If the dough is too wet, the cookies will spread like crazy.
Take a look at photo below. The dough is too wet, which resulted in super thin cookies. Now, the cookies were still good but definitely thinner than I prefer. You'll be much happier with the results if you give the batter-dough time to work its magic.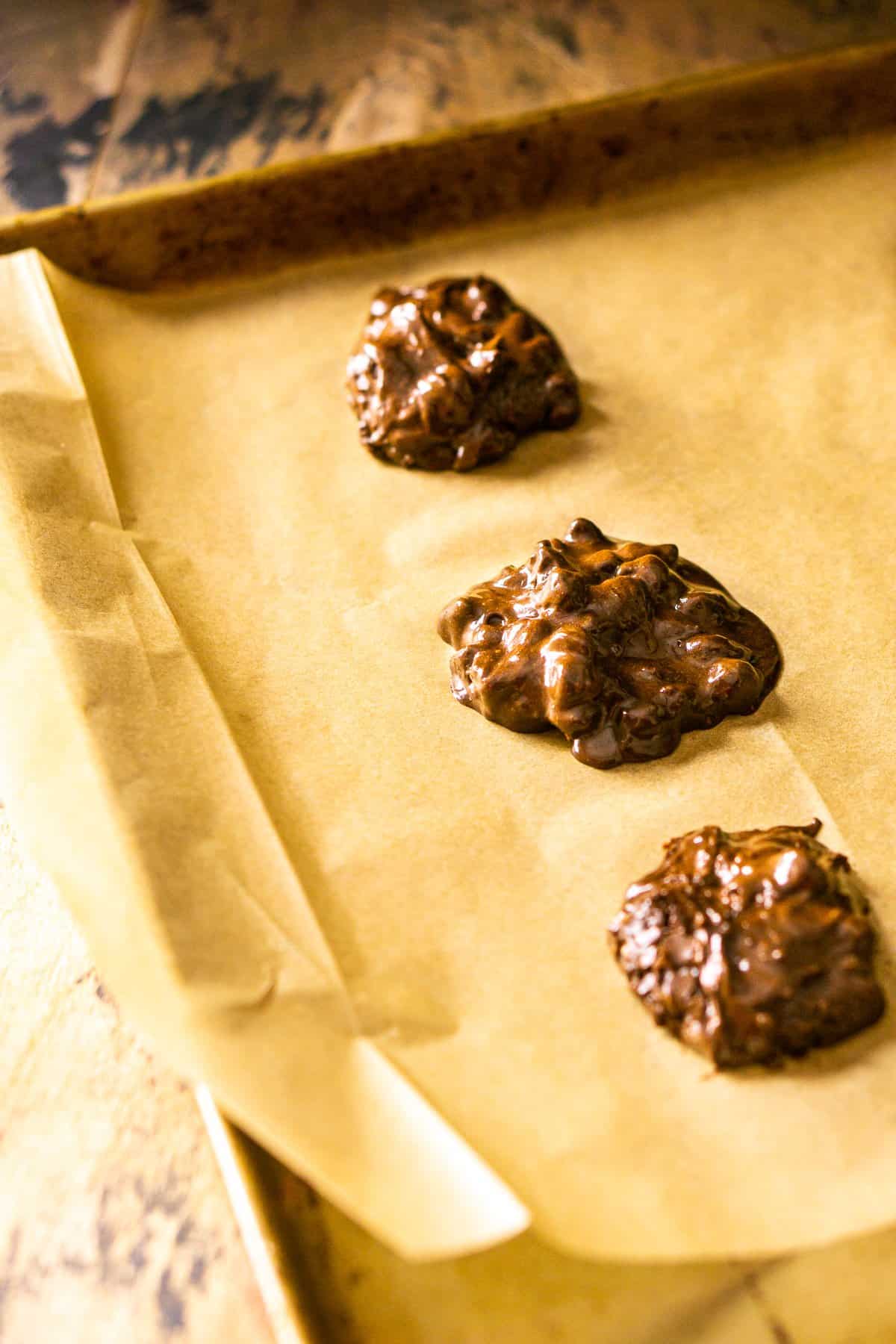 Freezing will transform the batter into dough in about an hour and a half or so, or you could go with the refrigerator for a few hours or even overnight. Now we bake and enjoy!
Bonus: Looking for more delicious cookies recipes? Try my pretzel-chocolate chip cookies, toasted sugar coconut cookies and butterscotch-bourbon cookies.
Perfect Pairing
Without a doubt, these fudgy brownie cookies need a good imperial stout on the side. Bonus points if said imperial stout was aged in bourbon barrels. Imperial stouts are perfect with chocolate desserts, and bourbon barrel aging adds lovely vanilla and coconut notes that make these cookies even more decadent.
If you prefer to pair these brownie cookies with wine, you won't be disappointed with a glass of rich ruby port, which is a classic pairing when it comes to chocolate desserts. The prominent berry flavors of the sweet port are a delicious match to the chocolate.
For those times you're torn between brownies and cookies, I hope you try these fudgy brownie cookies. I have no doubt these cookies will be the perfect solution to your brownie-cookie struggle.
Cheers!
Need More Chocolate Desserts in Your Life?
If you love this recipe, please leave a comment with a five-star rating — or simply hit the five-star button in the recipe card. Don't forget to sign up for my newsletter, and you can follow me on Facebook, Instagram, Pinterest and TikTok.
📖 Recipe
The Best Fudgy Brownie Cookies
With that crinkly top, ultra fudgy center, triple dose of chocolate and chewy bite, you won't find a more decadent brownie cookie. These luscious brownie cookies are perfectly soft and rich with a jolt of chocolate that will satisfy any sweet tooth. Simply put, these are the best fudgy brownie cookies.
Print
Pin
Rate
Ingredients
½

cup

all-purpose flour

¼

Dutch process cocoa

1

teaspoon

espresso powder

½

teaspoon

ground cinnamon

¼

teaspoon

baking powder

¼

teaspoon

salt

1

pound

semi-sweet chocolate

chopped

4

tablespoons

salted butter

diced

5

large eggs

room temperature

¾

cup

white sugar

¾

cup

packed dark brown sugar

2

teaspoons

vanilla extract

12

ounces

semi-sweet chocolate chips
Instructions
In a small bowl, mix together flour, cocoa powder, espresso powder, cinnamon, baking powder and salt until well combined.

In a microwave-safe bowl, add the chopped chocolate and butter. Microwave in 15-second intervals and stir. Continue this process until the chocolate melts and smooths out.

In a mixing bowl, beat the eggs, white sugar, dark brown sugar and vanilla extract on medium speed until frothy, about four minutes. Fold in the melted chocolate. Stir in the flour mixture just until combined, and then stir in the chocolate chips. At this point, it will look like brownie batter rather than cookie dough. Don't panic.

Place the bowl in the freezer until the batter can be scooped into solid cookie dough balls, about an hour and a half.

Heat oven to 350 degrees. Scoop the solid brownie cookie dough into balls about the size of golf balls onto a parchment-paper lined baking sheet. Bake for nine minutes. Allow to cool on the baking sheet for a couple minutes and then move to a wire rack to finish cooling. Enjoy!
Notes
Nutritional information is only an estimate. The accuracy of the nutritional information for any recipe on this site is not guaranteed.
Rather than using the freezer, you can place in the refrigerator for a longer period of time, even overnight. As long as it's a solid cookie dough ball, you're good.
If you skipped to the recipe, you can scroll up to see photos of how the dough should and shouldn't look before baking.
Nutrition
Serving:
1
cookie
|
Calories:
168
kcal
|
Carbohydrates:
23
g
|
Protein:
3
g
|
Fat:
8
g
|
Cholesterol:
29
mg
|
Sodium:
27
mg
|
Sugar:
19
g