Get ready to indulge! Featuring a crisp gingersnap crust and a fresh strawberry-ginger sauce swirled throughout a perfectly tangy cream cheese filling, this rich, luxurious cheesecake adds a gourmet touch to any dessert table. But don't be fooled — this fresh strawberry-ginger cheesecake is surprisingly easy to make.
When entertaining, my favorite part of the meal is setting down a show-stopping dessert that makes everyone ohhh and ahhh. Then, silence overcomes everyone as they close their eyes and take in that first luscious bite. That's exactly what happens when you serve this strawberry-swirled cheesecake — instant rockstar status.
Now I'll admit cheesecake can be a lot of work because we're making a crust, fruit sauce and cheesecake filling. Fortunately, the steps aren't difficult, and you can break up preparation.
Making a cheesecake for a Saturday party? Bake the crust on Wednesday, make the strawberry filling on Thursday and bake the cheesecake on Friday.
That's not so bad, right? Right.
How to Prepare Gingersnap Crust
Before we start on the rest of our cheesecake, I like to prepare the gingersnap crust. First, we line the bottom of our springform pan with parchment paper. This makes it much easier to remove our cheesecake without destroying our crust, so don't skip this step.
Now we mix together crushed gingersnaps, sugar and melted butter and press it into our pan. I like to take the bottom of a glass or measuring cup to press the crumbs to make a more compact crust.
Technically, our gingersnap crust is ready, but I like to take the optional step of brushing the crust with an egg white and baking for just a few more minutes. This gives us a barrier between the crust and filling, so it helps keep the crust stay crisper.
Now all that's left is to spray parchment paper strips with cooking spray and adhere to the side of the pan.
How to Prepare Strawberry-Ginger Sauce
And now for our fresh strawberry-ginger sauce. We grab a saucepan and stir together our strawberries, sugar, cornstarch and freshly grated ginger. You'll find grating ginger is much easier if it's frozen. Whenever I pick up ginger root, I like to remove the skin with a spoon and store frozen in a freezer-safe bag, so it's always ready to go.
Now we cook our sauce until the strawberries mostly break down like so. As we cook, I like to break them up with a wooden spoon. Once the sauce thickens and the strawberries cook, we blend the mixture until mostly smooth and set it aside. A few little chunks add some nice texture.
How to Prepare Cheesecake Filling
With our strawberry-ginger sauce and crust ready, we can start on the best part: our cheesecake filling! Yes, exciting stuff.
Before we beat our filling, we need to ensure our cream cheese, eggs and sour cream come to room temperature. Cold cream cheese won't give us the fluffy texture we need, and cold eggs and sour cream won't incorporate into our batter nearly as easily. That can lead to overbeating, which typically results in a sad cheesecake.
We're putting so much work into this beautiful strawberry-ginger cheesecake. Let's not ruin it because we couldn't be bothered to use room-temperature ingredients.
To make our filling, we beat together our softened cream cheese with sugar until it's fluffy like so. About three minutes of beating on medium speed generally does the trick.
Once we have our fluffy cream cheese base, we add our sour cream along with vanilla extract and salt. We then beat our eggs one at a time just until combined. Adding eggs at the end is important to avoid overbeating, so make sure you follow these steps in order.
From here, we pour our cheesecake filling into our prepare pan, dollop our strawberry-ginger sauce on top and use a knife to swirl the batter. And just like that, our cheesecake is ready to baking.
Tips for Baking Cheesecake Without Cracks
To ensure our cheesecake doesn't crack, we bake it in a water bath, but I'm sure you've already heard that advice. While the water bath is important, the real magic happens by cooking our cheesecake low and slow. Not only does this give us that enviable crack-free surface, but it also makes for the creamiest, most velvety texture.
Most recipes call for baking cheesecake in a 350-degree oven, but that's actually pretty hot to continuously bake something as delicate as cheesecake. Overbaking becomes an easy mistake, which leaves us with cracks, a browned top and dry texture.
Instead, we put our cheesecake in a 350-degree oven and then immediately turn the temperature down to 250 degrees and bake for an hour and a half. After the hour and a half, we turn off the heat and let the cheesecake sit in the oven for three hours without opening the door.
Allow me to repeat: Do not open the oven door. We lose a lot of heat from even a quick peek, and our cheesecake needs that residual heat to finish baking.
See? Here's our no-crack cheesecake out of the oven. And outside of the swirls, look how white the cream cheese filling is — no overbrowning here! She's a beauty, huh?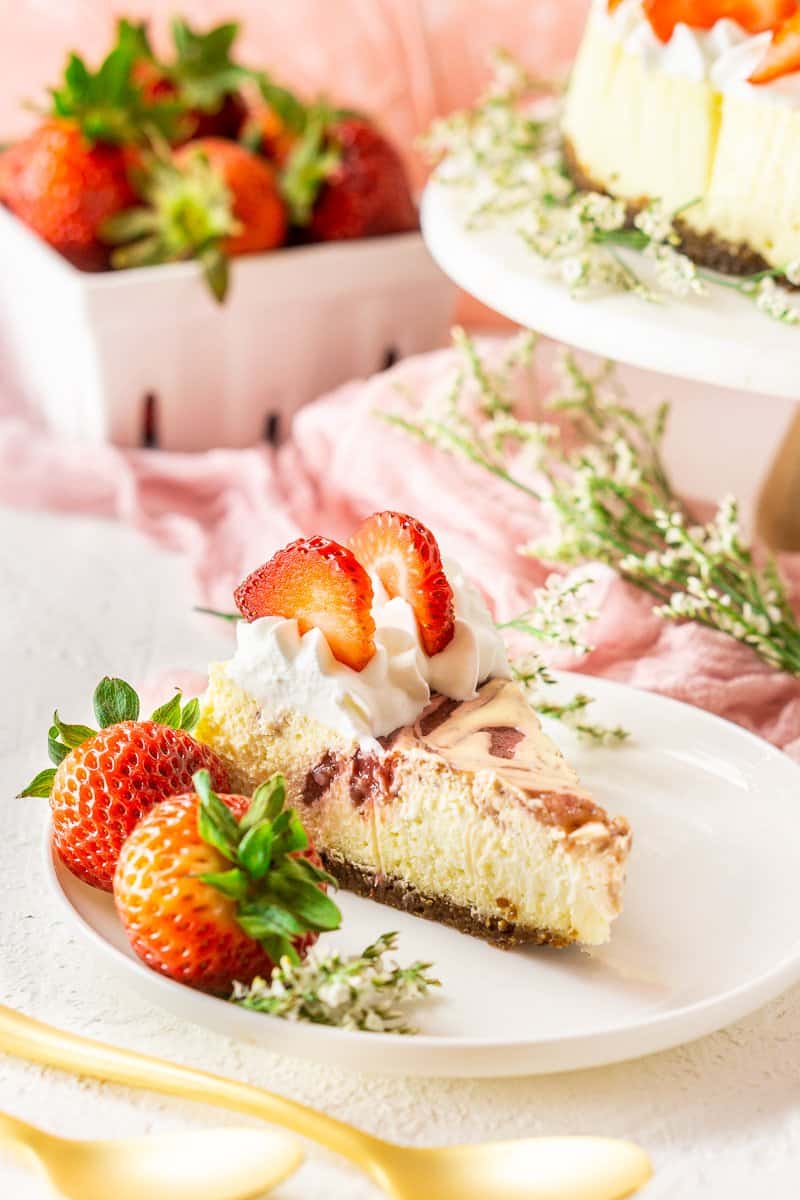 Perfect Pairing
With the subtle spice from the ginger, I love a refreshing gin cocktail with this cheesecake. Fortunately, I have the perfect drink for you: this strawberry-rhubarb gin fizz.
Of course, if you're looking for a beer, you can't go wrong with a nice sour ale. I always love how sour ales play with the tang of cheesecake, and the acidity works nicely against the ultra creamy texture.
For wine, try a sparkling rosé, which features sweet berry notes that nicely mimic the strawberries and add some contrast to our ginger spice. Like the sour ale, the bubbles act as the perfect counter to our rich, creamy filling.
When you need the perfect spring dessert, I hope you try this fresh strawberry-ginger cheesecake with gingersnap crust. Please let me know how you enjoyed this recipe in the comment section and don't forget to sign up for my newsletter. You can also catch me on Instagram, Pinterest, Facebook and Twitter.
Cheers!
Love Fruity Desserts?
Print
Fresh Strawberry-Ginger Cheesecake With Gingersnap Crust
---
Author:

Prep Time:

45 minutes

Cook Time:

1 hour 50 minutes

Total Time:

2 hours 35 minutes

Yield:

About

12

servings

1

x
Description
Get ready to indulge! Featuring a crisp gingersnap crust and a fresh strawberry-ginger sauce swirled throughout a perfectly tangy cream cheese filling, this rich, luxurious cheesecake adds a gourmet touch to any dessert table. But don't be fooled — this fresh strawberry-ginger cheesecake is surprisingly easy to make.
---
For Gingersnap Crust
1 ½ cups crushed gingersnaps
¼ cup white sugar
6 tablespoons melted butter
For Strawberry-Ginger Sauce
1 pound strawberries, hulled and sliced
¼ cup white sugar
1 tablespoon fresh ginger, grated
1 tablespoon cornstarch
1 tablespoon fresh lemon juice
For Strawberry-Ginger Cheesecake
3 (8)-ounce packages full-fat cream cheese in block form, softened (see note)
1 cup white sugar
1 cup sour cream, room temperature
3 tablespoons fresh ginger, grated
2 teaspoons vanilla extract
¼ teaspoon salt
3 eggs, room temperature
¾-1 cup prepared strawberry-ginger sauce
Whipped cream, for garnish, optional
Strawberry slices, for garnish, optional
---
Instructions
For Gingersnap Crust
Heat the oven to 350 degrees. Spray a 10-inch springform pan with cooking spray. Cut parchment paper to fit the bottom.
Stir together the crushed gingersnaps, sugar and butter in a bowl until the mixture is evenly moist. Press the crumbs into the parchment paper-lined springform pan. Use the bottom of a measuring cup or glass to compress the crumbs. Bake for 10 minutes.
Remove from the oven. Brush the crust with the beaten egg white and bake for another three to fives minutes. This step is optional, but it helps the crust stay crisp.
Make parchment paper strips to fit the side of the springform pan. Spray with cooking spray and adhere to the side of the pan.
For Strawberry-Ginger Sauce
In a medium saucepan, mix together the strawberries, sugar, ginger and cornstarch.
Cook over medium heat until the strawberries begin to break down, stirring just about constantly. Use a wooden spoon to help break down the strawberries as you stir. It's done when it's mostly saucy but some chunks remain. Stir in lemon juice. Then, process until mostly smooth in a food processor, blender or immersion blender. Leaving some small strawberry chunks is OK.
For Strawberry-Ginger Cheesecake
Heat oven to 350 degrees. Tightly wrap the outside of the springform pan with an oven bag and tie on the side if possible. Then, tightly wrap the outside with two to three layers of aluminum foil, making sure the foil goes all the way up the side for extra insurance against leaking.
To make the cheesecake filling, combine the softened cream cheese and white sugar in the large mixing bowl. Using a stand mixer with the paddle attachment or a hand mixer, beat on medium speed until smooth, creamy and fluffy, about two to three minutes. As needed, scrape down the side of the bowl with a spatula.
Beat in the sour cream, fresh ginger, vanilla extract and salt until it all comes together. Don't overmix.
Beat in the eggs one at a time at medium speed. Mix just until the egg is fully incorporated before adding the next. Stop mixing once the egg is combined.
Pour the cream cheese mixture into the prepared gingersnap crust. Dollop in the strawberry-ginger sauce and use a butter knife to swirl around.
Place the wrapped springform pan into a large roasting pan. Fill with enough boiling water to come about halfway up the side of the springform pan. Don't pour water past the foil. Alternatively, you can place the cheesecake on a rack in the roasting pan and fill the roasting pan with enough water so that the water comes up just below the cheesecake without submerging. I recommend this method if you don't have an oven bag and are worried about leakage, though I definitely prefer using an oven bag to safely submerge the cheesecake.
Place the cheesecake on the middle rack, close the oven door and immediately turn the oven to 250 degrees. Bake for 1 hour and 30 minutes.
After the hour and 30 minutes, turn off the oven completely. Do not open the oven door. Let the cheesecake sit for 3 hours. Do not open the oven door at this point either.
Remove the cheesecake and allow to come to room temperature, about an hour or so. Refrigerate with the springform pan in tact until the cheesecake is cold, at least four hours, though overnight is preferred.
When ready to serve, remove the springform pan. The parchment paper should make it easy to remove. If desired, garnish with whipped cream and fresh strawberry slices. Enjoy!
Notes
For pureeing the strawberry mixture, I prefer using an immersion blender because it gives you more control on how smooth you make the sauce.
To most effectively soften the cream cheese, cut the blocks into bite-size pieces and let sit for 30 minutes to an hour until soft. This is important to make sure it reaches the right consistency when beaten.
Nutritional information is only an estimate. The accuracy of the nutritional information for any recipe on this site is not guaranteed.
Category:

Desserts

Method:

Baking

Cuisine:

American
Nutrition
Serving Size:

1 slice

Calories:

340

Sugar:

20

Sodium:

310

Fat:

25

Saturated Fat:

16

Unsaturated Fat:

0

Trans Fat:

0

Carbohydrates:

21

Fiber:

0

Protein:

6

Cholesterol:

106
Keywords: strawberry ginger cheesecake