As we soak up these final warm summer days, I can't get enough fun cocktails. Well, in all fairness, I can't get enough fun cocktails all year long, but there's something extra special about enjoying a good cocktail on the patio. I live for patio nights, and this cucumber-lavender gin fizz is perfect for the occasion.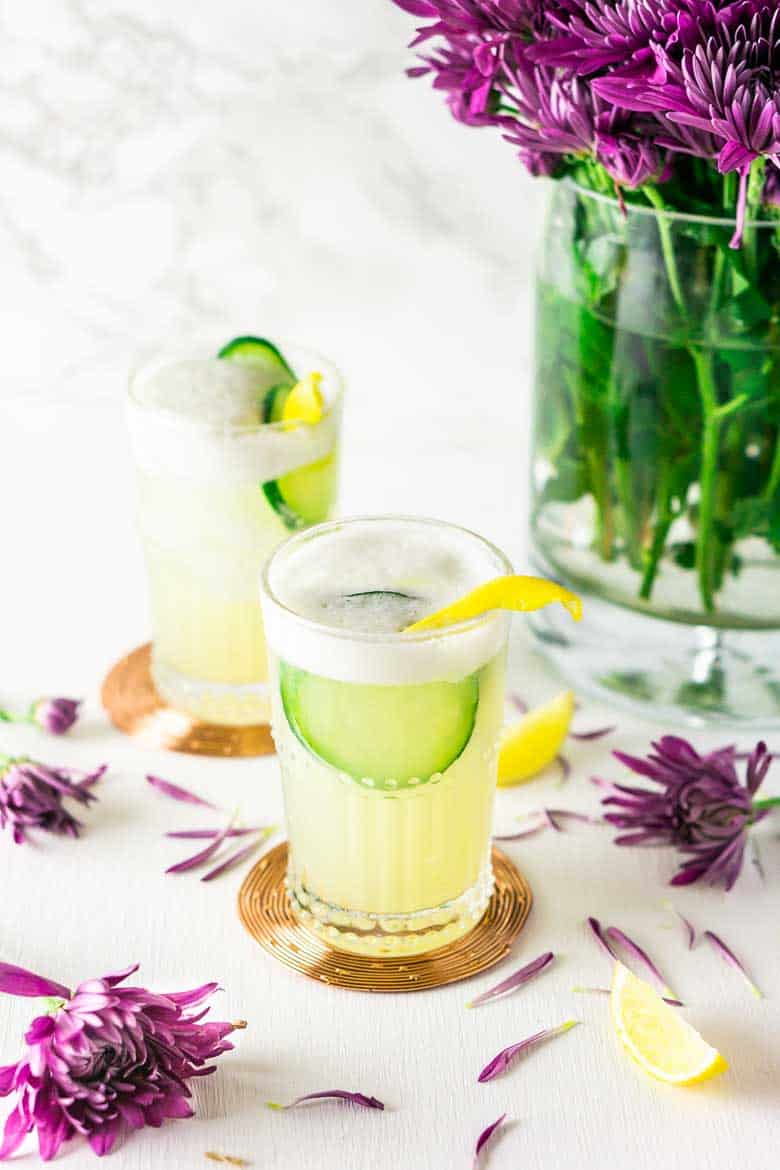 With the earthy yet melon-like flavor of the cucumber and the floral notes of the lavender, I love the way these two meld together. Throw in some gin with its herbal characteristics and you have the makings for a delicious cocktail.
Along with those lovely flavors, this gin fizz includes an important ingredient: an egg white. In a traditional Ramos gin fizz, an egg white always starred as the distinguishing ingredient in a gin fizz. Some recipes, however, skip the egg white, but you can't get that signature frothy head and silky texture without using an egg white.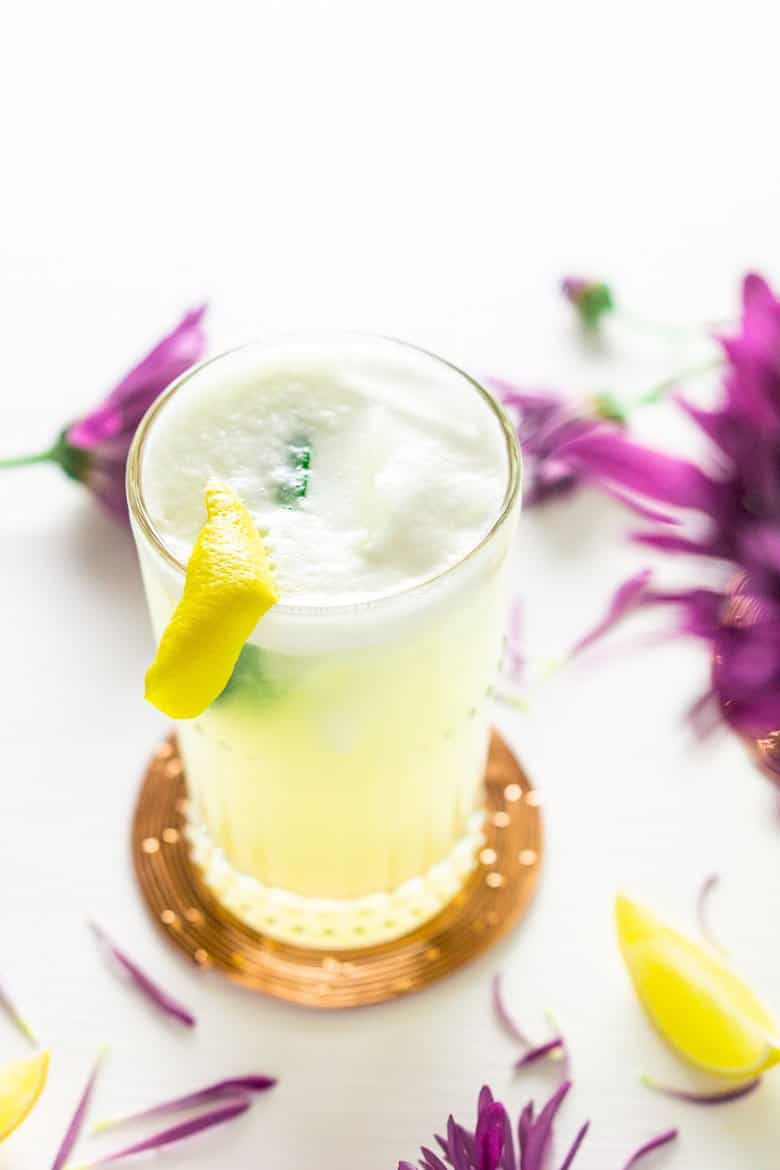 If you're squeamish about using a raw egg white, you can always leave it out. While the drink won't technically be a gin fizz, you'll still have a tasty cocktail on your hands. Ultimately, it's up to your comfort level, but I figure I've been known to eat my share of raw cookie dough and cake batter and enjoy plenty of gin fizzes without consequence. Living on the edge as they say.
Step-by-Step Instructions
And now to start shaking. For the lavender flavor, this gin fizz recipe uses an infused simple syrup. Simply bring sugar, water and dried lavender to a high simmer until the sugar dissolves. Turn off the heat, let the mixture sit for at least half an hour if possible and strain.
I suggest taking care of this step ahead of time to give the lavender plenty of time to steep and the syrup a chance to cool. That said, I've made lavender simple syrup about 15 minutes before cocktail time and still had good results.
To get that refreshing cucumber flavor, we extract the juice. If you have one of those fancy juicers, you're welcome to use that. However, I'm a mere juicer peasant and use my trusty blender. Peel the cucumber, roughly slice it and throw it into the blender with a splash of water. Blend and pour into a cheese cloth- or paper towel-lined sieve with a bowl underneath. Everything that drips into the bowl is your cucumber juice.
You can also take care of this step ahead of time. In fact, I like to freeze cucumber juice, so I always have a supply for cucumber cocktails ready to go.
Now let's toss the lavender simple syrup and cucumber juice into a cocktail shaker along with the egg white, freshly squeezed lemon juice, and gin and shake for 30 seconds. After this first dry shake, which helps ensure a frothy topping, we add ice and shake again.
For this second shake, we keep at it until we no longer hear the ice clink against the cocktail shaker. This should take about two minutes. Honestly, it's almost therapeutic and a great way to release any life frustrations so don't hold back.
Pour into a tall, skinny glass and top with club soda. Sip away and embrace these final days of summer.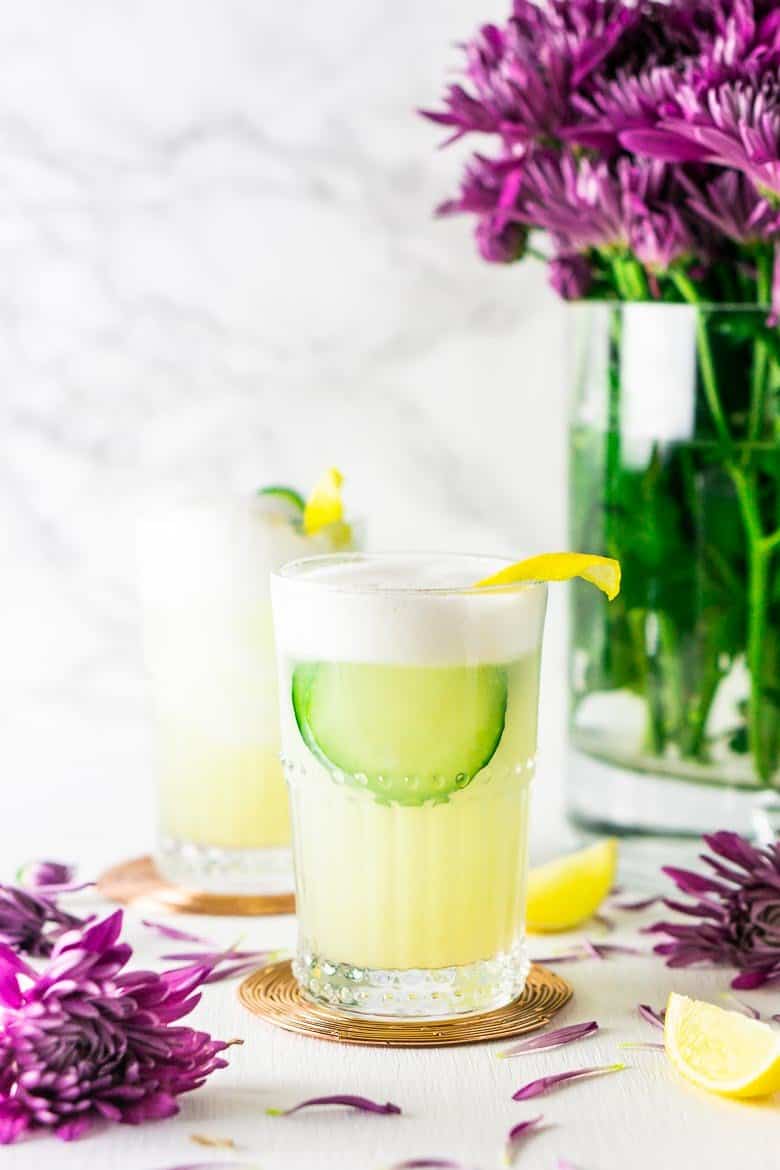 Perfect Pairing
With that frothy, silky texture of this cucumber-lavender gin fizz, I like to stick to something light, such as a smoked salmon-goat cheese crostini. Both salmon and goat cheese work well with the herbal notes, and the lemon juice counters the fat with its acidity. Or you could try my smoked salmon, avocado and pesto pizza, which also pairs nicely with this cocktail.
If you plan to serve this gin fizz with dessert, a classic lemon meringue pie is perfect. The pie's citrusy canvas complements every element in this cocktail, and the texture is just right.
When your next cocktail craving hits, I hope you whip up this cucumber-lavender gin fizz. Please leave me a comment to let me know how you enjoyed it, and don't forget to sign up for my newsletter.
Cheers!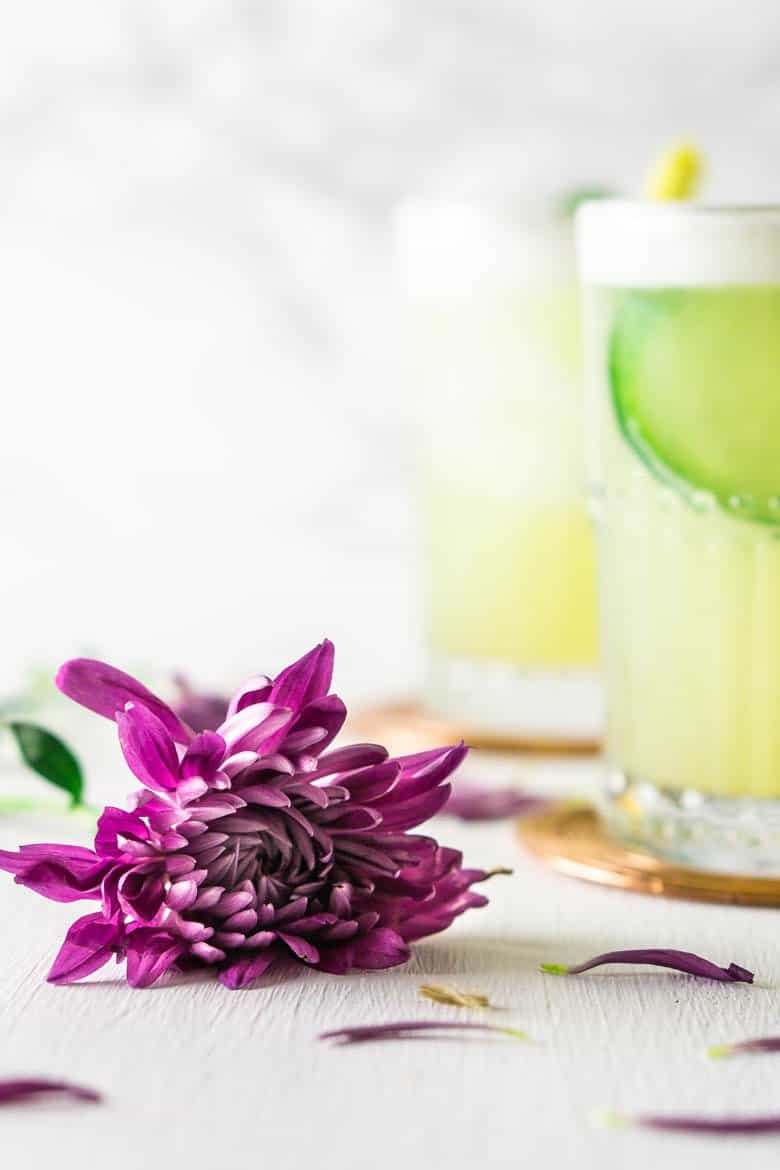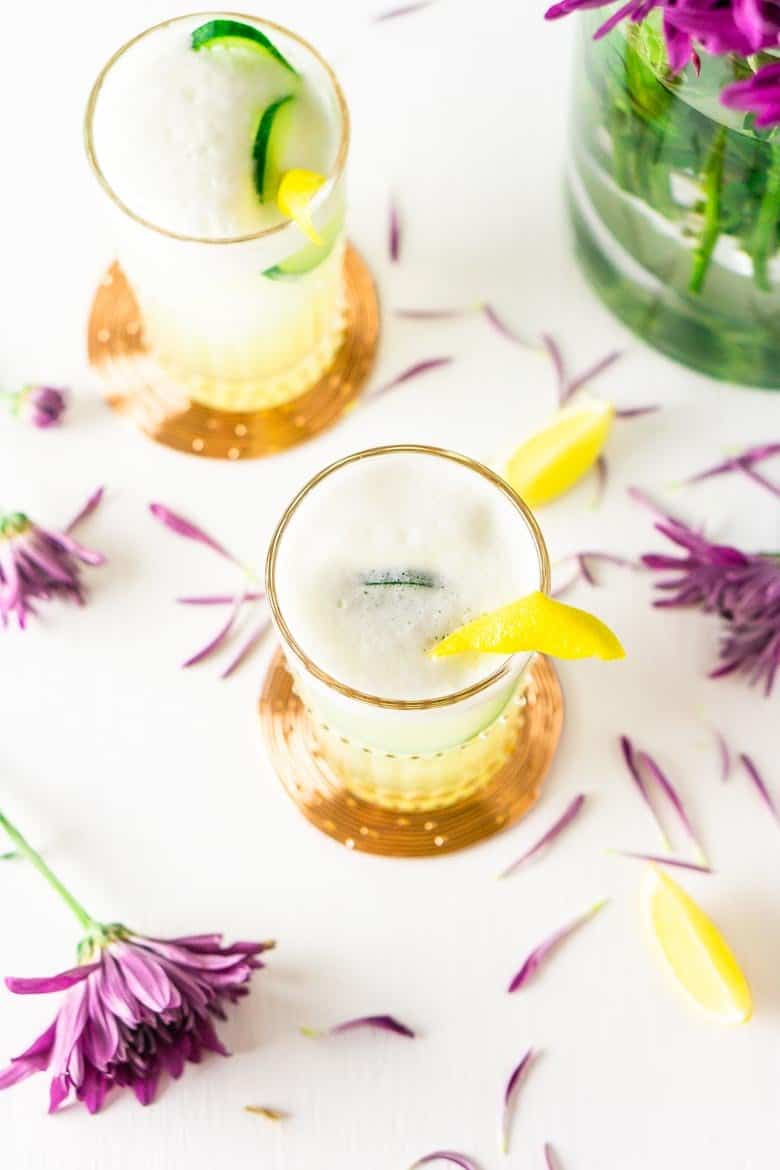 Looking for More Gin Cocktails?
Print
Cucumber-Lavender Gin Fizz
---
Author:

Prep Time:

10 minutes

Cook Time:

5 minutes

Total Time:

15 minutes

Yield:

1 drink
Description
With fresh cucumber juice, lavender simple syrup and lemon, this cucumber-lavender gin fizz is refreshing and perfect for those patio nights.
---
For Lavender Simple Syrup
1 cup water
1 cup sugar
2 tablespoons dried lavender
For Cucumber Juice
1 cucumber, peeled and roughly sliced
¼ cup water
For Cucumber-Lavender Gin Fizz
¼ cup cucumber juice
2 ounces gin
1 ounce lavender simple syrup
1 egg white
½ lemon, juiced
Ice
Club soda, to top
Lemon twist, for garnish, optional
Cucumber slices, for garnish, optional
---
Instructions
In a small saucepan, combine water, sugar and lavender. Over medium-high heat, bring to a simmer. Frequently stir to help dissolve sugar. Once the mixture simmers and the sugar dissolves, turn off heat, allow the lavender to steep for at least 30 minutes and strain.
Place cucumber slices and water in a blender and process until smooth. Place a bowl under a cheese cloth- or paper towel-lined fine-mesh sieve and pour the cucumber puree into the sieve. You will use the juice that drips into the bowl. Alternatively, you can use a juicer.
In a cocktail shaker, add the cucumber juice, gin, lavender simple syrup, egg white and lemon juice. Shake for 30 seconds. Add a handful of ice and shake vigorously until you no longer hear the ice clink against the cocktail shaker.
Pour into a chilled Collins glass and top with club soda. Garnish with a lemon twist and additional cucumber slices if desired. Enjoy!
Notes
In a pinch, you can let the lavender steep for less than 30 minutes, but you'll get a strong lavender flavor if you give it more time.
The cucumber juice can be made ahead of time and freezes well.
Nutritional information is only an estimate. The accuracy of the nutritional information for any recipe on this site is not guaranteed.
Category:

Cocktails

Method:

Stove Top

Cuisine:

American
Nutrition
Serving Size:

1 drink

Calories:

230

Sugar:

11

Sodium:

58

Fat:

0

Saturated Fat:

0

Unsaturated Fat:

0

Trans Fat:

0

Carbohydrates:

13

Fiber:

0

Protein:

4

Cholesterol:

0
Keywords: cucumber lavender gin fizz