Banana bread gets a boozy upgrade! Studded with chopped toffee for a decadent touch, this super moist maple-bourbon banana bread features the most tender crumb loaded with rich, cozy flavors and an added complexity from everyone's favorite liquor. You won't taste a more delicious banana bread recipe.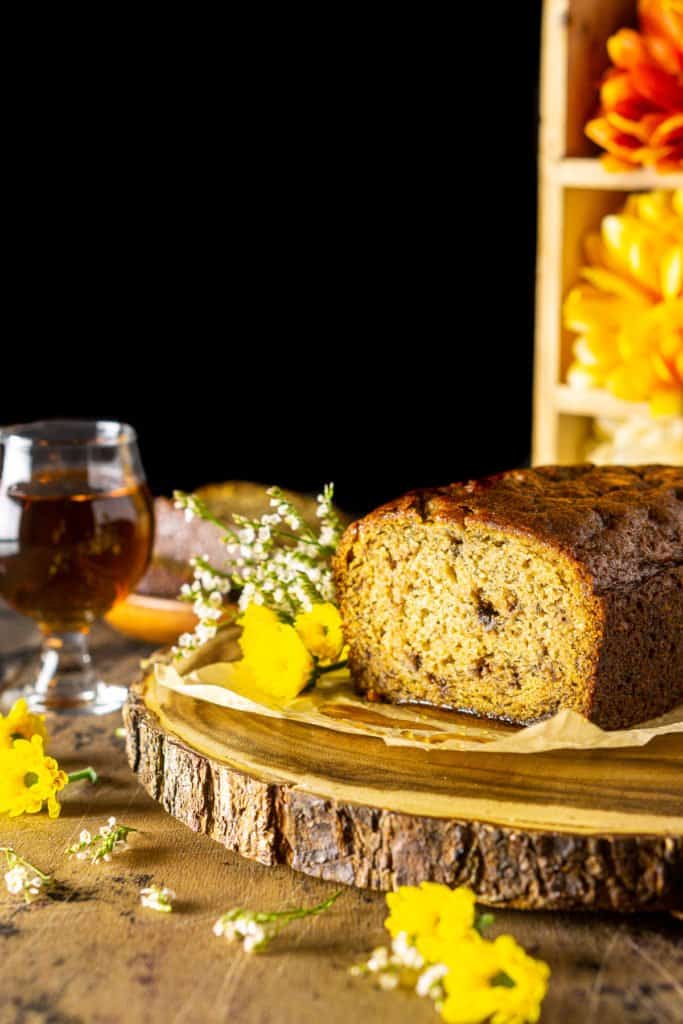 Jump to:
Why You Need to Make This Recipe
Since creating this maple-bourbon banana bread recipe years ago, I've shared this treat with countless friends and co-workers, and it's always been met with the same sentiment: Oh, my, this is the best banana bread! And I'll be honest — they're not wrong. If you're looking for a beloved, tried and tested banana bread recipe, this is it.
So what makes this the best banana bread recipe? Obviously, the bourbon adds a complexity and depth that other recipes lack, but we also flavor this quick bread with dark brown sugar, maple, cinnamon and toffee. Some banana bread recipes use only white sugar, but by also incorporating dark brown sugar, we impart molasses notes that play up the warm maple and cinnamon, and then the toffee melts into the bread, making for one rich treat.
Oh, and let's not forget the unbelievable moisture level. Nothing is worse than a dry baked good, but the combination of whole milk, oil and a generous heaping of mashed bananas give us a perfectly moist banana loaf.
Bonus: If you love this recipe, make sure you also check out my banana pound cake with caramel cream cheese glaze! My pumpkin gingerbread is also great for another quick bread recipe or try this chocolate-zucchini bread from Little House Big Alaska.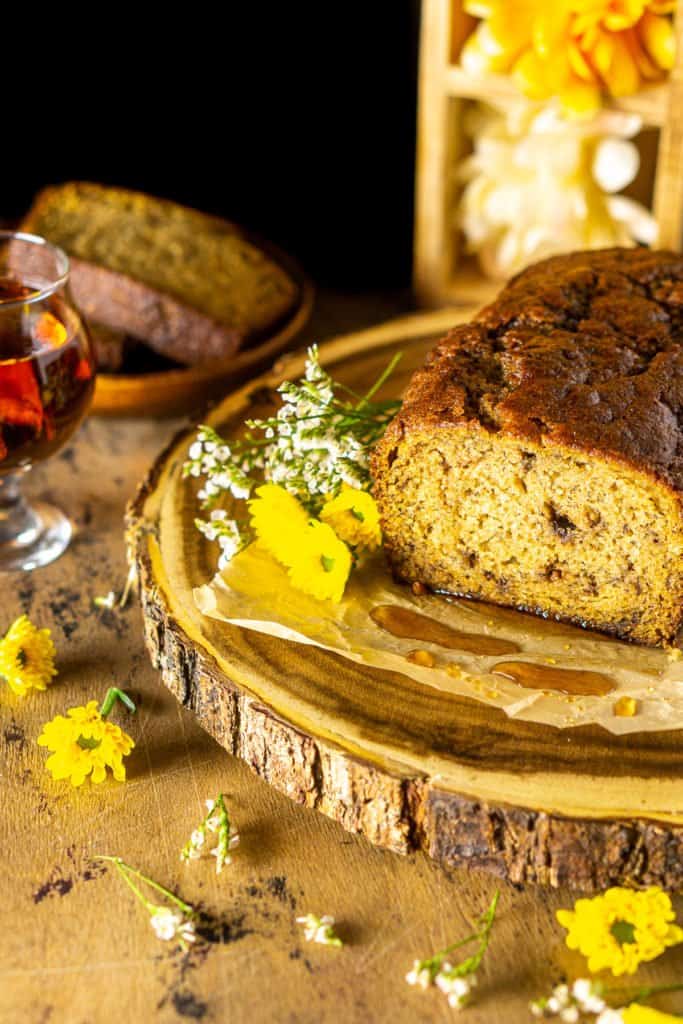 Perfect Banana Ripeness for Baking
Whether you make my recipe — and I hope you do — or another, overripe bananas are a must. Overripe bananas deliver so much more flavor than just a yellow banana.
If you look at the photo below, I make sure my bananas turn this spotted at a minimum. I usually let the bananas turn almost black before baking with them, but as long as they're at least this spotted, you're good to go.
Can You Freeze Bananas for Baking?
Absolutely. In fact, I rarely bake with fresh bananas. I let them get nice and dark on the counter and then toss them in the freezer. Typical guidance is to use frozen bananas within three months, but I'd be lying if I said I haven't extended that to six or eight months and still made a perfectly delicious banana bread.
To freeze, we have a few options. Ultimately, there's no right or wrong way — it all comes down to personal preference.
Mashed: If you only plan on baking with your frozen bananas, some people like this option because it's ready to go once thawed. Store in a freezer bag.
Whole peeled: For this method, we peel the bananas and then store in a flat layer in a freezer bag.
Whole unpeeled: Some people say peeling frozen bananas is tricky, but I disagree as long as you give the bananas a little time to thaw before peeling. With this method, I don't even bother placing the bananas in a freezer bag, though you certainly can.
Sliced: This method is convenient if you also use frozen bananas for smoothies or cocktails. Make sure you store the banana slices in a freezer bag.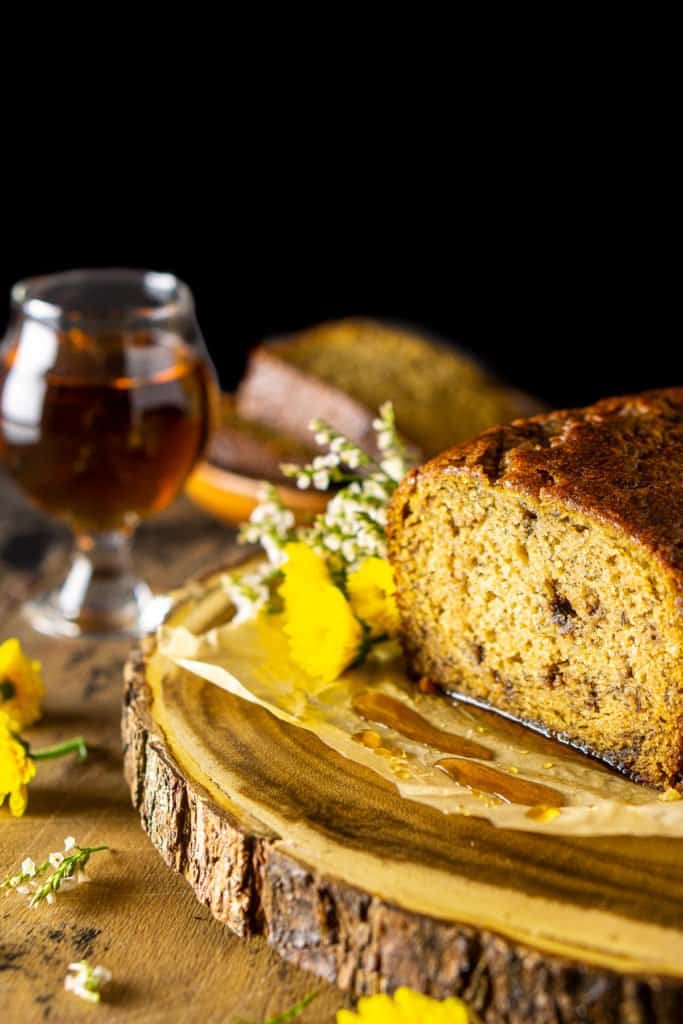 Step-by-Step Instructions
Let's start baking. We begin by mixing together our dry ingredients and setting the bowl aside. Our dry ingredients include flour, salt, baking soda, baking powder and a touch of cinnamon.
In another bowl, we mix our wet ingredients, which include the white sugar and dark brown sugar. I like to start by first mixing the two sugars to make sure we remove most of the lumps from the dark brown sugar.
Once our sugar mixture is mostly lump free, we add our eggs, vanilla and maple extracts, oil, milk and bourbon. After combining those wet ingredients into one cohesive mixture, we stir in our mashed bananas.
To mash our bananas, I like to use a potato masher. I find it's the most efficient tool for the process, but if you don't have one, a couple forks take care of the process just fine.
And now it's time to bring together the contents of our two bowls to make one delicious batter. For this process, we simply add a scoop of the dry ingredients to the wet ingredients, stir until incorporated and then repeat until we use all the flour mixture.
For the perfect finishing touch, we stir in our chopped toffee, and just like that, we're ready to pour our batter into loaf pans and bake. Easy, huh?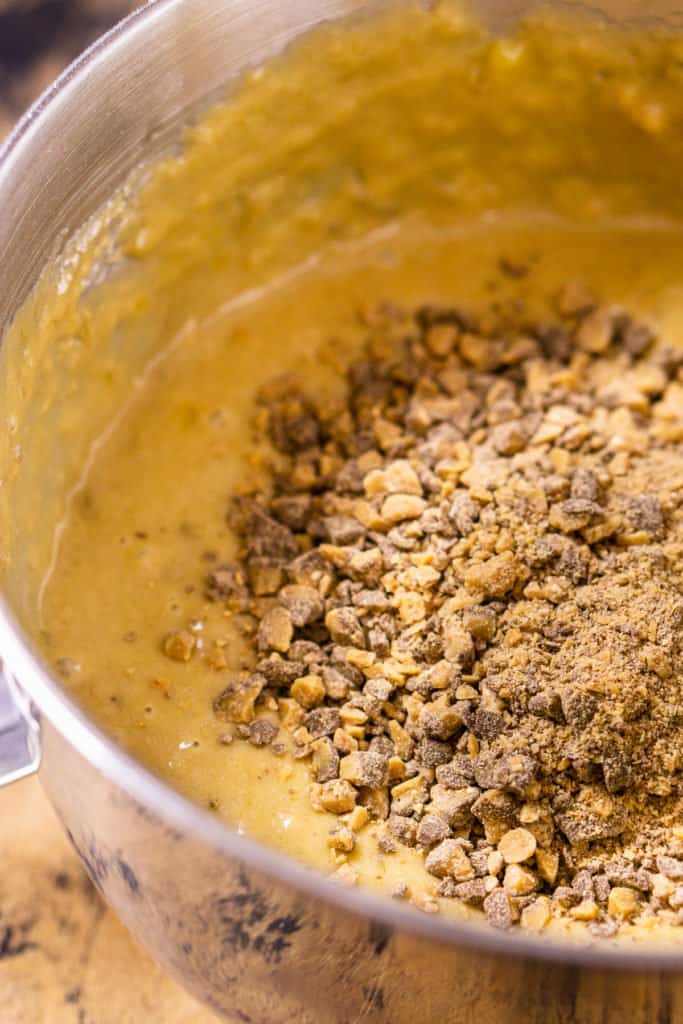 How Many Loaves in One Batch
Wondering how many loaves of banana bread one recipe will yield? It turns out you have options.
If you want to go with the standard quick bread size, this recipe will make two 8 ½-inch-by-4 ½-inch loaves. I also love to make mini loaves, which are perfect for gifts. You should be able to get eight 5 ½-inch-by-3-inch mini loaves.
Or you can mix and match and make one standard loaf and five mini loaves. This is a great option if you want to keep a loaf for yourself and give just a few for gifts. Hey, you put in the work and deserve your own loaf, right? Right.
For baking, the mini loaves take about 40 minutes while the standard loaves take approximately 55 minutes. If you decide to mix and match mini and standard loaves, you can bake the two together. Just pull the mini loaves and let the standard loaf continue to bake.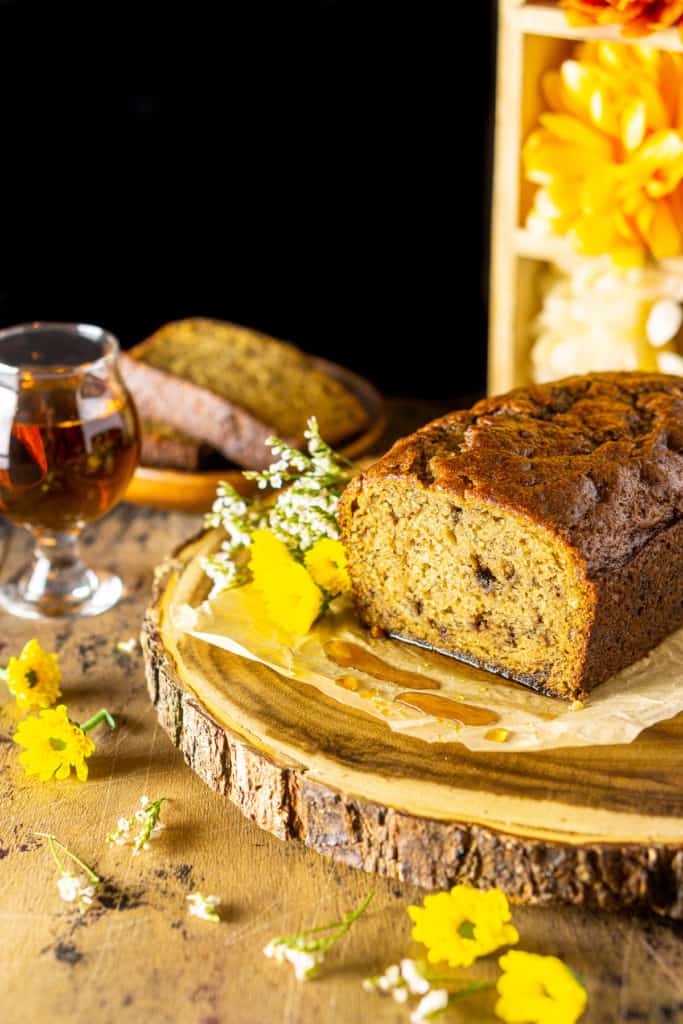 Perfect Pairing
A bourbon barrel-aged barley wine couldn't be a more perfect match. Barley wine shows off dried fruit and brown sugar notes that meld seamlessly with our maple, bourbon and cinnamon.
Feeling wine? You'll love a tawny port on the side of this maple-bourbon banana bread. With toffee and caramel notes, the tawny port offers the perfect richness to our sweet, dense banana bread.
And, of course, you will love this boozy banana bread with a bourbon cocktail. I especially recommend my apple cider old fashioned or gingered bourbon-apple cider cocktail with this banana bread.
For the most delicious banana bread that everyone is sure to love, I hope you try this recipe.
Cheers!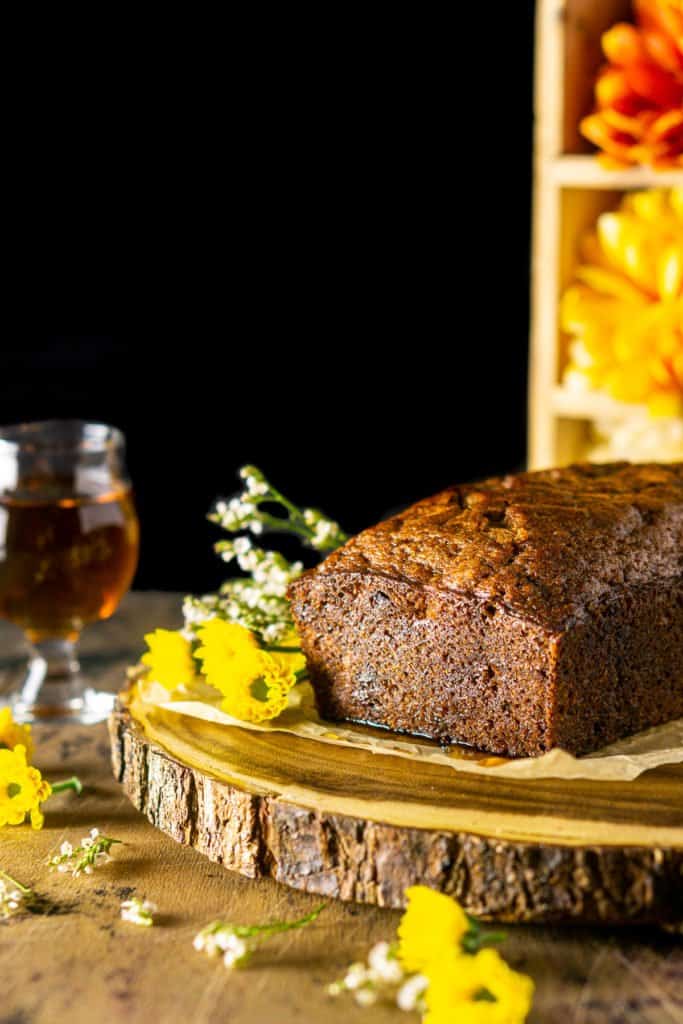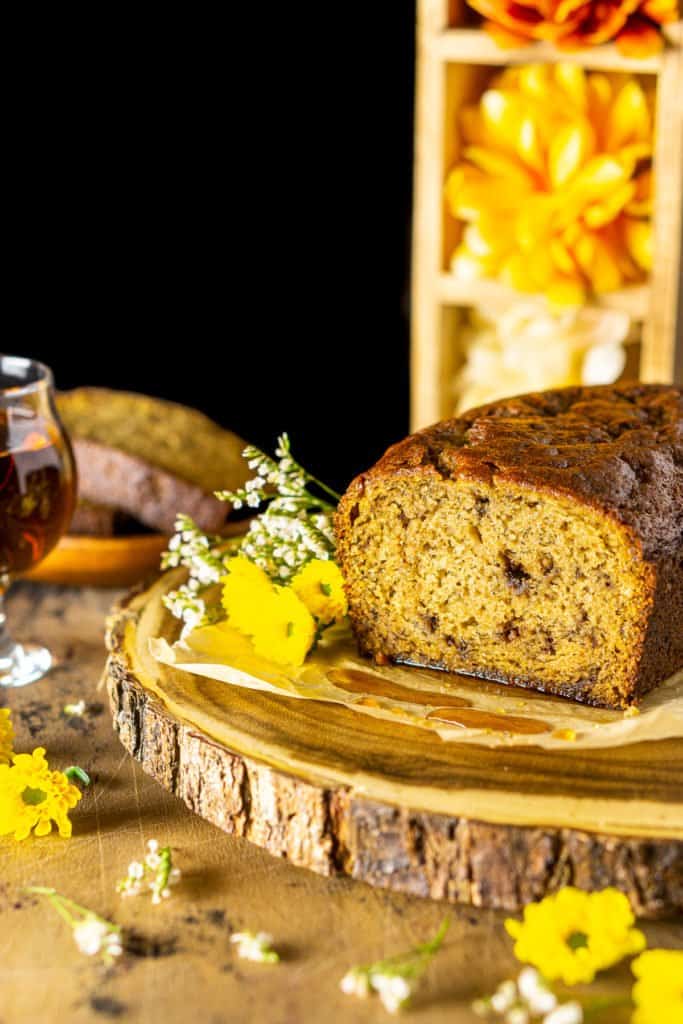 Looking for More Cozy Baking Recipes?
If you love this recipe, please leave a comment with a five-star rating — or simply hit the five-star button in the recipe card. Don't forget to sign up for my newsletter, and you can follow me on Facebook, Instagram, Pinterest and TikTok.
📖 Recipe
Maple-Bourbon Banana Bread
Banana bread gets a boozy upgrade! Studded with chopped toffee for a decadent touch, this super moist maple-bourbon banana bread features the most tender crumb loaded with rich, cozy flavors and an added complexity from everyone's favorite liquor. You won't taste a more delicious banana bread recipe.
Print
Pin
Rate
Ingredients
3 ½

cups

all-purpose flour

spooned and leveled

2

teaspoons

baking soda

1 ½

teaspoons

salt

1

teaspoon

cinnamon

½

teaspoon

baking powder

1

cup

white sugar

1

cup

packed dark brown sugar

4

eggs

room temperature

1

cup

vegetable oil

⅔

cup

whole milk

¼

cup

bourbon

1 ½

teaspoons

maple extract

1

teaspoon

vanilla extract

2

cups

mashed overripe bananas

about 5-6 bananas

1

(8-ounce)

package of chopped toffee
Instructions
Heat oven to 350 degrees.

In a large mixing bowl, combine the flour, baking soda, salt, cinnamon and baking powder.

In a different large mixing bowl, whisk together the white sugar and dark brown sugar to try to get as many lumps out of the brown sugar. Whisk in the eggs, vegetable oil, whole milk, bourbon, maple extract and vanilla extract until smooth. Again, make sure to break up any lumps from the brown sugar. Stir in the mashed bananas.

Add a few spoonfuls of the flour mixture to the wet mixture and stir to combine. Repeat in batches until all the flour mixture is combined. Stir in chopped toffee.

Coat two 8 ½-inch-by-4 ½-inch loaf pans or eight 5 ½-inch-by-3-inch mini loaf pans with cooking spray. Alternatively, you can also use one 8 ½-inch-by-4 ½-inch loaf pan and five 5 ½-inch-by-3-inch mini loaf pans. Pour the banana bread batter into the loaf pan, leaving about an inch or so at the top. Bake until a toothpick comes out clean, about 40-45 minutes for the mini loaf pans and about 55-60 minutes for the larger loaf pan. If baking two different sizes, you can bake both at the same time and just leave the larger loaf pan in for the remaining time.

Allow to cool. Cover tightly with plastic wrap. Enjoy!
Notes
Yields two

standard loaves or

8

mini loaves.
The overripe bananas should be mostly brown before using, and you can store them in the freezer before baking. Just be sure to pull the frozen bananas ahead of time to thaw before making the batter.
For baking at 5,200 feet, I used 1 ¾ teaspoons of baking soda and did not adjust the baking powder.
Nutritional information is only an estimate. The accuracy of the nutritional information for any recipe on this site is not guaranteed.
Nutrition
Serving:
1
slice
|
Calories:
321
kcal
|
Carbohydrates:
43
g
|
Protein:
3
g
|
Fat:
15
g
|
Saturated Fat:
4
g
|
Polyunsaturated Fat:
7
g
|
Cholesterol:
35
mg
|
Sodium:
210
mg
|
Fiber:
1
g
|
Sugar:
27
g