Taco night is here, but do you know what to serve with fish tacos? Rest assured, these 35 recipes are the perfect accompaniment to any big platter of tacos. From appetizers to salsas, easy side dishes and refreshing drinks, this complete guide has everything you need for a crowd-pleasing meal.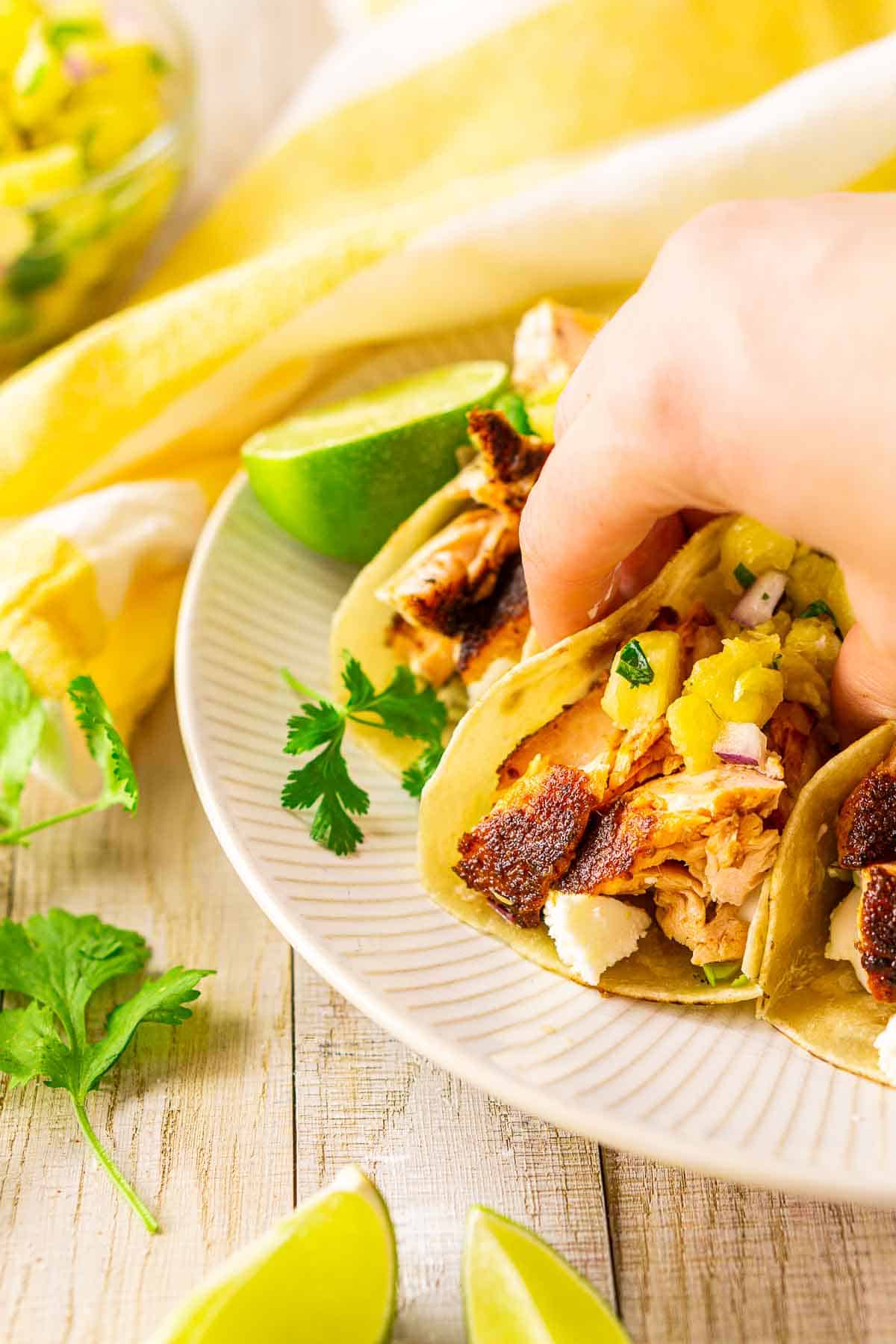 Jump to:
Seafood and Fish Taco Recipes
Before we dive into the best side dishes and other favorites to serve, let's make sure you have plenty of good seafood and fish taco recipes. If you're looking for more of a Baja-style taco, some sort of flaky white fish is traditionally used — think halibut, cod, grouper, flounder and mahi mahi. But you don't have to stop there if you're looking for something different.
Here are some easy fish tacos that everyone will love. They're all wonderfully fresh tasting and perfect for a low-key backyard party.
Appetizers
Smoked Queso Dip
If you have a big group to feed, this queso is the perfect starter for your taco night. It couldn't be easier to whip up and always meets rave reviews.
Smoked Jalapeño Poppers
It's not a party without a big platter of jalapeño poppers. These poppers are super easy these are to put together, and they always disappear quickly. Plus, you'll love the added flavor the smoker gives these peppers — they're truly the best.
Green Chile-Artichoke Dip
Who doesn't love a hot, cheesy dip to begin any meal? Everyone always devours this Hatch green chile dip in no time. One taste and this will be your new go-to party dip. You'll just love how those smoky green chiles complement all your salsas and taco seasoning.
Healthy Shrimp Ceviche
Give the start of your meal an extra fresh beginning with this healthy shrimp ceviche. Shrimp, tomatoes, jalapeño and bell pepper marinate in fresh lime juice to make an irresistible dish.
Black-Eyed Pea Caviar
For a hearty snack before you dive into a plate of tacos, a classic black-eyed pea caviar is always a favorite. Also known as cowboy caviar, this appetizer is filled with veggies and a delightful citrus dressing.
Tostones
These twice-fried plantains make for the perfect tropical appetizer. You can load them with a delicious mayo-ketchup cabbage slaw that's listed in this recipe, and they're also a tasty partner with the aforementioned ceviche and black-eyed pea caviar.
Ahi Nachos
For another taste of the sea, you can't go wrong starting the meal with a big platter of ahi nachos. This crispy little number is made with flaky wonton chips and served with a wasabi crema. It doesn't get more snackable than this.
Peach Guacamole
Fish tacos were made for a fruit accompaniment, and you will love this peachy addition to traditional guacamole. The sweet, ripe peach pairs beautifully with the fresh lime juice, spicy jalapeño and herbal cilantro. It's the perfect gourmet take on guacamole.
Tex-Mex Meatballs
Rev up everyone's appetite with these Tex-Mex meatballs, served with a cream avocado sauce for dipping. Who doesn't love a good meatball?
Salsas and Sauces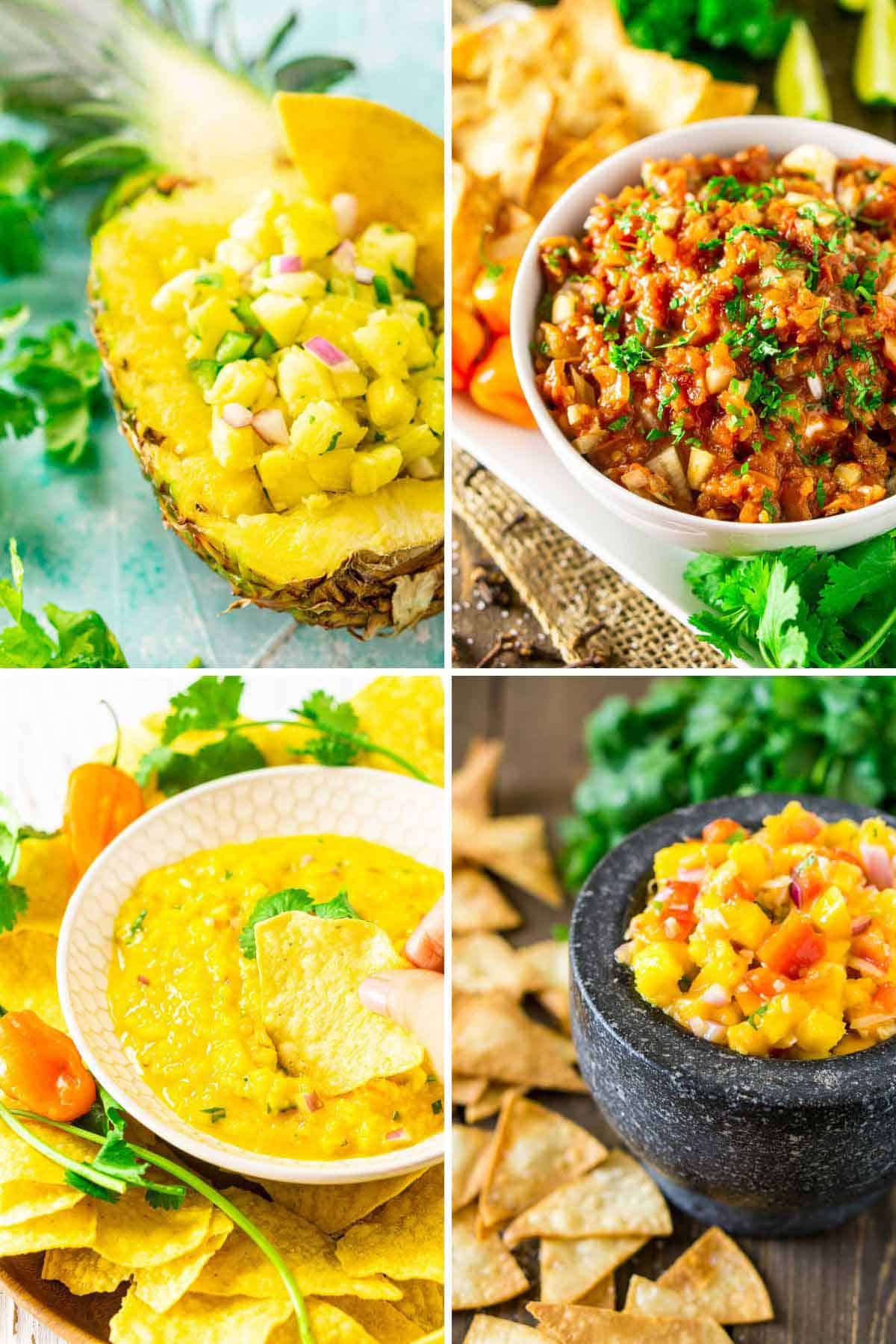 Mango-Habanero Salsa
Mango and habanero make a delicious pairing, especially when they come together to create a salsa that complements the flavors of the fish. It balances a lovely trio of sweet, spicy and citrus notes. Make sure you prepare extra because everyone will want to dig in with some tortilla chips as well.
Grilled Salsa Verde
Grilling adds a beautiful complexity and depth of flavor that will perfectly enhance those fish filets. This homemade salsa also comes with a pineapple twist for just the right touch of sweetness.
Pineapple Pico de Gallo
Sweet pineapple, fresh ginger and a kick of jalapeño are the stars of this summer salsa. For an especially impressive presentation at your taco bar, serve this pineapple salsa in a festive pineapple bowl.
Mango Pico de Gallo
Your classic tomato pico de gallo gets a fruity upgrade with the addition of mango. Plus, it's quick and easy to prepare.
Jamaican Jerk Salsa
Add a Caribbean flair to your tacos. This salsa features scotch bonnet or habanero peppers with those classic jerk spices that will make you think you're enjoying some seafood tacos right on the beach.
Roasted Tomatillo Salsa
Put a tangy spin on your fish tacos with a tomatillo-based salsa. You'll love how this recipe is made with just a handful of ingredients for one fresh-tasting salsa, and the roasting adds such a wonderful flavor.
Tropical Pico de Gallo
Think summer in a bowl. Papayo, mango and toasted coconut make a delicious trio for topping your tacos or serving as an easy appetizer.
Salsa Fresca
Have any garden-fresh tomatoes you need to use? This salsa fresca is here for you. It doesn't get better than this if you're looking for a more traditional tomato salsa to go with your fish tacos.
Avocado and Lime Crema
Keep this recipe handy because this avocado and lime crema is great for just about any Mexican dish beyond our fish tacos. It's wonderfully creamy, and that fresh lime brightens any dish. You can make it with sour cream or Greek yogurt — your choice.
Easy Baja Sauce
What's a good fish taco without a creamy Baja sauce? This fish taco sauce is perfect. Your taste buds will love how that creamy sauce adds a touch of decadence with a kick of spice and zesty lime juice.
Parsley and Cilantro Chimichurri
If you love fresh cilantro, do yourself a favor and make this chimichurri right away. This traditional Argentinian condiment gives your tacos an instant burst of fresh herbal notes with a tangy, bright finish. Keep this recipe in your back pocket because you'll want to spoon it on so many dishes beyond tacos.
Side Dishes
Coconut-Lime Rice
Those extra tropical flavors don't just have to come from fruit salsa. With the caramelized coconut cream and burst of fresh lime, this is a great side dish for delivering extra summer vibes.
Charro Beans
Get ready for the perfect side dish that brings serious flavor to the table. Thanks to a guajillo sauce, these charro beans show off lovely smoky notes that make for a dish that will leave everyone raving.
Classic Coleslaw
A classic coleslaw is always a welcome addition to taco night. With that tangy dressing and crunchy cabbage, coleslaw offers a refreshing note. Plus, it's super simple to whip up.
Easy Elote Salad
Have you ever tried elote salad? It's a Mexican street corn in salad form, and it's a delight! Grilled corn kernels are removed from the cob and tossed with sour cream, lime juice, cilantro, cotija cheese, jalapeño and red onion to make a corn salad that's great for serving a whole party.
Cilantro-Lime Cucumber Salad
Light and refreshing, this simple Mexican-style cilantro-lime cucumber salad is perfect for summer. This healthy side dish is a great accompaniment to grilled salmon, chicken, and more.
Slow-Cooker Borracho Beans
After cooking low and slow with bacon and an assortment of warm spices, these beans are a beloved side dish for any kind of Mexican food. Plus, the slow cooker makes entertaining a breeze.
Mexican Chopped Salad
Give your dinner a refreshing touch with this Mexican chopped salad, and it's such a simple dish. Served with a creamy avocado dressing, this salad is loaded with fresh corn, bell peppers, tomatoes and black beans in every delicious bite.
Easy Cabbage Dill Coleslaw
Dill is fabulous with fish, and you will especially love it in the coleslaw. It perfectly complements any fish, and you can serve it as a side dish or a taco topping. How's that for versatility?
Mexican Bean Salad
For a cold bean option, you'll enjoy this Mexican bean salad. It's loaded with hearty black beans and some of your favorite Mexican spices.
Instant Pot Spanish Rice
When entertaining, this shortcut to making tasty Spanish rice sure is convenient. You get all the classic seasoning and spice of this favorite rice dish, but it's made in a fraction of the time.
Black Bean and Avocado Salad
You'll love the combination of tender black beans with creamy avocado, and it only requires 10 minutes of prep time. When you need a quick and easy dish that's full of flavor, you can't go wrong with this salad.
Mexican Quinoa Bake
For a twist on your typical Mexican rice side dish, this quinoa bake is a tasty option. It's just as filling and satisfying and loaded with green bell peppers, corn, salsa, black beans and a cheesy cheddar topping.
Shaved Jicama and Blood Orange Salad
If you're looking for a lighter side dish, you found the perfect option right here. Refreshing blood oranges are topped on jicama with a dusting of chili-lime salt for an extra burst of flavor.
Drinks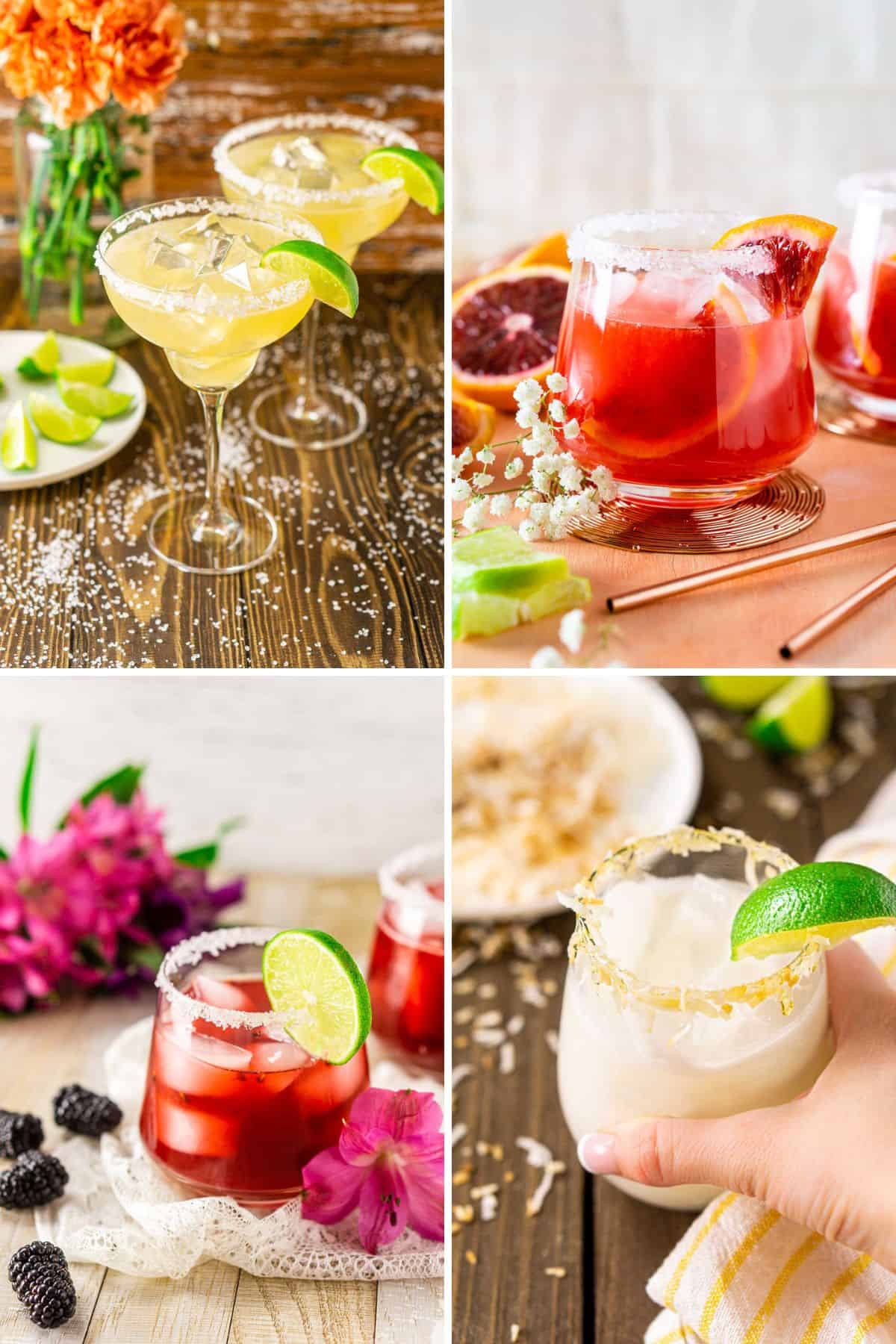 Cadillac Margarita
For the ultimate top-shelf margarita, shake up this Cadillac margarita, made with reposado tequila and rich Grand Marnier. It will be your new go-to recipe for a classic margarita with a sophisticated touch.
Tequila Sour
Margaritas get all the glory — and for good reason. But for something different, you'll enjoy this tequila cocktail just as much. The fresh lemon juice and frothy topping make for a wonderful patio sipper.
Blackberry Margarita
This was made for blackberry lovers. Fresh berries give it such a fresh, summery flavor. You'll especially love it with a big plate of salmon tacos.
Coconut Margarita
We have plenty of tropical salsas and side dishes, so we need an equally beachy drink to go with them. Made with sweet cream of coconut and fresh-squeezed lime juice, this margarita is up for the job, and it's consistently been a favorite recipe here at Burrata and Bubbles.
Blood Orange Margarita
Talk about a show-stopping margarita. Besides being one stunning cocktail that's sure to impress, you'll love how the sweet citrus pairs with all sorts of fish.
Need more margarita options? Check out this fruity margarita recipe collection.
Favorite Taco Toppings
These salsas and cabbage slaw all make for great toppings for serving, but let's not stop there. For some extra inspiration, try these favorites.
Avocado slices
Pickled onions or radishes
Cotija cheese or your favorite shredded variety
Hot sauce
Jalapeño slices
Sour cream or Mexican crema
Green onions
Lime wedges
Chili powder
FAQs About Fish Tacos
Expert Tips
Make your salsa ahead of time: I love this for two reasons — it makes for easy entertaining, and it gives the flavors time to meld for an even tastier salsa.
Set your fish out at room temperature before cooking: We want to remove the chill on the fish filets. This helps promote more even cooking.
Replace your spices every six months: After spices sit in your cabinet for too long, they start to lose their potency. If you want the most flavorful tacos, side dishes and the like, keep your spices fresh.
Whether you're celebrating Taco Tuesday, Cinco de Mayo, game day or just enjoying a casual backyard party, a good fish taco meal always hits the spot. Enjoy making your way through this list. You will love every tasty side dish, salsa, sauce appetizer and drink.
Cheers!
More Taco Night Recipes
Please let me know how you enjoyed these recipes in the comment section and don't forget to sign up for my newsletter. You can also catch me on TikTok, Instagram, Pinterest, Facebook and Twitter.